An introduction is customary, I believe. My name is Sayantan Mukherjee, 24 yrs of age and I was on a trip for 3 nights and 4 days in the lap of the mountains with my friends.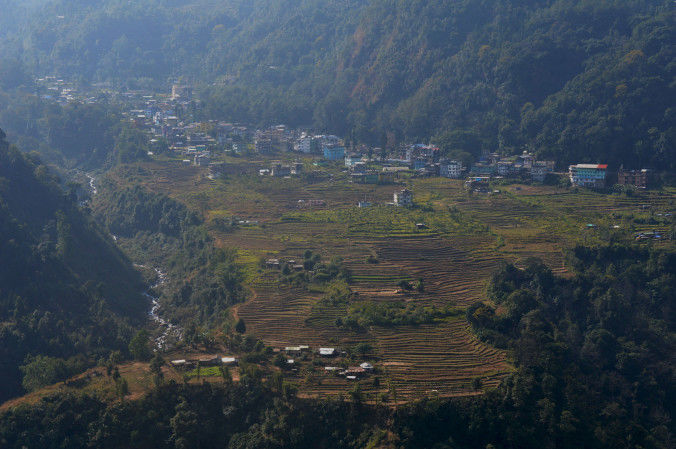 We planned this trip 4 months beforehand, as we took the trip during the peak season i.e on the Christmas week. Needless to say it has been an amazing and exhilarating experience.Our journey started on 23rd of December 2016 , we boarded in the Uttarbanga train from Sealdah. As we neared New Jalpaiguri the next morning, the sky was crystal clear that freshened our spirit.We booked the tickets from the SNT (Sikkim Nationalised Transport) bus stand to our destination i.e Pelling, West Sikkim.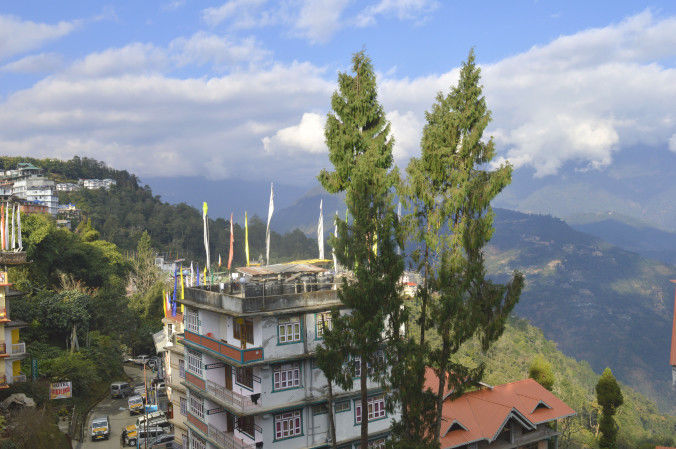 Transports to Pelling is bit problem as there is only one direct bus which leaves from SNT bus stand @11:00 am ,otherwise you have to do a break journey. Firstly, you have to hire a share jeep to Jorethang, then you have to hire another share jeep to Geyzing, and finally from Geyzing you will get ample transports to reach to Pelling. It would take about 6.5 hours of journey from NJP and the journey is bit hectic.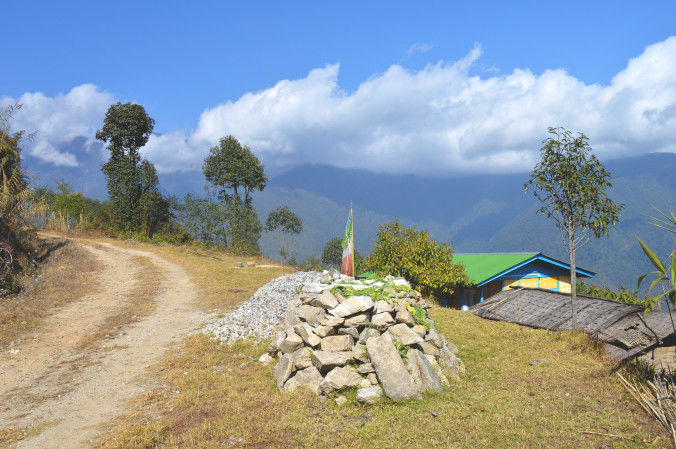 We reached Pelling around 7:00pm and it was chilling cold out there. Our hotel was pre-booked via Coal India Holiday Home (Rs.600/room). We jumped into joy after stepping into the hotel room as it was very well decorated with all basic amenities. You will get almost typical bengali dishes in the hotel.After refreshment, we soaked our tongue with hot tea and we ordered chicken and chapatti for our dinner. We slept early that night after we had our dinner as we were very tired after the hectic journey.
Day 1 :
Pelling is considered as Nature's Paradise. The greenery you find here is breathtaking and the landscapes are just unbelievable. Pelling is nearest to Kanchenjunga and the famous Sunrise can be seen from any hotel you stay in here. We woke up early in the morning to witness the sunrise, but the weather was cloudy. Though we got some breath taking view of the valley from our balcony.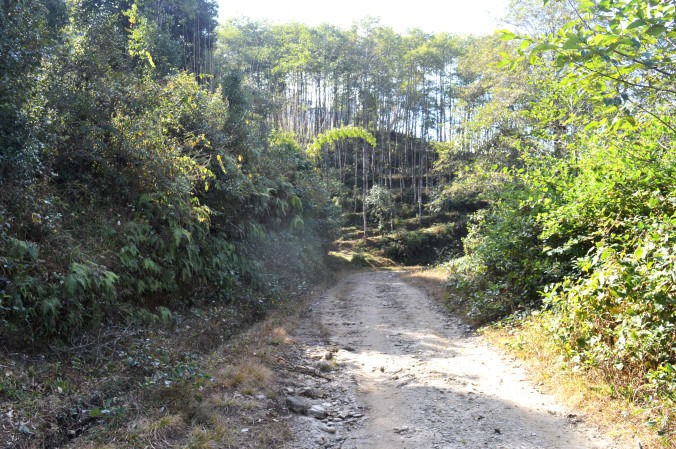 This was my second visit to Pelling. So we did not waste our time in visiting local sight seeing as we already covered in our first visit. We booked our cab through Sikkim Govt. transport, there you will get the exact fare as fixed by the Govt.Early morning , we got ready around 9:00 am and after our breakfast we started our journey towards Uttarey.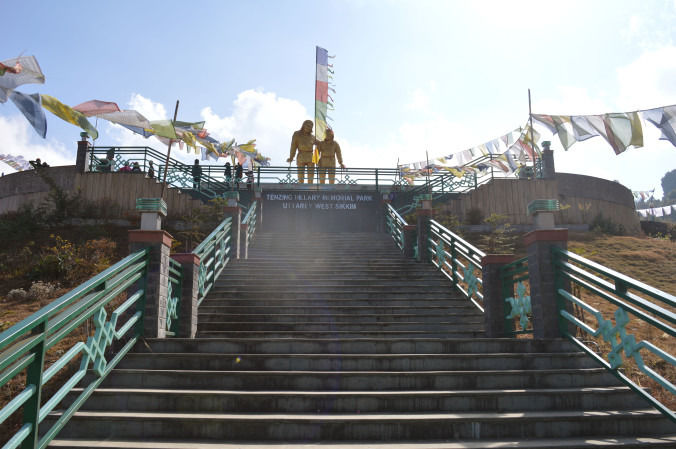 On the way to Uttarey, we halted at the Dentam valley. Pelling has some of the amazing landscapes you would ever see in your lifetime. One such place is Dentam Valley. The hill uncarves itself as the Indian map from the ariel view. Dantam valley is rich with cardamom cultivation. The aroma can be felt as you travel.
On the way, you can also halt for some time to get some snaps with Changey Falls. You will get many falls like this in Pelling. Changey falls from a height of about 300m and is a treat to watch when there is bright sunshine.
Then we headed towards Uttarey village. The height of Uttarey is about 6600 ft. The main attraction here is the beautiful view of the valley with stunning backdrop and a park created in the memory of Tenzing-Hillery.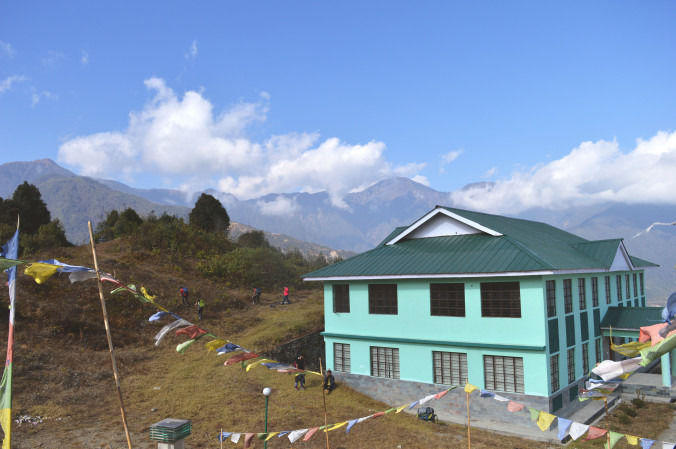 The road to this park is ungravelled, so you have to do little bit of hiking to reach there. Actually, this route is the main base camp for many other treks like Singalila Range trek.
And the trekkers on their way to the destination.
Coming back from Uttarey, one can also visit Trout Fishing Farm where trout fishes are cultivated in huge numbers. Trout fish are considered as staple food in this region and enriched with high protein.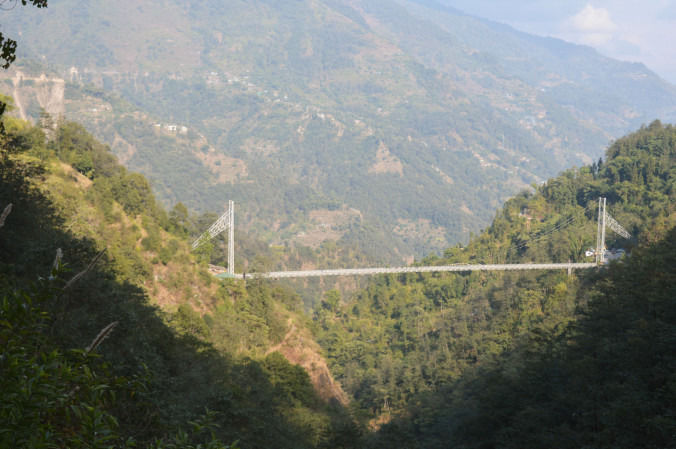 Also, the must visit place to this route is the Singshore Bridge. This is the Asia's 2nd highest suspension bridge built on the Rangit River and is surely an Engineering marvel. This 500m bridge connects two hills of the Himalayan Range and also leads to the no-mans-land of the Indo-Nepal border. There is a huge valley that runs right under the bridge at a depth of 600 ft. The scenic beauty cannot be explained in words.
You will find kids and children are playing in the ground at upper pelling .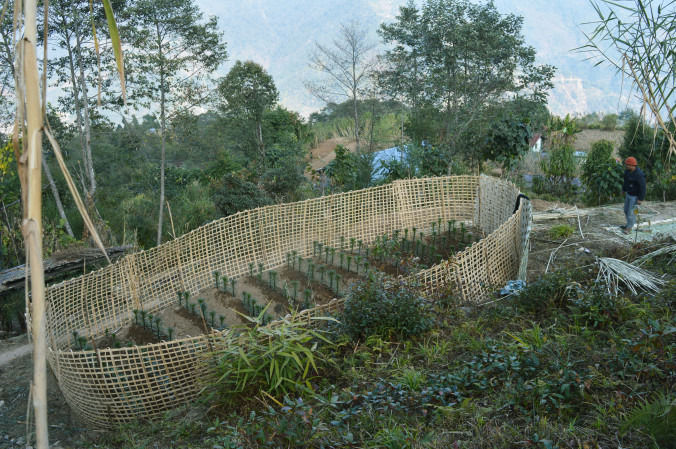 Next morning we woke up early to witness the magical sunrise but today also we were not able to see as it was bit foggy. We had to wait for another day.
We were supposed to go Ravangla and Namchi (South Sikkim) near about 90kms from Pelling. Our plan changed suddenly as we cancelled our trip to Namchi. We called our driver and requested him to take us to Yuksom instead of Ravangla which is of less distance near about 40kms from Pelling. We did some google before making this plan as we were in a mood of hiking around the mountains.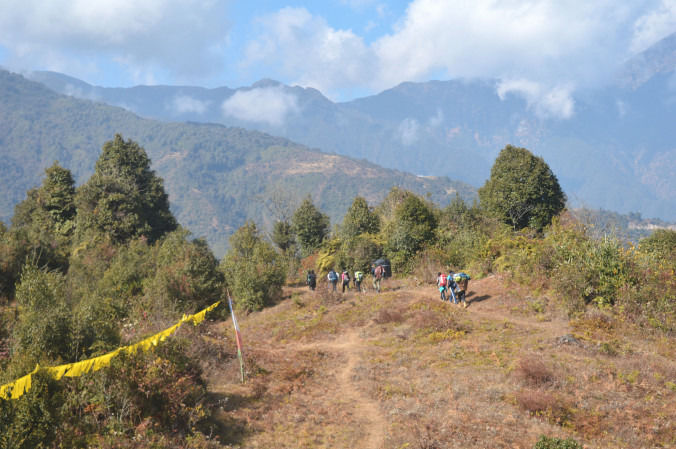 Yuksom was the first capital of Sikkim established in 1642 AD and it has got the land of beautiful landscapes, Yuksom is famous for its drop-dead gorgeousness and serene ambience.
Firstly we went to Norbugang Coronation throne. At Norbugang Coronation Throne in Yuksom, the three Lamas who came from Tibet used to meet in a bid to strengthen their hold in Sikkim. The lamas came to Yuksom in 1614 with a purpose to strengthen their hold on Sikkim and preach the people about Buddhism. On the coronation site there is a park called Norbugang Park.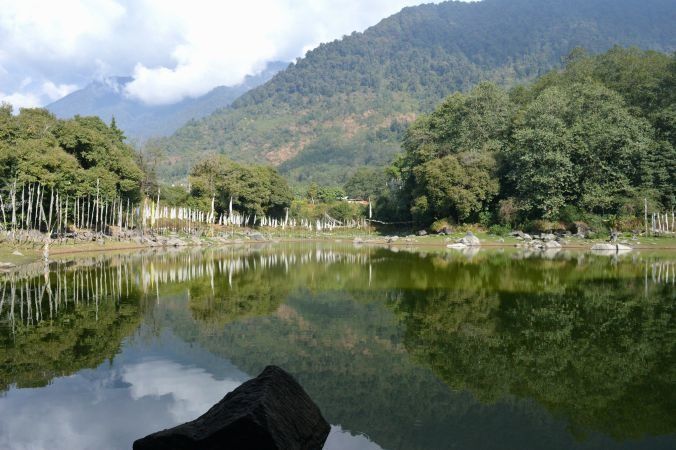 Then we went to Kathok lake. Kathok lake is a beautiful and serene lake in Yuksom (West Sikkim) where one can spend endless hours in the quietude of nature.We spent few time there and then left for the famous Dubdi monastery.
Dubdi monastery is often addressed as Yuksom Monastery; it has an elaborate painted interior area. Images of divinities, saints, other symbols and collection of manuscripts are exhibited in the monastery. You have to do little bit of trek about 3kms to reach here.The monastery has got some beautiful landscape view. We spent some quality time there and enthralled by the beauty of the nature.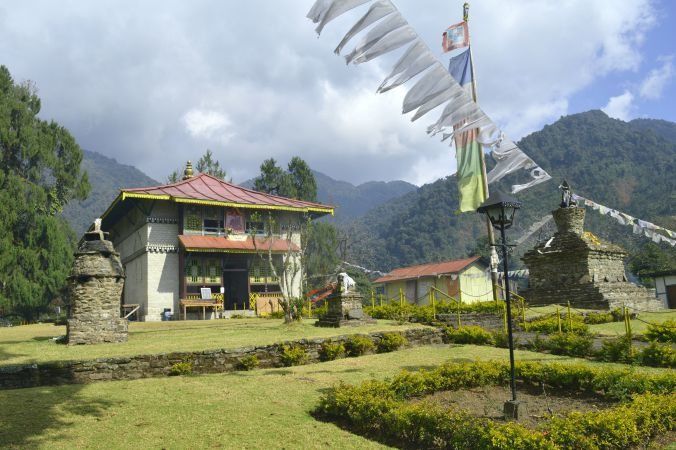 The lamas were busy in their daily chores, completely desolated from the modern civilization. Happy in their own way, nothing to complain about anyone.
After the monastery visit, we all were very hungry and tired, we stepped into one food shop beside the road and ate chow-min, Maggi, the famous momo and the last but not the least i.e coffee. We regained some energy and we headed towards our last destination of the day.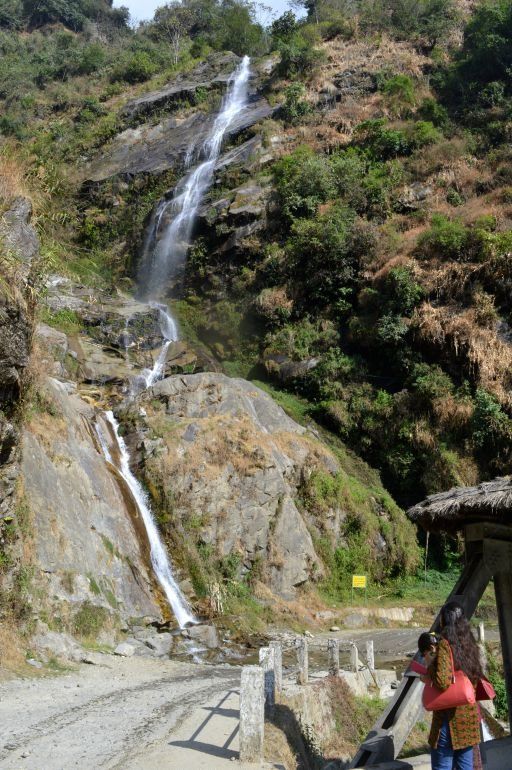 We reached Phamrong Falls, located between Yuksam and Gerethang, this is the highest waterfall of West Sikkim presents a magnificent scenario especially during Monsoon.
A gentle gradient footpath takes one to a viewpoint for a closer view of this mighty gush of water. You have to climb near about 230 stairs to reach the proximity of the falls. From the top you will get the magnificent view of the valley. After returning from the Yuksom tour, we requested our driver to drop us at Upper Helipad , where you can spend some lonely time with the nature and also can enjoy with hot momos and coffee.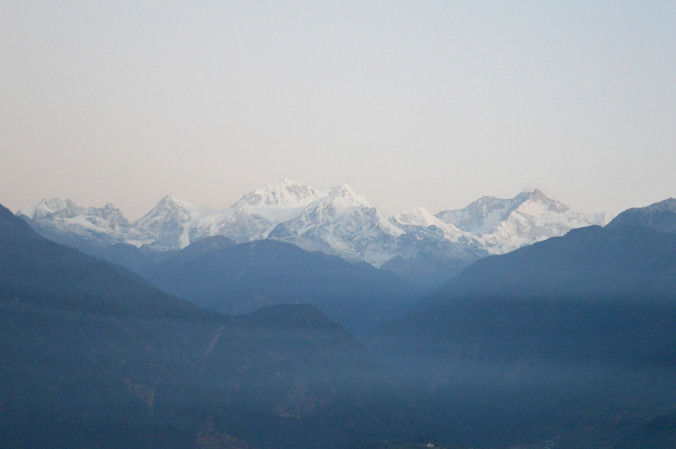 Our last day in Pelling: From the last night only, the sky was crystal clear and we had the faith that we would get the majestic view of the Kanchenjunga. The sky was so clear that stars were clearly visible till 5:00 am in the morning. It didn't take me long to realize that it was a sunny morning, as opposed to the cloudy ones that had greeted us the preceding days.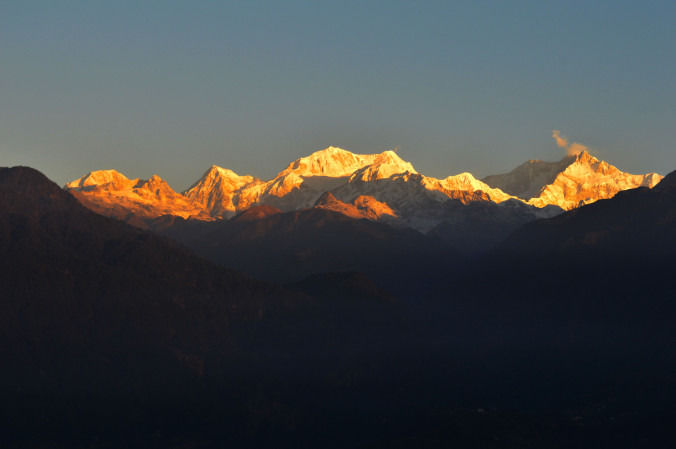 Just before the sunrise ..
I jumped out of the bed, got hold of my camera, and rushed out to the hotel balcony. As I looked out of the big window, I was greeted with the view sought by everyone coming to Pelling and which had eluded us so far because of the weather: that of the majestic KANCHENJUNGA, resplendent in all its snow capped glory.
The best and closest view of such a beauty would ever have got. I took several pictures of the mighty Kanchenjunga, sharing some of the enigmatic views of it.
Pelling is the only place in India where you will get such a stunning view of the Kanchenjunga.
The indelible sunrise.
We were not complaining any more after the life's best gift that we got from Pelling.
After witnessing such transcendental view of the Himalayas, we were not in the mood to pack up our bags and pull up our socks and return to our mundane lives. But we have to do . That is the reality. So, after we had our breakfast and coffee we checked out from the hotel and bid adieu to the rendezvous Pelling around 8:30 am and hired a shared transport to Geyzing-> Jorethang and finally to NJP station and our journey through the road was predictably uneventful . We reached Kolkata and our home early next morning. We all shall be reminiscing this trip for our lifetime.
And suggestion from me would be if you want to witness such indelible sunrise over the mighty Himalayas, please do visit Pelling in the months of October-December when the sky remains crystal clear and you will get unobstructed view of the mountains.
We all bow down before your highness - The Unfathomable Kanchenjunga.
P.S. All the photographs above have been taken with my Nikon D3200 DSLR camera, lens used kit lens. Let me know if you liked the travelogue. Also do share your own experience if you have been to Pelling
This post was originally published on Sayantan Mukherjee's Blog.