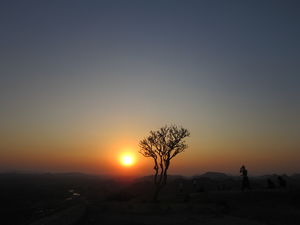 Things to do
Boat- rides, photography
Sunset point
Mount Abu in Rajasthan is a terrific tourist attractions and the Sunset at Sunset point is what you should definitely not miss. If you are a nature lover and keen to photograph the beauty of nature, then this is an ideal place. There is nothing extra ordinary here but the climate and the views make it a little more charming than many other hill stations. The best way to enjoy the sunset is while you take a boat ride in the Nakki Lake.
Places to stay near
Sunset point
White Elephant Restaurant and Guesthouse
Reviews •
2
Here comes the must do thing when in hampi, The Sunset!. A good 5-10 minute hike up the mountain nearby this guest house took us to The sunset point. A local boy selling tea at this place helped us with the hike. We sat at this place for more than an hour clicking pictures, enjoying the spectacular view of hampi town highlighted by the virupaksha temple gopuram and the famous sunset!
Attractions near
Sunset point