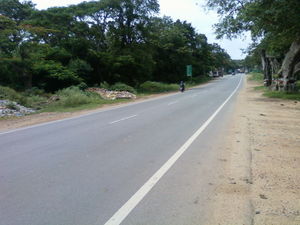 Things to do
Treking, Sight Seeing
Kanakapura Road
The Kanakapura Road is located in Taluk, Ramanagar District, around 55 kilometers from Bangalore. The area adjacent to Kanakapura Road is very famous because of the production of Silk and Granite. This place is completely surrounded by the Green forests of Karnataka, which looks like a wall surrounding the place. This town is a vey popular tourist spot in Bangalore for the ones ready for trekking or hiking. Kannada is the official language spoken in this area. This place derived its name from a fort bearing the name " Kanakapura" which is said to be build by Jagadeva Raya. This part of the city is the production hotspot of the finest silk available in the country. It also has a Government Silk Filature Factory operating since 1943. Other attractive places in this area are Sangama, Chunchi Falls, bilikal hills, Kabbal, Mutatti and Kallahalli.
Places to stay near
Kanakapura Road
Treebo Select Stylotel by Jagadish
Silverstar Near Freedom Park
Reviews of
Kanakapura Road
•
3
We started our journey from Kormangala on Sunday morning at around 7 AM. We were four of us and we hired a taxi for a hassle free journey. We had our breakfast in one of the restaurants in Kanakpura road and set off for our trip.The roads were in good condition and we were enthralled by the greenery on the way. We reached Shivansamudra at around 10 AM and our first stop was the Gaganachukki.
We finished our lunch from gudalur and then started our return trip towards bangalore via Bandipur where we once again got a chance to explore the beauty of that forest. We had 2 challenges while coming back one is we should reach Bangalore before 9pm so that we shouldn't pay fine for our rented bike as they still charge extra if we give the bike late. Second thing is my mobile was running on low battery and we were using an alternate road through kanaka pura from Mysore which is less rushy and peaceful comparing to the normal road. So I don't have any idea about the road till we reach Bangalore, still we managed to reach on time before my mobile get off.
We ride on the Kanakapura Road amidst the beautiful semi-urban landscape of Bangalore in the morning breeze. We stop to have an authentic South Indian breakfast with some of the delicacies of the area. We continue our journey after breakfast.
Attractions near
Kanakapura Road