If you are an art lover, you cannot miss visiting Karnataka Chitrakala Parishath, one of the best places to explore art in Bangalore. Located on Kumara Krupa Road, this art complex and cultural organization was established in 1960 by M. Arya Murthy and M.S Nanjunda Rao, with the vision of promoting and preserving the art and culture of India.
The complex houses 18 galleries that showcase permanent and temporary exhibitions of paintings, sculptures, and folk art from various regions and periods of Indian history. Whether you are interested in ancient or modern art, traditional or contemporary art, you will find something to admire and appreciate at Karnataka Chitrakala Parishath.
Roerich Gallery: A Journey to the Himalayas through Paintings
One of the most popular attractions of Karnataka Chitrakala Parishath is the Roerich Gallery, which displays the works of Nicholas Roerich and his son Svetoslav Roerich, two renowned Russian artists who settled in India and devoted their lives to Himalaya studies.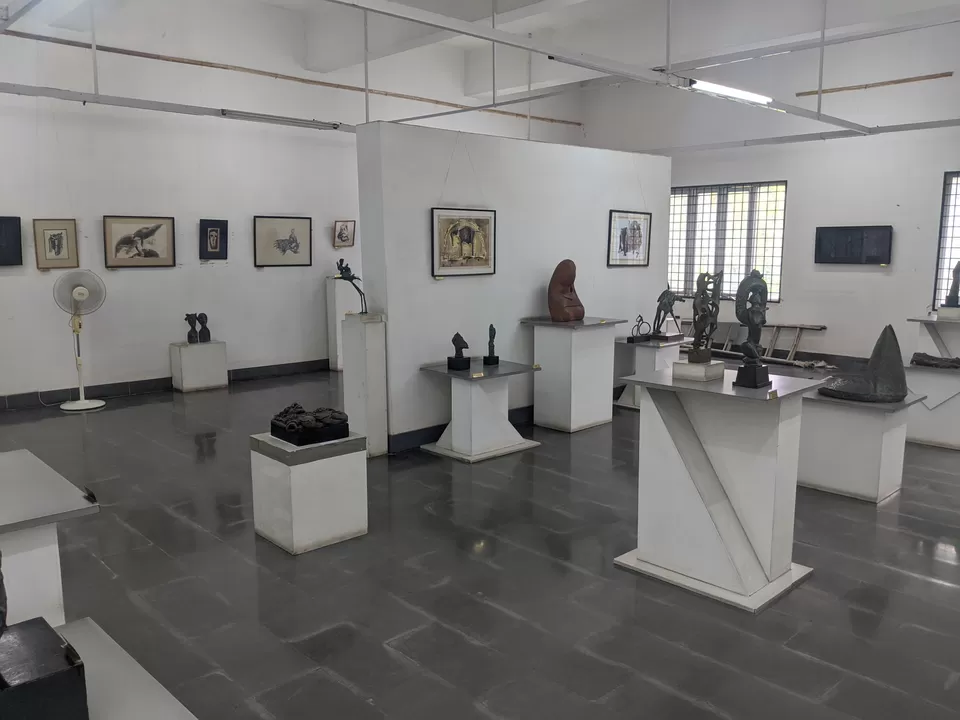 The gallery features over 100 paintings that depict the majestic landscapes, the vibrant cultures, and the spiritual essence of the Himalayan region. You will also see portraits of famous personalities such as Jawaharlal Nehru, Rabindranath Tagore, Mahatma Gandhi, and Indira Gandhi, painted by Svetoslav Roerich. The paintings are not only beautiful but also symbolic and meaningful, as they reflect the Roerichs' philosophy of peace, harmony, and universal brotherhood.
Folk Art Gallery: A Showcase of Traditional Art Forms
Another highlight of Karnataka Chitrakala Parishath is the Folk Art Gallery, which exhibits some of the finest examples of traditional art forms from Karnataka and other states. You will be amazed by the intricate and colorful Mysore paintings, which are made with natural pigments and gold foil on cloth or wood.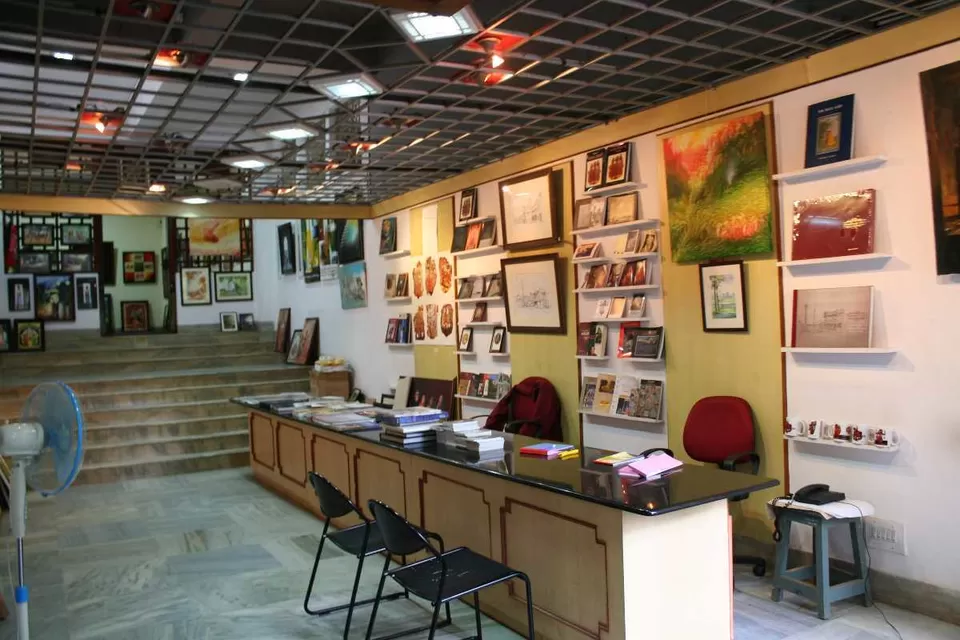 You will also be fascinated by the leather puppets, which are used for shadow play or Tholu Bommalata, a folk theatre form that narrates stories from epics such as Ramayana and Mahabharata. These art forms are not only aesthetically pleasing but also culturally significant, as they represent the rich heritage and diversity of Indian folk art.
Contemporary Art Gallery: A Glimpse of Modern Art Movements
If you are more into modern art, you will enjoy visiting the Contemporary Art Gallery, which features works by some of the most prominent and influential artists of India in the 20th century.
You will see paintings by M.F. Husain, K.K. Hebbar, S.G. Vasudev, and others, who were part of various modern art movements such as Progressive Artists' Group, Bombay Group, Baroda Group, etc. You will also see sculptures by Ramkinkar Baij, D.P. Roy Chowdhury, Sankho Chaudhuri, and others, who experimented with different materials and forms to create expressive and innovative artworks. These artworks showcase the diversity and creativity of modern art in India, as well as the social and political issues that inspired them.
How to Visit Karnataka Chitrakala Parishath: Tickets, Timings, Offers, and More
If you are planning to visit Karnataka Chitrakala Parishath, here are some details that you need to know:
Tickets: The entry to the art complex is free for all visitors. However, if you want to visit the Roerich Gallery or any other special exhibition, you need to buy a ticket at the counter or online. The ticket price is Rs. 20 for adults and Rs. 10 for students.
Timings: The art complex is open from 10:30 am to 7:30 pm on all days except Mondays and public holidays.
Offers: If you are visiting in a group of 10 or more people, you can avail a discount of 20% on the ticket price. You can also get a discount of 10% if you book your tickets online.
Cancellation policy: If you have booked your tickets online and want to cancel them for any reason, you can do so up to 24 hours before your visit. You will get a full refund minus a nominal cancellation fee.
To make the most of your visit to Karnataka Chitrakala Parishath, you can also:
Check out the events calendar to see if there are any workshops, lectures, seminars, or performances happening during your visit.
Explore the art shop where you can buy books, prints, posters, souvenirs, and other art-related items.
Take a guided tour where you can learn more about the history, the collections, and the artists of the art complex.
Attend a workshop where you can learn a new art skill or technique from a professional artist or instructor.
To reach Karnataka Chitrakala Parishath, you can use public transport such as buses, metro, or auto rickshaws. You can also use cab services such as Ola or Uber. The art complex is located at:
Karnataka Chitrakala Parishath No.1, Art Complex, Kumara Krupa Road Bengaluru, Karnataka 560001 India
You may also like to check out: Ulsoor Lake: A Guide to Bangalore's Oldest and Most Beautiful Lake
Other Places to Visit Near Karnataka Chitrakala Parishath: A Guide to Bangalore's Attractions
After exploring the art complex, you can also visit some of the nearby tourist places that are worth seeing in Bangalore.
Here are some of the popular places that you can visit within a few kilometers from Karnataka Chitrakala Parishath:
Place Distance Category Price
Gandhi Bhavan 0.5 km Museum Free
Jawaharlal Nehru
Planetarium 1.2 km Science Centre Rs. 50
National Military 1.4 km Park Free
Memorial Park
Indira Gandhi 1.5 km Park Rs. 30
Musical Fountain Park
Vidhana Soudha 2.2 km Government Building Free (outside view only)
Bangalore Palace 3.2 km Palace Rs. 230 (Indians), Rs. 460 (foreigners)
Cubbon Park 3.3 km Park Free
Venkatappa Art Gallery 3.4 km Art Gallery Rs. 10 (Indians), Rs. 150 (foreigners)
Karnataka Chitrakala Parishath is a must-visit destination for anyone who loves art and culture. It is a place where you can admire the beauty, learn the history, and appreciate the diversity of Indian art.
So, what are you waiting for? Book your tickets now and get ready for an unforgettable experience at Karnataka Chitrakala Parishath!