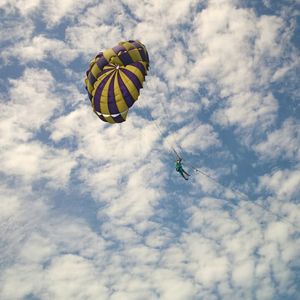 Pattaya Beach Pattaya Chon Buri Thailand
Places to stay near
Pattaya Beach Pattaya Chon Buri Thailand
Low cost room in Central Pattaya
Nice apartment on the beach
Studio Nongprue with large Pool&GYM
Sea view cozy 1BD CentricPattaya.
Reviews of
Pattaya Beach Pattaya Chon Buri Thailand
•
3
Trip first published on ANDREW THE EXPLORER
Day 2: Laze around the Pattaya Beach and drive to the middle of the sea. One can experience multiple water activities like Sea Walking, Motor- Biking and Parasailing. One should not miss the sea walking. It is something one time experience. Reach Coral Island and enjoy the different grilled sea foods- Prawns, Fishes, Lobsters, crabs. One should enjoy the chilled beer with the freshly grilled, finger linking Prawns served with sweet chilli sauce. Fresh fruits are also an attraction. Durian, the national fruit, provides a sweet burst in anyone's mouth. One should not forget to taste the big Thai Guavas. Those are very big to cease one's hunger and sweet to relish one's taste buds. Back to Pattaya Beach and drive to Pattaya Tower. Pattaya tower has 53 floors. One should take the pass which includes one welcome drink and privilege to choose any one of the pathways (Coming down through a rope; kind of bungee, 2nd way is to have an open two seater wheels on the rope and 3rd is to travel on a cage comprising 5 people at a time) to come down. Take a walk to "Walking Street". One can enjoy a drink and live music and end your day by an authentic Thai Massage.
Attractions near
Pattaya Beach Pattaya Chon Buri Thailand