7 Awesome Things To Do In Pattaya
My first ever international city visited is Pattaya. It was a little overwhelming for me when I first went out and trying to figure things here. But I found out that visiting Thailand is way better and seemingly more "Indian" & hence more comfortable than a very distinctly odd location. Besides, Thailand being cheap, currency-conversion wise, was always the first choice. There are a lot of awesome things to do in Pattaya & Bangkok both.
After landing in Bangkok's Suvarbhumi International Airport , we made our 2-hour way to Pattaya - a clean, traffic-free expressway that represented like the Mumbai Pune Expressway. Pattaya is one of the very popular tourist destinations in Thailand and is always on the bucketlist of a majority of the tourists traveling to this part of the world. Here I tell you the 7 awesome things to do in Pattaya:
1) Visit the Pattaya Walking Street
Every man's dream come true. If you can digest the revealing way of dressing, if you can see semi-nude local & foreigner girls & accept that this is their way of life, Walking Street is a great place to be at. It's a very famous attraction and if you have not come here, why did you come in the first place ??? Located at the extreme end of the Pattaya Beach Road, there are a lot of Go-Go Bars & Normal Beer Bars. Go-Go Bars is where the girls are ???? A very lively place to be at. From anywhere you stay in Pattaya, Tuk Tuk should take you around 15-20 minutes and 20 THB. Even grabbing a pint of beer becomes one of the best things to do in Pattaya here. Read my full article on Walking Street here .
2) Nong Nooch Botanical Garden
Nong Nooch Botanical Garden is spread across 3 km of land mass and is extremely beautifully done. There are a wide variety of flowers, landscaped garden, zoo, a lot of flora & fauna etc. It feels very refreshing. Very nice for the great walk, especially with your partner in tow. There are also some kick boxing matches & as is very common across Thailand, an Elephant Show (although I am very skeptical about the dubious ethics followed here towards animals).
3) Coral Islands (Koh Larn)
Coral Island is located about 45 minutes speed boat ride from Pattaya City. The turquoise waters makes it really wonderful for the first ever time to get to see the beach, even from about 100 metres away. Impeccebly clean, the international tourists, including Asians, follow the cleanliness standards. I also didn't find the place commercial, to the extent it is found at some places in India. Lots of Activities include parasailing, waterskiing, snorkelling or just swimming in the ocean.
4) Ripley's Believe It Or Not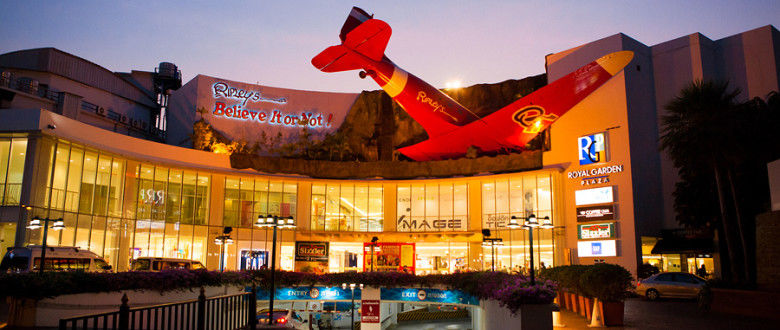 "Ripley's Believe It Or Not" should be there on your list of top things to do in Pattaya. Located in the heart of he city, there are 7 attractions in here, namely Believe It Or Not, Haunted Adventure, Infinity Maze, Moving Theatre, Louis Tussauds, Scream Dark and The Vault. These are 7 different sections for entertainment, made for the different interests of different visitors. Open from 11 am to 11 pm, each of the shows costs 500 THB per person. I felt a little costly but experience is good. Better to visit if you have kids with you.
Entry Fees: 500 THB per person
Visiting Time: 11.00 am to 11.00 pm
5) Pattaya Floating Market
A unique and authentic way of experiencing first hand the local culture. The Pattaya Floating Market has a series of activities to be done including the Sailing on the Rowing Boat, Monkey Show, Herb Garden, Amphibian Boat Trip etc. The only one in Pattaya.
6) Sri Racha Tiger Zoo (Chonburi)
SriRacha Tiger Zoo, also known as Chonburi Zoo is a little far away from Pattaya, around 40 kms from City and hosts a lot of children-related activities like Crocodile Show, Tiger Show, Elephant Show among other things. Tourists normally follow the shows in this particular order. Shows (aka Circus) get repeated one after another, with about 20 minutes rest period between 2 shows. Even if you are not able to catch one, you may opt for the other slot. The Park is spread across huge land and it appears very spacious. Snack & Refreshment is also available here. Read my full article on Sri Racha Tiger Zoo here .
7) Mini Siam
One of the most popular model villages in Thailand, Mini Siam boasts of all epic wonders of the world albeit in a miniature format. Some examples include London Tower Bridge, Eiffel Tower, Sydney Opera House etc. They are fun to watch and for some ordinary people like me, who haven't traveled to 30-40 countries of the world, they can see these up, close and personal. Located very close to Pattaya City, so you should be able to adjust your schedule and fit this in.
So whenever you are in Pattaya, these are the 7 awesome places you need to visit. And if there is any other place you found interesting, please feel free to let me know. That way, I shall revise my list and the credit goes to you ????
And oh yes, if you are wondering - from where I could get that wonderful cover picture, I'll give credit to , a 5-star hotel property.
This blog was originally published on 'Fly With Shaunak'