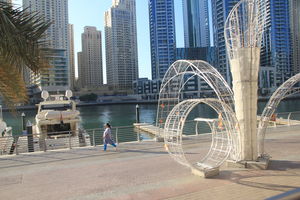 Places to stay near
Dubai Marina
SMALL EN-SUITE ROOM AT THE BEACH
Offer!!Executive Studio@the Greens!
Private Bedroom with Ensuite bath
BEACH FRONT VILLA! ALL INCLUSIVE
Reviews •
2
Cruise is a one hour journey trip. For 50 AED it is totally worth. It covers all the view of palm atlantis, Burj Al Arab and whole marina. Evening time is the best for this .
This view is form dubai marina mall. This place give the best exposure to dubai's architecture and creative mind. NO building here has same infrastructure. Each building is one of its kind and marvelous. There are restaurants by the creek which severe sheesha and food. Mall of emirates is smaller than dubai mall. One can spend hours nearby the creek walking cycling or just chilling!
Attractions near
Dubai Marina