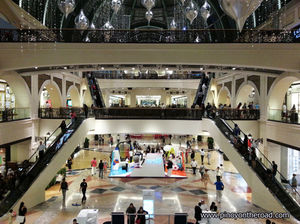 Mall of the Emirates - Al Barsha - Dubai - United Arab Emirates
Places to stay near
Mall of the Emirates - Al Barsha - Dubai - United Arab Emirates
SMALL EN-SUITE ROOM AT THE BEACH
Offer!!Executive Studio@the Greens!
Private Bedroom with Ensuite bath
BEACH FRONT VILLA! ALL INCLUSIVE
Reviews of
Mall of the Emirates - Al Barsha - Dubai - United Arab Emirates
•
3
Mall of the Emirates: This is the world's first shopping resort and offers ultimate leisure, shopping, and entertainment to visitors. This mall features around 560 international brands and has shopping area of 233467 sqM.Things to do:* Visit the ski Dubai and spend some time with the Penguins (Yes!! They have penguins in Ski Dubai
Day 1: I landed in Dubai late afternoon and was too tired to have a long adventurous day so I decided to check out Mall of Emirates. It was my first experience of luxury Dubai has to offer. It was an amazingly beautiful mall with a ski area (reminded me of Mt.Titlis in Switzerland) and had tons of options for shopping and food. High point of the day: Kissed a penguin (obviously under the supervision of a high talented penguin trainer) at Ski Dubai.
Attractions near
Mall of the Emirates - Al Barsha - Dubai - United Arab Emirates