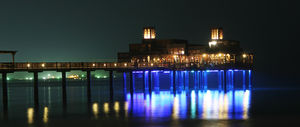 Pierchic - Dubai - United Arab Emirates
Places to stay near
Pierchic - Dubai - United Arab Emirates
Fantastic Location on Palm Jumeirah
SMALL EN-SUITE ROOM AT THE BEACH
Offer!!Executive Studio@the Greens!
Luxury double bedroom with en suite
Reviews of
Pierchic - Dubai - United Arab Emirates
•
2
End-of-the-pier fine dining seafood restaurant. Best view in Dubai at ground level. Views of the Burj al Arab and the candle-like wind towers of Madinat Jumeirah. Menu must-haves: Tuna carpaccio, scallops
According to me, there are hardly any few restaurants that can provide a better package of beautiful ambience, excellent service and exquisite food than Pierchic. If you are in Dubai make sure you book a reservation here.
Attractions near
Pierchic - Dubai - United Arab Emirates