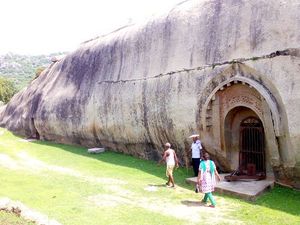 Best time to visit
8:00 AM - 4:00 PM
Open hours
6:00 AM - 6:00 PM
Things to do
history tours
Traveller Types
Couples, Friends, Solo
Rank
6 out of 21 attractions in Gaya
Barabar Caves
These are the oldest rock- cut caves of the country that date back to the 2nd Century BC and some during the Mauryan Period. This is known because some of the rock caves bear Ashokan and other Mauryan inscriptions on them. This cave complex is in the Mukhdumpur Region of the Jehanabad District. Most of the caves belong to the first phase of Buddhism and are deep cut caves. Most of these are built in the design of cottages or huts and do vary in sizes. The inside of each cave was made highly polished with a glass finesse which still gives the look of modern day laser work. The caves were mainly built to be used as residence for the Ajivika Buddhists and monks. Many jataka tales are inscribed on the walls of these caves apart from other royal inscriptions. The caves are comparatively in good condition in spite of ignorance.
Reviews of
Barabar Caves
•
2
BARABAR CAVES:Barabar caves are the oldest rock cut caves in India. Situated in Jehanabad district of Bihar, have inscriptions dated back to Ashokan period. Tourist can find many Hindu and Jain sculptures here. It is believed that these caves have been carved out of huge boulders. What might fascinate you are the big arches and two chambers in all the caves here. There are four caves in total names- Lomas Rishi, Karan Chaupar, Sudama and Vishwa Zopri. You must visit them to see for yourself the architectural design of the Mauryan period.
A little more than 40 kilometers from your starting point, these caves had been carved out from olid rocks and depict Lord Buddha's timeline. An important archaeological site.
Attractions near
Barabar Caves