A UNESCO World Heritage site and a protected monument under Archeological Survey of India, that boasts of being one of the largest rock-cut cave complexes that houses Hindu, Buddhist and Jain temples are the magnificent Ajanta and Ellora Caves!
Located 350 kms from Mumbai these famous rock-cut caves are situated in the hilly terrain of Aurangabad district, which is also the largest city in the Marathawada region of Maharashtra. Aurangabad, named after Mughal Emperor Aurangazeb, who established his capital at this place in 1653 also has a lot of other sites to visit but the most renowned remains Ajanta and Ellora Caves.
Although taken in a breath together, Ajanta Ellora Caves, but they are different and are 122 kms apart, takes three hours to reach if the journey is taken in a day, which is quite an impossible feat if you want to enjoy the sites!!
Despite the presence of similar caves in Mumbai like Kanheri Caves at Sanjay Gandhi National Park, Mahakali Caves at Andheri and Elephanta Caves, Ajanta-Ellora caves are class apart with extensive detailing that went into the construction of these masterpieces.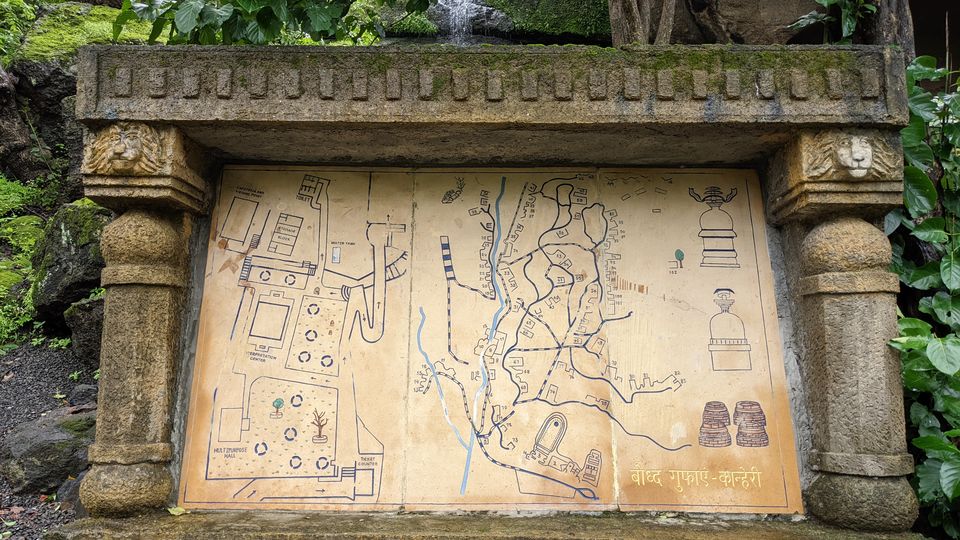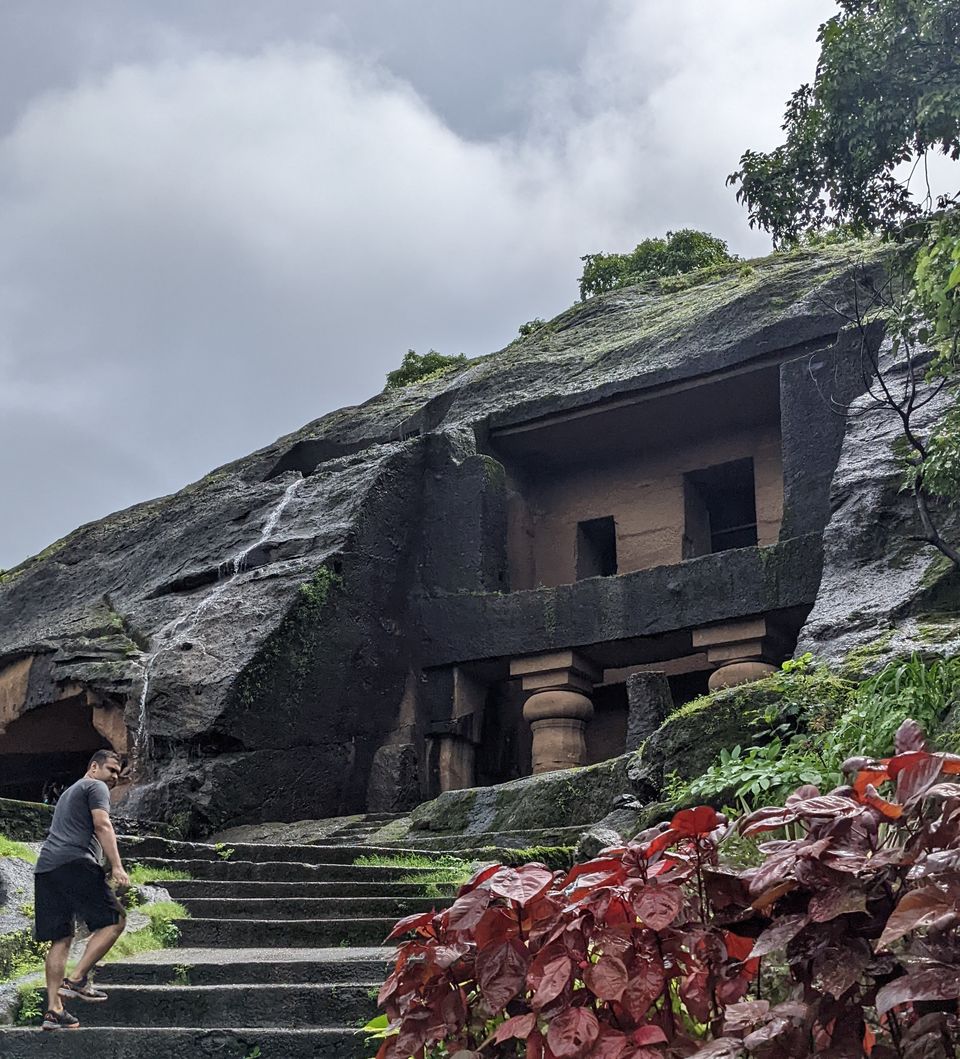 How to Reach
By Air
By flight it takes 1 hr and 15 minutes to reach Aurangabad Airport which is 5.5 km east of the city centre.
By Train
By train it takes between 6.5 to 7.15 hrs. Five trains that ply between Mumbai and Aurangabad. They are
• 17617 Tapovan Express (Runs on all days of the week)
Starts at 6:15 am from Chhatrapati Shivaji Maharaj terminus and reaches Aurangabad Railway Station at 01:05 pm
• 12071 Janshatabdti Express (Runs on all days of the week)
Starts at 12:10 pm from Chhatrapati Shivaji Maharaj terminus and reaches Aurangabad Railway Station at 06:25 pm
• 11401 Nandigram Express (Runs on all days of the week)
Starts at 04:35 pm from Chhatrapati Shivaji Maharaj terminus and reaches Aurangabad Railway Station at 11:50 pm
• 17612 Rajya Rani Express (Runs on all days of the week)
Starts at 06:45 pm from Chhatrapati Shivaji Maharaj terminus and reaches Aurangabad Railway Station at 01:45 am
• 17057 Devagiri Express (Runs on all days of the week)
Starts at 09:30 pm from Chhatrapati Shivaji Maharaj terminus and reaches Aurangabad Railway Station at 04:15 am
By Bus
Travelling by bus from Mumbai takes at least 9 hrs 45 minutes to reach Aurangabad. The bus starts from Borivali West at Gokul hotel and connects to Western Express Highway where they keep picking up the boarders along with highway.
By Car
When travelling by car there are three options to reach Aurangabad from Mumbai
Routes:
1. Mumbai – Thane – Kalyan – Igatpuri – Nashik – Yeola – Vaijapur – Aurangabad
2. Mumbai – Karjat – Lonavala – Talegaon Dabhade – Chakan – Ranjangaon – Ahmednagar – Shani Shingnapur – Newasa – Gangapur – Aurangabad
3. Mumbai – Karjat – Lonavala – Talegaon Dabhade – Chakan – Rajgurunagar – Pabal – Takli Dhokeshwar – Bhalawani – Ahmednagar – Shani Shingnapur – Newasa – Gangapur – Aurangabad
Most preferred route to drive is Route 1 as it takes around 7 hrs through NH160 which is the fastest compared to the other two routes.
Best Time to Visit
The best time to visit the caves and Aurangabad in general is after monsoon when everything around wears different shades of green. Between October to March. Visiting during monsoons is also an option. But summers should be avoided.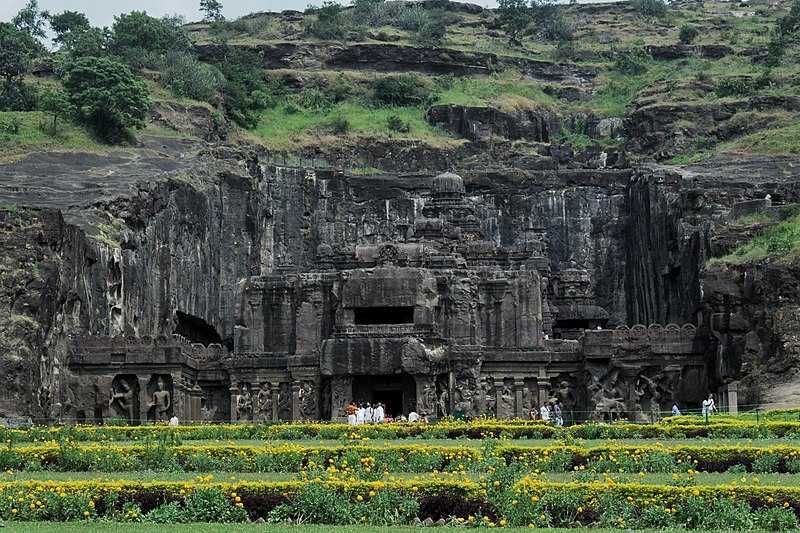 Travelling Within The city
There are various means of transport to enjoy the sites in and around the city. You can opt for travel agencies that would take care of all your needs. Usually preferred for families with young children.
If you are the adventure types and budget travel is your 'funda' then you can board local buses that ply frequently from MSRTC central bus stand. For Ellora local buses ply every half hour, and for Ajanta the buses that head towards Jalgaon via Fardapur need to be boarded. The Ajanta T-junction near Fardapur is the drop-off point for those visiting Ajanta Caves. From there you can take the eco-friendly free shuttle to the caves.
Auto-rickshaws are another easy means of travel. The meter is read along with a "tariff card". The fares are supposed to be x% more than what the meter displays.
Chauffeur-driven taxis where the fare depends on the type – AC or Non-AC.
In all, availability of public transport to move in and around the city is pretty decent.
Things to Remember While Visiting Ajanta and Ellora Caves
• Flash photography is not allowed, since the murals and paintings are old, light from the flashes impact them.
• Do not use flash of the mobile phone cameras also.
• Since the walk is long and quite a lot of steps to climb in certain sites, it is advisable to wear comfortable walking shoes, carry a bottle of water and don a cap or a hat (you will find quite a lot of locals selling jute hats).
• Guides at both Ajanta and Ellora caves are highly recommended in case you want to learn the nitty-gritty of the cultures of that era and the nooks and corners of the caves.
• Guides with valid Government of India identification should be hired.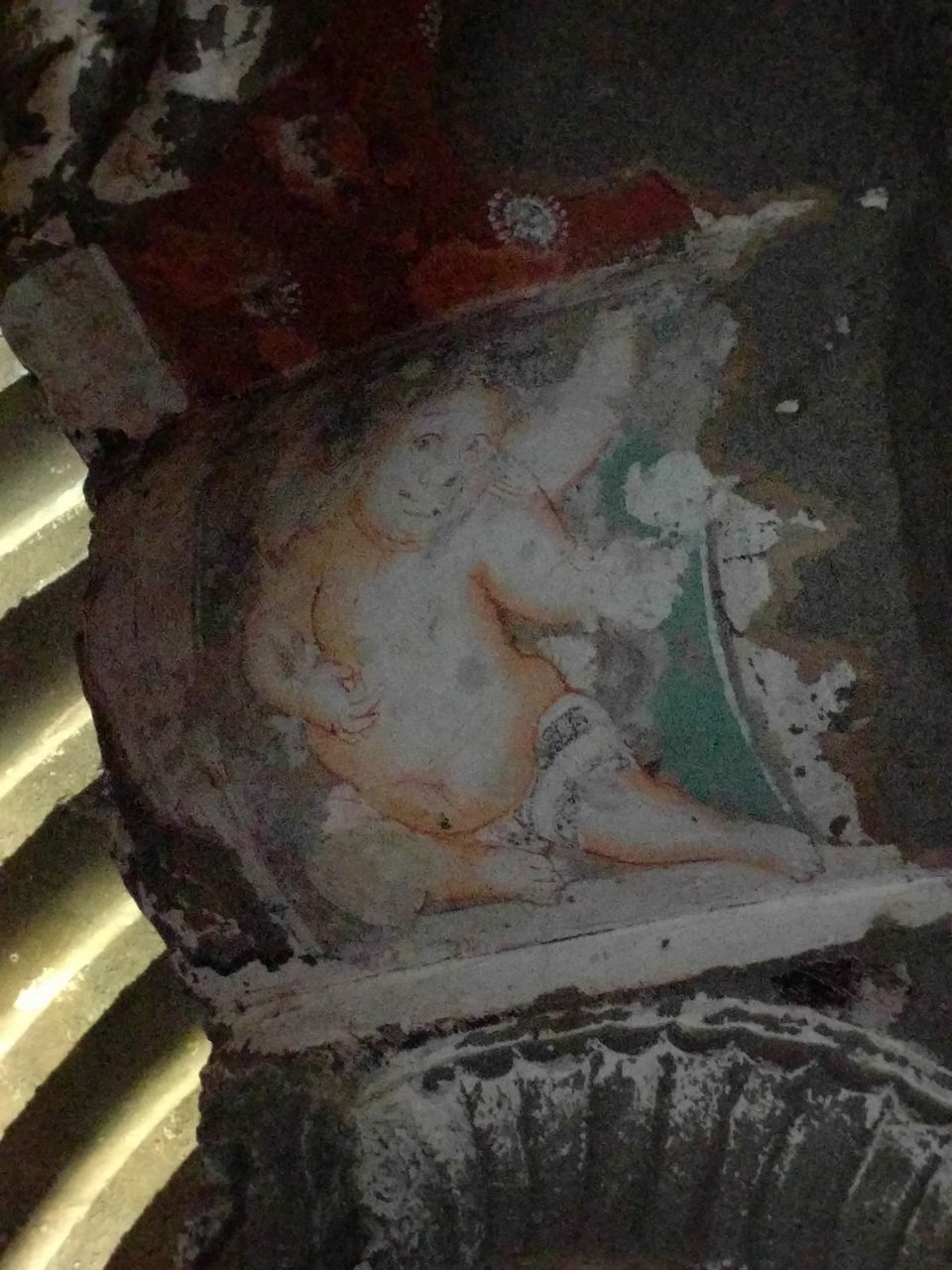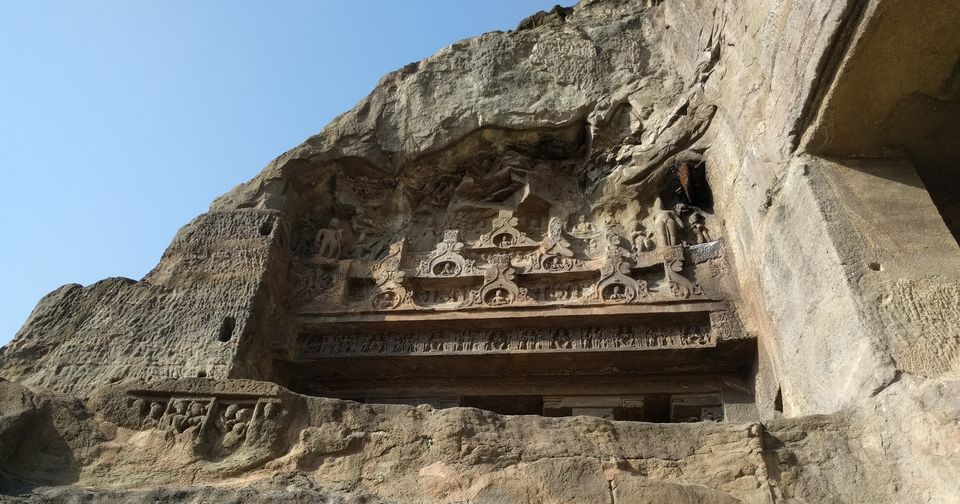 Ellora Caves
Located 30 kms from historical city of Aurangabad (which has officially been proposed to be renamed Sambhajinagar), in the Charanandri Hills of Maharashtra lies Ellora, one of the largest rock-cut temple complexes in the world dating back to 600-1000 CE that houses 34 rock cut monasteries and temples. This was inscribed in 1983 as a UNESCO World Heritage Site. The site accommodates architectural marvels of three prominent religions – Buddhism, Brahmanism and Jainism, and has been a symbol of religious tolerance since ages in India!!!!
Built during the Rashtrakuta Dynasty who constructed part of the Hindu and the Buddhist caves and the Yadava Dynasty who built a number of the Jain caves, this complex is an example of human creative genius that brings the civilization of ancient India with its uninterrupted sequence of monuments to life. There are more than 100 caves, but only 34 are accessible to tourists. These 34 caves are excavated from Deccan basalt and spread over a space of 2 kms from north to south. Out of these 34 caves, 12 caves in south are Buddhist (600 – 800 AD), 17 caves in the centre are Brahmanical (600 – 900 AD) and five caves in the north are Jain caves (800 – 1000 AD). Not only did these caves serve as a centre of worship was also remained popular because of being a part of the ancient silk route. Although this site represents the renaissance of Hinduism under the Chalukya and the Rashtrakuta dynasties, this site also marks the subsequent decline of Buddhism and sudden resurgence of Jainism under appropriate patronage.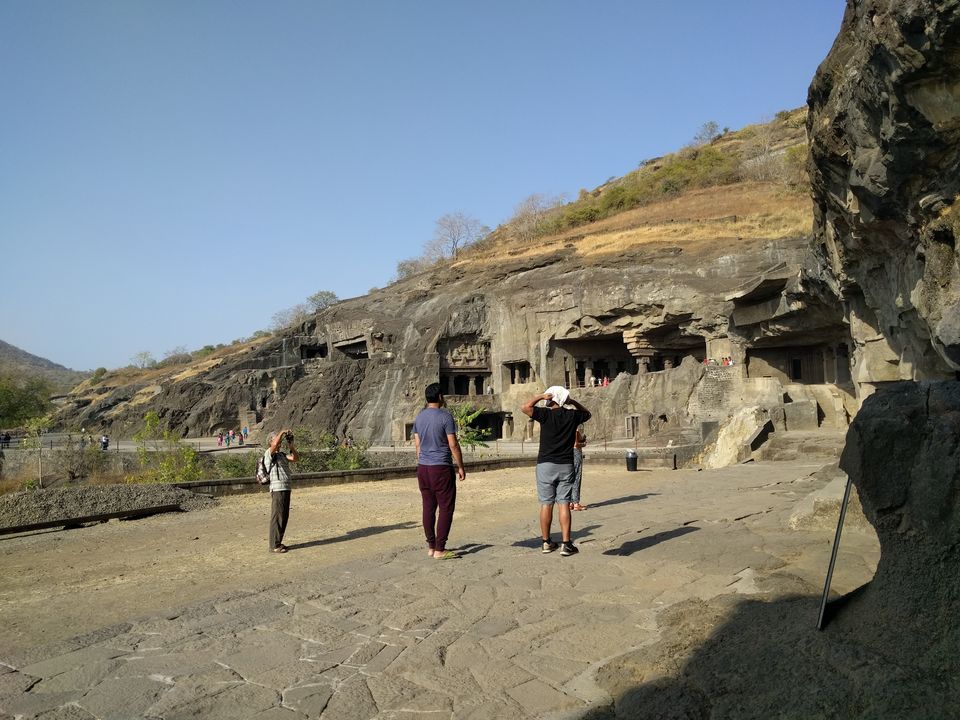 Kailasa Temple
The most famous of all the caves displaying audacious architectural feat is Cave 16 which is the world's largest monolithic structure dedicated to Lord Shiva, that was built by King Krishna I of the Rashtrakuta dynasty in 760 AD. A magnificent example in the field of engineering and logistics, the builders of this temple scooped out 400,000 tons of rock over a period of 18 years, with a workforce that could have worked either for 12 hrs a day removing 5 tons of rocks every hour or could have worked for 24 hrs a day removing 2.5 tons of rocks every hour!!!
And herein lies the famous single monolith Kailasa Cave where the hydraulic lift and various other facilities are going to be introduced soon!!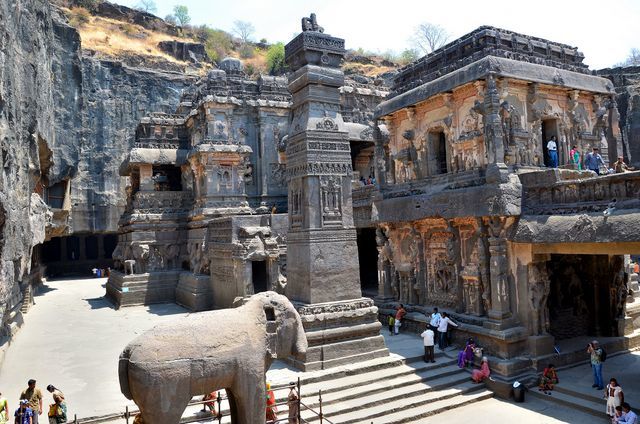 Buddhist Caves
All the Buddhist caves are as Viharas, except for Cave 10 which is known as Chaitya. Among all the caves, Caves 3 and 4 are unfinished, Cave 5 is the largest vihara with stone benches that hint at it being an assembly hall, Cave 6 is the one that is elaborate with images of Tara, consort of Bodhisatva Avalokiteshvara and the Buddhist goddess of learning Mahamayuri. Caves 7 and 8 are connected through a doorway. One of the finest chaityas in India is Cave 10 also known as the Viswakarma (Carpenter) cave which is also the only chaitya here. Cave 11 and Cave 12 are known as Do Thal and Tin Thal respectively because they are two and three storeyed. Cave 12 has a locked shrine on the top floor that has a large Buddha figure surrounded by his past seven incarnations!
P.S. – Dwelling place of the monks are called Viharas.
Place of worship in Buddhism is known as Chaitya.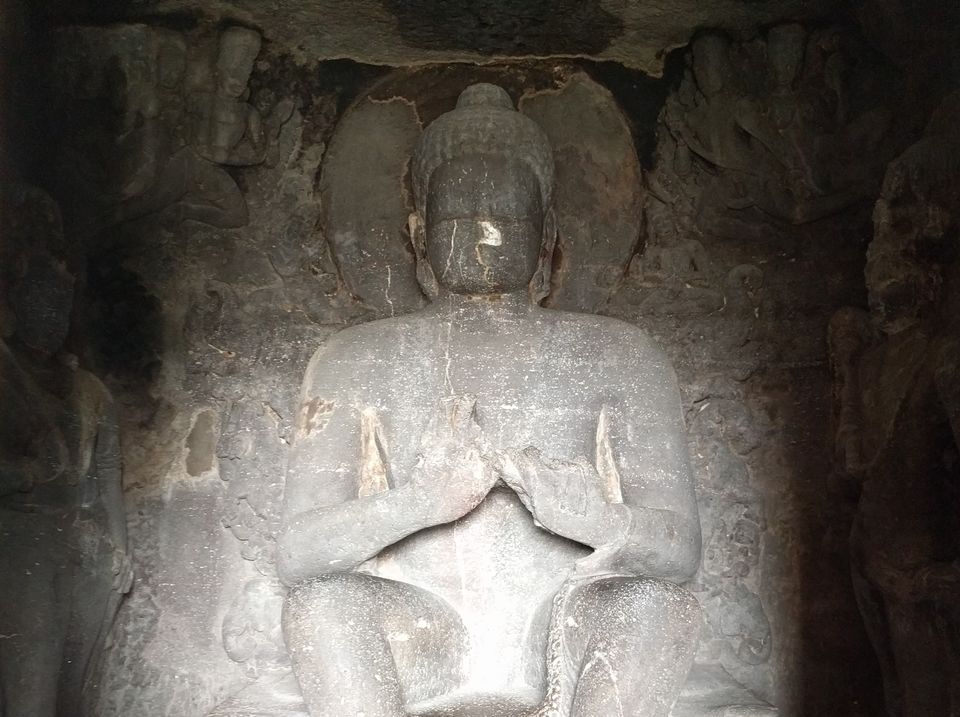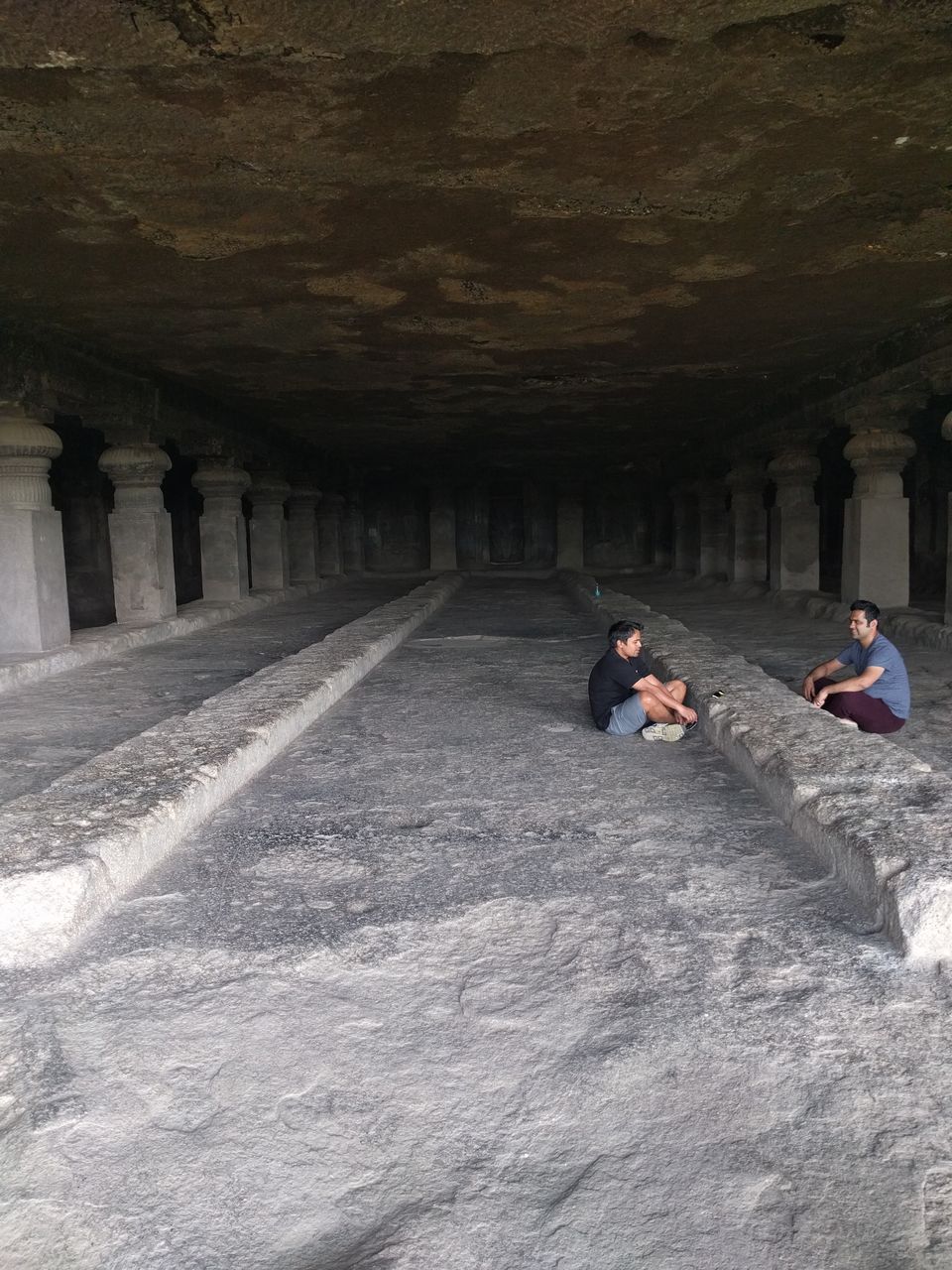 Hindu Caves
Starkly different from the Buddhist caves that reflect calm and contemplation, comes the dramatic and dynamic Hindu caves (Cave 13 to 29)!
A creative vision in the middle of an escarpment, these temples are example of an architectural marvel. Being carved from top down, the builders were never required to erect a scaffolding!!!
Here, some caves are simple monasteries (Caves 17 to 20 and Caves 20 to 28), others tell a story (Cave 14, 15, 29) while another could possibly had been a granary.
Cave 14, also known as "Ravana-ki-Khai" is a Buddhist vihara which was converted to a Shiva temple in the 7th century.
Cave 15 that is called Das Avatara (Ten Incarnations of Vishnu), displays the Nataraj avatar of Shiva and emerging of Shiva from a lingam (phallic image) while Lord Vishnu and Lord Brahma pay homage. The Hindu Holy Trinity is depicted in this cave.
Cave 21 or Ramesvara features fascinating interpretations of Shaivism in earlier temples, of which Goddess Ganga standing on makara (crocodile) is worth mentioning.
Lastly Cave 29 or the Dumar Lena is believed to be a transitional model from simple hollowed caves to artistic and audacious architectural legacy of Kailasa!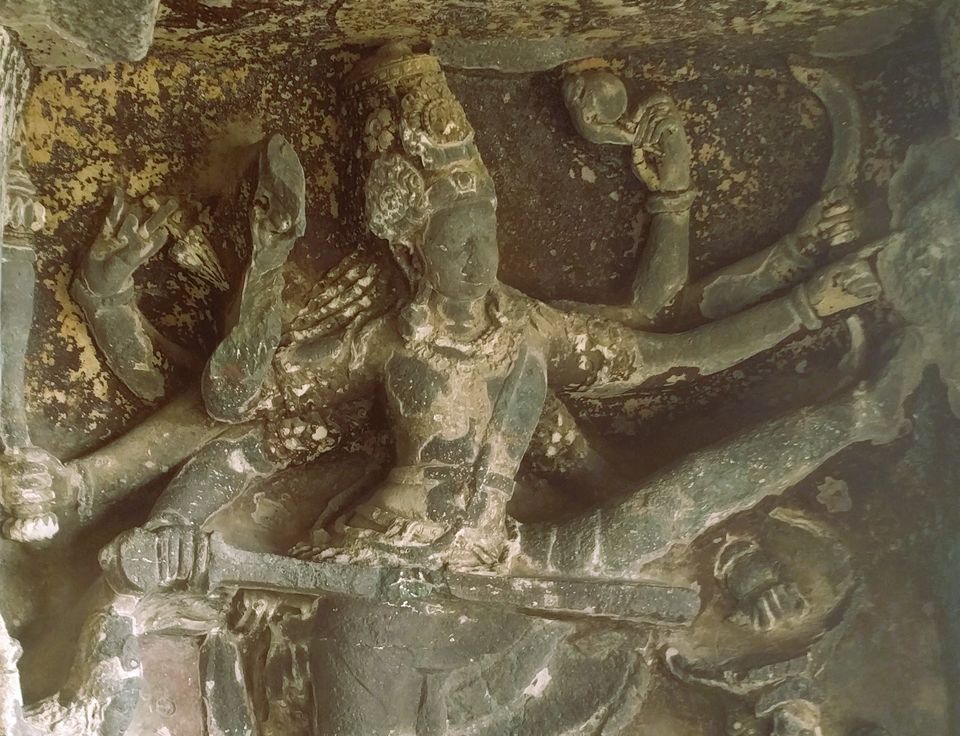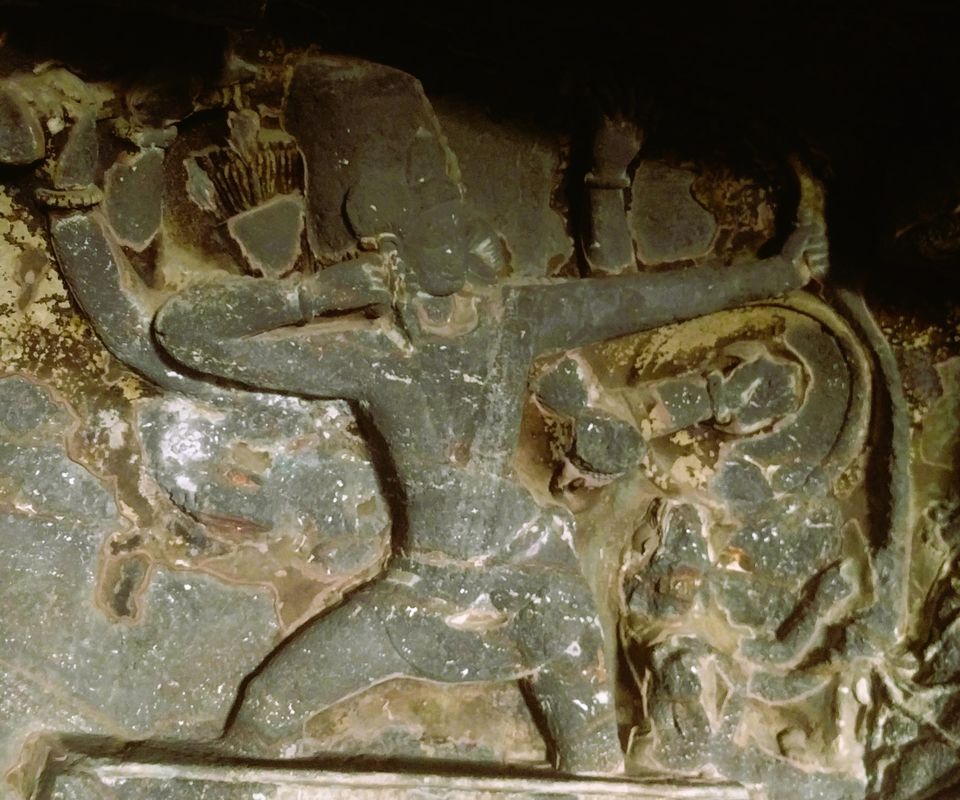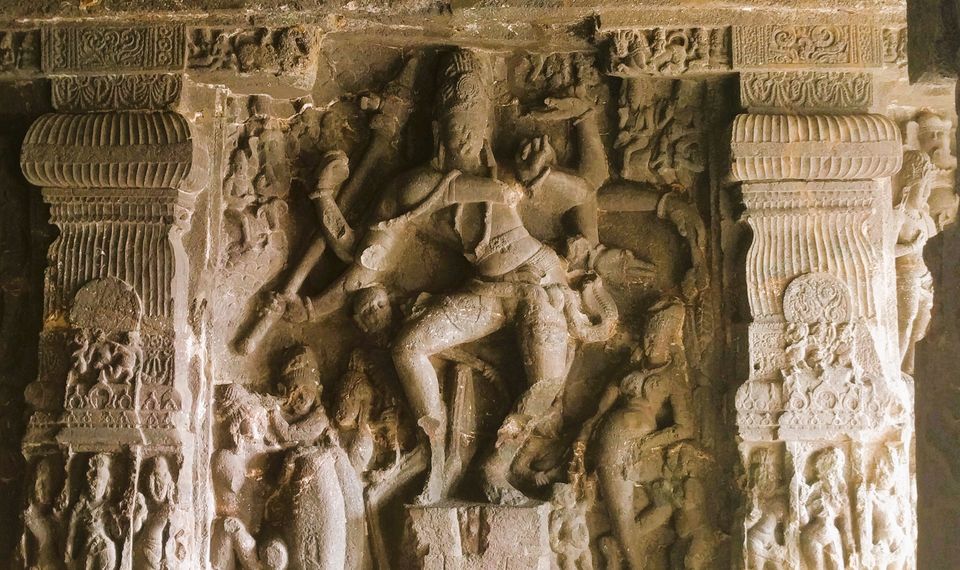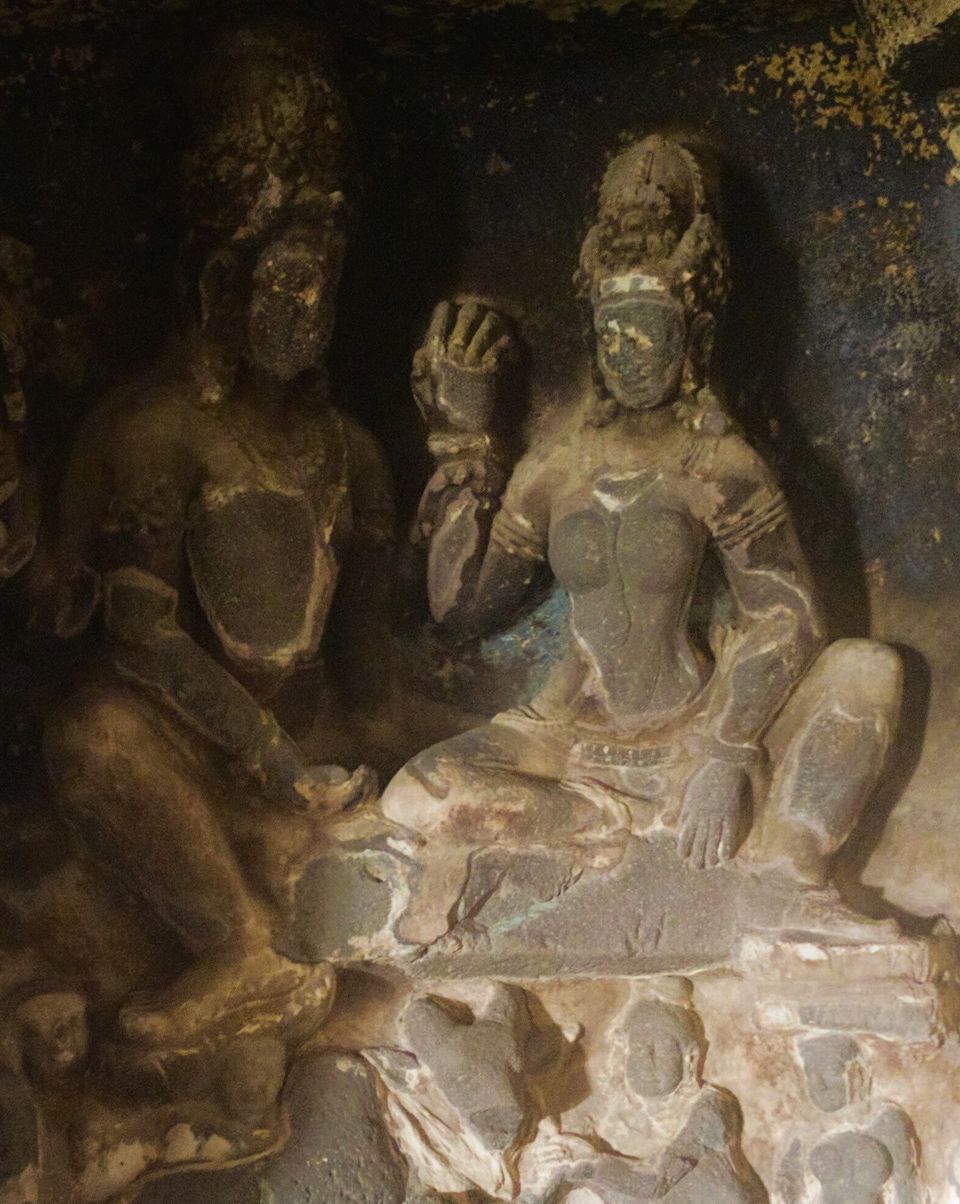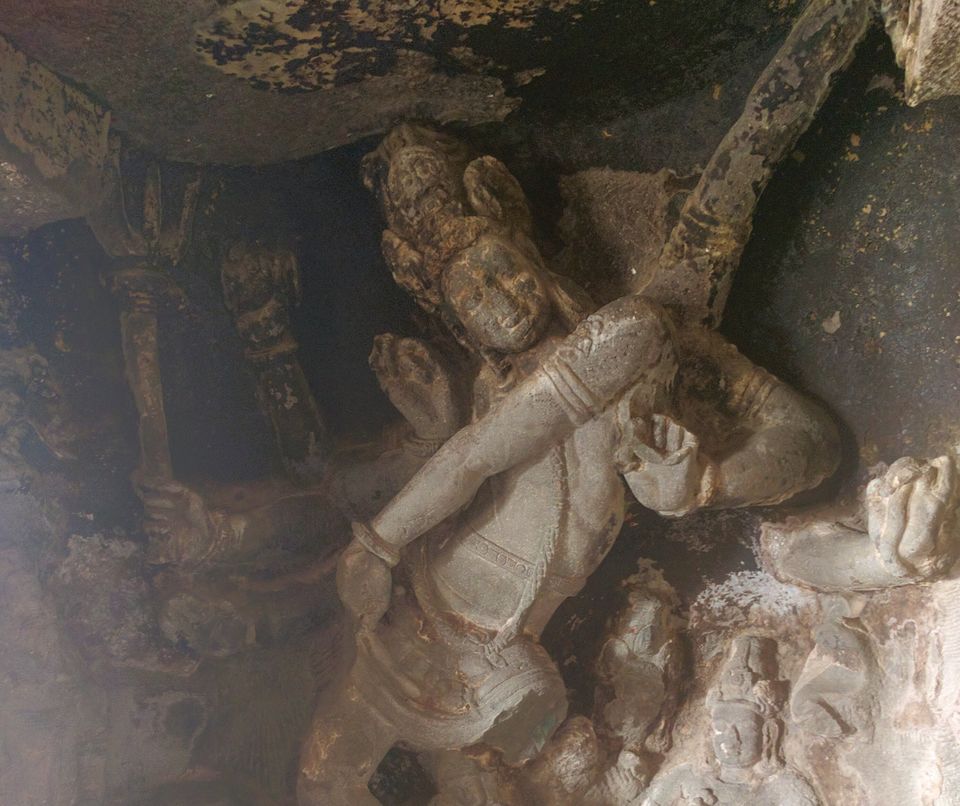 Jain Caves
Despite being plain compared to the artistic elegance and ambition of the Hindu temples, the Jain temples carved a niche here with its exceptional detailing. While Cave 30 (Little Kailasa) is a poor imitation of Cave 16, and Cave 31 being simple; Cave 32 called Indra Sabha is the finest among all with images of Jain tirthankars (great teachers) Parasnath and Gomateshvara and also a seated figure of the last Jain tirthankara who also founded Jainism, Mahavira. Cave 33 (Jagannath Sabha) and 34 house well-preserved sculptures which is worth a visit and not to miss the 5-meter-high image of Parasnath on the hilltop over the Jain temples that looks over Ellora!
Entry Timing:
8am to 5.30pm (closed on Tuesdays)
Entry Fee:
INR40 (Indians)
INR40 (SAARC & BIMSTEC)
INR600 (Foreign nationals)
Free for kids under 15 years of age
Separate charges for professional camera and guides
P.S. – Check if tripods, selfie-sticks with tripod or drones are allowed or not because in many sites these aren't approved.
Ajanta Caves
122 kms away from Ellora Caves and 105 kms northeast of Aurangabad, lies a collection of 30 rock-cut caves that predates the magnanimous Ellora caves, and first Buddhist caves have been dated from 1st and 2nd century BC is believed to be dated between 1st century BC to AD 650, known as Ajanta Caves. And here all are Buddhist caves!!! The 30 caves are cut out of an escarpment that is horseshoe shaped. Out of the 30 caves, five are chaityas, while the other 25 are viharas. Caves 8, 9, 10, 12, 13 and part of 15 are a part of the older early Buddhist caves, while the others are Mahayana which dates to 5th century AD. Not all caves are open due to early vandalism. Among those that are closed are Caves 3, 5, 8, 22 and 28 to 30 are closed. Sometimes Cave 14 remains closed.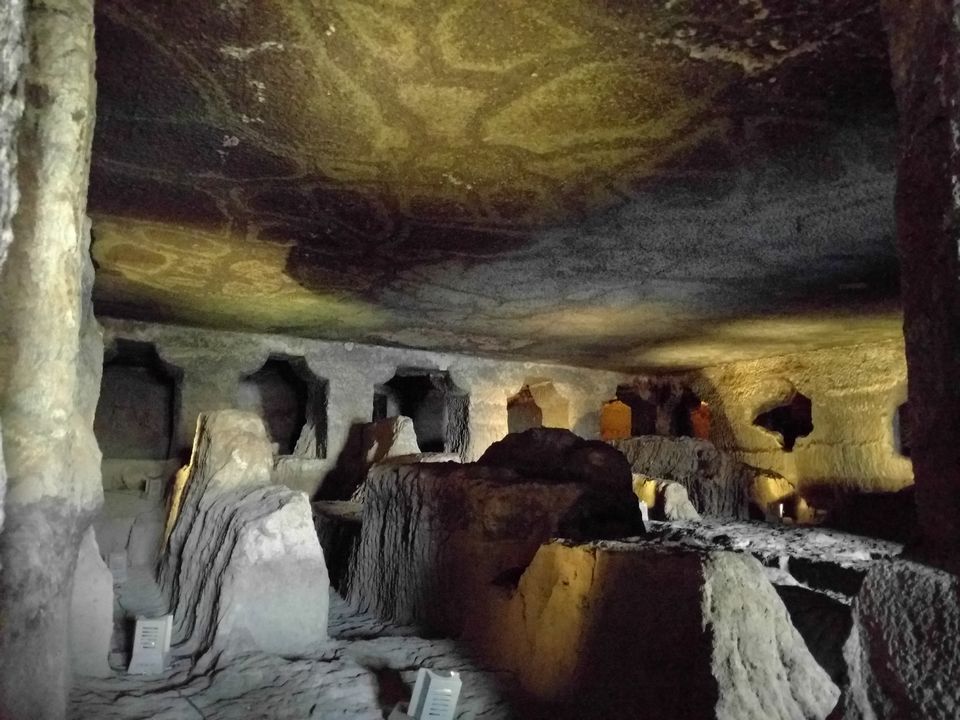 Cave 1, that is the latest excavated vihara consists of elaborate sculptures and narrative murals in a large congregational hall.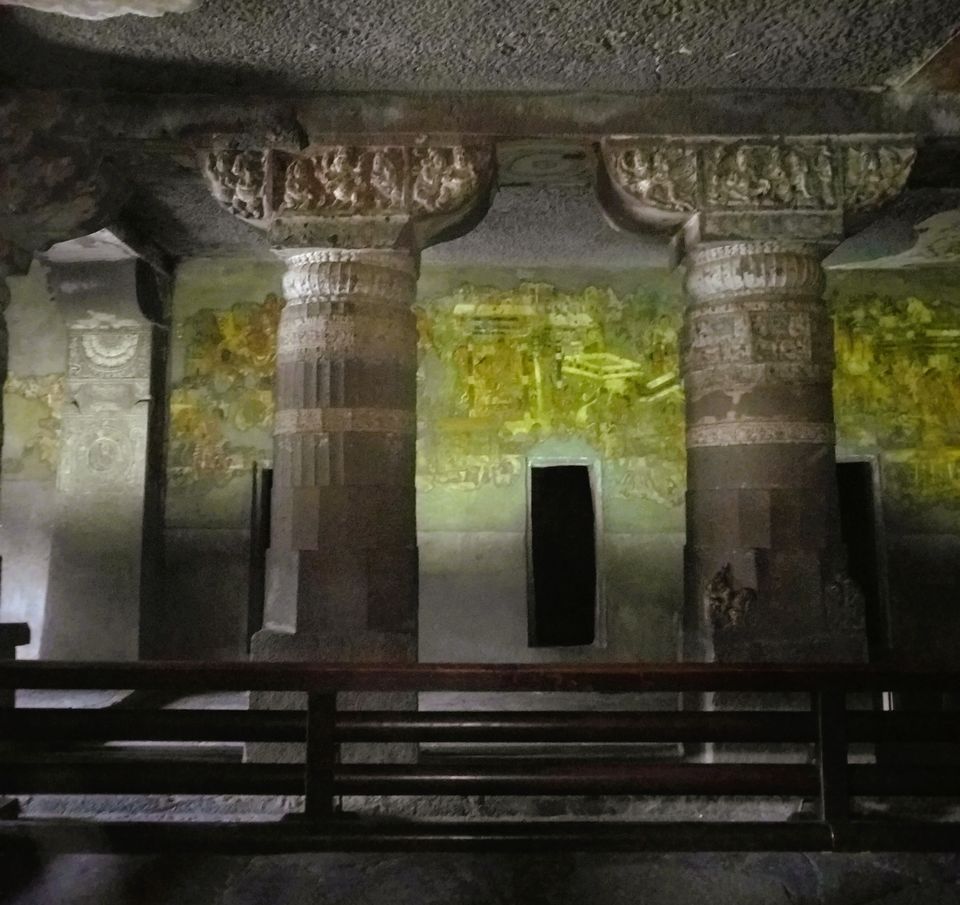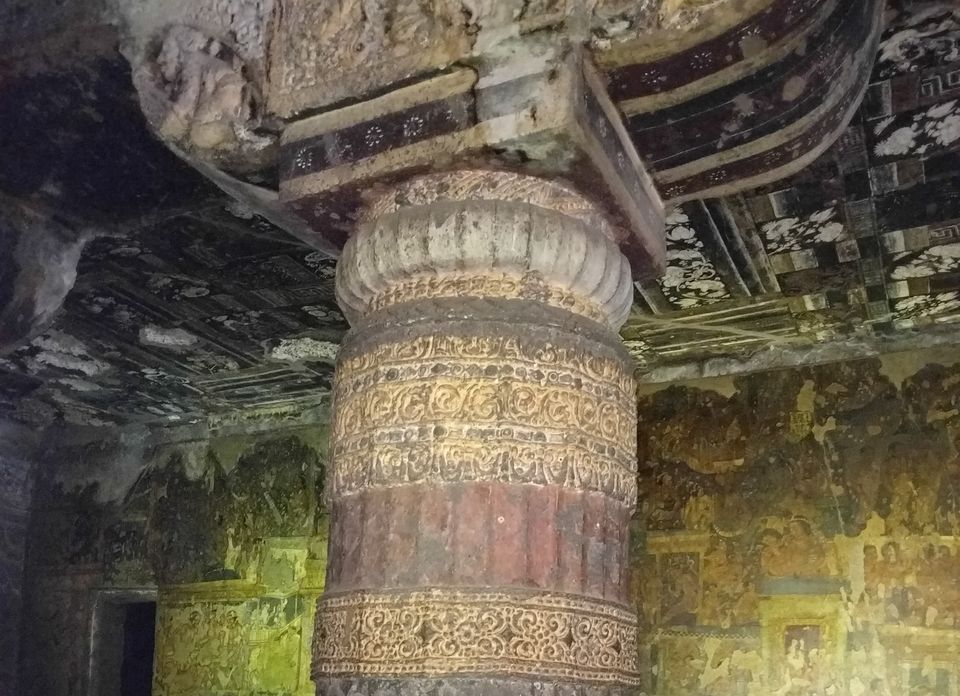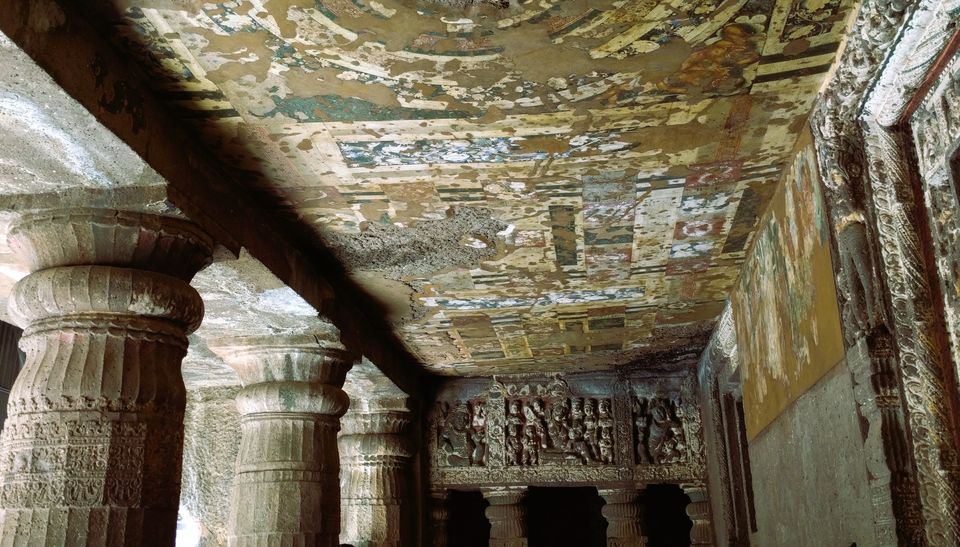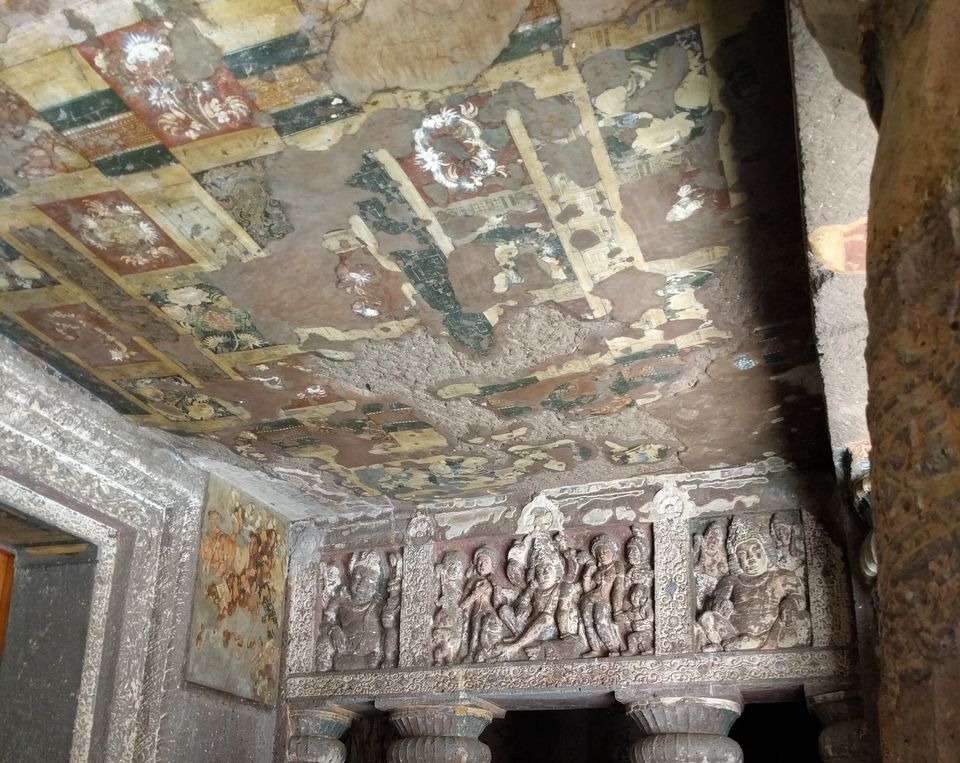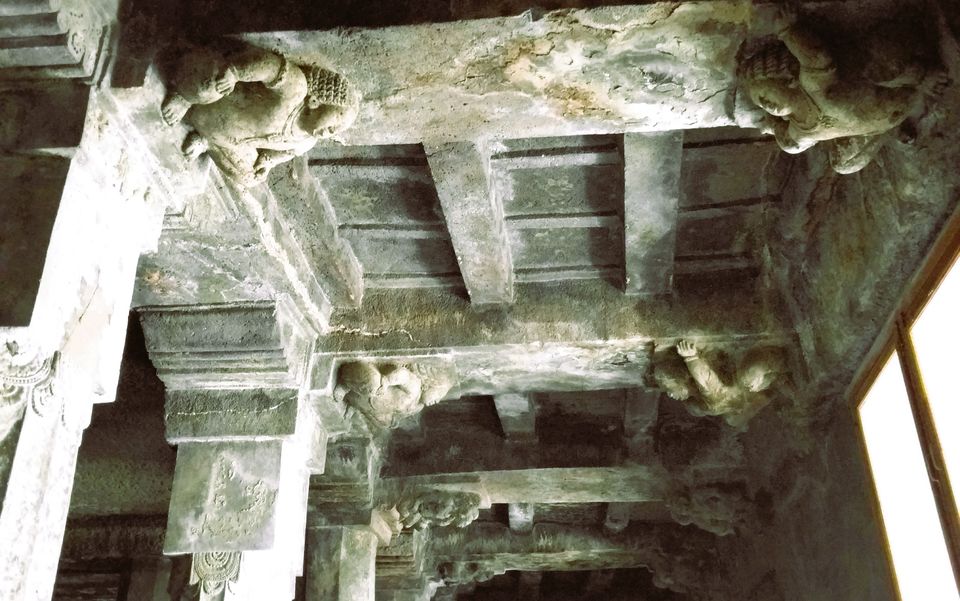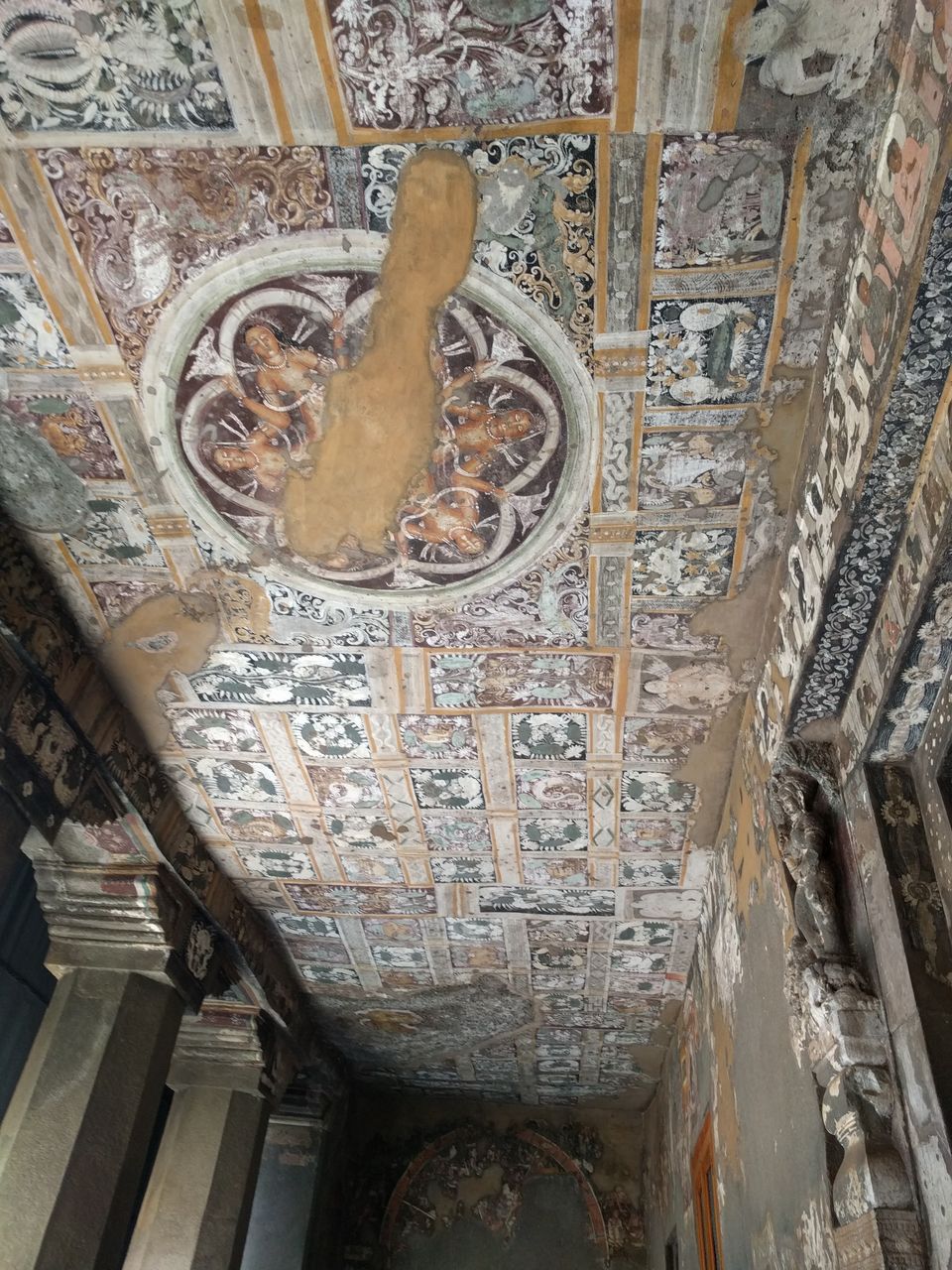 Cave 2 which is a late Mahayana vihara included several ornamented columns, fine paintings, ceiling with geometric and floral patterns and murals narrating Jataka tales that also included the story of Buddha's birth where his mother dreamt of a six-tusked elephant.
Cave 4 is the largest vihara, supported by 28 pillars, that although is incomplete contains impressive sculptures.
Cave 6 is the only two-storey vihara.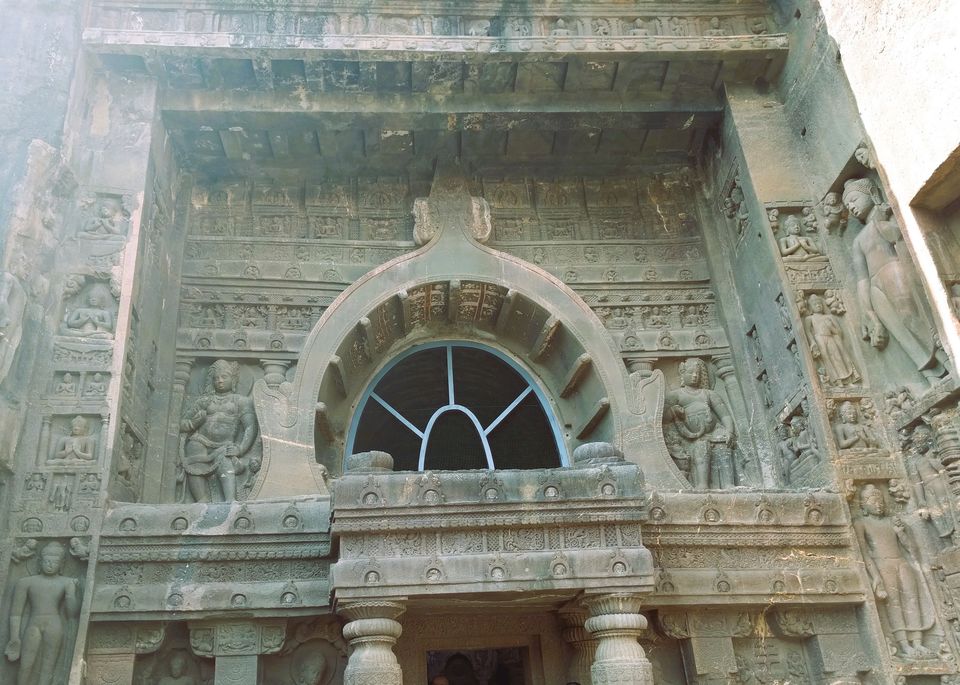 Cave 10 which is assumed to be the oldest cave and the largest chaitya was the first cave to be spotted by the British soldiers who rediscovered Ajanta.
Some of the finest paintings of Ajanta can be found in Cave 16, among which the best is that of "dying princess" – Sundari, wife of Buddha's half-brother Nanda, who is believed to have fainted at the news that her husband will renounce material life (also her).
Cave 17 consists of yet another set of marvelous, most varied, best-preserved paintings.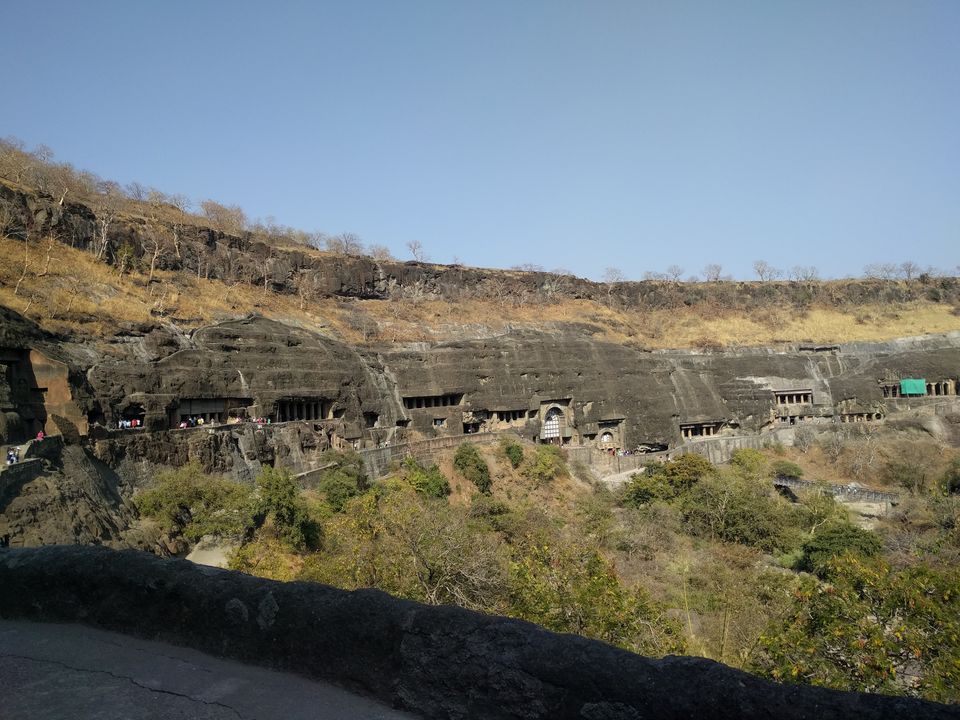 Entry Timing:
9am to 5pm (closed on Mondays)
Entry Fee:
INR40 (Indians)
INR40 (SAARC & BIMSTEC)
INR600 (Foreign nationals)
Free for kids under 15 years of age
Separate charges for professional camera and guides
P.S. – Check if tripods, selfie-sticks with tripod or drones are allowed or not because in many sites these aren't approved.
Other Places to Visit Around Ajanta and Ellora Caves
Not just Ajanta and Ellora Caves, there are several other places of interest that one can visit when travelling to Aurangabad.
Daulatabad Fort
Located in the city that was renamed by the whimsical king Mohammed Bin Tughlaq who came up with the impossible scheme of not only shifting the entire population of Delhi covering 1100kms but also building a new capital here and atop Devagiri hill is Daulatabad Fort. The fort lies halfway between Aurangabad and the Ellora caves.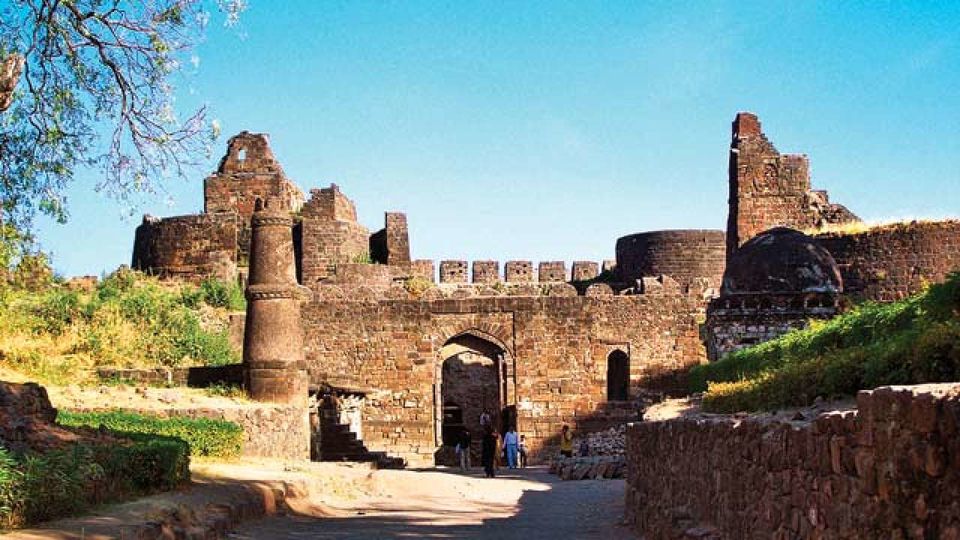 Multiple doorways, towers and a dark spiraling tunnel which was used by the fort's defenders to hurl burning coals, arrows or even boiling water at invaders. Any dark space is currently occupied by the flying mammals. You got that right – bats!! There is a blue-tiled Chini Mahal where Abul Hasan Tana Shah, king of Golconda, who was imprisoned there for 12 years after which he died.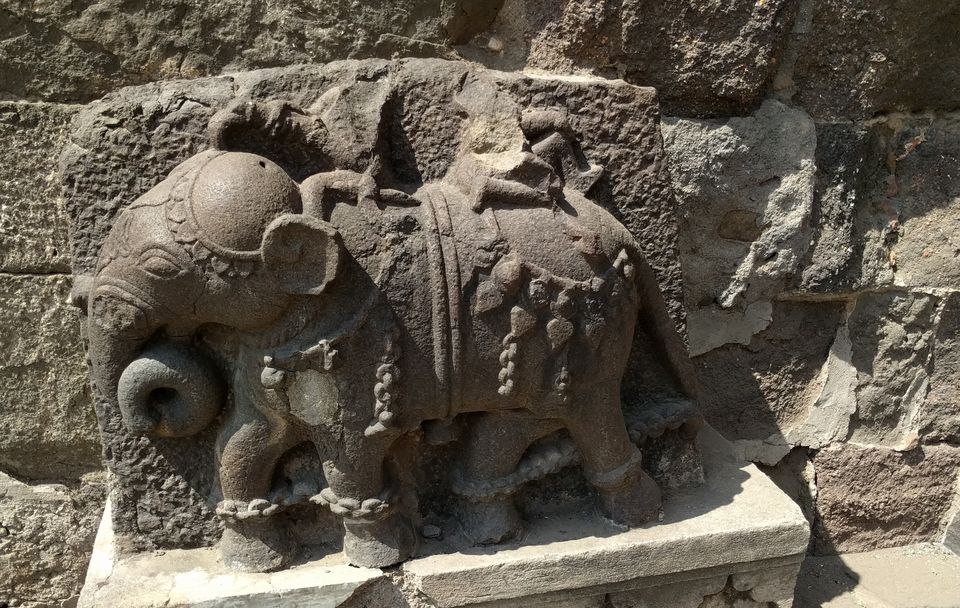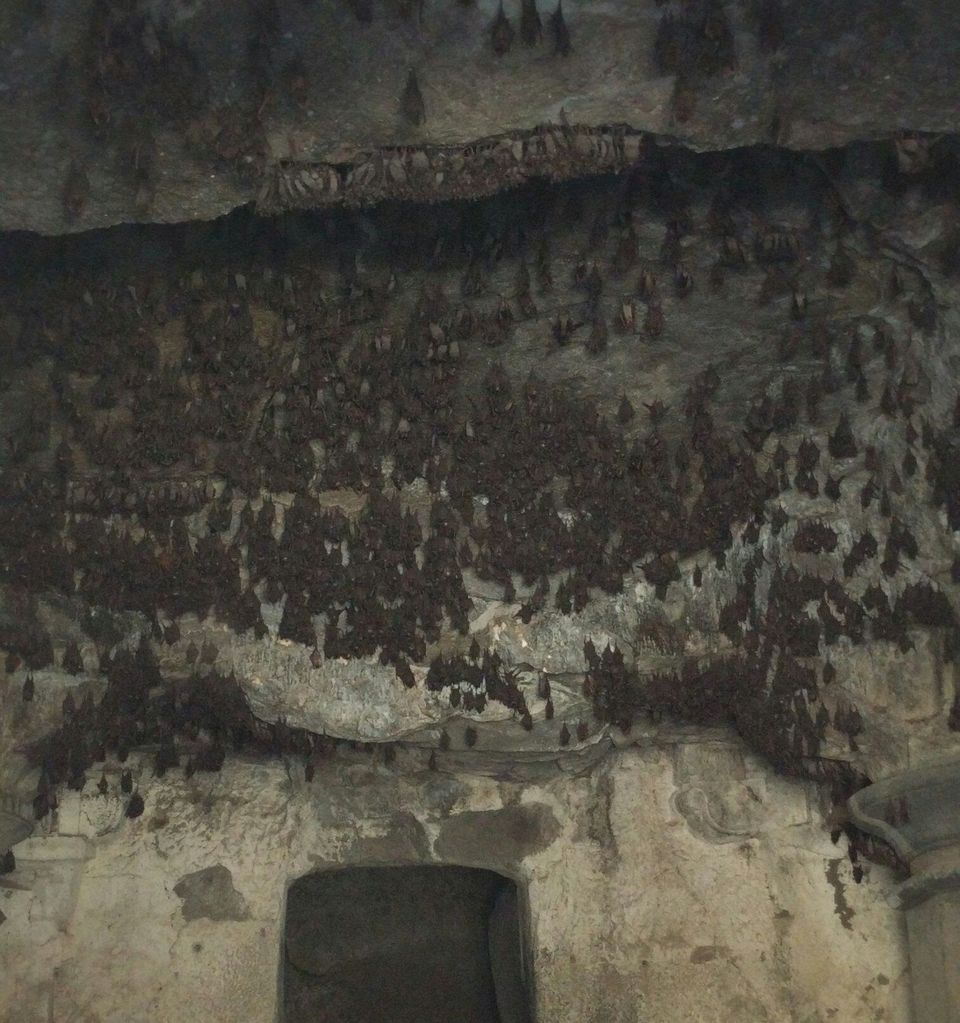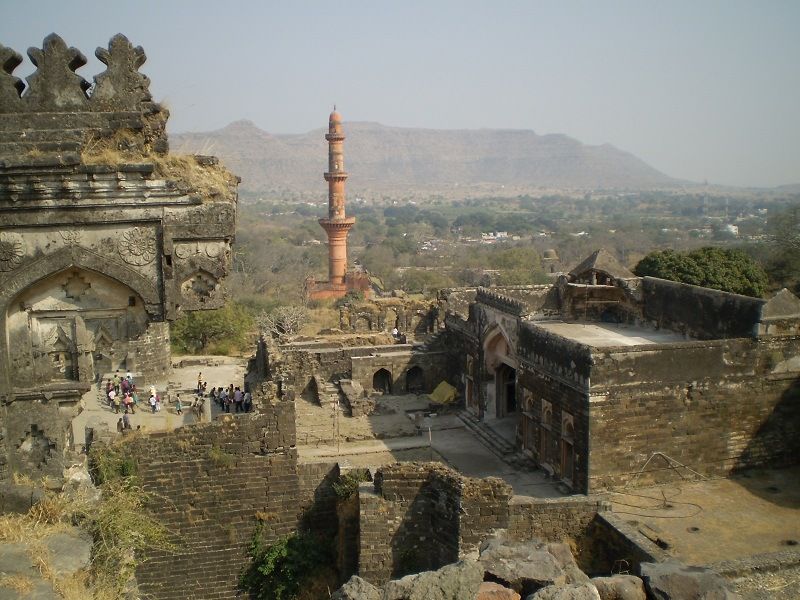 Entry Time:
9am to 6pm
Entry Fee:
INR10 for Indians
INR100 for Foreign nationals
Biwi ka Maqbara
Popularly known as "poor man's Taj Mahal" that was built as a mausoleum for Aurangazeb's wife, Rabia-ud-Daurani in 1679. Although modestly built, unfortunate comparison with "Taj Mahal" crops up. Not so well preserved like the Wonder of the Modern World, but still worth a visit especially at night.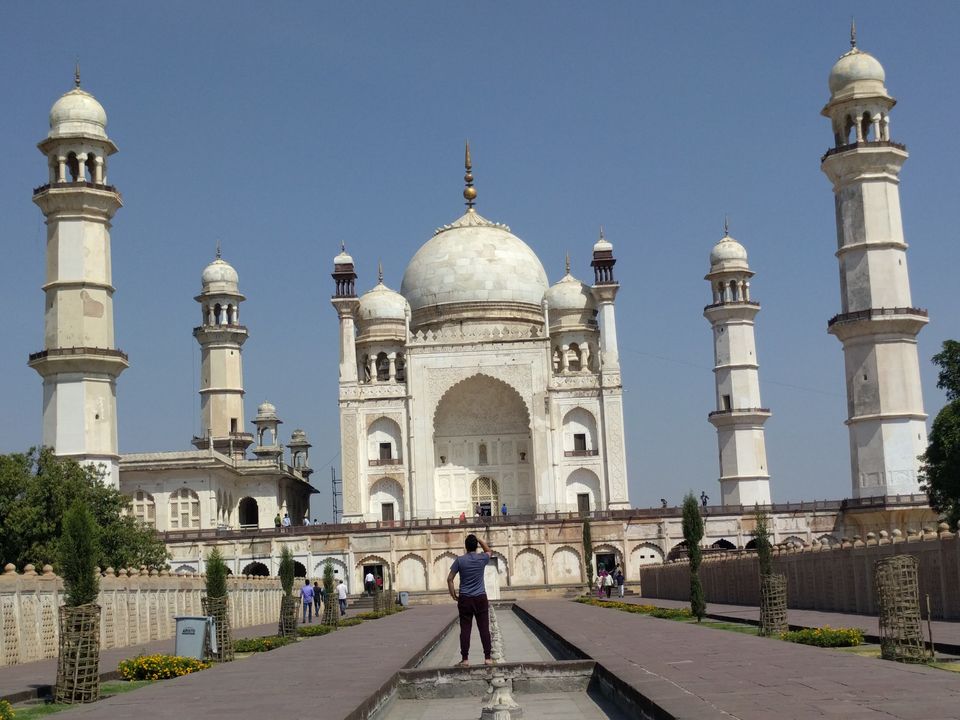 Entry Timing:
8am to 8pm
Entry Fee:
INR25 for Indians
INR25 (SAARC & BIMSTEC)
INR300 (Foreign nationals)
Aurangabad Caves
Had it not been for close by Ajanta and Ellora caves, this set of 10 Buddhist caves would have seen more visitors. Located just 2 kms from Bibi-ka-Maqbara all the caves are viharas, except for Cave 4 which is an older Early chaitya.
Panchakki
Meaning "Water Wheel", this was an engineering marvel where water was carried through earthen pipes from a river 6km away. The humble mechanism is still on display.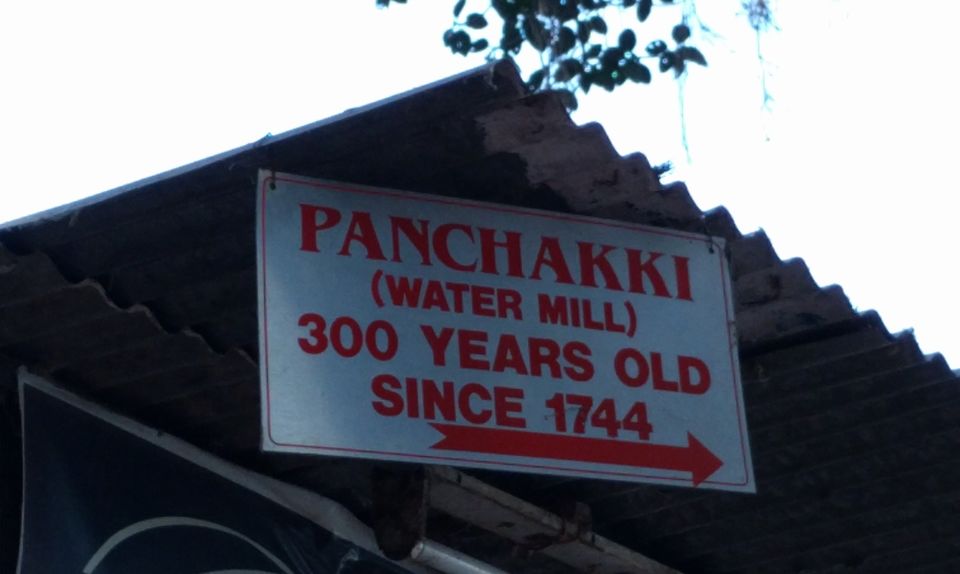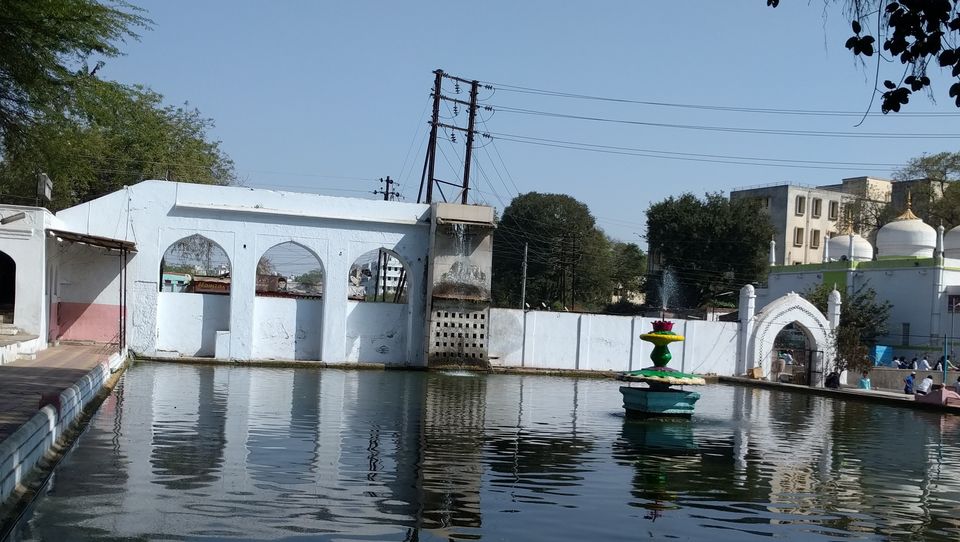 Chhatrapati Shivaji Maharaj Museum
Dedicated to the life of Maratha legend Shivaji but somewhat lacklustre in appearance. But notable exhibits include a 500-year-old chain-mail suit, a copy of the Quran written by Aurangazeb and a 400-year-old Paithani sari.
Alamgir Dargah
Situated in the walled town of Khudabad which is 3kms away from Ellora, lies Karbala (Holy Shrine) of Deccan Muslims. Housing not only the remains of the last Mughal emperor Aurangazeb, quite a number of historical figures are buried in this Dargah. Usually a quiet place, Khuldabad comes to life every April when a robe believed to have been worn by Prophet Mohammed, thatis kept within the dargah is exhibited to the public. This is a place of serene and calm where you feel blessed and is a must-visit place.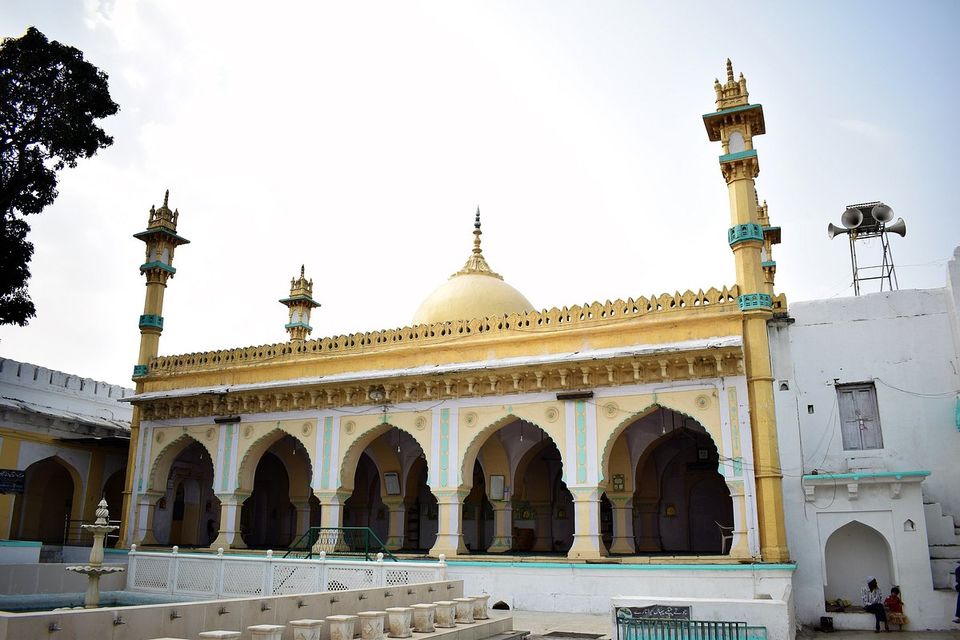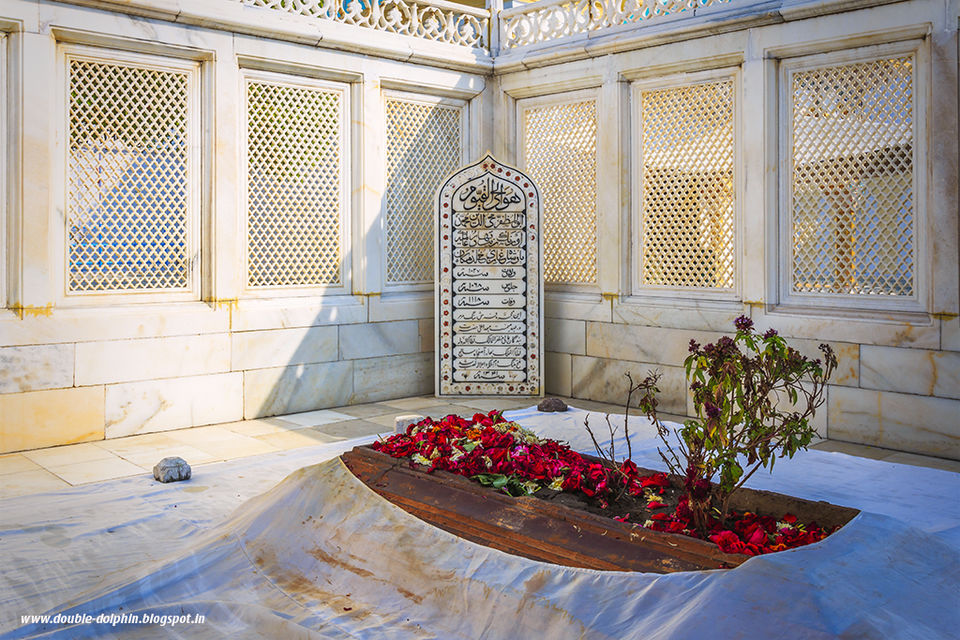 Lonar Meteorite Crater
Believed to be 50,000 years old, near the village of Lonar on a flat plain lies a huge meteorite crater that is 2km in diameter and 170m deep, with a shallow lake at the bottom. A plaque present at the rim states that it is "the only hypervelocity natural impact crater in basaltic rock in the world". To feel like a part of an historic event, this is the perfect location!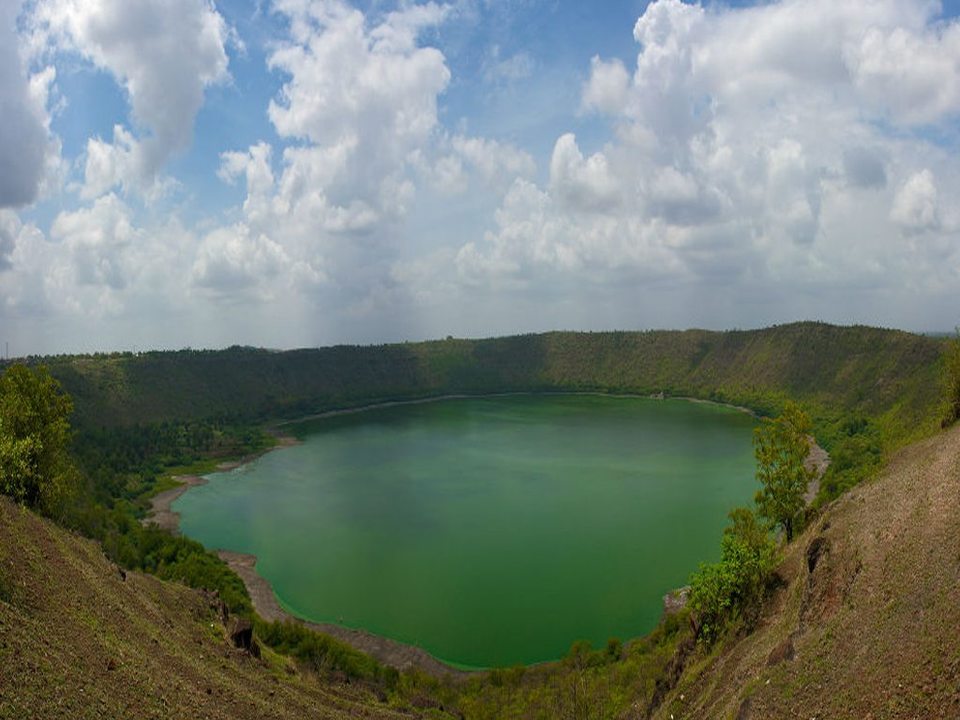 Waterfalls
Since Aurangabad is a hilly terrain, and this landscape is mostly fed by rainwater, several waterfalls arise with the onset of monsoon. So, if you have downloaded a lot of historical counsel, its time for some fun. You can visit any of the below waterfalls to enjoy the monsoon-fed cascades. And even indulge in trekking, like Ginera Tanda Mountain.
Ginera Tanda Waterfall
Vanrai Waterfall
Rudra Shiv Waterfall
Where to Stay
There are several hotels, hostels, homestays and airbnbs to accommodate the growing tourism. And a lot of them started near the historical sites to make the tourist places more accessible to the tourists. Among few popular places of budget stay are Zostel Aurangabad, Dwarka Farm Agro Tourism, MTDC Aurangabad Resort.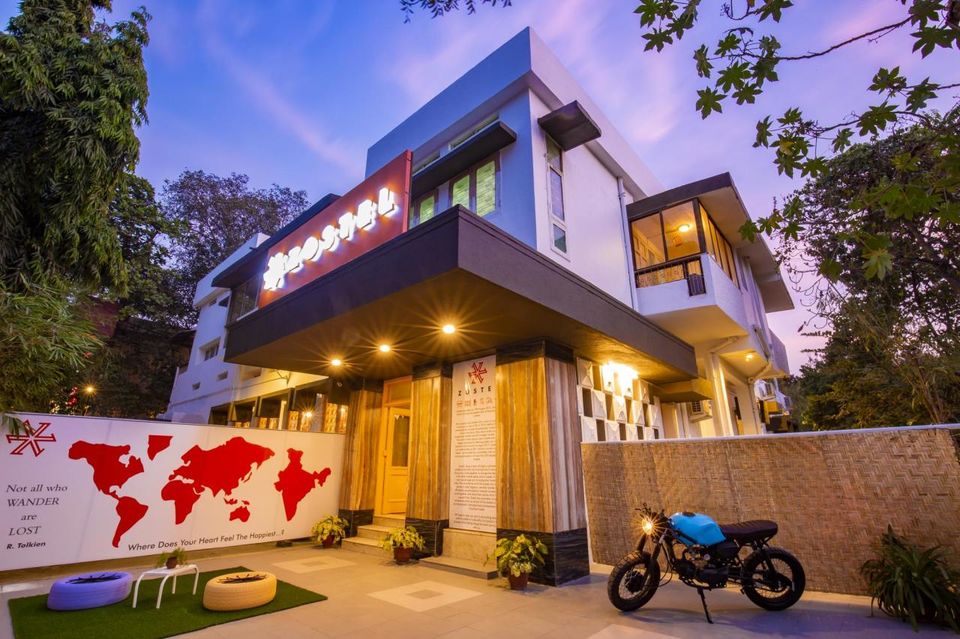 Maharashtra boasts of varying landscape that fulfills the desire of all types of travellers – whether it be history buffs, adventure seekers, trekkers or simple people who need a break and want to spend time with family and Aurangabad offers just that!! Although I have visited this place earlier, I wouldn't mind revisiting it because just one visit wasn't enough to satiate my thirst of marveling the elaborate miracle of astounding architecture and culture.
Are you willing to revisit history with me?
Think we missed out on something? Tell us about it in the comments below. Or write about it here on Tripoto and earn Tripoto Credits!