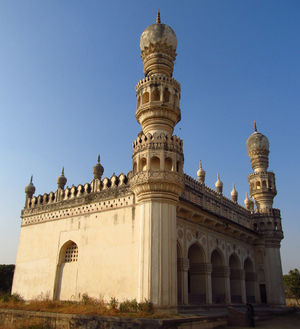 Places to stay near
Qutb Shahi Tombs
Super Convenient & Comfortable #1
2 bhk penthouse fully furnished
Spacious apartment in Hitech city,
FabHotel AVS Gachibowli Extn
Reviews of
Qutb Shahi Tombs
•
3
Another marvel of architectural excellence that stand as a reminder of the glory of Golconda kings, who are buried at this same spot. The tombs resemble Persian, Pathan and Hindu architectural styles that makes use of grey granite, with ornamentation and is a one-of-its-kind place globally.There are seven tombs dedicated to the former kings of Golconda. The tombs are dome like structures built on a square base which is again surrounded by pointed arches. The structural beauty of these tombs still attracts a lot of admirers from all over the world.
Qutub Shahi tombs was the next destination on the list. Closely situated to Golconda fort, it would not cost you more than 50 Rs from the fort in a rickshaw. Nowhere one would find so many tombs together at one place. These grandiose monuments have been erected in the memory of departed royal rulers of Golconda fort. The archways of the tombs are exquisite and compel you to get few stunning profile pictures for social networking sites. Magnificently splendid architecture of these tombs made me think, royals are even buried with royal elegance.
Another neglected monument near Golconda Fort, The 7 Tombs belong to the Rulers of the Qutb Shah Dynasty.
Attractions near
Qutb Shahi Tombs