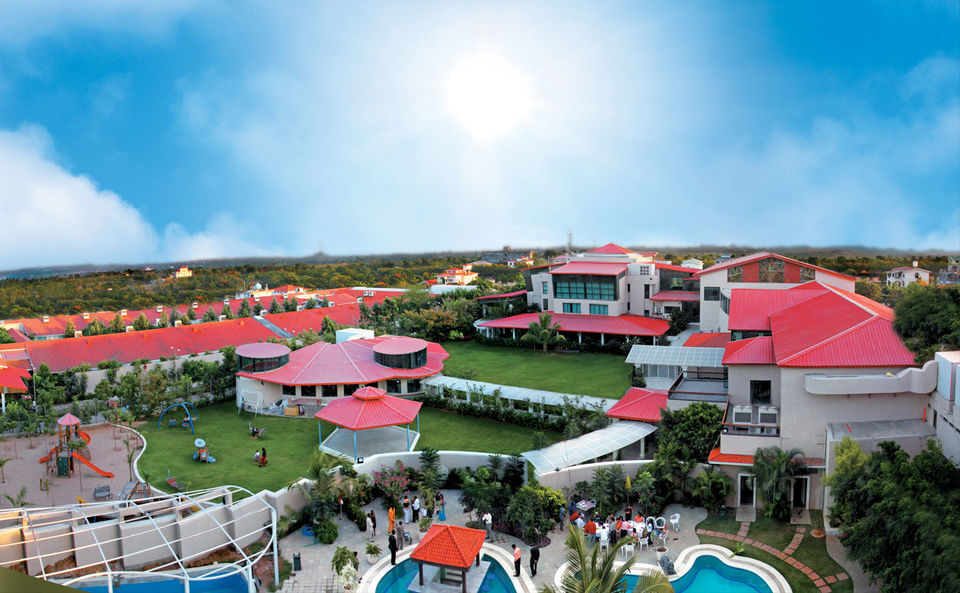 Hyderabad has a rich history with a number of monuments being built at the time of Mughal rulers. Now, the city has transformed quite a lot and is abuzz with malls, restaurants, parks, etc. The hangout spots are made with beautiful interiors and provide a sure shot quality time with your significant other. From bustling restaurants to quaint riversides, numerous places have come up to satisfy and meet the ever-changing preferences of the youth.
Here goes the list of the hangout places to look for. Enjoy!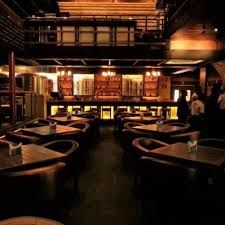 1. Vapour- Brew pub
It is a great place to unwind and relax as the music is very good. The pub is quite big and is great for a party. It is nicely decorated. The menu is also very appetizing. It offers online ordering facility too.
Head to- 287/12 house no.418, 8-2, Rd Number 14, BNR Colony, Nandi Nagar, Banjara Hills, Hyderabad, Telangana- 500034
Opening hours- 12am to 12pm
Cost for two- Rs. 1800
Zomato rating- 4.5/5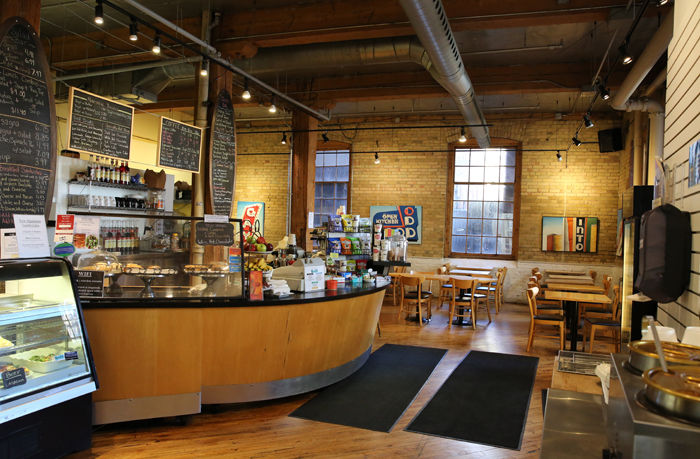 2. The Roastery Coffee House
This place is a revolution in itself. Its owner can explain coffee just like a glass of wine is explained. Mnay new varieties have been introduced such as pour over, cold brew, etc. Also, they offer morning breakfast from 9.30 am onwards. Sandwiches, mac n cheese, cookies, brownies are available too.
Head to- 287/12 house no.418, 8-2, Rd Number 14, BNR Colony, Nandi Nagar, Banjara Hills, Hyderabad Telangana- 500034
Opening hour- 9.30am onwards
Cost for two- ₹ 700 for two people (approx.)
Zomato rating- 4.5/5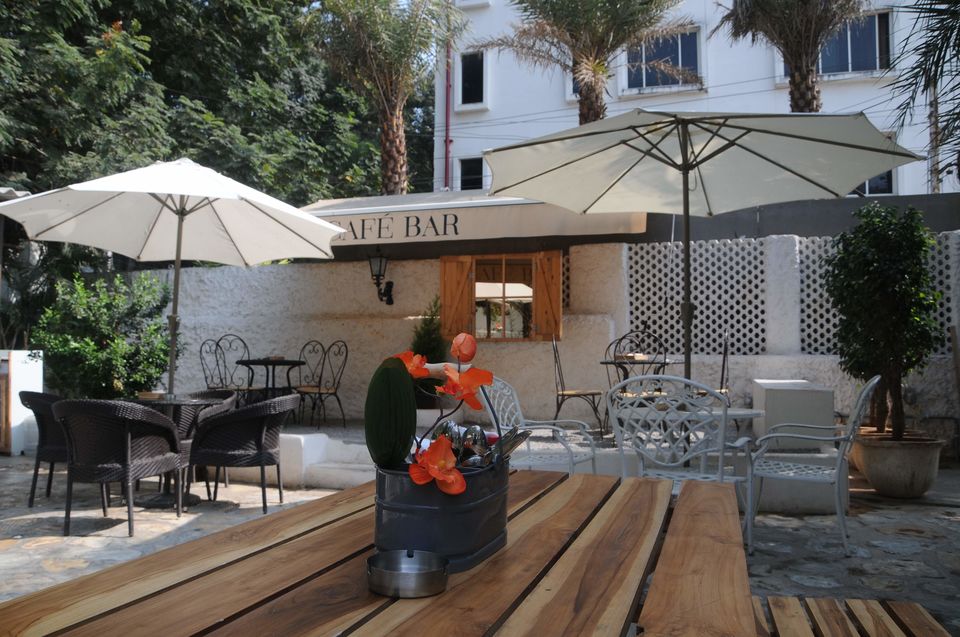 3. Le Vantage Café bar
The food of this place is highly loved specially the Alfredo pasta, thin crust pizza, veg cheese rolls and the chicken wings. Located on the Jubilee hills, it lends a magnificent view of the entire area. The night time ambience is very soothing and calm. The place is quite spacious in terms of seating arrangements.
Head to- Plot 197/A & 197, Road 13, Jubilee Hills, Hyderabad 500033
Opening hours- 8AM to 11PM
Cost for two- ₹1,000 for two people (approx.) with alcohol
Zomato rating- 4.3/5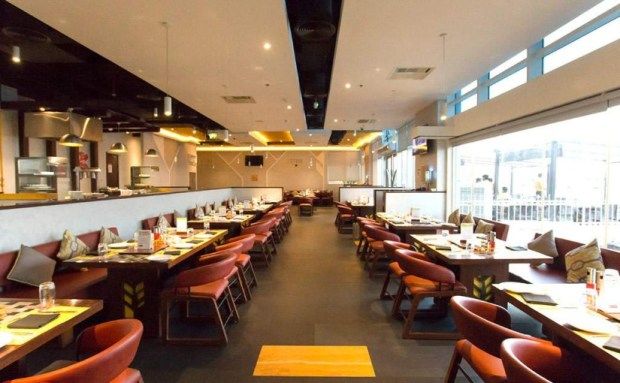 4. AB's Absolute Barbecues
This place takes the thrill and joy of barbecuing to another new level. The best part about this place is that it operates according to the demands and wishes of its customers. The live grill- 'Wish Grill'- section roasts varied combinations of veggies and meat to match the different tastes of the customers. You can be sure of enjoying some of the favorite delicacies of the town.
Head to- 8-2-618/10-11, 2nd Floor, Krishe Amethyst, Road 1, Banjara Hills, Hyderabad
Opening hours- 12Noon to 4:30PM, 6:30PM to 11:30PM
Cost for two- ₹1,500 for two people (approx.)
Zomato rating- 4.8/5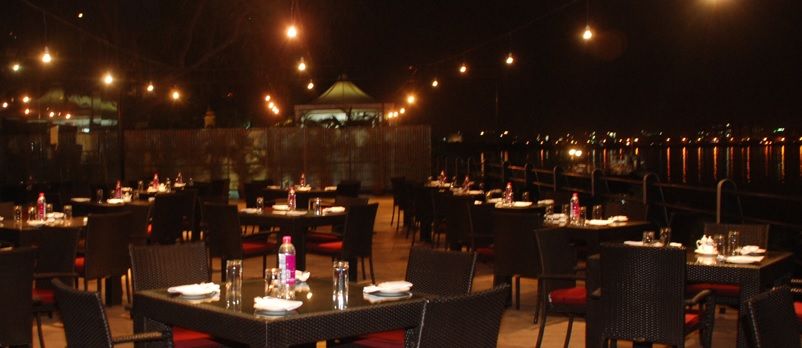 5. The Waterfront
This place has the most unmatched view of the Hussain Sagar Lake to offer. Its bar is well-stocked with over 50 brands of imported liquors. Its food is rich in taste. The 'Deck Dining' area here gives a unique experience of private dining. Its menu has some of the most delectable Continental cuisine and Hakka.
Head to- Eat Street, Necklace Road, Hyderabad
Opening hours- 12Noon to 11PM
Cost for two- ₹1,500 for two people (approx.)
Zomato rating- 4.3/5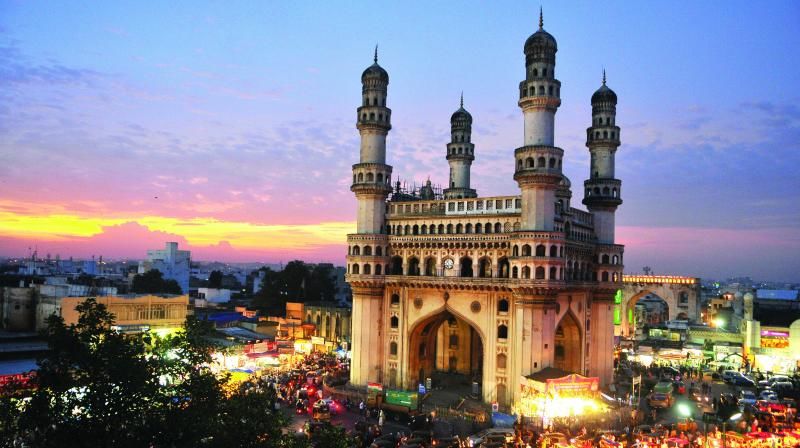 6. Char Minar
The beautiful Char Minar falls under the category of most widely recognized Indian structures. Ramadan celebrations in this area are a treat to watch. There is a mosque on the top floor of this historical monument which is about 400 years old. You can shop from the Laad Bazaar. It stretches over 1 km and sells saris, bangles, imitation jewelry, etc. You can spend some really nice time with your partner here.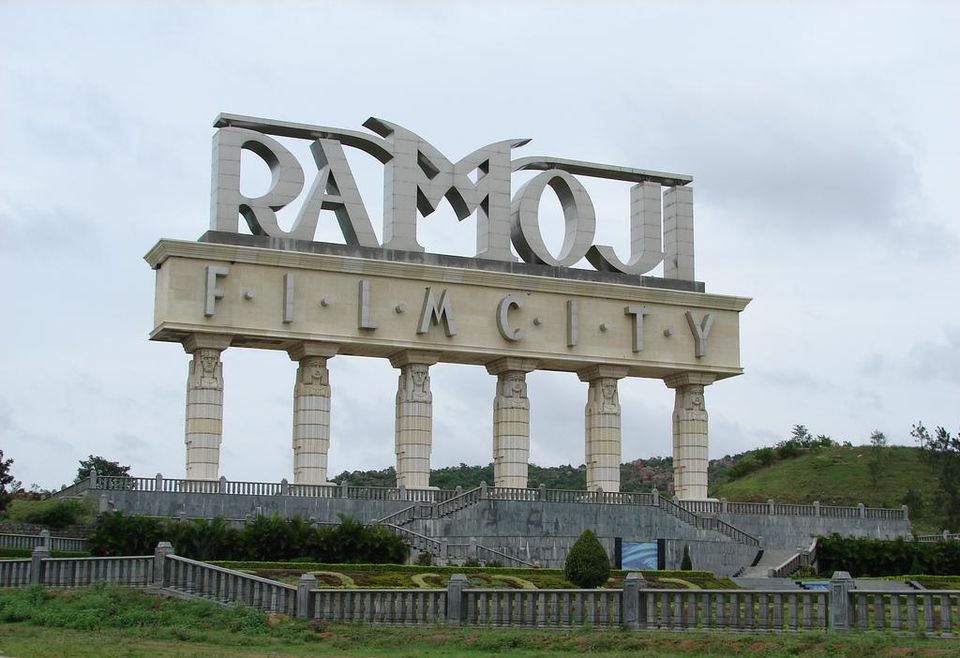 7. Ramoji film city- World's largest studio complex
This place, at all costs, is a must visit. It is built over a huge area (2000 acres) and entices more than a million visitors every year. Its film sets are beyond beautiful. It has themed parks as well- Angel's fountain, Kripalu caves, Mughal garden, Sanctuary garden and many more. Restaurants serve a fine dining experience. You can take a vintage bus tour and make some of the best and everlasting memories.
Head to- Ramoji Film City Main Road, Anaspur Village, Hayathnagar Mandal, Hyderabad, Telangana 501512
Timing- Mon to Sun- 9 am to 5.30 pm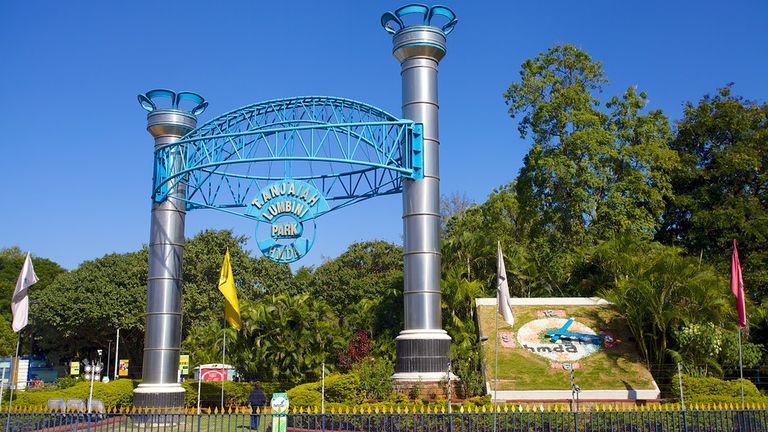 8. Lumbini park
It is situated in the centre of the city and the nearby places include Necklace road and Birla Mandir. You can boat around here and get some really positive and feel good vibes. It hosts a widely popular fountain show as well including live shows, amazing rhythmical founatins and superb beam effects.
Head to- Opposite Secretariat New Gate, Hyderabad, Telangana 500004
Timing- opens on all days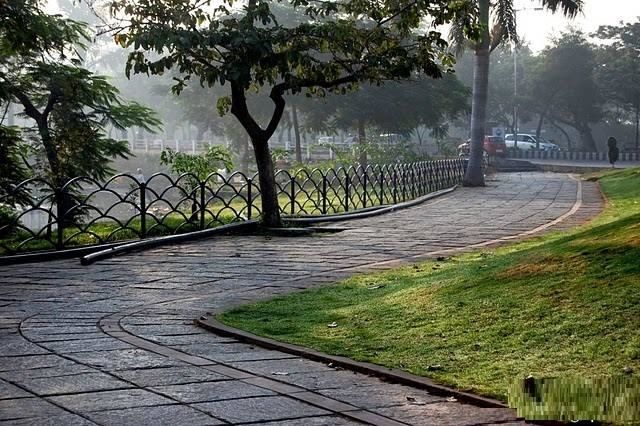 9. Necklace Road
The view of the Buddha's statue is ethereal and lends solace to the soul. It's quiet and breathtaking during the evenings with all the couples trying to find some relaxing moments with their partners. Small eateries can be spotted in the area to grab a quick bite.
10. The ferry ride
The view of the twinkling lights in the Tank Bund is worth watching. Ferry ride can get a little crowded but it hardly has any effect on the couples aboard. They enjoy the view to their fullest and make a memory together. The cool breeze de-stresses you and calms your nerves down. The Tank Bund is the largest man-made lake in Hyderabad.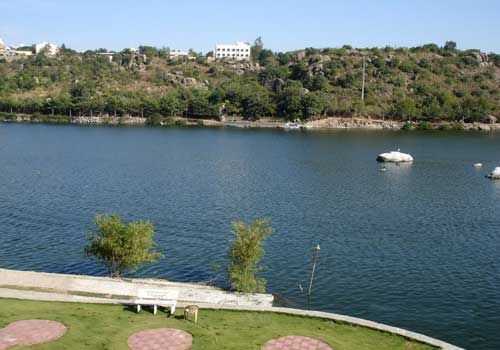 11. Durgam cheruvu
This location is apt for a brilliant long conversation session. Boating, trekking, rock climbing and an art gallery are present as various attractions. The Inorbit mall nearby can satiate the hunger pangs. So, paddle away into the wilderness to spend some quality time with your loved one, away from the noisy city.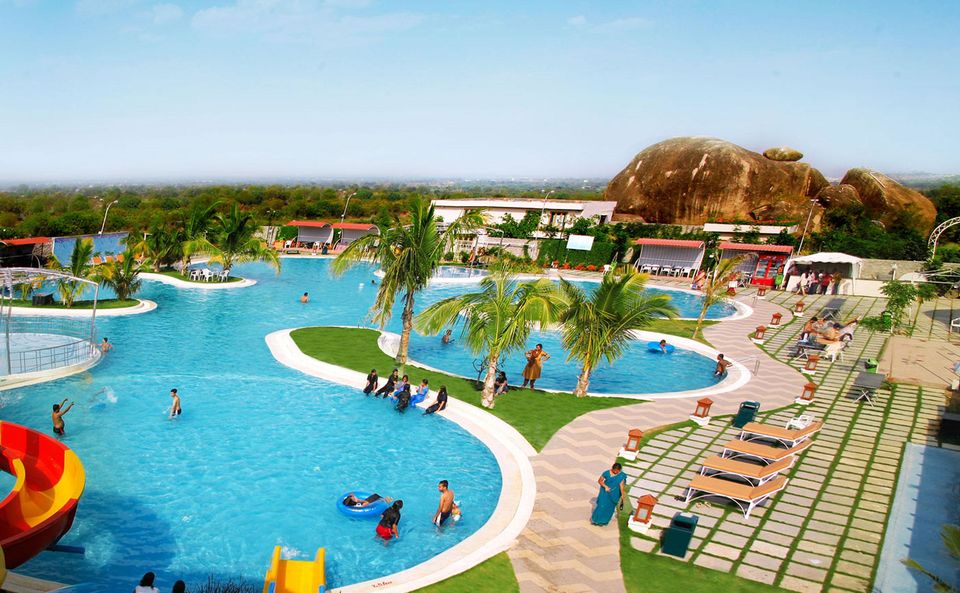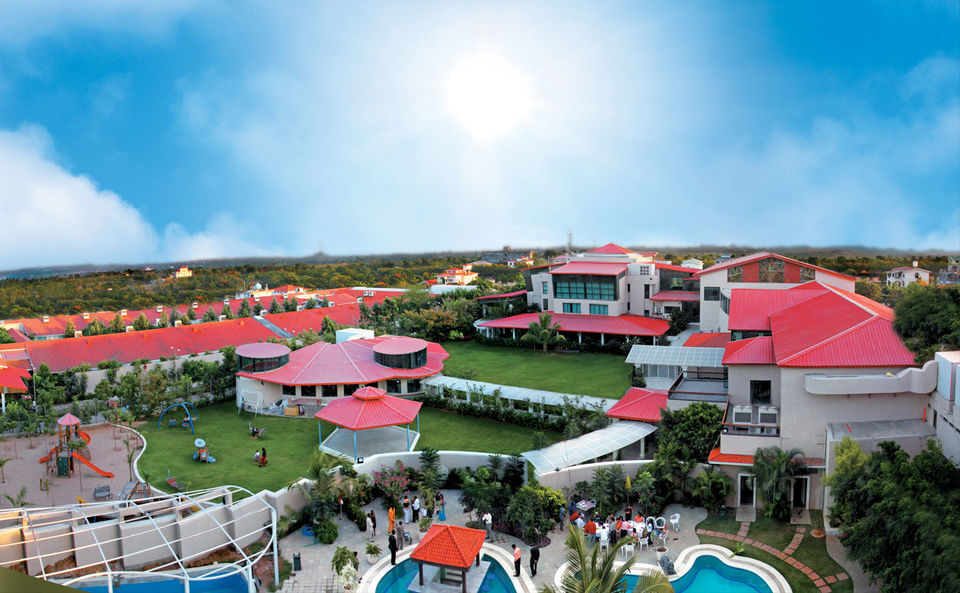 12. The Leonia resort
The interior of the resort are very well developed and is loaded with various appealing entertainments. The private room can be tried if you plan to stay there for the night. Rain dance, Acrobatic performances are huge crowd pullers. The spa facilities of the resort aren't something to be missed. The couple massage package is also a huge hit there.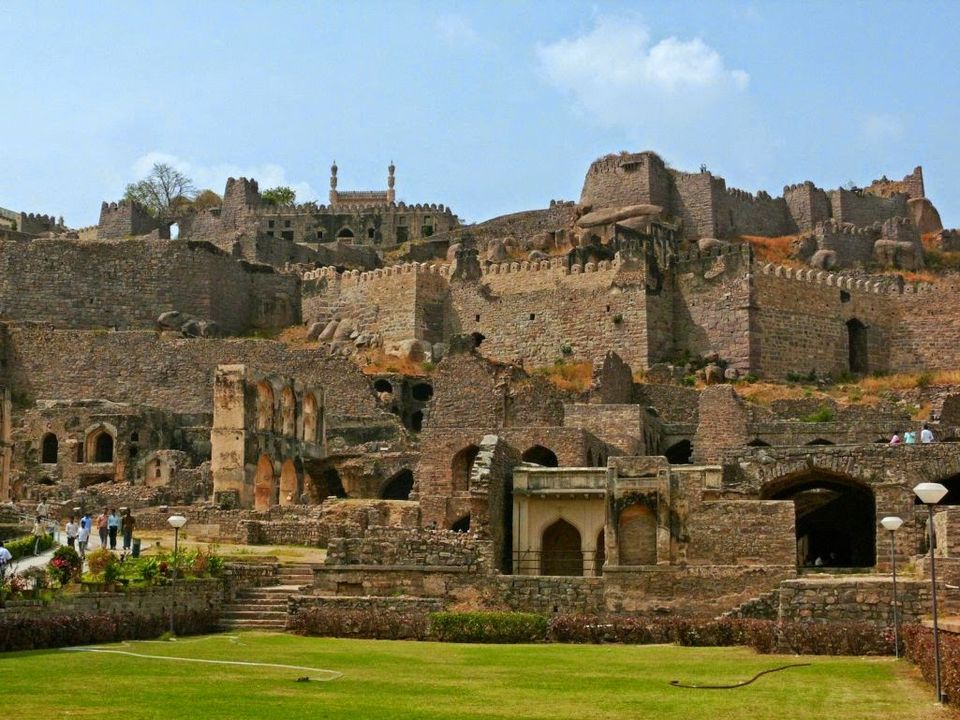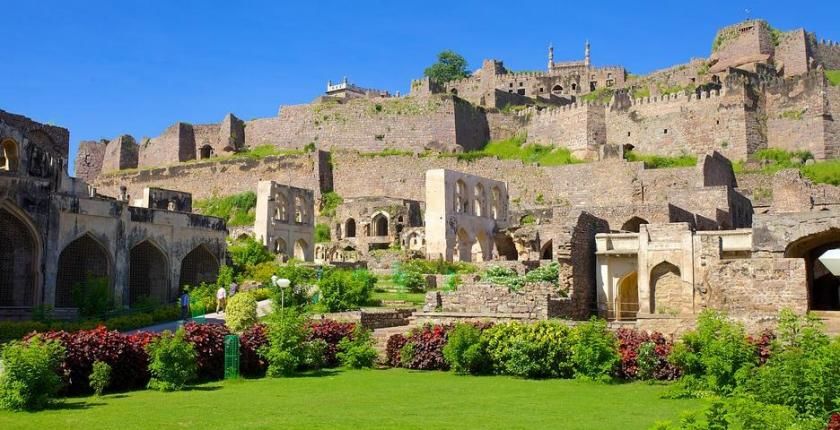 13. Golconda fort
The fort can be a hot place during the daytime but the evening's light and sound show is a must watch. Summon a guide if you want to know its history or just loiter around the fort clicking some perfect snaps. Loads of water must be carried if you are heading to the place.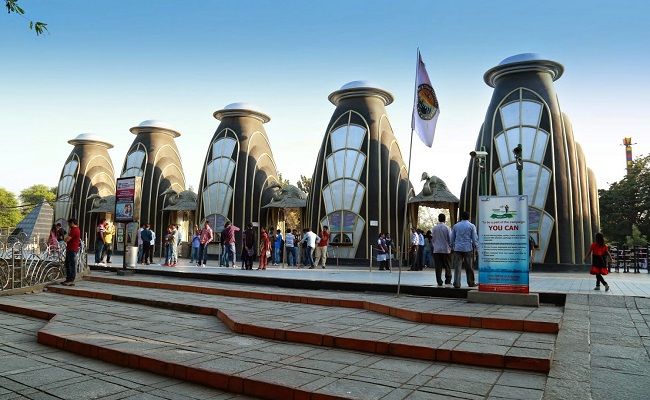 14. The NTR Garden
This garden is one of the recent sites in Hyderabad that actually is of recreational value. Playing area for kids, various activities for adults, 150 desert and medicinal plants are most important attractions of this garden. There is a little entry fee of INR 15 for adults and INR 10 for kids. The place is truly a paradise for nature lovers. The ones who just want to feel relaxed and spend some valuable time must visit this garden too.
Timing- 12.30pm to 9.00 pm
One can never get enough of all the places at once so it's more or less advisable to get the most out of some. Although, the locales in Hyderabad are gaining popularity at a great speed, we still tried to catch up with the hot trends doing round to the best of our abilities. Do mention your favorite spot in the comments area below and also let us know about the places that you would have liked to see getting mentioned.
Frequent searches leading to this page:-
romantic places in Hyderabad, best places for couples in hyderabad, best place for couples in hyderabad, romantic places in hyderabad for candle light dinner, best romantic places in hyderabad, most romantic places in hyderabad