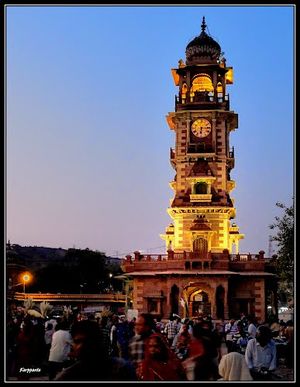 Places to stay near
Clock Tower Rd
OLD HAVELI JODHPUR, THE BLUE HOUSE
CrashPad - 4 Bunker Room & B'fast
CrashPad Hostotel Jodhpur
Reviews of
Clock Tower Rd
•
3
The auto driver advised us to do some shopping in and around clock tower. He dropped us at the clock tower market. We gave him a generous tip for being so patient.  You can see Mehrangarh fort behind. We bought some tie and dye (Bandhani) dress material and a saree. Bargaining is must. We even bought a cloth stool (stuff your discarded clothes inside it and it becomes a stool). My friend bought a pair of mojaris (you will be spoilt with choices) for herself. You can easily spend 1-2 hours exploring the shops.Unique and alluring in its own ways, this is one perfect destination for those who are looking for an ideal travel experience. We headed back to catch the train to our next destination.Tips:1.In case you have been to Jaisalmer, you can skip the desert ride. Jaislamer is more beautiful in that regard.2.Do your shopping in Jodhpur as most of the Rajashthani stuffs are cheaper as compared to other cities of Rajasthan.
The century-old clock tower/ghanta-ghar is an old city landmark surrounded by the Sadar Market. Each bye-lane has its own specialty and bazaars selling textiles, handicrafts and silver jewellery.
People refer to it as a "Ghanta Ghar". It's inside Sardar Market. It was constructed by late Shri Sardar Singh Ji of Jodhpur. It is one of the busiest areas in Jodhpur. This is primarily because the Sardar Market is the famous shopping zone of Jodhpur. Tourist can shop for Rajasthani Textile, miniature camel and elephants, etc.… If you will take left after crossing this place the road will lead you towards Mehrangarh Fort.
Attractions near
Clock Tower Rd