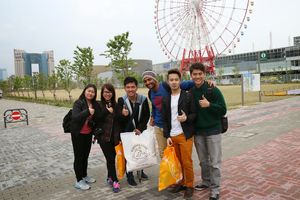 Traveller Types
Families, Couples, Friends
Rank
2 out of 190 attractions in Minato
Places to stay near
Odaiba
Sotetsu Fresa Inn Ginza-Nanachome
Sotetsu Fresa Inn Tokyo Tamachi
Courtyard by Marriott Tokyo Ginza
Grand Prince Hotel New Takanawa
The Prime Pod GINZA TOKYO
Reviews of
Odaiba
•
3
Line: Yamanote Line- Harajuku Station to Ebisu Station; Saikyo Line- Tokyo teleport stationOdaiba (お台場) is a popular shopping and entertainment district on a man made island in Tokyo Bay.Several lavish development projects did materialize, including some of Tokyo's boldest architectural creations, such as the Fuji TV Building, Telecom Center and Tokyo Big Sight. Modern city planning furthermore provides Odaiba with plenty of green space and a pleasant division of motorized and pedestrian traffic using elevated walkways and the like.
We then took the water bus ride down the Sumida River and reached the artificial island of Odaiba in Tokyo Bay. The entire place looks totally different and is always vibrant at any time. Odaiba water front is my favorite area in Tokyo. The view of Tokyo skyline from Odaida is just too awesome!
Odaiba is a man-made island in Japan, and it's located pretty far from the city. To Odaiba : JR Yamanote Line ( Green Line) to Shinagawa. From Shinagawa, Transfer to Rinkai Line (Blue Line) for the Tokyo Teleport destination. It takes about 1 hour from Harajuku to Odaiba via MRT. The train to Odaiba is not that full, I can say that it's really empty that day. Maybe because it's still in the afternoon, and people is still working. At Odaiba, first we go to the Ferris Wheel to take a photo. From the Ferris Wheel, we also go to take photos at Tokyo Big Site. Unfortunately, seems like we've miss understand the location - and also the shape - of the Tokyo Big Site. When we focused taking photos of what we taught was the Tokyo Big Site, we realise that we actually are wrong. . *heads down* It's located a bit far from what we expected. That's why we don't get any photos of Tokyo Big site, we only look at it from far away. It's because our time is also limited. From there, we go to Diver City where the Gundam Statue is located. It's really huge and tall, we met some Indonesian newlyweds there! From all the Indonesian people that we already meet so far during our Japan trip, Finally we found someone from Surabaya !!