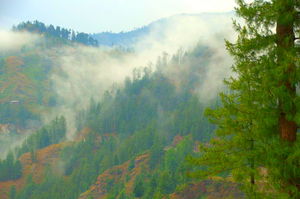 Places to stay near
Day 1: Delhi to Solan
Superior Double AC With Breakfast
★☞ The historical Center of Delhi !
Bnb room 4 near metro and airport
Reviews of
Day 1: Delhi to Solan
•
1
Thoughts of clear skies and cold winds swirled in our minds and leaving the scorching streets of Delhi only came as an added bonus. We left Delhi (216m) at around 5 in the evening, the plan was to halt at Shimla (2205m) for the night. After picking a few essentials, we were on our way. The great adventure had just begun. There is an old adage that men are logical but refuse to operate rationally when they don't know something. The folks at Zoomcar were kind enough to give us a gps device to navigate, but we chose to drive on sheer instinct and our awesomeness. So it came as no surprise when we and ended up in Ludhiana instead of Chandigarh (today this twist however, makes up for an interesting anecdote). Weaving through traffic and police,we were back on track soon. It was already past midnight and we were nowhere near Shimla. We altered our plans and decided to halt at Solan (1600m).There was no hotel, homestay, dhaba or even a cave that was willing to accommodate us at such an unearthly hour. With the magnificent stars and blaring truck horns for company, we stationed our prized friend at a nice spot and adjusted ourselves well to spend the night in it, all piled up against one another. Accommodation for the night: Mahindra XUV500 Distance covered: 300km Tip of the day: You might be Marco Polo, but a Gps device is always handy.
Attractions near
Day 1: Delhi to Solan