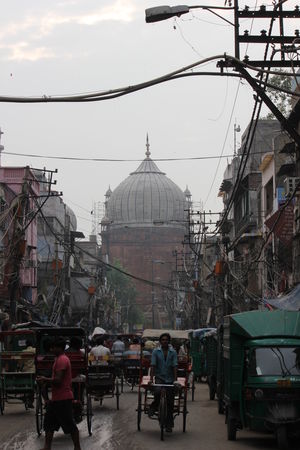 Best time to visit
7:00 AM – 10:00 AM
Open hours
7:00 AM – 12:00 PM and 1:30 PM – 6:30 PM
Things to do
Climb the minaret to experience the wonderful views of the whole city. Admire the beauty of pure Islamic art and finesse of the designs on every inch of the mosque. Carrying of a camera or permission of photography needs an additional charge of Rs. 200. The mosque remains closed during prayer hours. Carry an extra bag to put in your shoes to avoid extra charges for footwear deposition. Beware of people who try to force you to pay extra. The fee for the minaret is charged separately.
Best Months
September - May
Traveller Types
Couples, Friends
Rank
46 out of 370 attractions in New Delhi
Jama Masjid
The largest mosque and one of the most beautiful examples of Islamic architecture present in India, the Jama Masjid is located just opposite the Red Fort in Delhi. The mosque which means "commanding view of the world" was built during the reign of Emperor Shah Jahan between 1644 and 1658. It has a very spacious compound that can accommodate thousands of devotees at once. The main architectural attractions are the minarets and towers. The main tower has a 5- storey structure with projecting balconies on each level. The work of calligraphy is worth mentioning too. The main materials used were sandstone and marble.
Places to stay near
Jama Masjid
Pearl Premium Luxury Homes
Superior Double AC With Breakfast
Bnb room 4 near metro and airport
Stay in a true Delhi neighbourhood
Reviews of
Jama Masjid
•
37
Attractions near
Jama Masjid