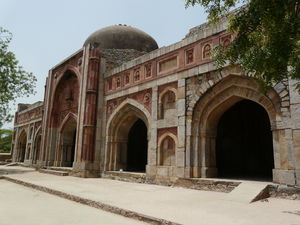 Traveller Types
Couples, Friends, Families, Solo
Rank
94 out of 370 attractions in New Delhi
Jamali Kamali Tomb and Mosque
Places to stay near
Jamali Kamali Tomb and Mosque
OYO 2705 Hotel Preet Palace
★☞ The historical Center of Delhi !
A/C Private Room + Living + Kitchen
Reviews of
Jamali Kamali Tomb and Mosque
•
2
The Jamali Kamali is a marvel of Mughal architecture that built in 1528 right next to Qutub Minar complex. Situated in the Mehrauli Archaeological Park, this mosque was built to commemorate the tomb of prominent Sufi saint Jamali and his supposed partner Kamali.During daytime the place is filled with people, kids, families and elders enjoying the open space but when it gets dark a different set of stories occupy the place. People are mentioned several abnormal sightings and feelings such as getting slapped by an invisible force, the feeling of someone breathing on their neck, hysterical laughter and the sensation of being watched by someone.
Jamali Kamali Mosque and Tomb : Jamali Kamali Mosque and Tomb, located in the Archaeological Village complex in Mehrauli, Delhi, India, comprise two monuments adjacent to each other; one is the mosque and the other is the tomb of two persons with the names Jamali and Kamali. The name "Jamali" is Urdu, though originates from "Jamal" which means "beauty". "Jamali" was the alias given to Shaikh Fazlu'llah, also known as Shaikh Jamali Kamboh or Jalal Khan, a renowned Sufi saint who lived during the pre-Mughal dynasty rule of the Lodi's, a period from the rule of Sikander Lodi to the Mughal Dynasty rule of Babur and Humayun. Jamali was greatly regarded. Kamali was an unknown person but associated with Jamali and his antecedents have not been established. Their names are tagged together as "Jamali Kamali" for the mosque as well as the tomb since they are buried adjacent to each other. The mosque and the tomb were constructed in 1528-1529, and Jamali was buried in the tomb after his death in 1535. There are several stories about this place being haunted. These stories add a mystic glow to this place. This is a must visit for all mystery lovers.
Attractions near
Jamali Kamali Tomb and Mosque