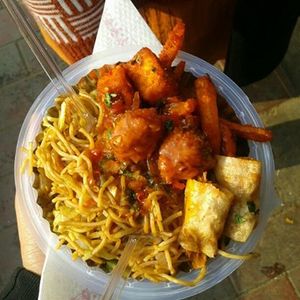 Things to do
shopping, eating
Traveller Types
Families, Friends
Rank
17 out of 160 attractions in New Delhi
Lajpat Nagar Central Market
Located in the Lajpat Nagar area, this is one of the main markets of New delhi. This is like a one- stop for all your big and small requirements. Starting from hi- end shops to colorful street side stalls. There are also a number of lovely eateries and restaurants around this market. There are henna or mehendi designers and appliers lined along this market and this is a special attraction here.
Places to stay near
Lajpat Nagar Central Market
★☞ The historical Center of Delhi !
A/C Private Room + Living + Kitchen
Quiet comfort in green surroundings
Reviews of
Lajpat Nagar Central Market
•
3
If you don't mind jostling crowds, Central Market in Lajpat Nagar can give you a whole host of products in unbelievable prices.
The central market of Lajpat Nagar is a crowded market and a shopaholic paradise where one can find everything from clothes to accessories to bags and footwear.
Attractions near
Lajpat Nagar Central Market