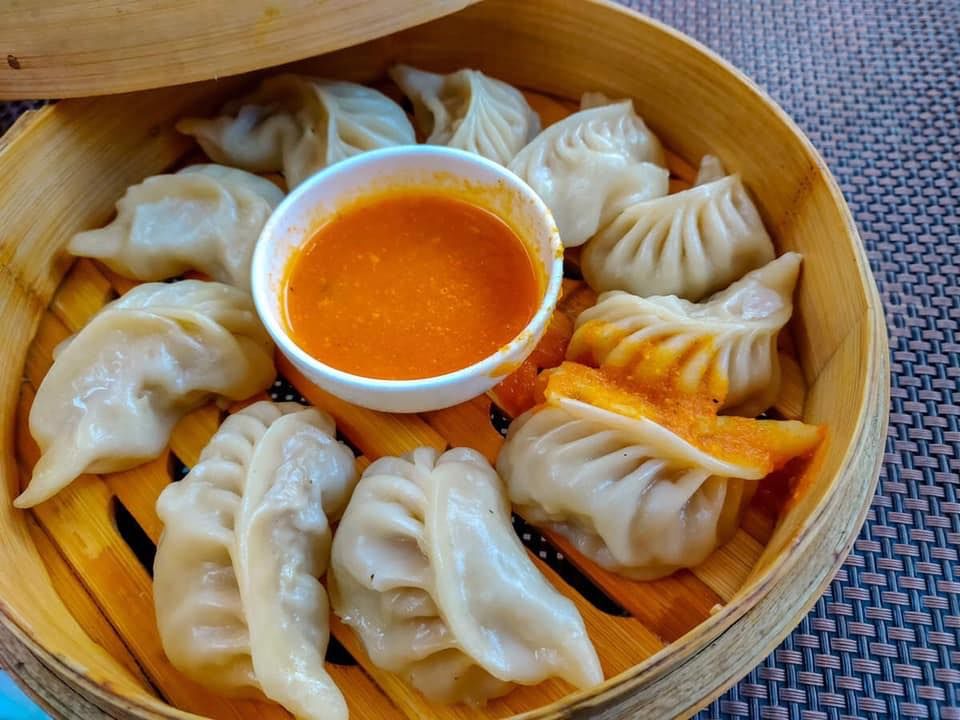 Momos are calling and I must go! That feeling of dipping a momo into the red chutney and the first bite of a juicy, tender and meaty momo is out of this world! Somehow momos evoke feelings inside me that I can't contain until I have had a few! And that spicy red chutney only makes life spicer than current dramas in my life! Have you ever felt the same when you see those steamy cloud like tiny delicate cushions come out of their bamboo boxes? And if you like momos, on your next Delhi visit, make sure to try these below 11 suggestions!
Delhi, certainly has some lip smacking momos to offer! And, who needs winter season to have momos? If you are bored, sad, tired, happy, celebrating or any other emotional state please make sure you order momos!
11 Places in Delhi You Should Try Momos!
Located in Haz Has Village, Yeti is an authentic Himalayan restaurant. You cannot miss the 'Mothuk' a momo soup with traditional delicious broth that will fill your soul too!
Location: 30, 1st Floor, Hauz Khas Village, New Delhi
Must Try: Steamed Momos, Jhol Momos, Yeti special Kothe Momos, Sadheko or Thalai Thali
A plate of 6 momos costs less than Rs.100! This place is famous for, 'best place in Delhi for momos.' Serving since 1990, Dolma aunty knows how to surprise us with her mouthwatering momos!
Location: Shop D 44, Central Market, Lajpat Nagar 2, New Delhi, Bungalow Road, Kamla Nagar, Delhi
Must Try: Gravy Momo, Steam paneer momos
Hunger Strike in Amar Colony, serves the best tandoori momos! Spoilt for choices with momo varieties, including Tandoori, Steamed, Afghani and Fried I said, "I will have one of each please!."
Location: C-9, Amar Colony Market, Amar Colony, New Delhi
Must Try: Tandoori Momos, Paneer Steam/Fry Momos, Chicken/Veg Fry Momos, Afghani Momos
Located in Dilli Haat, Tashi Delek Food Joint is also known as Sikkim Food Stall. Serving Sikkimese style cuisine, the momos are spicy and served with clear stew on the side. You can order noodles on the side if you want to make it a full meal.
Location: Stall No. 11 Dilli Haat, Sri Aurobindo Marg, New Delhi
Must Try: Steamed Chicken/Veg Momos
Located in Noida, Momo Hut serves the perfect crafted authentic Tibetan momos! They serve unique varieties of momos such as Chocolate Momos Platter, Honey Pepper Momos, Lemon Momos, Chicken Rice Momos, Chicken Wheat Momos and many more! Momo Hut is a must try for momo enthusiasts!
Where: Shop 225, 2nd Floor, City Plaza, Gaur City 1, Greater Noida
Must Try: Cheese Corn Momos Steam, Chicken Rice Momos
Located in Malviya Nagar, Pema's serves mouth watering Tibetan food! Their chicken momos are juicy and perfect for a day when you need a warm hug from a bowl! For healthy people, they also offer wheat momos so you won't feel guilty finishing the entire plate!
Where: Shop 5, 3/31, Upper Ground Floor, Shivalik Road, Malviya Nagar, New Delhi

Must Try: Paneer momos, Shyaphalay (Tibetan bread)
Ama Thakali is located in Manju Ka Tila, and serves delicious Thakali Thalis and Nepali Momos. Serving with simplicity, keeping the taste intact, their achar momos in hot spicy soup are a winner!
Where: House 40, 1st Floor, Majnu ka Tila, New Delhi
Must Try: Buckwheat Momos, Achar Momos in hot spicy Soup
Located in Nyingma House, Rigo is a fabulous place for extremely delicious Tibetan cuisine. Rigo's Devil Momos are served in spicy gravy and are definitely unique to the steamed momos! The filling is very flavourful and mouth watering in every bite!
Location: 180, Nyingma House, Tibetan Old Camp, Majnu-ka-tilla, New Delhi
Must Try: Chicken and Vegetable Devil Momos, Clay Pot Combos
A must try at Giri Momos is their chilli paneer and tandoori momos! For anyone who likes spicy food, these momos screams flavours all the way. Located in Pitampura, Giri Momos is a small place, so the best choice is to enjoy them in your car or a take away.
Location: ND Market, Pitampura, New Delhi
Must Try: Chicken Afghani Momo, Malai Momo, Tandoori Paneer Momos
Located in Lajpat Nagar 2, QD's Restaurant is known for it's signature dish serving tandoori momos. The tandoori paneer tikka momos come with peri peri gravy and a biteful of roasted panner stuffed inside.
Where: I-1A, Lajpat Nagar 2, New Delhi
Must Try: Peri Peri Tandoori Paneer Tikka, QD's Veg Tandoori Momos
Another outlet serving delicious, and innovative renditions of our favourite dish is Fat Tiger, Cyber Hub. With a variety of momos on the menu to the likes of kurkure, pan fried and tandoori, the healthy MSG-free momos are the juiciest ever! You can visit the Cyber Hub outlet or order online from here.
Missing momos at home? And you neither have time to order in nor step out? Fat Tiger's recent launch of frozen momos are a delicious solution to satisfy your momo cravings right in your freezer! All you have to do is either put them in your microwave, pan or steamer and all it takes is 3 minutes! Stack these up indoor freezer for a rainy day.
Where: K-4, Ground Floor, Building 10, Cyber Hub, DLF Cyber City, Gurgaon
Must Try: At the restaurant – Kurkure momos. At home: Double chicken, Exotic Vegetables
Momos are so unique to India, and everyone loves its flavours. Have you tried momos in Delhi? And which ones are your favourite! I love all kinds, from authentic steamed momos to tandoori spicy momos! Let me know in comments if you have any suggestions too!
Earn credits and travel for free with Tripoto's weekend getaways, hotel stays and vacation packages!
Think we missed out on something? Tell us about it in the comments below. Or write about it here on Tripoto and earn Tripoto Credits!