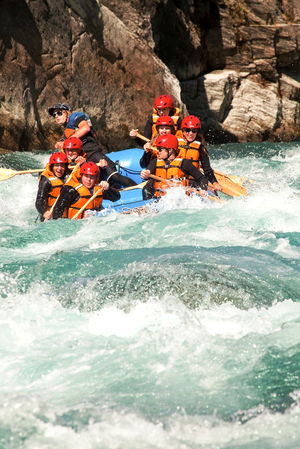 Places to stay near
Queenstown Rafting
Double room 5mins walk to town
Ensuite Bedroom with Panoramic View
Queenstown House Boutique Bed & Breakfast and Apartments
Room in cozy little central house.
Swiss-Belsuites Pounamu Queenstown
Reviews of
Queenstown Rafting
•
1
I wish I had some pictures of my white water rafting adventures, but I didn't want to worry about having a camera on me. The scariest part about the rafting isn't the rapids, it's the ride to get to the rapids. The bus winds up and down this narrow road with hairpin turns. One guy got so nervous on the ride there that he started having an asthma attack and decided he couldn't go rafting on the Shotover River. He wanted to be driven back. They tried to tell him that he might be less nervous going down the rapids than experiencing the trip back on the bus. As I recall the rapids are mostly level 2 and 3, with maybe one level 4 if the water is high.
Attractions near
Queenstown Rafting