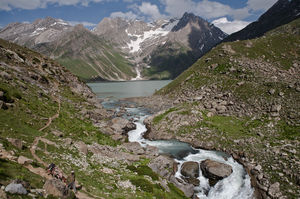 Rank
3 out of 9 attractions in Pahalgam
Places to stay near
Chandanwari
Lidder view resorts , Pahalgam
Dreamland Kashmir Cottage
Hotel Himalaya Discover Resorts
Reviews of
Chandanwari
•
3
Chandanwari: Its famous for glacier if you wanna see ice then go there you will find thick snow because of heavy crowd first layer of snow is not very clear and you have to take care because it's very slippery. There you will see people don't use freeze for cold drinks and other drinks they simply put it into ice basket.
Today, post breakfast,visit Chandanwari, situated at a distance of 16 - km from Pahalgam. At Chandanwari, the Sheshnag river is captivating with its sheer force and clear waters. You can get an opportunity to do sledge up to the fifth point which is also a route that yatris take to reach the Amarnath Cave. 'Snow fights' is what people generally indulge in here before they sledge back down. Later, visit Betaab Valley - located on the way to Chandanwari. Note: This excursion is subject to road, weather conditions and military permission. The rest of the day is at leisure. Overnight in Pahalgam (B)You can stay at-
The trek begins only at Chandanwari. (A shorter one day route from Baltal is another option to get to the Amarnath cave.
Attractions near
Chandanwari