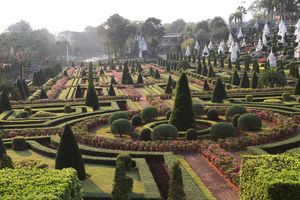 Nong Nooch Village and Tropical Garden Pattaya Thailand
Places to stay near
Nong Nooch Village and Tropical Garden Pattaya Thailand
Low cost room in Central Pattaya
Nice apartment on the beach
Studio Nongprue with large Pool&GYM
Sea view cozy 1BD CentricPattaya.
new apt. with a great pool in condo
Reviews of
Nong Nooch Village and Tropical Garden Pattaya Thailand
•
1
Nong Nooch offers a delightful experience for travelers seeking for nature and cultural beauty. We totally recommend this place for the Thai Cultural show, the Elephant show and its beautiful botanical garden. Apparently, Nong Nooch's botanical garden is considered to be the biggest and most beautiful in entire South East Asia and we couldn't agree more! Tip: Take a tour to Nong Nooch Village by yourself as we mentioned earlier, the group tours are always in a hurry and you might just miss a beautiful place if you go with them.
Attractions near
Nong Nooch Village and Tropical Garden Pattaya Thailand