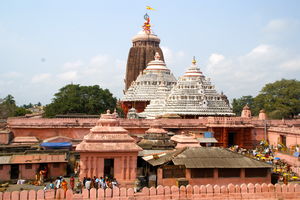 Best time to visit
In the month of June, July
Open hours
5PM to 12midnight
Things to do
Rath Yatra, Dol Yatra, Jhulan Yatra
Rank
1 out of 30 attractions in Puri
Jagannath Temple
Located in the eastern coast of India, the Jagannath Temple is a very famous sacred Hindu temple in India which is dedicated to God Jagannath. Unlike all other temples, the idol in this temple is made of wood which is replaced every 10 to 20 years with an exact replica carved on the wood of a holy tree. The temple covers an area of 40,000 sq ft. The walls surrounding the temple are 20 feet tall and are known as Meghananda Pacheri. The temple contains four entrances and is one of the most magnificient monuments in India. The Jagannath temple is also the tallest temple in Odisha. The top of the temple is called Srichakra-Eight spoked wheel of Vishnu. The Rath Yatra stands as a very important festival in this temple. The temple consists of three sacred deities - Jagannath, Balabhadra and Subhadra. Entry inside the temple is very selective, Non-Indian descent, who are practicing Hindus are not allowed inside the temple.
Places to stay near
Jagannath Temple
Inxt Hotel Galaxy International
Reviews of
Jagannath Temple
•
1
One of the ancient landmarks of Hindu Religion. It is a must see for those who love learning about the culture and heritage of different places. Not to mention the beautiful white construction and the intricate craftsmanship. This temple was called the White Pagoda by the travelers in ancient times, going by the color of its buildings.
Attractions near
Jagannath Temple