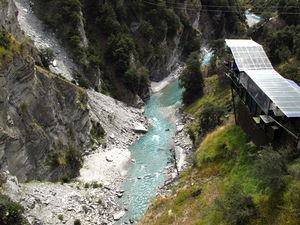 Traveller Types
Couples, Friends, Solo
Rank
1 out of 125 attractions in Queenstown
Places to stay near
Shotover Canyon Swing
Double room 5mins walk to town
Central Location & Best Views!
Ensuite Bedroom with Panoramic View
Room in cozy little central house.
Reviews of
Shotover Canyon Swing
•
1
These guys are crazy. Since I had bungy jumped forward, they thought I should go off the Canyon Swing backward. Unlike bungy, where they tie your ankles, in the Canyon Swing, you're in a climbing type harness to keep you safe. Whereas the AJ Hackett folks tell you how safe bungy jumping is as they bind your ankles, these guys put the feat of God in you. Just when you think you're ready to go, they pull you back in. I asked if they wanted to know where I'd like to hit the water, because I'd told the AJ Hackett people I'd like to hit at boob level. They said: "Oh, you're supposed to stop about 100 feet above the water, so if you touch the water, something has gone horribly wrong." I immediately said: "I don't need to touch the water."
Attractions near
Shotover Canyon Swing