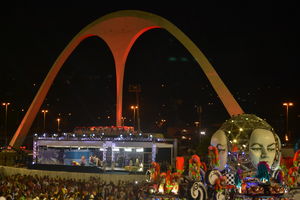 Places to stay near
Copacabana
Charmoso Studio Perto de Tudo
Olympic Games - Garden Room (Bed 4)
Localização ótima. Ao lado do metrô
Reviews •
3
New Year's Eve! where Rio & Copacabana beach are famous worldwide for it's amazing celebration & fireworks display. In Brazil, people mostly wear white clothes on the Eve. This makes Brazil look snowy white! Copacabana beach is the site of massive fireworks display at midnight. Samba , music are enjoyed by everyone, welcoming the new year! Recommendations: 1) Go with little or nothing in your pockets ( beach is overcrowded so to avoid pick pocketing. 2) To avoid the post midnight hassle is to arrange for a taxi or car to wait for you at a specific location & time.
Morning delight???? It's the most famous beach in the world. The seascape blending into the cityscape, with backdrop of mountains. A sun seeker's paradise!!! Lined with restaurants,hotels and known for its vibrant night life of Rio. Can't miss this beach. It offers exotic sun bathing & leisure activities during the daytime & offers nightlife too. A mix of both the time!
Surprisingly the beach was really chilled out, like the quiet before the storm and the water is so cold its refreshing, and on Friday we already began our bloco hopping at a roman themed gathering with the catchiest songs. Saturday was a hazy mix of blocos all over town, culminating in a brass band at the end of the evening which topped it all off. Somehow we were still going on Sunday and danced all day at a small electro bloco outside a club entrance, which blew the roof for us once the trap started flowing out the speakers. We sadly had to leave to get over to the Sambadrome for the first evening of the special group. The efforts of the parade were mind blowing but it was sad to see a big chief getting beheaded when it clipped the press platform hanging overhead. The stadium looks fantastic from the inside but is pure chaos outside, it is as if it was plonked in the middle of nowhere without warning. We left in the early hours, got 2 hours sleep and jumped on a flight to Salvador.
Attractions near
Copacabana