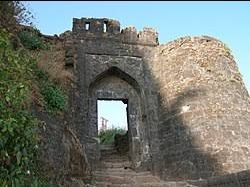 That was the perhaps one of the weekends which was probably a different one for me; a long awaited reunion with my family in Pune back in 2014.
My father was visiting Maharashtra for the third time during his lifetime and he is still active like a youngster to explore serene places. I realized that, after he went ahead leaving all of us (mother, cousin brother and his family) behind during the small trek up to Sinhagad fort.
This was my second visit to this beautiful spot which is around 30 kms from Pune. My first visit to Sinhagad fort- which stands perched on a isolated hill of the Bhuleswar range of the Sahyadri Mountains was year earlier in 2013 with friends which was even more interesting but this visit was different.
This marvelous piece of architecture built 2000 years ago lies around 40 kms south of city of Pune in India. Mostly famous for the Battle of Sinhagad between Maratha ruler Shivaji Mahara and Jai Singh, Mughal chief and this was the base of Shivji Maharaj.
Thought not the best time to visit the fort, however the company along and the lip-smacking dishes like Pithle-Bhakari, Kanda Bhaji and Sweet curd in earthen pots made the trip worthwhile.