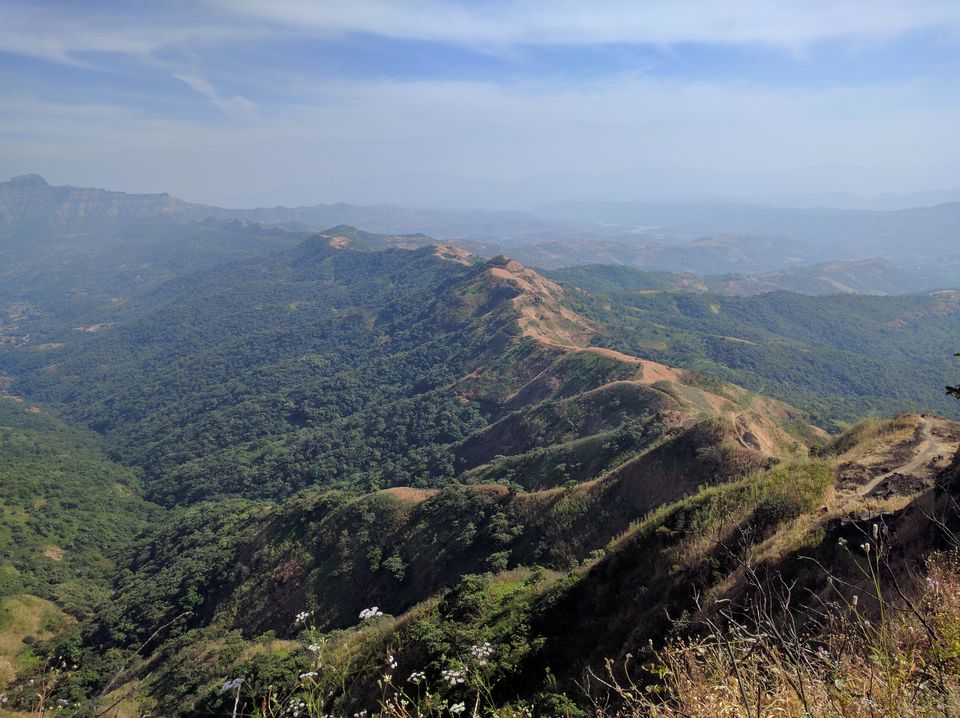 Sushanth and Balakrishna being heard about this trek from one of the retired army officer while on their trek to Rajmachi made them desperate to go to this trek. After much reluctance from me, we decided to go for this trek on 19th November. We took the bus to Nasrapur Phata from Swargate bus stand and from there hired a shared jeep to Margasani from where Gunjavane (base village) is about 6km far. When we reached there at 1330, we were told by the villagers that the bus to Gunjavane is at 1500 hours. But luckily before that we got a mini tempo into which we climbed and made it till Shakar, a small village. From there we had to walk about 4km to reach Gunjavane. Most of the trekkers first reach Velhe, the base camp to Torna and then do Torna to Rajgad trek. Connectivity to Velhe is far better than to Gunjavane. Since we had decided to do it the other way, we faced a bit difficulty to reach Gunjavane. It is better to hire a full taxi if anyone does Rajgad to Torna trek.

After reaching Gunjavane, we had late lunch at 1630 hours and collected water and eatables and started the trek. It is better to carry as much water as possible since water available at the peak in the pond is not that reliable.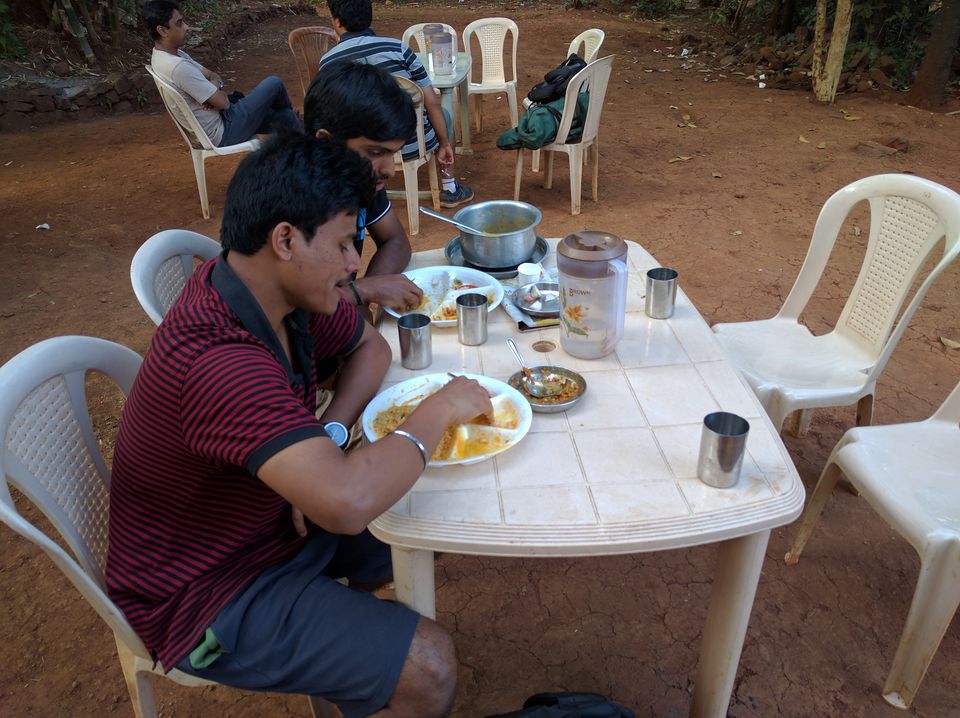 The trek to Rajgad is pretty testing with sudden elevation gain at some areas and steep climb along the rock patches but luckily there are grills along the steep rocky path.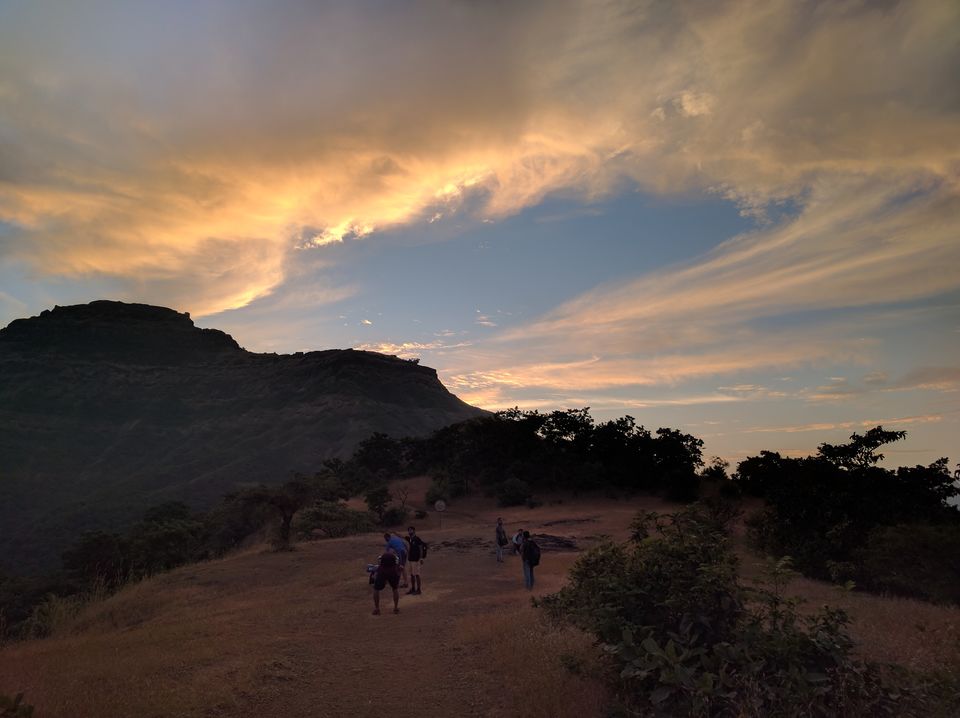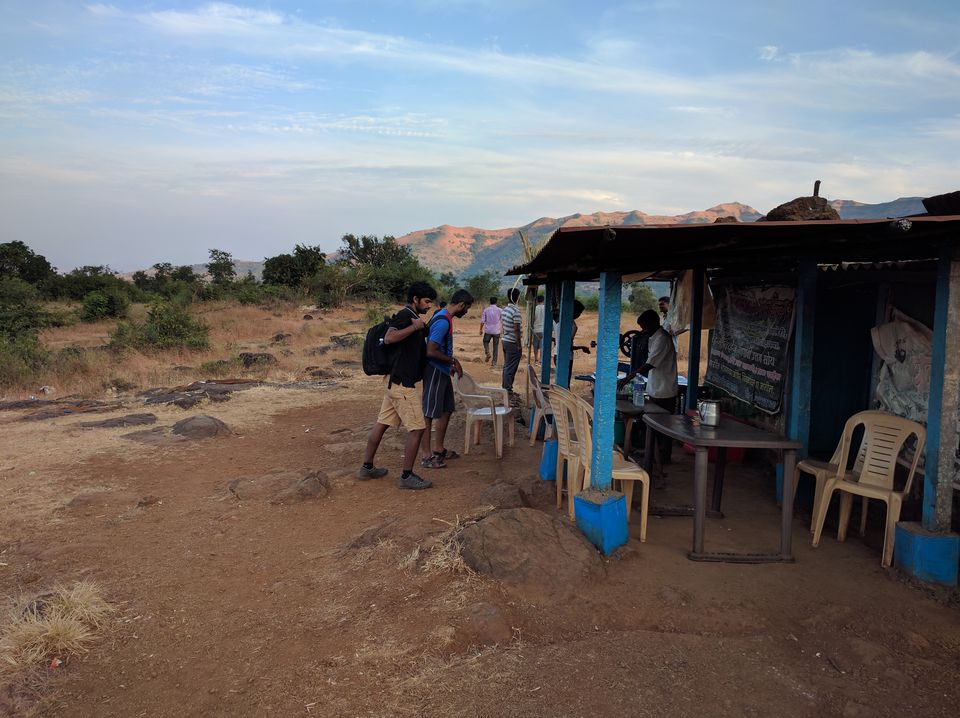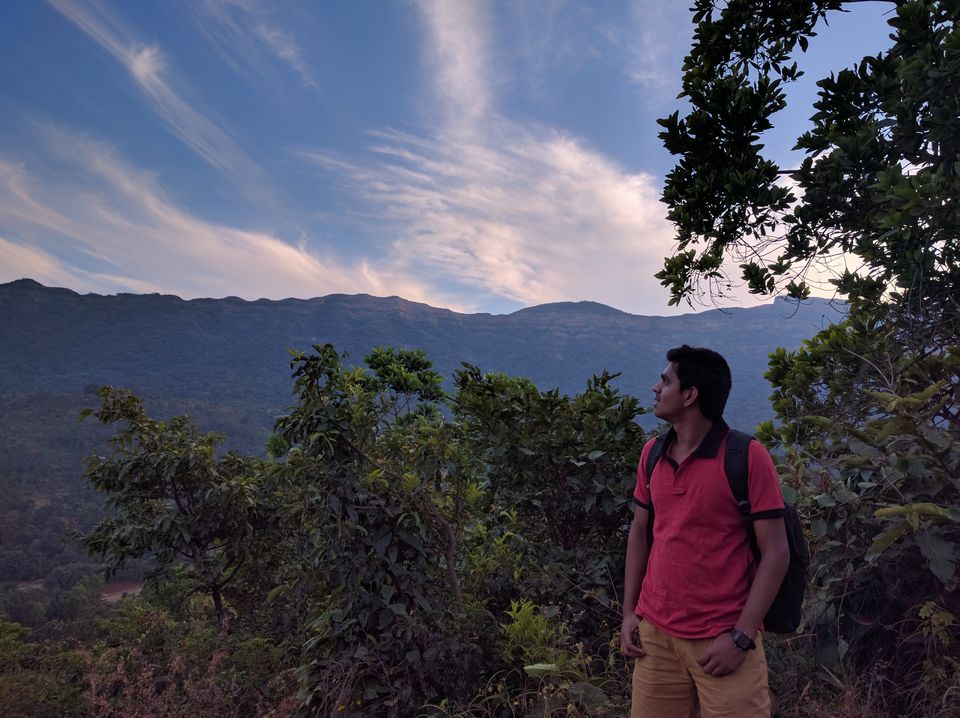 By the time we reached the top, it was beyond 1900 hours and there were already people in Padmavati temple which can accommodate nearly 50 people. We had the tent and we pitched the tent away from the crowd at a higher elevation taking a few steps beyond the temple.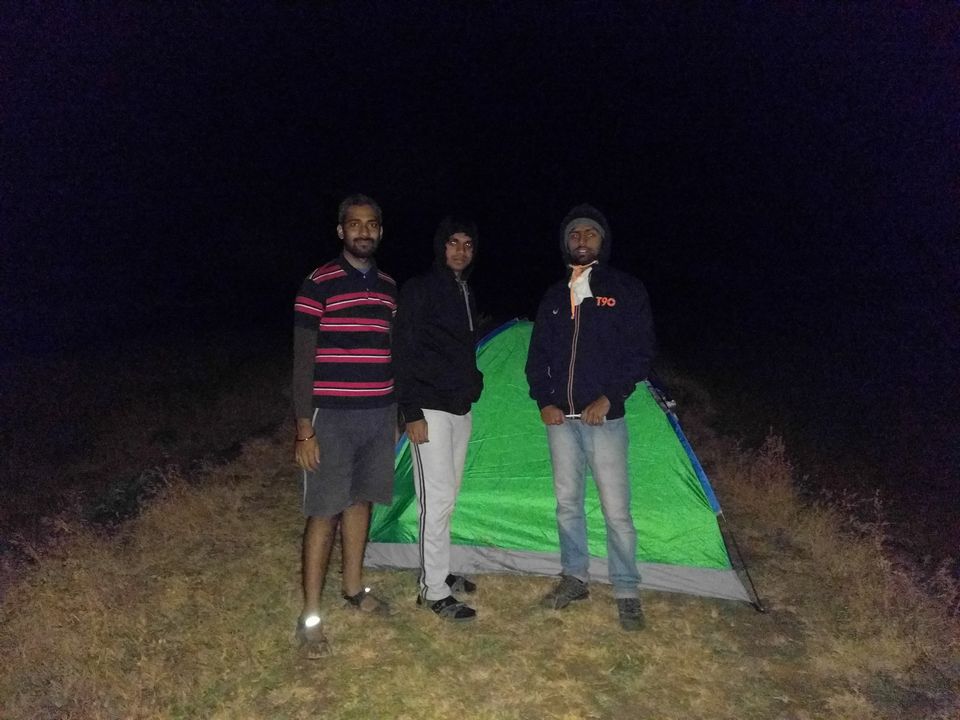 We knew it was going to grow colder at night so we started to collect materials for campfire. Few chopped rectangular stones to prevent fire from spreading since the place is full of dry grass, and wood had to be bought from the villagers around, that is kind of business for them there. You won't find any wood in the open. Neighbouring tent people were too cautious about fire and they repeatedly requested us to be careful not to spread the fire to wild grass. We started the fire with a bit of trouble.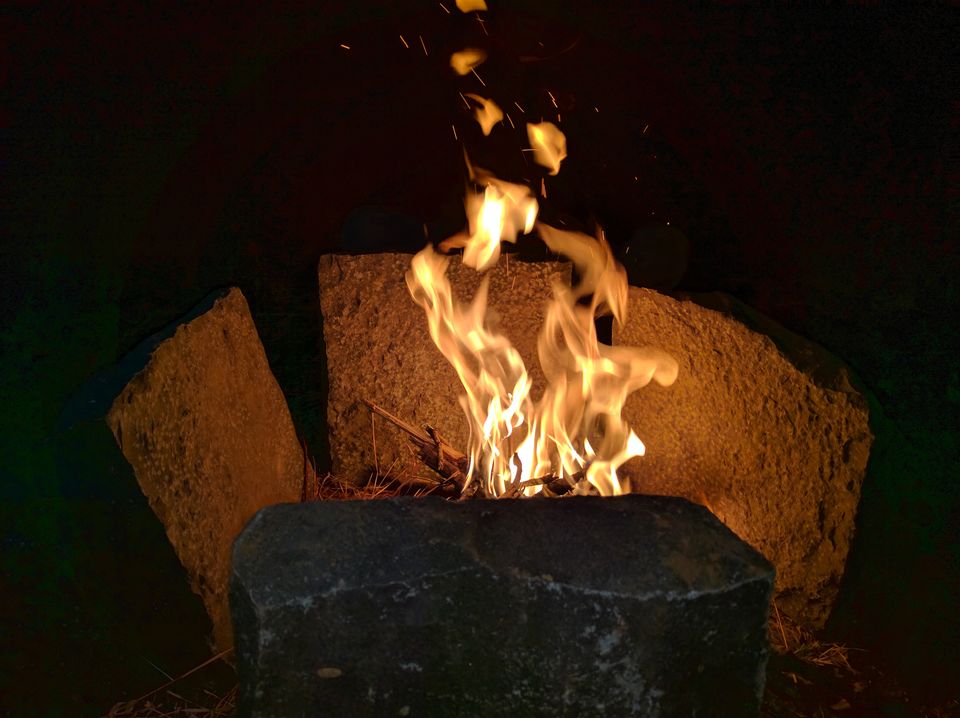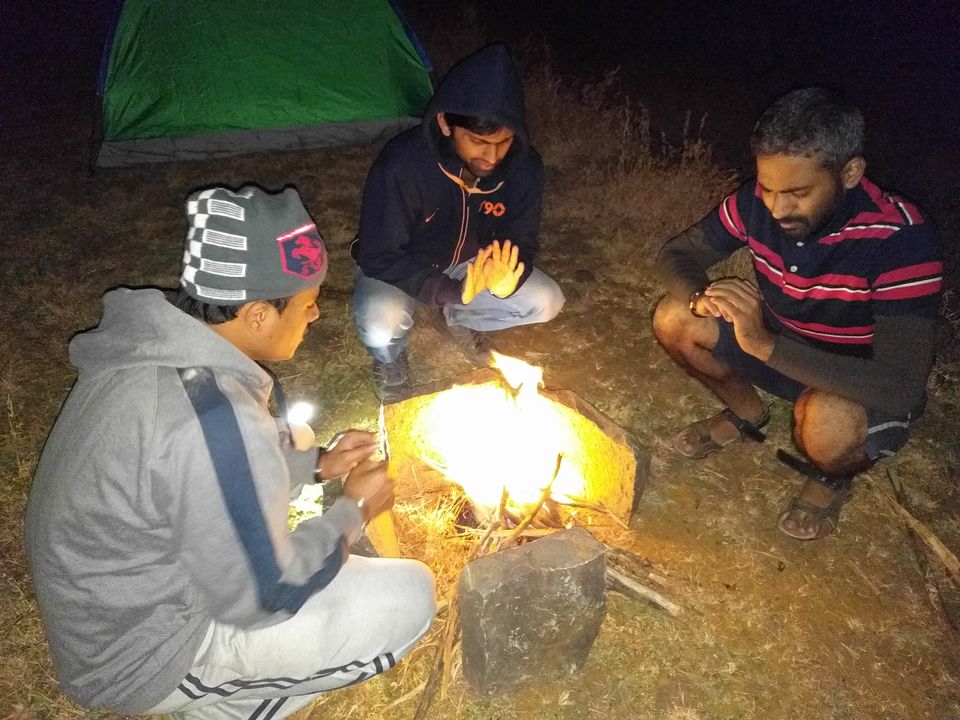 By the time the stars had appeared and Wasim started explaining the constellations and stars. Before he went deep into physics, we started getting warmth from fire and had a bit snacks and started to cover ourselves with warm clothes. After about an hour of time pass, we went to sleep.
Next morning I was the first to wake up at about 0600 hours and since it was too cold, I tried to ignite fire but in vain. Just before sunrise, all of us woke up and started shooting photos.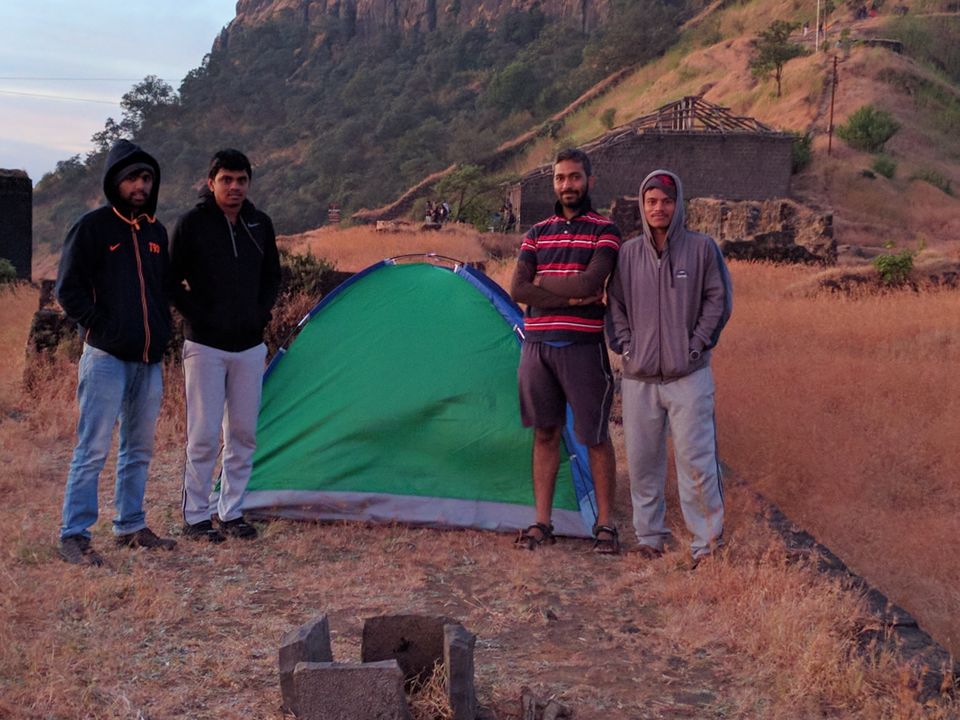 After half an hour or more of photoshoot, we went down to the temple to see if breakfast available. Not to our surprise, it was Poha which was available. After breakfast and tea, we packed the tent and headed towards Ballekilla, the highest point of Rajgad. It is a steep climb from a path that divides Sanjivini machi to the right and Ballekilla to the left.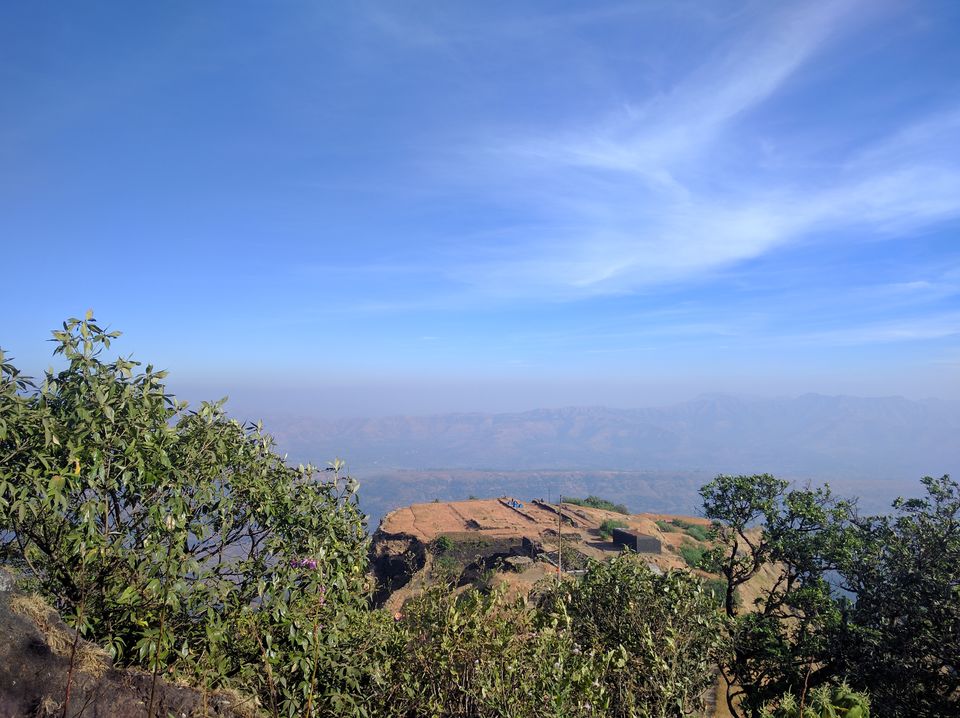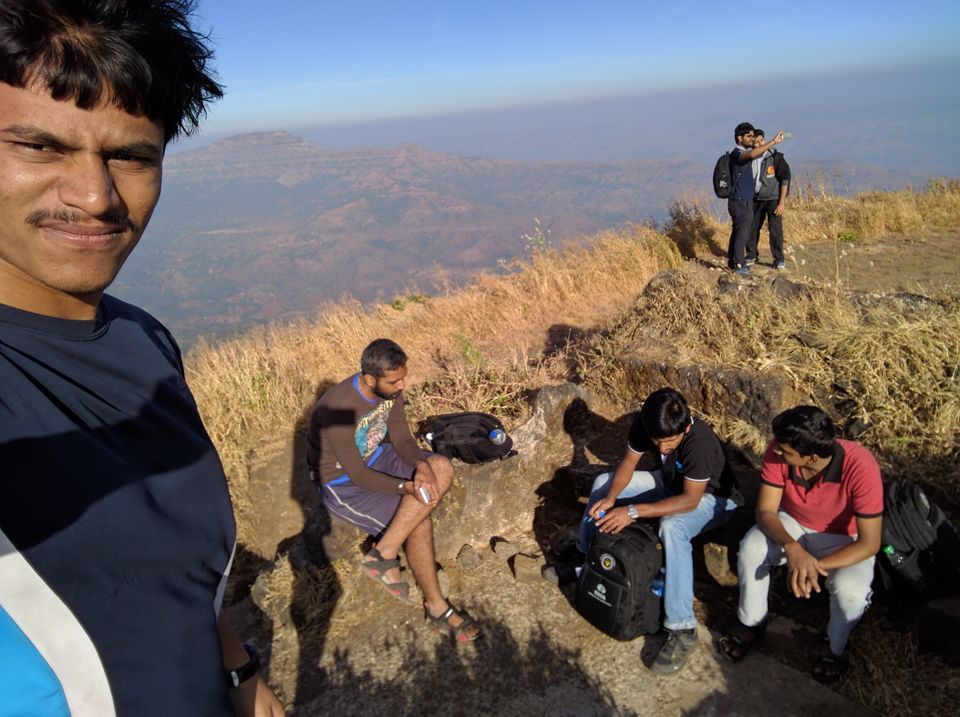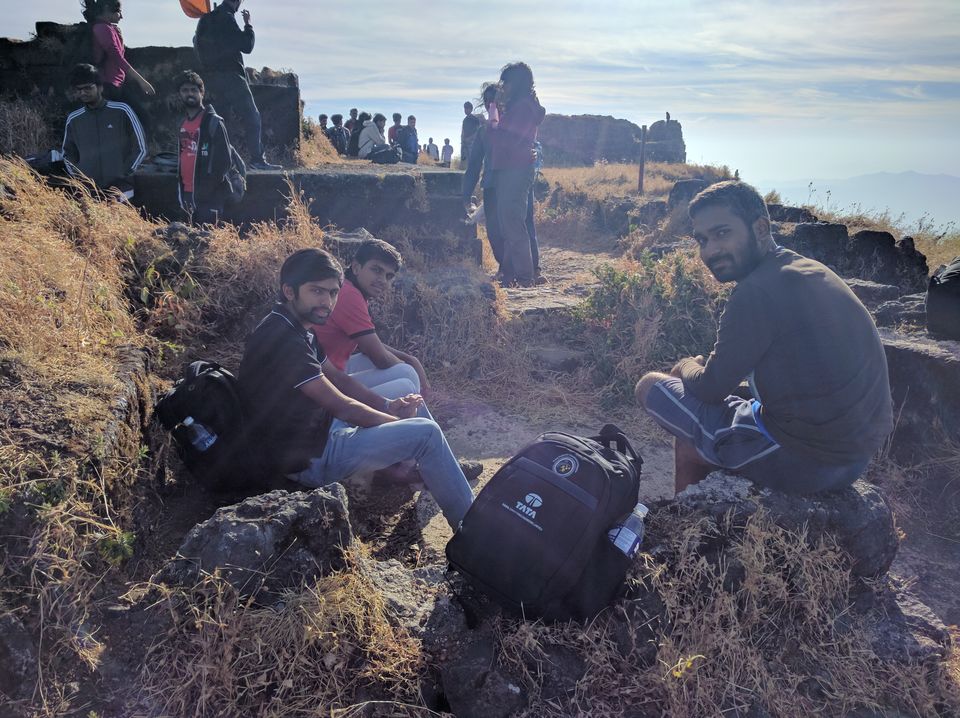 After an hour of time spent on the top of Ballekilla, we came back to the point where the path divides and headed to Sanjivini machi, the road which further connects to Torna. The view along the route is very scenic and Torna is almost visible from every point along the path. There are few steep downward path and climbs along the route. The route has few diversions and one has to have proper knowledge before doing this trek. The walk is along the ridge connecting Rajgad and Torna and along the path you will find a hut and a road crossing. We lost the route just after the road crossing where the path was made to dig some channels in the forest. Instead of taking right, we took the left route which looked more paved. After realizing that we were on wrong route, Balakrishna and Wasim tried to create their own route along forest bushes but after some trekkers were seen at some distance and with their suggestion, we returned to the path where we took the wrong turn and continued on the right path. Almost dry, the path does have some thick tree cover for rest. But the path is very draining overall.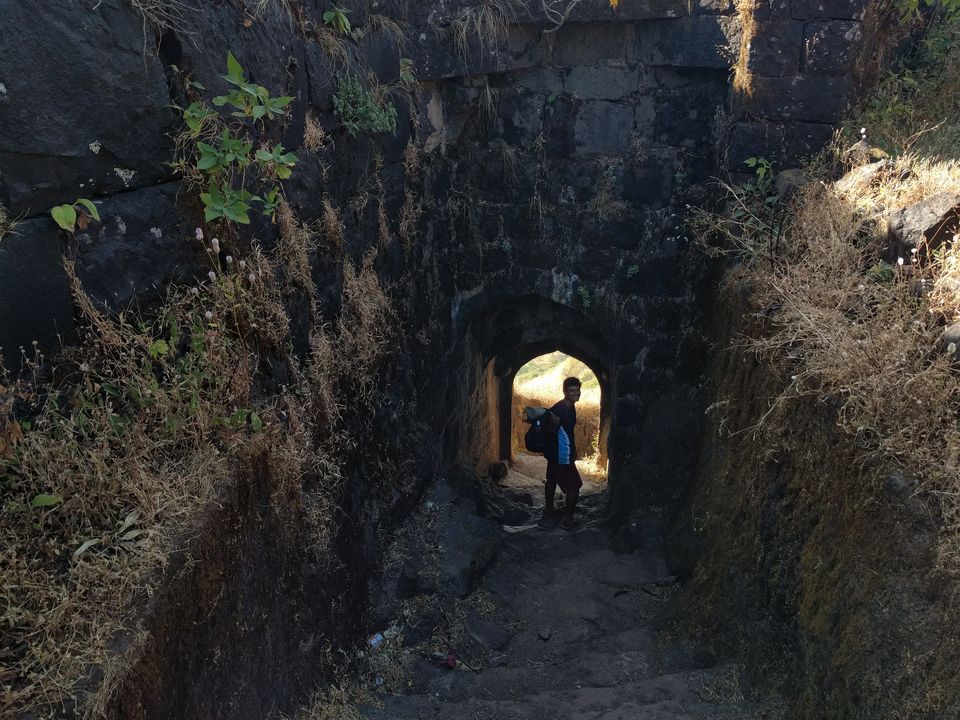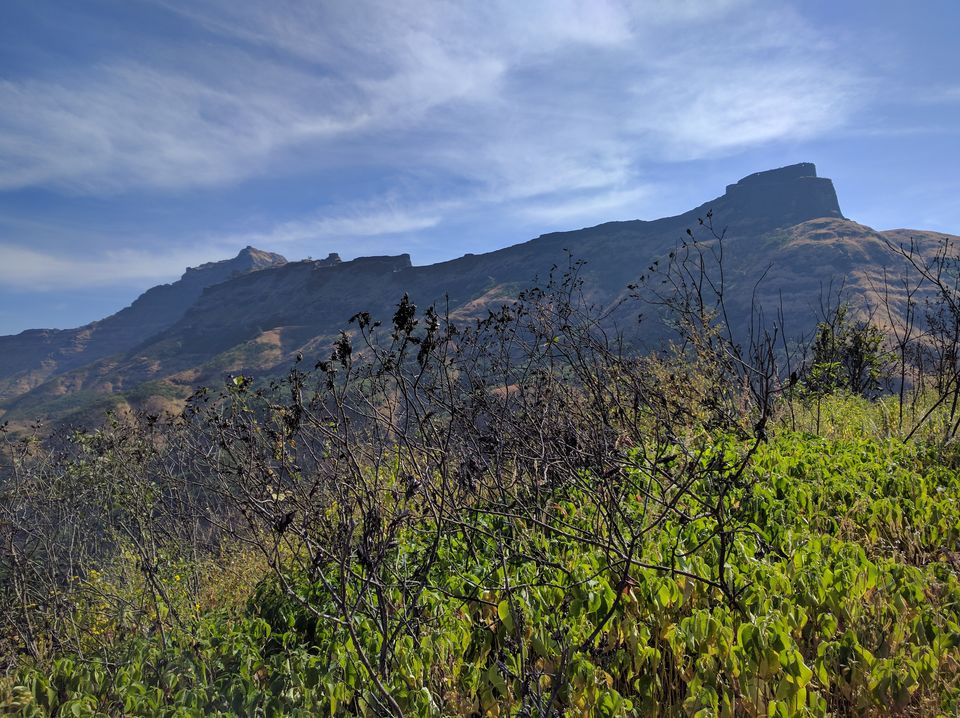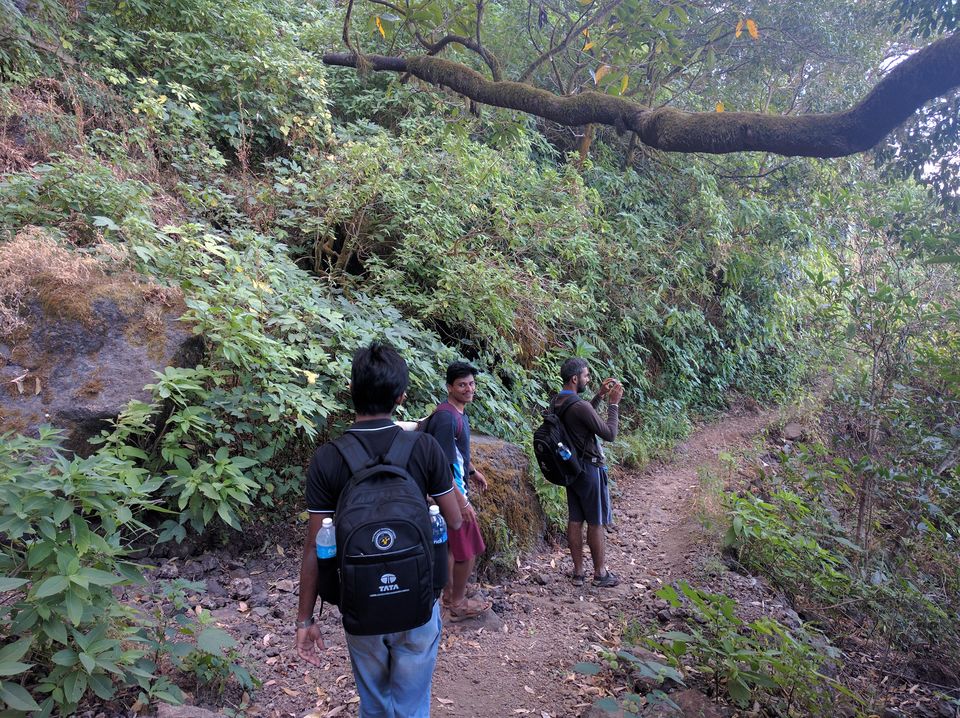 It started seeming like we are walking into eternity. Torna was still seeming to be at same distance as it was seen from Sanjivini machi. Our stops started getting more frequent and water was getting scarce in our bottles. Wasim and Sushanth were feeling exhaustive. After some time we saw the fortified wall of Torna very close to us. The climb near the end was very steep and there is a ladder placed at the final climb.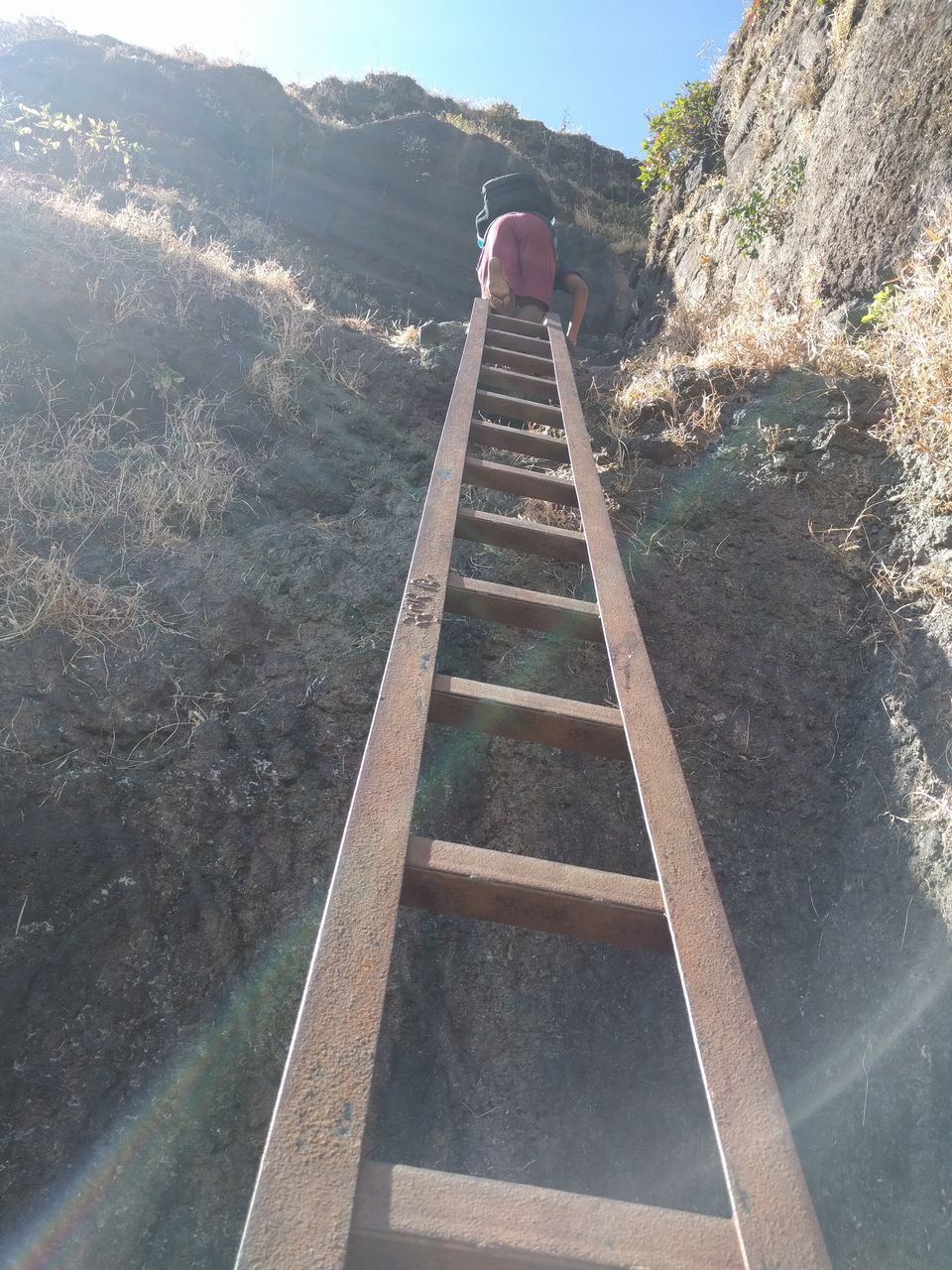 It was not over. I climbed the ladder and then I realized that the trek is not over. Torna is itself another small trek I realized. As water with me got exhausted, I started moving ahead without waiting for others who were resting before the ladder. After about 15 to 20 minutes walk, I thought of waiting for them as they were too far behind. I called them and asked if they have resumed, and walked a bit ahead and waited. While I was resting, some local people saw my fate and offered me water. I accepted it whole heartedly and thanked them. After few minutes, Wasim joined me and some time later the other two.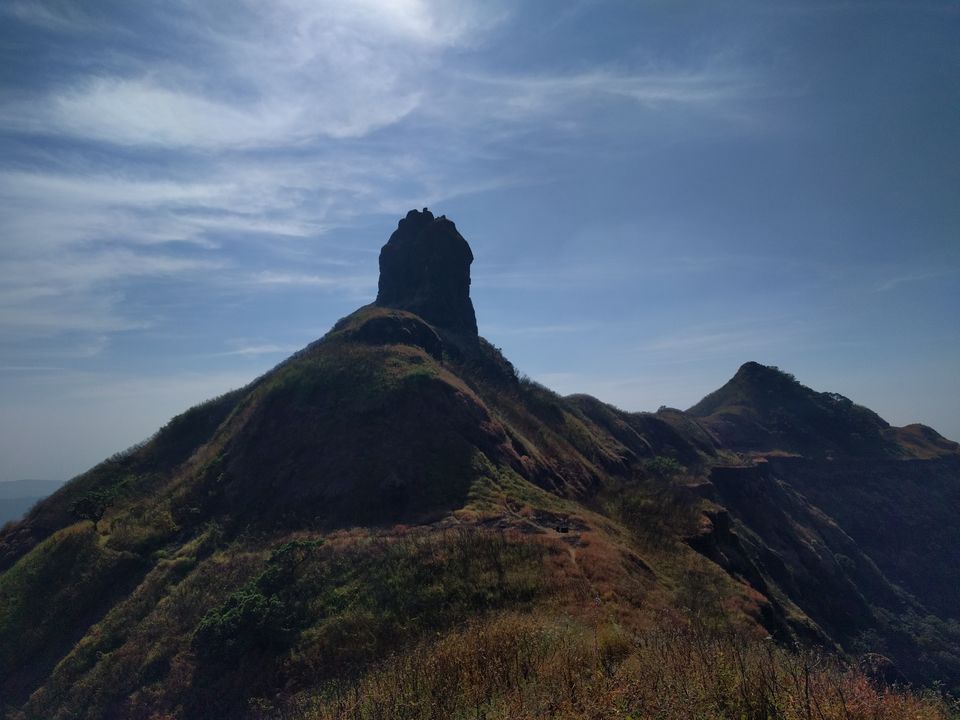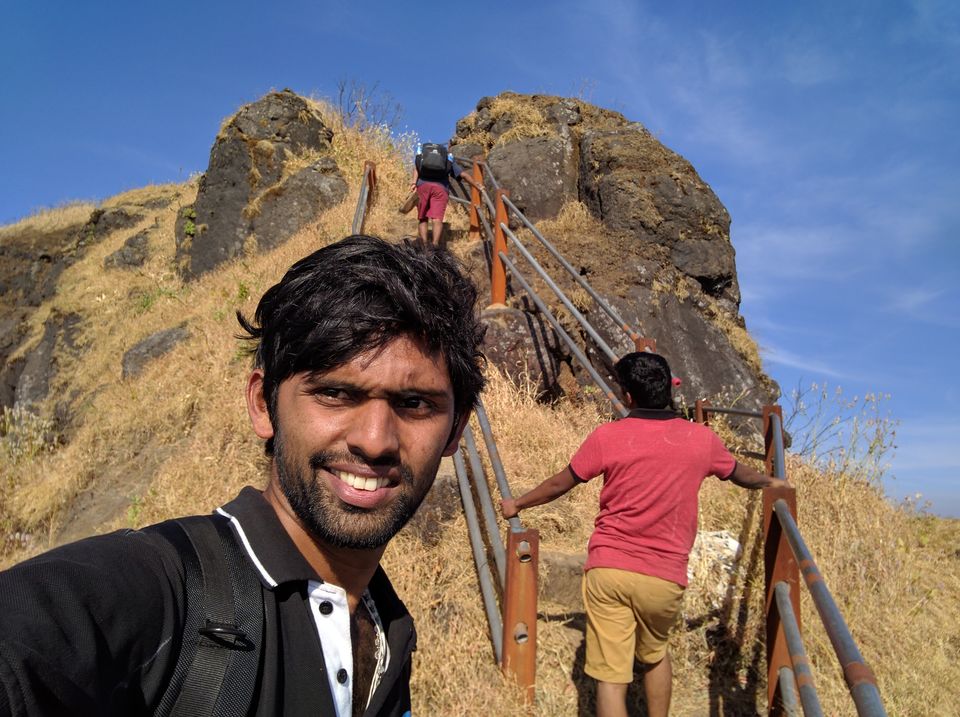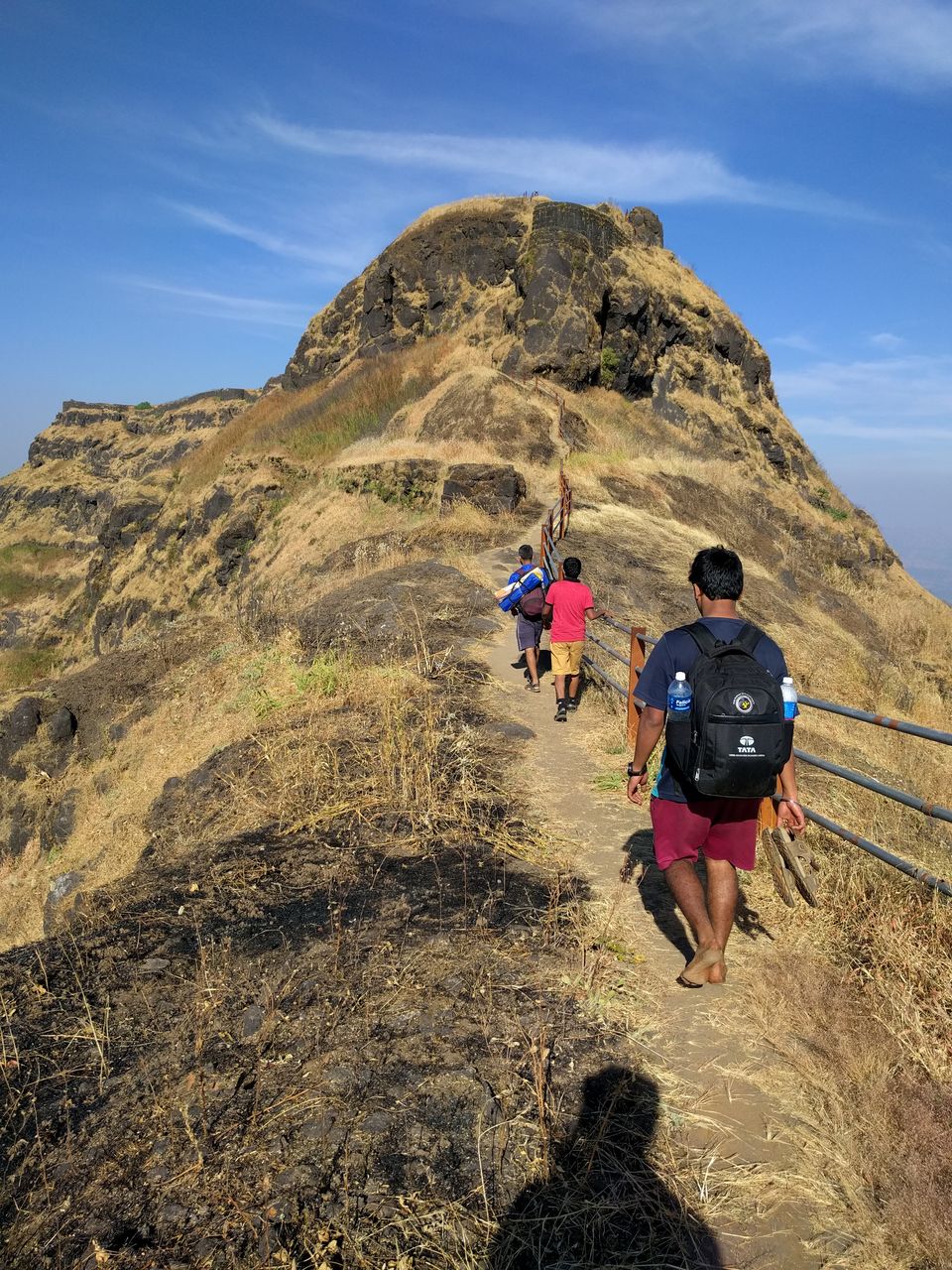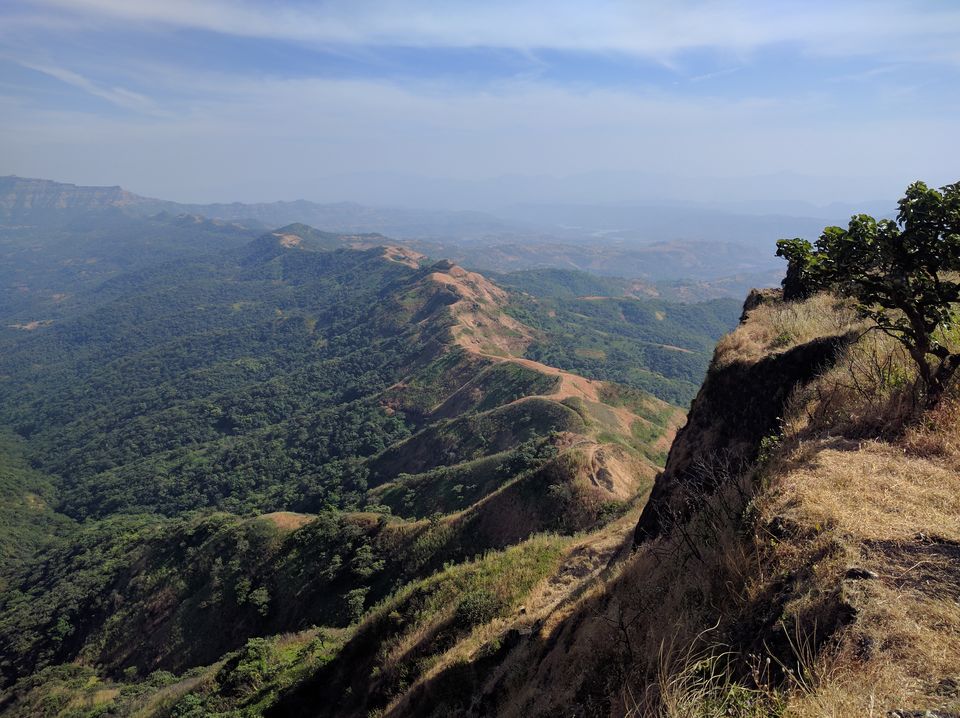 The final stretch was also a bit tough with a few climbs and burning sun. Luckily we got buttermilk and lemon juice vendors on the way and it helped us refresh once more before the end of the trek. Somehow after few minutes of walk we reached the peak and the localites were most welcoming with offers of Poha. We had Poha and rested few minutes there. Getting down from Torna to Velhe was also a good energy sucker. But since we had done so much of walking in the last 6 hours, it felt quite easy for us. Few people joked that we are weak and need to have glucose. But when we mentioned that we have trekked from Rajgad, they shut themselves up. Upon reaching Velhe, the last bus and shared taxis were not available as it was dark, so we had to book a full taxi till Nasrapur phata and from there we got a bus back to Pune.