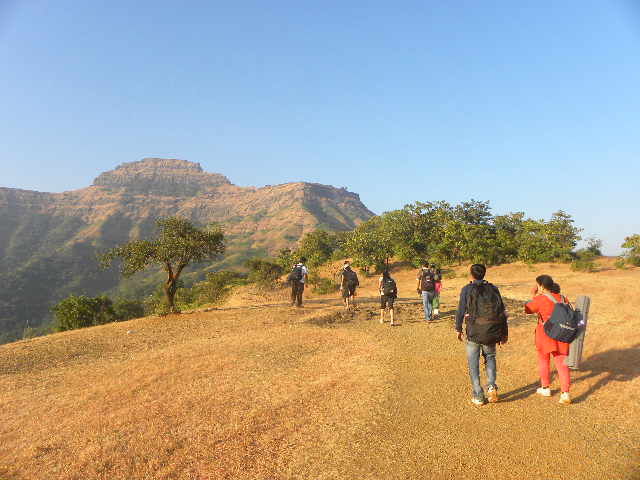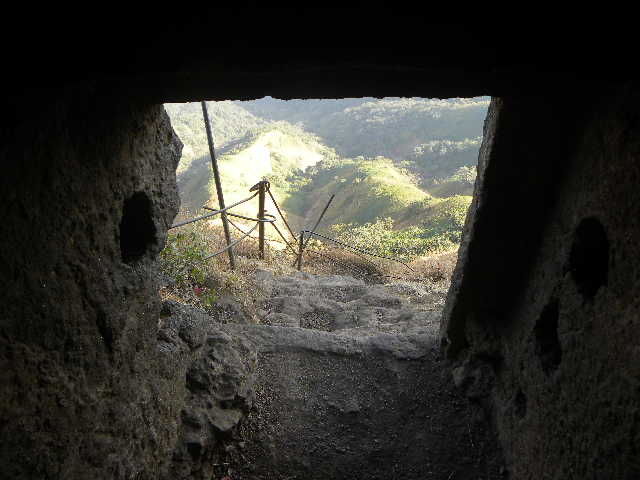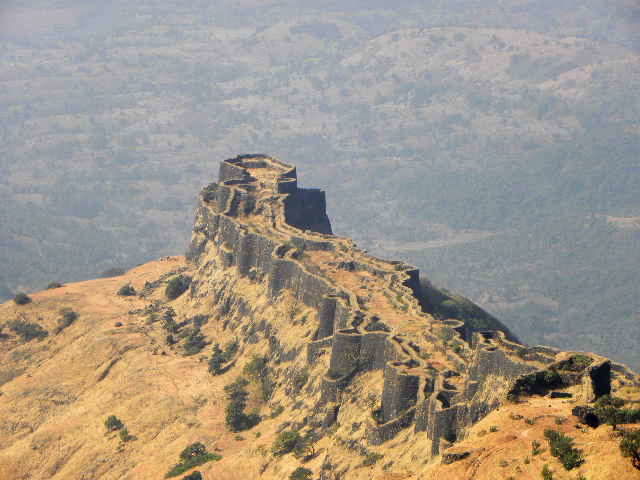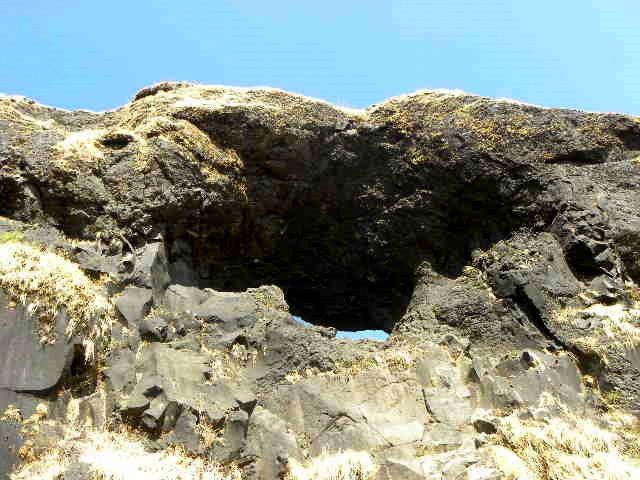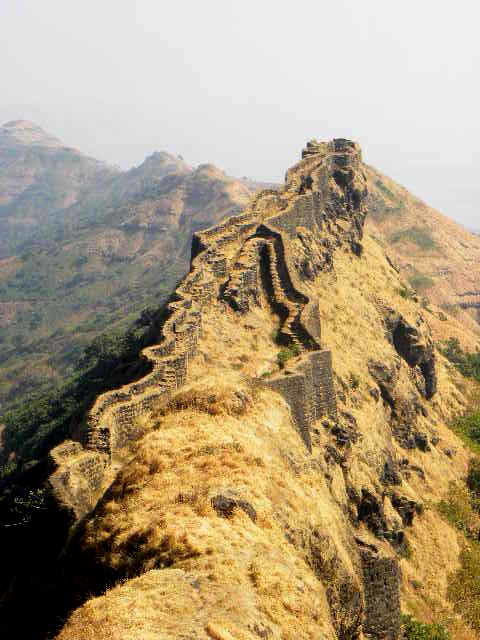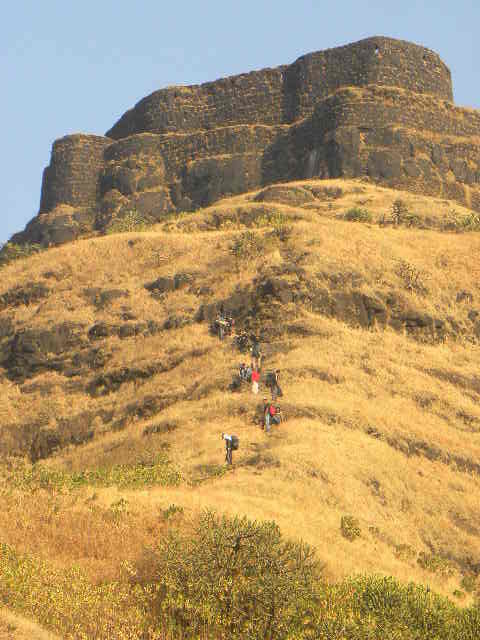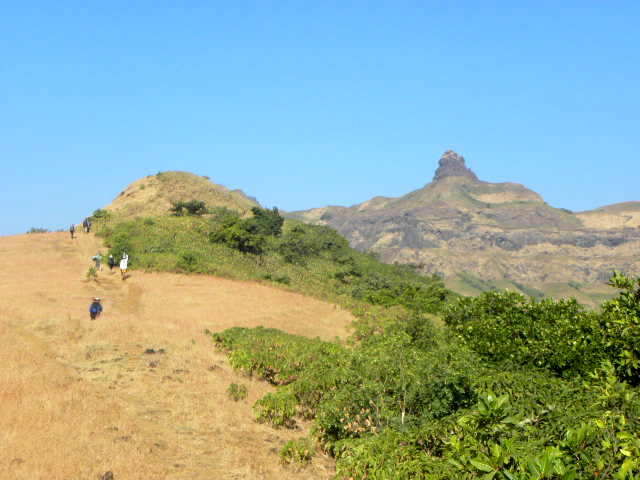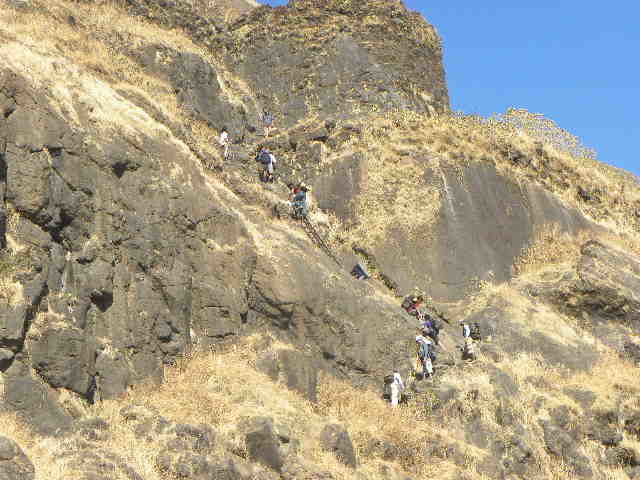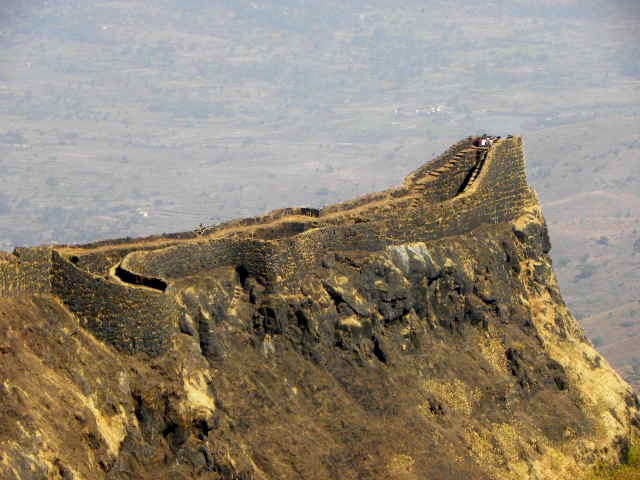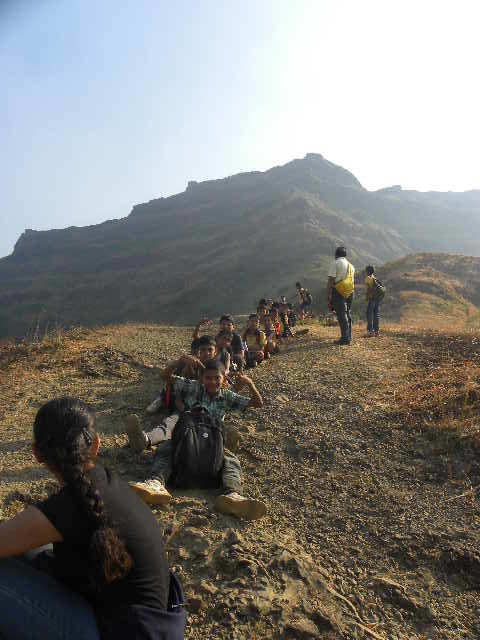 I had been wishing to visit Rajgad since long, but as a matter of fact it never materialised, Finally opportunity knocked on my door by Shikhar Ved for 24th & 25th December as Trek from Rajgad to Torna and I couldn't resist answering that as 'yes'. The most awesome part was pick and drop from nearest place to my home, so as, I wouldn't have to worry about returning home late at night or go far off to board train in midnight.
I started off by arriving at Borivali SGNP gate, few trekkers were already waiting there. Saw some familiar faces. We started off by 11.30 p.m. on 23rd Night. Slowly people poured in bus at regular intervals and by Kharghar, the Bus was full. Poonam and I took complete advantage of our empty seats and took nap via bumpy-headbanging ride till Gunjavane- Base village of Rajgad. We reached at base by 5.30 a.m. After a prolonged round of breakfast, we headed to Rajgad by 7.00 a.m. It was a long barren path. I don't know why there are barely any trees on the entire Rajgad to Torna range. Most of the tracks had 4-5 feet long bamboo grasses on both sides, which provided some relief from scorching sun. It was a clever plan by Jagdish to start the trek early morning (or else we would have fried ourselves), as we reached the top at Padmavati Machi via Chor Darwaja by 9.15 a.m. Offloading our sacks, we started to explore the Fort by 9.40 a.m. First, we hiked to Balekilla, which was topmost area on Rajgad. It was a good path of carved out stairs, man-made stairs and rock patches. We reached top by 10.30 a.m. There were many cisterns for water storage. The view from top was awesome. The ridge between Rajgad & Torna was splendid and at that moment I thought how am I going to cross it?
The place of night halt- small hut could be seen from top where we had to reach before dusk. Torna was hazily visible because of winter fog. We descended back to the point where the path gets divided and one leads to Sulvela Machi.
It was again a straight long walk through alternate dense vegetation & open plateau. Thankfully, the villagers make their living by selling buttermilk on the way. We quenched our thirst by cooling ourselves with those fluids, as the sun was on top of our head sucking each and every water molecule from our body. We reached the end of Suvela machi by 12.00 noon. Some of them, carried on, further towards the tail of Suvela machi, while rest of us-half dead, preferred to rest in the 'Nedhe'-natural cavity created by lashing winds against mountains also known as 'eye of needle'.
This 'nedhe' reminded me of Ratangad. To reach 'nedhe'we had to climb rocks. After getting some much needed rest, we reverted back to the house where we left our belongings. By 1.15 p.m. we were back and had our meal of usual Pitla bhakhar. We headed for the hut, that was located in the midst of the ridge by 2.30 p.m. The path was to semi-circum navigate the Sanjeevani machi and get down further via Alu Darwaja. We waited for all to get together, since some of them went ahead to explore Sanjeevani Machi. Around 4.30 p.m. we started descending from Sanjeevani Machi and heck! It was terrifying!
The steep slope literally made my legs shiver. It was tough to descend for most of them. Most of us butt-trekked those part. After the slippery patch, it was again up-down path till Paal-Khind. Vinod & Poonam accompanied me till Paal-khind. After that, like the man (on the road) said it was just five minutes' walk towards hut. Of course, we took maximum 10 minutes as our legs struggled to keep up the expected pace. It was almost dusk i.e. 6.00 p.m.
We rested for some time and it was time to set up our tent. Jagadish showed us a demo for same. Soon, all the tents were up. I pushed myself achingly in to sleeping bag, while all of them continued with bonfire, ghost stories and songs till 10.00 p.m. I was worried about the long ridge we were about to cross tomorrow for Torna, as it stood far-off like a distant dream and wondered, Will I be able to make it? By 5.00 a.m. the Cock was blaring its loudspeakers loud enough to break our peaceful dream-sleep. Everyone wished someone to get up and strangle its throat. But eventually, it did its duty to wake us, all up. We had our old good maggi for breakfast and dashed off towards Budhala Machi of Torna by 8.15 a.m.
It was a gradual walk of crossing numerous hillocks arranged like a wave by nature. I don't remember how many hillocks we crossed but finally managed to reach the famed rock patches of Budhala Machi.
It was terrifically awesome patch. I loved it to the core. A guy selling lime-juice arrived like an angel for all of us. We continued to trek towards Menglai temple. By 12.00 noon, we arrived at temple, remaining all joined us by 12.30 p.m. Some of them went ahead to explore Zunzhar machi, while broken souls like me, Poonam & Madhura rested and managed to get some water to drink with the help of Pritam. We had sumptuous meal at temple and by 3.00 p.m. we started to descend from Torna. A group was children along with their teacher came for trekking.
It was sight to gasp the way these kids jumped all through descend. There were protective rails on the side of valley. As usual, like I have seen, a fort is incomplete without a difficult patch, for us to overcome, during ascend or descend. So, there was another dose of rock patch in between. Finally, we landed at Velhe-base village of Torna by 5.30 p.m. Had refreshments and left for Mumbai by 6.00 p.m. Mrudula who was almost exhausted while descending seemed to have an amazing amount of stamina left out for singing. Of course, Ravindra, Prakash & Gaurav gave full-on support for this endeavour. They continued to rock us all with numerous songs in the bus till, one by one all left.
There were many couples, I liked the way how these trekking males took care of fragile ladies at every nook and corner. Hopefully, girls please do continue trekking after this too. And finally, every individual was really superb in this trek.
Biggest blunder I could ever commit for the love of my photography was forgetting to change the image size and clarity for photographs. It gave me a heart attack at the end of the day when I saw all images with broken pixels. Anyways, this was all about Rajgad to Torna. Sigh!