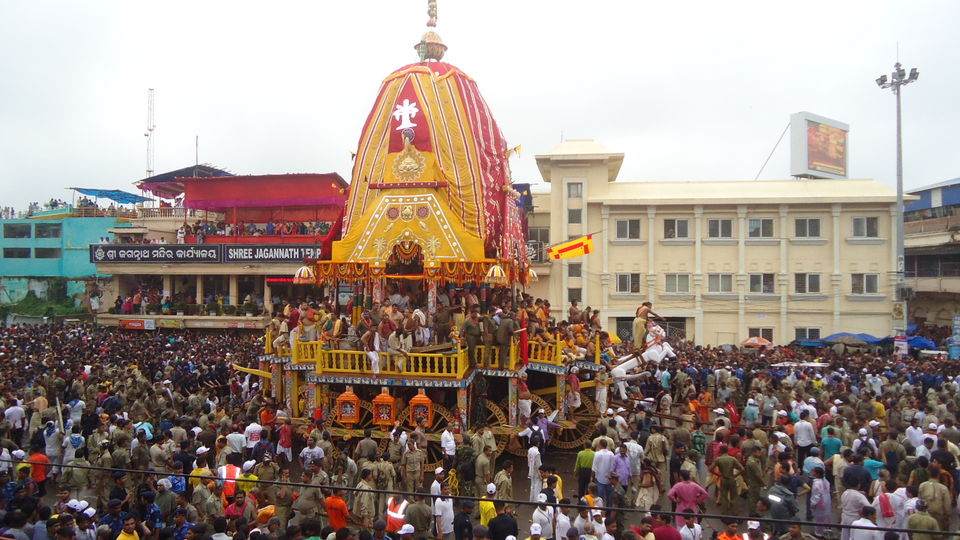 They say if Lord Jagannatha does not call you ,you cannot visit Puri. Well I had been to Puri several times before but never had the luck to see the famous Car festival or the Ratha Yatra.I had to wait 51 springs before I could be a part of the festival this time at Nilachal,the abode of the God. This time I chose to travel solo though I was never solo in course of the journey.How could you be when you meet and befriend so many people in your trip?
DAY 1 : At the wee hour of morning Garib Rath set me down at Puri Station and I was at once lost in the teeming crowd only to find myself outside the railway station amidst uncountable auto rickshaws (tri-cycles). A bit of haggling and the deal was made,20 minutes later I was in my resort at Toshali sands,10 kms from Puri Station on Puri-Konark Marine Drive.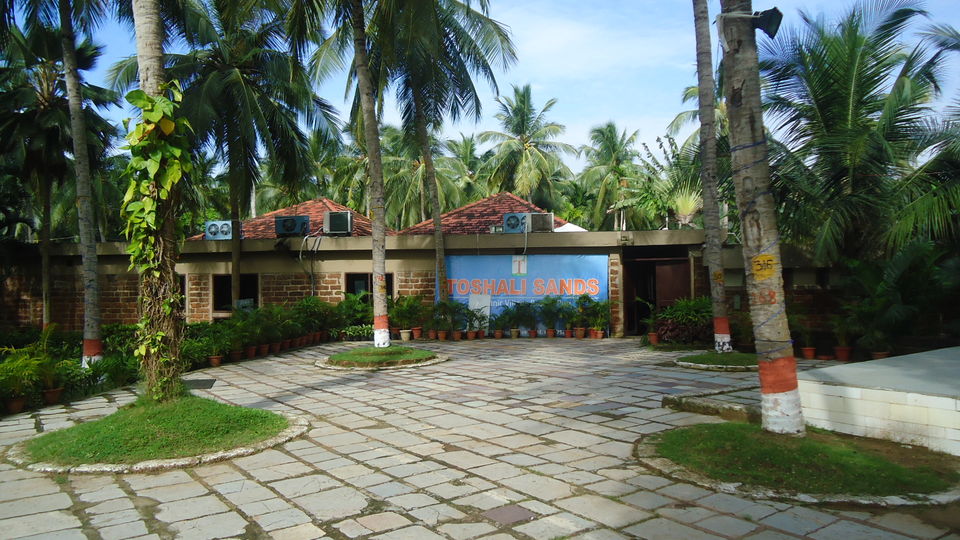 I was extended a warm welcome by the staff at the resort and was promptly allotted my room.Set amidst a very big coconut grove the resort (a Four star property) had a laid back charm and I knew I was at the right place to unwind and discover myself anew. After breakfast it was time to visit the beach,which was 2 km away through a reserve forest.Initially I wanted to trek the distance but then decided to go by car for they have complimentary drop and pick up.After spending some time under the blazing sun and listening to the roar of the angry sea I headed back for my resort.It was lunch time and sumptuous buffet lunch was already churning the digestive juices in my stomach. In the afternoon I lolled in my comfy bed and relaxed a bit.At 4 O' Clock I set out for Konark by a tricycle.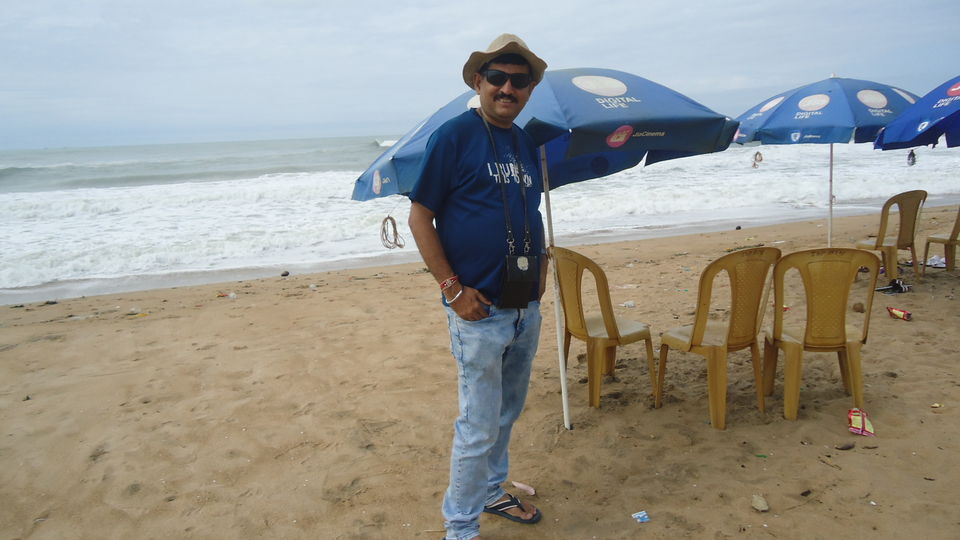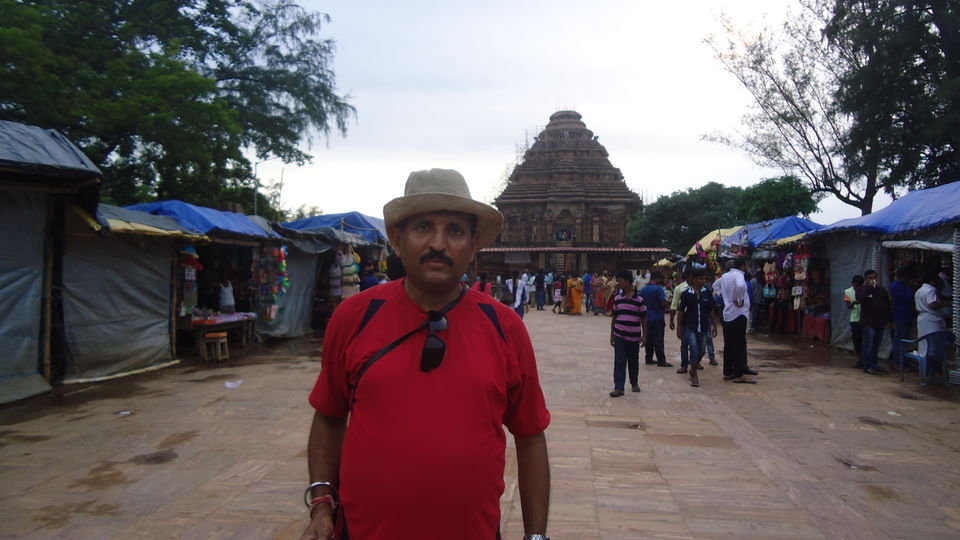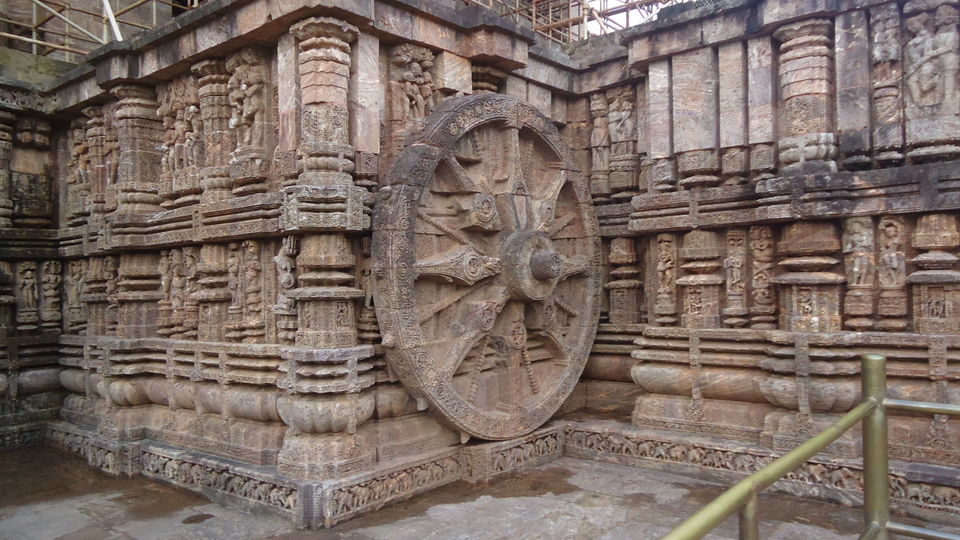 DAY 2 : After an early breakfast at the resort I set out for Puri (10 km away).I was dropped at a place called Victoria Petrol pump (3 km from the resort) and I had to walk all the way along with the crowd which was all headed for the Lord Jagganatha temple where from the Chariot festival would begin. Walking under the blazing sun was a challenge but made the trek successfully and joyfully.In fact, it was a great fun.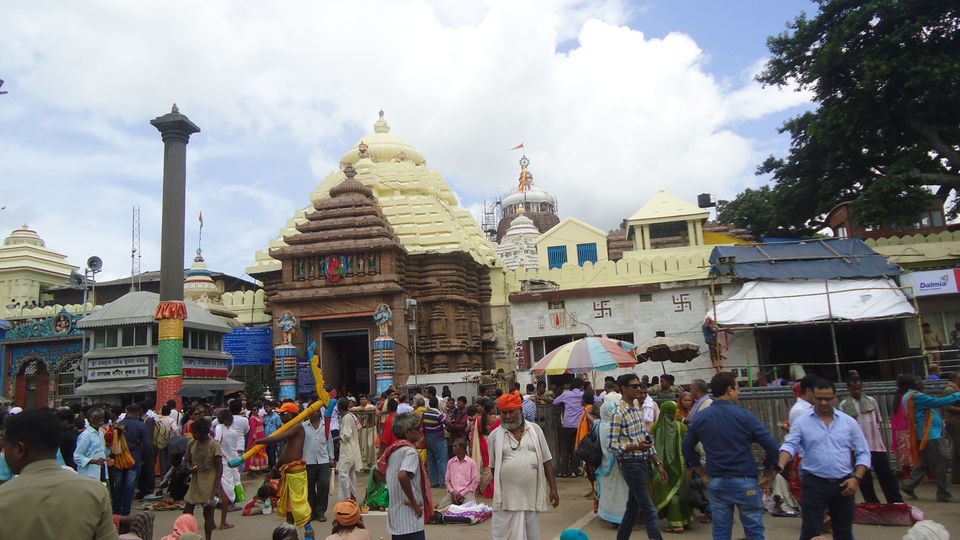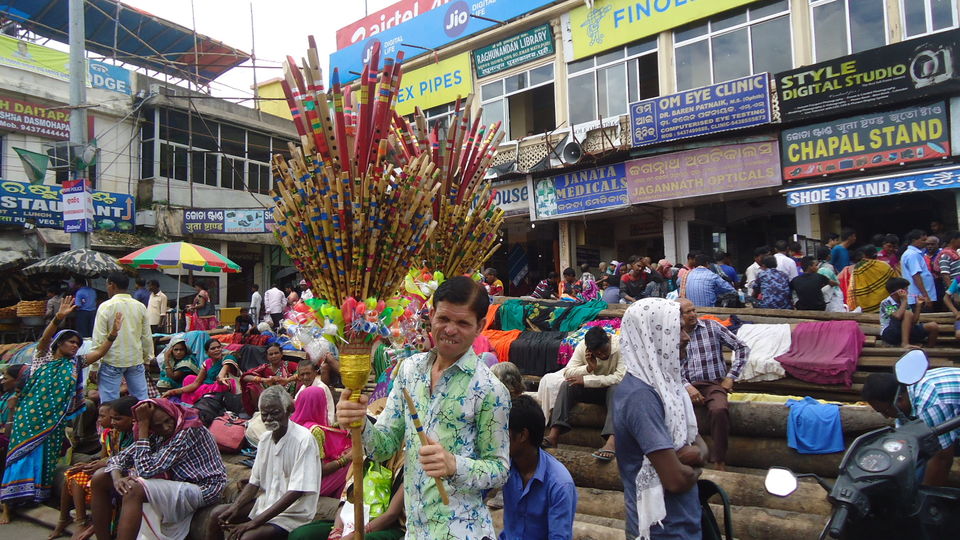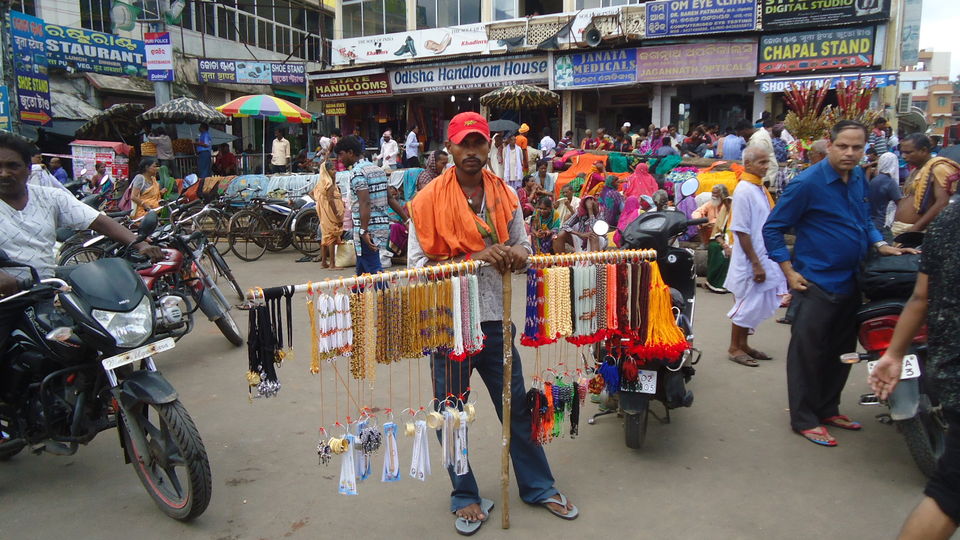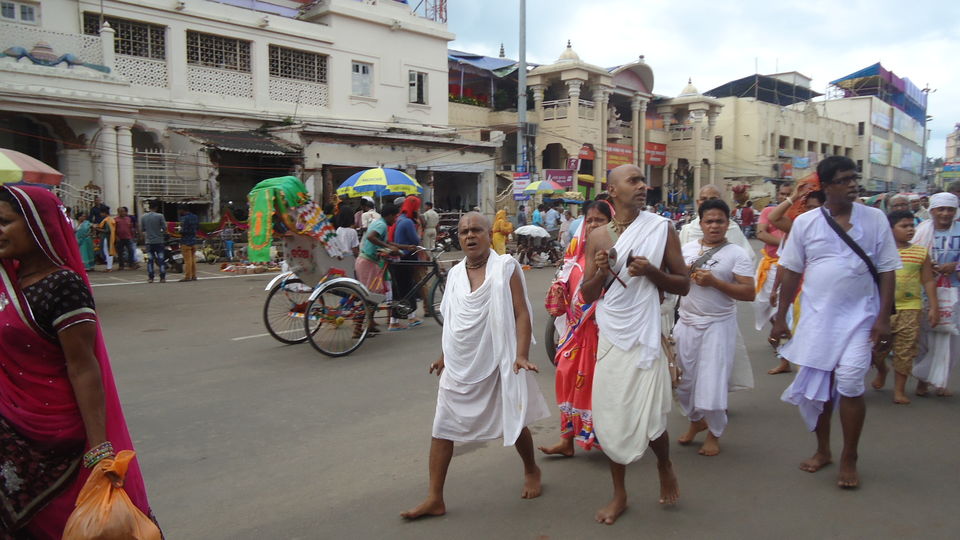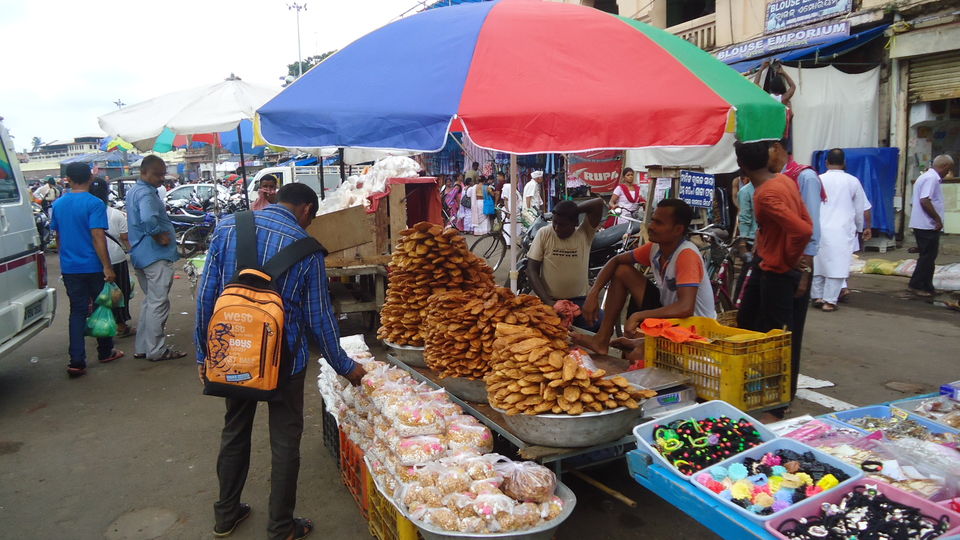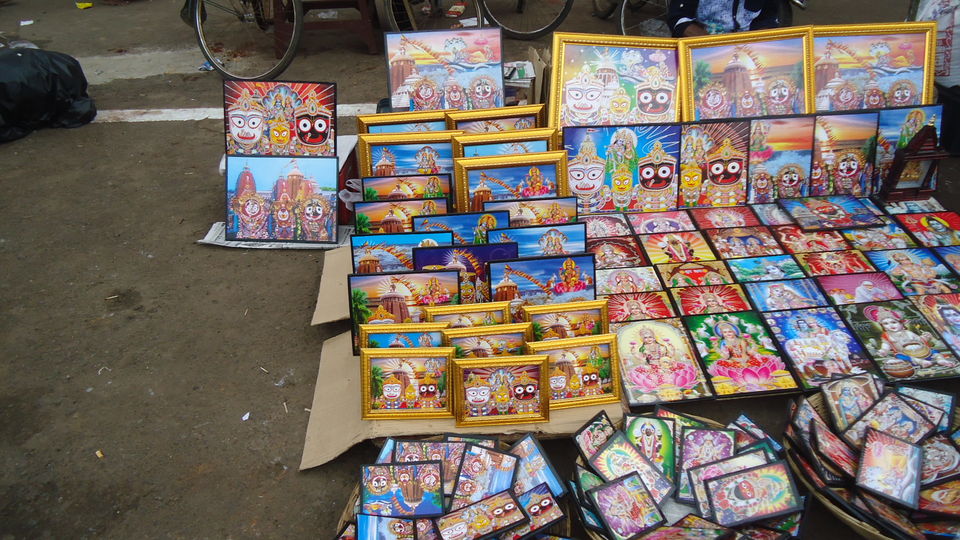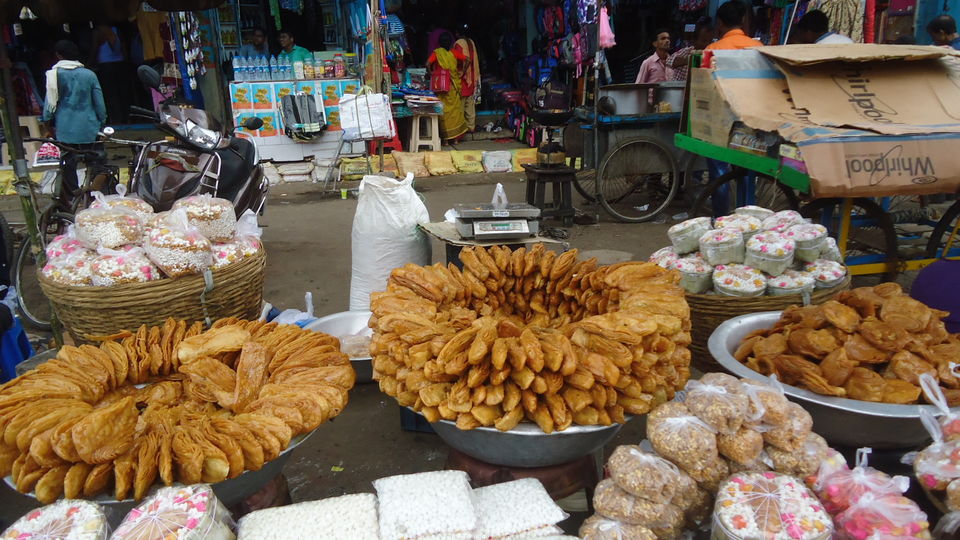 There was a huge congregation ( I was told 10 million people had assembled there!!!).I somehow managed to find a safe place to stand upon a terrace for which I had to pay INR 200 (3USD approx), others had to pay more as high as INR 600 to INR 1000,for similar viewing rampart.But it was a wise decision.If I had not bought that space for me I would have been crushed in the swelling crowd below and it could have been fatal.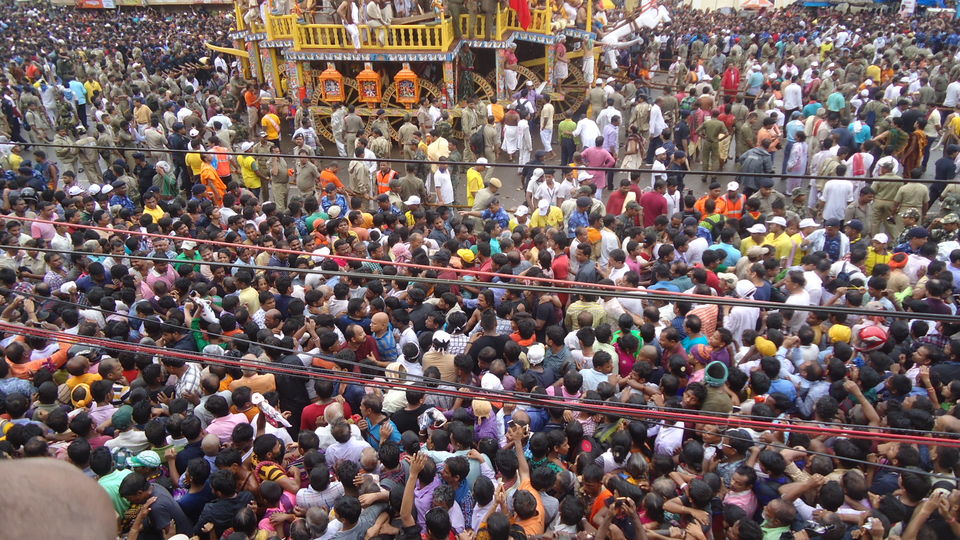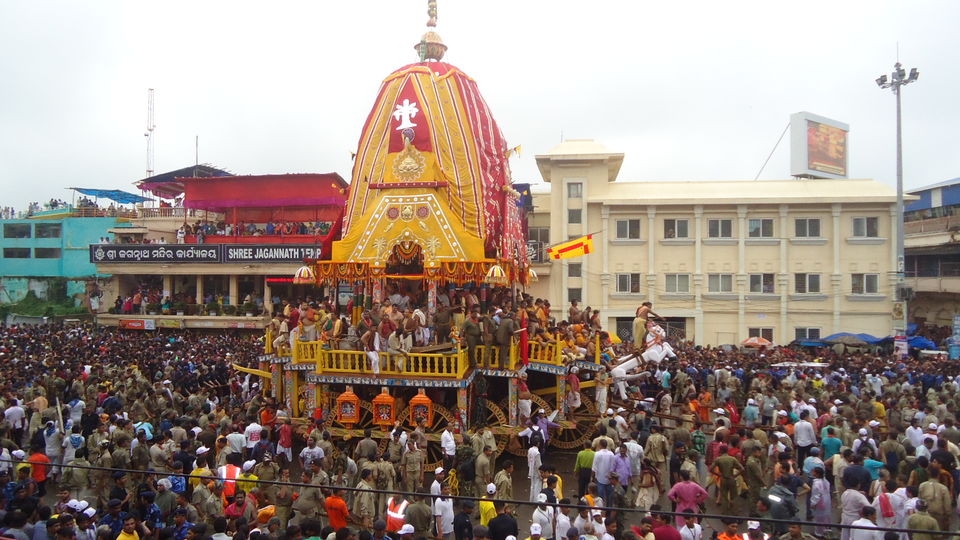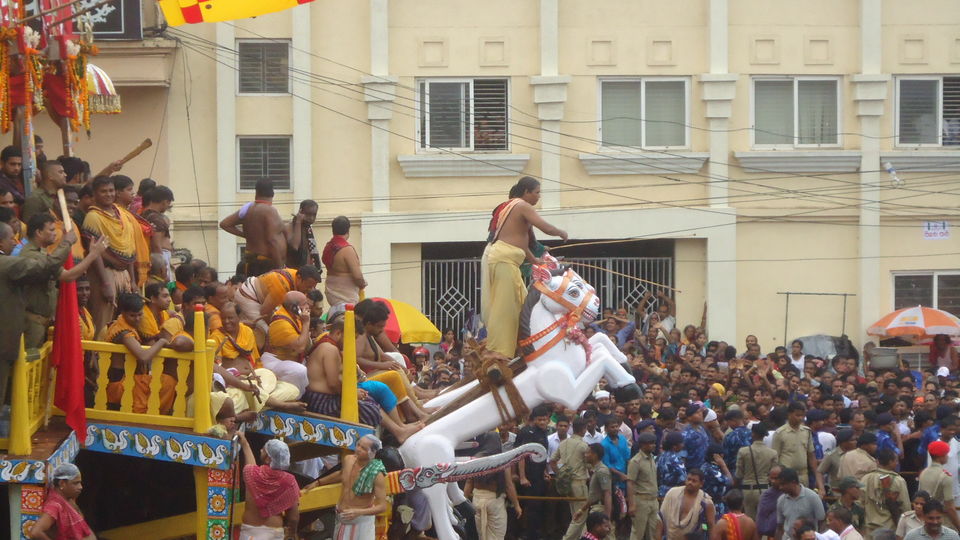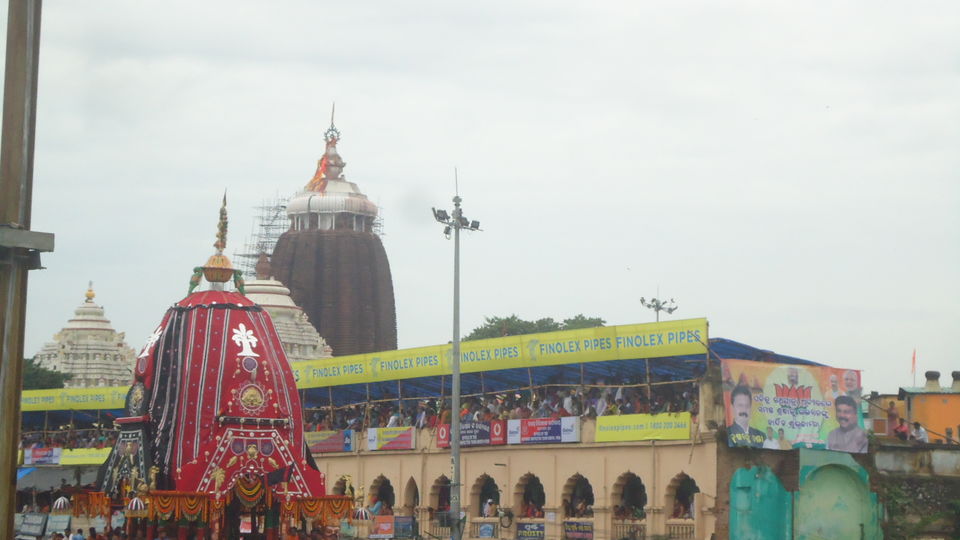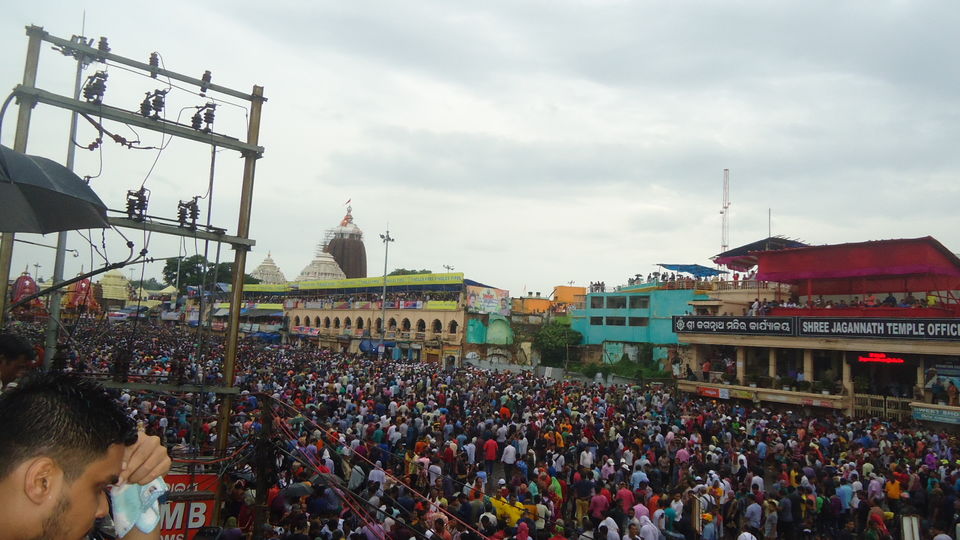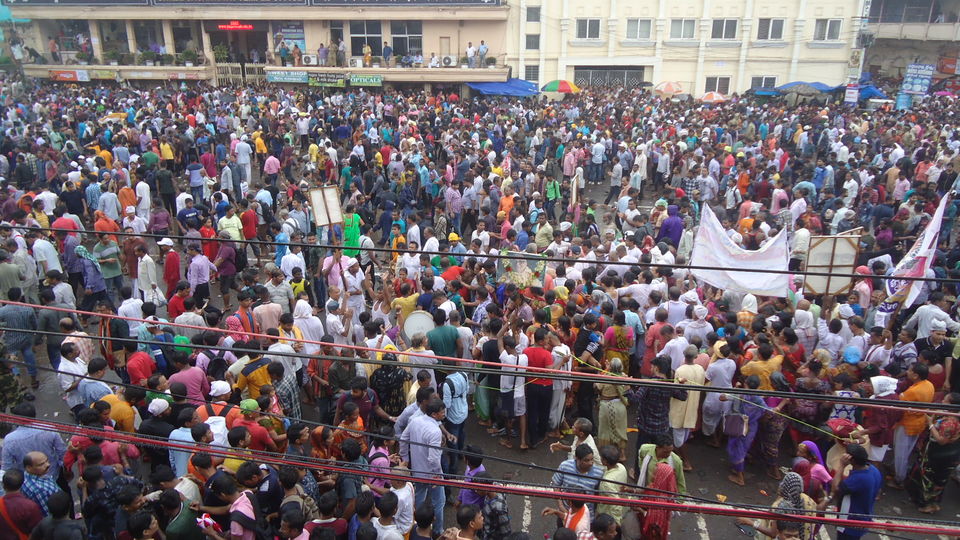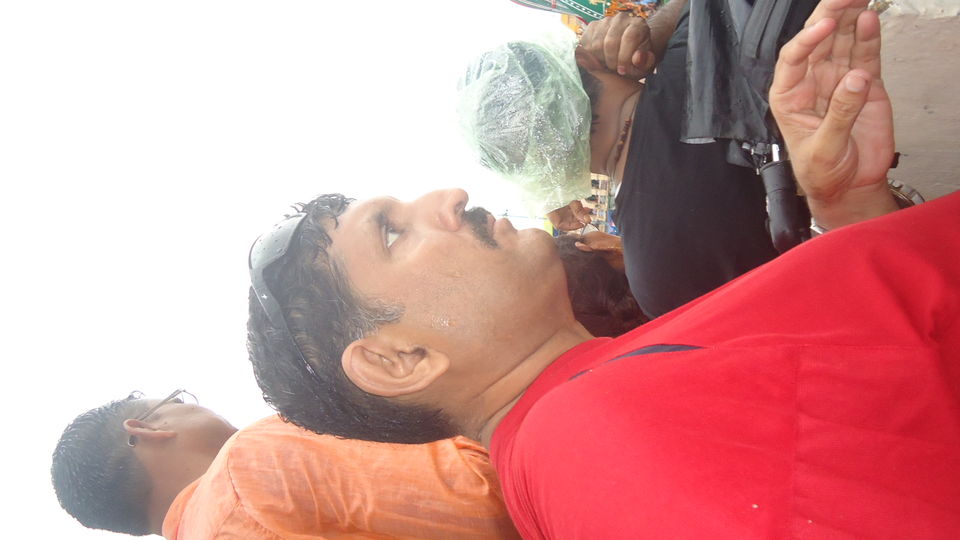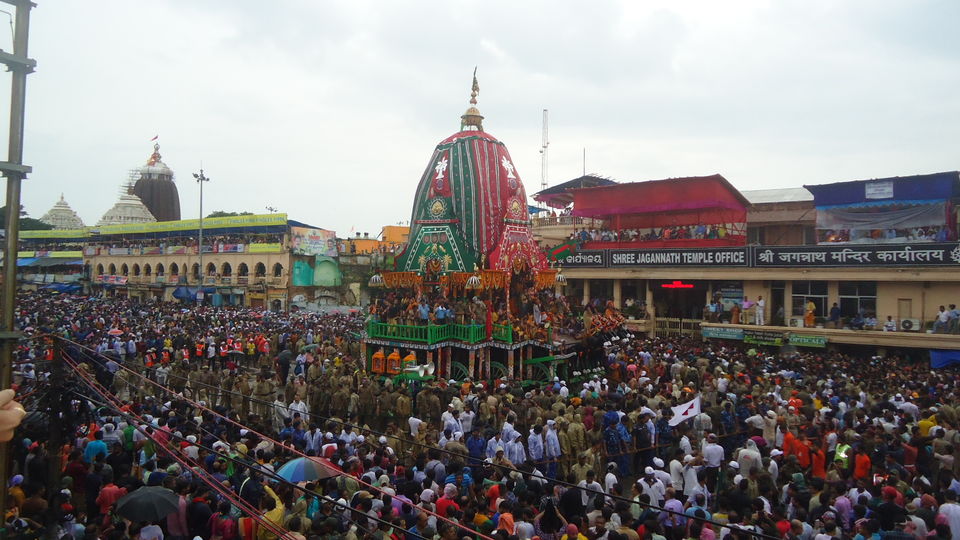 It was time to go back to the resort but I could hardly walk. Through the meandering lanes of Puri town I managed to go to the sea front.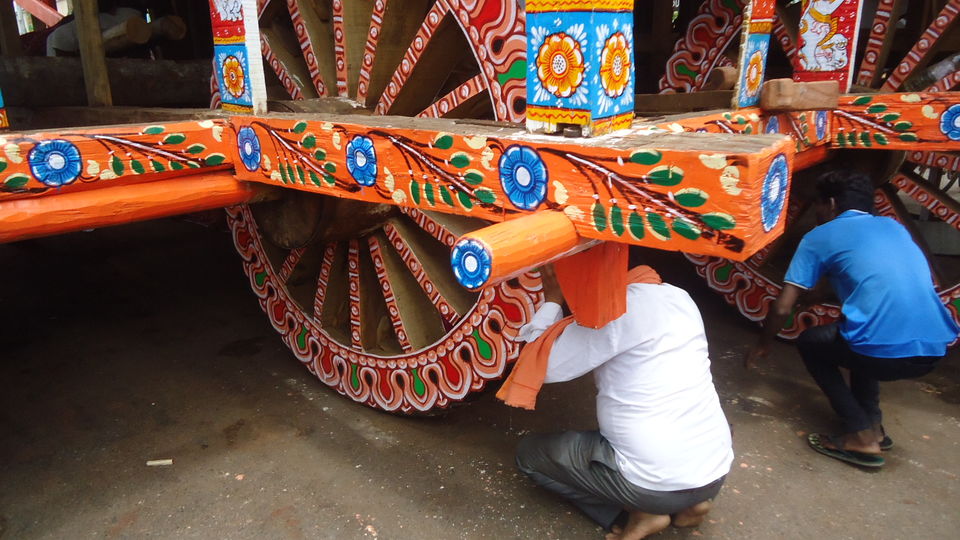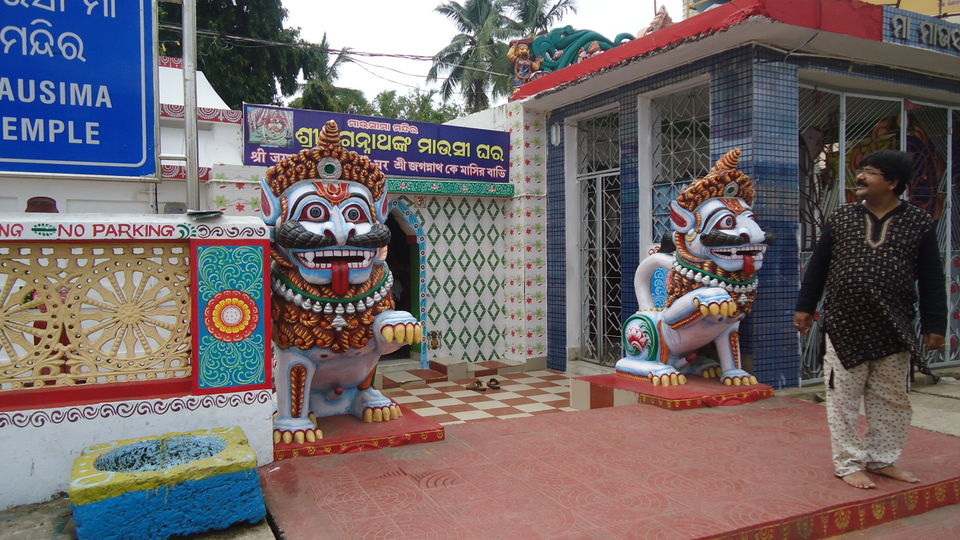 I had a difficult time ahead of me for there was hardly any transport to my place and the auto rickshaws demanded as high as INR 1500 for a 10 Km ride.I could not and simply would not spend that sum.So I decided to walk.After walking 2 Km or so I took some only to resume my journey by foot.All the buses were packed like sardines and so were the auto rickshaws. My legs were already hurting and so I had to buy a Volini spay (an analgesic) to numb the pain.I must have prayed to Lord Jaggannatha who came to my rescue.A miracle happened.I approached a local guy who was sitting on his motorbike and asked him if he could give me a lift.Initially he was unwilling but then he agreed to drop me 5 km ahead to Victoria Petrol pump only if I paid him INR 200.The deal was done and after a smooth ride I found myself safely embarked at my destination where from I would be picked up by Toshali Sands bus. In the meantime I befriended the guy(called Mithun ) who was kind enough to offer me the lift and he was not willing to accept the money which he had earlier asked for.So I asked him to get his motorcycle tank filled with 3 litres of petrol and he accepted the offer hesitatingly and shamefully.I thanked him and asked him not to feel bad about it.He smiled but I understood the boy was still not very sure if he had done the right thing accepting the petrol.He told me that it was not his business for he worked as a mechanic in a Set Top Box company .I understood that he was suffering from a sense of guilt and told him to forget about that and thanked him heartily for the favour he had done to me.
DAY 3: It was time to bid goodbye to Toshali Sands and Puri. My train was at 11.45 and so I set out for the station early apprehending traffic jam.Somehow I reached the station amidst heavy downpour.The station complex was teeming with devotees who were on their way back home.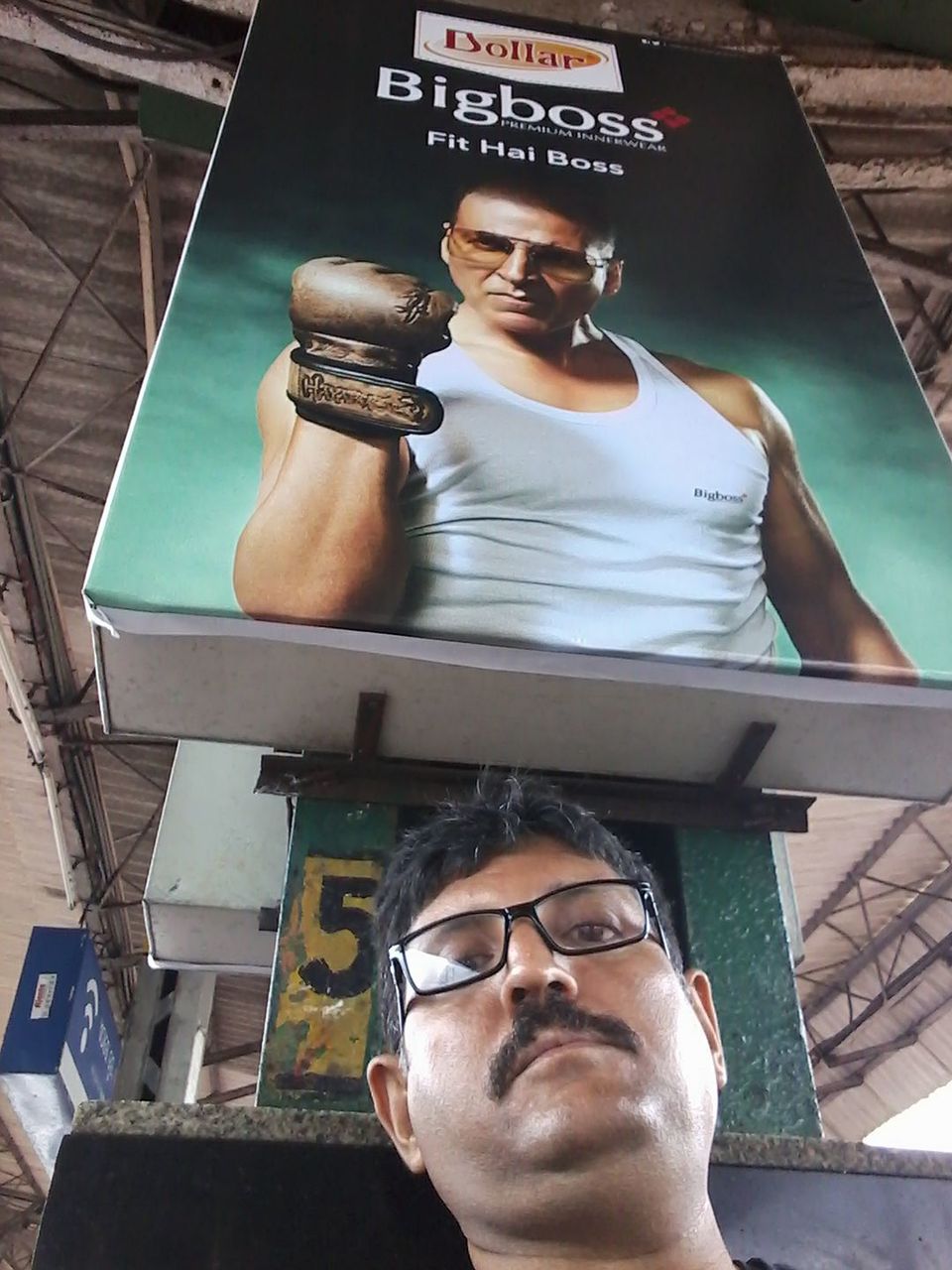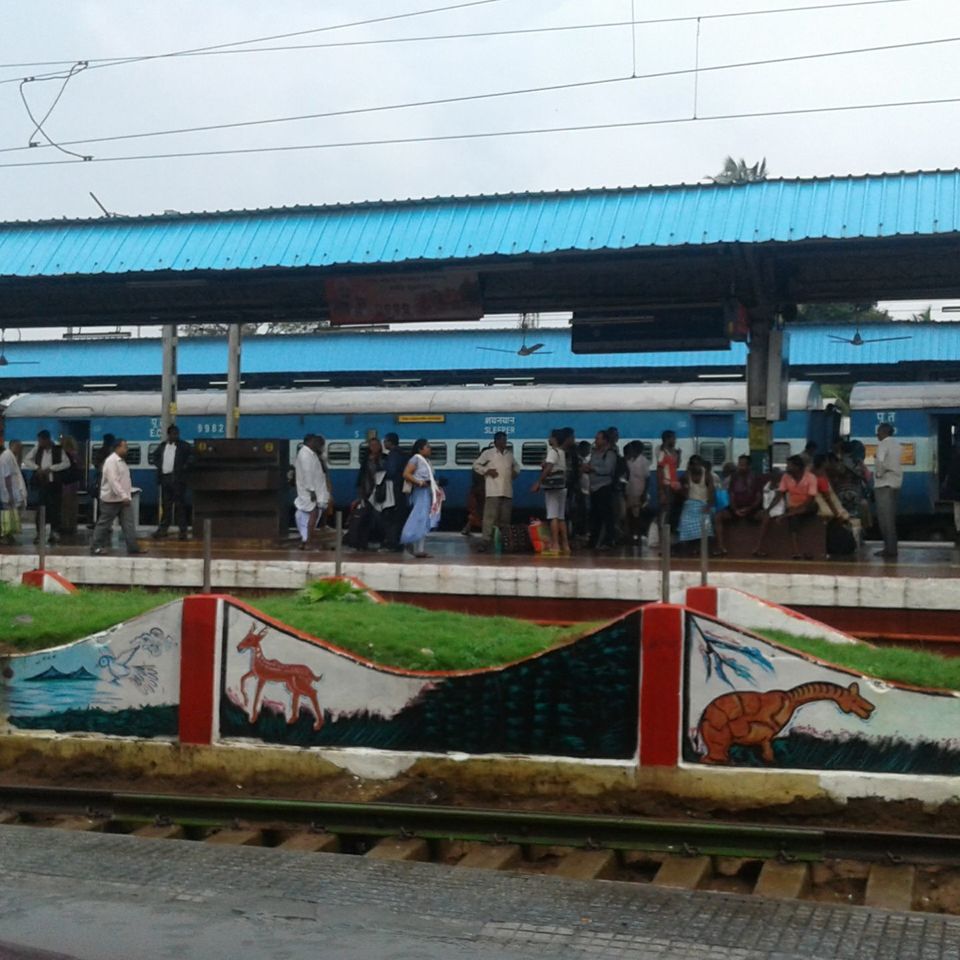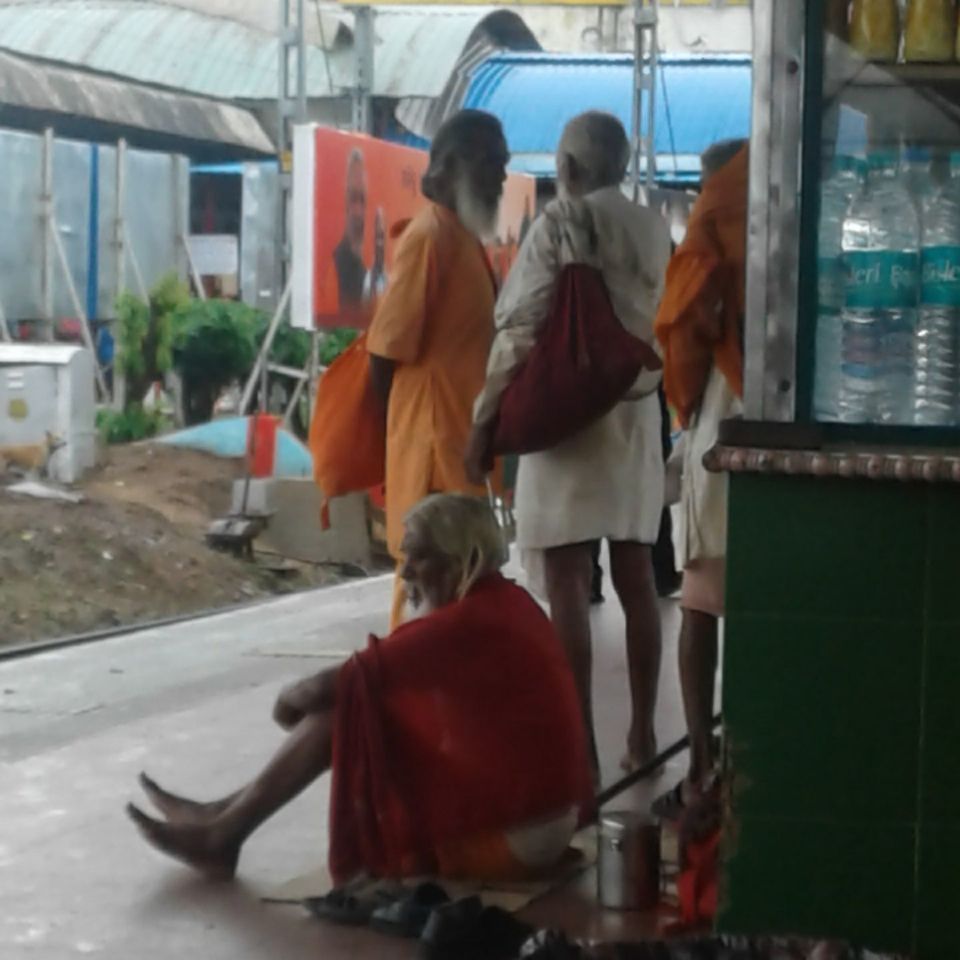 I reached Kolkata at 9.30 PM and had to rush back home for the FIFA World Cup match between Croatia and France.
"Once you have travelled,the voyage never ends,but is played out over and over again in the quietest chambers.The mind can never break off from the journey"- Pat Conroy