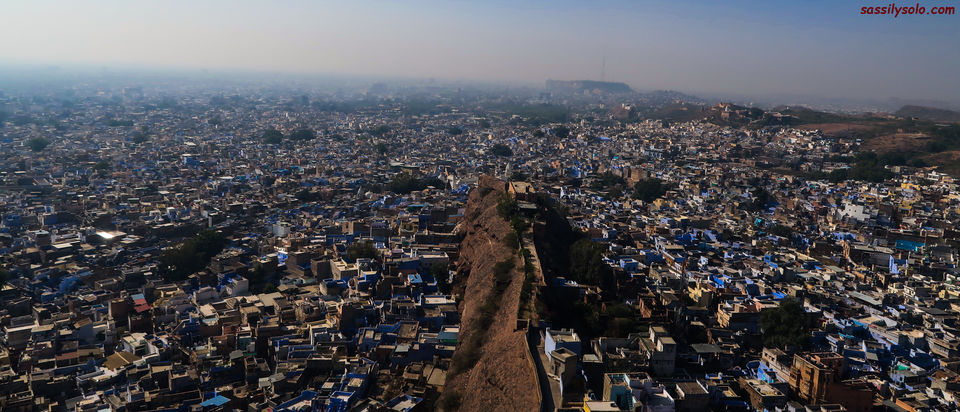 I hit the first bump in my trip to Rajasthan when I couldn't visit somewhere I was really excited to. Due to some unforeseen circumstances, I had to change the course and head towards another destination. What I didn't know was that the things were not as bad as I thought.
Unable to head towards my destination, I went ahead with the next one, Jodhpur, the blue city of Rajasthan.
It is painted blue as the colour acts as a good mosquito repellent. Plausible, but I went with it. Hard to argue when you are busy admiring the streets around.
Perched on a rocky hill-top, Mehrangarh fort is accessible either through the busy city streets, past the blue homes and the landmark clock tower or through the road-route. I suggest taking the former.
It perfectly displays Rajasthan's Marwari royalty and architecture in every nook and corner.
Contrary to what some might argue, I love travelling alone even though I know it becomes hard to capture a beautiful place with you in the scene. There are always some kind fellow travellers ready to offer help.
Nearing the Mehrangarh fort is Jaswant Thada (cenotaph), a cremation ground for the royal family of Marwar.
The cenotaph is made purely of marble that not only keeps the place cool even during screeching hot summers but also gives it a bright golden hue.
Jodhpur has quite a few places that are witnesses to its royalty, Umaid Bhawan Palace being one of them.
A part of the palace is owned by the royal family of Maharaja Umaid Singh while another is managed by Taj Hotels. A third part of the palace is converted into a museum, briefing the history of the royal family.
A proud history.....
I wrapped things up in Jodhpur with a quiet evening at the Kaylana lake, an artificial water bodybuilt during the 19th century.
Honestly, the trip to Osian was a bit bumpy for various reasons, even till the end but I could survive that for I was helped a lot by people around.
I was putting up in one of these tents; in fact, I was the only guest there during my stay which was not exactly fun considering how remote this place was, how that day for some reason, the network was down and how I was travelling solo only to find myself alone again in an oasis. Tell me about taking it to the next level!!!
However, what I didn't know was that the crew of the place would go an extra mile to make me feel comfortable. They were exceptionally helpful which eased the remaining part of my stay and I started going for a stroll.....
The things were wrapped-up in Osian with a cultural performance which was a perfect way to wind things up and also where I was joined by another group of travellers.
I left Osian with a lot of memories including few tricky experiences.
Wrapping it up....
I stayed in a hostel in Jodhpur, which was a first-of-its-kind stay for me. And though it was a bit far from the main centre, I'd recommend it for solo female travellers on a budget. There is absolutely nothing to worry. Jodhpur has a good tourist footfall; I could easily get around in 'tuk-tuks' or Uber or on foot. In Osian, my accommodation was not exactly what I'd usually look for while travelling on a budget but each penny was worth it; be it the crew there, the food, the add-ons (some of which were included in the room charges). I'd recommend it too. Osian is perfect for travellers looking for a laid-back experience.
Find out more about my entire trip to Rajasthan here!