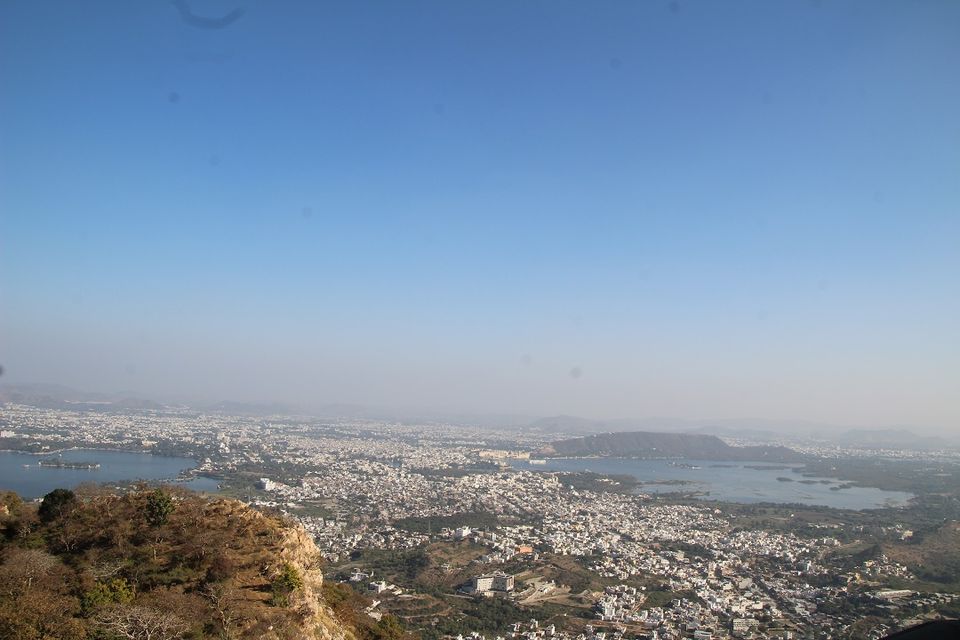 We had a family trip to Kerala back in September 2018. After our Kerala trip, the entire 2019 was dry in terms of travel and tourism. I and my Chennai based cousin were constantly in touch with each other to plan a trip. He had a family trip to Sikkim and was under the intoxication of mountains. We came very close to finalize a trip to Spiti back in OCT2019, however, due to some unavoidable circumstances, it didn't get materialized.
We bought our Ertiga back in OCT2019. We wanted to plan a family trip by Ertiga. We did some one-day trips like SOU visit, Pavagadh, Hathni falls, Jambughoda, etc. However, those one-day trips were not enough to satisfy my(our) travel bug.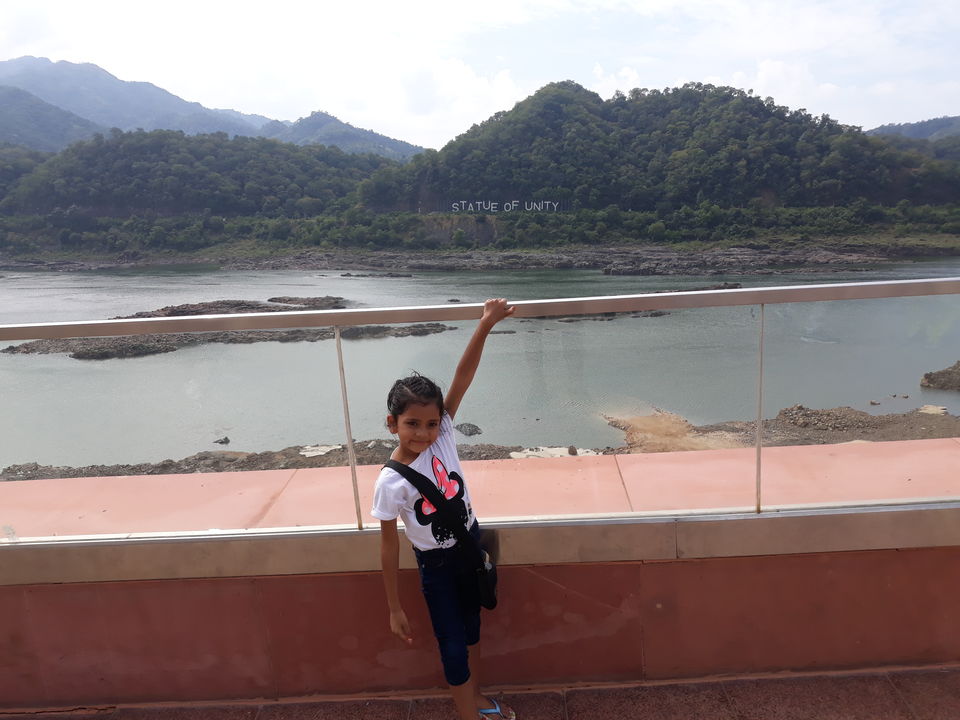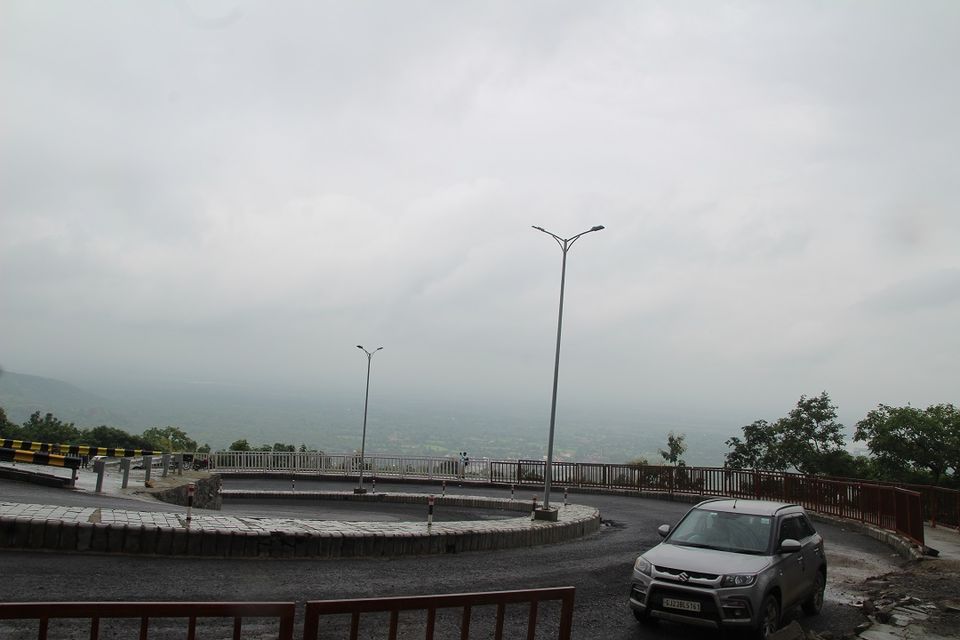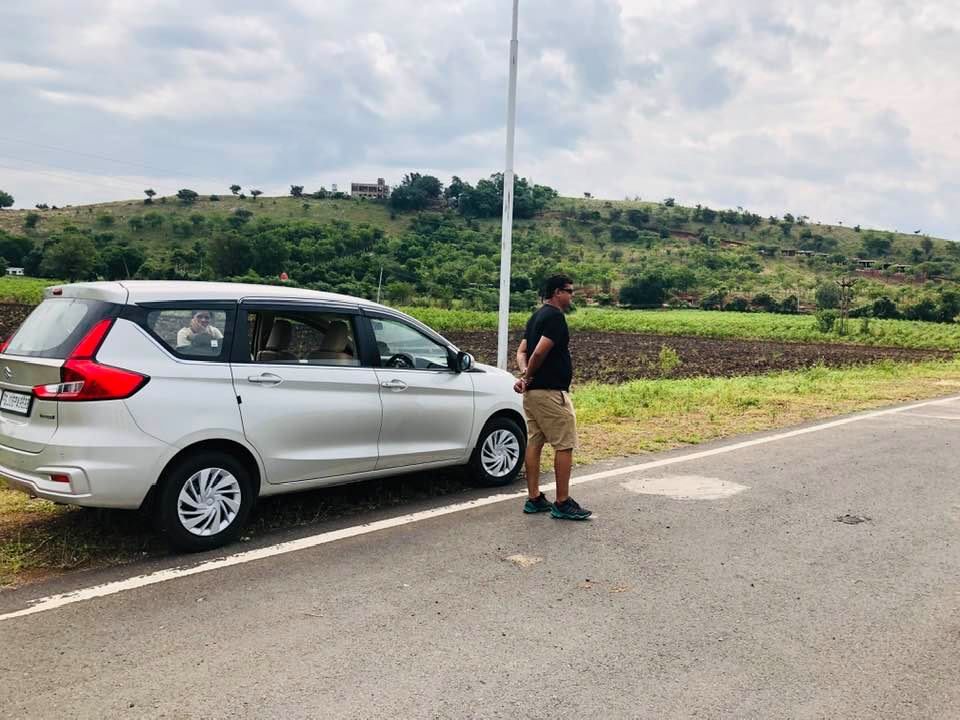 This situation was making me restless. Normally, we do two or three major trips in a year. A trip-less 2019 was irritating me. I just kept thinking about different locations and trips in my mind the entire year. This time my cousin was also involved in daydreaming and planning hypothetical trips. He suggested planning a two or three days trip with Family during the Christmas holidays. He also came up with a location suggestion. It was a good idea, Christmas week was an ideal time to plan a 4-day trip. The suggested location was Udaipur. Initially, we planned to have a family trip with our parents in two cars. However, due to some other commitments, our parents had to back out. And once again, our trip was facing the threat of cancelation.
We came very close to postpone our Udaipur Trip. However, I and my cousin remained firm and declared that we are going to Udaipur. I asked my wife to take leaves during 26-27-28 December. So, finally, the trip to Udaipur started taking shape. We were four adults and one kid, which included my cousin brother and sister, my wife and my 5-year daughter.
A four-day road trip to Udaipur was planed. Parents were out of the equation, so we decided to cover some more places. Normally, people keep Udaipur as their base and visit surrounding places like Chittorgarh, Kumbhalgarh, and Ranakpur. We decided to visit all these places with night stays too. This was our basic initial itinerary.
Day1: 26/12/2019
Start from Hometown Anand at 0400 and Reach Udaipur. Night stay at Udaipur.
Day2: 27/12/2019
Udaipur to Chittorgarh. Night stay at Chittorgarh.
Day3: 28/12/2019
Chittorgarh to Kumbhalgarh. Night stay at Kumbhalgarh.
Day4: 29/12/2019
Kumbhalgarh to Anand.
Another important question was about which vehicle to use. We had three options, MS Brezza, Honda WRV, and MS Ertiga. Due to the nature of Udaipur old city's narrow road, we dropped the idea of taking Ertiga. MS Brezza was an ideal choice due to diesel. However, I decided to take WRV due to its better legroom in rear seats and moreover I wanted to experience WRV for a long drive.
I always prefer to reach the destination and then search for accommodation. However, I change my rule when my wife and kid are traveling with me. I booked some Hotels from MMT and OYO. I always prefer MMT for hotel bookings. I used OYO first time and paid in advance for Kumbhalgarh. Booking(and paying advance) with OYO turned out to be a big mistake. I" ll talk about that later.
So, finally, the dates of the trip were decided, vehicle finalized and hotel bookings were done. We had one entire week before starting our trip. I used that week to brief my 5-year old daughter about those places. She loved the names of places and the way they rhymed with each other... UdaiPUR...RanakPUR...SajjanGARH...ChittorGARH..Kum bhalGARH.
Day 1: Anand to Udaipur.
Christmas was a very busy day for us. Friends and family kept visiting us the entire morning and during the afternoon we went for Christmas celebration Garba which went on till night. During that Garba, I reminded my wife that our packing was pending. We rushed back to our home started packing our bags. My cousins arrived at my home at 2300. We wanted to prepare some food but all of us were tired due to a long and active day. All of us went to bed at 2355.
We woke up at 0345. The wife and cousin sister immediately went into the kitchen and started preparing some food. When ladies get into the kitchen, it takes time. I got freshen up, checked the car and got into bed with Ziva for a power nap. At 0430, we were ready to move. We didn't wake Ziva up, we wrapped her in warm clothes and blanket and took her into the car.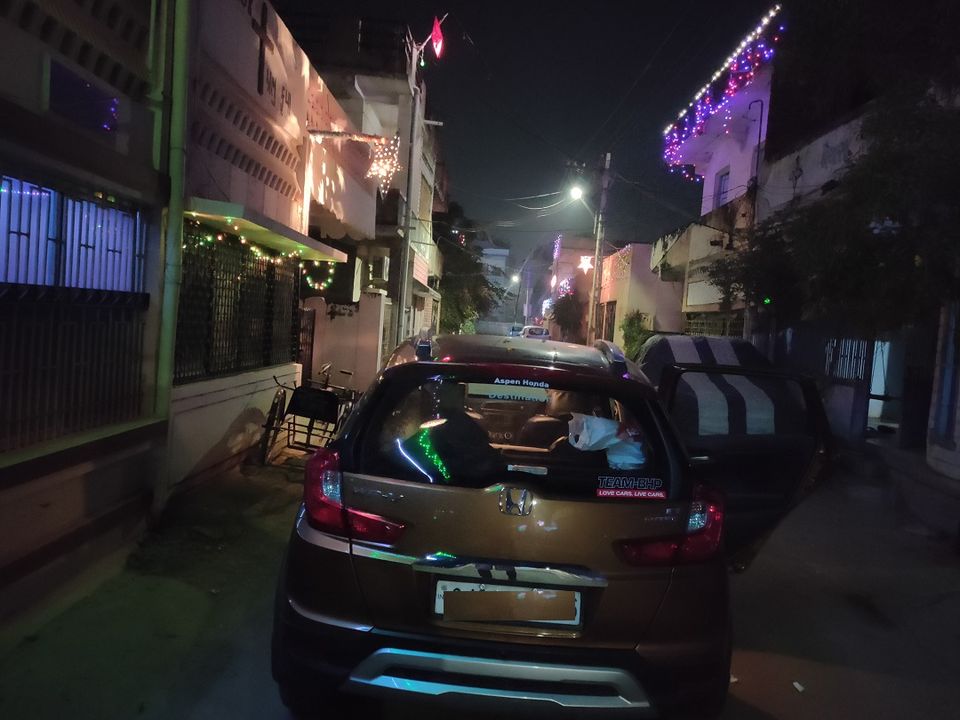 We started for Udaipur at 0430. There are three different routes for Anand to Udaipur. One of the routes going via Kapadvanj-Modasa is shorter. However, I decided to go by NE-1 and Himmatnaar. This route is comparatively longer but has 4-lane roads till Udaipur. We were using a petrol vehicle and petrol rates are higher in Rajasthan( Gujarat petrol rates are 7/- cheaper than Rajasthan). I got a full tank at Reliance bunk on NE and decided to top up once again before getting in Rajsthan to save 7/- per liter.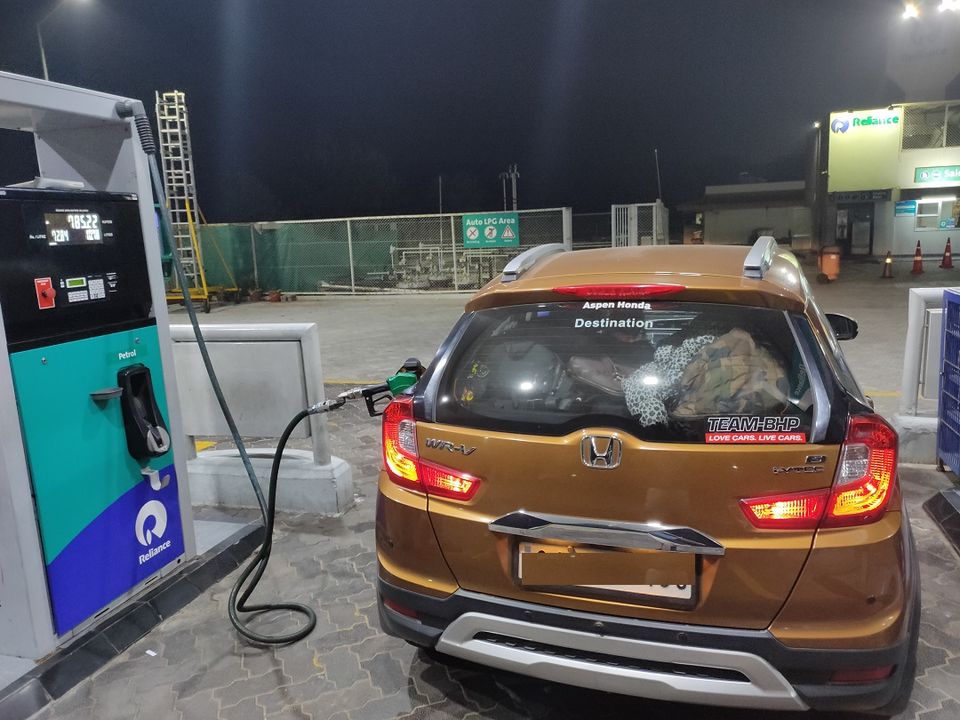 I downloaded some movies on Netflix and Hotstar on an Android tablet. Moreover, I downloaded some animation movies for Ziva. It was enough to keep ladies in the backroom busy during the long drive. Udaipur to Shamlaji road is under construction, so we were aware that Anand to Udaipur drive going to take more time than the usual 6 hours.
After a while, ladies went to sleep. I even asked my cousin brother at the front seat to sleep. I started cruising with my favorite music and sips of hot green tea. It was amazing driving on an empty NE. 79.98/- per liter rate of petrol in Rajasthan was bothering me. So, I wanted to drive around 80-90 KMPH to get the best mileage. However, the empty road was so tempting, that I convinced myself not to worry that much about fuel cost and enjoy the vehicle and the road. I welcomed the Sun with a different mindset.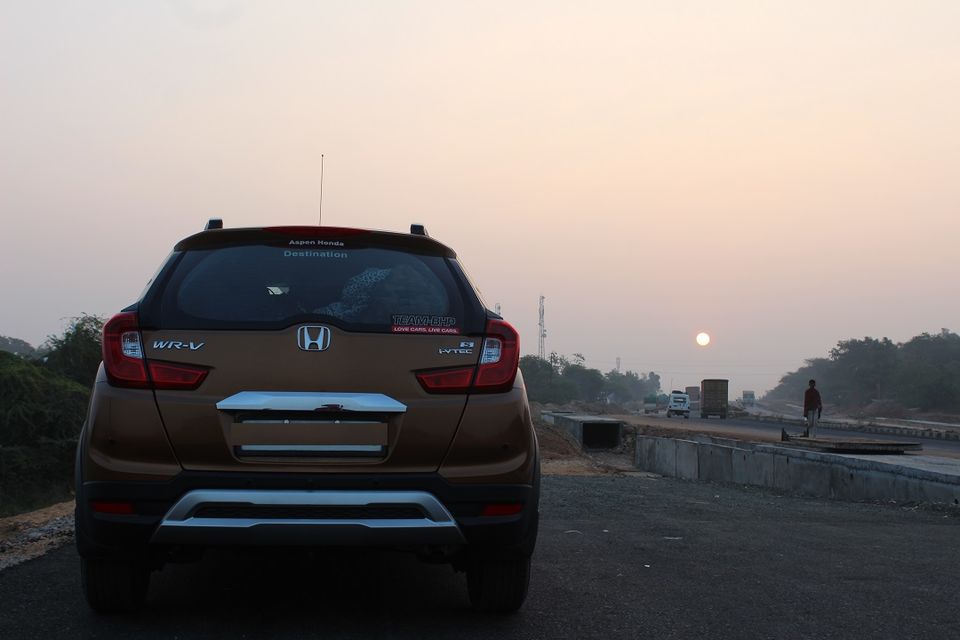 After crossing, Ahmedabad bypass. We stopped at a small dhaba for bio breaks. Ziva woke up, she was surprised to see highway and green fields. After a while, she got familiar with the surroundings and started playing with us.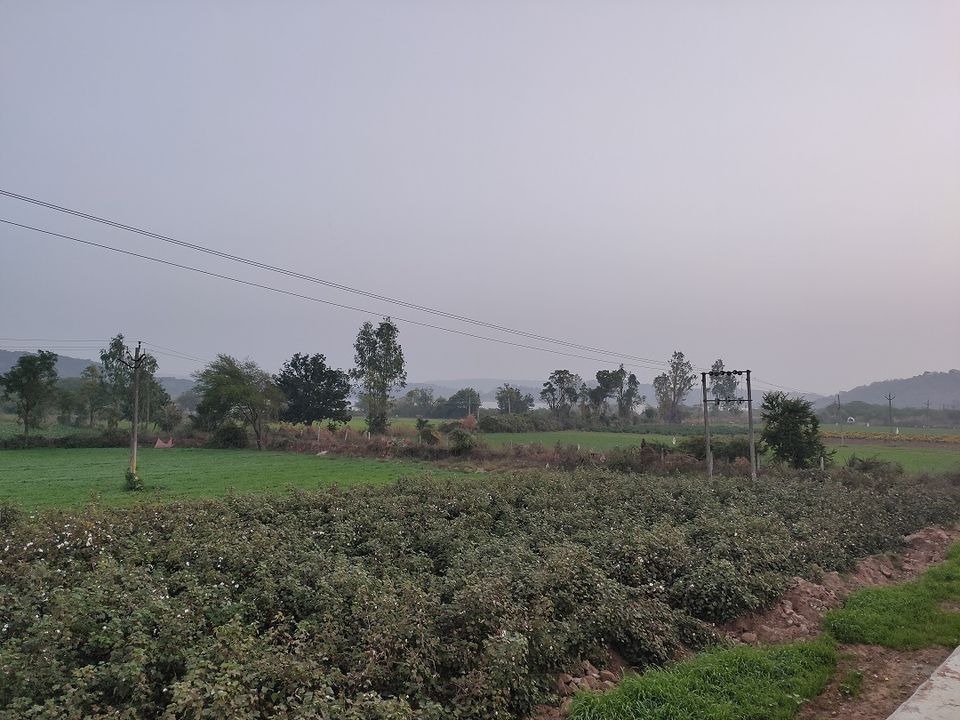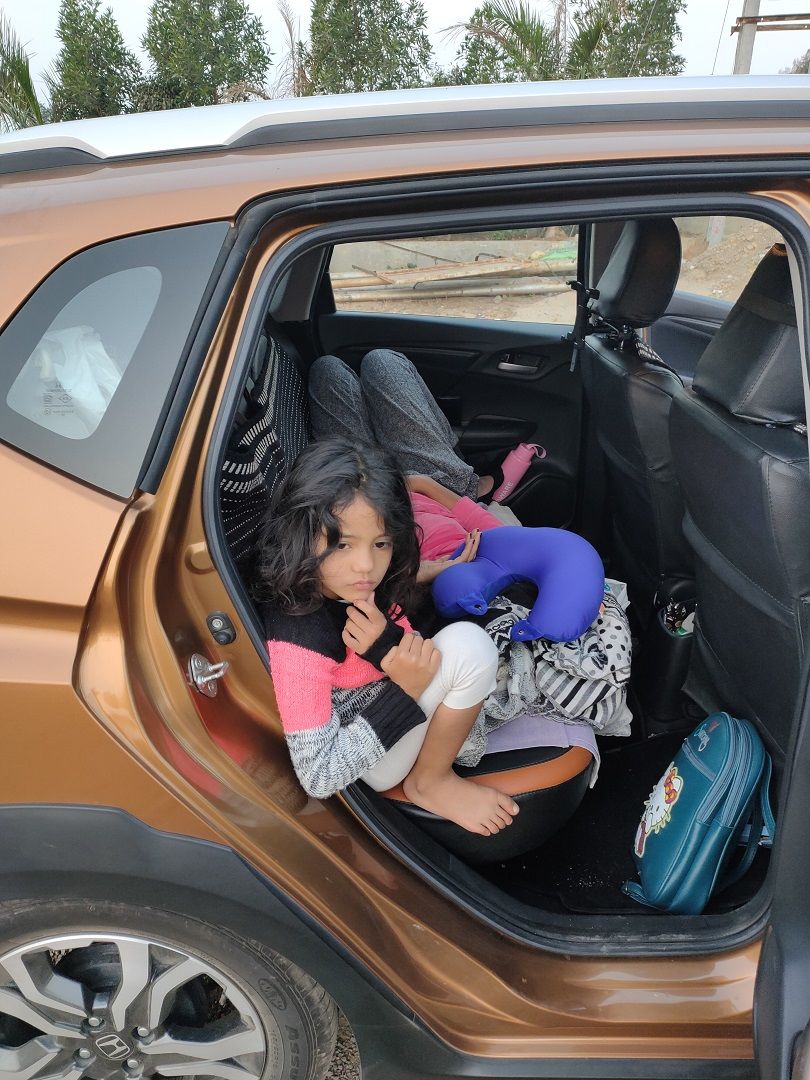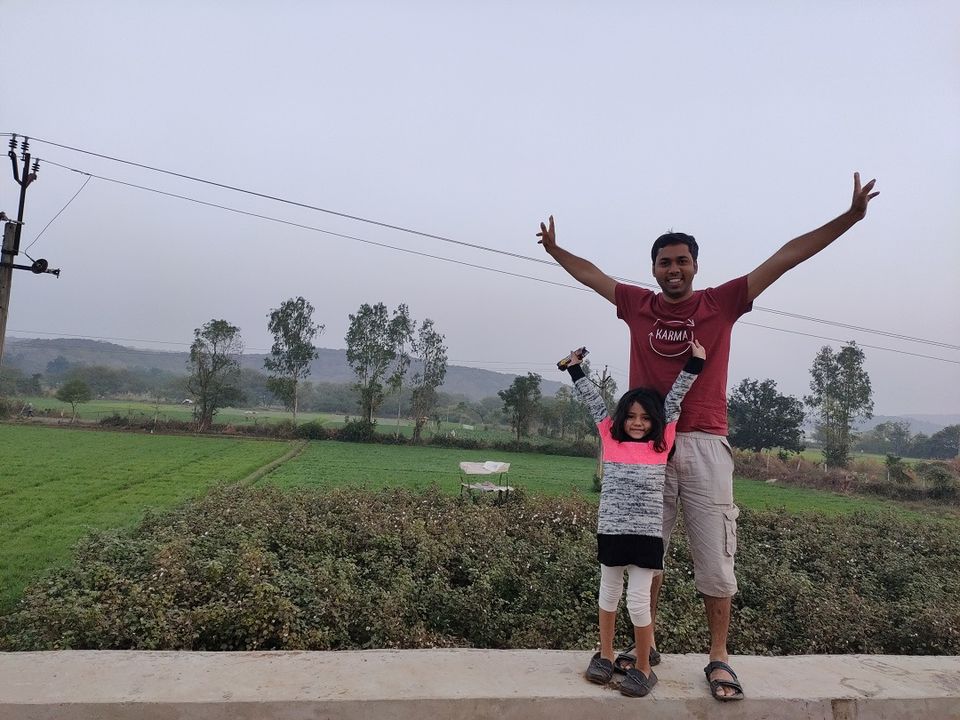 Sun was up, Ziva was fully awake and in her playful mood. Somehow, she spotted a faraway lake. She asked me to take her to the lake. It was far from the highway and there wasn't any connecting road. We went closer to the lake and stopped for a while. It was cold outside the car but everyone was in a good mood to do some photography.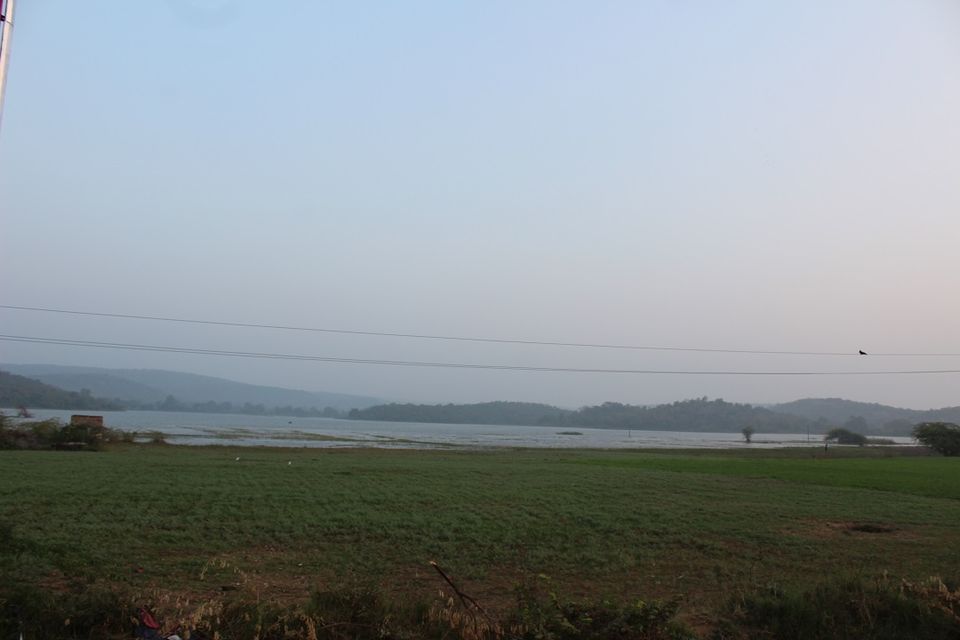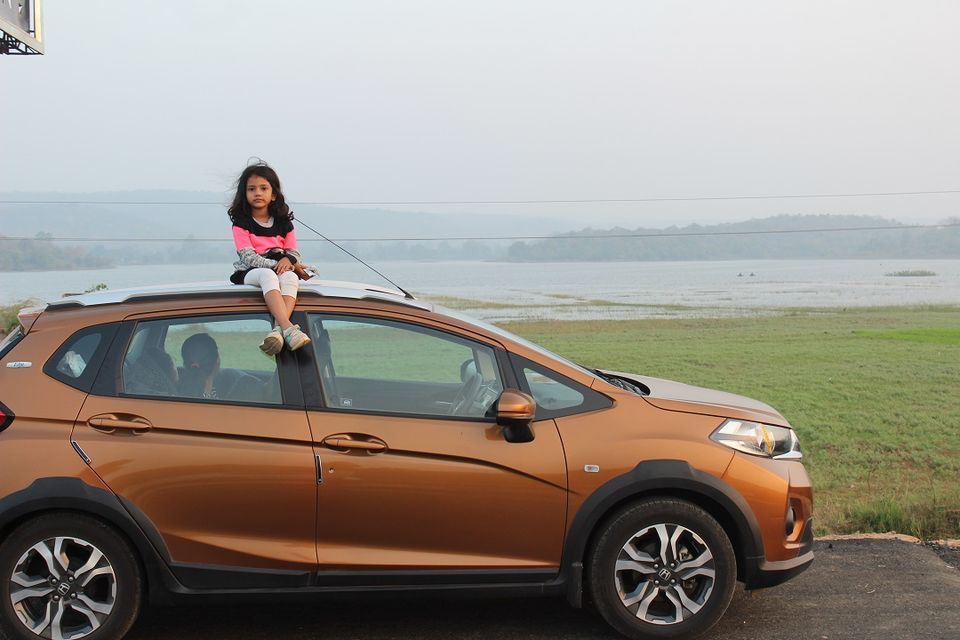 We started driving and crossed Shamlaji. Road widening work was going on at Ahmedabad to the Himmatnaar section, So there was no scope of speeding or even maintaining 80-90 KMPH. Ater Shamlaji, the road widening work was going on and the road was full of diversions.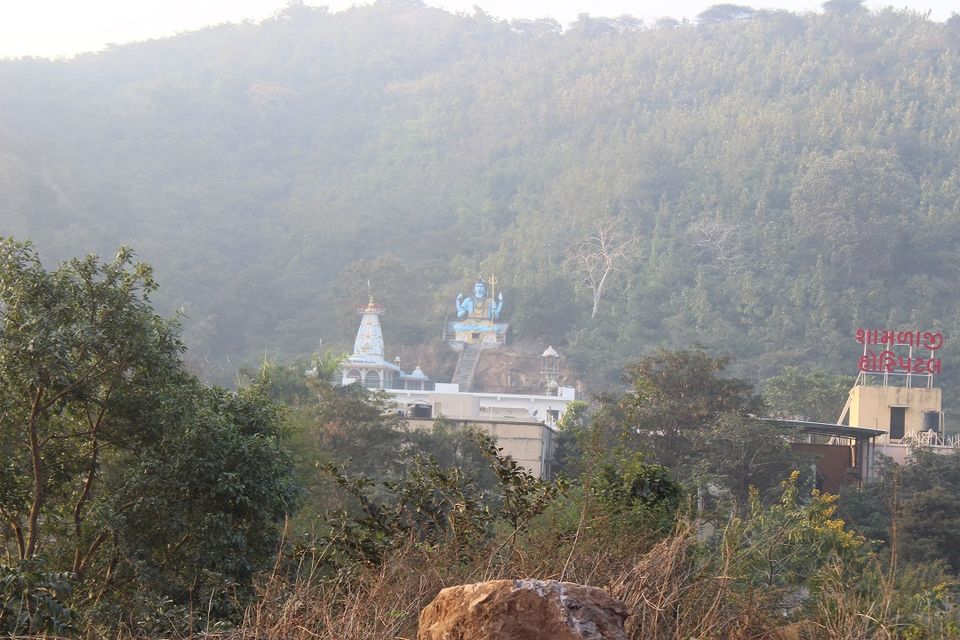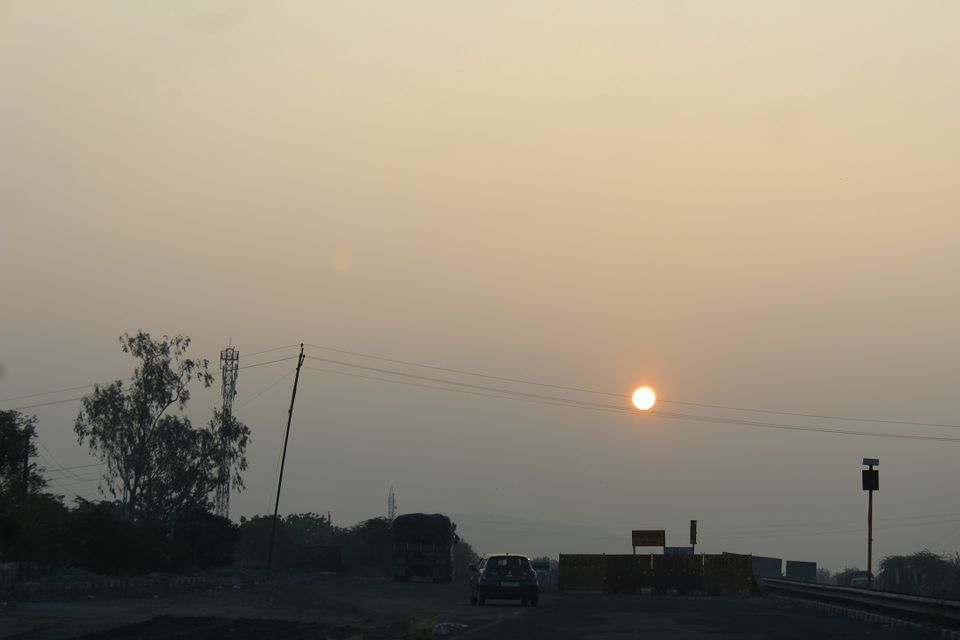 After Shamlaji, Aravali mountain range welcomed us. Aravali mountain range is as old as 350 million years, older than the Himalayas. Thus making it the oldest range of Fold Mountains in India. The reason why Rajasthan has so many Marble companies is that the Aravalli Range is rich in minerals such as Marble, Granite, and Sandstone. Apart from that, it also produces commercially viable quantities of minerals such as rock phosphate, lead-zinc-silver mineral deposits at Zawar, etc. Udaipur is surrounded by this gigantic range of mountains.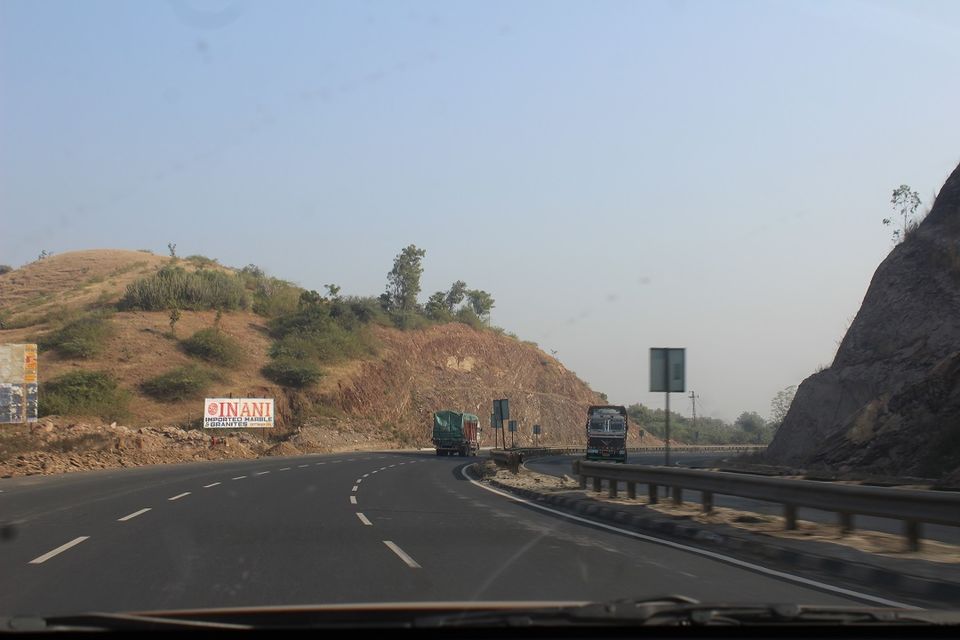 The Gujarat-Rajasthan border is just 25km from Shamlaji. This border region and a village named Ratanpur is well-known for liquor tourism. It is the nearest border(125KM) from Ahmedabad making it the best place to wet their throat for Gujaratis who are the victims of prohibition.
We zoomed passed from that zone and entered in Rajasthan.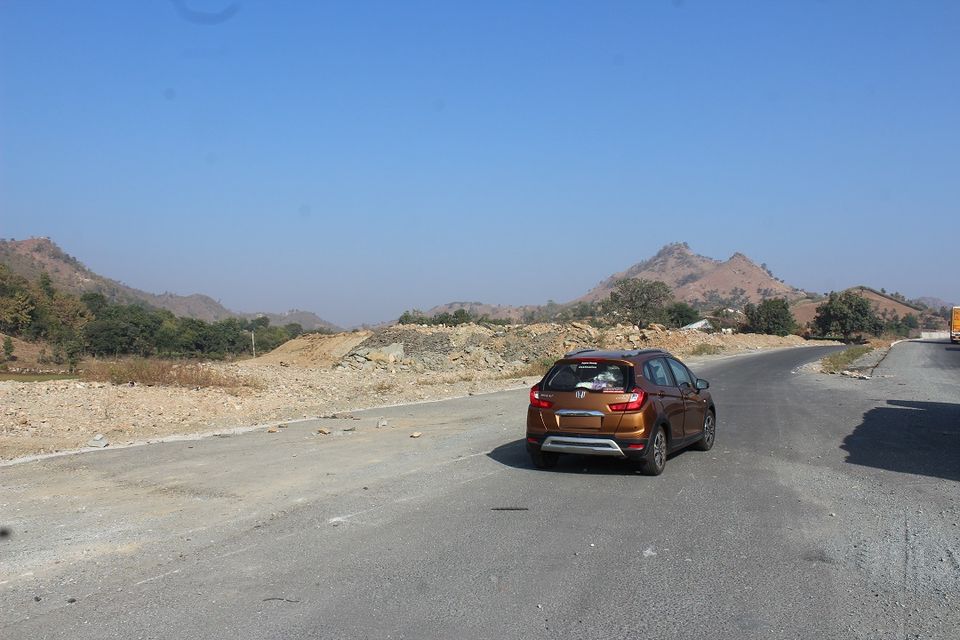 It was almost 1000 in the morning. We were driving for more than 6 hours. Ziva was becoming restless. The road was good and I started cruising at a good speed to reach our hotel as soon as possible.
However, before entering Udaipur, there was a nice Jain temple on the outskirts of Udaipur city. We stopped at that temple for a while to get some morning sun. We finished our homemade breakfast at that temple and rushed to our Hotel.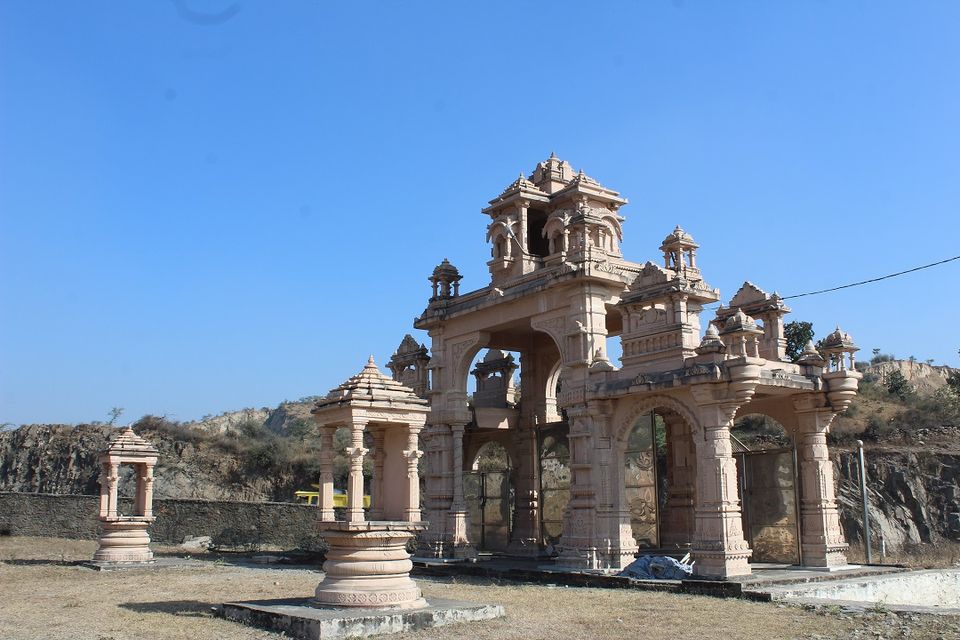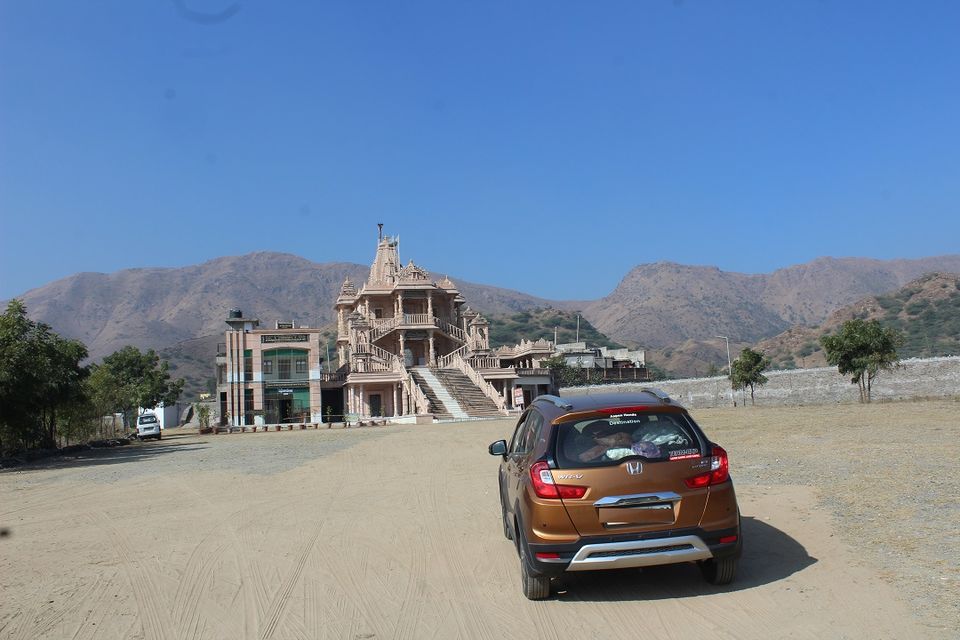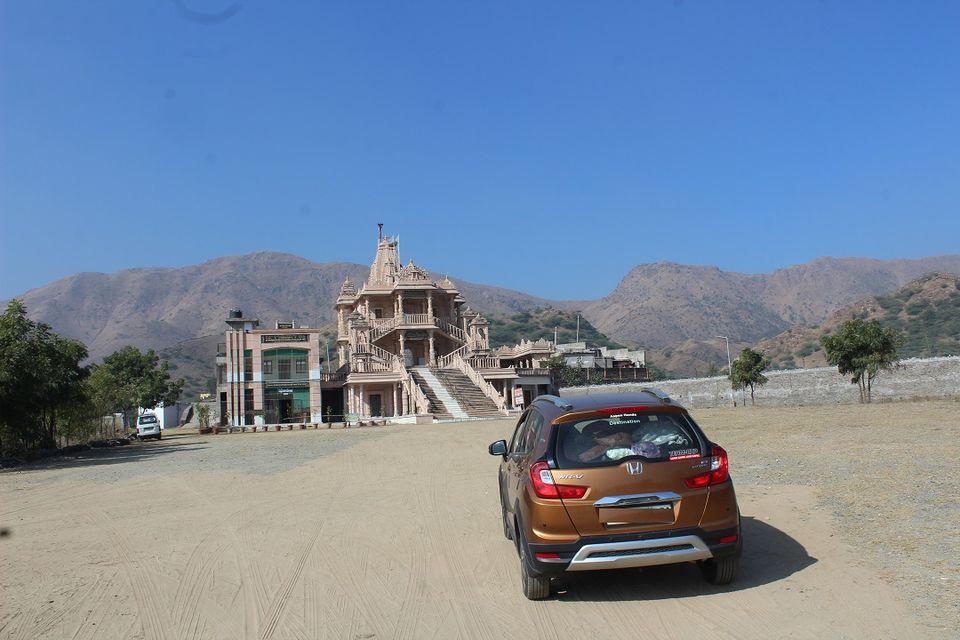 Udaipur.
We entered Udaipur city at 1030. After entering the city, I realized that coming to Udaipur on 26/12 was a mistake. There was heavy traffic all over the road, most of them were GJ cars. Udaipur was overflowing with tourists. It took us 25 minutes to reach our hotel, which was just 3km from the highway.
We reached our hotel. IndraNiwas was a good looking hotel made in haveli style. We were welcomed by flowers and welcome juice. It was a new experience for Ziva. We checked in, It was a suit which could accommodate four people.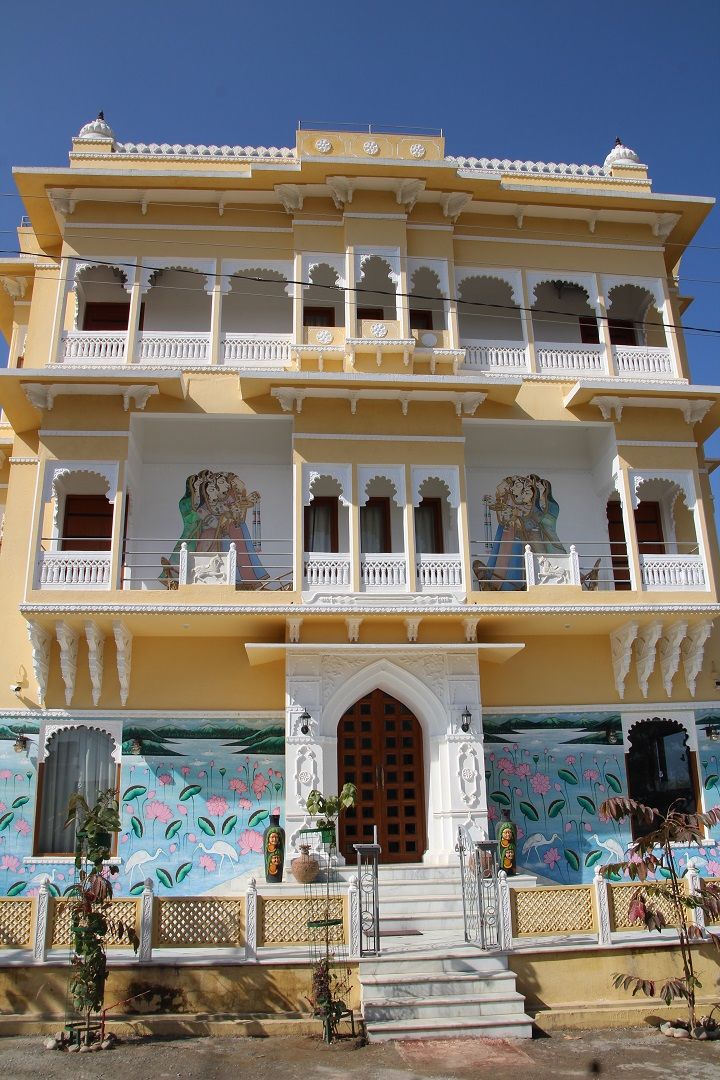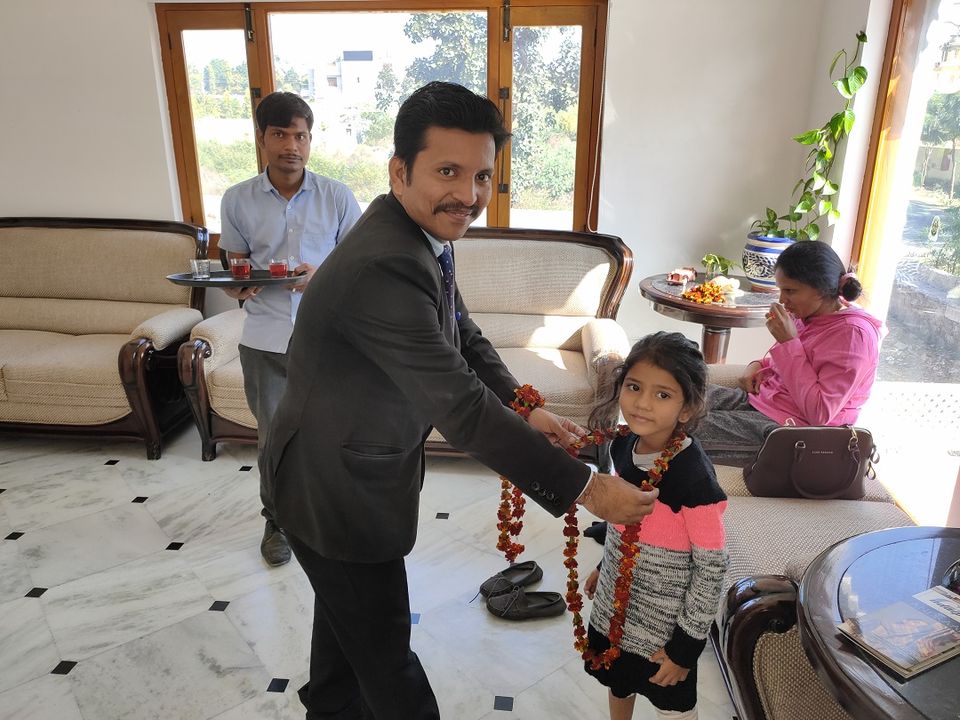 We checked in and immediately rushed to the terrace to see the view from the terrace. There was a small swimming pool on the terrace. Ziva wanted to get in but we didn't allow her as the water was very cold. The view from the terrace was good, we spend some time at the terrace.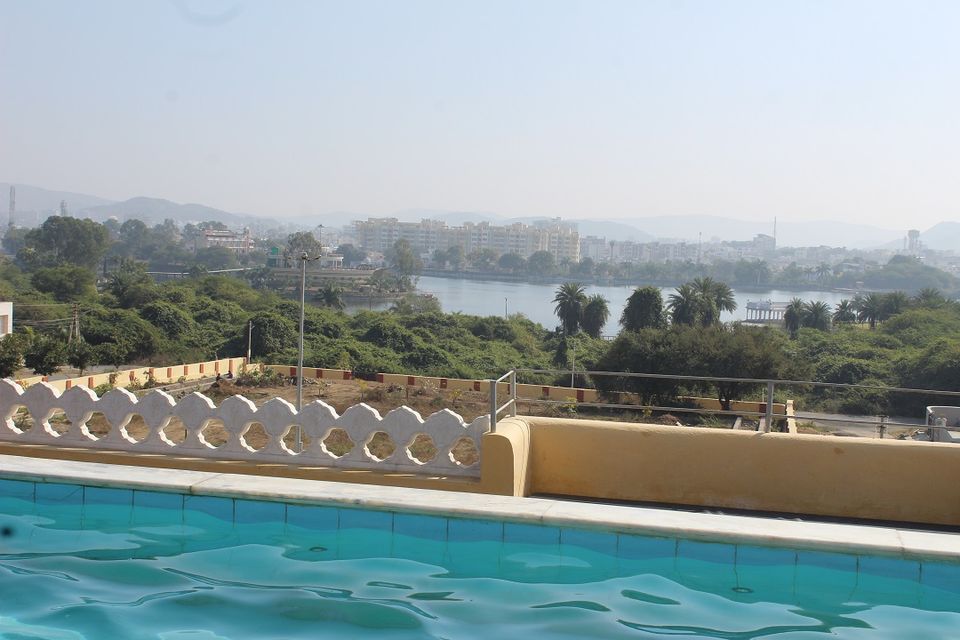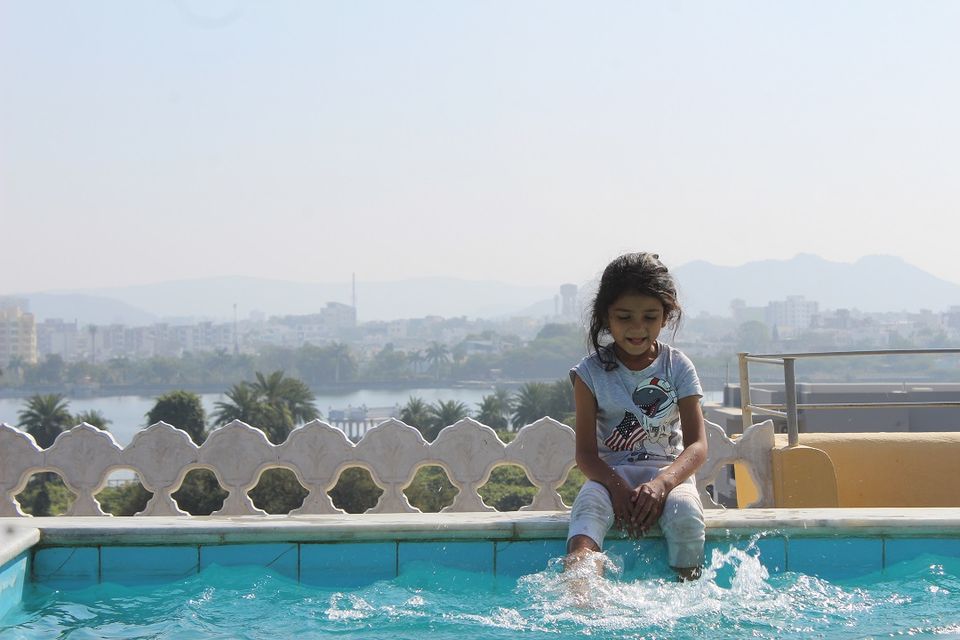 IndraNiwas was nice with well-maintained rooms. It was based on the homestay concept. The property owner lives in the same property and they even used their photographs to give the feeling of the homestay. The property owner came to visit us and welcomed us at IndraNiwas.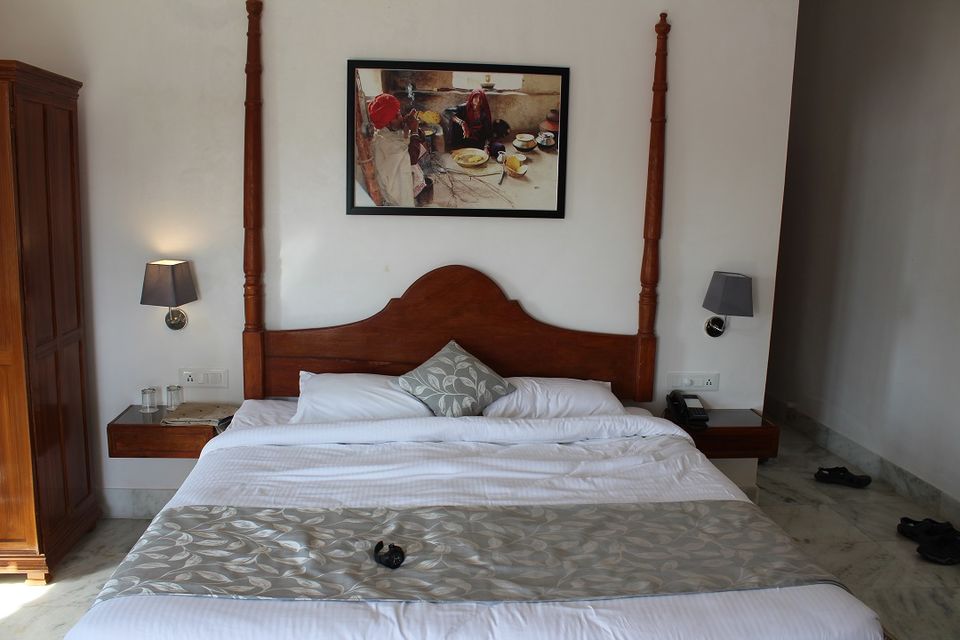 Udaipur, also known as the City of Lakes, is the crown jewel of the state of Rajasthan. It is surrounded by the beautiful Aravalli Hills in all directions, making this city as lovely as it is. This 'Venice of the East' has an abundance of natural beauty, mesmerizing temples and breathtaking architecture which makes it a must-visit destination in India. A boat ride through the serene waters of Lake Pichola will be enough to prove to you why Udaipur is the pride of Rajasthan.
Located in a valley and surrounded by four lakes, Udaipur has natural offerings with a grandeur multiplied by human effort, to make it one of the most enchanting and memorable tourist destinations. It justifies all names ever offered to its charm from 'Jewel of Mewar' to 'Venice of the East'. And though the entire city's architecture is flattering, the Lake Palace hotel is something that offers the city a visual definition.
Source:holidify.com
Udaipur was founded in 1559 by Maharana Udai Singh II as the final capital of the erstwhile Mewar kingdom, located to the southwest of Nagda, on the Banas River, the first capital of the Mewar kingdom. Legend has it that Maharana Udai Singh II came upon a hermit while hunting in the foothills of the Aravalli Range. The hermit blessed the king and asked him to build a palace on the spot, assuring him it would be well protected. Udai Singh II consequently established a residence on the site. In 1568, the Mughal emperor Akbar captured the fort of Chittor, and Udai Singh moved the capital to the site of his residence, which became the city of Udaipur.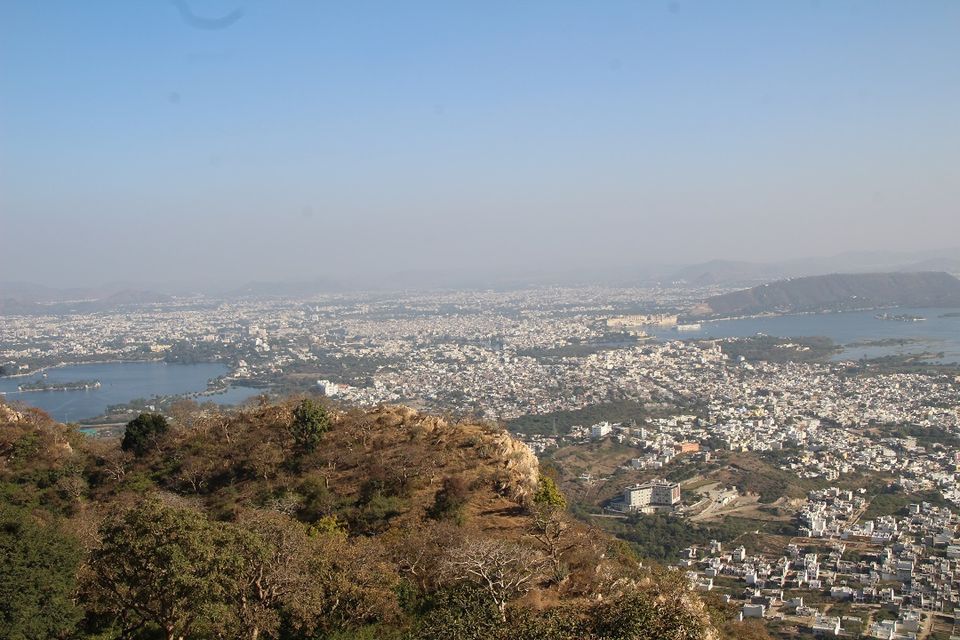 Before finalizing Udaipur as our destination, I studied about it. It's a big city with lots of tourist attractions. I was aware that we wouldn't be able to do justice to all those sights in one day. Practically, we had only 11 hours to do sightseeing. Keeping that in mind, We shortlisted some major sights like SajjanGarh, Fstehsagar Lake, City Palace, Lake Pichola and if possible Shipgram Festival. What about the rest? Well, Udaipur is not that far from our hometown, We"ll surely come again.
We took off from Indra Niwas. Our first target was SajjanGarh Monsoon palace. Sajjangarh is 9km from IndraNiwas and we had to pass from some of the busiest parts o the city. We got stuck in the heavy traffic of locals and tourists. It took us 2 hours to reach SajjangGarh. And as accepted, there was a long queue of tourists at the ticket counter. We joined the queue and brought the tickets, it wasted 45 more minutes.
We got in, SajjanGarh is a small hill. It was fun to tackle sharp inclines. The road leading to the palace is hilly, steep, twisting with several blind turns. I was a bit worried that WRV's 1.2L i-VTEC engine will face some issues in climbing those slopes. i-VTEC proved to be sufficient and climbed those slopes without any major efforts. After a while, I asked my wife to try driving on those roads. She drove it nicely.
Sajjangarh Palace is a former royal residence belonging to the Mewar dynasty. The palatial complex is named after its patron, Maharana Sajjan Singh, who ordered its construction and had it erected in 1884. It was originally intended to be a nine-storeyed astronomical observatory to note and assess the arrival and patterns of monsoon clouds, which could be easily perceived from the palace because of its location at a strategic vantage point at one of the hilltops of Aravalli, called Bansdara Peak. For this reason, it has also earned the name Monsoon Palace.
His successor Maharana Fateh Singh transformed it into a place of recreation. During his tenure and after that, the Monsoon Palace was primarily used as a hunting lodge for the royal family of Mewar and their guests. Staying true to the contemporary styles of that time, Sajjangarh Palace displays a fascinating Rajput architecture, complete with high towers, turrets, balconies, and pillars.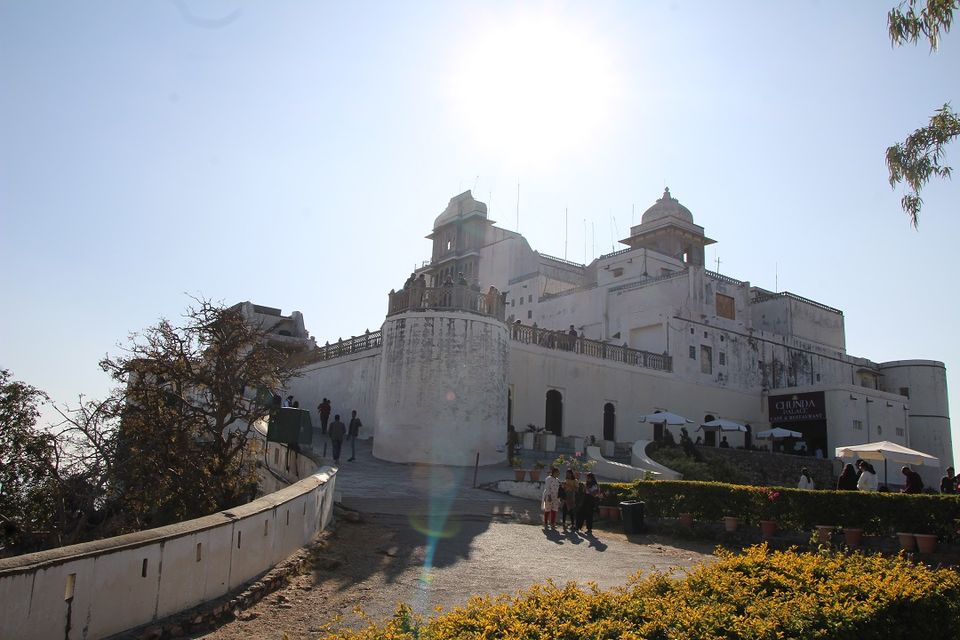 We reached the palace, parked our car and started walking to the palace. The entire area was full of tourists and lots of monkeys. Those monkeys were attacking the tourist with some edible items in their hands. I carried Ziva on my shoulder to keep her safe from those monkeys.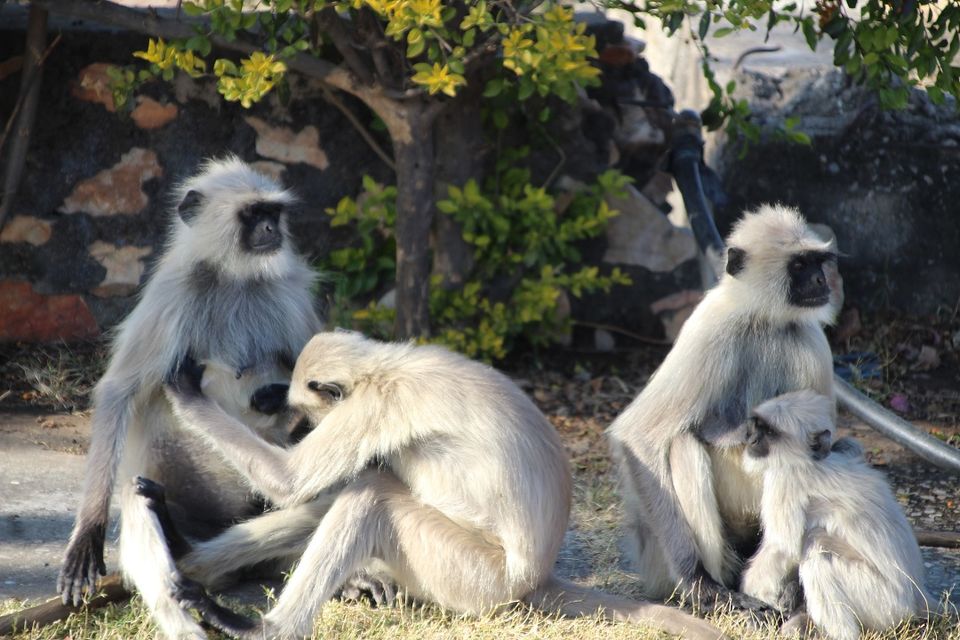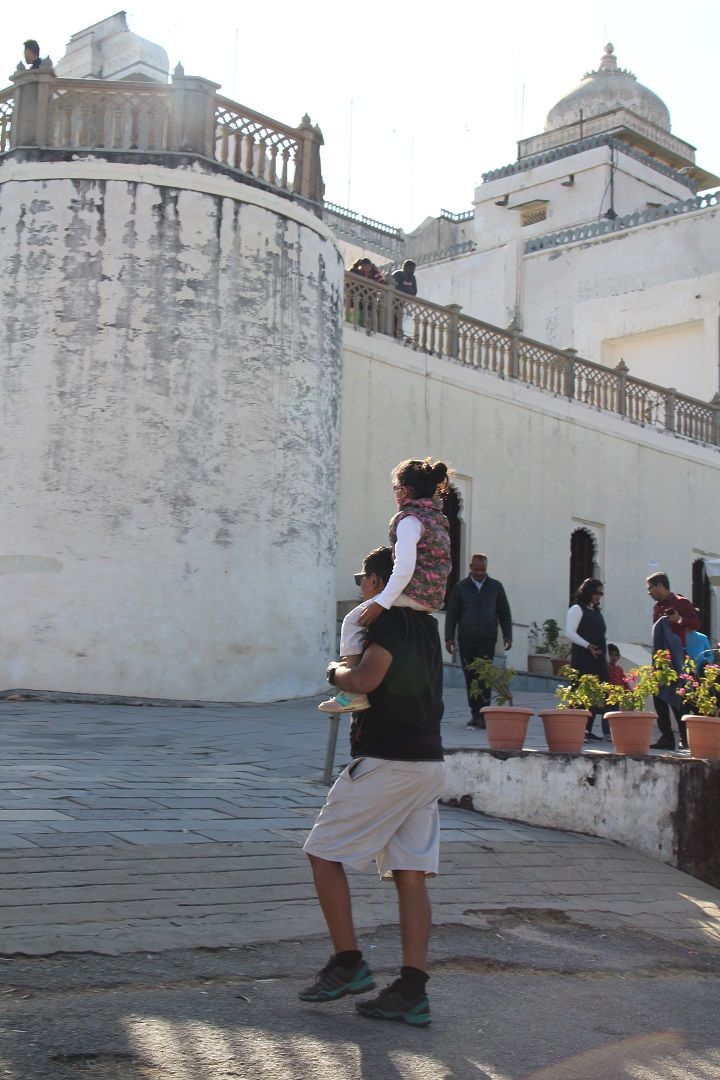 Looming at a great height, the palace offers an exhilarating bird's eye view of Udaipur city overlooking the two lakes – The Pichola & Fatehsagar. Ziva loved that view. I explained to her about the basics of Udaipur city and its lakes. However, she was more interested in watching the monkey attacking the tourist. I wanted to keep her out of the reach of those monkeys, so we entered the palace.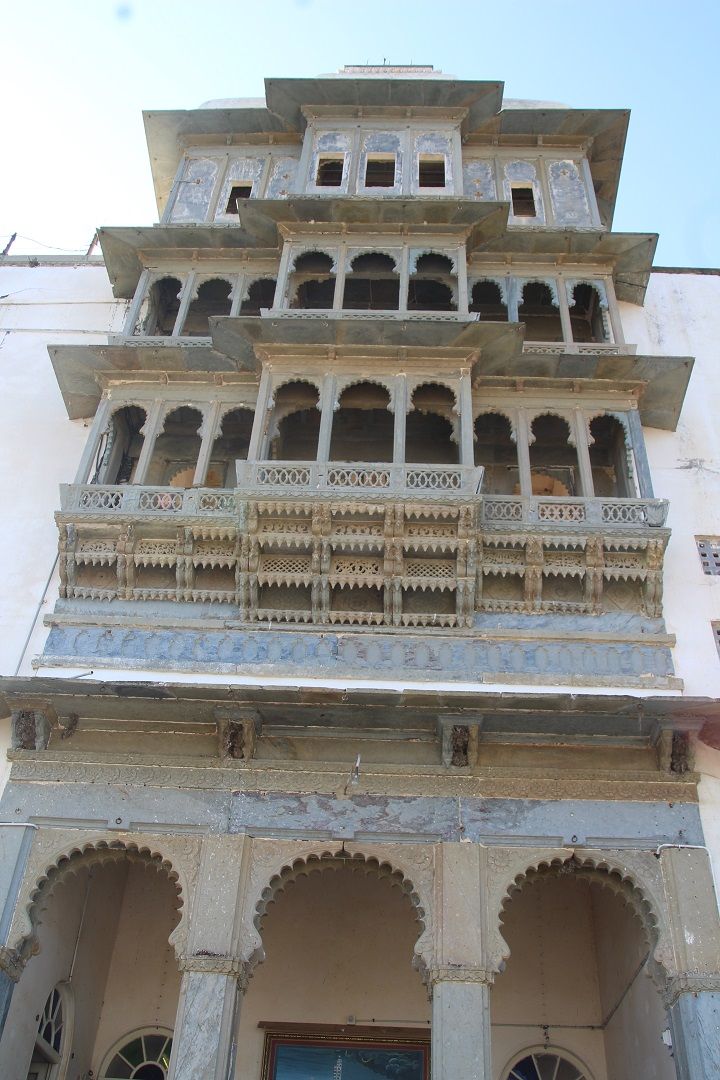 The Palace is now controlled by the Forest department of Rajasthan Government. The ground floor of the palace is a museum with a collection of pictures, paintings and maps of the entire palace and the design of the palace that Maharana Sajjan Singh intended to construct. We quickly covered that museum. This time my cousin brother Joyus took the responsibility o explaining things to Ziva.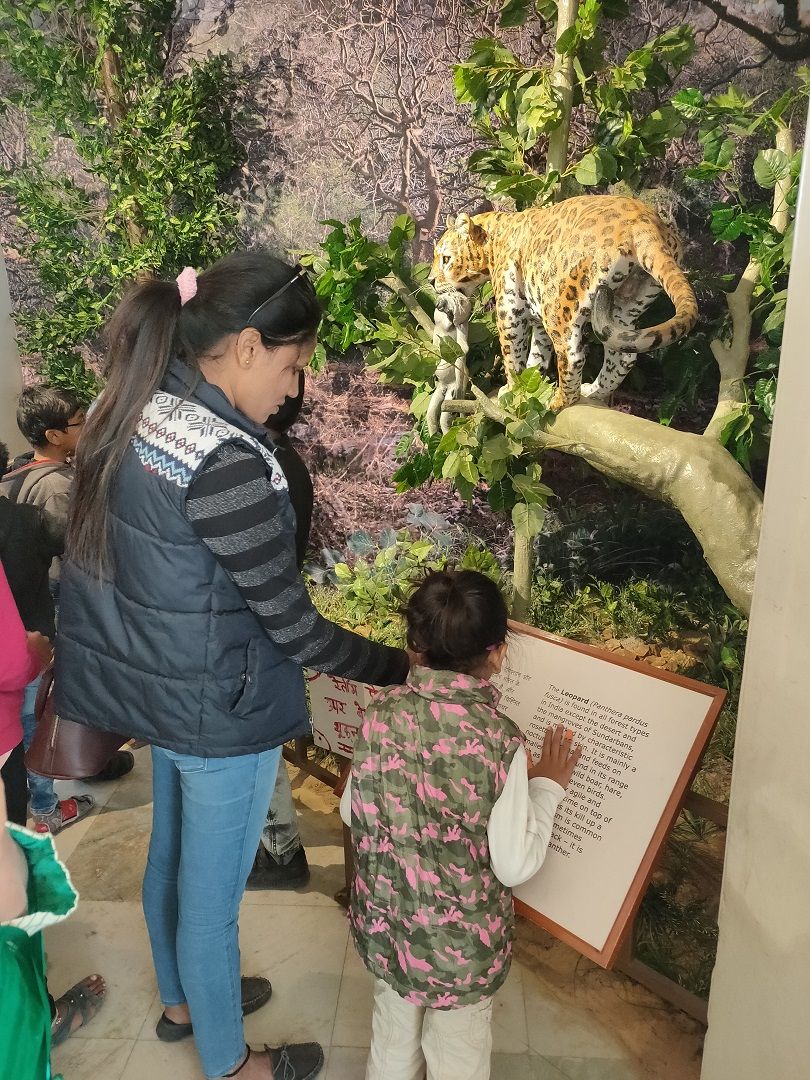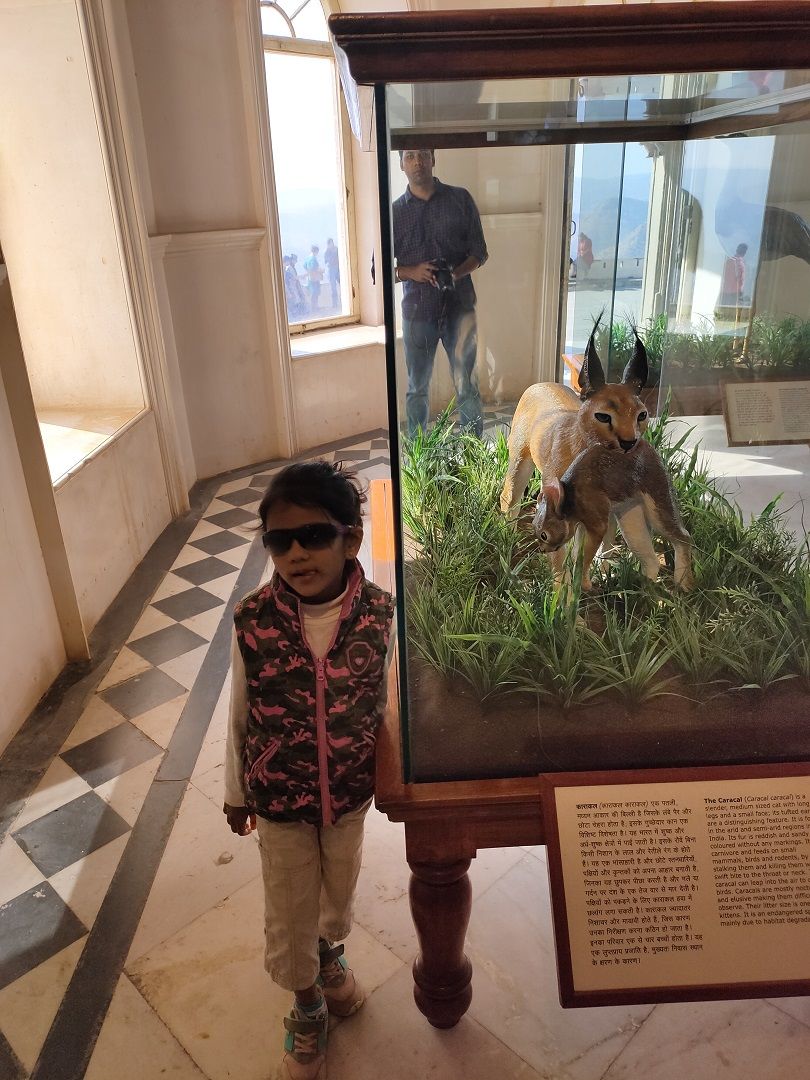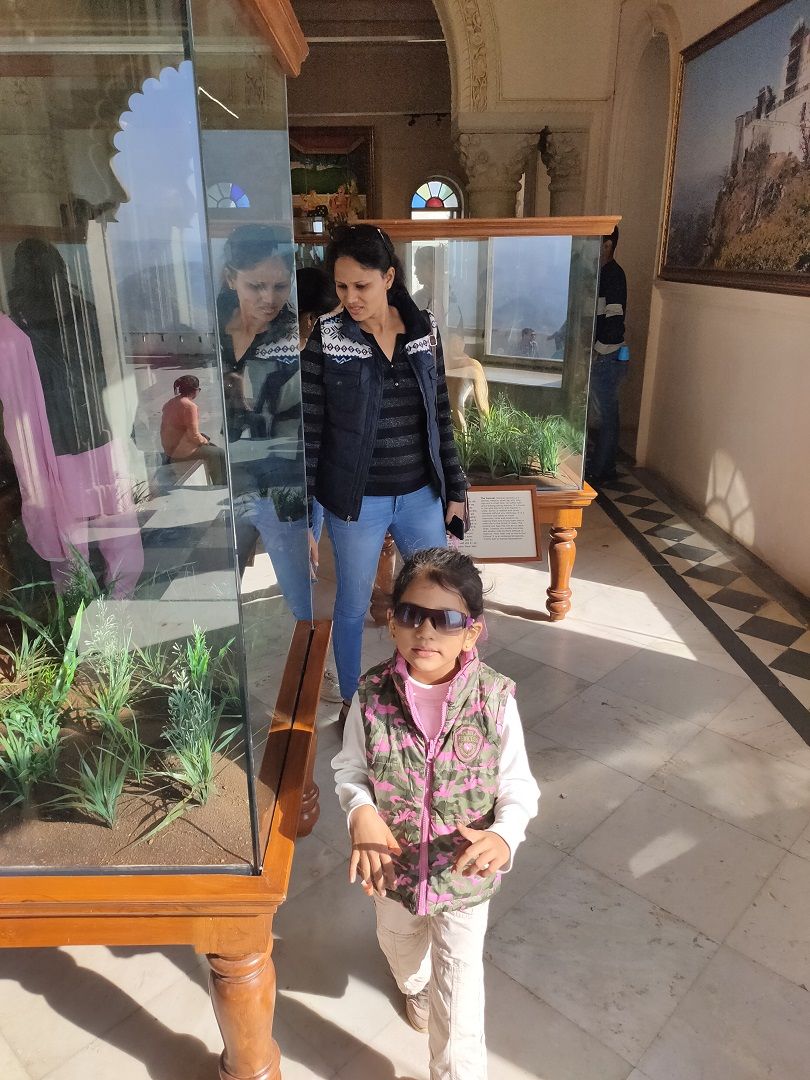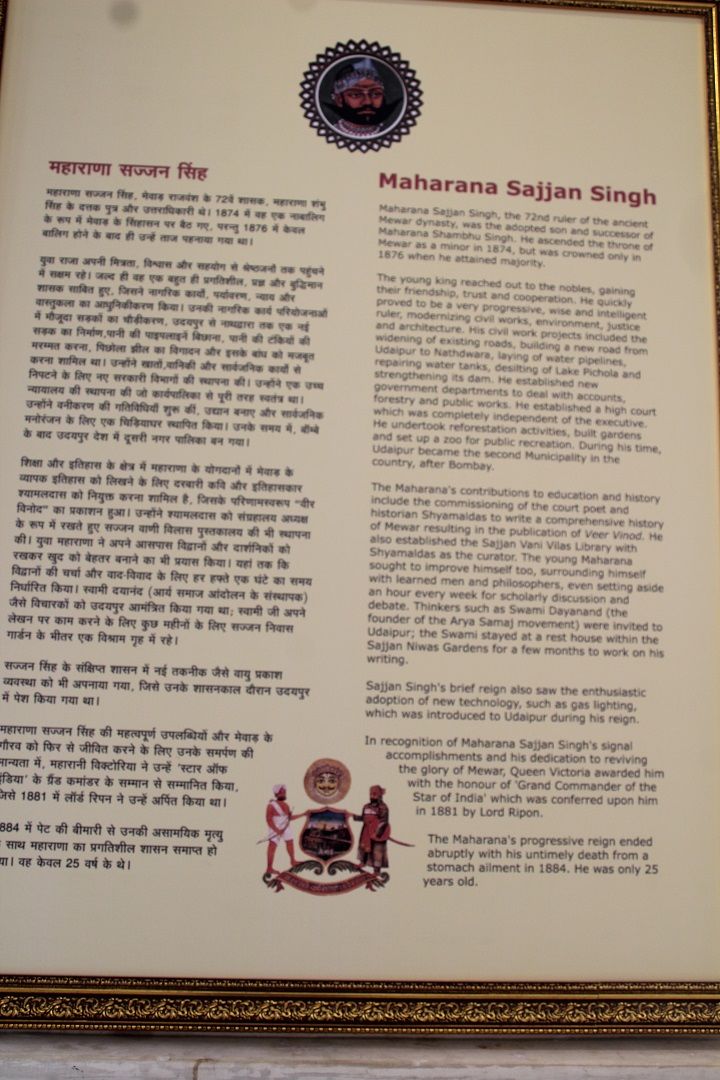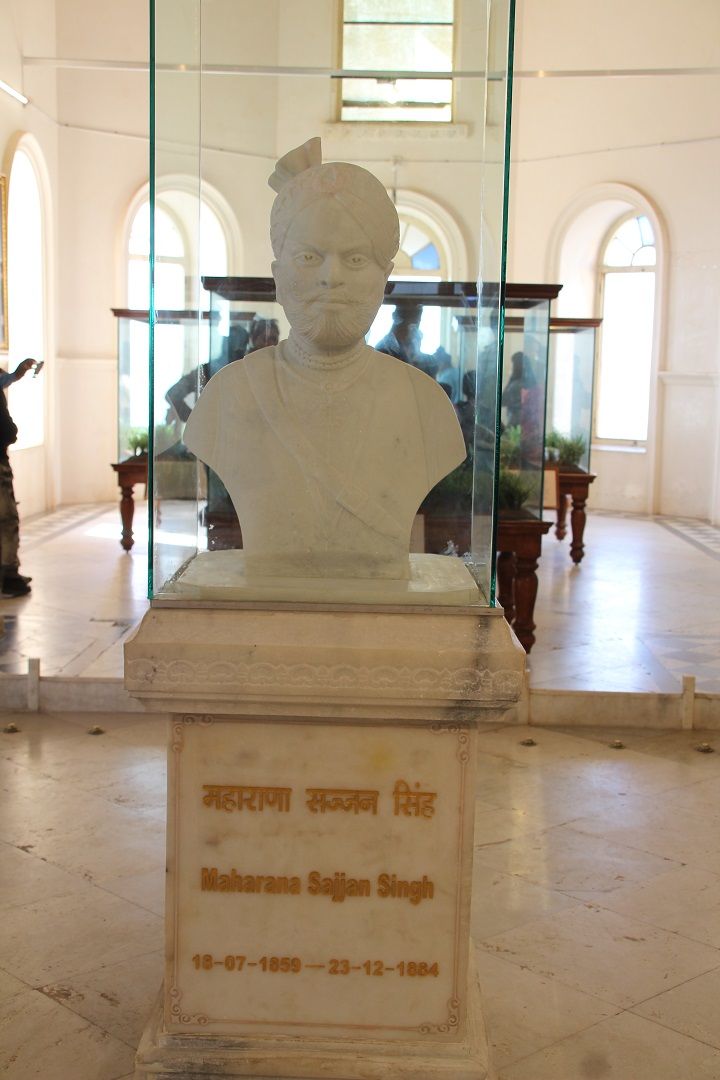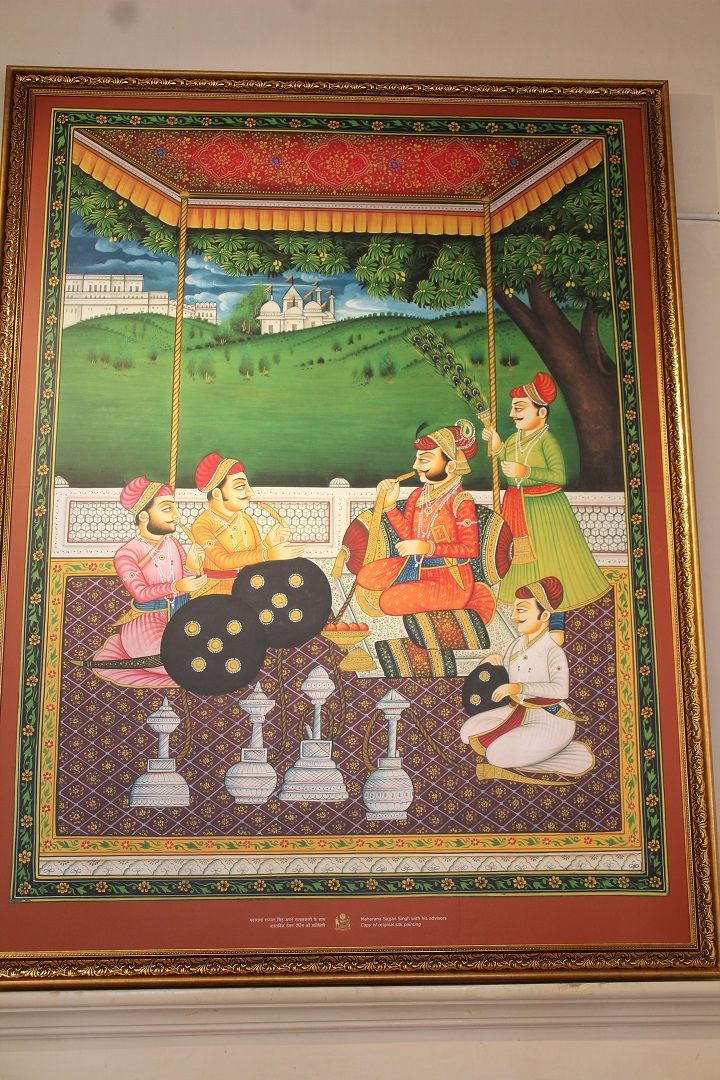 We covered the museum and came to the backside of the palace. The backside of the palace gives the spectacular view of valley covered with dense, thick forest and lush greenery all around it. The lush greenery can be noticed during the monsoon months. However, the view of mountains and Udaipur city was spectacular.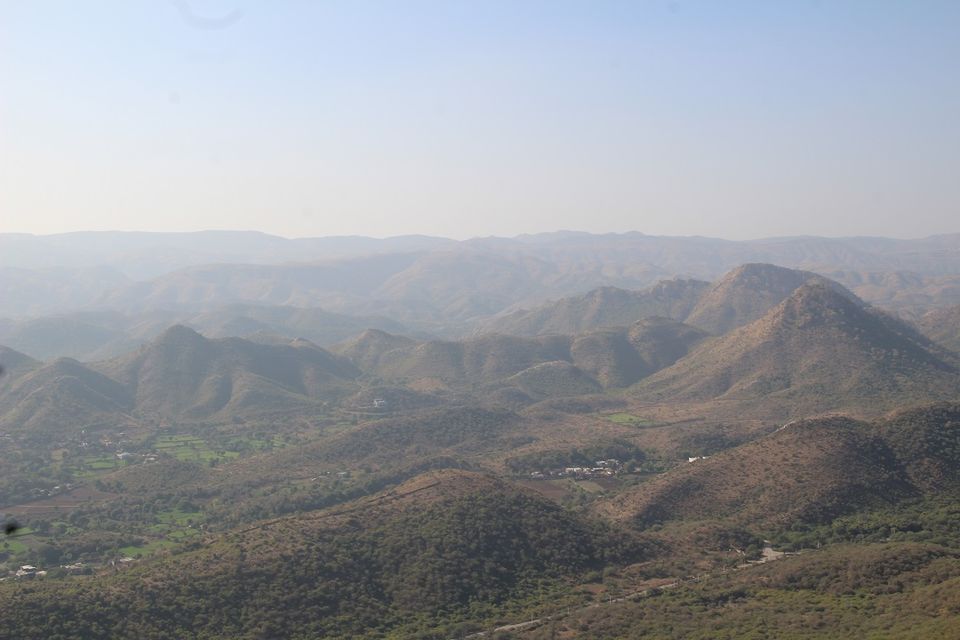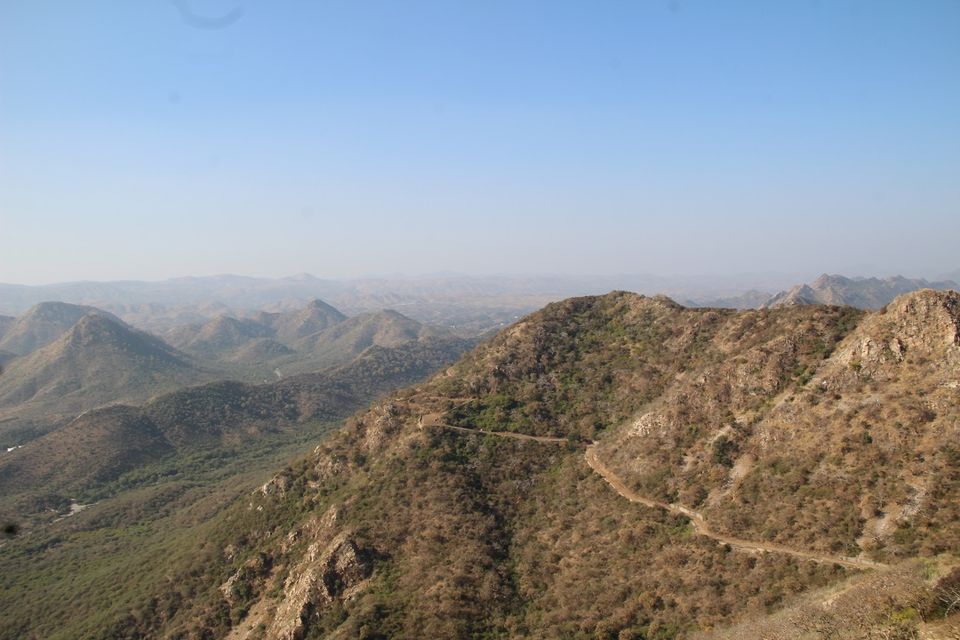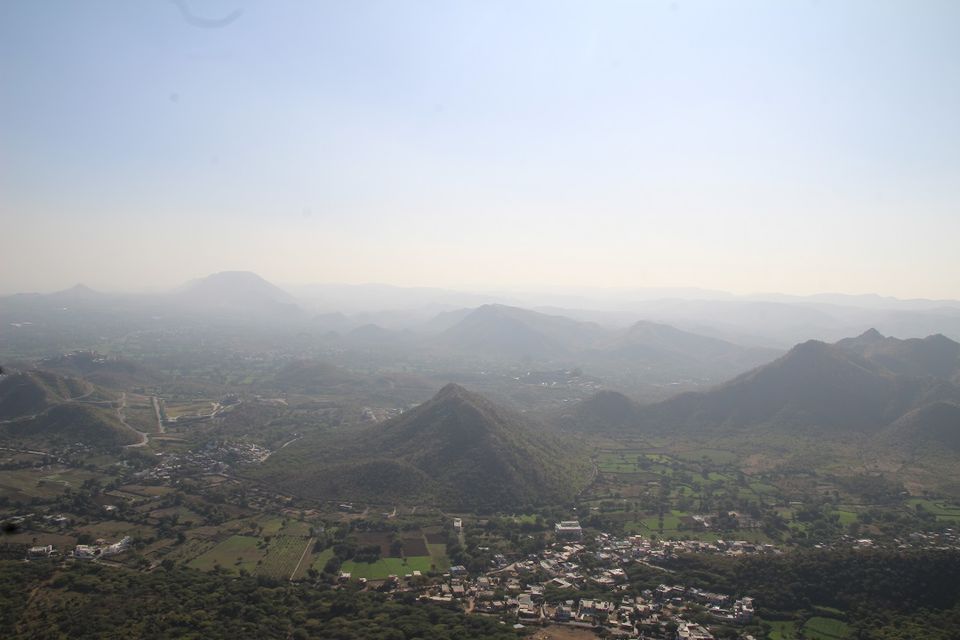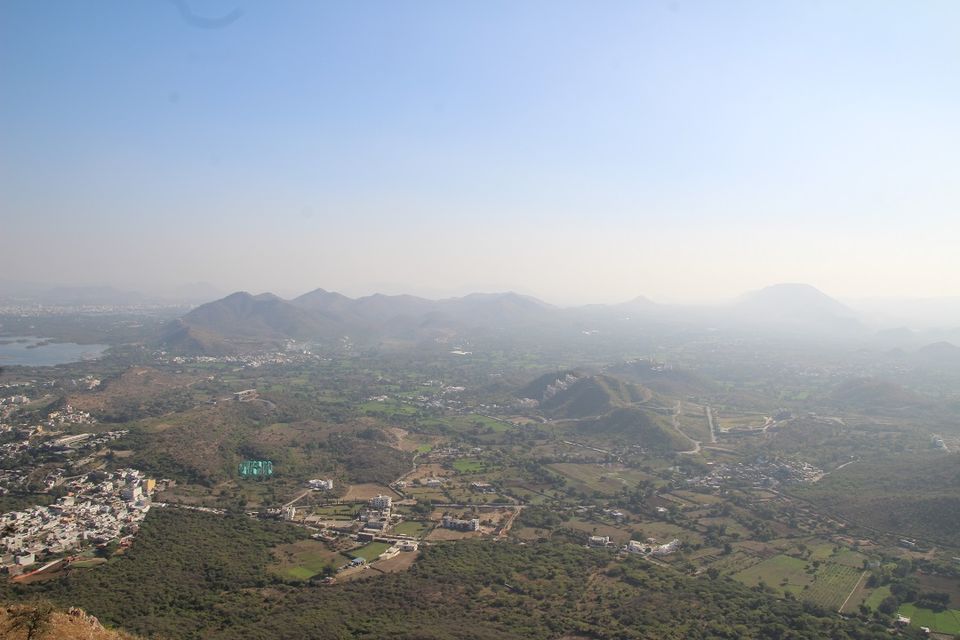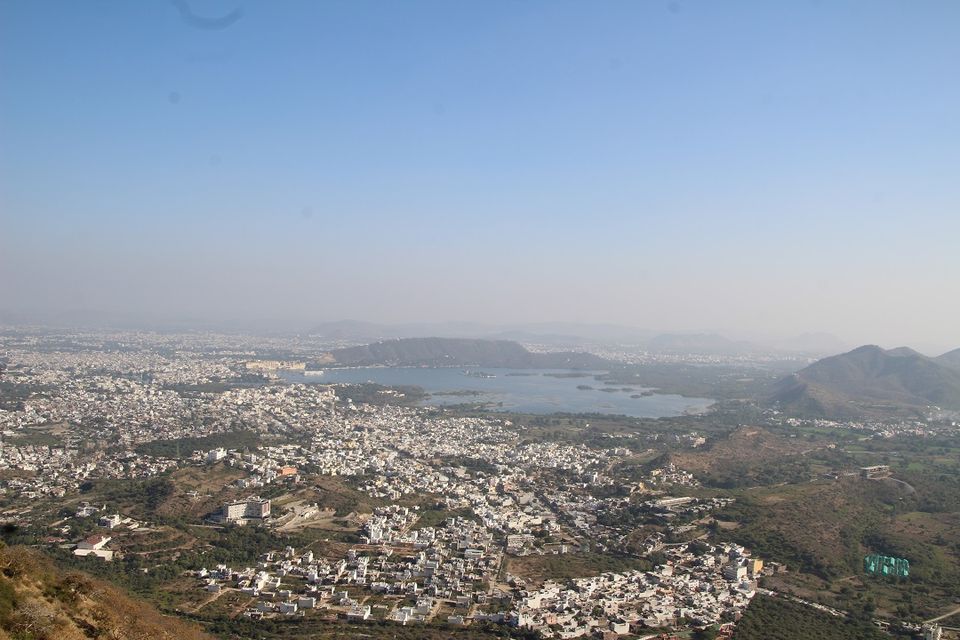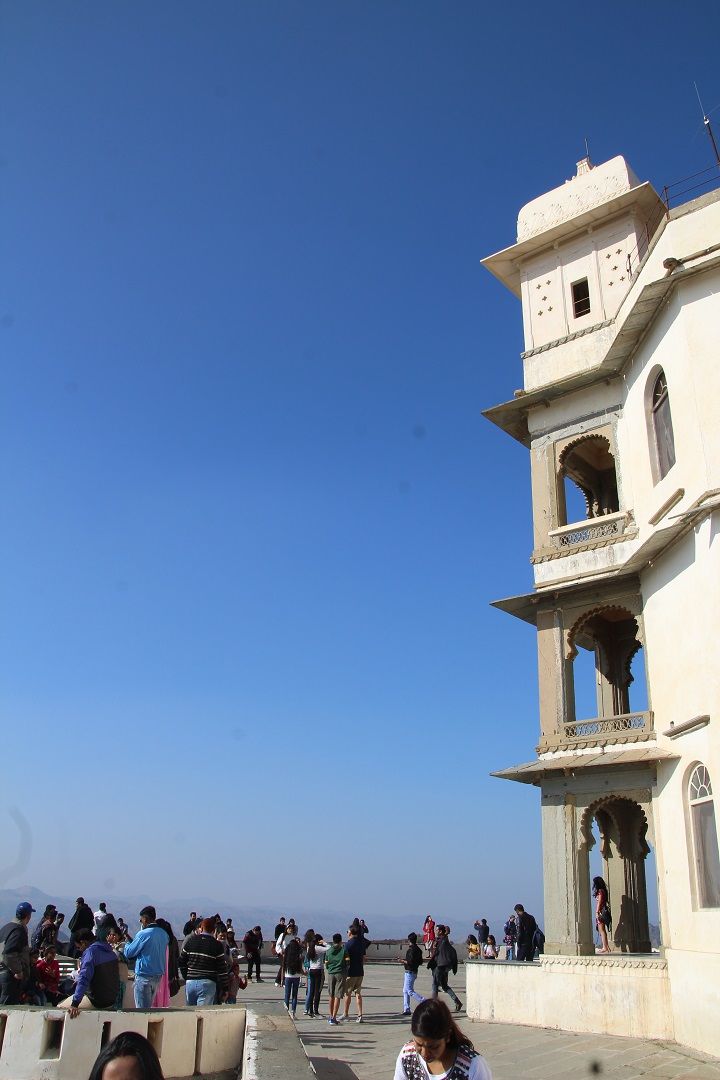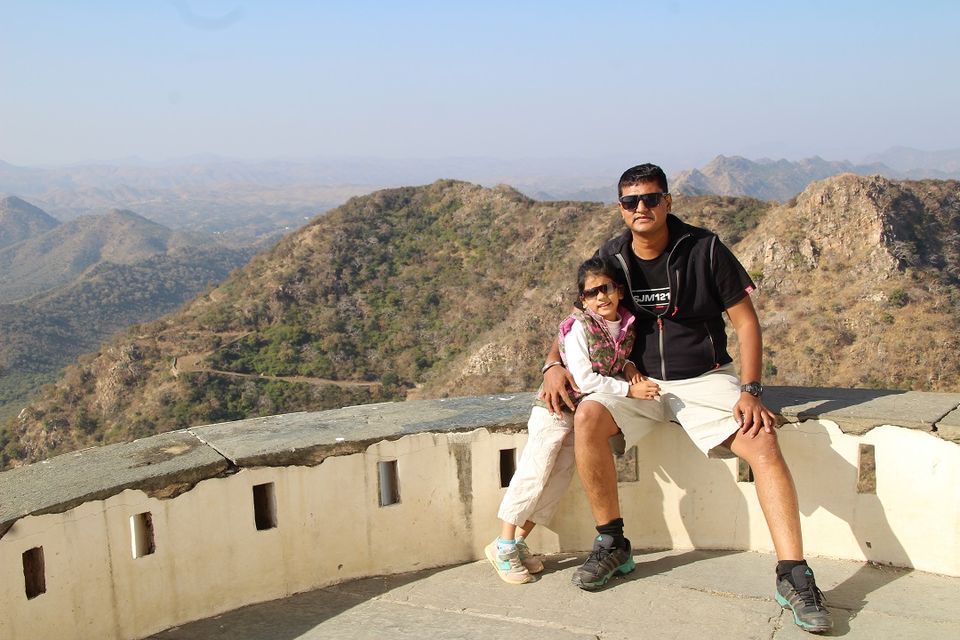 We spend more than two hours at SajjanGarh. Which was ultimately getting deducted from our allotted 11 hours. However, we enjoyed it at Sajjangarh. Ladies got all the chances to get clicked and Ziva loved running and playing around.
We got down from Sajjangarh. The palace is enveloped by Sajjangarh Wildlife Sanctuary. It is regarded as a reserve for reptiles, wild boars, blue bulls, hyenas, panthers, sambhars, jackals, spotted deers, peacocks, wild rabbits, and many migratory birds. The entire hillock has been well protected with concrete walls and fences to improve the flora and fauna of the sanctuary area. There are many nature trails inside the wall. We stopped at a point to give the idea of a wildlife sanctuary to Ziva.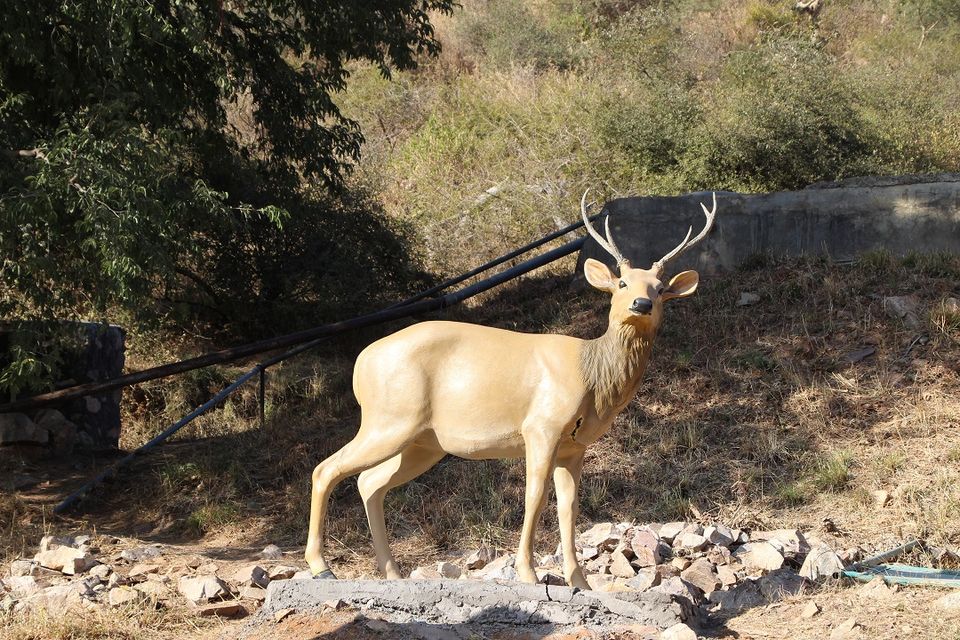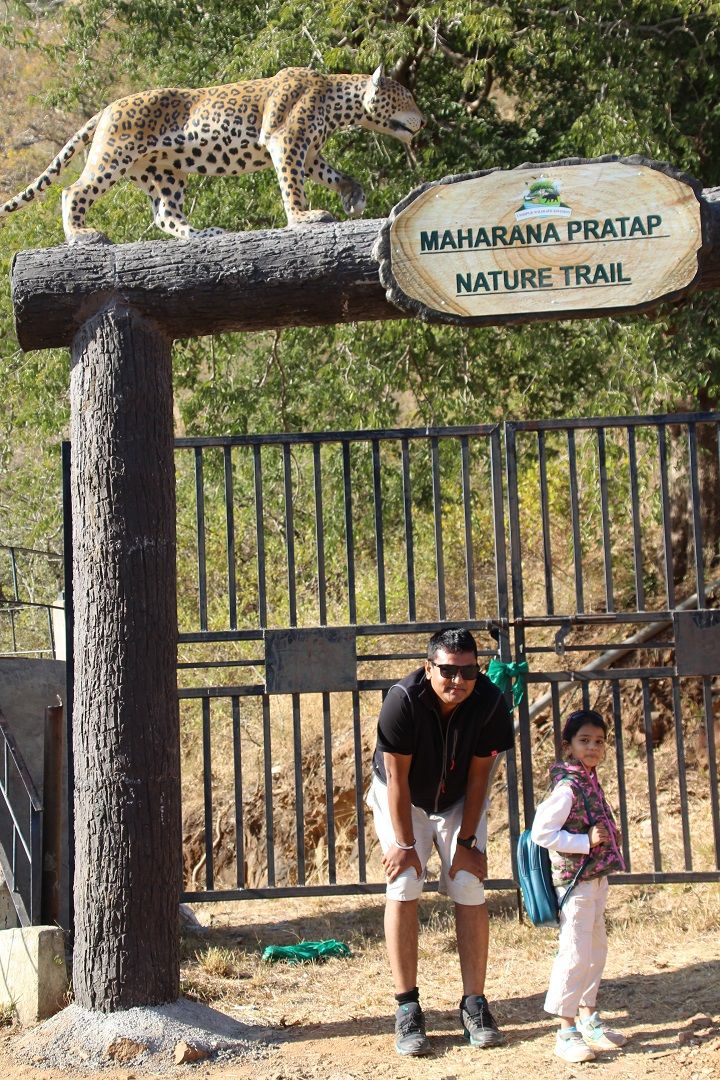 FatehSagar Lake.
We bid farewell to Sajjangarh and drove to Fateh Sagar lake. Once again we got stuck in the traffic. Somehow we reached the lake. It took me 25 minutes to get a parking spot. Before coming to Udaipur, one of the friends suggested me to hire an auto-rickshaw or two-wheeler for sightseeing. that was a piece of valuable advice, which I ignored.
We reached FatehSagar lake. I didn't find the parking, so I parked my car at one of the no-parking spots. I asked my wife and cousin to go boating and I remained with the car. I was worried about traffic cops so I thought it's a good idea to remain with the car in case cops find out my car is parked in a no-parking zone.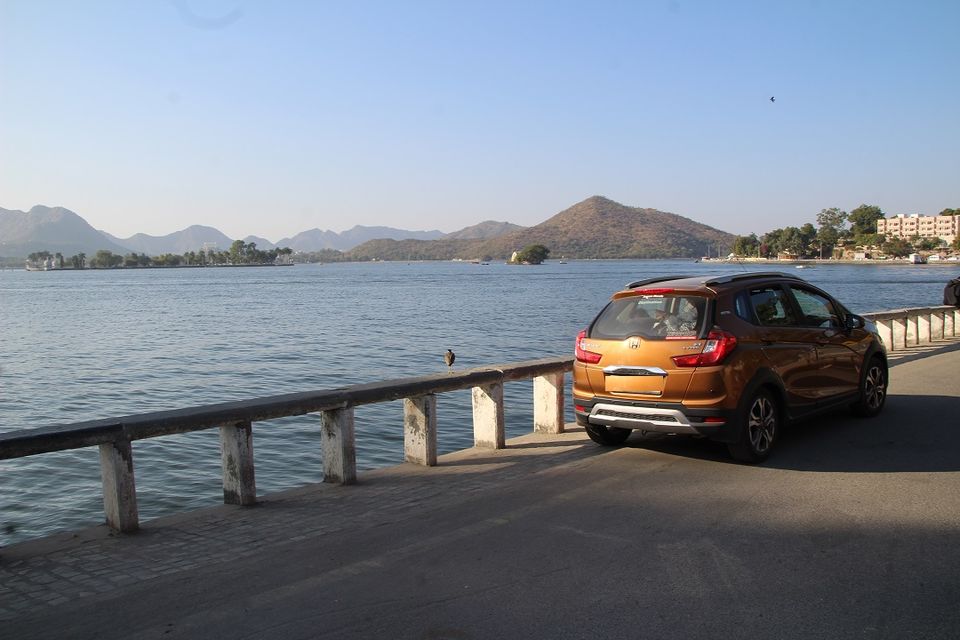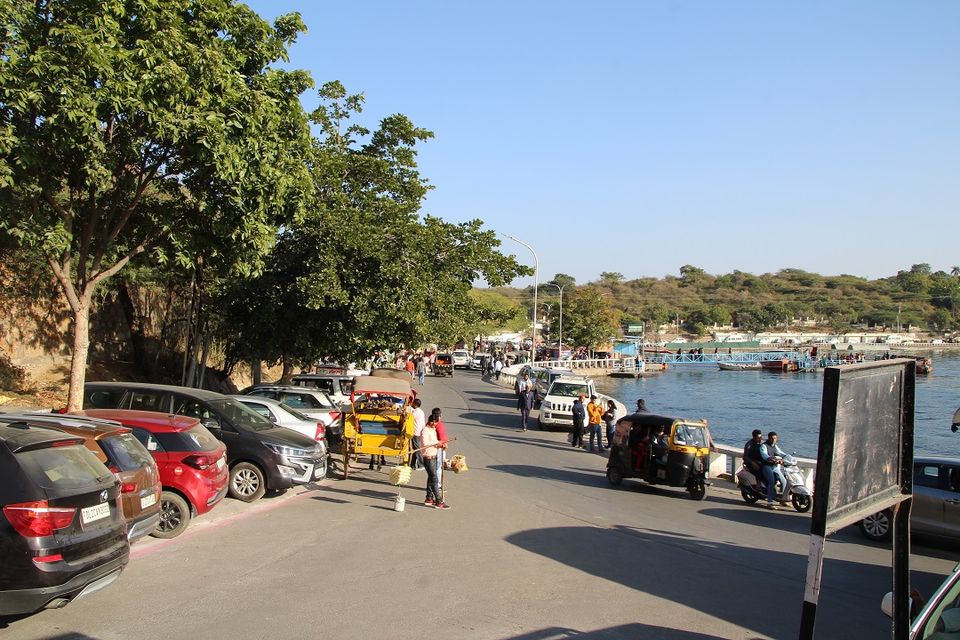 I asked my wife and cousins to go for a boat ride and visit one of the islands. However, they were not ready to go for a boat ride leaving me behind as a watchman of car. Somehow, I convinced them to go for a 25 minutes boat ride and I remained with the car chatting with other drivers and other car owners who remained with the car.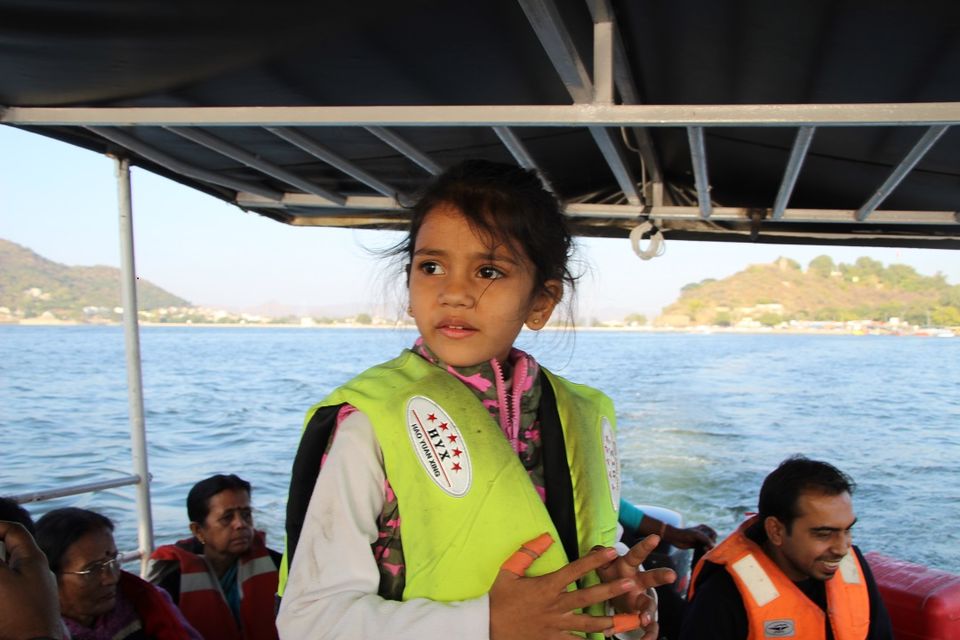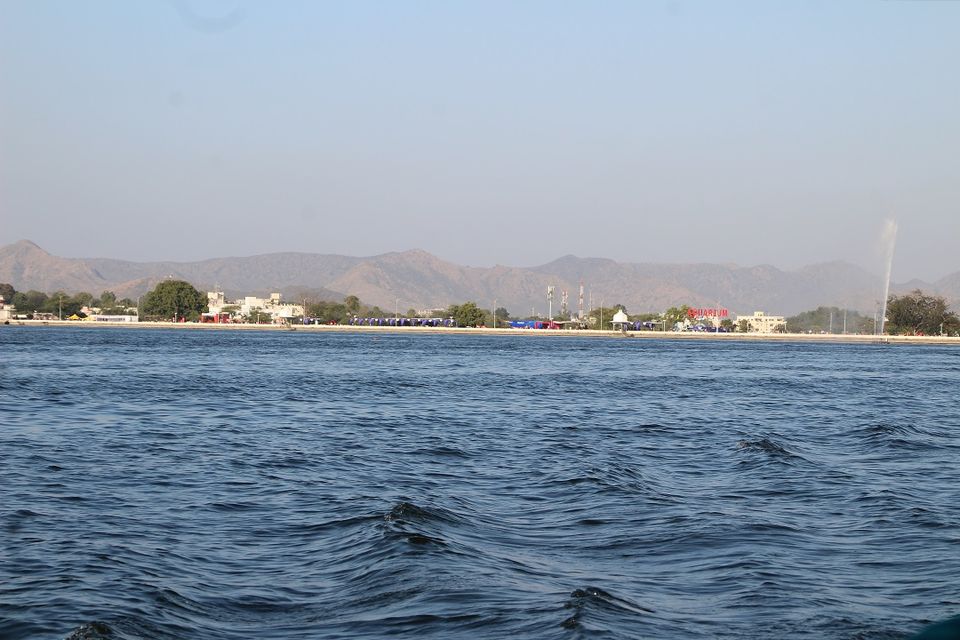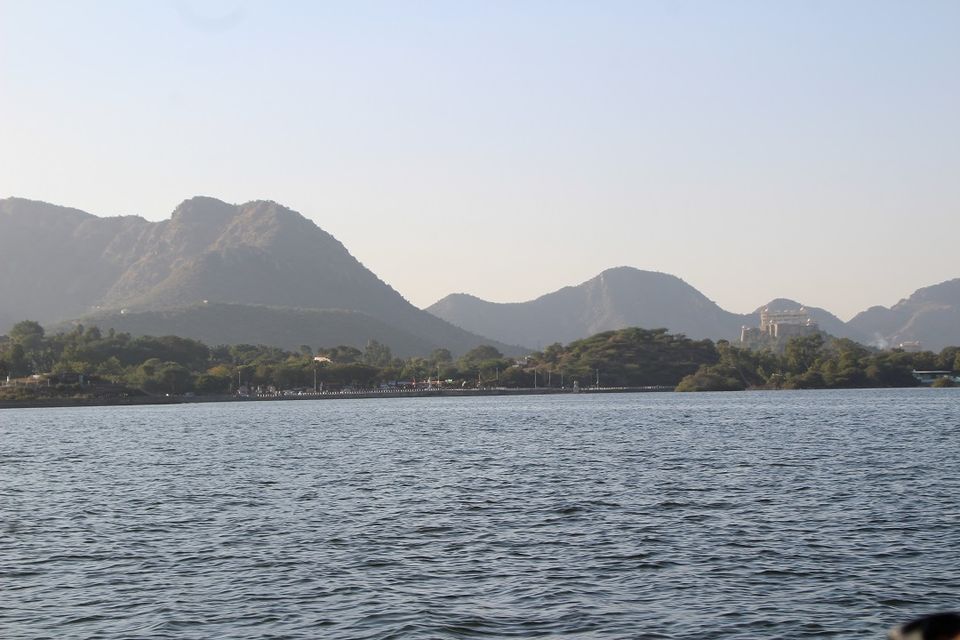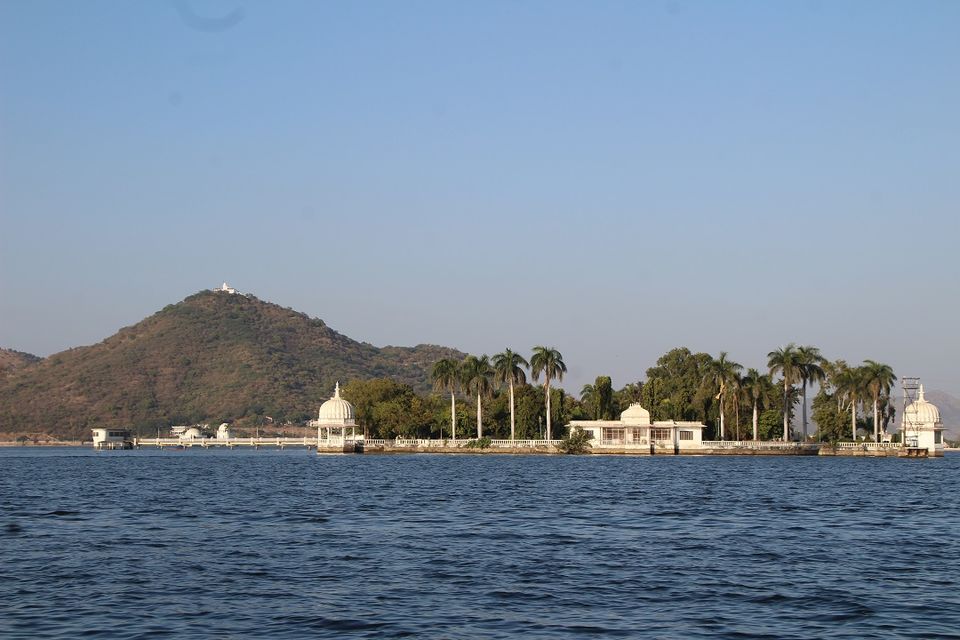 They came back after 35 minutes and found me arguing with a popcorn seller. I had nothing to do there so I got in an argument with a popcorn seller for the high price of his dirty popcorns.
Wife and cousins went ahead and bought tickets for a camel ride for me and Ziva. It was their attempt to compensate for my waiting with the car. This time all of them remained with the car and we went for Camel ride in the busy streets near the lake.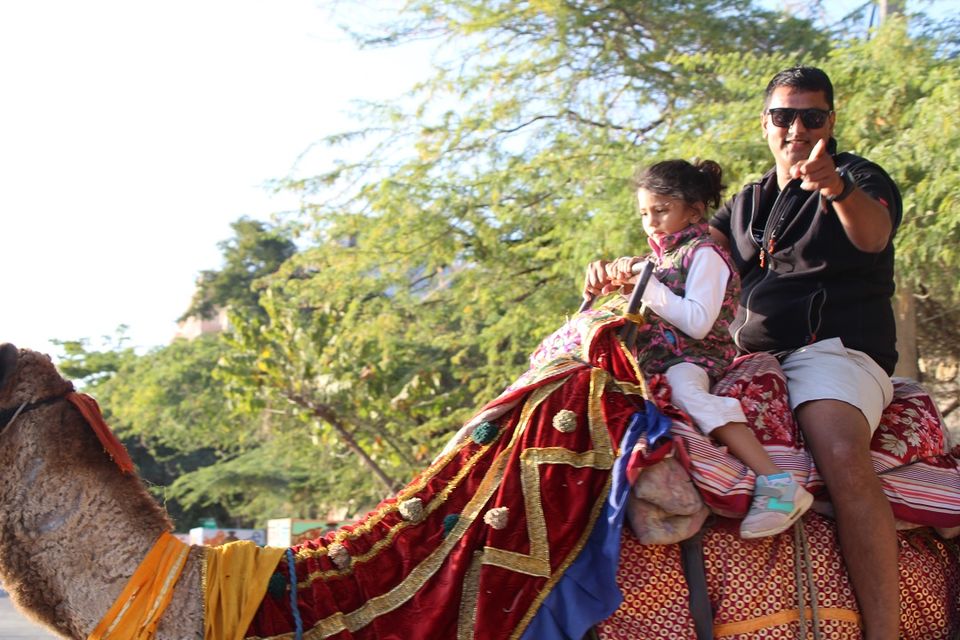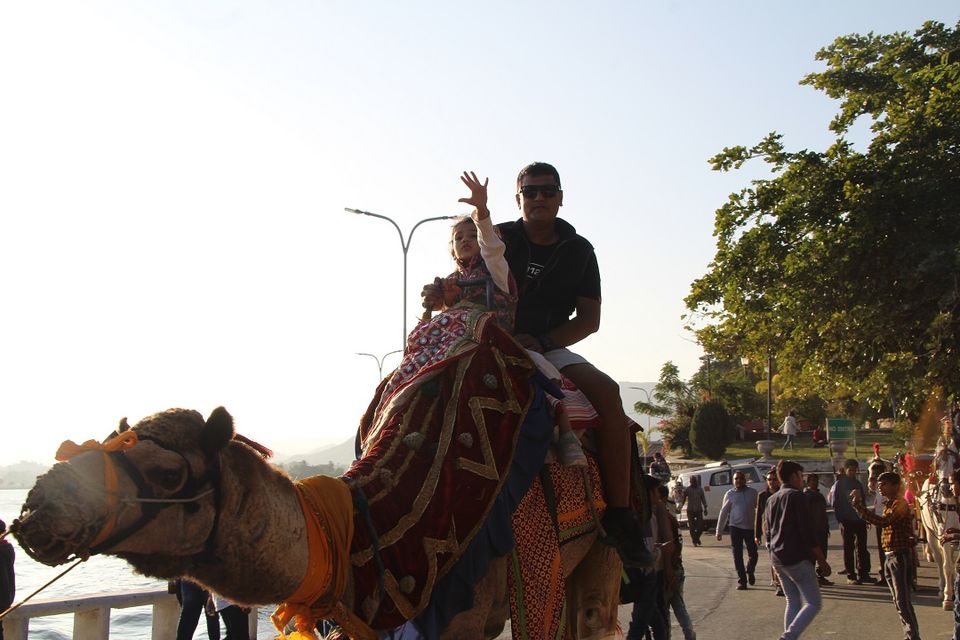 We were done with Fatesagar lake. Actually, we were worried about our illegally parked car. We wanted to get out of that place as soon as possible. Our next destination was Pichola Lake but as per other drivers, we wouldn't be able to find parking in that area. All of them advised me not to take the car in the old city of Udaipur. I didn't want to miss lake Pichalo and the amazing views of City Palace and Lake Palace.
However, it was not possible for us to go to Lake Pichola. We decided to skip lake Pichola and went to Shilpgram Festival.
ShilpGram Utsav 2019
Shilpgram Festival held in the Shilpgram complex of Udaipur is the real example of preserving the history and culture by the preservation of art and crafts. The meaning of the term 'Shilpgram' is the 'village of artisans.' Shilpgram is the lively and exclusive museum of traditional Rajasthani arts and crafts with a hint of Mughal and European history. Shilpgram is the best platform for rural folk and indigenous people of the western side of Rajasthan to showcase their art and crafts skills.
Surrounded by several huts, Shilpgram is constructed in the old architectural style to offer the feel of rural markets. The small huts are built using mud and natural building material to give the real picture of the ethnic diversity of the western states of India. The hut offers workspace to occupational dwellers making the place a lot livelier.
There is an open-air amphitheater in the Shilpgram Complex offering a seating facility for about 8000 people. The amphitheater is used to conduct festivals at regular intervals. The special tribal and folk dances performed during the celebrations are a treat to watch.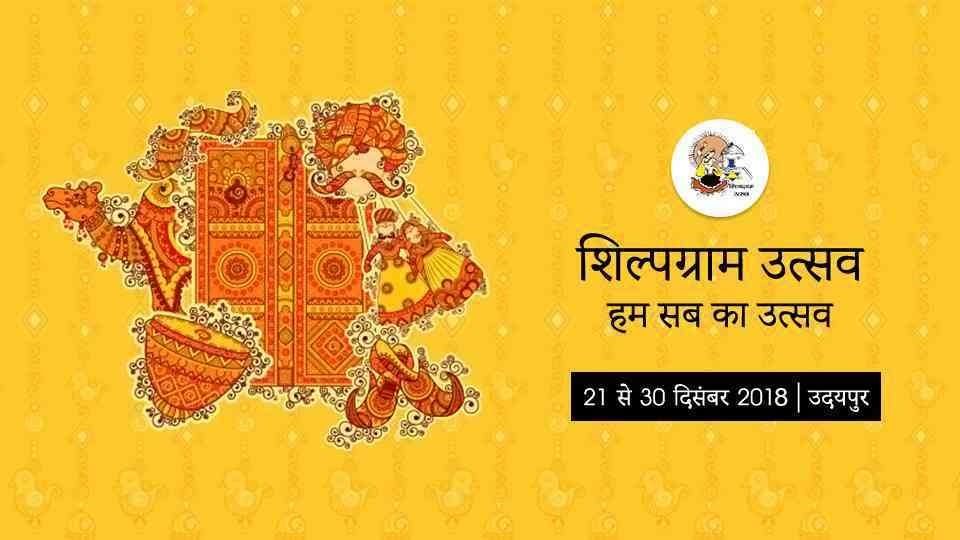 Shilpgram festival location was out of the city and 9km far from Fateh Sagar Lake. It took us one hour to reach Shilpgram and thirty more minutes for parking. This time we parked legally by paying parking fees of 60/-.
There was a small gate at the entrance of Shipgram. We brought tickets and got inside the venue. It was just like a traditional village with small shops and sellers. Shilpgram is not only a tourist attraction, but it attracts locals also. The place was overcrowded but it had its charm.
Its heaven for shopping buffs. Wife and cousin sister started exploring different shops. I along with cousin brother and Ziva started exploring local food. We decided to remain in touch with calls and WhatsApp and started exploring the fair in two groups.
Here is some glimpse of the ShilpGram Festival.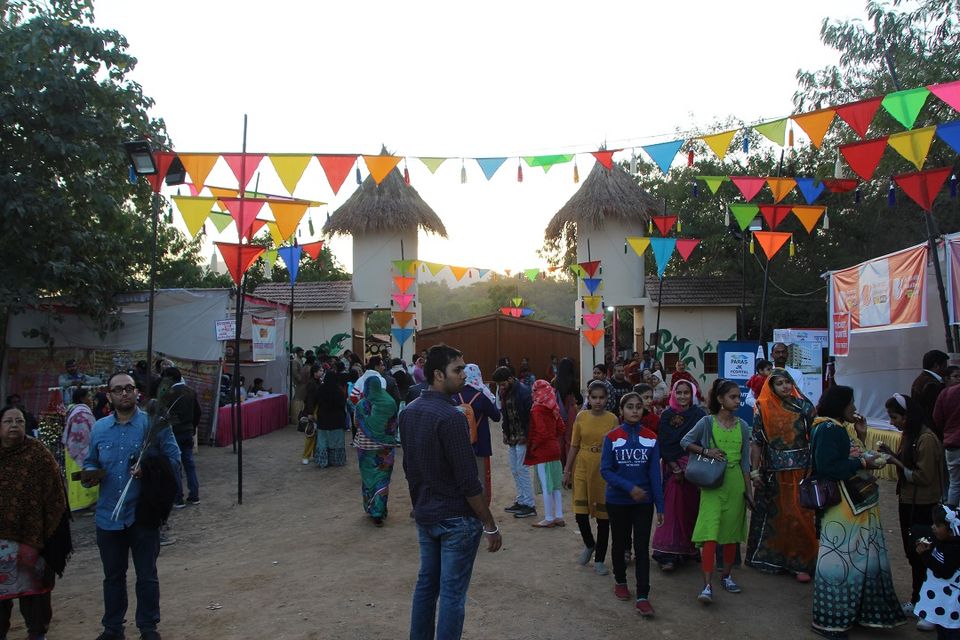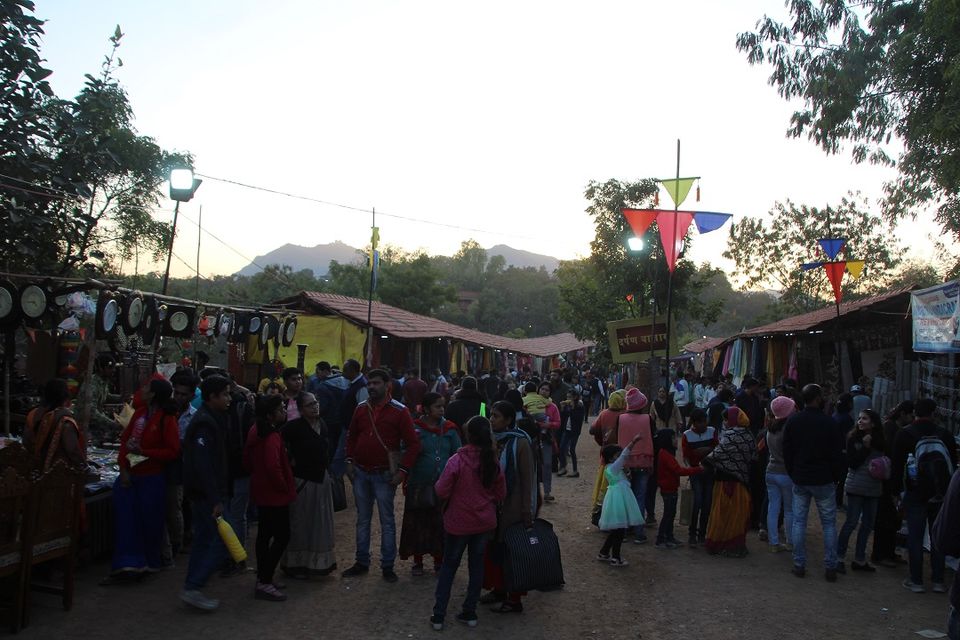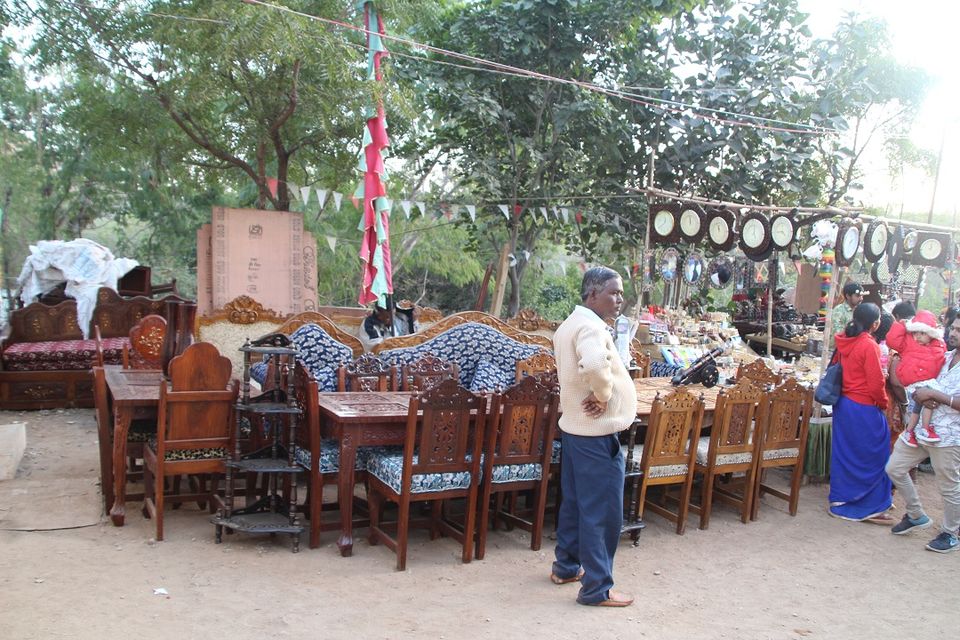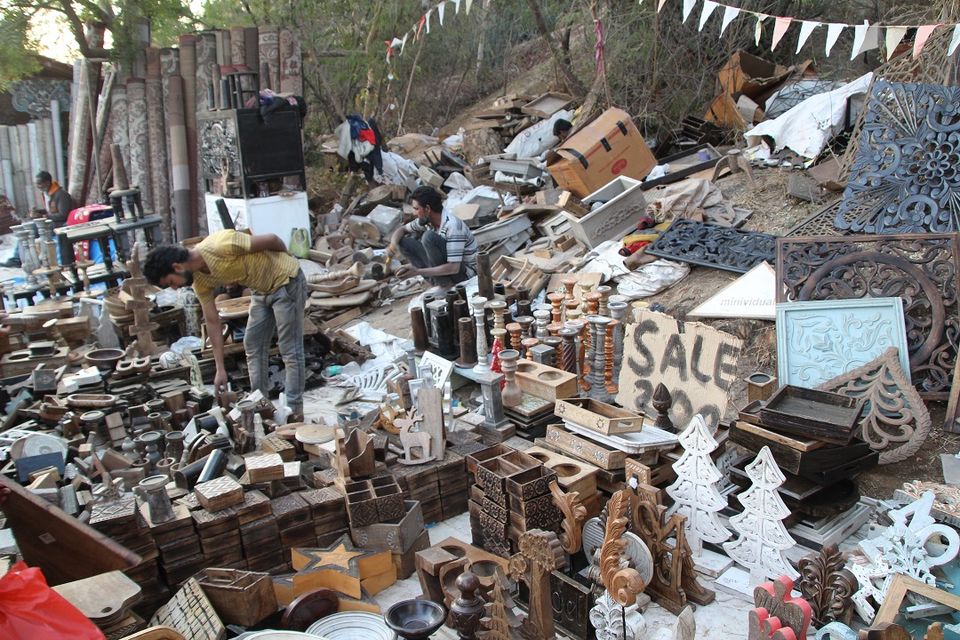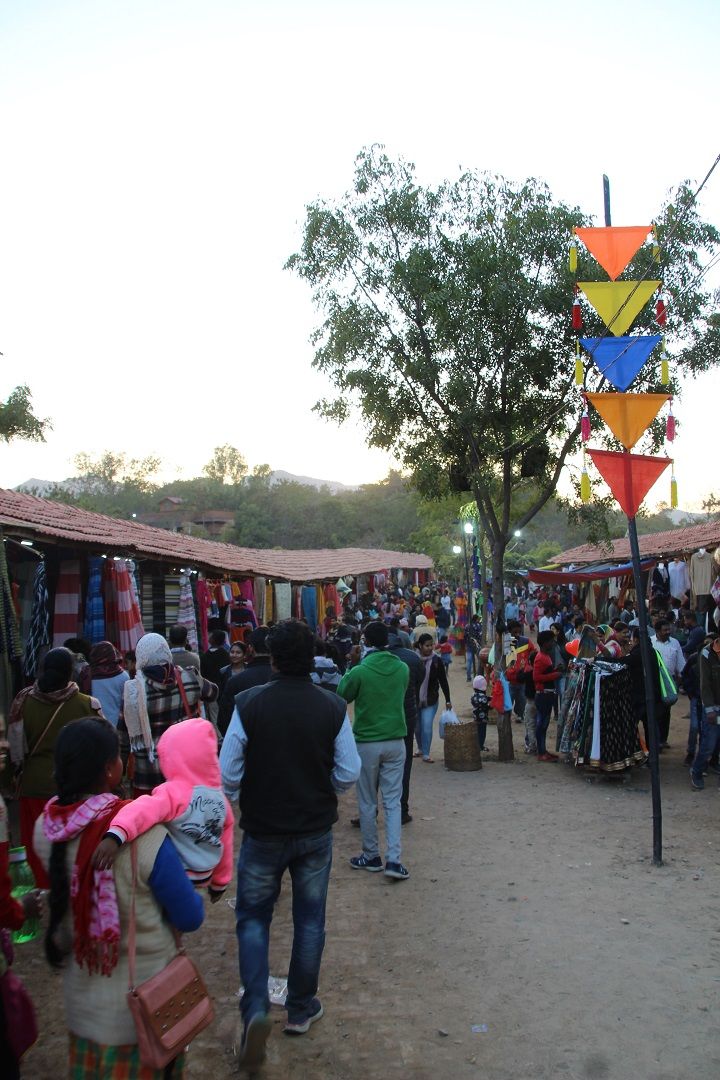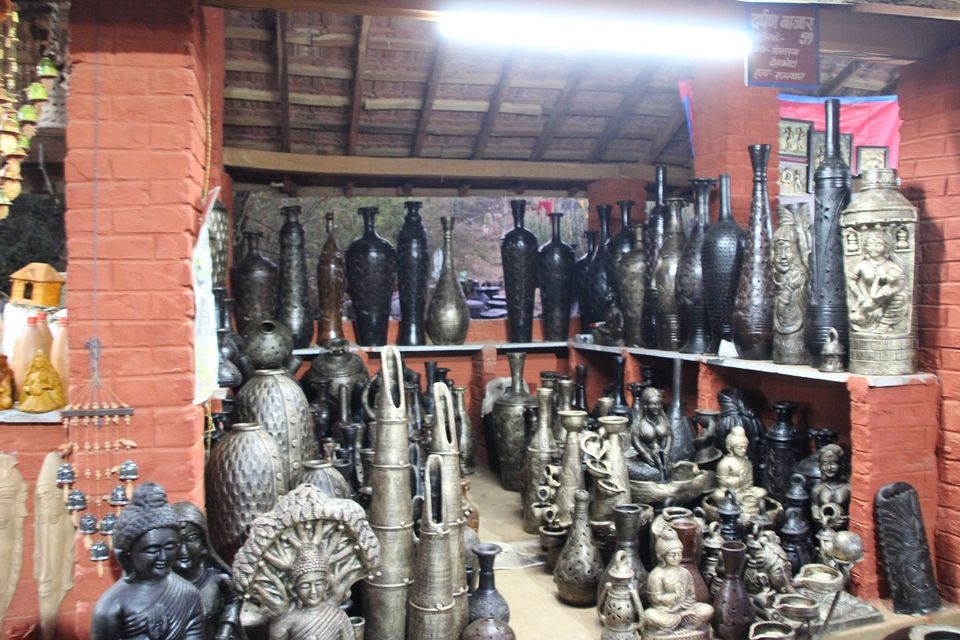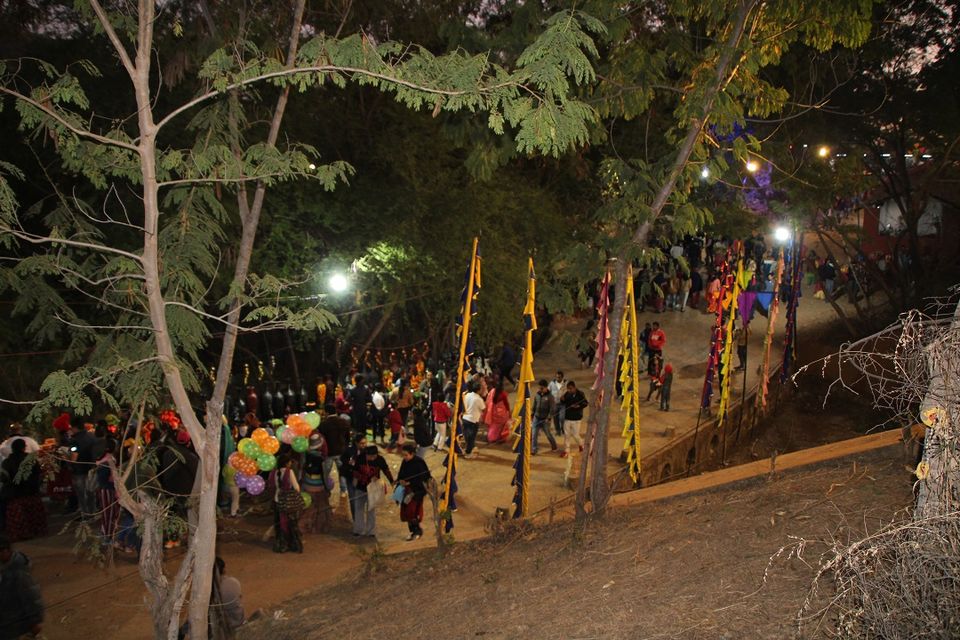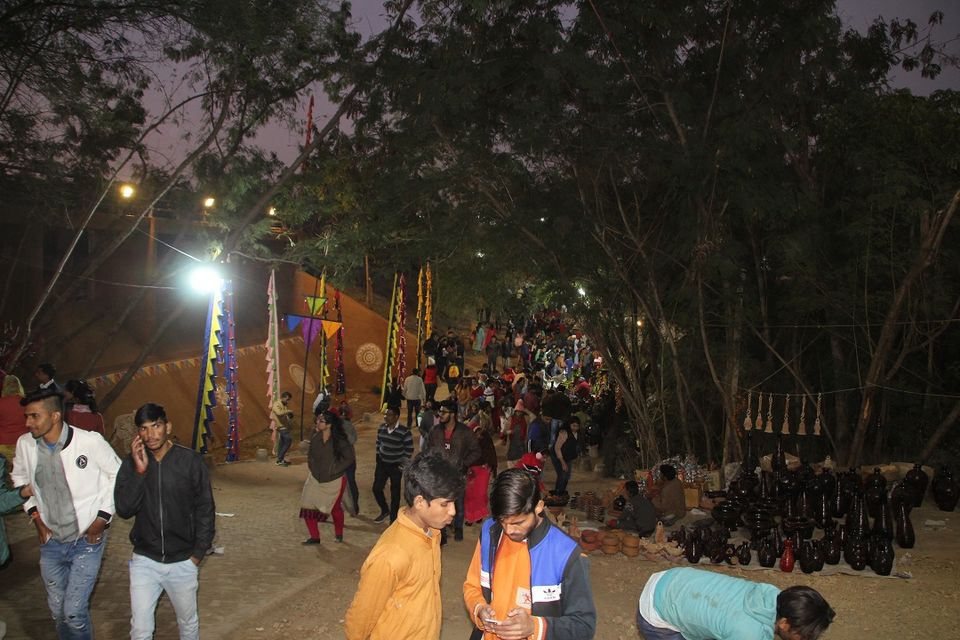 Day 2: Udaipur to Chittorgarh.
We spent one day in Udaipur, covered some sights and attractions. However, the majority of the time was spent in car and traffic. We were not able to see some of the major sights of Udaipur like Lake Pichola, City Palace, etc. However, we didn't have any regrets, we knew we would come back to Udaipur. In fact, I was sure that this was one of the many visits of Udaipur.
We spent a cold night in IndraNiwas. IndraNiwas owner gave us a complimentary heater keeping Ziva's comfort in mind. It was an amazing gesture by them.
Our initial plan was to start early and reach Chittorgarh. Chittorgarh is 170km from Udaipur, a 3-hour drive. Chittorgarh has an amazing fort named Chittor fort. Apart from that, there is no major sight to see in Chittorgarh. Moreover, I wanted Ziva to have a look at majestic City Palace from Lake Pichola. I asked my travel mates that we would go to Chittorgarh after visiting Lake Pichola. Which allowed us a few more hours in bed.
We woke up at 0700, got freshen up and rushed to the terrace restaurant for breakfast. The morning view from the terrace was amazing.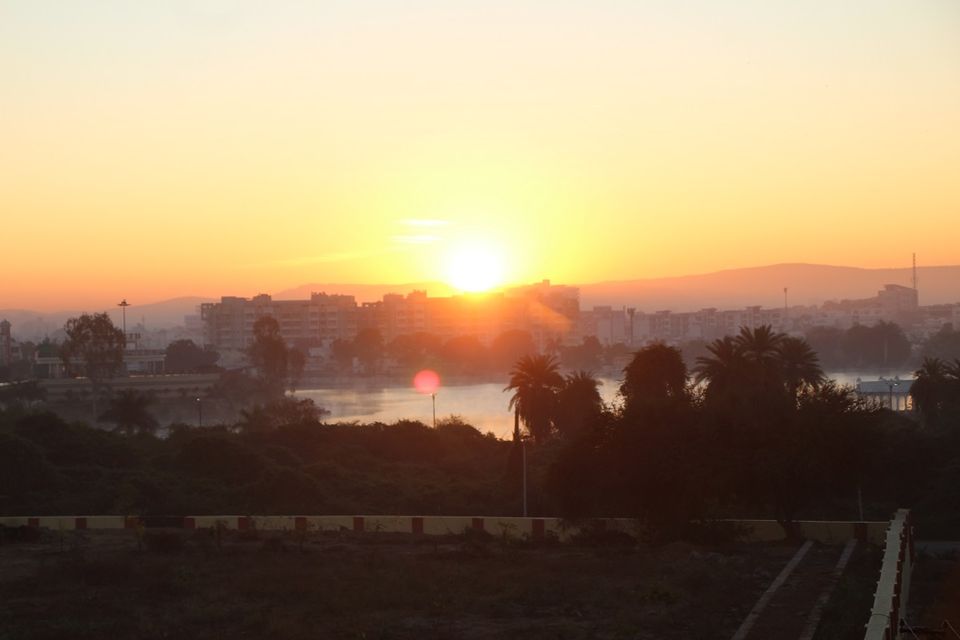 We had our breakfast, packed our bags and checked out from IndiraNiwas. Once again the owner remained with us for a smooth checkout. They wished us a happy journey by tying some thread on our wrist. Moreover, the owner asked one of his staff to clean the car before we go.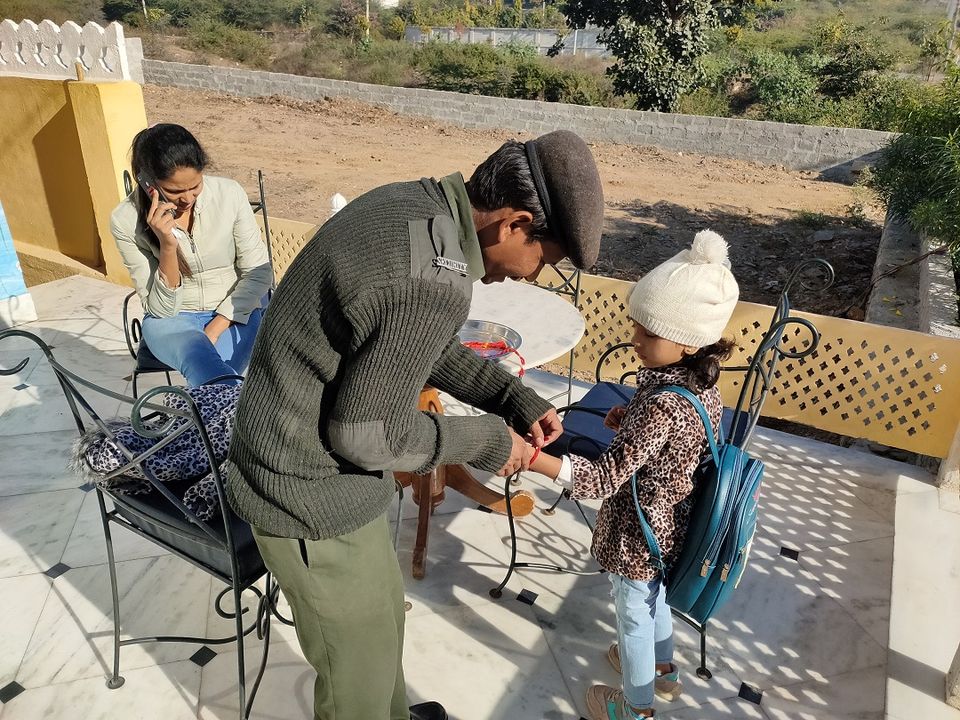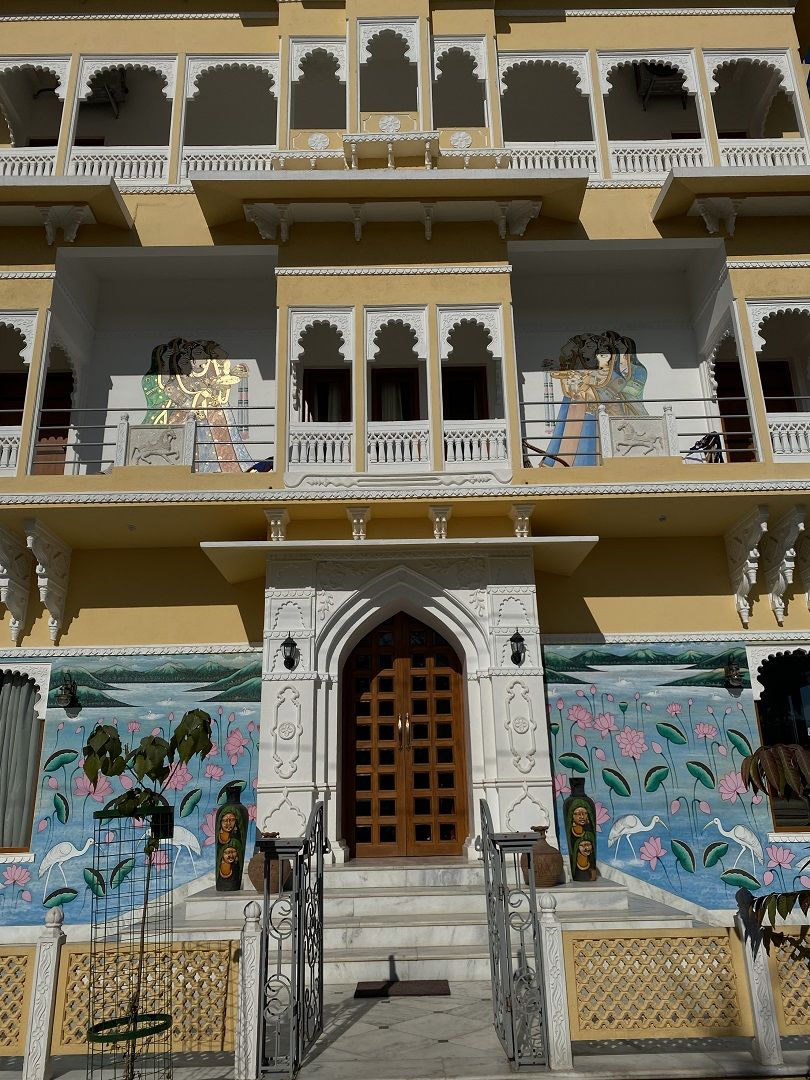 Lake Pichola.
After checking out, we rushed to Lake Pichola by negotiating some of the narrow and busiest roads. Fortunately, we got parking.
Lake Pichola is an artificial lake that sits right in the middle of Udaipur city which was built in the year 1362 AD. It is named after the nearby village Picholi, Lake Pichola is one of the most famous tourist attractions in Udaipur. Flanked by islands, palaces, temples, mansions, ghats and restaurants, Lake Pichola offers something for everyone. The enchanting views of sunrise and sunset from the lake amazing. One of the most famous attractions in the lake surroundings is Lake Palace that sits right in the middle of the lake, constructed on the Jag island. Mohan Mandir, built by Jagat Singh between the period 1628-1652 and Jag Mandir are other islands that are worth a visit. City Palace is another famous tourist attraction in the lake surroundings.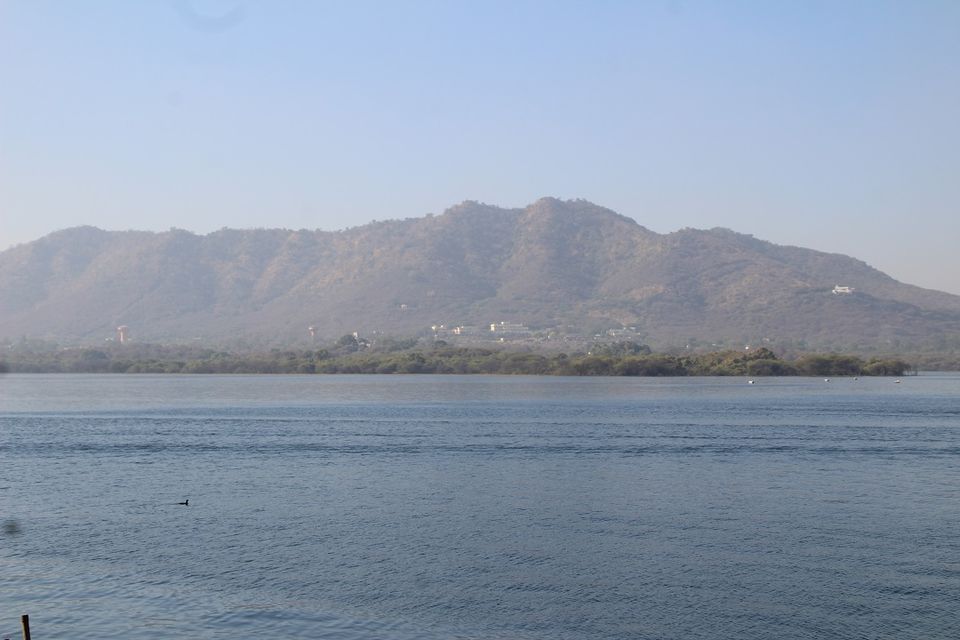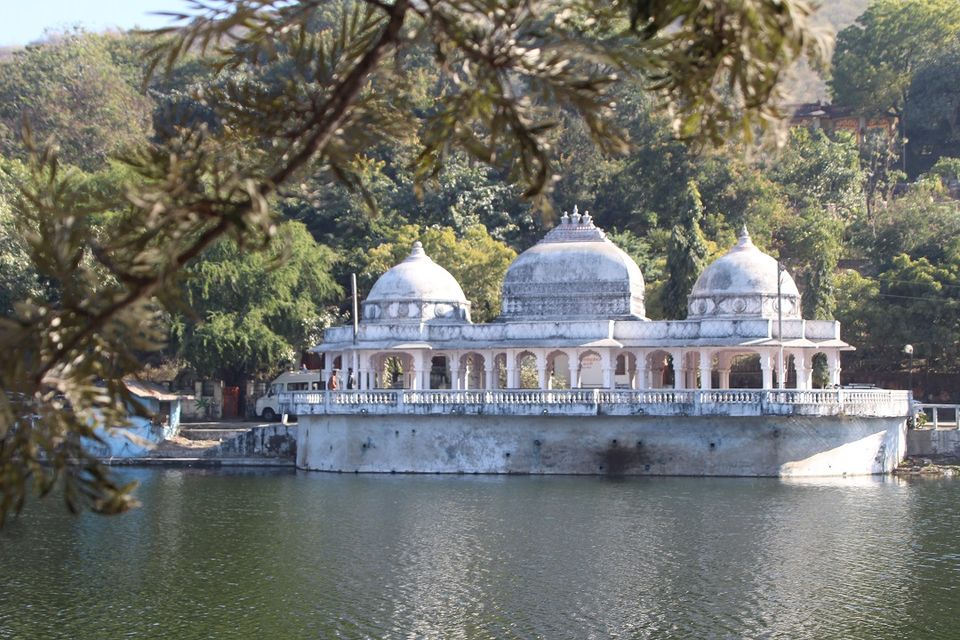 A trip to Lake Pichola is incomplete without a boat ride in the serene lake. This time it was my turn to go for boating. There are four islands in the lake, they are Jag Niwas Island, Jag Mandir Island, Mohan Mandir Island, and Arsi Vilas Island. It wasn't possible for us to go to them, a boat ride was perfect to have a look at those islands. Our boat ride started from one of the many ghats with an amazing view of City Palace.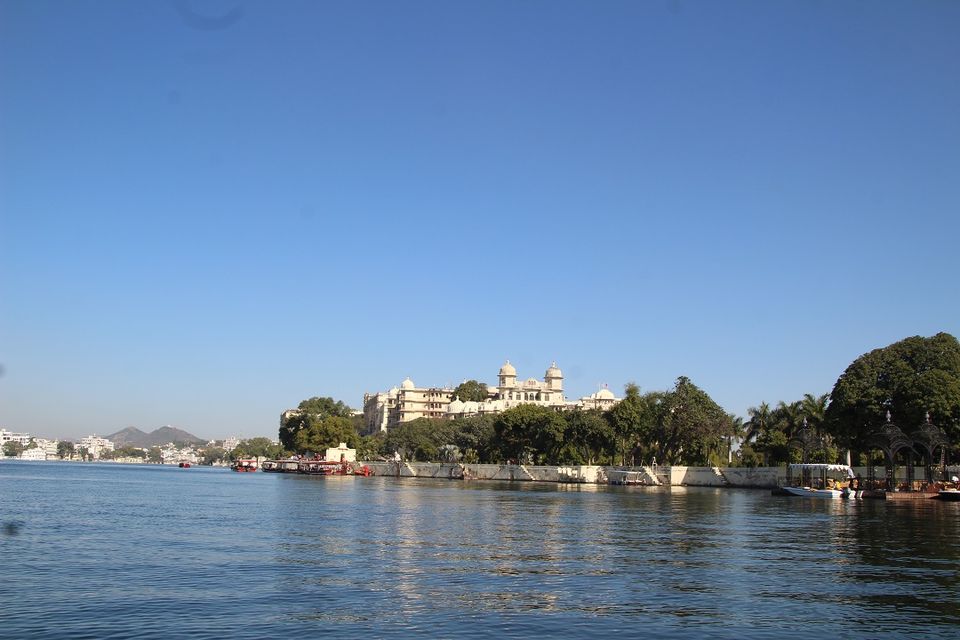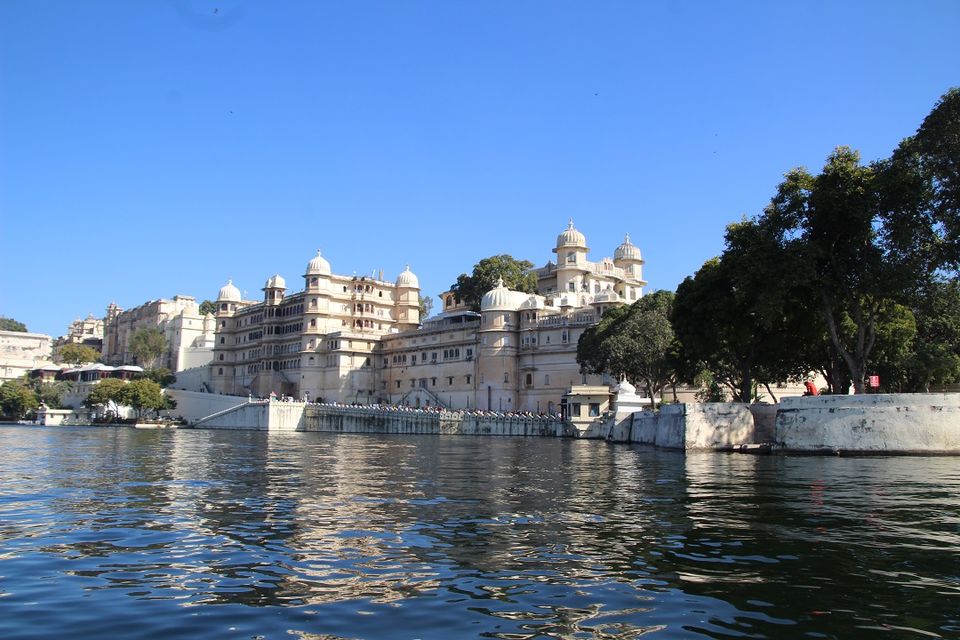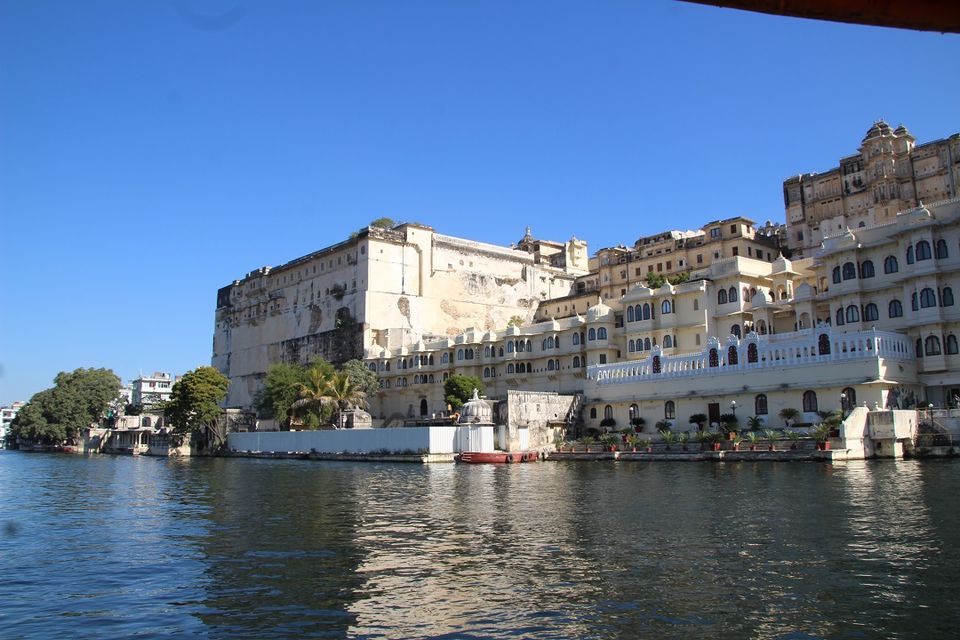 Boat ride in Lake Pichola is a must-do activity to enjoy the beauty and charm of the lake. It would be more interesting if you go for a boat ride in the evening. That's exactly what we missed yesterday. However, I and Ziva were trying to make the most out of the boat ride. She was surprised to know that there is a fully functional hotel in the Lake.
Jag Niwas is located at the center of Lake Pichola and it is home to Udaipur's famous palace known as "Lake Palace" or "Taj Palace".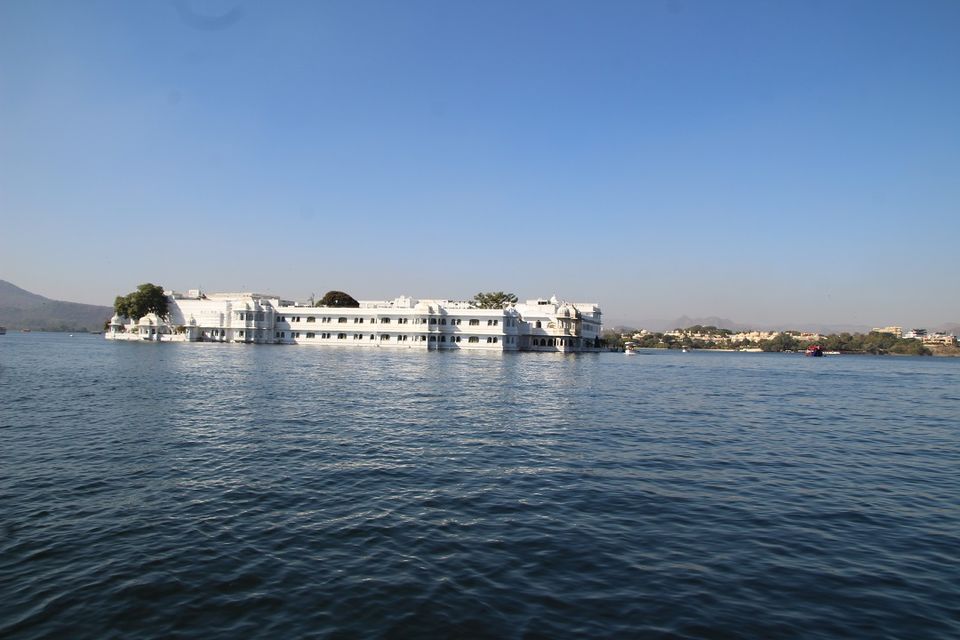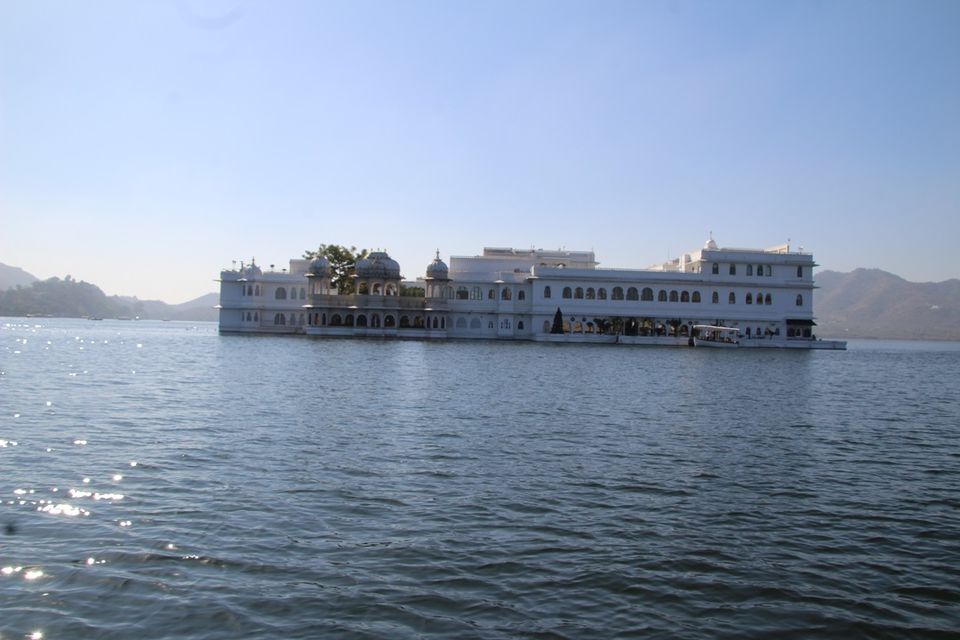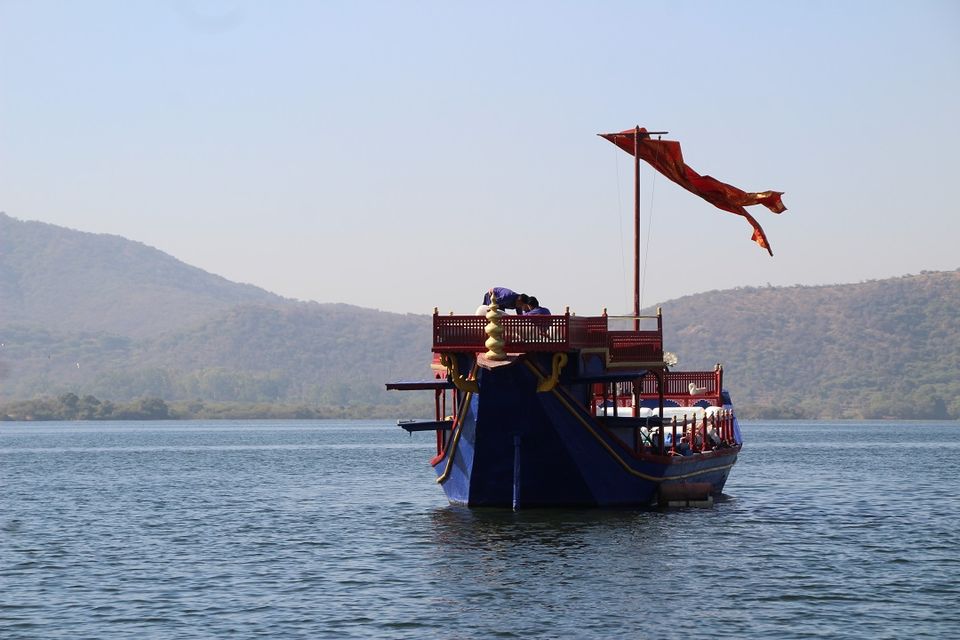 Jag Mandir is another Island in the middle of Lake Pichola and it looks like a marble floating residence. It was named after to the honor of Maharana Jagat Singh as "Jagat Mandir" and also known as "Lake Garden Palace".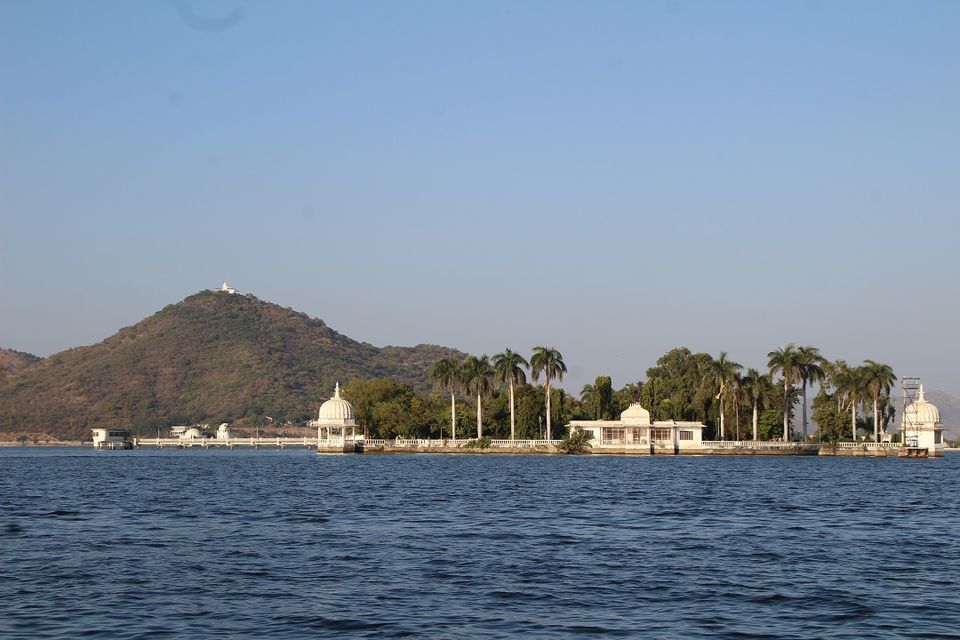 I couldn't spot the other two islands. The boat took a long circle and we cold see faraway Sajjangadh and other heritage places.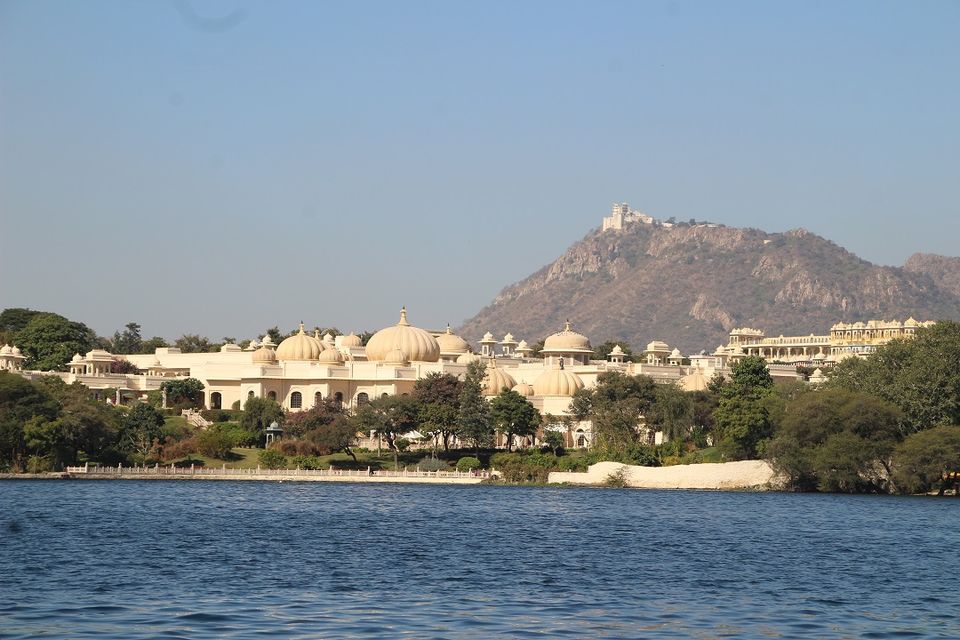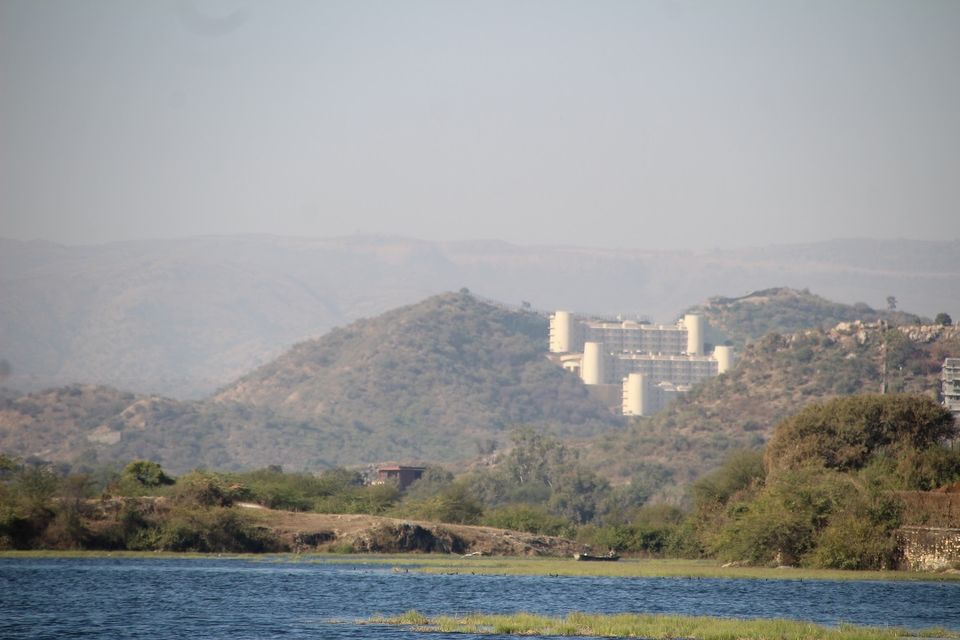 And Finally, the boat took the last turn and started approaching the source ghat, and there we got the majestic full view of City Palace.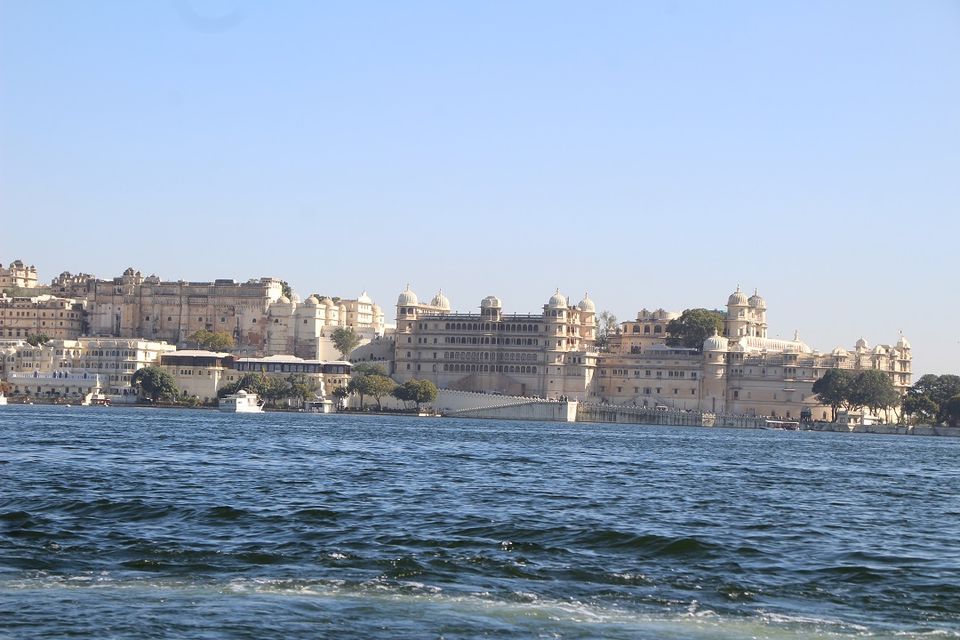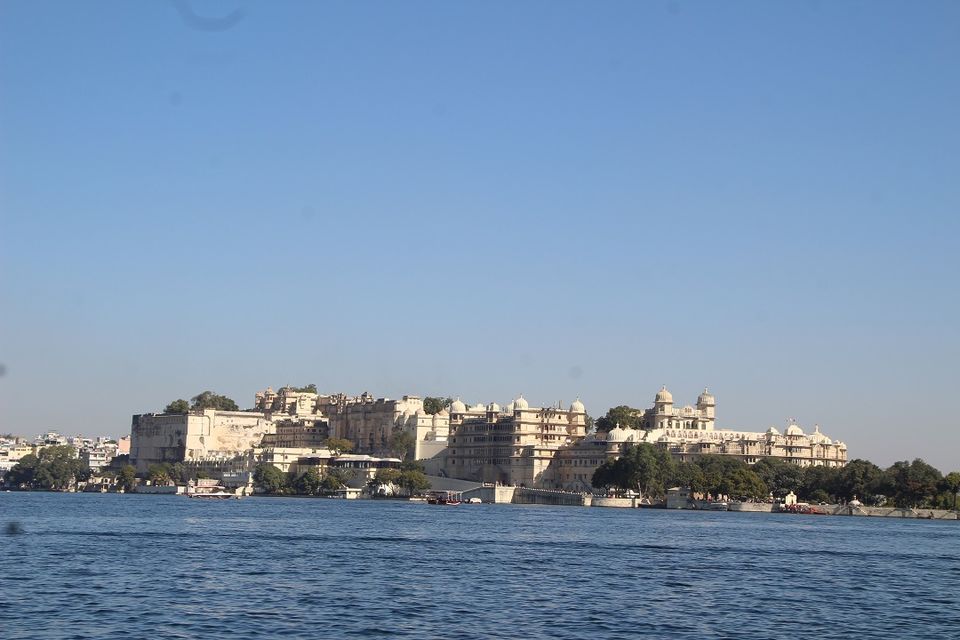 Chittorgarh.
We did boating in Lake Pichola. That was an amazing experience. There were so many sights pending, one of the major was City Palace. The city Palace was just within walking distance but I didn't want to see that majestic palace in jify. We decided to skip it and Started for Chittorgarh. The road to Chittorgarh passes through some of the remote villages of the Mewar region. The road was a state highway. There were two or three medium-sized villages apart from that there was nothing, not even any proper food joint.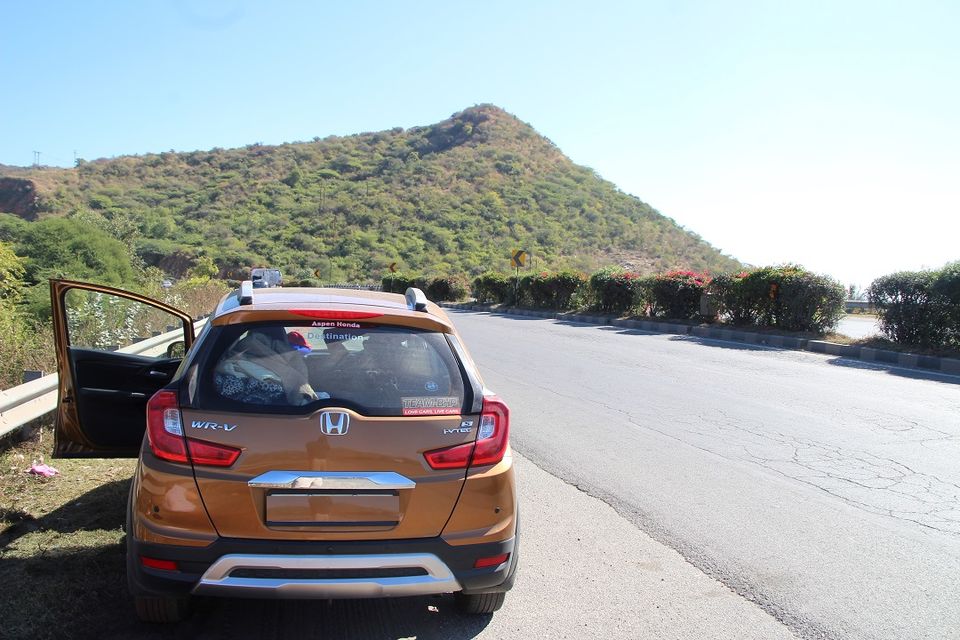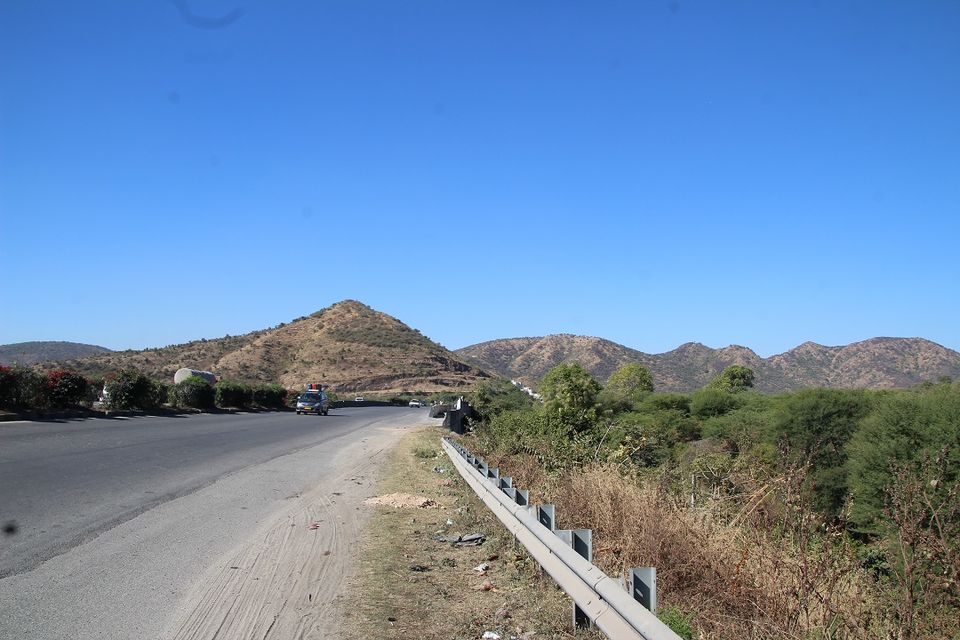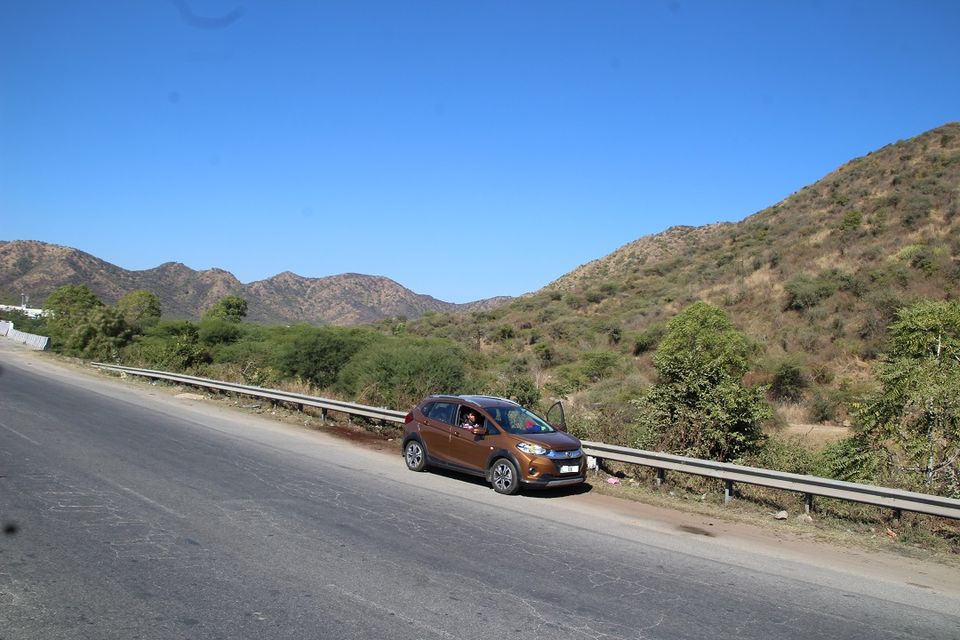 We reached Chittorgarh at 1500. We checked in at Chitrakoot Resort which was on the highway and outskirts of Chittorgarh Town. We had our food and without wasting any time immediately rushed to Chittor Fort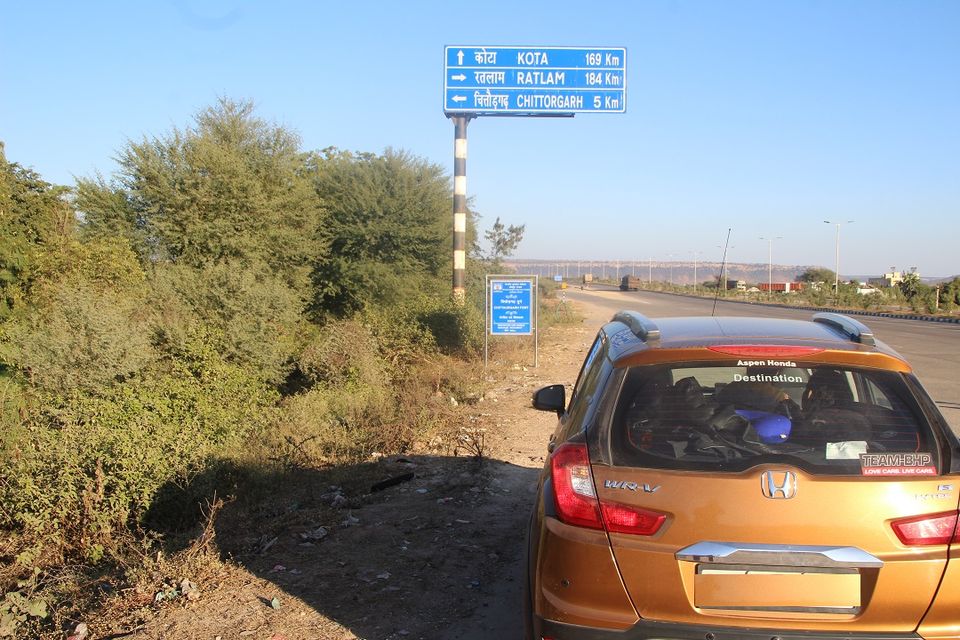 Chittorgarh Fort was previously the capital of Mewar and is now situated in the city of Chittorgarh. It is one of the largest forts in India. The Chittorgarh Fort, plainly known as Chittor is spread majestically over a hill of 590 feet in height and is spread across 692 acres of land is a fine example of the popular Rajput architecture. It is believed that the name Chittorgarh is derived from its builder Chitranga, who was the ruler of a local clan that identified themselves as Mauryas or MorisChittorgarh Fort reverberates with tales of heroism and sacrifice and displays the Rajput culture and values in the real sense. Owing to its magnificent edifice, the Chittorgarh Fort has declared a UNESCO World Heritage Site in the year 2013.
The Chittorgarh Fort is a treasure trove of history and a saga of bravery, courage, and sacrifice. It was captured three times between the 15th and 16th centuries. In 1303, Allauddin Khilji defeated Rana Ratan Singh, in 1535, Bahadur Shah defeated Bikramjeet Singh, and in 1567, Akbar defeated Maharana Udai Singh II. The Rajputs fought with bravery, yet they lost every time. Following these defeats in the wars, 'Jauhar' or mass self-immolation was committed by more than 13,000 ladies and children of the soldiers who laid their lives in the battle. It was led by Rani Padmini, wife of Rana Rattan Singh, who was killed in the first battle. The Chittorgarh Fort is a tribute to nationalism and sacrifice.
If you travel to any of the famous tourist cities like Udaipur, Jaipur, Jodhpur, Jaisalmer, etc. by out of state vehicles, some locals will follow you by motorcycles. They are guides who want to reach you and offer their services before entering the fort. We hired one of them, who got in our car.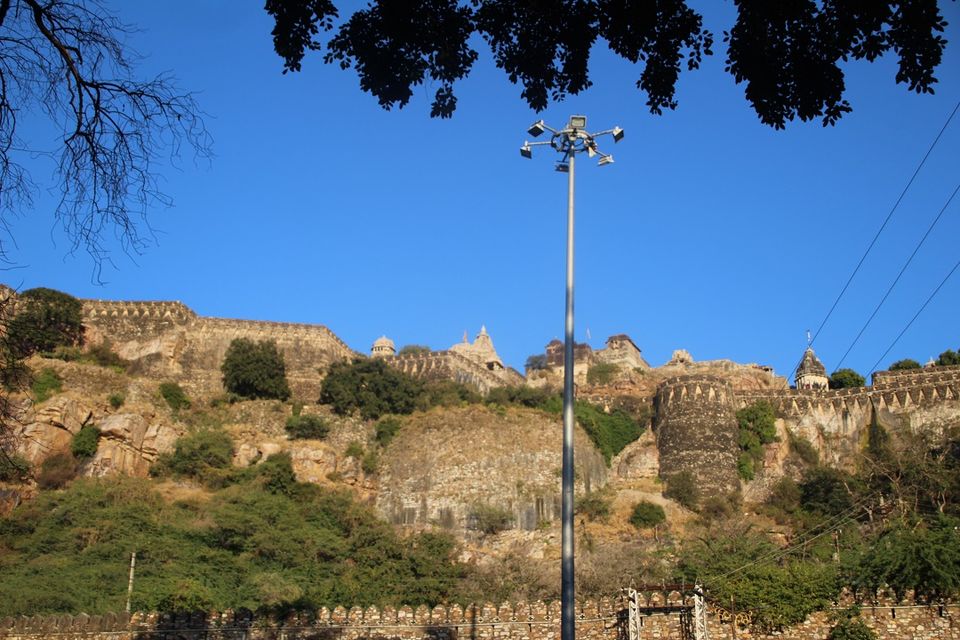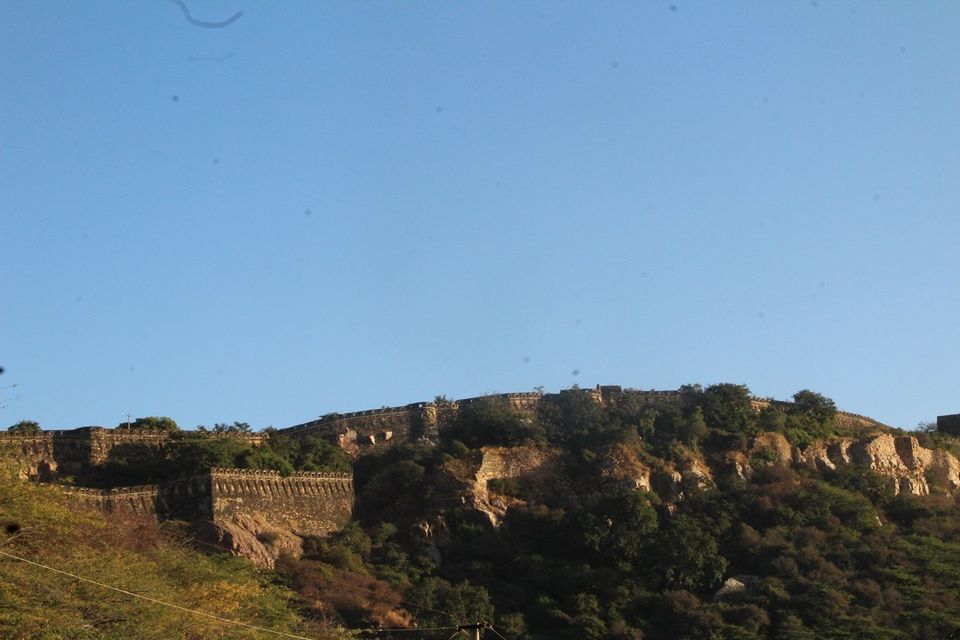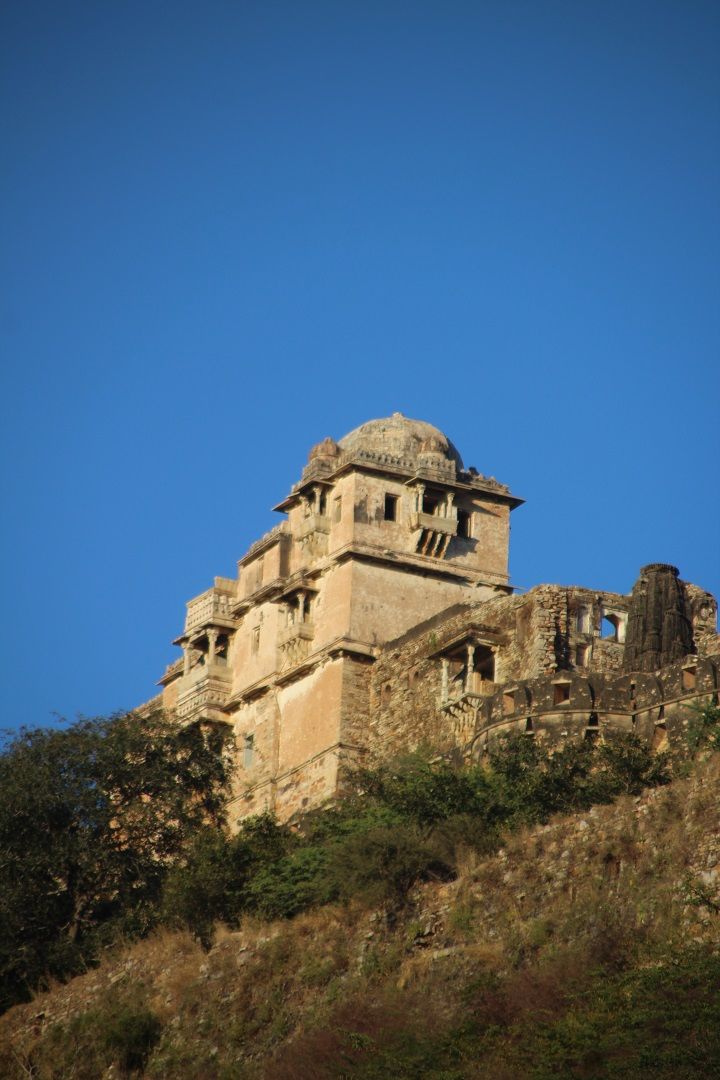 There is a long road of 1 km that leads to the Chittorgarh Fort and is quite steep. The imposing structure of the fort has many gateways. We stopped at some of the gates and clicked. However, it was a narrow road, our car used to block the road.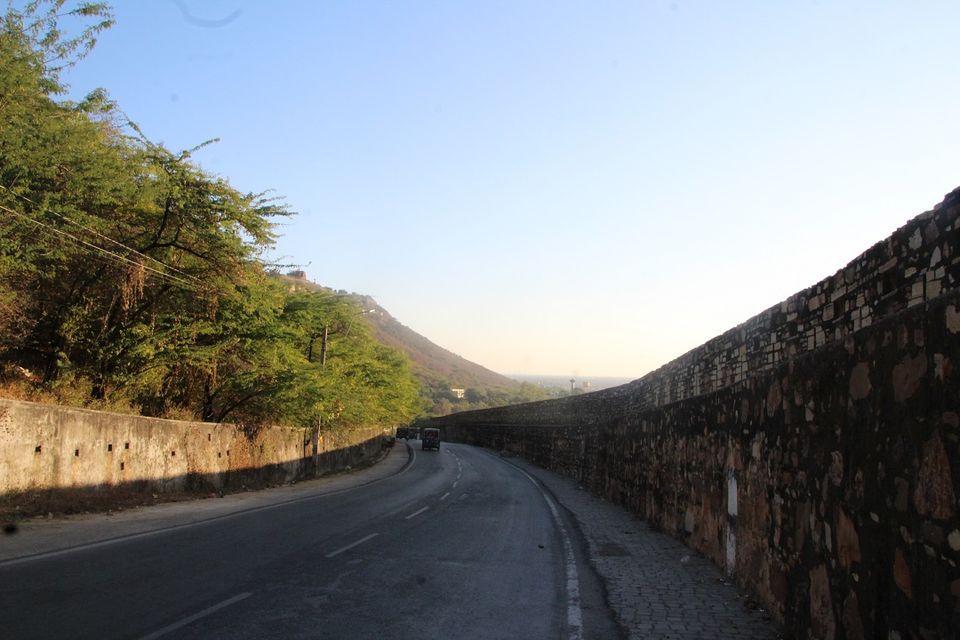 There were many gates. All of them called "Pole " and had different names like "Ram Pole", "Hanuman Pole". Our guide remembered all the names of the gates and kept explaining the name and structure of Fort. Chittorgarh Fort is also called the Water Fort as it had 84 water bodies once, but now there are only 22 of them left.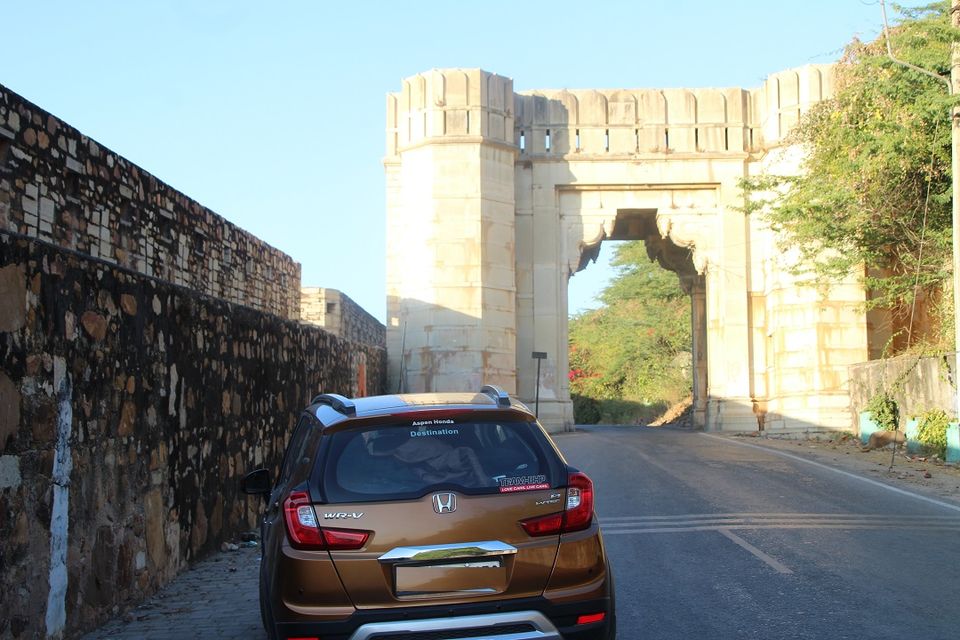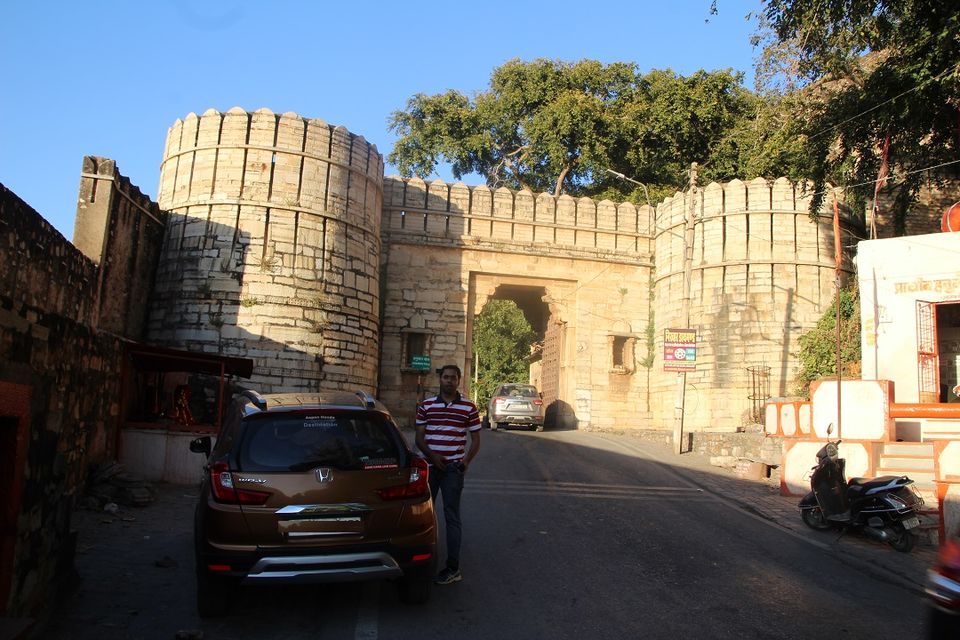 The two major attractions of the fort are the towers Vijay Stambh and Kirti Stambh. Vijay Stambh refers to the tower of victory and the Kirti Stambh means tower of fame.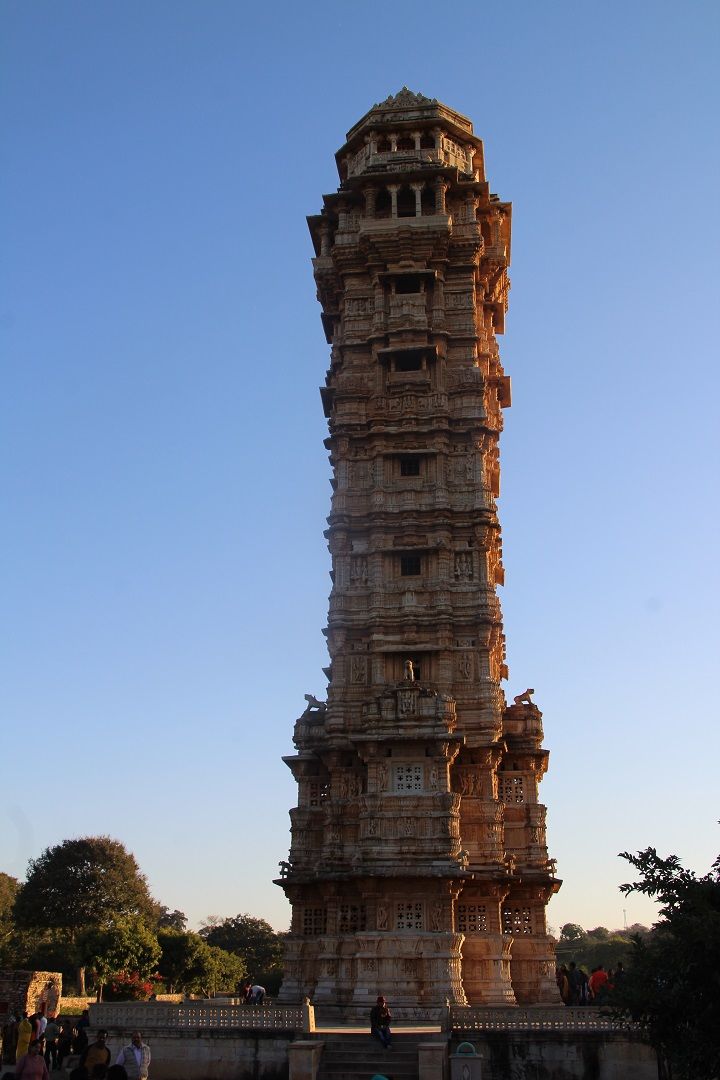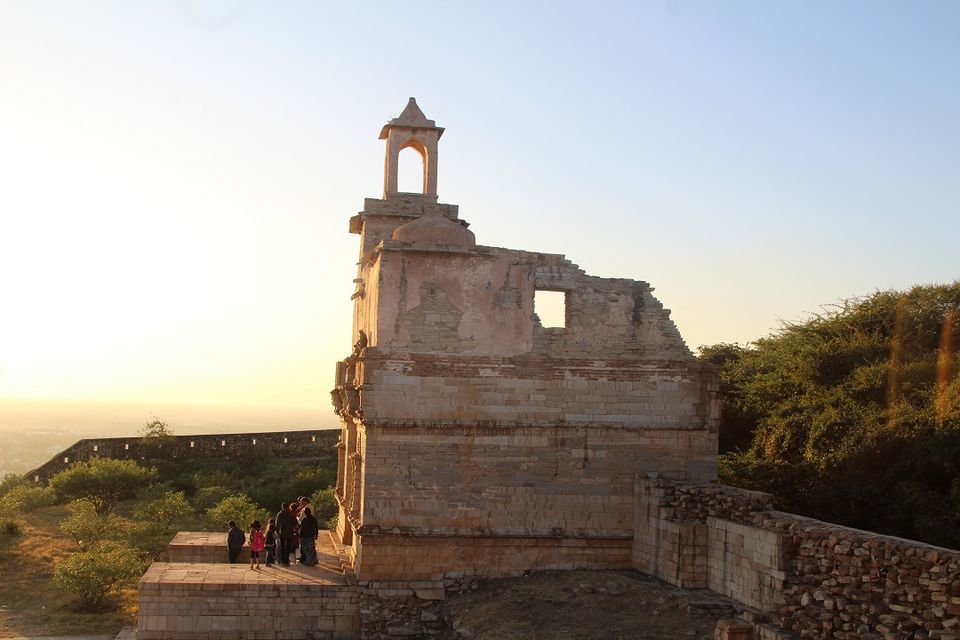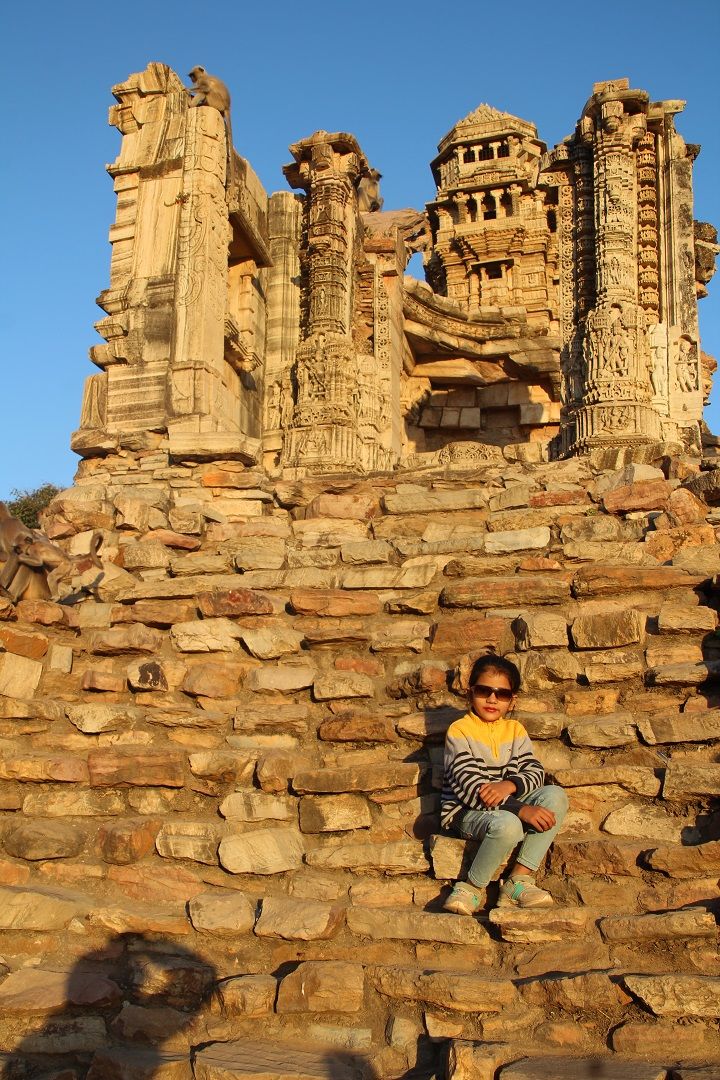 Our guide was instrumental in understanding the history of the fort itself and that of Rajasthan and its princely forces back in the time. He explained all the monuments as fast as possible. Every temple and every monument has some story.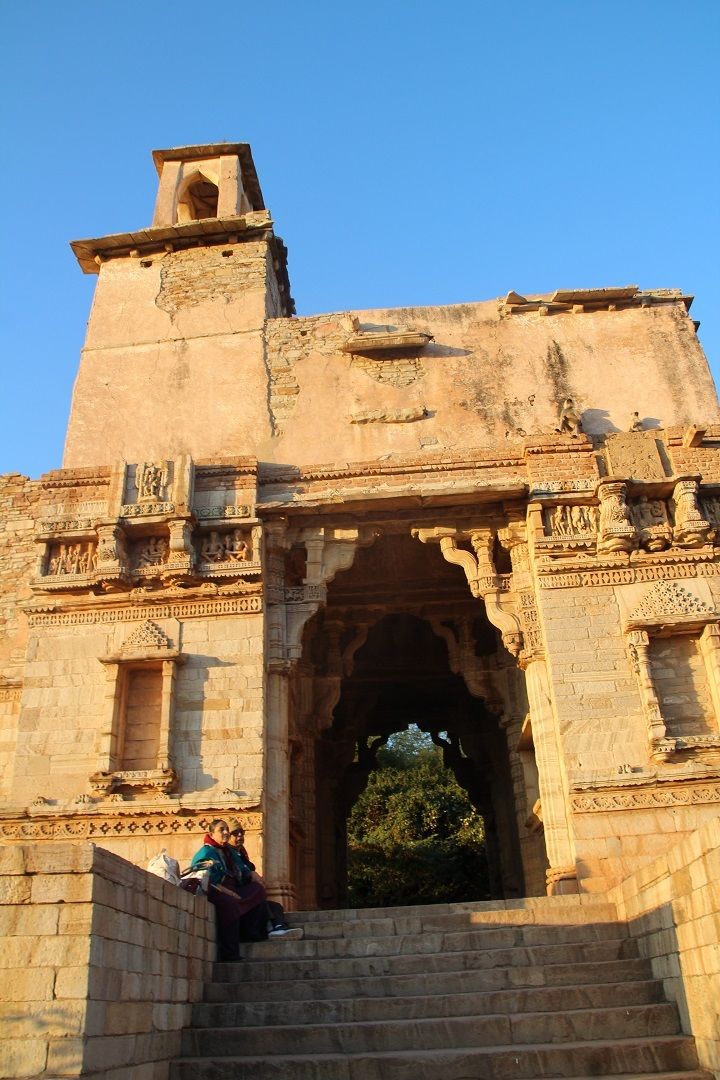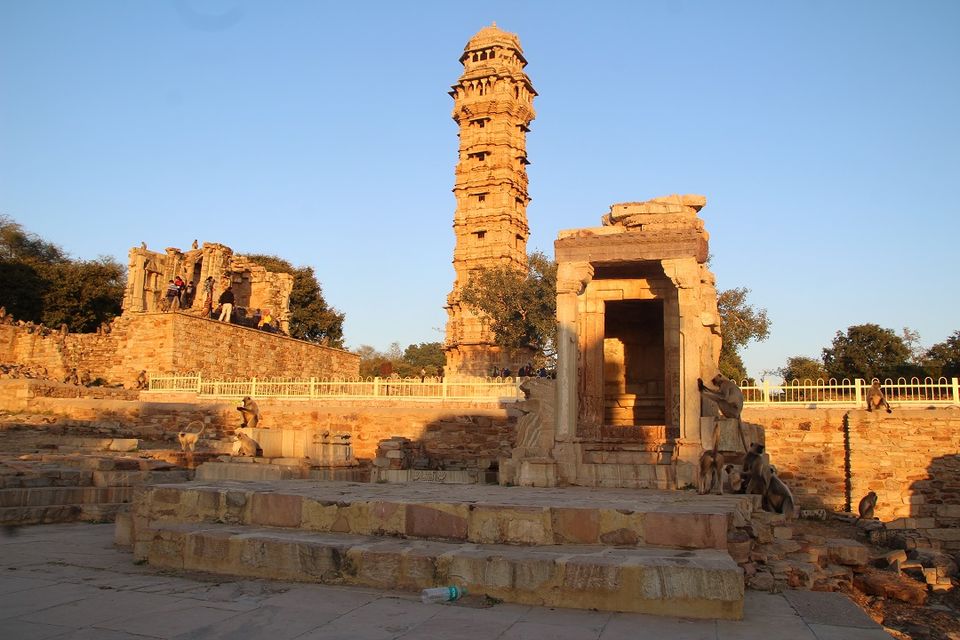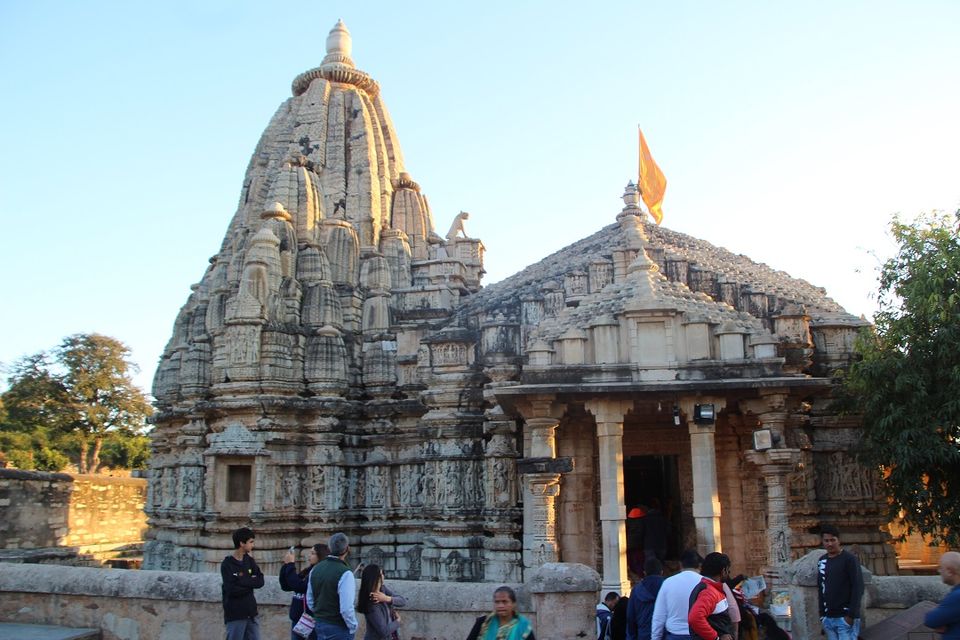 And here comes the flagship photo of Chittor Fort. Google Chittor Fort and you would get this image.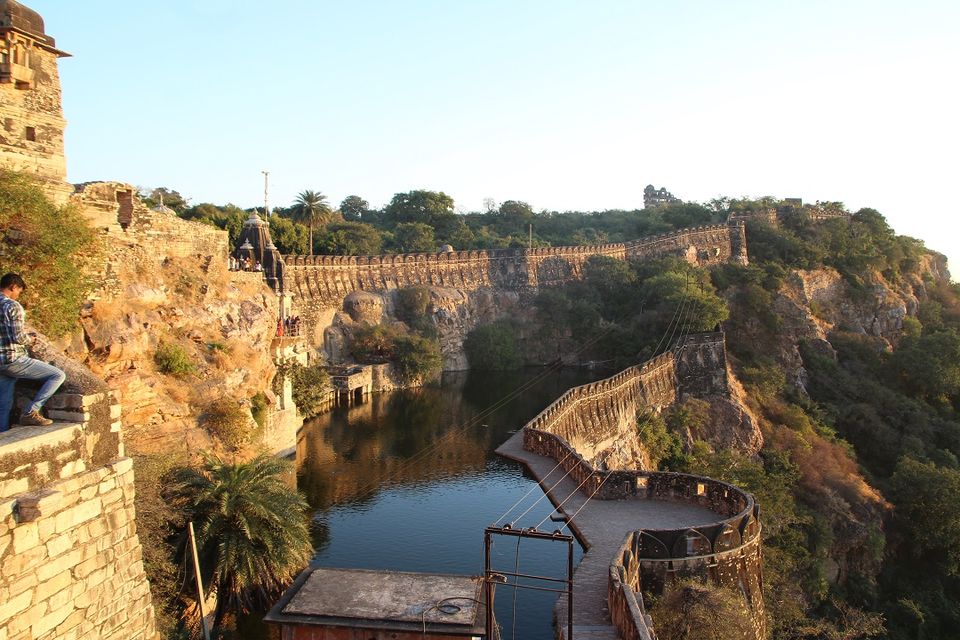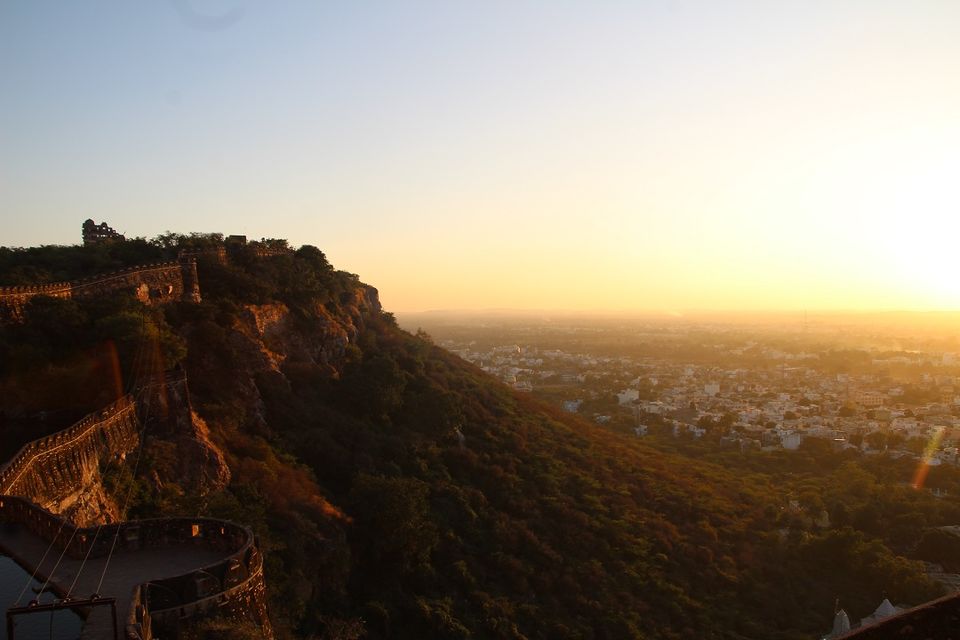 As per the guide, every small temple represents some Sati. These temples were damaged by Allaudin Khilji due to frustration.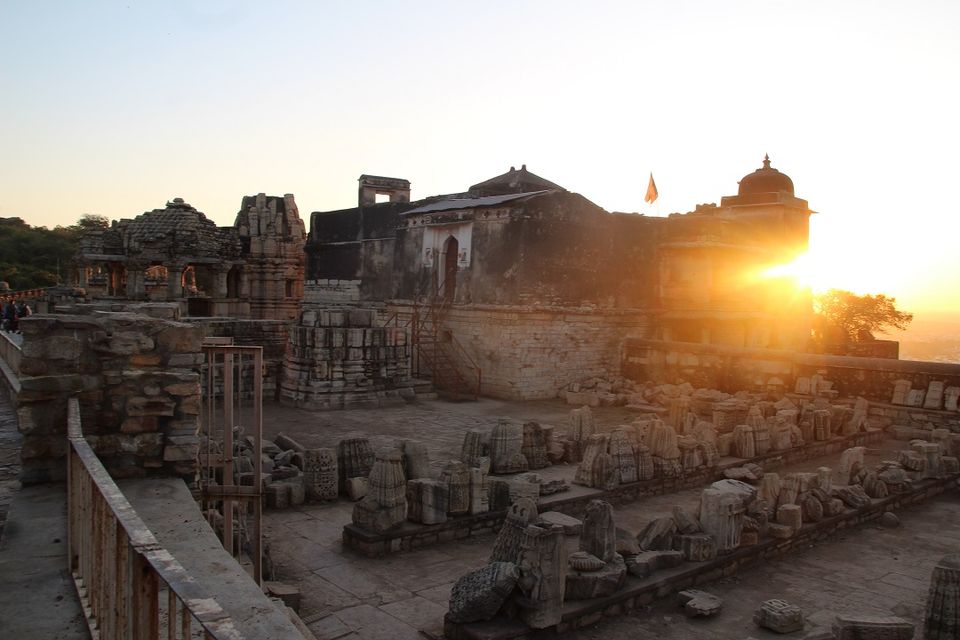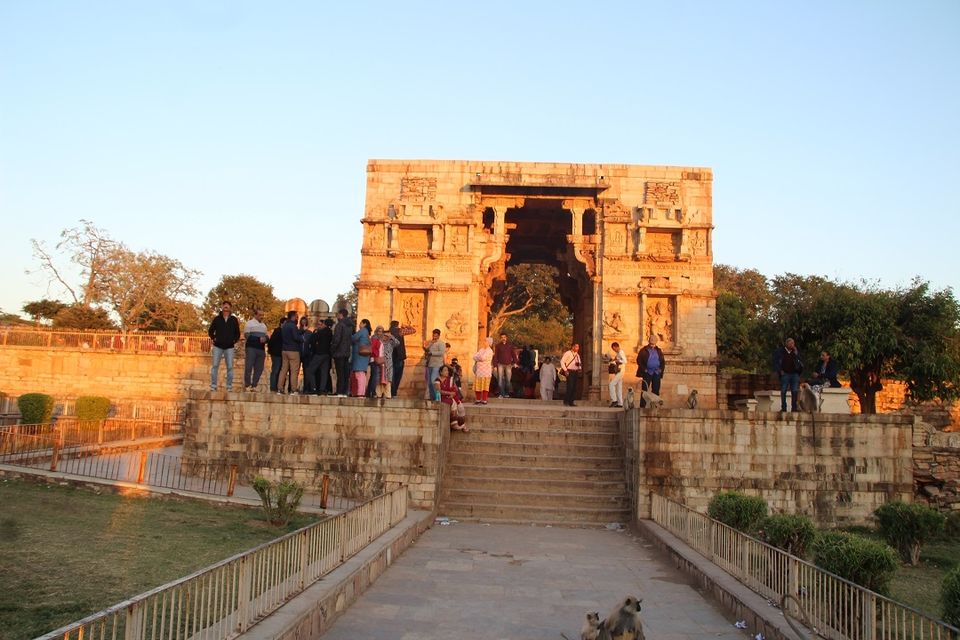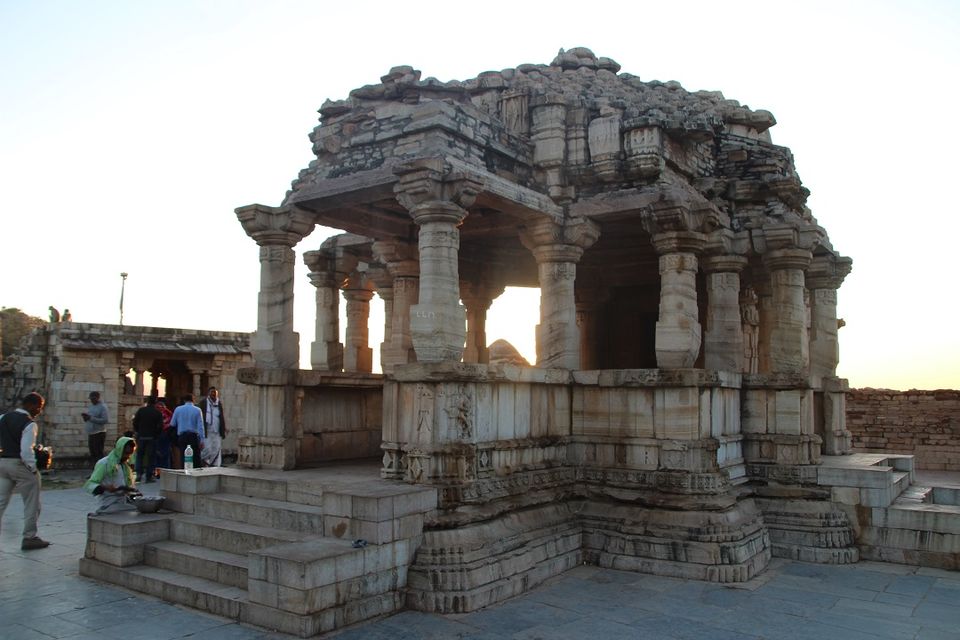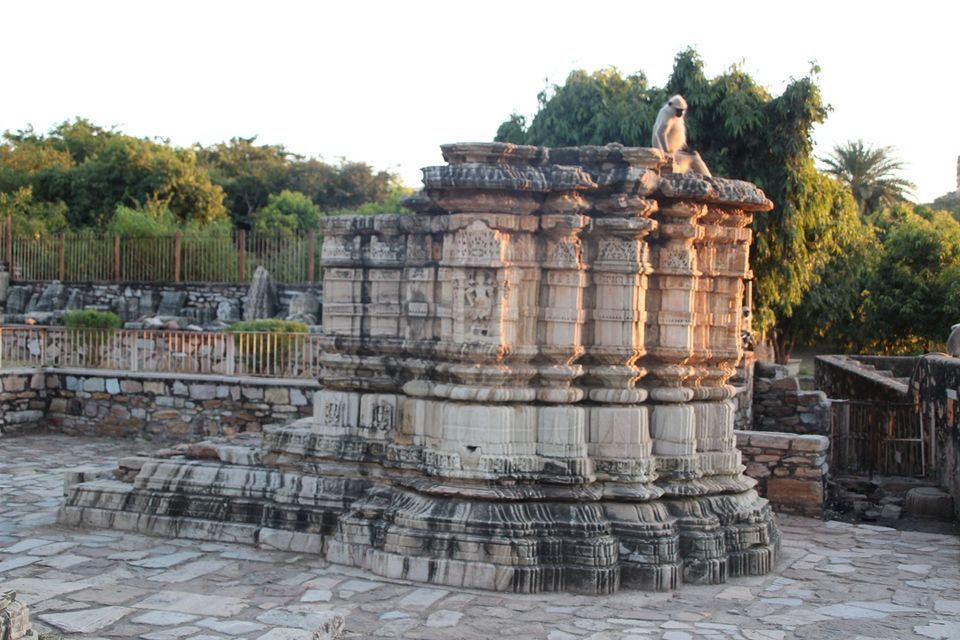 Our guide was good, he was telling the story and also giving time to click around. Even Ziva was listening to the story and was ready with too many questions. The fort campus was full of monkeys. Ziva loved watching baby monkey playing and jumping around.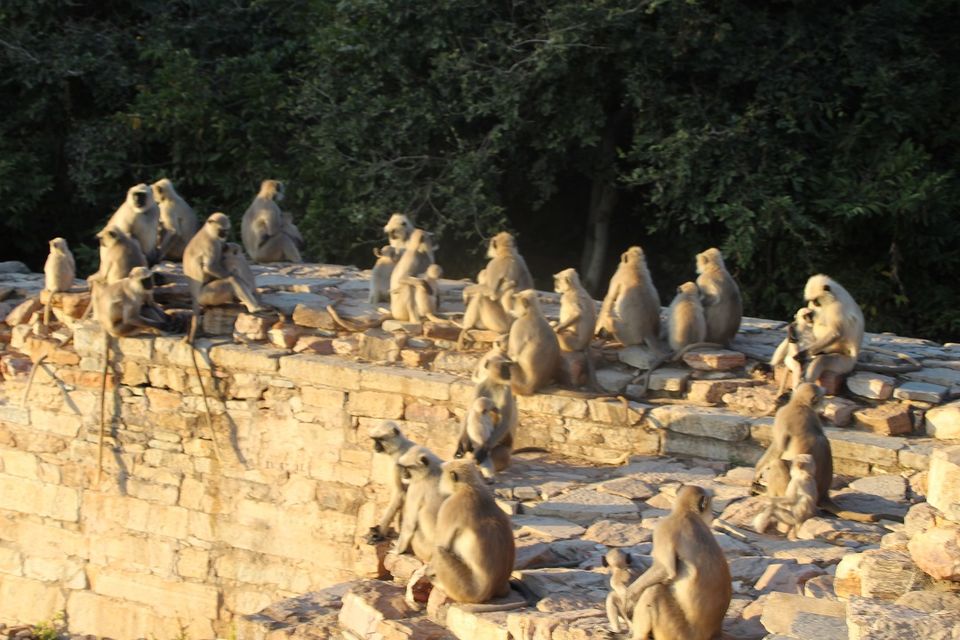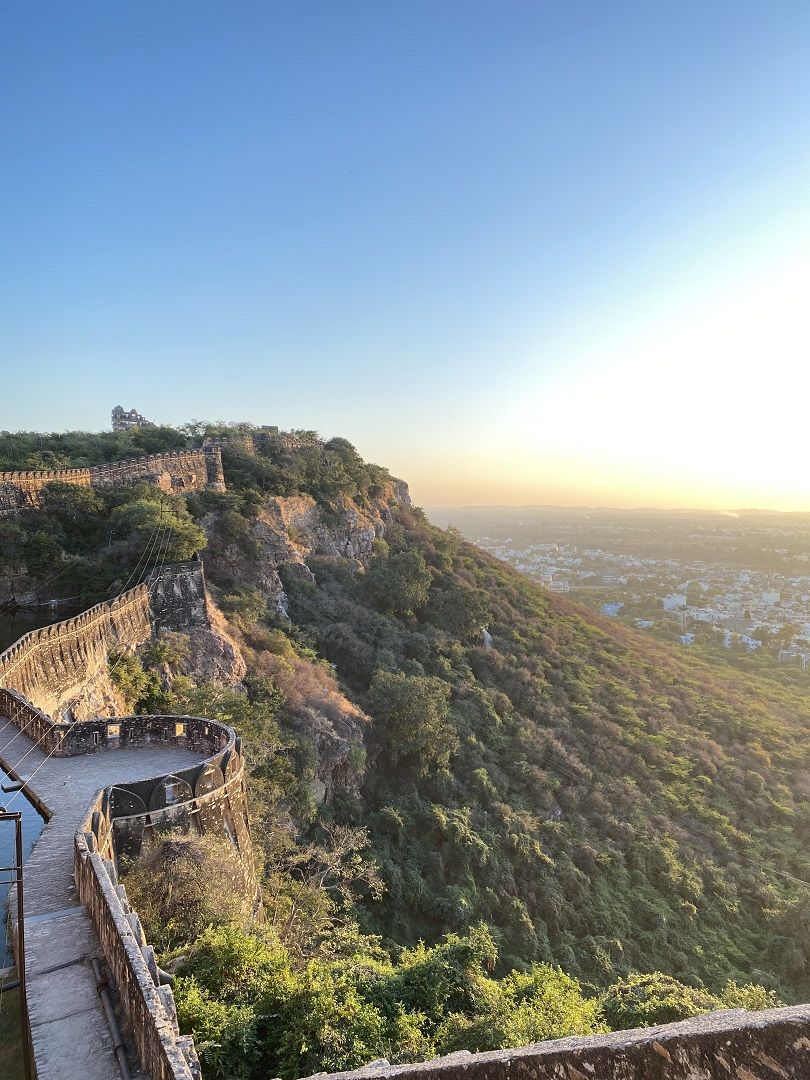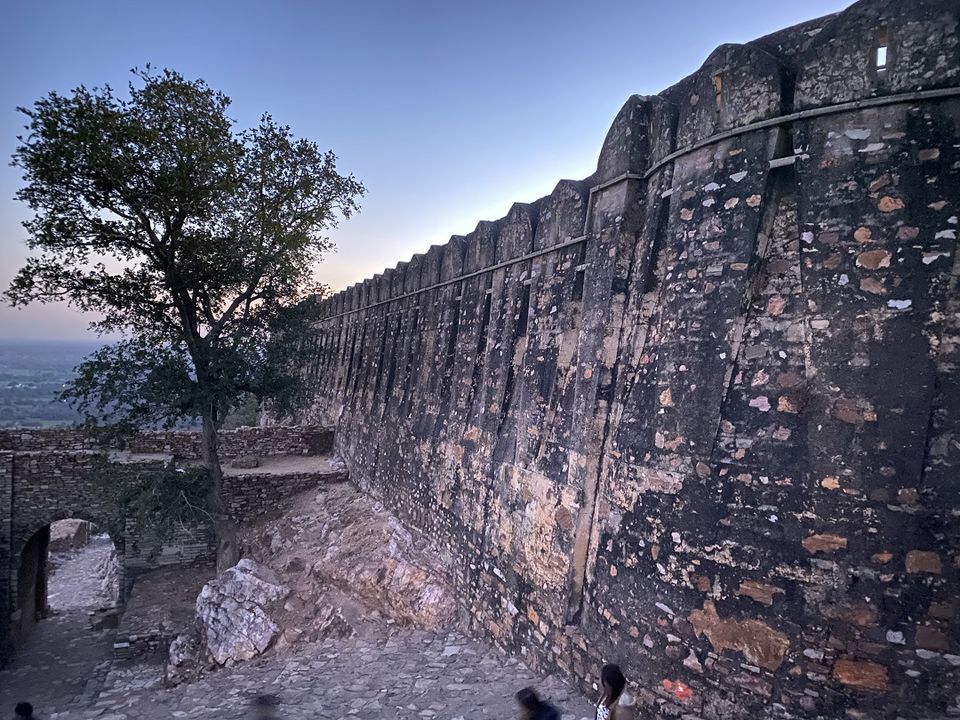 The legend of Chittor comes to life in mystical forms conjured out of light and sound and is a great way to learn more about the fort. The timings for the Light and Sound Show is from 7:00 PM onwards.
We asked our guide to take us to the Sound and Light show ticket window. When we reached there, we came to know that there is a special show organized for the "Palace on Wheel" tourists. The common people would be accommodated in another show, which was at 0845.
It was already dark and cold. Ziva was hungry. Keeping all these factors in mind we dropped the idea of The Sound and Light show.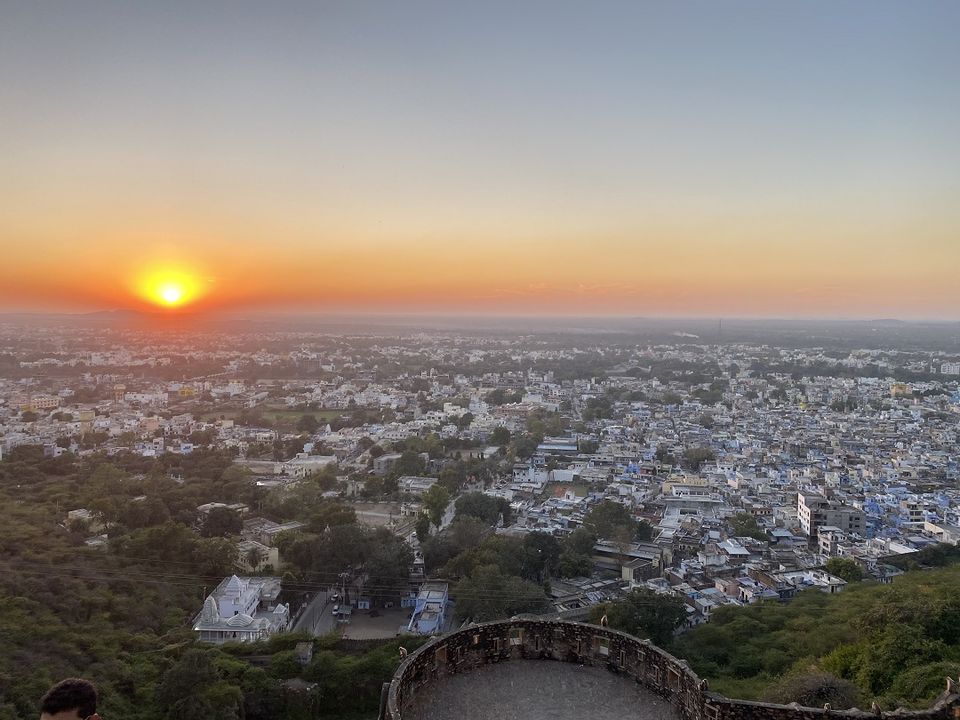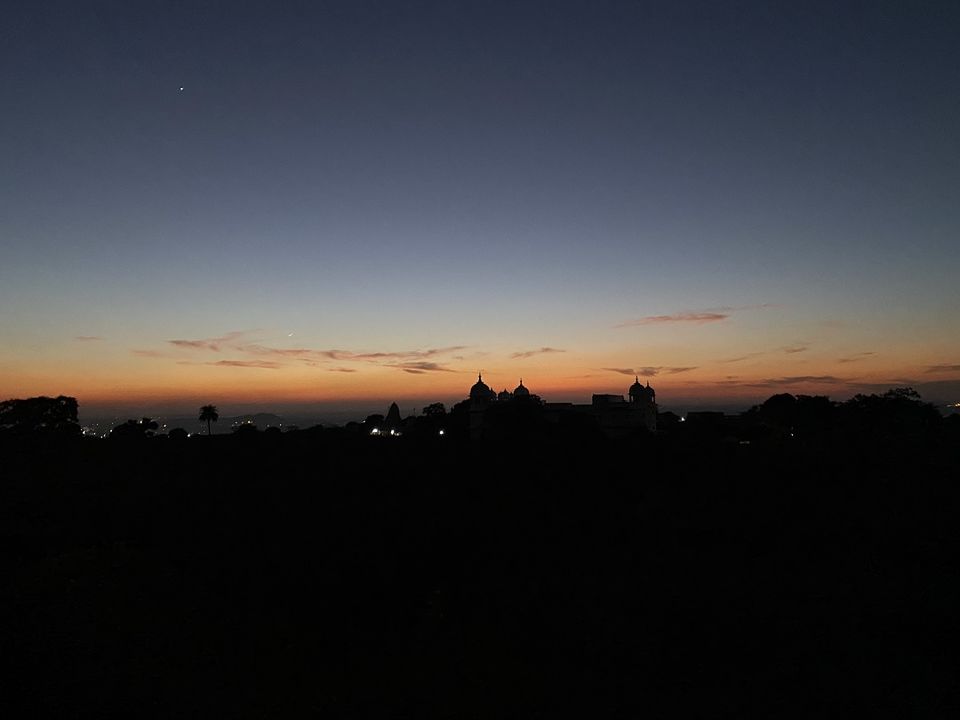 We got down from the fort and spent some time in the local market. It was getting colder and colder. We used the car heater to warm us up and rushed to our hotel. The hotel manager came to meet us and asked that, would we interested in having specially made Dalbati Dish? I said yes. Moreover, I requested to arrange a campfire to tackle the cold. After a while, we came out of our room and made ourselves comfortable with fire.
After an hour, the manager told us that our Dalbati dish was ready. I am a fan of Dalbati. But in here, it was not only Dalbati but there were many different kinds of items. I knew how to eat Dalbati. However, I was clueless about how to eat other things like other "Shabji" with Dalbati without Roti. It was amazing, all the items were tasty. We loved our dinner.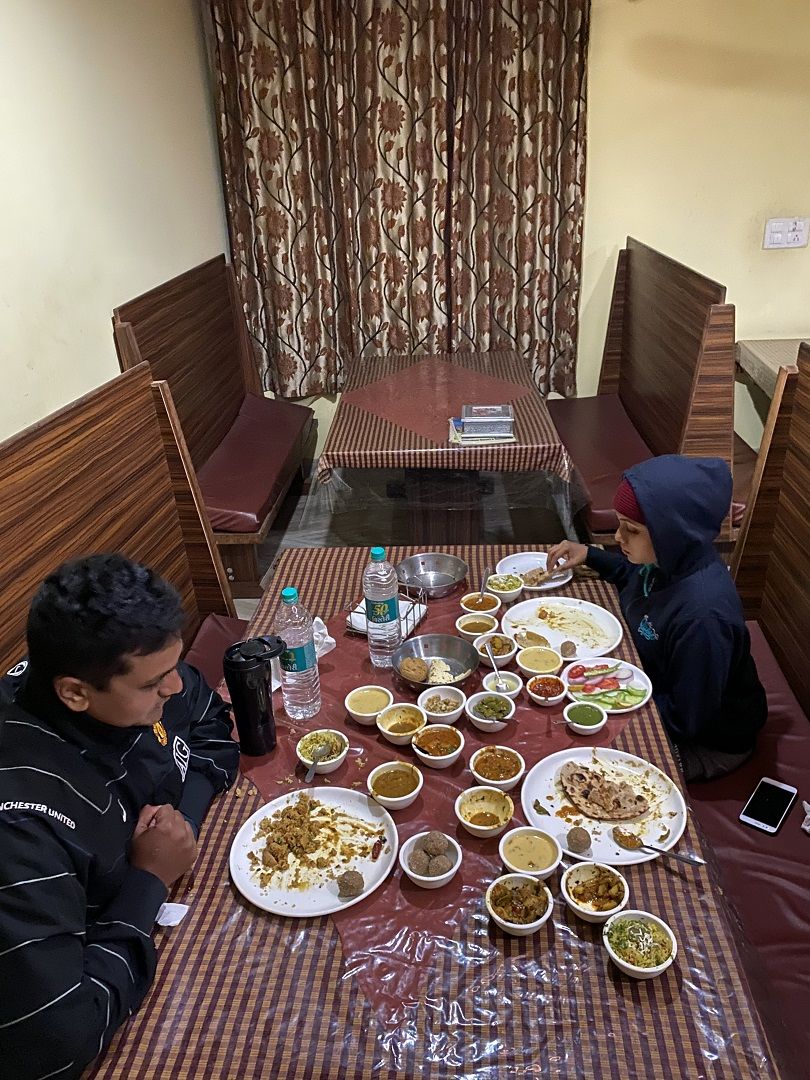 Day 3: Chittorgarh to KumbhalGarh
Night at Chittorgarh was very cold. As per official sources, the mercury dropped to 1.4 c at night in Chittorgarh. In fact, during that Night Chittorgarh was coldest City/town in Rajasthan.
We woke up at 0700, freshen u and checked out. There was a thin layer of ice on our car. Ziva got excited after seeing it.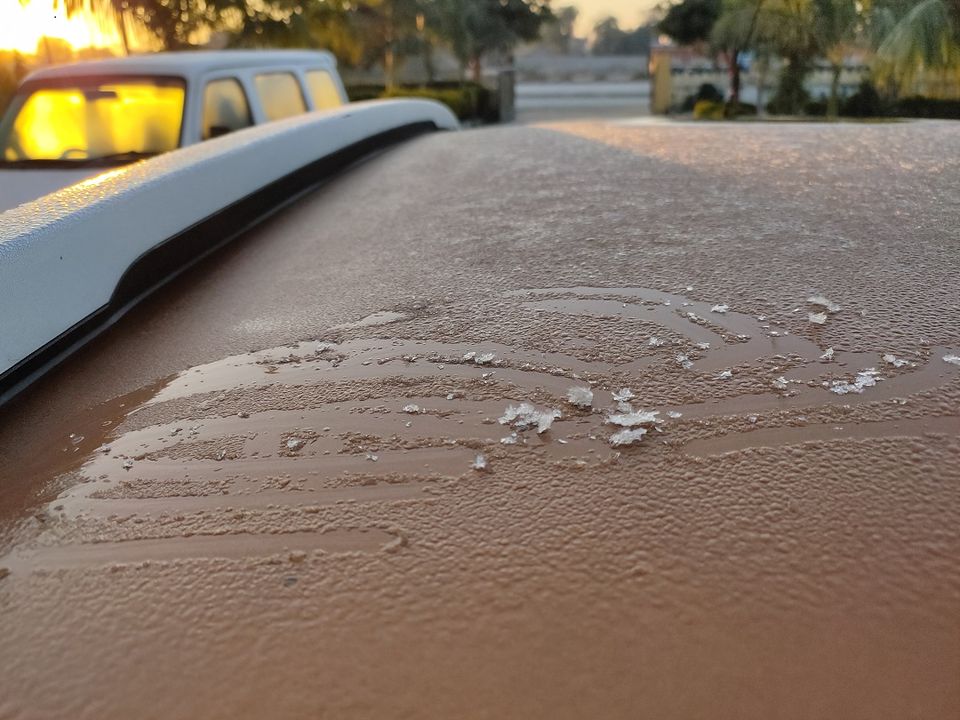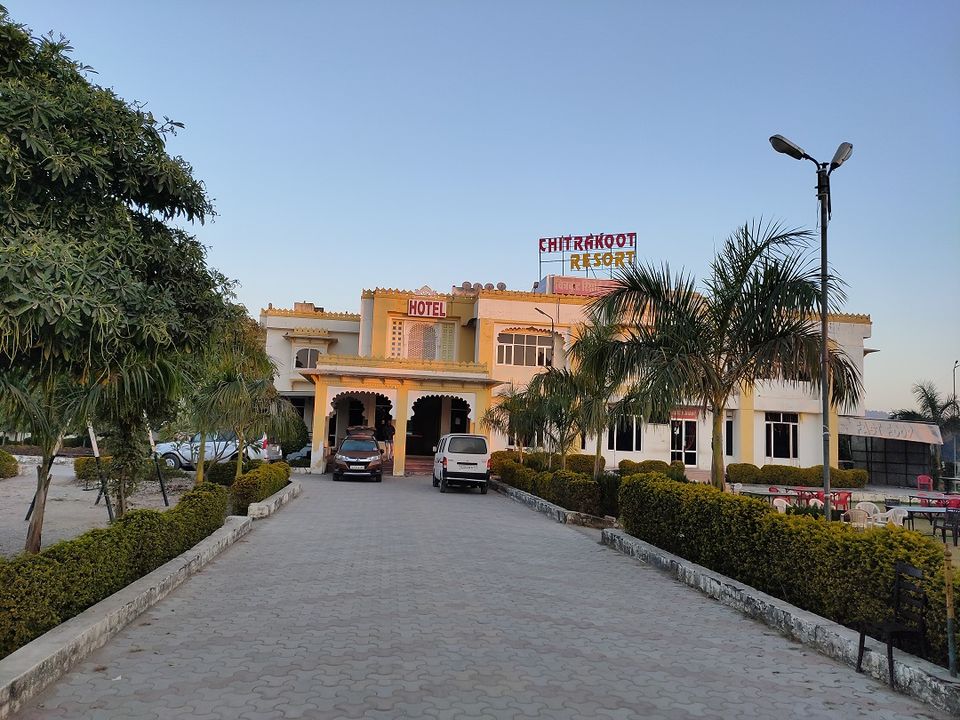 Chittorgarh to Kumbhalgarh is 170 km. Roads pass through well-known Nathdwara( Shrinathji). Practically, Kumbhalgarh is a remote place in the Rajsamad district. We started early from Chittorgarh. We reached Rajsamad and had breakfast and carried on to Kumbhalgarh.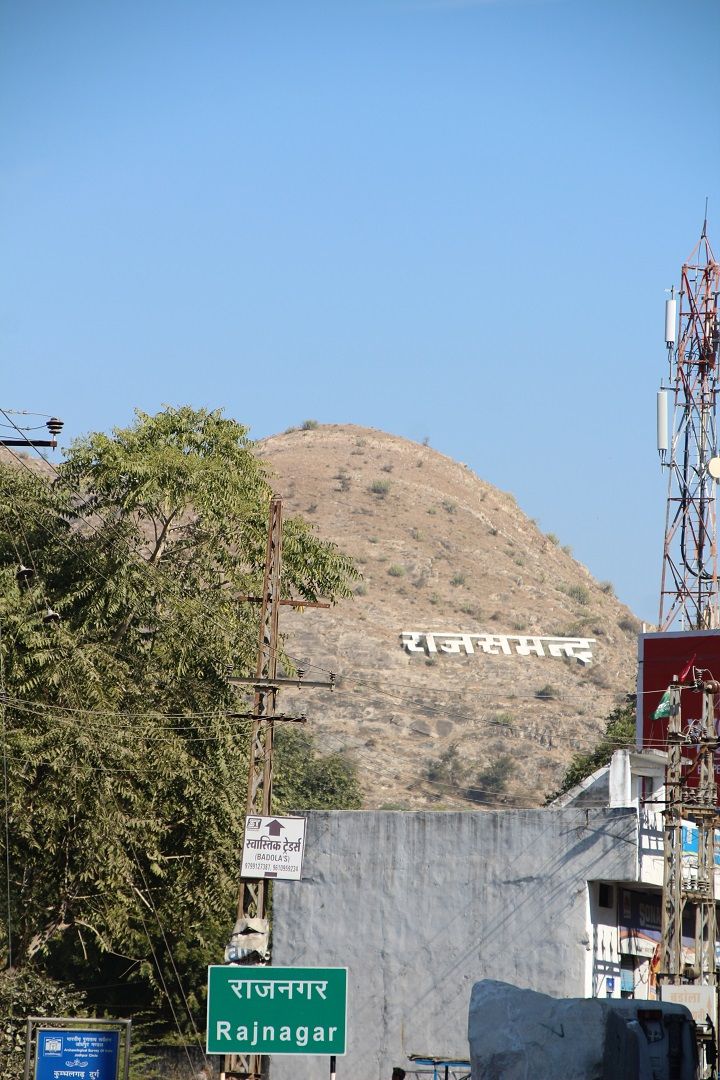 At Rajsamad, during breakfast, I called our hotel which we booked by OYO. It was a Capital O property. I called them up just to confirm our arrival. They flatly said that they have stopped taking bookings from OYO. In fact, they don't have any tie-up with OYO from the last eight months. That was shocking. I asked about our payment. They simply told us that you paid to OYO, go and ask to OYO.
We were in a vehicle just one and a half hours away from the destination and the hotel at the destination was refusing to entertain our booking. We called up OYO. They provided us with alternative options. All of them were third-class properties. We selected one of their options. OYO asked us to pay by cash at arrival.
We put the OYO episode behind and kept moving.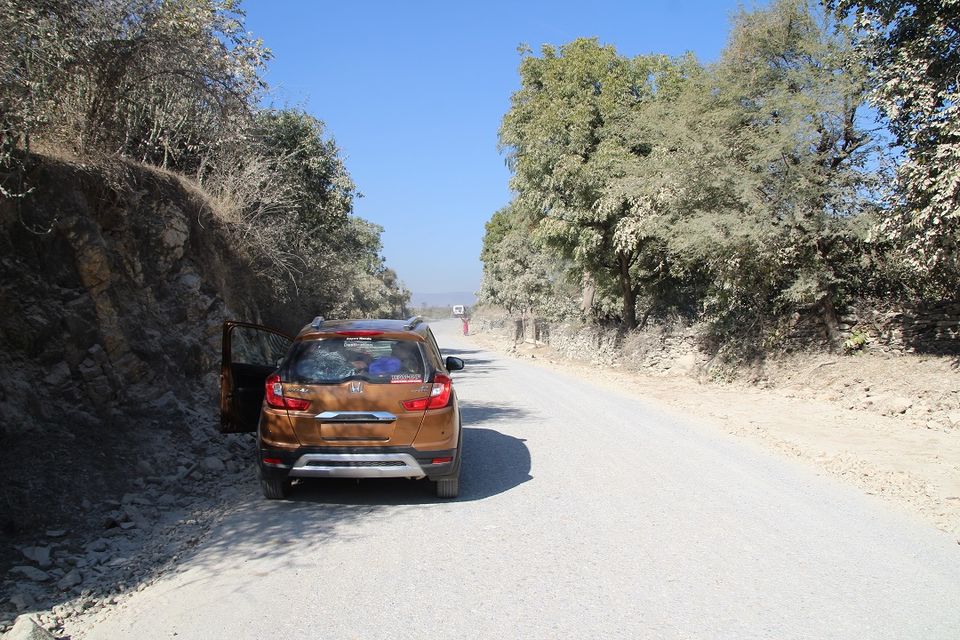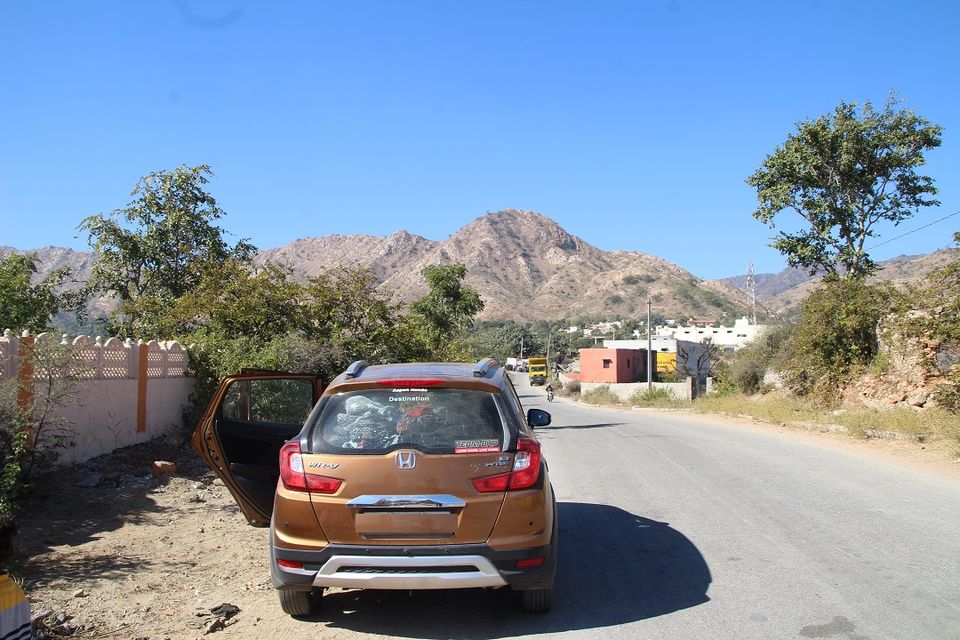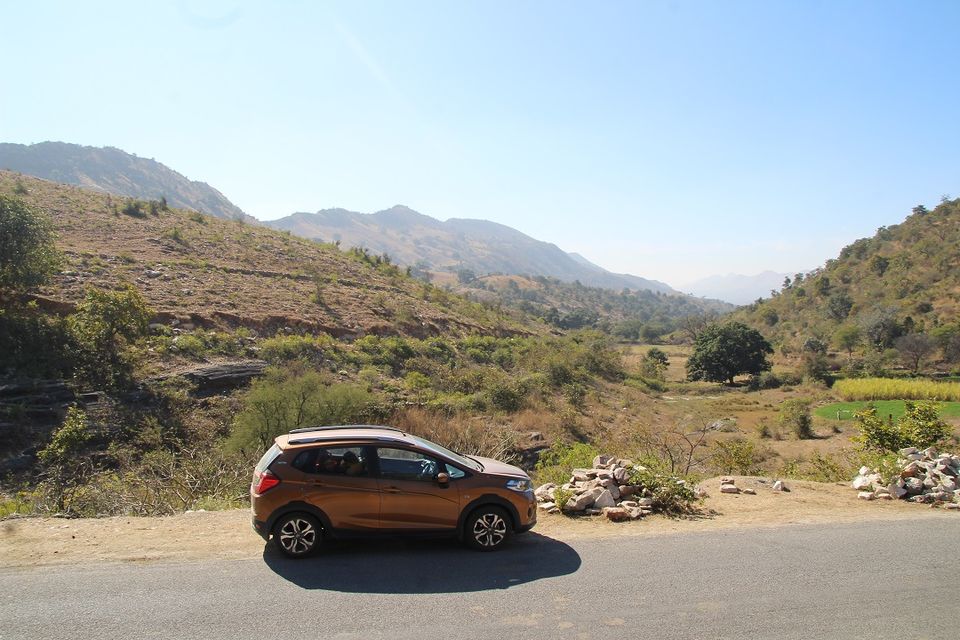 We reached Hotel Dollar Villa at 1330. They asked us to pay the cash before anything. The owner was blunt and rude enough to say that they ask to pay money before check-in to all the OYO customers. We paid and checked in. There was no hot water, no drinking water. I literally had to fight with the owner to provide us with bucket hot water.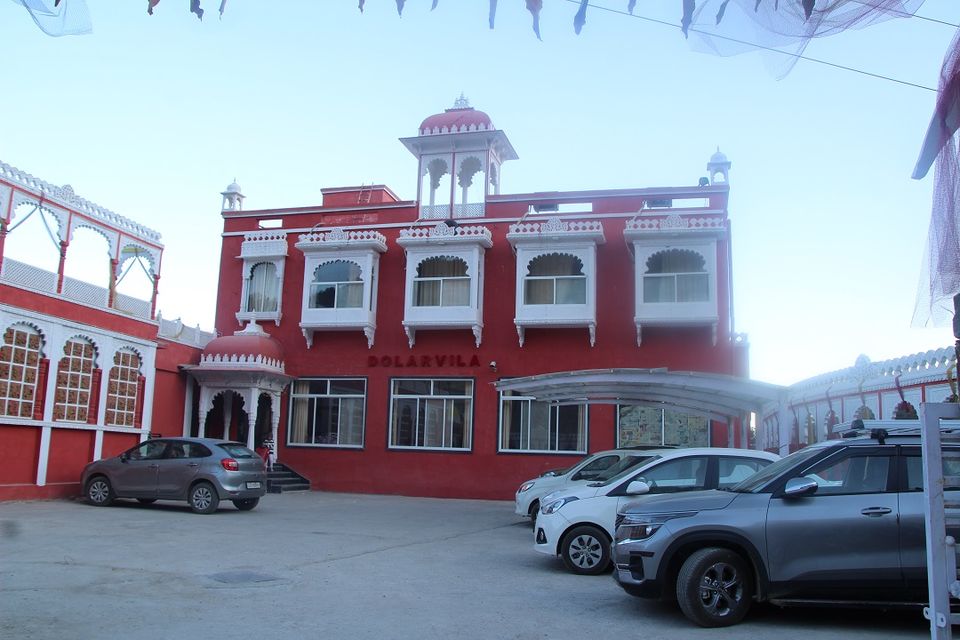 I stayed in some of the cheapest and budget hotels. However, this was the worst experience I ever had at any hotel in my life. This was all because of trusting a so-called start-up named OYO.
We got freshen up, had some food at a nearby hotel and headed to see Kumbhalgarh Fort.
KumbhalGarh Fort.
The Kumbhalgarh region is renowned for its majestic monuments, extravagant palaces, an array of temples and flamboyant chattris. The Kumbhalgarh Fort is the second most important fort of Rajasthan and is a truly magnificent sight. The charming location of the fort at the foothills of pebbly Aravalli hills increases the overall appeal of the place.
The foundation of the town is believed to have been laid by Rana Kumbha- the king of Mewar. The fort housed and gave refuge to Mewar rulers in their times of strife. The fort remained impregnable to various invasions and forces and only collapsed once due to a shortage of drinking water within the premises. Kumbhalgarh is also the birthplace of Maharana Pratap. Other than the fort, the descendants of the Mauryan empire built quite a few beautiful temples which add to the popularity of the city. Maharana Fateh Singh renovated the fort in the 19th century, and since then it has been a popular tourist destination in the world.
We were told that finding parking is going to be a tough job at Kumbhalgarh. We drove to Kumbhaogarh the road passes through Kumbhalgarh Wildlife Sanctuary. However, any kind of spotting was not possible due to too many movements of vehicles.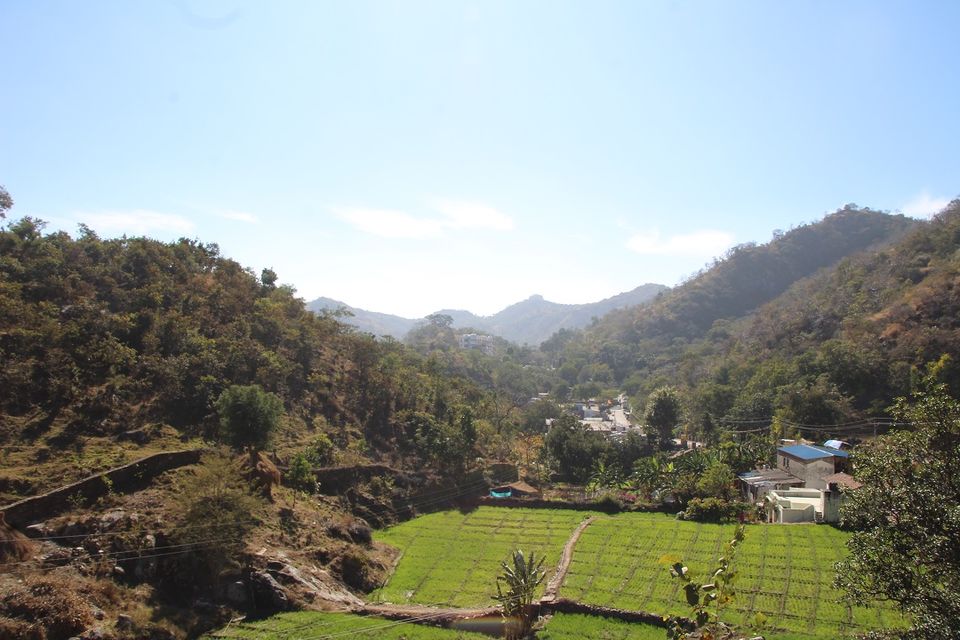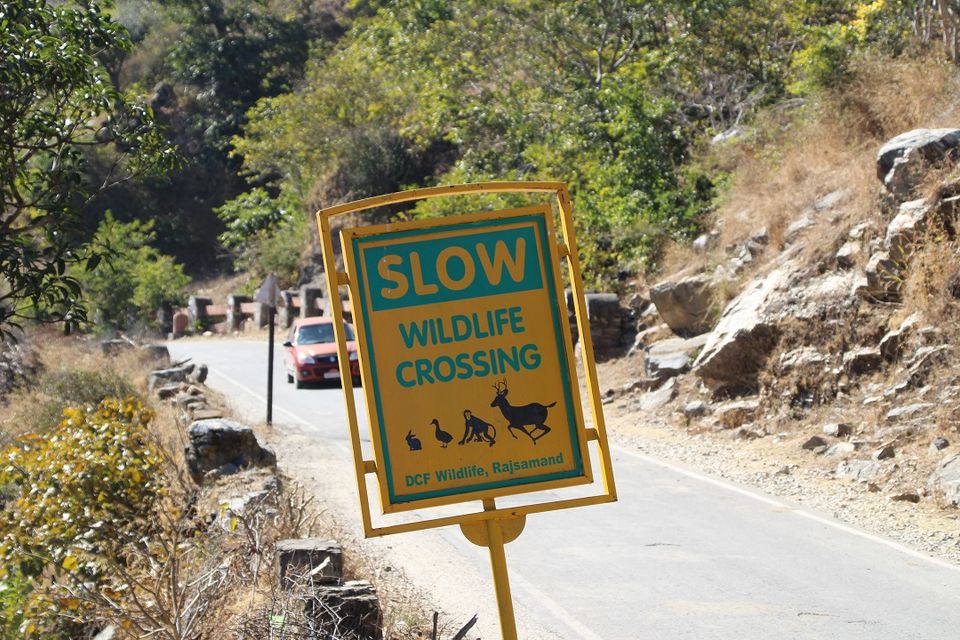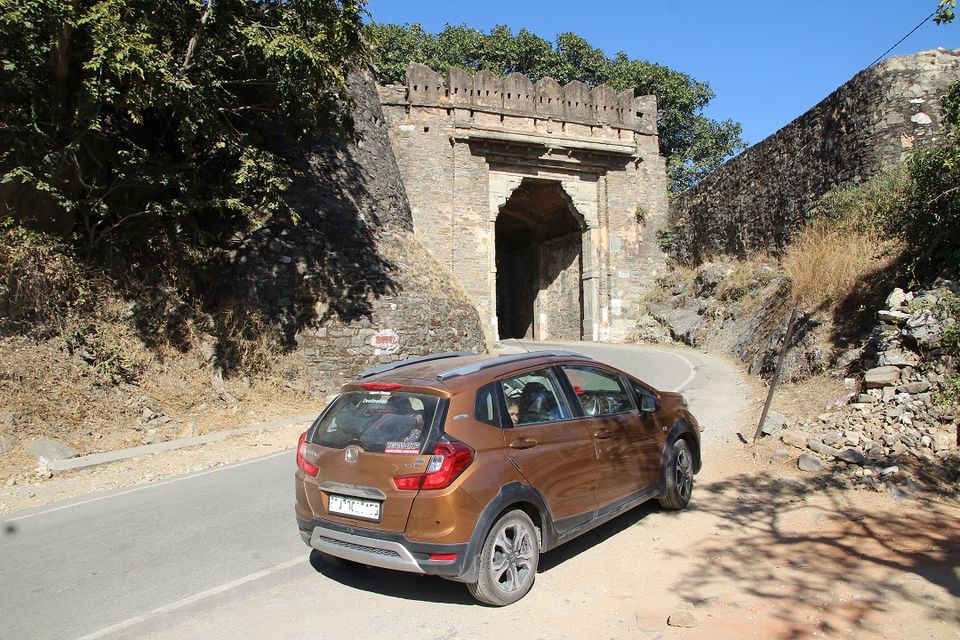 We entered the main gate and found a passage for parking. It was a paid parking, 800 mt from Fort. We parked there and decided to walk. A local Jeep guy offered us a ride to Fort. I asked others to get in the jeep and I started walking to the fort. Walking to the fort was one of the best decisions. I got some amazing views of the fort and plenty of time to click them.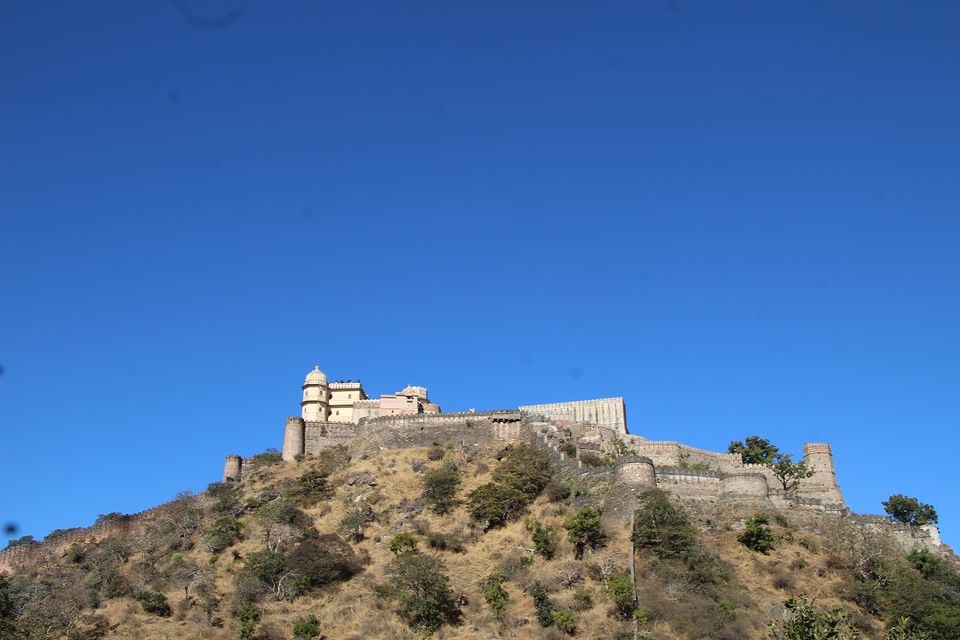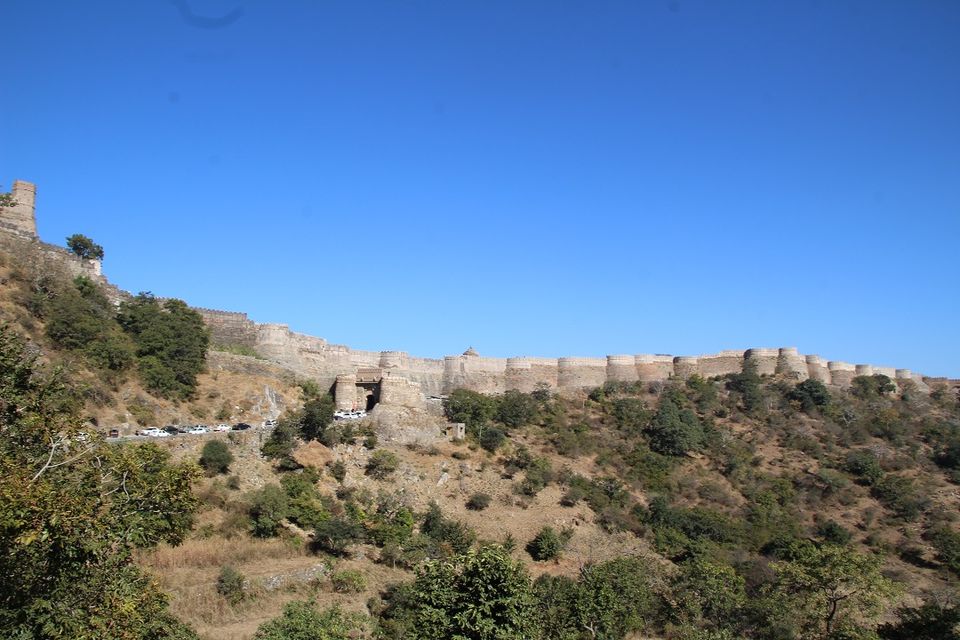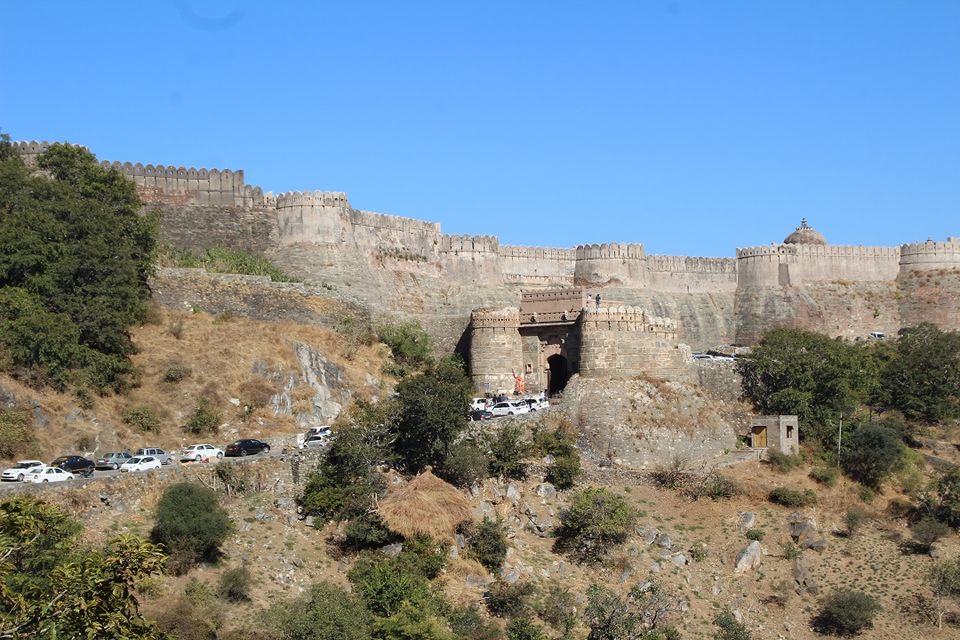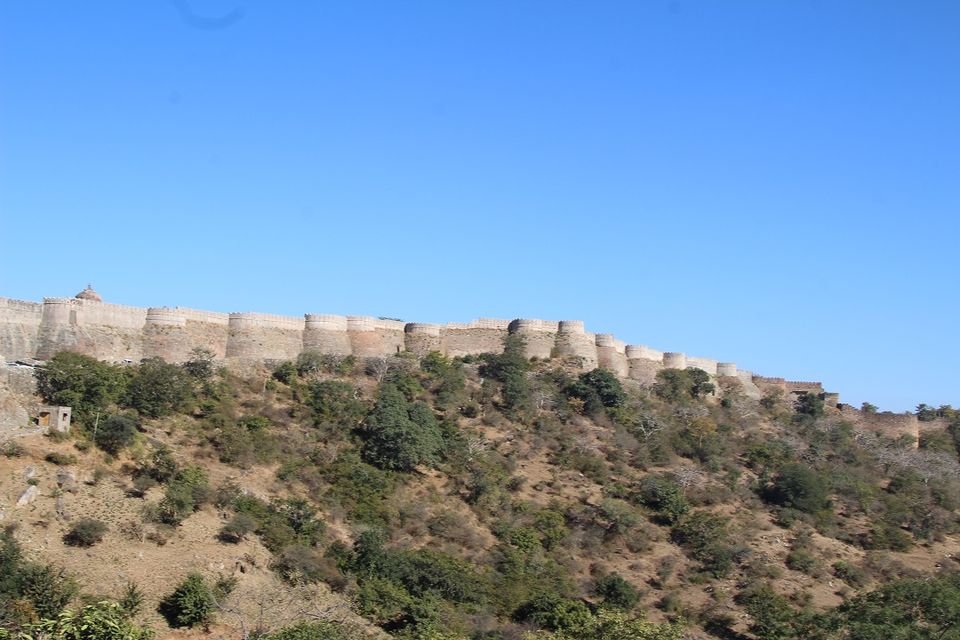 Before parking the car, I asked one of the Cops that could we go ahead by own vehicle.
He smiled and replied, " ha ha jao or jagah mile to park kar lena" ( Yes, of course, and if you find space, Park your car).
This was the basic reason for chaos and traffic jams on the road to the fort. There were cops, plenty of space to park private cars but nothing was organized.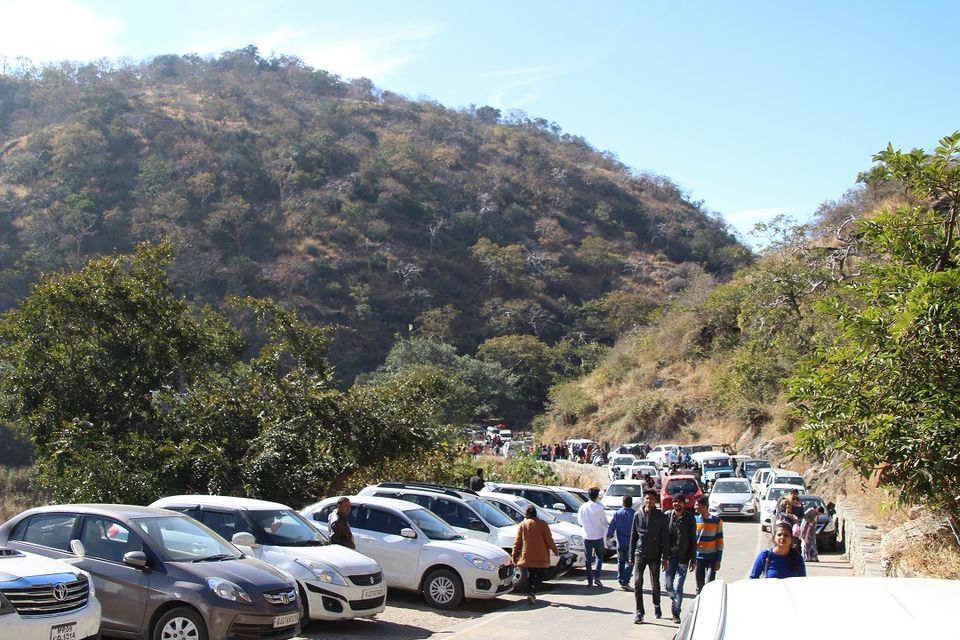 I reached the fort, bought the tickets and utilized the waiting time in clicking around that magnificent fort. Here are some more snaps of main entrance gates and wall of Kumbhalgarh fort.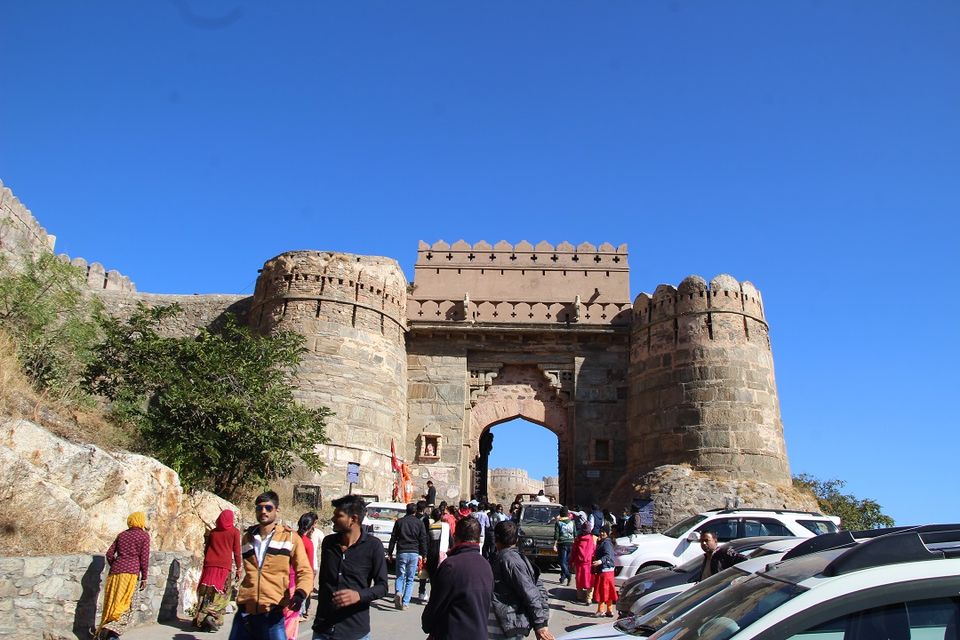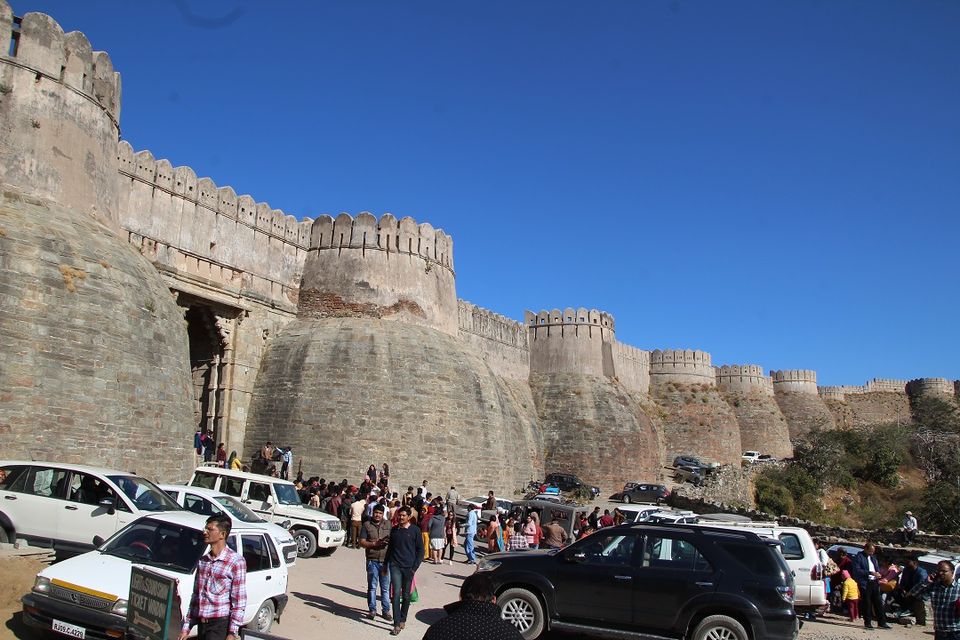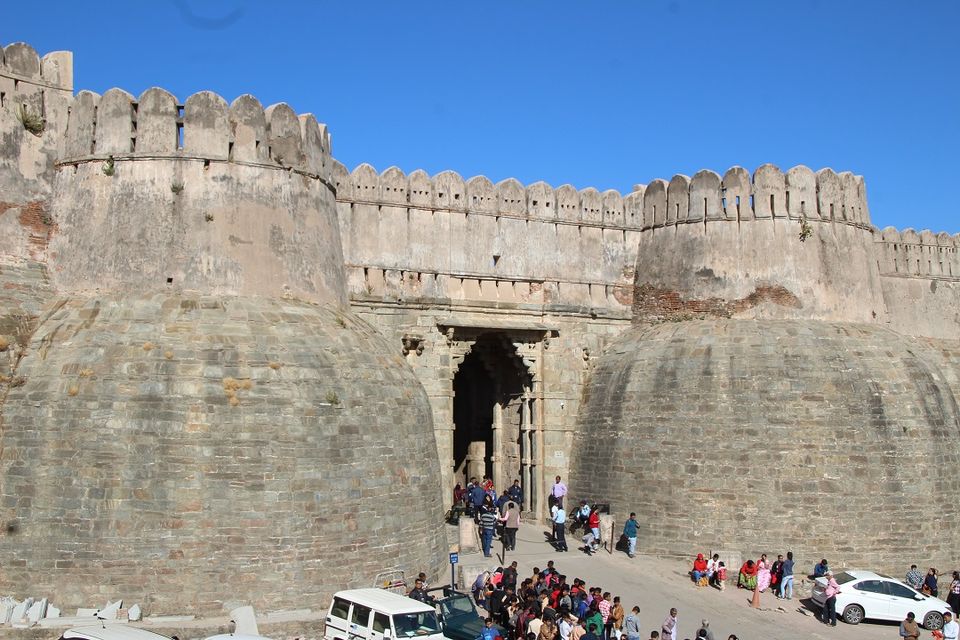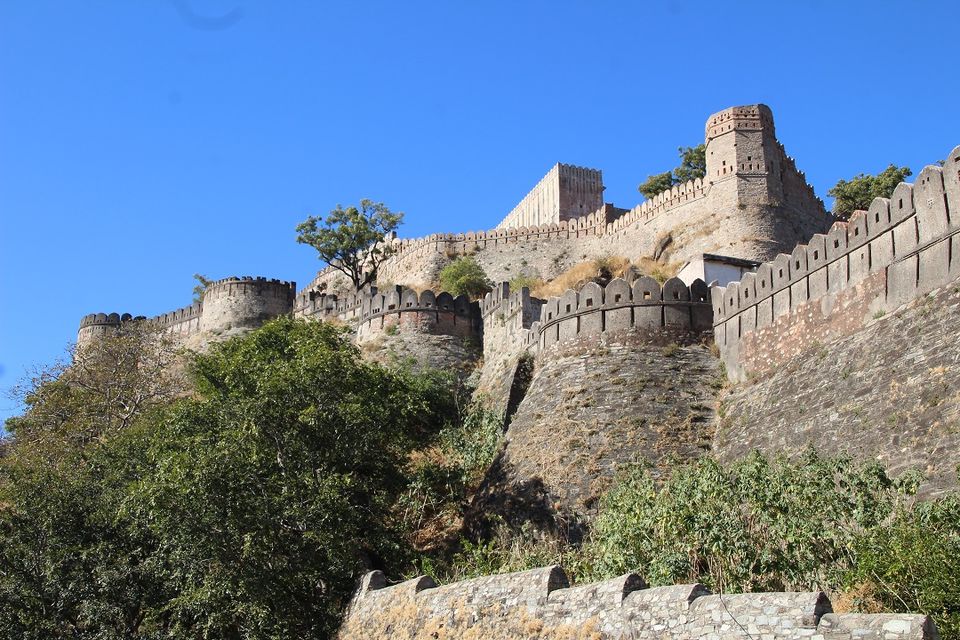 Kumbhalgarh Fort has the second largest wall (38km) after the great wall of China. The grand wall of Kumbhalgarh fort which runs through the entire fortress is considered to be the longest wall in the world right after 'The Great Wall of China'. Hence, it is fondly known as 'The Great Wall of India'. The wall stretches over a distance of 38 km. It is 15 m wide which is wide enough for eight horses to walk abreast.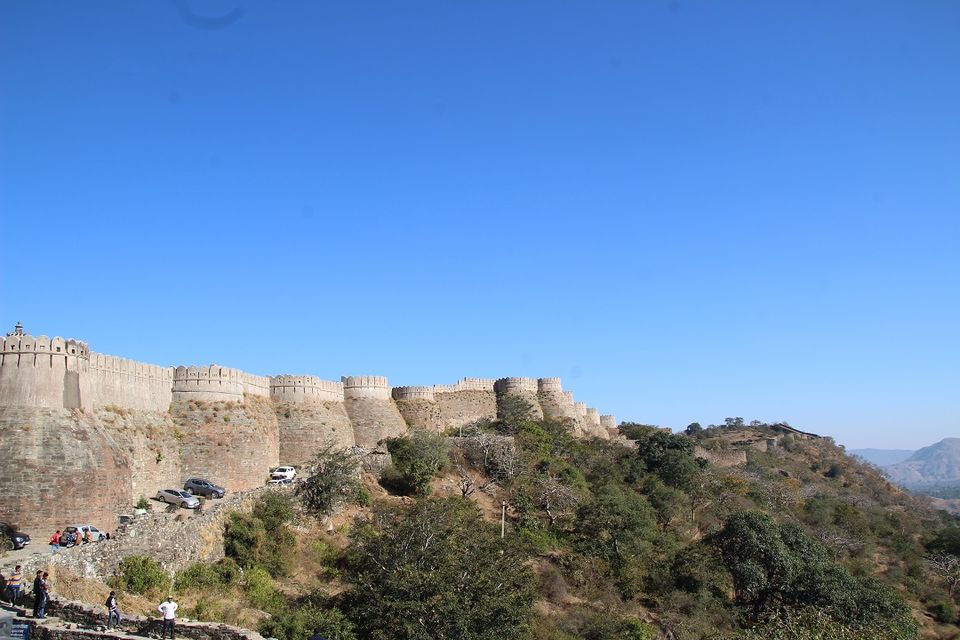 We entered the fort. The Kumbhalgarh Fort lies on a hilltop which is 1100 meters above sea level.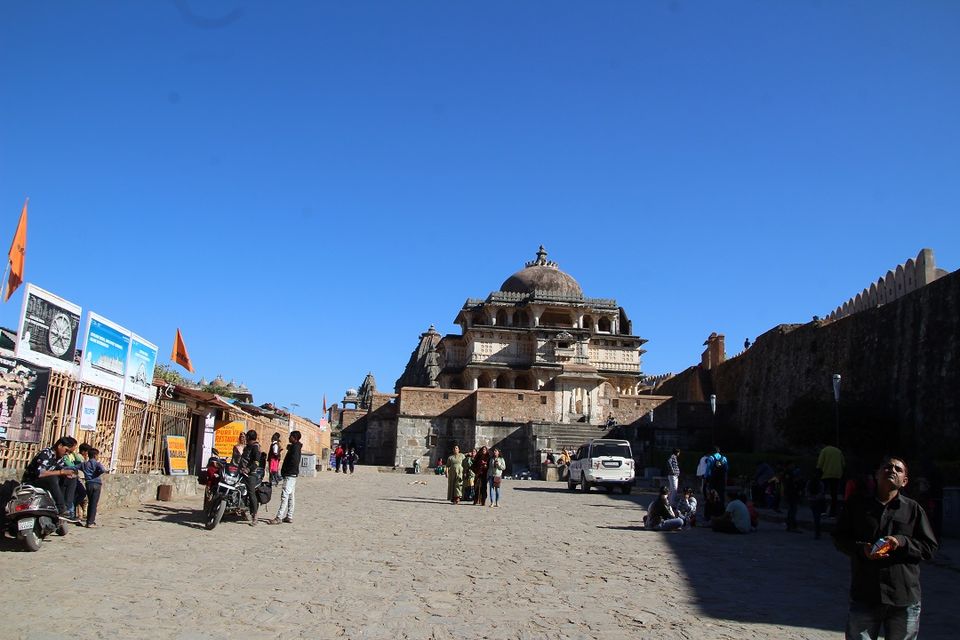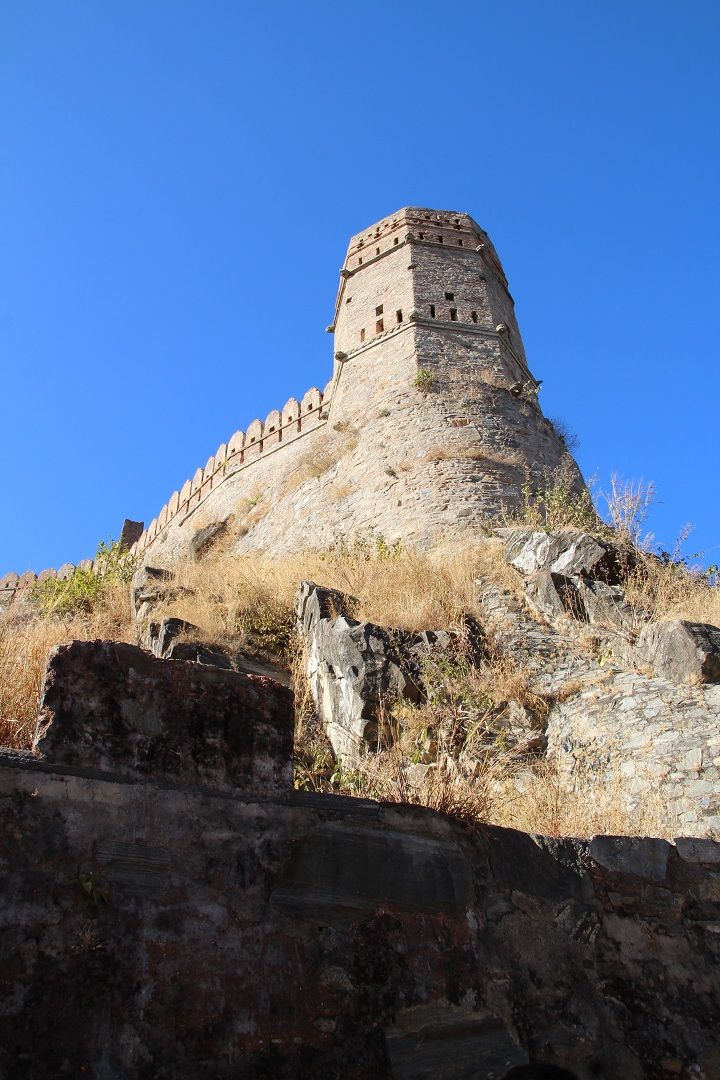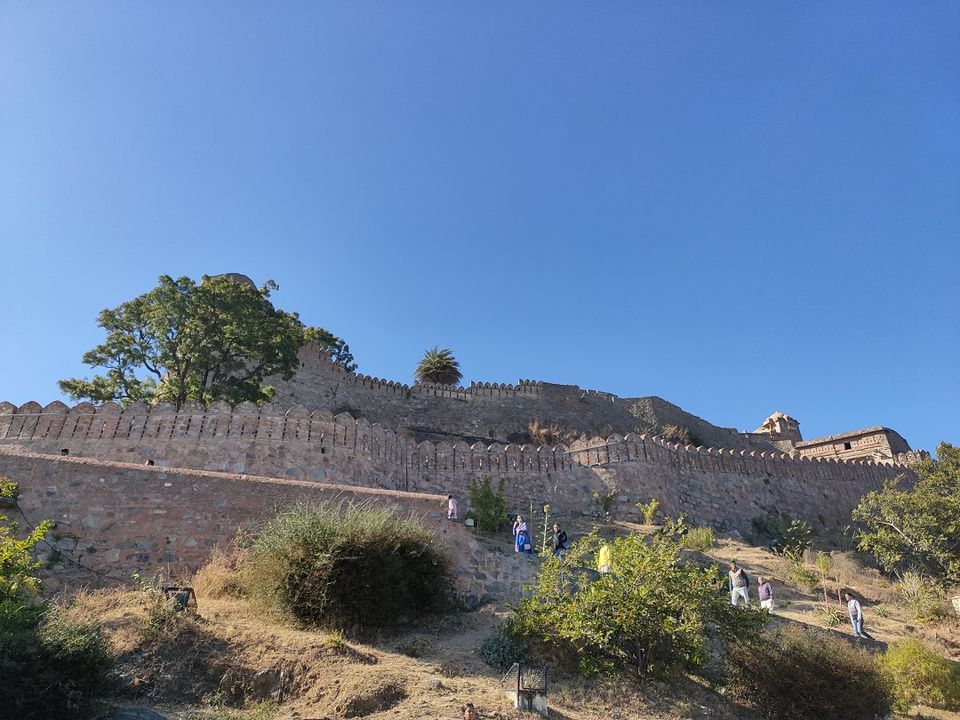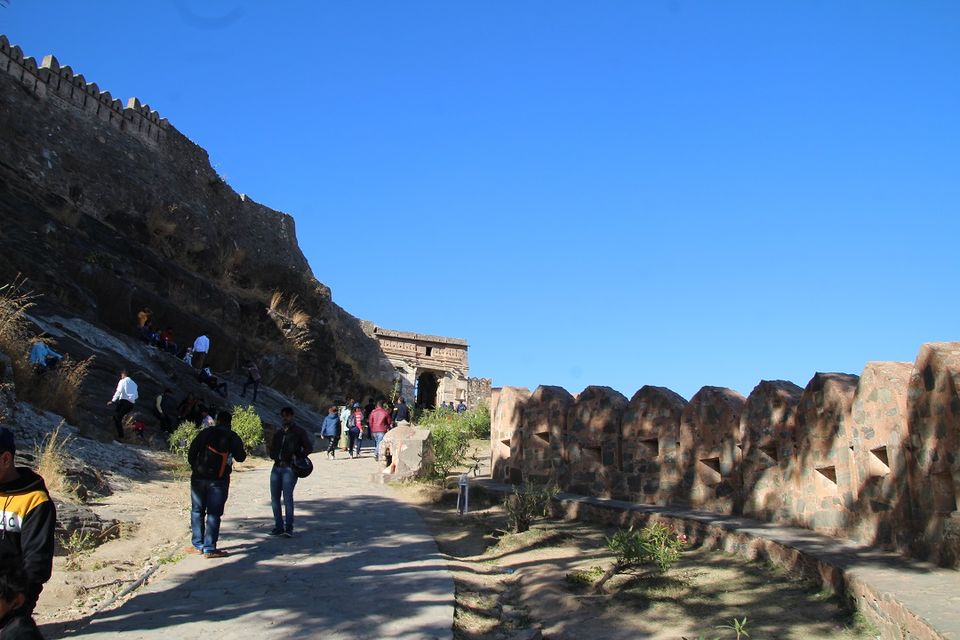 The fort comprises of around seven gates and a total of 360 temples within, 300 of which are ancient Jain while the others are Hindu. It was a magnificent campus. We tried to explore everything. This time we didn't go for Guide.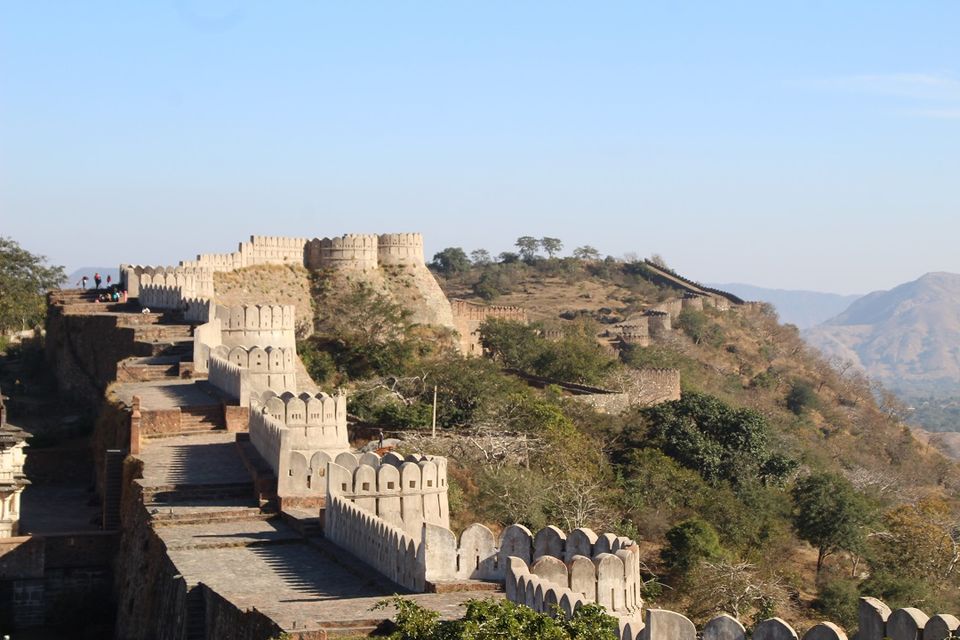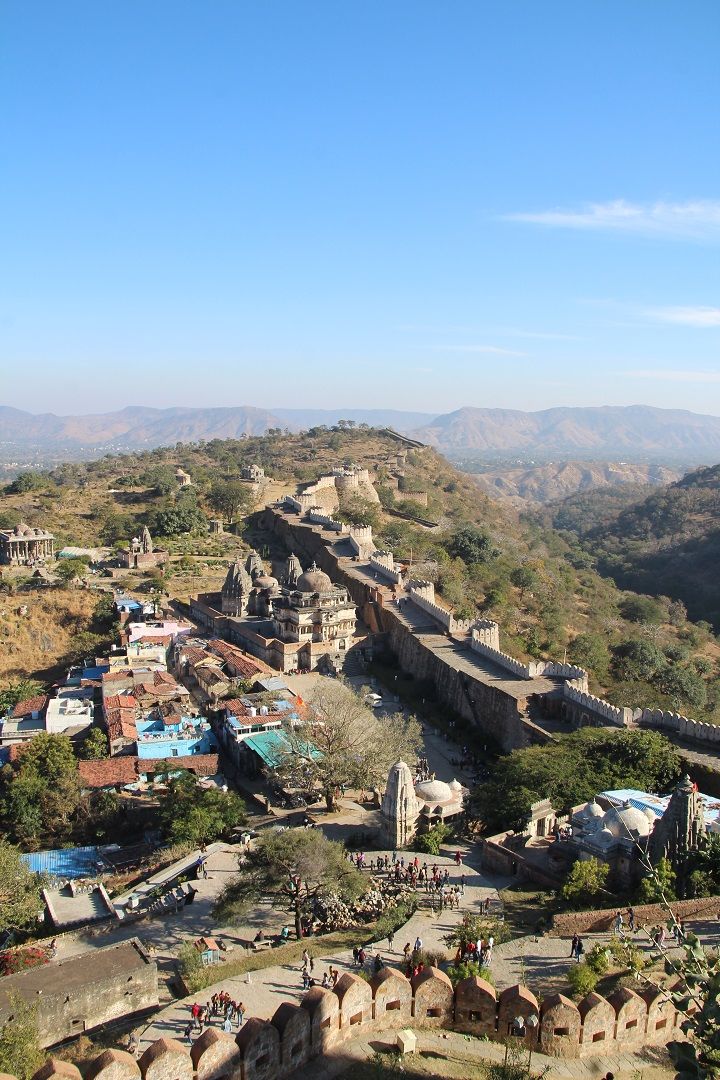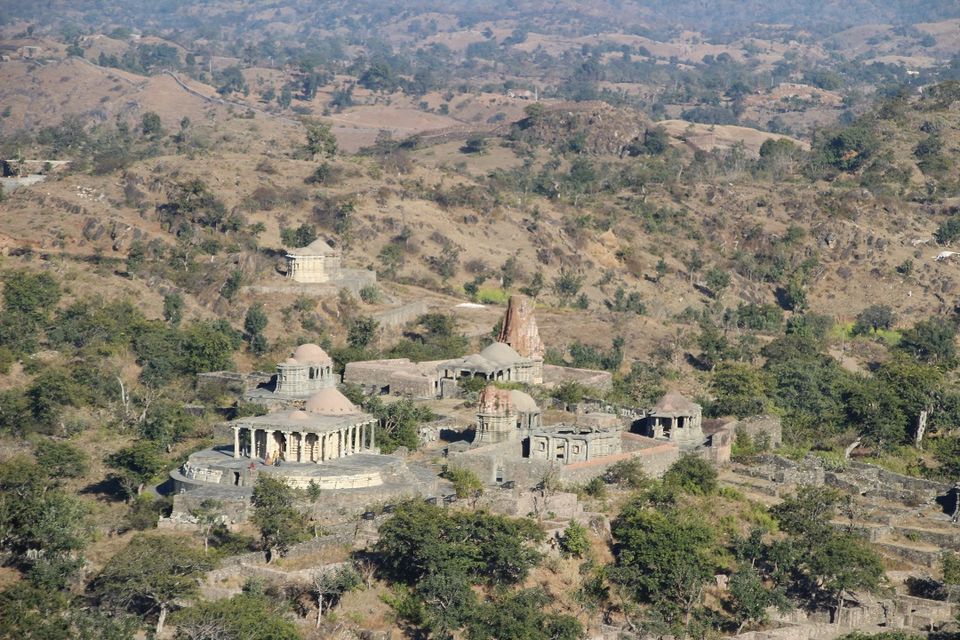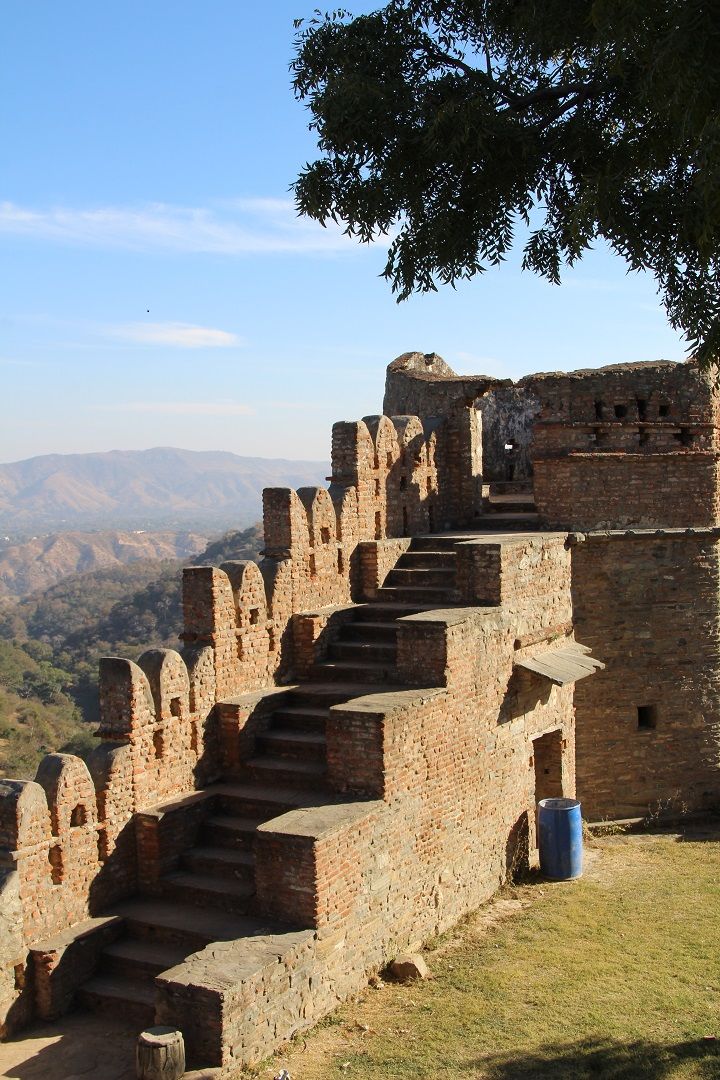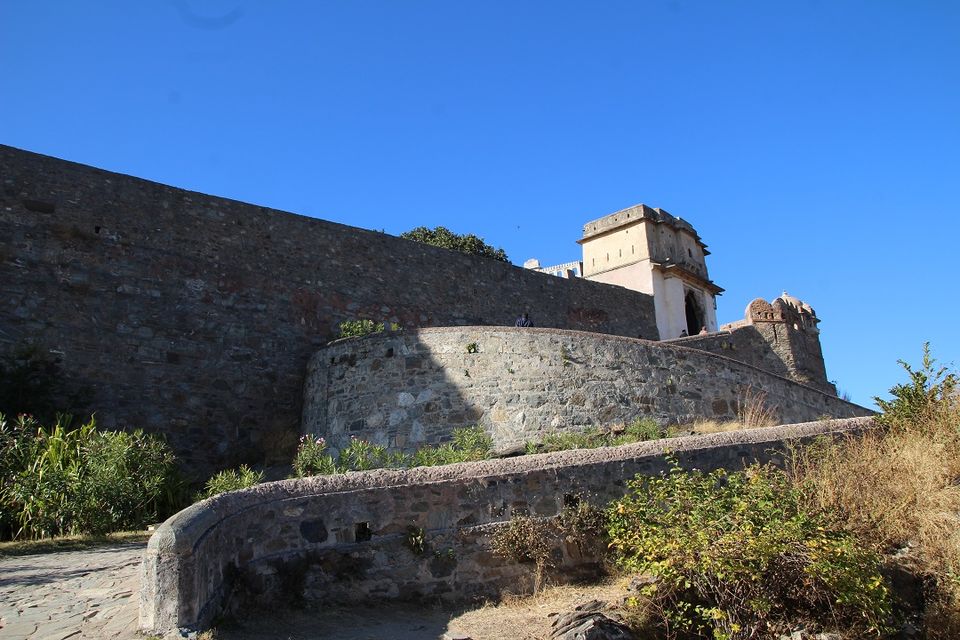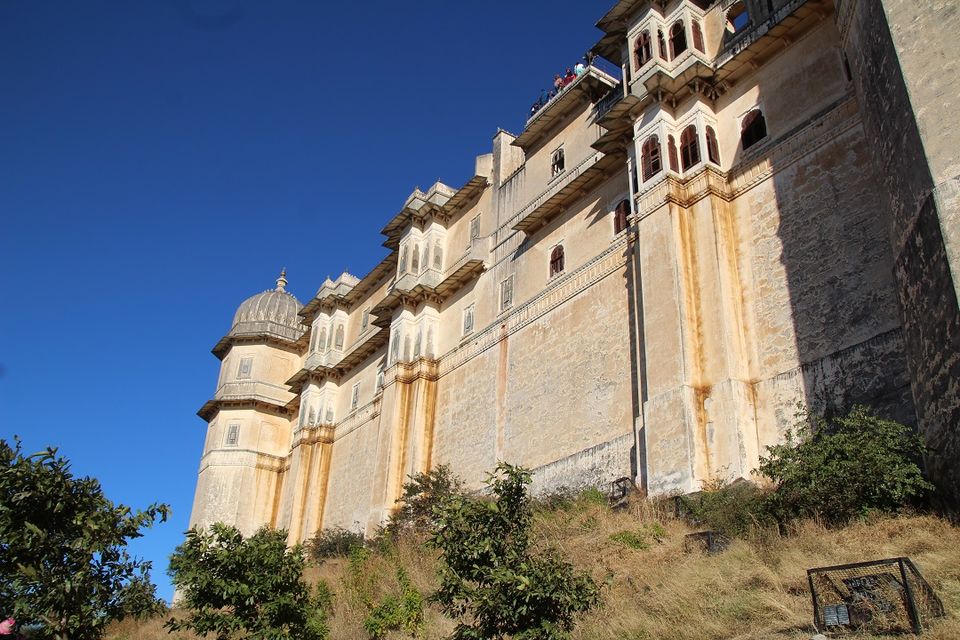 Badal Mahal which is situated on top of the Kumbhalgarh Fort gives an amazing view of the entire Kumbhalgarh Wildlife Sanctuary which is spread across the Aravali Hills.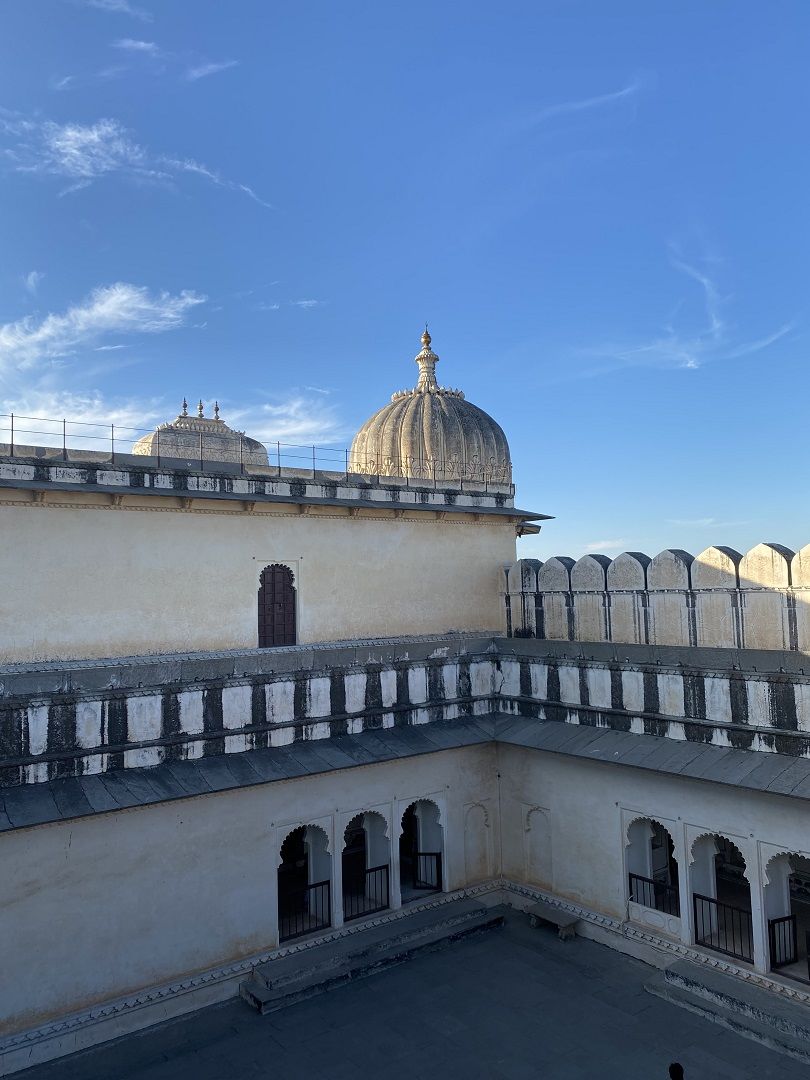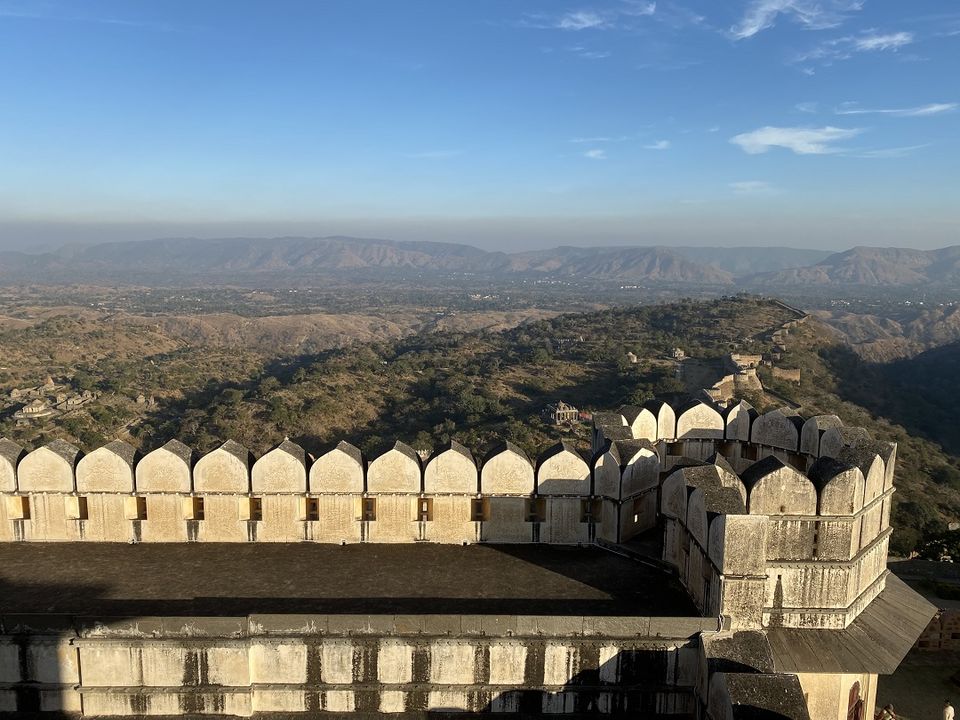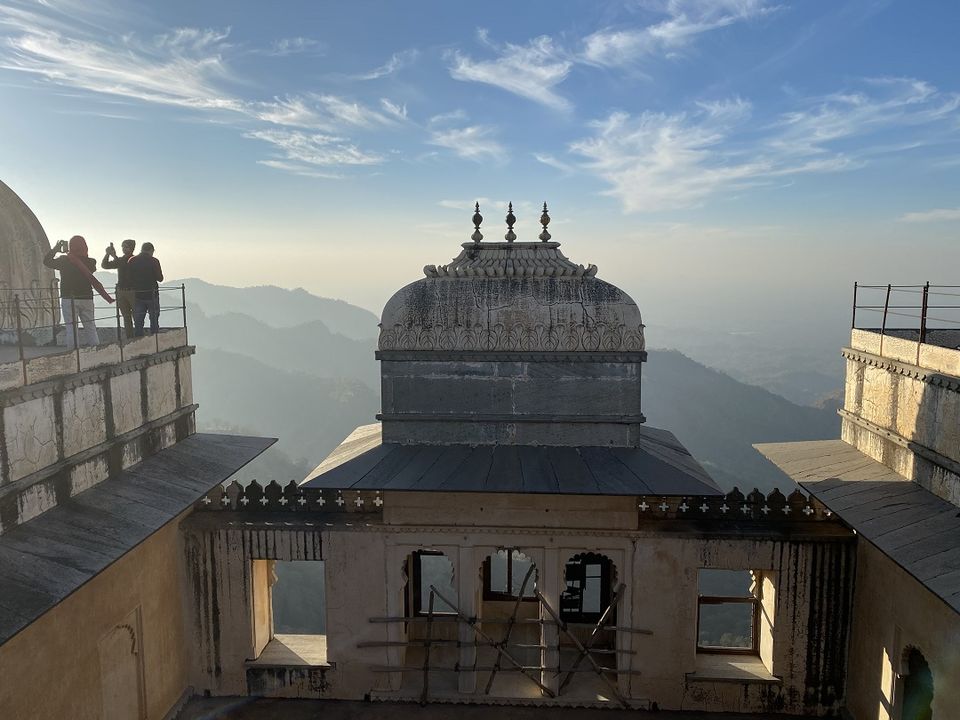 The Kumbhalgarh Fort wall is built out of the stone bricks and passes through the valleys of the Aravali ranges and ends at the top of the hill. Some stretches of the wall have been ruined with time. It has a great resemblance to the Great Wall of China and is one of the hidden gems of India.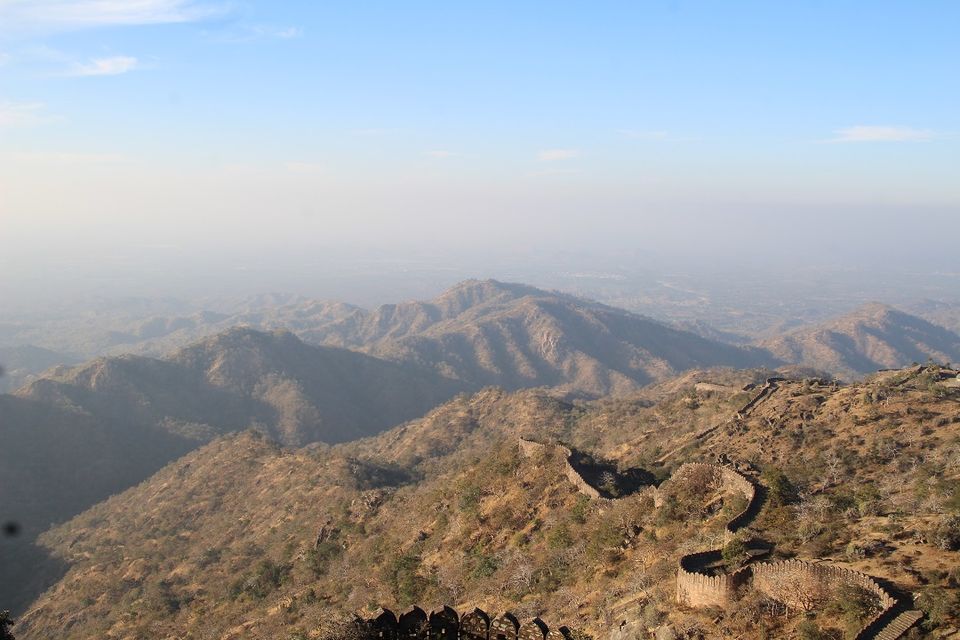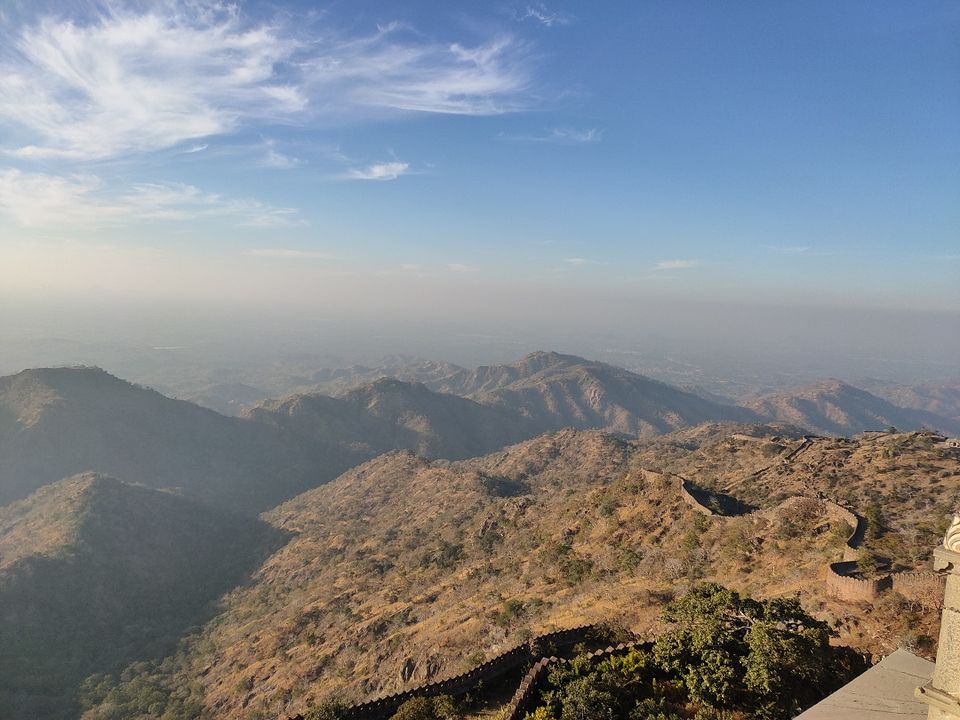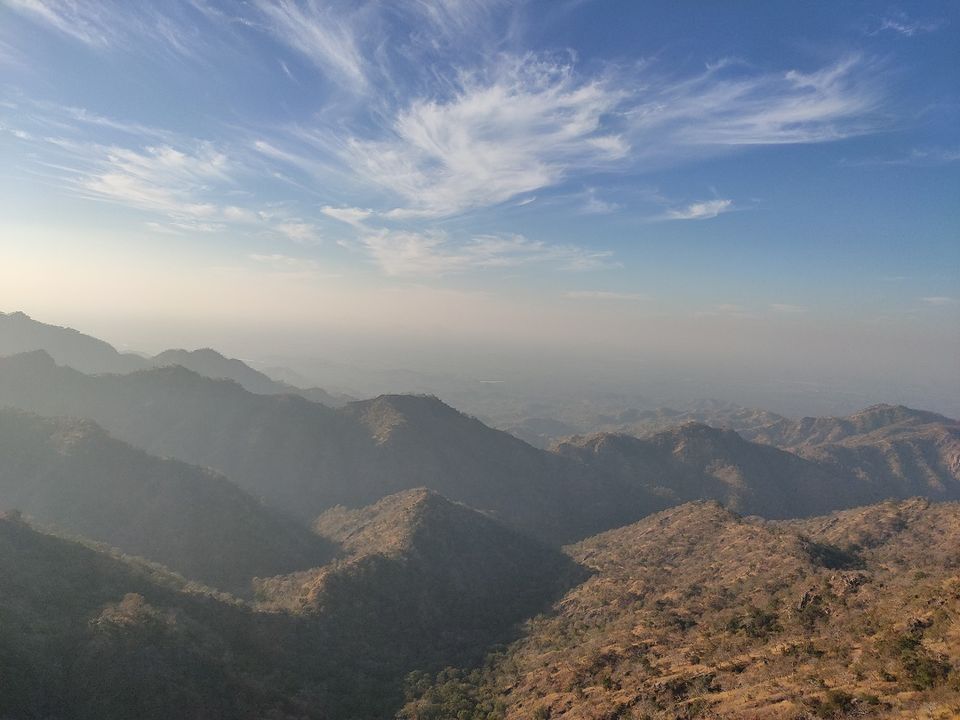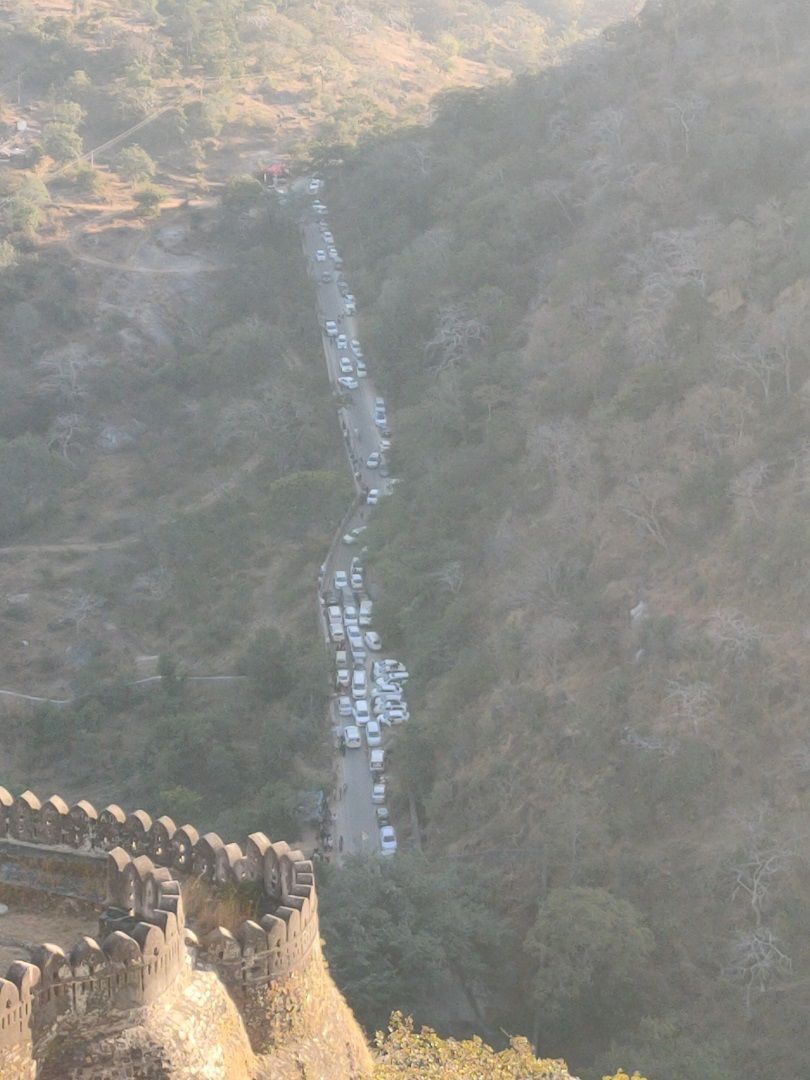 We spent more than 4 hours in the fort. The fort is massive and requires walking for hours so it is advisable to wear comfortable shoes. We tried to understand the history as well as we had our fun. Once again due to cold, we had to skip the sound and light show. We hired a Gypsy and headed back to our car.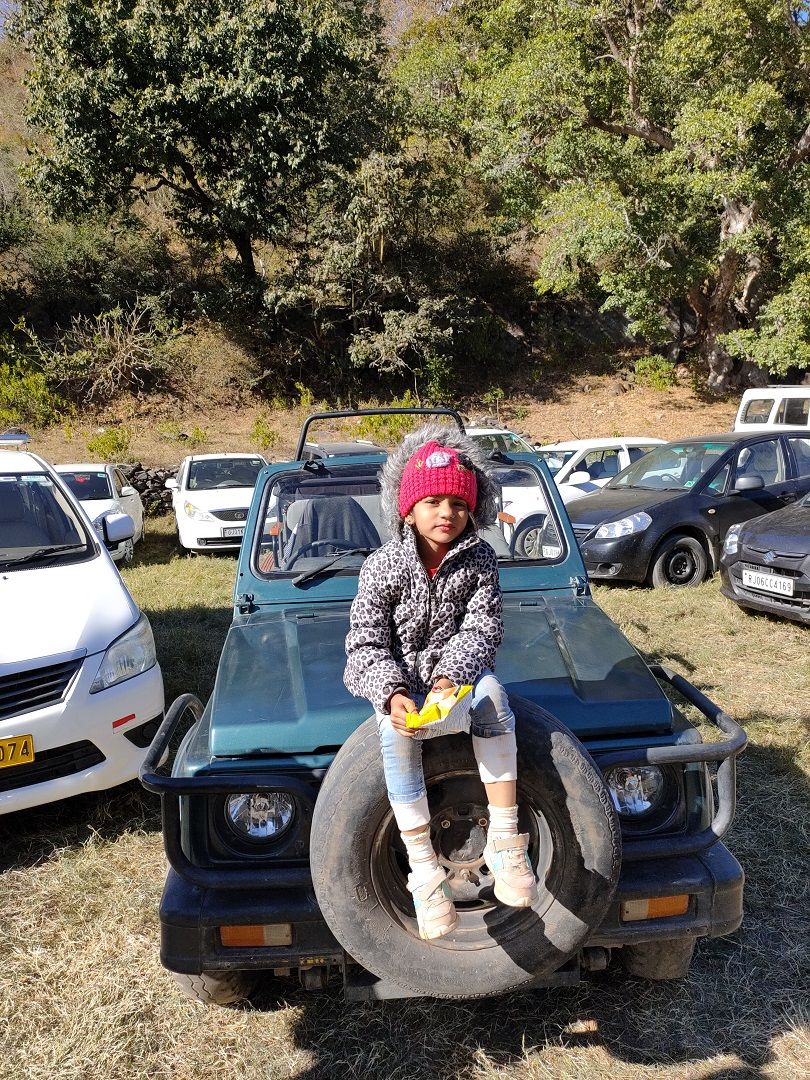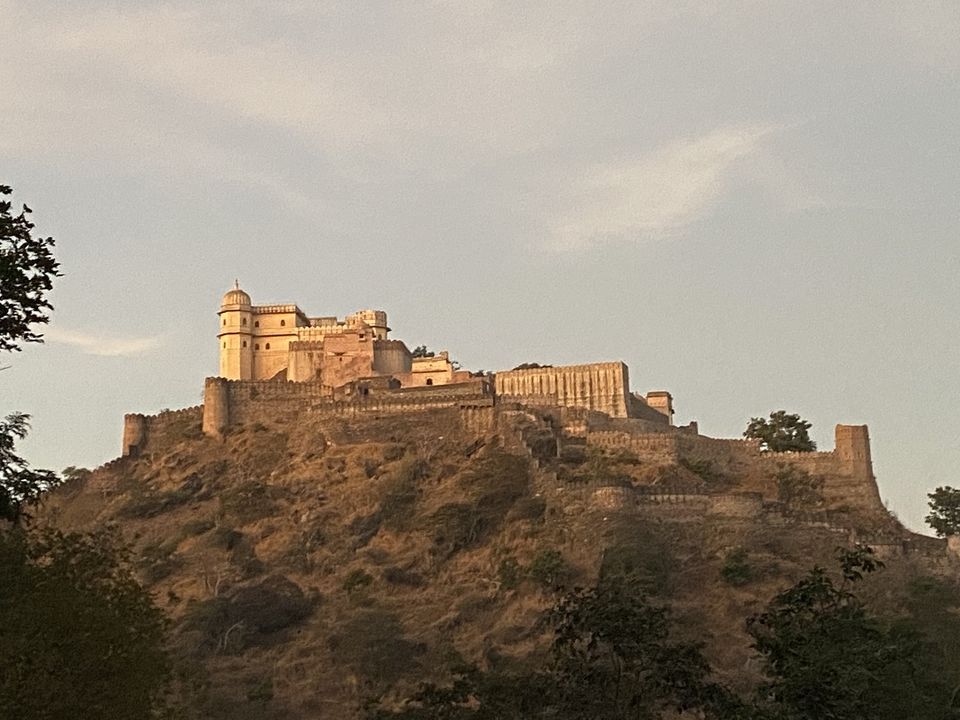 Day 3: Kumbhalgarh to Anand.
It was a cold night at Kumbhalgarh. There weren't any facilities like a heater and extra blankets were chargeable. However, we opted for two extra blankets.
We woke up at 0630 and started driving to Anand at 0700. During our back journey, we wanted to avoid Udaipur. We decided to go by the longer but faster route via Palanpur.
It was a pleasant morning.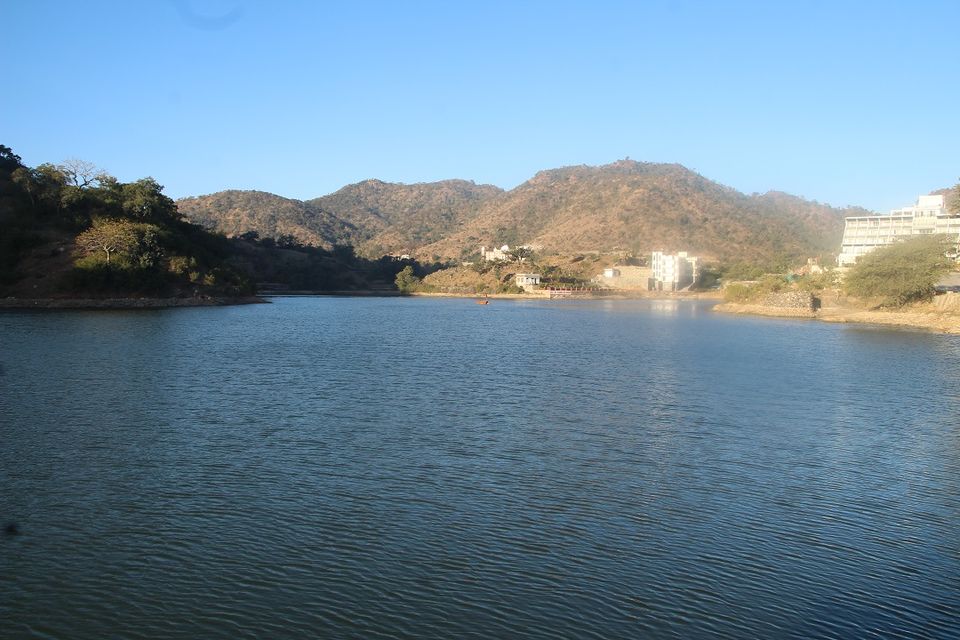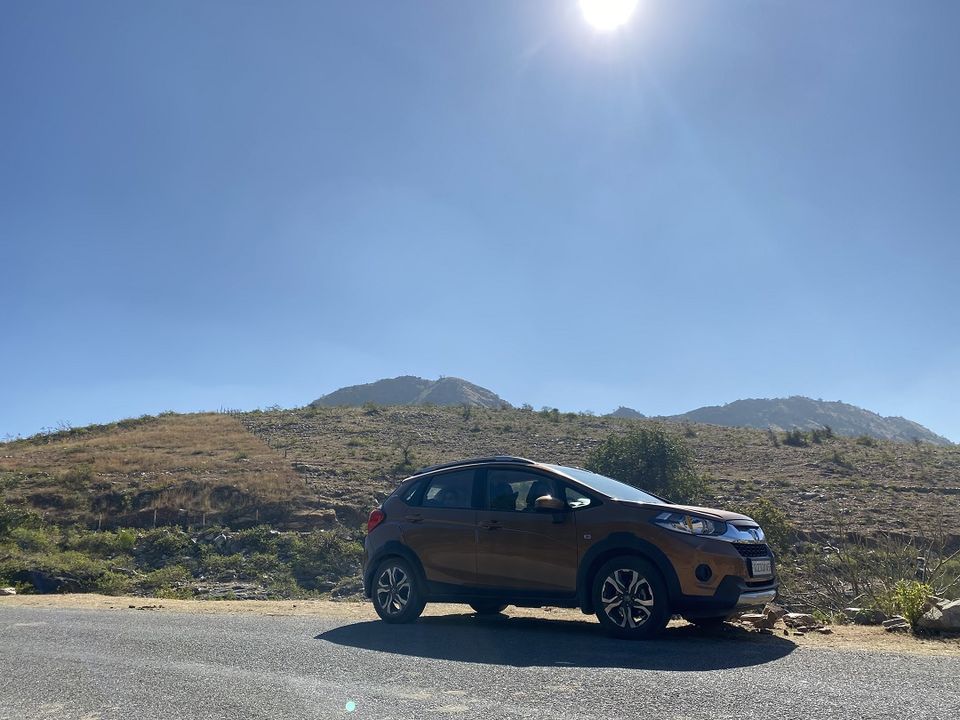 We had to catch NH27 but before that, we passed through some of the amazing areas full of green fields and mountains.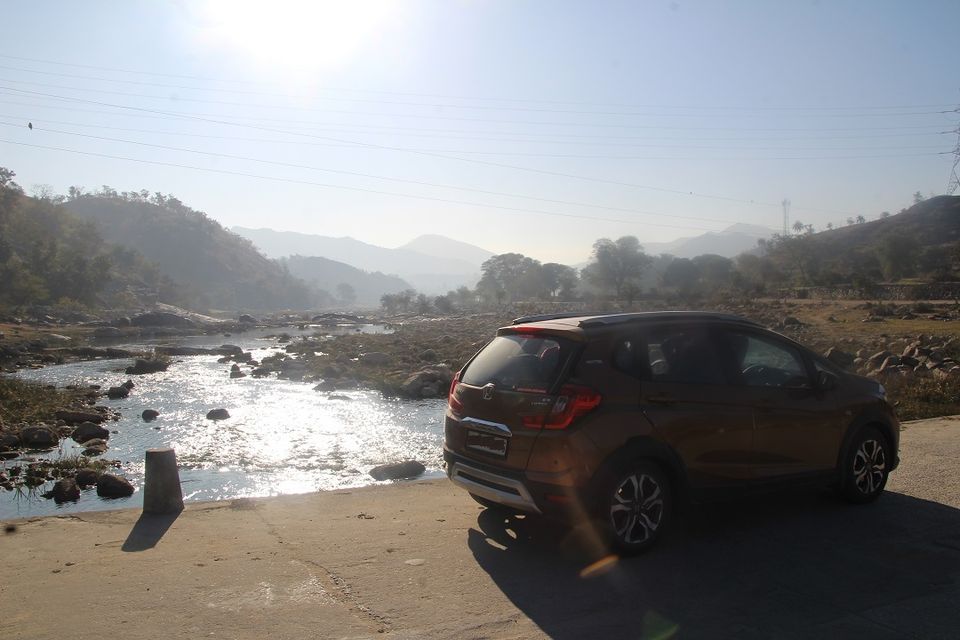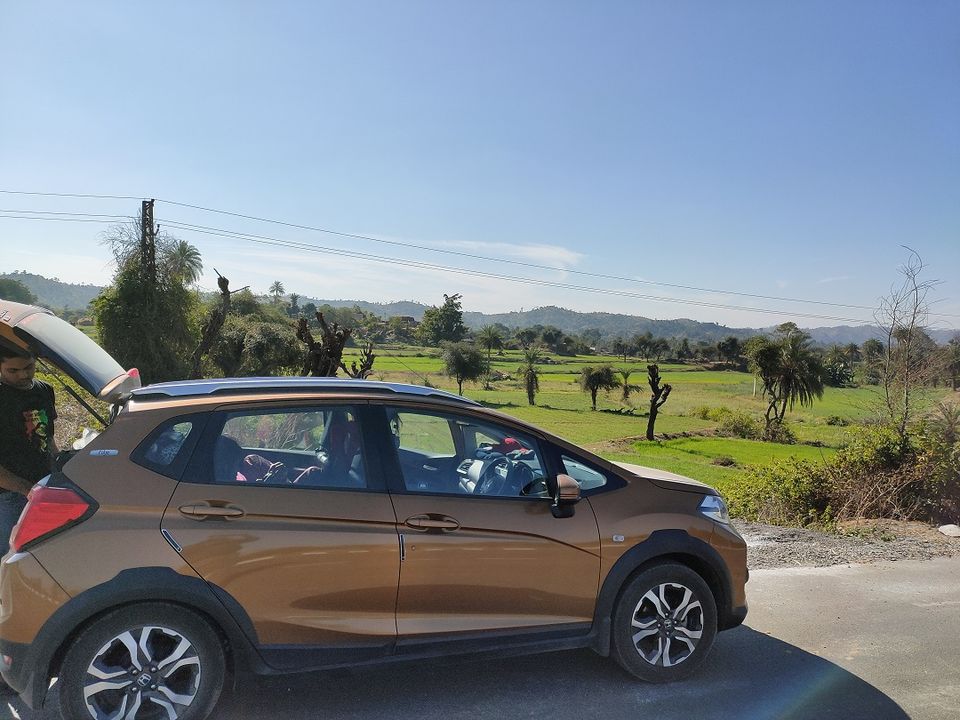 The road to NH27 passed through some of the remote villages. There wasn't any kind of food joint or fuel bunk. We left Kumbhalgarh without breakfast, so all of us were Hungry. Once we reach NH27, we stopped at a local Dhaba for much-needed breakfast.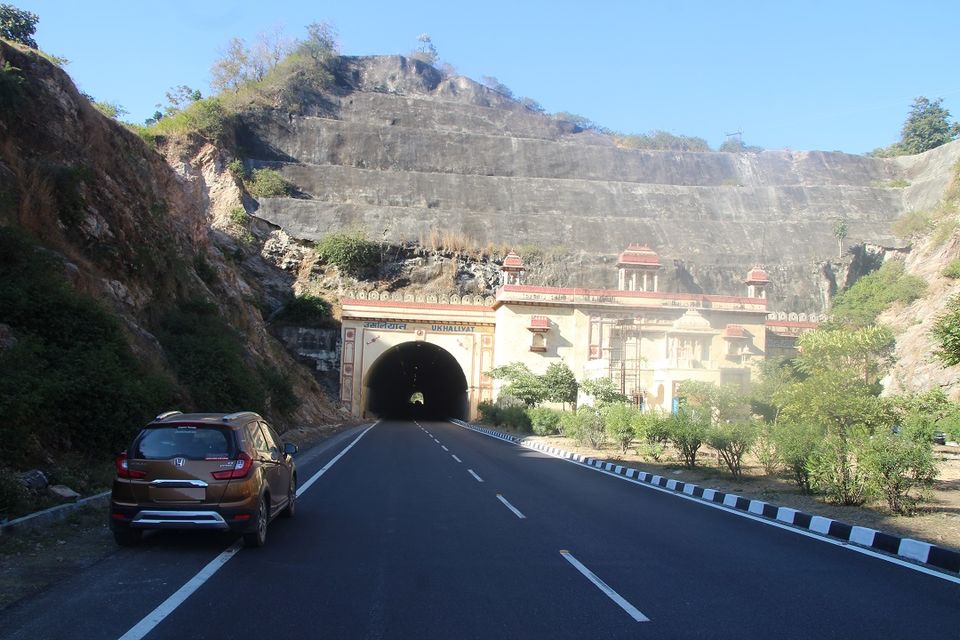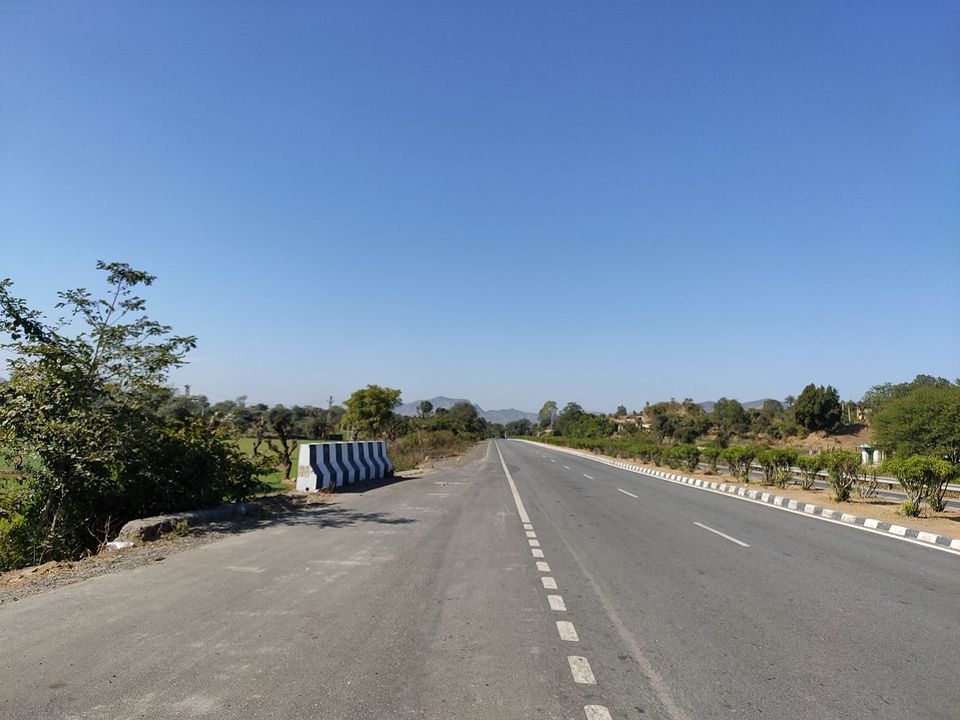 We reached home at 1800.
Overall, we had an amazing road trip and covered some of the remote parts of Rajsthan ( Mewar Region). Ziva too had a great time and enjoyed the trip to the fullest. Yes, We missed some sights and attractions, but We are sure that, we are going to come back to Udaipur.
Rajasthan is a big state. Historically it was divided into many regions like Mewar, Marwar, Dhundhar, Shekhavati, , etc. based on different languages, cultures, and traditions. I want to see and explore Rajasthan based on these regions to get the exact idea of this amazing state. In this trip, we (tried to) covered the Mewar region. The next could be the Marwar region, which includes Jodhpur and the districts of Barmer, Jalore, Nagaur, Pali, and parts of Sikar.