It was a year ago when Double Decker Train was started by IRCTC on Delhi - Jaipur route. It operates on Monday, Wednesday and Friday evenings from Delhi (Sarai Rohilla) to Jaipur. Yet another weekend was approaching and as usual i wanted to travel out of Delhi but not too far. The moment my father told me about this train, i got super excited and asked him to pack his bags. We left on Friday at 5.30pm on a AC Chair Train and reached Jaipur by 10 pm.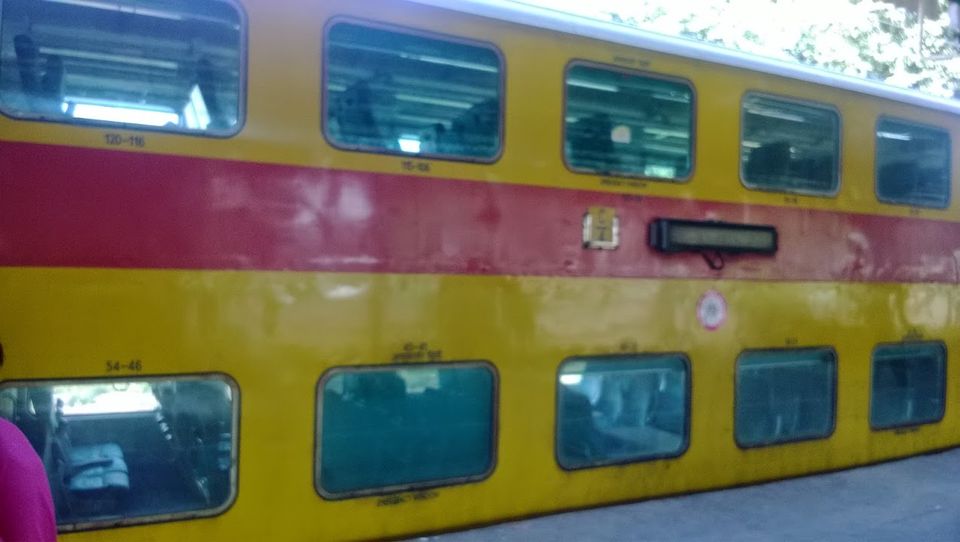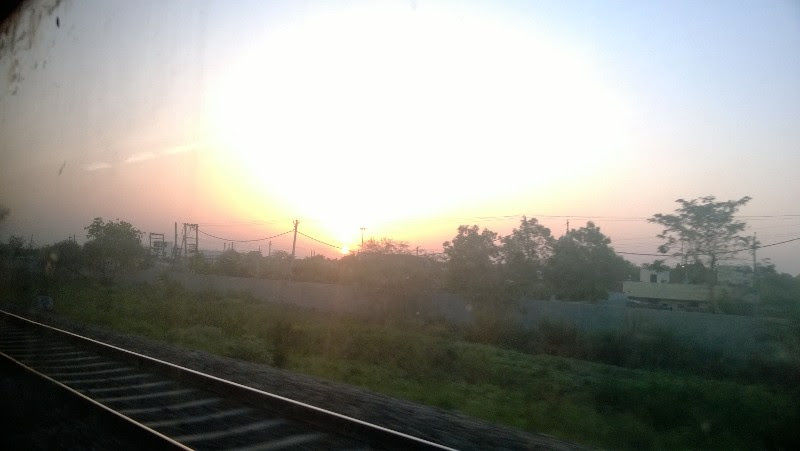 Day 1
One can easily find decent and budgeted hotels near Railway Station and Bus Stand in Jaipur and after an over night stay at hotel, we decided to cover the famous places within the City for which special thanks to our hotel manager who arranged again a Double Decker Bus for their guests who were willing to do a city tour on affordable prices. We had an early morning breakfast in Hotel itself and went on a city tour.
Birla Temple - Laxmi Narayan Temple
This temple is a property of Birla's and dedicated to Lord Vishnu and her Goddess Laxmi. Its built up of crystal clear white marbles and when we talk about the marbles, let me tell you that Rajasthan is not only famous for its desert and camel safaris, it offers you variety of stones and marbles which get exports to foreign countries as well. The temple has spectacular carvings inside showing expertise of an art. The lush green garden around the temple gives you sense of peace. For more, check the pic below.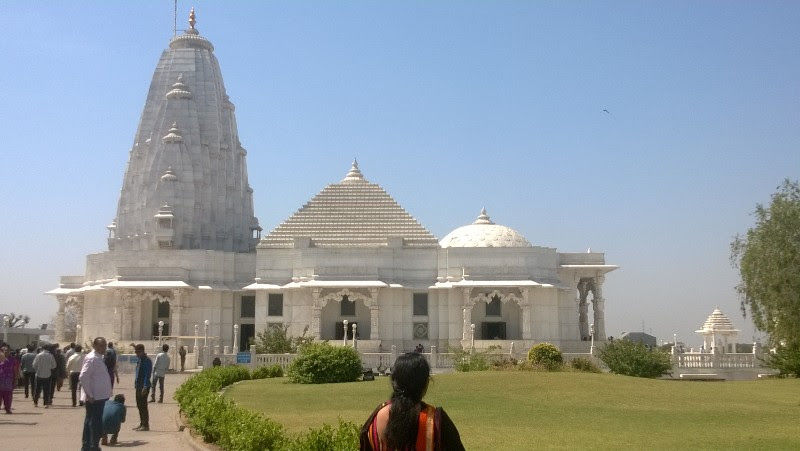 The next stop of ours was Jantar Mantar which if i do not mention it here will be an insult for me a must visit place in Jaipur and is totally different from Delhi's Jantar Mantar. One could feel and experience that era in which our ancestral scientists must have used those instruments for their calculations and astronomical work. Pics below for some glimpse: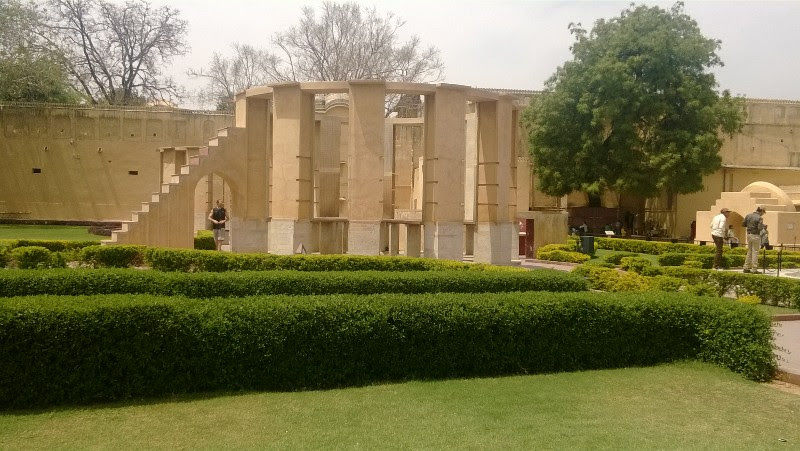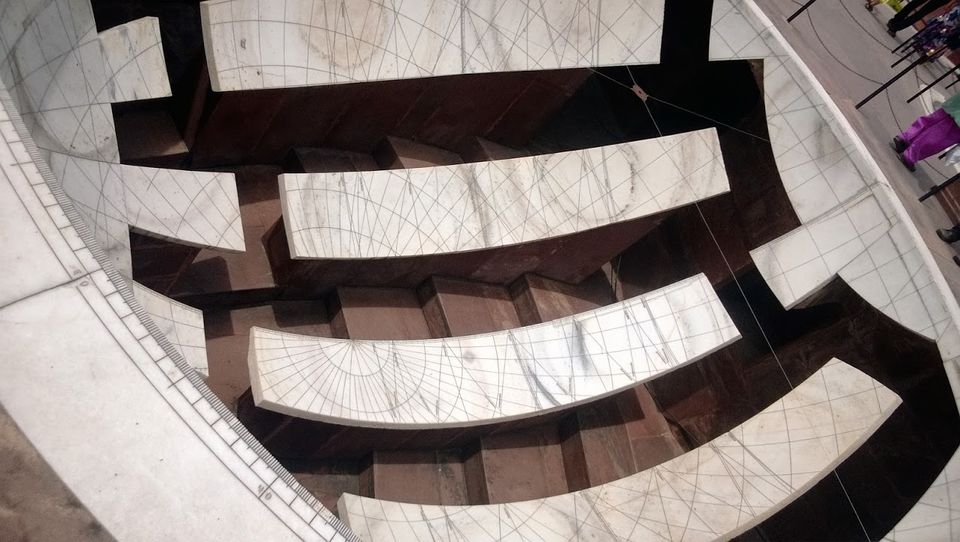 While we are taking to our next stop - City Palace - Sawai Madhav SinghII Musuem, we were shown the famous Movie Theatre - RAJ MANDIR, which is again built very beautifully from inside and one has to buy a ticket of movie to see the interesting modern art. Due to lack of time, we carried on with our tour and reached the musuem which has huge collection of art, literature, handicrafts and other things used by the Great Rajput Kings in their times. Things in musuem illustrate their values, tradition, culture and lifestyle. Musuem has many galleries with their unique names. Pics below: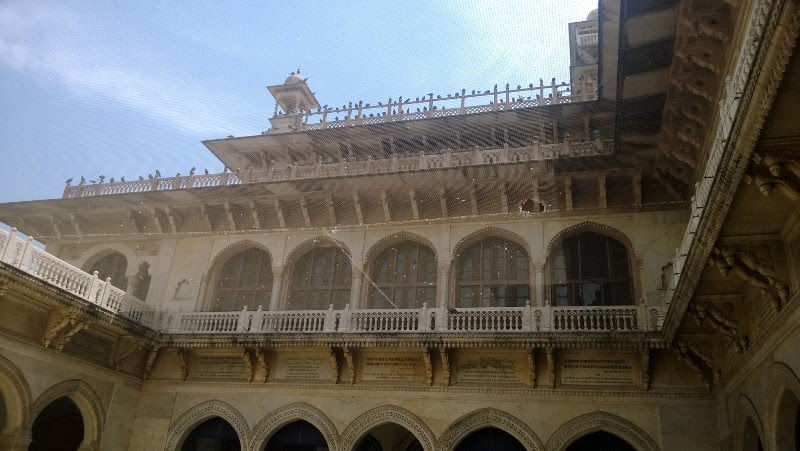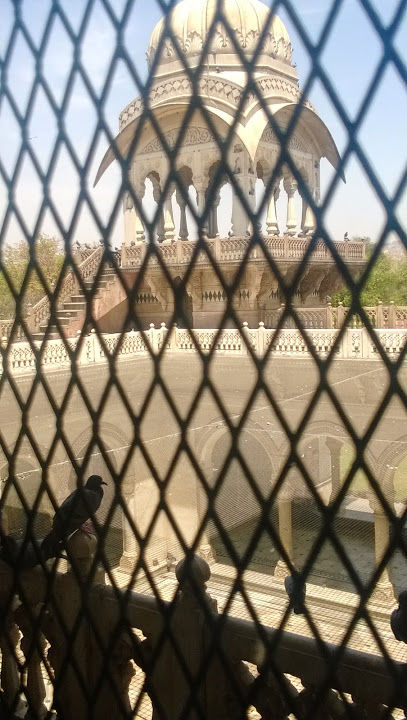 Our next stop was Nahargarh Fort which was built at the top of Aravali hills and the route to reach the fort is quite interesting for quite obvious reasons. Apart from its architectural design showing City View, the fort is known for its very much famous spot - Baowli which everyone must have seen in the Movie Rang De Basanti and Shudh Desi Romance. I think, pic below will help you to recall the scene in of the movies: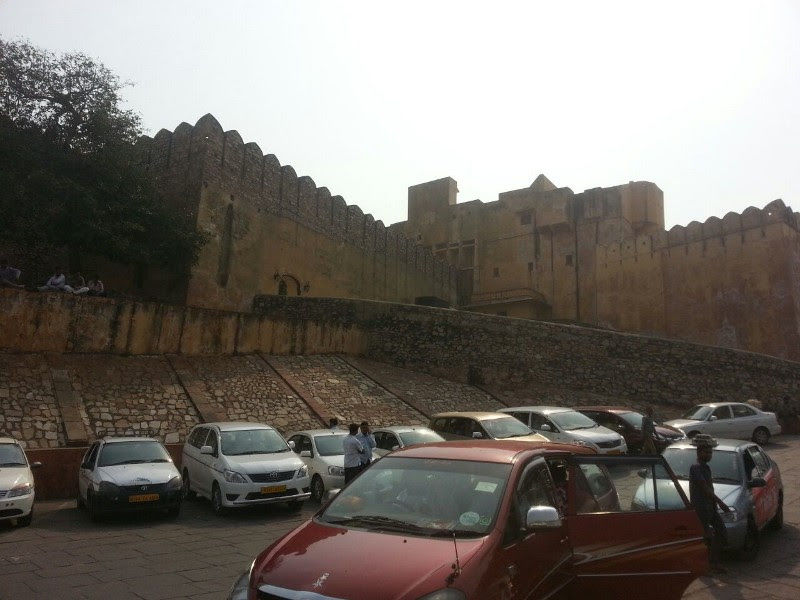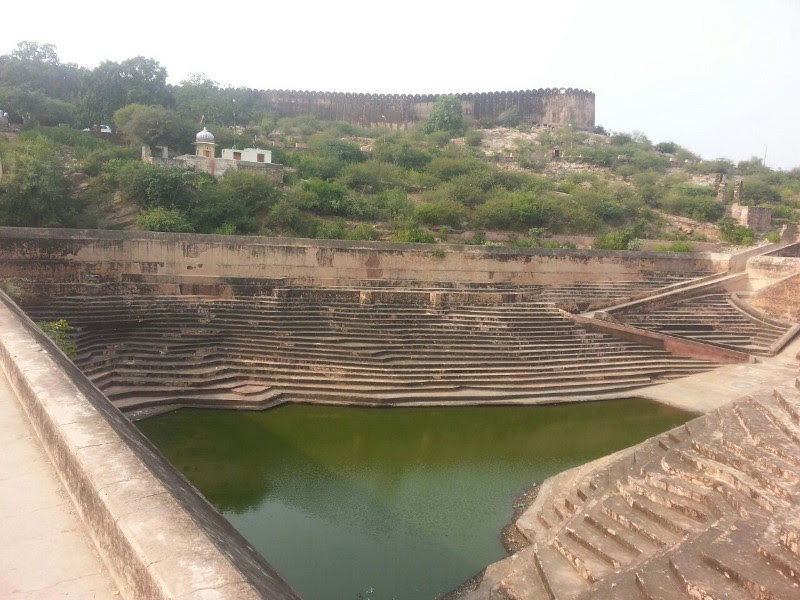 I was already enjoying the places i have been to since morning but as you say a movie is incomplete without its songs, similarly Jaipur is incomplete without visiting its prime and main attractive place - Amber Fort. Amber fort has itself treated as an individual capital at one time where from the King to a local person have lived on a same place. This fort has spread till you can see from top and had all the facilities which one city could offer. It has diwan-e-khas, Sheeshmehal and mesmerizing views. And icing on the cake was Sound and light show which held in evening with both the narrations (hindi/english) telling the history behind Jaipur and how this Fort has served by various generations in the family.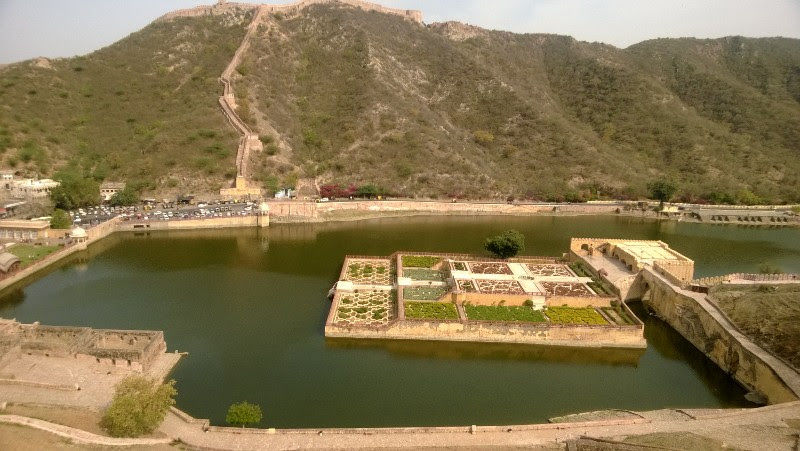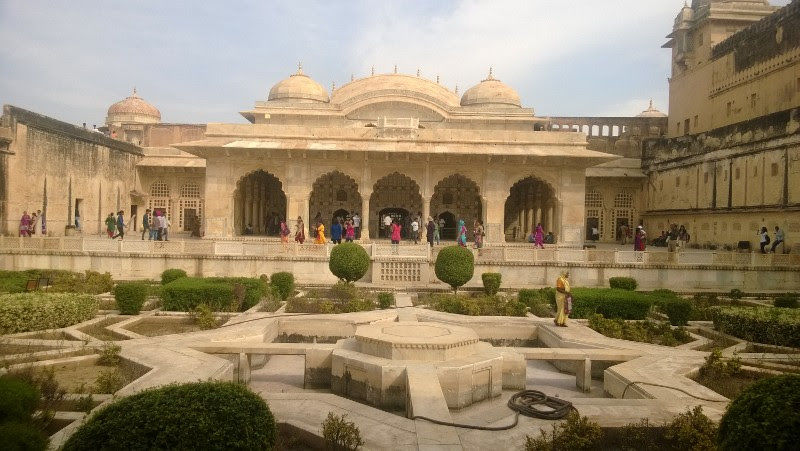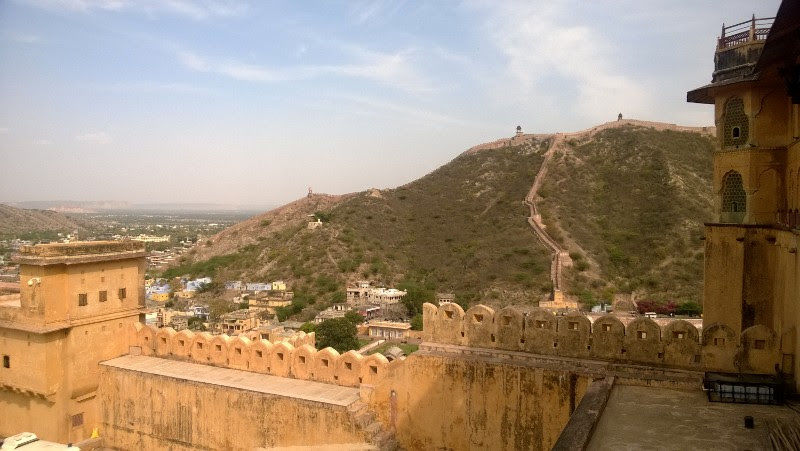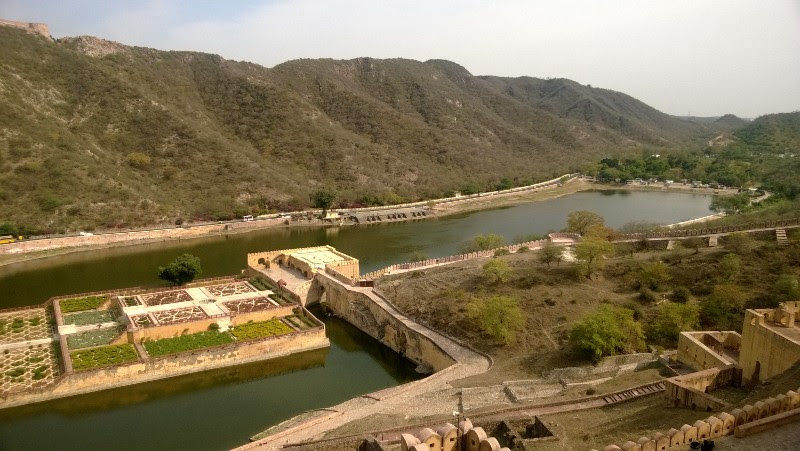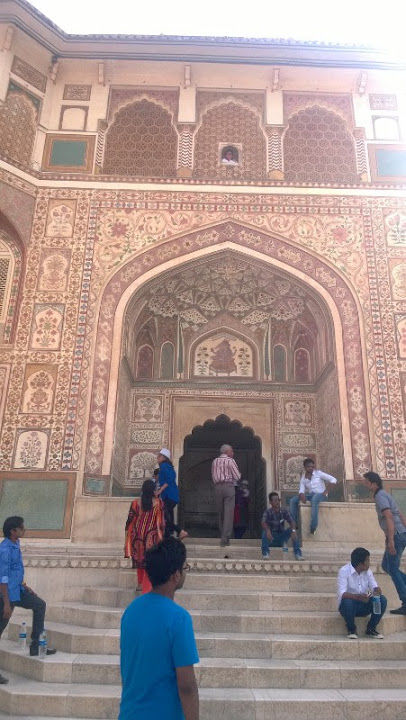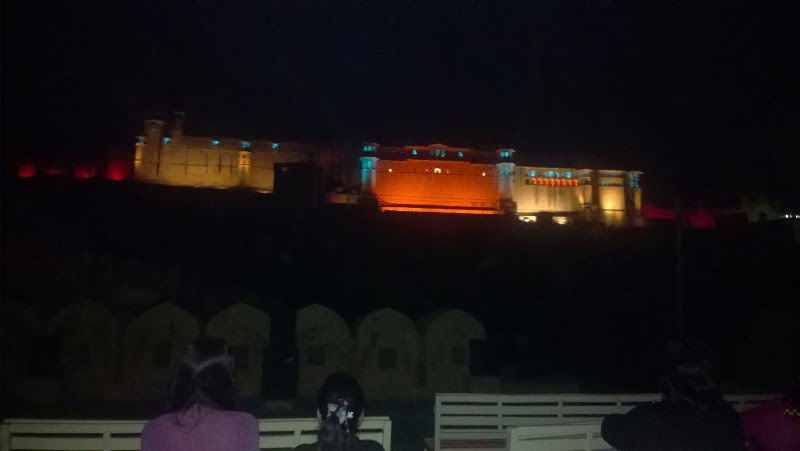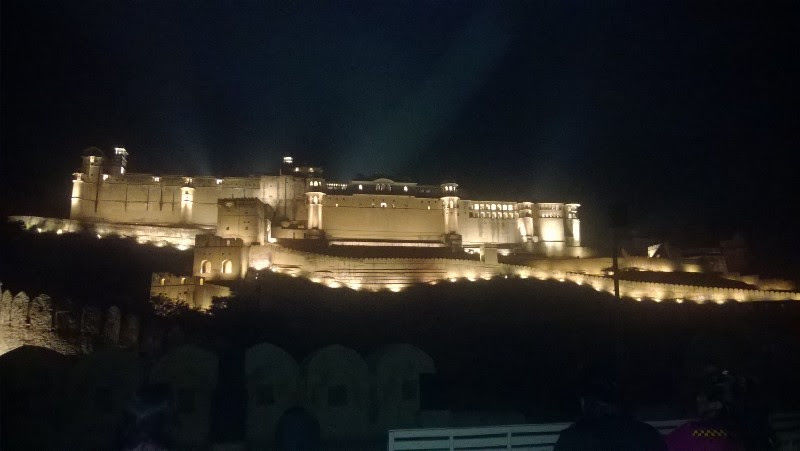 Hats off to my father who walked with me to discover all the places at the age of 60 when i realized that we can not cover the city on a single day but managed to chose best from the rest. We were extremely tired and hungry. Since, we selected sound and light show in our itinerary, we could not visit Chowki Dhani to experience the delicious food and enchanting beauty of Rajasthan State. But for food we opted dal bati churma in a local restaurant which was not less than a feel in heaven. It was irresistible.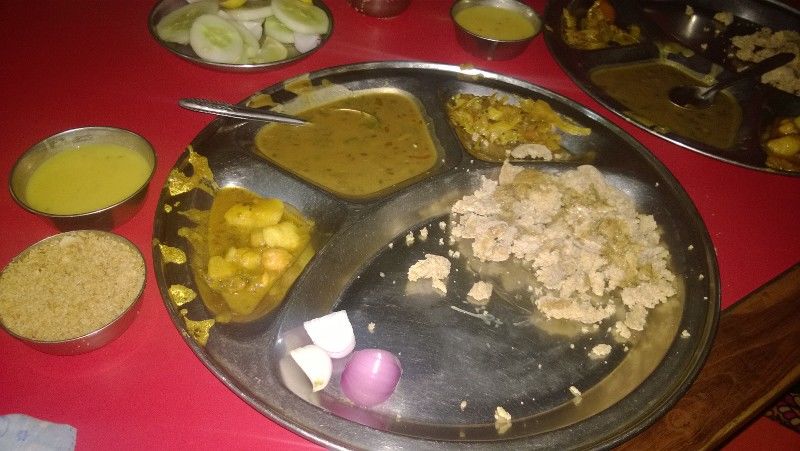 After a long, tiring and knowledgeable city tour, we had an amazing sleep which ultimately leds to an refreshing morning next day. Last but not the least, we did our check out formalities and kept our bags at the reception as hotel was quite near to Bus Stand and there are many options of Volvo Buses available for Jaipur - Delhi Route at regular interval of time. Dal bati was not enough for me so we opted Rawat Restaurant to get yummy Kachodis and Mirchi Vadas. I can still sense the appetizing flavors of Mawa Kachodi while writing and this restaurant is famous for the same in whole Pink City. This restaurant offers sitting area too.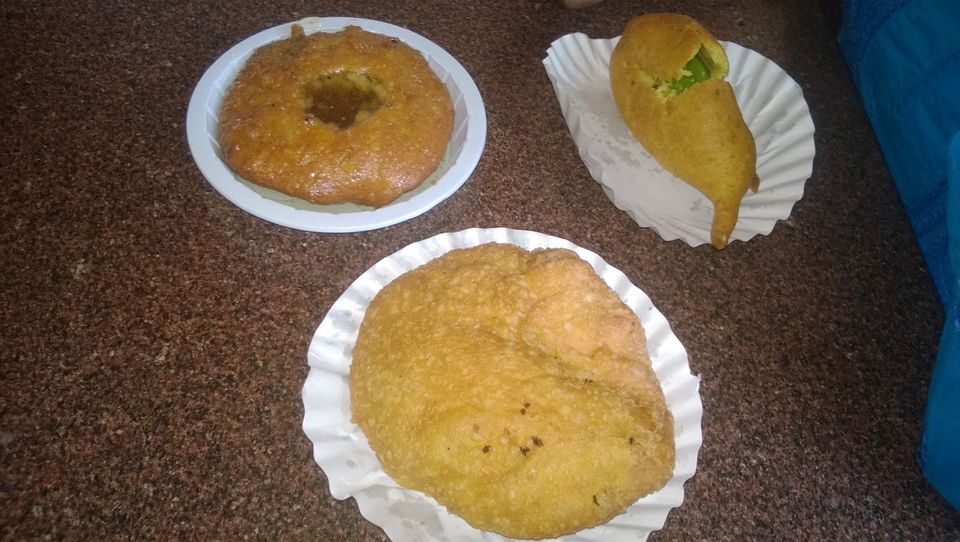 After grasping studge and delightful breakfast, we were ready to digest it by shopping. Here comes an interesting part, LADIES ALERT!!!!!! specially for those who love shopping and consider it as de-stressing hobby. You can have a small needle to whatever you can think of buying. Well!! I am short of words to describe the feelings a lady can experience while shopping in Jaipur. Handicrafts, furniture, lakh jwellery, jaipuri printed clothes & jutties, Khes etc. You will end up thinking to pack the entire bazaar to take home with you. Huge variety in individual category of things will confuse you to say what should I buy and what not. The above things were not enough as there are variety of Suparis, papad, namkeen and chutney available in market for foodies. Of course, one should be good enough in bargaining skills to get maximum output from a minimum investment/ expense. With loads of shopping, we went back to our hotel to pick up our bags and finally boarded a Volvo bus in evening which dropped us Delhi by 10 pm.
To conclude, I would specially like to tell about the people of Rajasthan are very warm and soft spoken. They actually treat their guests as their gods whether coming from the same country or the other. They completely match the saying "Athiti Devo Bhavo". Why this state attracts tourist from all over the world because of its beauty in nature as well as value & belief shows in culture, tradition and unmatchable history of Rajput Kings.
PS: One should carry sports shoes with themselves to give minimum pain to their heels ;). November to March are the best time for visiting Rajasthan. Even after covering so much places, we left out Jal Mahal, Jaigarh Fort, Chowki Dhani and those factories where one can see the clothes getting prepared by handmade block printing. If Jaipur has to show so much, I wonder What other cities of Rajasthan can show us as while coming back to my home, i started preparing list of cities will be covered in my next trip to Rajasthan. Like others, this trip too ends up giving me enthusiasm to travel more and experience and learn the customs and belief of people around me. Jaipur may be called as Pink City but it shows you each and every color completing the Rainbow of Life.