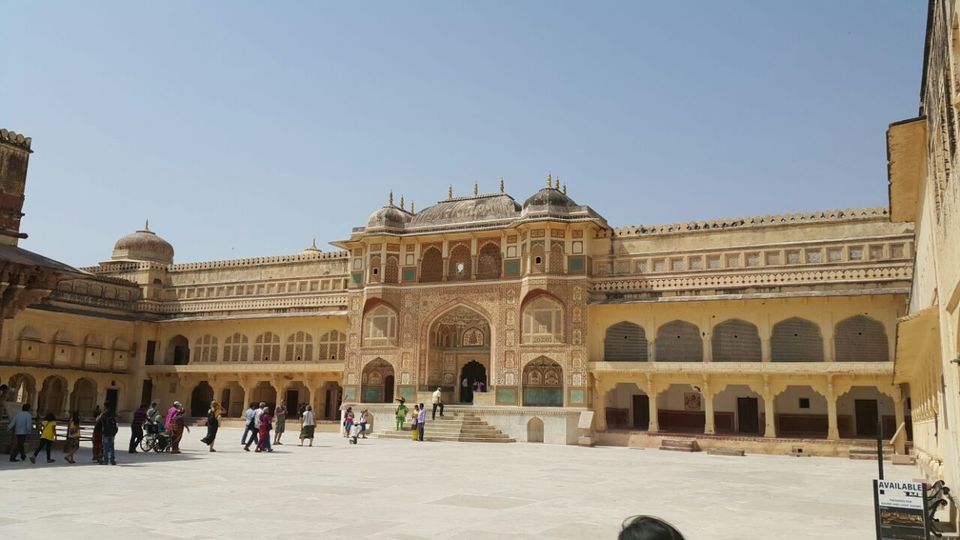 Rajasthan is a land of culture and heritage. The people of Rajasthan are very heart warming and wears a smile to welcome you. Rajasthan is one of the major tourism hubs in India for Inbound clients and hence Jaipur is a major junction city of Rajasthan. The colors, culture of Rajasthan is vibrant and colorful and enlightens up the people. One very unique aspect of Rajasthan is that you shall find the guides of all major languages as per your own mother tongue and they are so professional in their services. One should always hire guide services in Rajasthan to know more about each place and their aspect in the history, else you shall miss the major details and information of the city. The local markets of the city are brimming with people always eager to shop the local handicrafts and produce of Rajasthan.
The highways of Rajasthan have beautiful roads but wears a deserted looks. Take a note of the place where you take a halt and always ensure to stopover at major places with the public around. One concept which disappointed me in the local eateries on the highway was that they had two separate menu cards for Indians and Foreign Guests and each priced differently. The menu card for Foreign clients was 3x the price than the Indian client. The packed items were sold at 2 times or 3 times the MRP, which was actually very disheartening on how we are fooling our own guests only.
Pushkar is one place you will fall in love with due to its environment, comfort and safety for single travelers or women travelers. The streets are abuzzing til late nights and you will find everything in those streets for your comfort. And you will catch your hands at the most exquisite brands of cigarettes on the streets of Pushkar. The soulful music, hearty Italian eateries, and chilled out atmosphere makes you come to this place and spend some time.
The travelers should take a special caution on the heat if travelling in summers and should always carry hats, sunglasses and sunscreen. Avoid eating Rajasthani food at all times since it is loaded with clarified butter and difficult to digest. The drivers will take you around to various showrooms as per their set commissions but they are all National Handloom Industry and having a look is never bad. Always carry water. Be friendly to the local people around and they will be the most helpful people around. The major hotels and restaurants round the state are vegetarian, so enquire before you go.
October - March is the best time to see Rajasthan, however our summer experience was not bad either since we got hotels and transport at throwaway prices and we could see each and every place with more content due to less crowd.
For any assistance on travelling to Rajasthan, please feel free to contact me on aanchal.khurana87@gmail.com
Jaipur truly is the culture capital. Buzzing with vibrant streets, old heritage architecture, and grandeur, this place has lot to offer. The city is both the culmination of heritage and modernity with a very balanced growth. The city offers a delight to see our architectural marvels in the form of Amer Fort, Jaigarh Fort, City Palace, Jal Mahal. The city also showcases on how Rajasthani art and handicrafts is emerging to be a major retail segment and industry in Rajasthan in support to tourism industry and how each art is being procured by the local people of Rajasthan. The art and handicrafts is truly worth the appreciation. We visited the local emporiums which was a small cottage industy. Right from block printing to carpet making, to gem stones extraction, they showed us all. The Rajasthan Jewellery is worth a look and you can really not stop yourself at looking on those and binging your shopping instincts for the same. Each form of product has its own story and how each piece is made with hand. The special Rajasthani Rajai is world famous. Marble which is the only extracted in Rajasthan, has made its special uses in various forms of products like watches, coasters and other small gift-able souvenirs. Amer Fort reflects on how the things of modern era were conceived in olden days like Turkish Baths, Jacuzzi and Steam Baths, the intricate art done at each and every corner of the fort, the comfort of grandness and grandeur in the fort. The elephant ride in Amer Fort gives you all the more royalty. The newly added feature of the fort includes the sightseeing at dusk and a special light and sound show at Amer Fort in both English and Hindi language. Also one can dine at Amer Fort restaurant capturing the glaze of Jaipur city. The traditional food of Rajasthan of daal, baati, churma and gatte ki subzi was mouth watering. The outstanding Lassi of Lassiwala and the kachodi of Jaipur is surely not to be missed. Jaipur houses all major hotel chains and the accommodation of all genres can be catered in Rajasthan. A special thank you to the team of Theme Hotel for making our stay very memorable in Jaipur. In all a must visit city for cultural experience and extravagant royalty.
Pushkar is one place I have totally fallen in love with. Surrounded with the only Brahma Temple in the world, this place is a sure visit. Serenity, loud chants, devotion, temples, aarti, Brahma Lake all offers purity and sanctity. Once out of it, this place has narrow alleys and here you shall find small cafes of various cuisines tucked into each smaller lane overlooking the Brahma Lake. The cafes filled with young bustling crowd and ambiance makes you fall in love with Pushkar. The lanes has ample shops selling intricate jewelry pieces, cotton apparels, gemstones, incenses, and many other local items. The gourmet stores are such you shall not come across in bigger cities also. The place is crowded with foreigners and is one of their major hubs. Pushkar has homestays, little guesthouses, bnb and smaller heritage hotels tucked into lanes with a lovely view of Lake Pushkar. One destination where number of days spent will always seem less. No bigger brands and hotels, but surely best of everything.
The drive from Pushkar to Jodhpur is a must. Lovely stretch of endless road and highway, but the stretch wears a deserted look with barely no stopover places in between. The female travelers should take a special care about the driver and their whereabouts to the family. Jodhpur is also a reflection of heritage town. The town has barely any element of modernity and the places to visit are all nestled in old town around the Cloak Tower which contains old markets, streets, havelis and heritage hotel with Mehrangarh Fort. The place has an essence of heritage feeling and one should always try and stay in old havelis and homes and it surely gives a binge of old time royalty and their culture. Jodhpur is also famous for its various handicrafts like bamboo sarees, jodhpuri jutti, wedding ensembles, art silk, bandhni and many more. Their special spices and pickles are a must pick up in Jodhpur.
Frequent Searches Leading To This Page:-
best tour packages in rajasthan, rajasthan family tour packages, rajasthan travel packages, places to visit in rajasthan during summer, rajasthan trip packages, rajasthan tour package for family, honeymoon packages in rajasthan