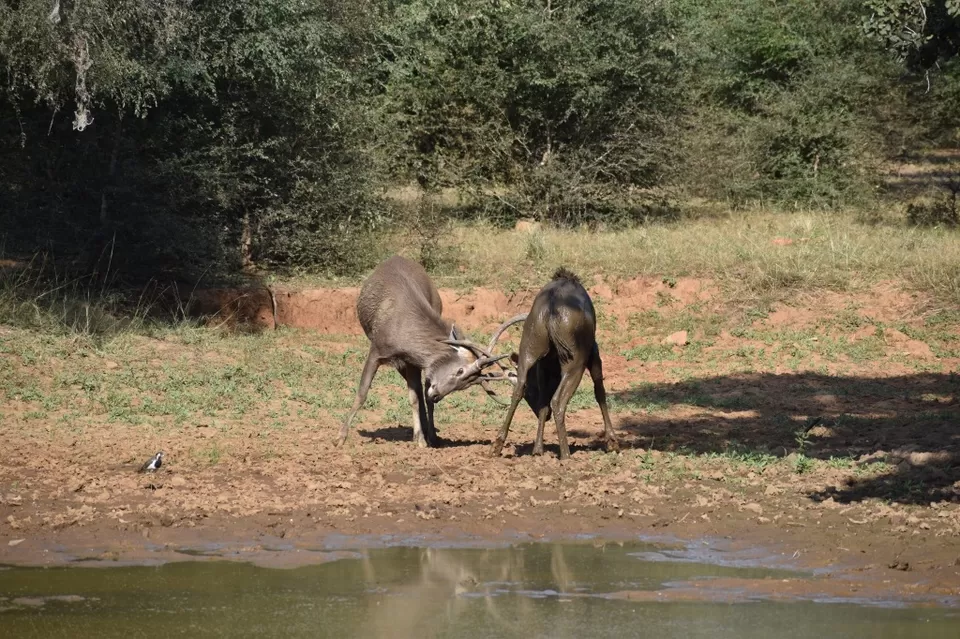 If there's any State in India that could offer you a wide variety in terms of travel options, we would say that it has to be Rajasthan. You could witness the rich cultural heritage of India, natural beauty, huge man-made structures or sometimes even a combination of any of these at more than one location within the State! Ranthambore is one such place, which, albeit primarily being known for its Tiger Reserve park, also offers several other very good tourist-y options to visitors. Generally, the only thing that comes to mind when someone mentions Ranthambore is the Tiger Safari...thanks to the Instagram posts of few Bollywoodian revelers. But, there's more to Ranthambore than the quintessential trip to the jungle, and this post intends to highlight the other options to explore in Ranthambore, especially if you are traveling with family.
How to reach?
We travelled from Delhi by road in March 2022. The total distance from Delhi to Sawai Madhopur (the town near Ranthambore Tiger Reserve) is around 380 kms passing through Gurgaon - Neemrana - Shahpura - Dausa - Lalsot.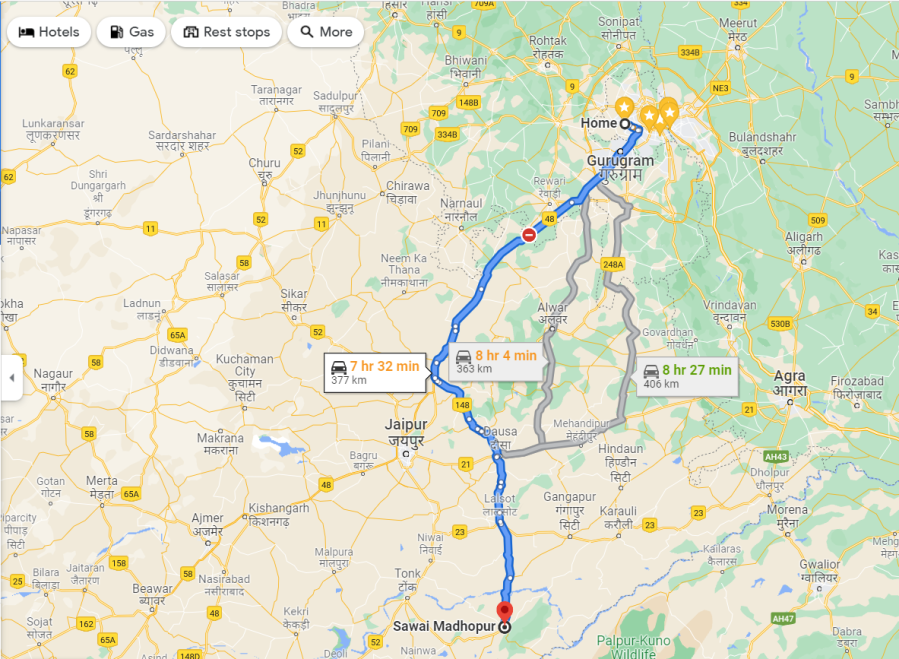 The travel time would vary between 7 to 9 hours depending on the time when you start your journey. It is advisable to account for delays due to farmers' protest around Neemrana area when planning when to start your journey. The other problem that one may encounter on the highway is the huge number of trucks that ply on that highway with most of the trucks being driven on the extreme right lane and some even blocking the middle lane. The road between Dausa and Lalsot is very good and four-laned generally. Between Lalsot and Sawai Madhopur, the road passes through many villages and thus, one has to drive very carefully while jumping over the umpteen speed breakers that are capable of causing internal organ failure. However, the drive between Lalsot and Sawai Madhopur could also turn eventful as you may get to see animal crossings or conducting their day to day business across the road. We got to see a fox crossing the road and a Nilgai munching around in someone's fields.
There are not many "good" food outlets available once you turn from NH8 (after Shahpura) onto the road leading to Dausa. If you are concerned about the facilities and specifically, require grandeur at the food outlets where you want to stay, it is advisable to have your food before you turn towards Dausa because the food outlets after Dausa are largely non-descript.
There were no Covid restrictions but that may vary from time to time and it is advisable to check for Government directions before traveling. When we traveled, no one required to check our vaccination reports or RT-PCR test reports. The hotels may, however, require any of those.
Staying options?
There are all types of resorts/hotels in Sawai Madhopur starting from the very basic ones to the ultra lavish ones, including the speculated venue for Bollywoodian Katrina Kaif's wedding where a day's room could make you lighter by almost INR 1 lakh. But, if you feel you are lacking (or lakhing!) that moolah, you may be able to get options that suit your budget. We stayed at a semi-luxury resort - Anuraga Palace (http://www.anuragapalace.com/). The average room rent as quoted to us was around INR 10500 for a Deluxe room after a bit of haggling while pre-booking before our travel. The cost additionally included two meals and evening tea. The resort has ample parking space and expansive courtyard flanked by huge corridors having sitting areas that are located just outside the rooms. If you are thinking what's the use of sitting area, well, every evening there's a folk music event which the residents may enjoy from the comfort of the sitting areas just outside their rooms. The food bears rustic Rajasthani flavours and is slightly on the spicier side - make sure you eat a lot of curd or else ask the Chef to keep the heat a bit down, which, though, may tone down the otherwise authentic flavors. The resort boasts of an organic farm from where all the raw material for food is locally sourced and thus, you could be assured of a pesticide free meal every time you eat here. The resort also has a swimming pool but that was closed due to Covid restrictions. Here are few pictures of the resort: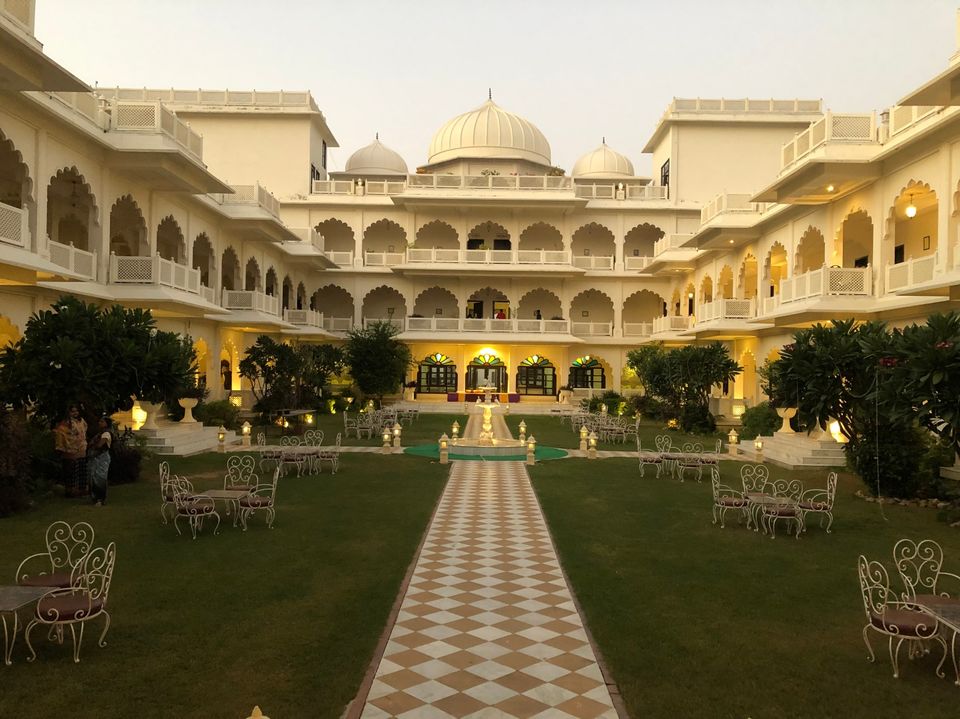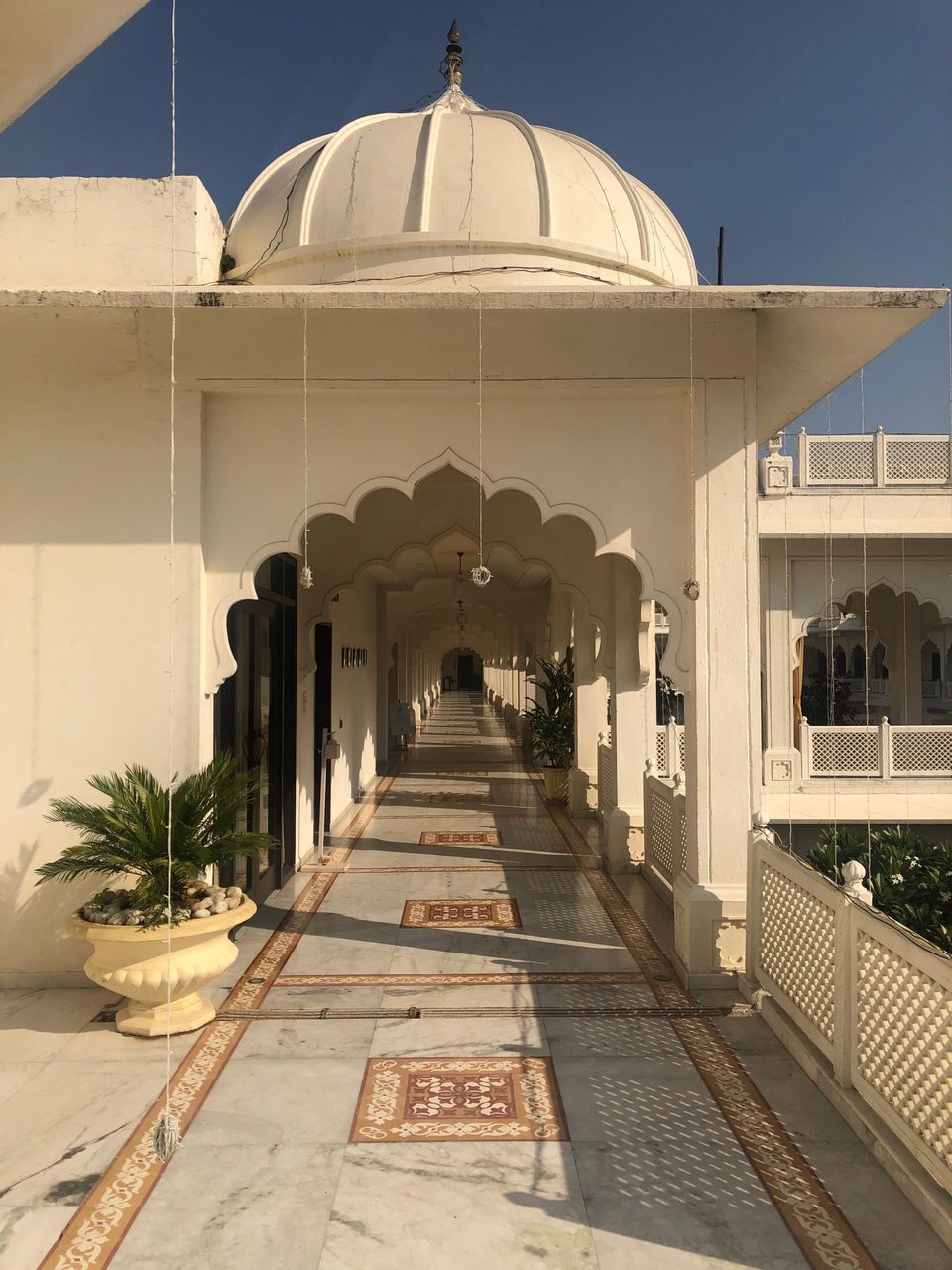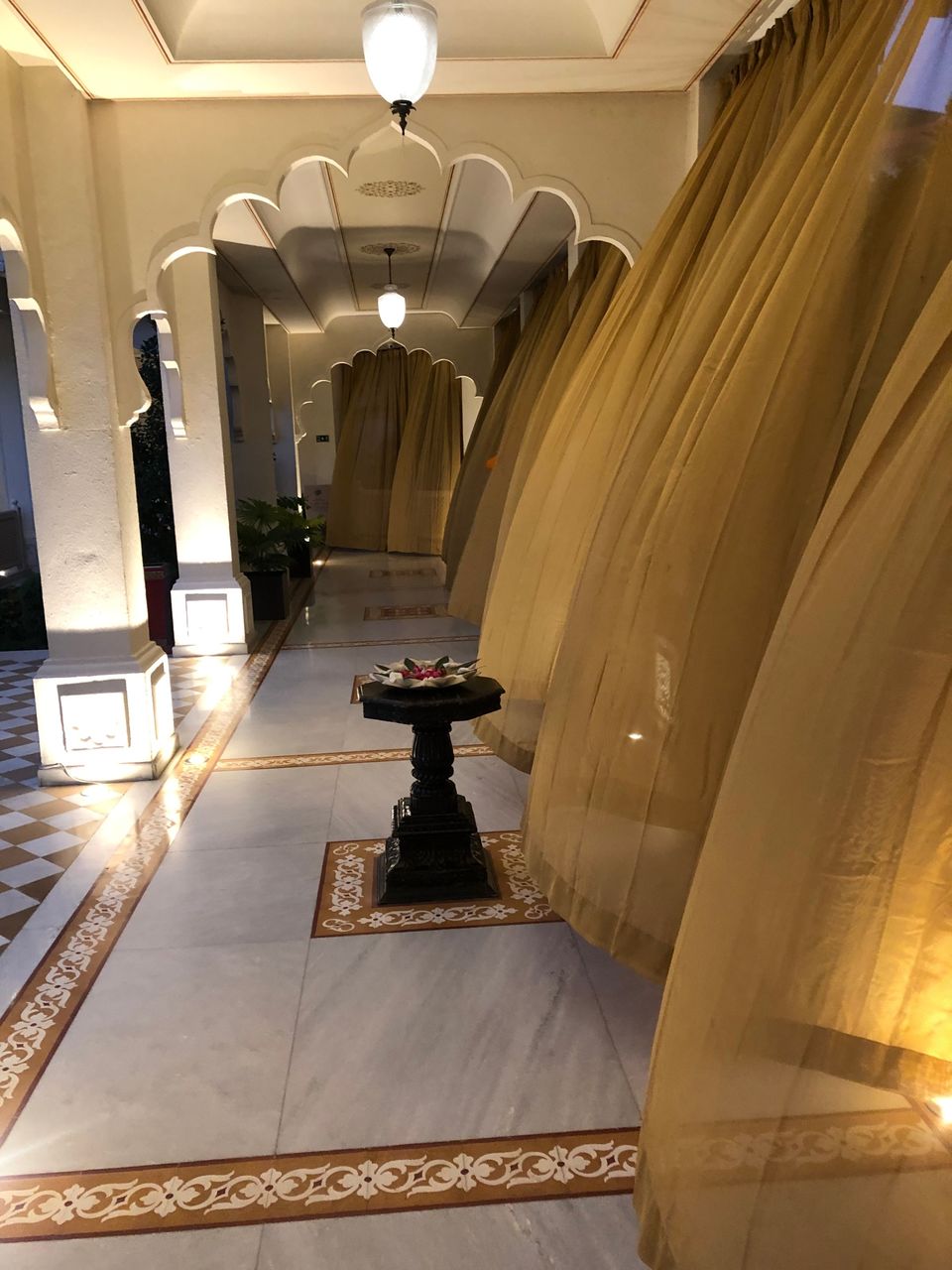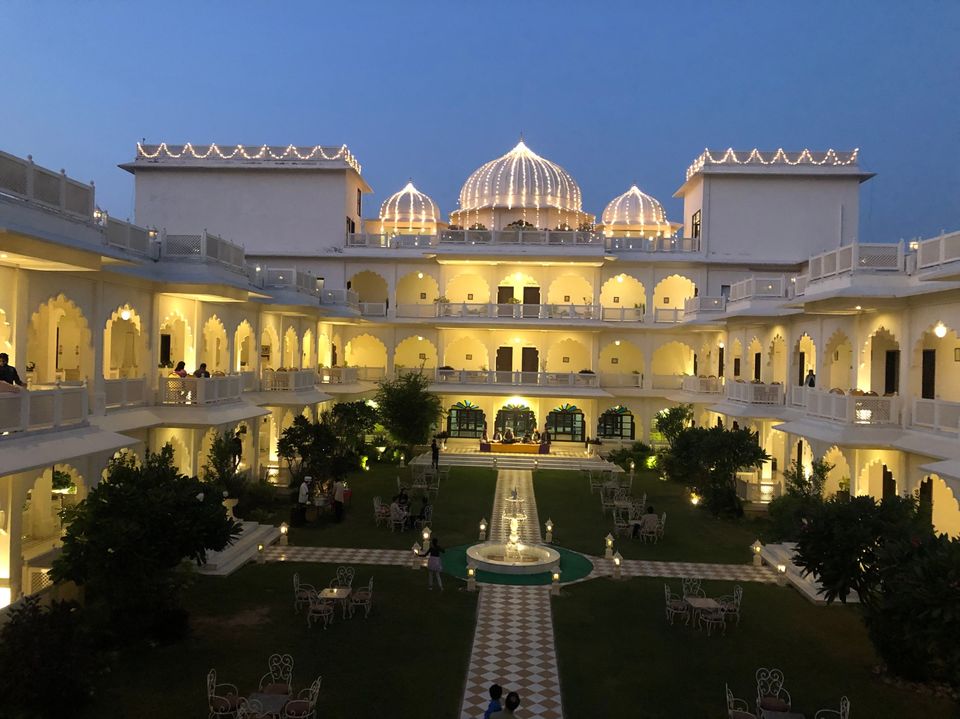 Where to venture out when in Sawai Madhopur?
As already mentioned earlier, a lot many people know Ranthambore for its Tiger Reserve. But apart from Ranthambore Tiger Reserve, Sawai Madhopur also has a Crocodile Safari and Ranthambore fort, which generally do not feature in the popular travel advisories related to Ranthambore. We will try to cover each of these options briefly one by one.
Ranthambore Tiger Reserve
The reserve is situated in an area of around 370 sq km and had upwards of 75 tigers (as told by the Safari guide) and thus, as compared to the Corbett Tiger Reserve, there are better odds of sighting a tiger. There are 10 designated zones and one can opt for a Safari by Gypsy (for 6 people) or a Canter (for a larger group). One may ask the hotel travel desk to make a pre-booking for either of the options. We were charged INR 1600/person for a Gypsy and were told that the charges for Canter are around INR 1100/person. As regards the chances of sighting a Tiger, we were told that Zones 1-6 have highest probability. However, we met a group later who told us that they sighted a Tiger in Zone 10. But, that's understandable - it is Tiger's territory and its own free will. Anyways, we should be the ones following the Tiger and not the other way around (it better not be!). Coming back to the Safari, the Canter only goes to Zones 1-6 and thus, if you want those zones exclusively, opt for a Canter. We were randomly allotted Zone 8, since we had opted for a Gypsy, which has a bit of hilly area and thus, lesser chances of Tiger sighting. But, there are other animals in plenty, which could make up for the missed chance of not sighting a tiger. There're spotted deer, Nilgais, Sambhar deer and leopards in most of the zones. We were lucky enough to see at least the different types of deer and were satisfied to the core. However, if your main purpose of visiting Ranthambore is to sight a Tiger, increase your chances by going on more than one Safari trips (there are two time slots - Morning 6.30 am and afternoon 2.30 pm) and opt for a Canter.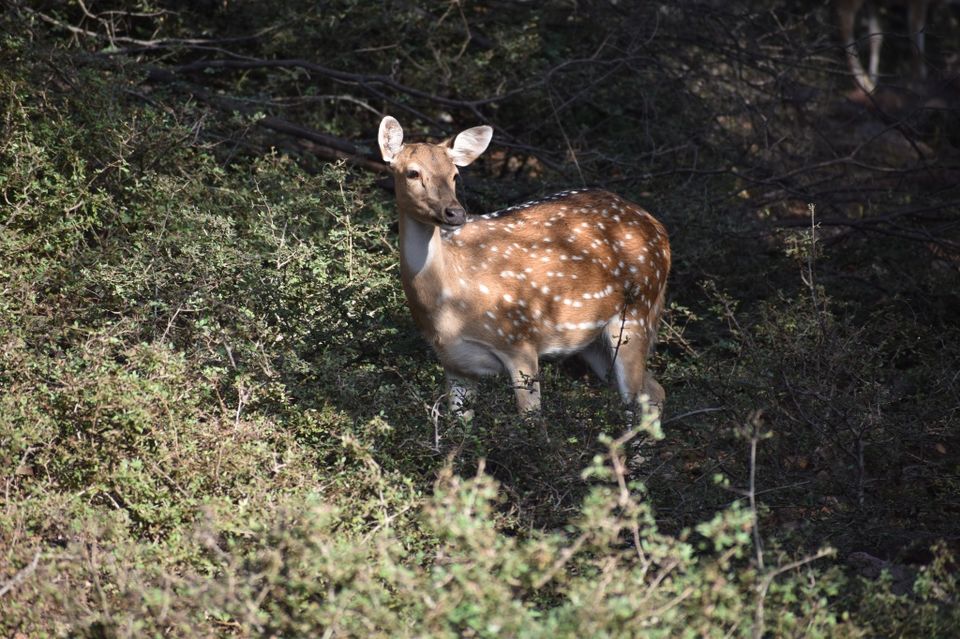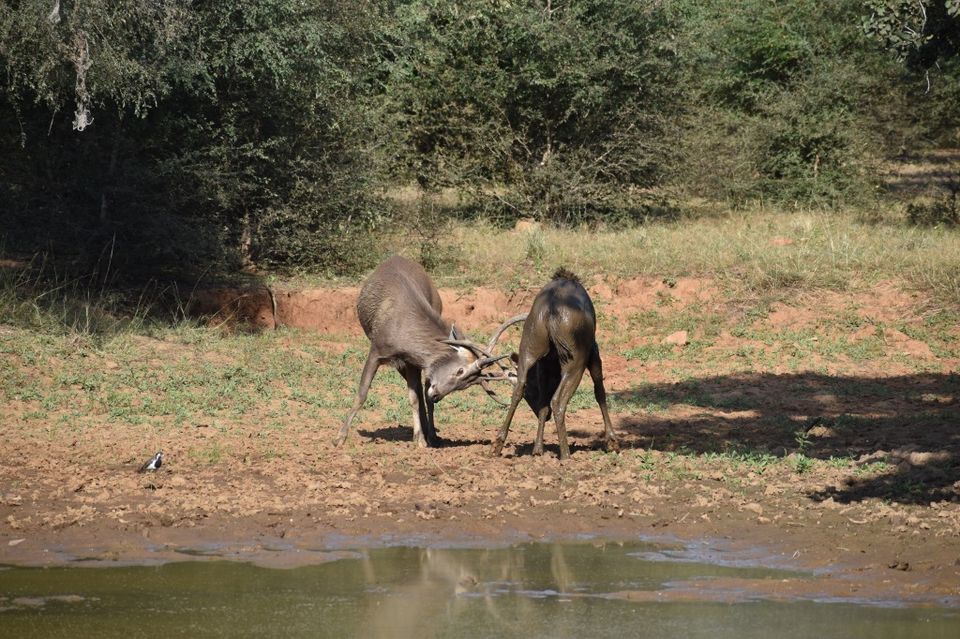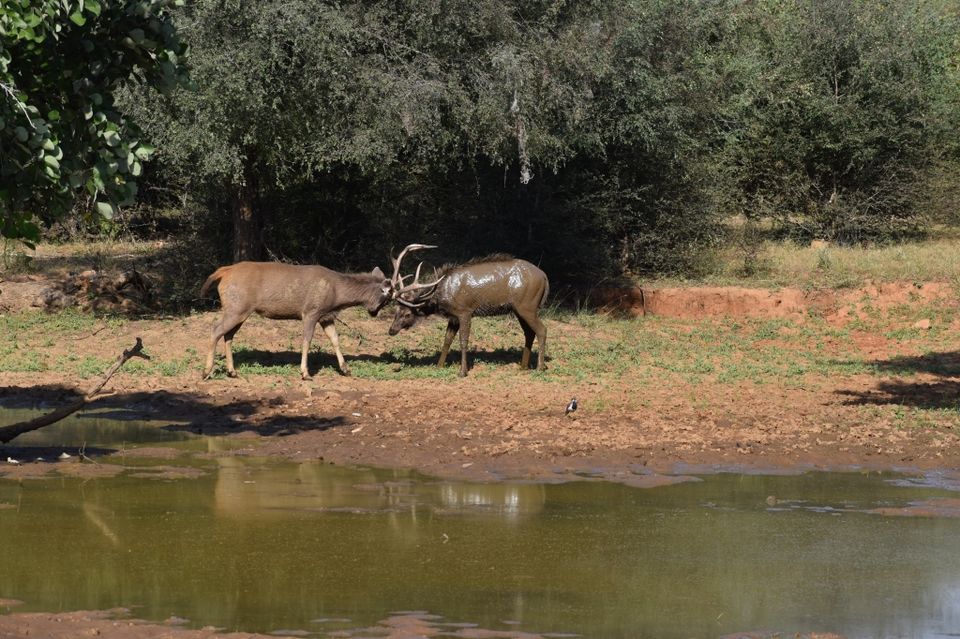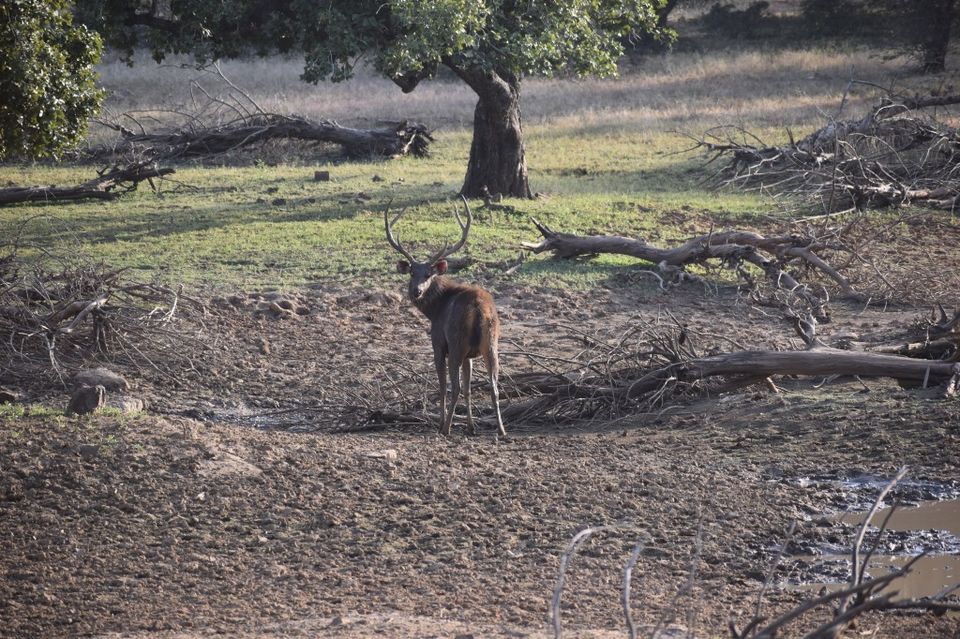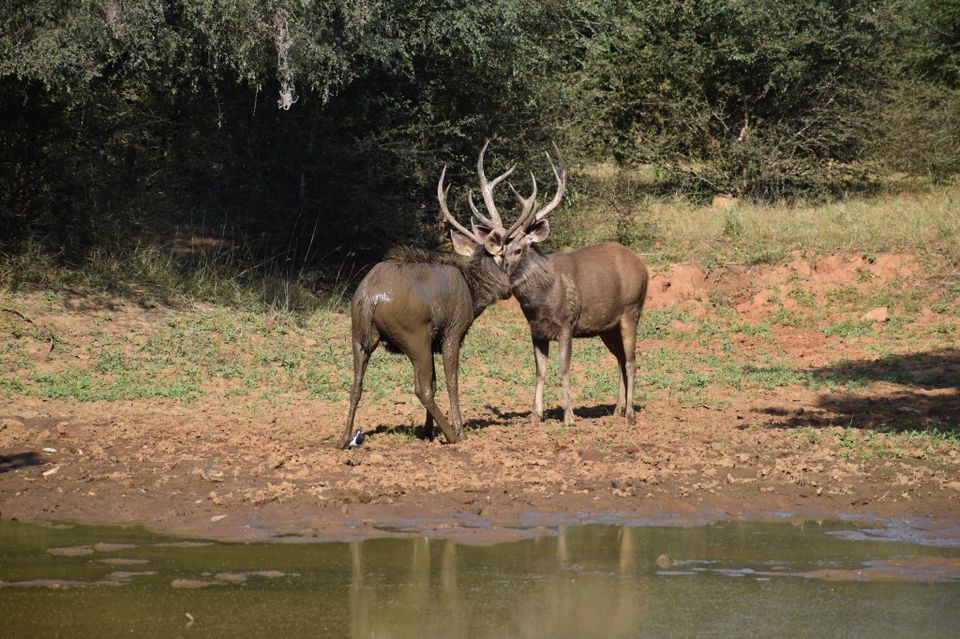 Palighat Crocodile/Gharial Safari:
If you get bored of sighting land bound and "soft" animals or even the King of Jungle (if you were lucky), Sawai Madhopur has another option - which is not advisable for the faint hearted - of watching the King of the reptilian world from close quarters. Situated at a drivable distance of around 35 kms from Sawai Madhopur is the Palighat Crocodile and Gharial Sanctuary, where you may get to see crocodiles and gharials up and close. Located at the confluence of Chambal and Parbati River, the Crocodile Sanctuary could be best traversed in a boat. The price per person is INR 500 for almost a 40 minutes ride. While one could watch crocodiles lazing around on the banks of the Chambal river, gharials could be best seen floating around for their catch. We did not see any gharials but there were many crocodiles enjoying the afternoon sun. Preferable time to visit is after 3.30-4pm as the place is also famous for its sunsets.
The route to the Crocodile Sanctuary is good two-laned road with the last 5 kms (approx.) being a meandering narrow road running through fields. But, the ride would be an enjoyable one if you are a heavy driver. The beach from where one has to take the boat is bit rocky so if you are not an adept driver, nit is better to take a cab from the hotel to reach the place. There are no food outlets and/or toilet options near the Sanctuary so you may have to time your bladder and/or stomach accordingly. It is advisable to carry appropriate headgear and sunscreen as the sun could be beating down harshly depending on the time of the day when one visits. Also, when we visited the Sanctuary, there were two boats - one with overhead canopy while the other one was bare. So, headgear may become a necessity depending on which boat you get to ride on. The boat operations are not regulated as such so safety precautions are a voluntary decision left to the tourists. Make sure you insist on wearing life jackets, which are available but stashed beneath the hood of the boat. The only scary part is that you could witness crocodiles/gharials swimming at a close distance from you. Thankfully, the boat operator stated that generally crocodiles/gharials prefer to stay away from the boat due to the heavy noise that the boat's engine makes. Overall - worth visiting one time. Here are few pictures of the Sanctuary: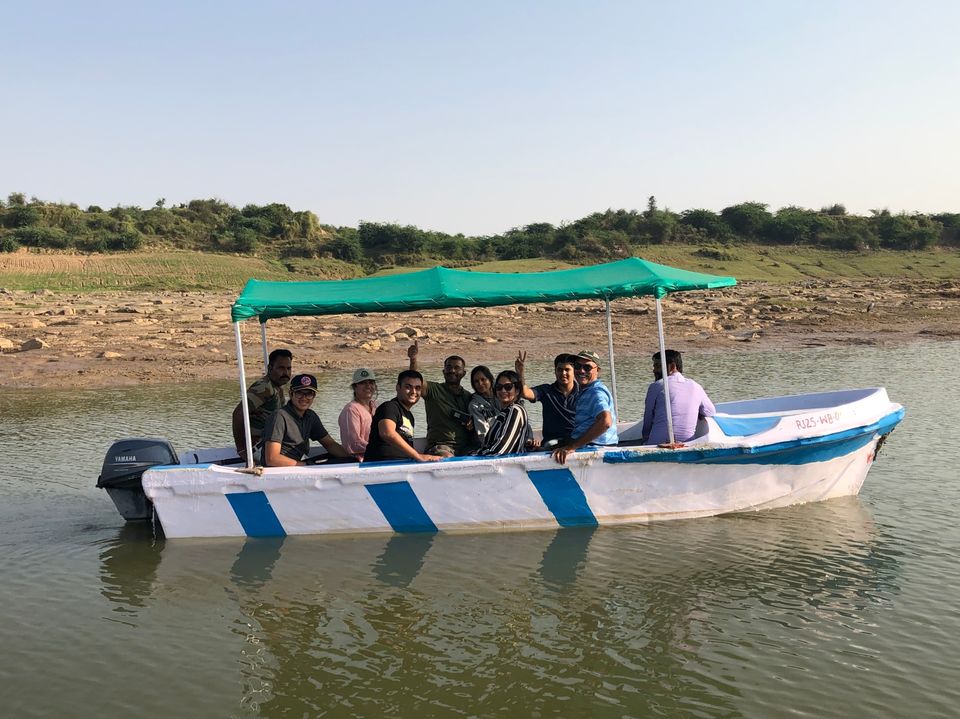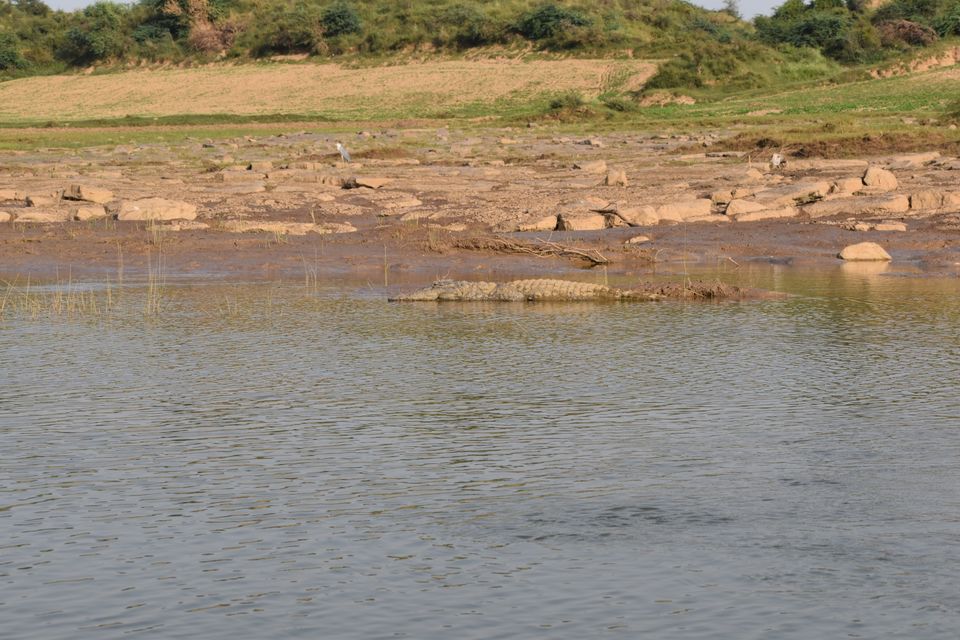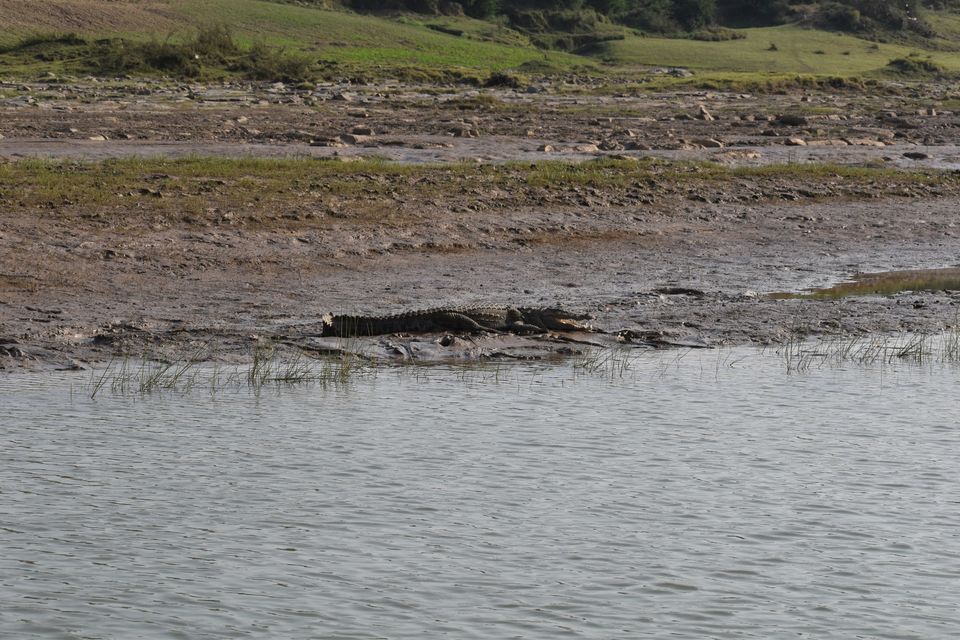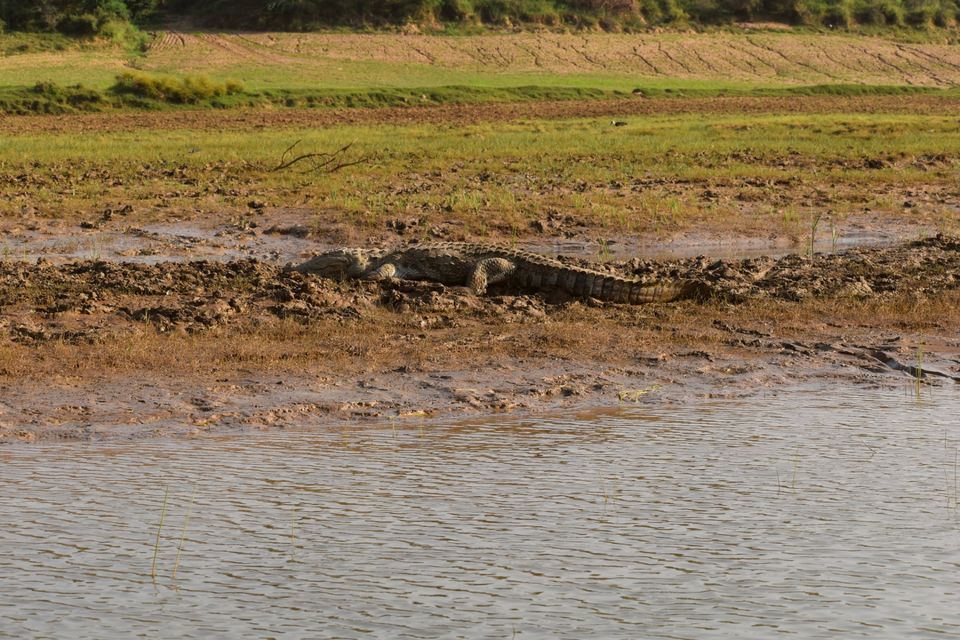 Ranthambore Fort:
If you are a history buff, there something for you as well! The Ranthambore Fort is situated around 12 kms from Sawai Madhopur and is, again, a drivable destination. The drive is very scenic passing through the jungle and thus, preferably, one should try to self-drive. However, if you are self-driving, make sure that you follow the instructions of the forest department to the hilt. Remember, we are in the territory of animals and thus, due respect needs to be accorded to the rules of the jungle. There's a complete prohibition to stop in the midst of the jungle and alight from your vehicle. There are few water crossings on the way, which may have good flow depending on the time of the year when one is travelling. One may get to see crocodiles near such water crossings, and we were lucky to sight one (of course from a distance).
There's ample parking space at the foot of the fort, which is located atop a hillock reachable by close to 200 steps. The fort has a Ganesh Temple and also a dargah (built by the Delhi Sultanate), thereby being a standing symbol of religious harmony. We could see followers of both religions visiting the fort with equal fervor. There's enough material available on the history of the fort and so this blog would rather concentrate only on the practical aspects of reaching and enjoying the location. There are plenty of <em>Langurs</em> around the area and thus, make sure that you do not climb up the stairs with food packets or loose carry cases exposed. The climb up the stairs is a good exercise for legs and could be a tiring experience. Do carry a water bottle. Again, we didn't see any food or toilet options so if that is a concern, ensure suitable backups or arrangements for the same. There's a lake nearby, which is visible one you reach the top. Overall a very scenic fort.
Tip for hardcore travelers who love souvenirs: You may find a person selling authentic hing (Asafoetida) on the stairs. If you want to experience authentic Rajasthani flavours in your home-cooked meals, do buy some. The good part - he guides you how to use it appropriately while preparing your food.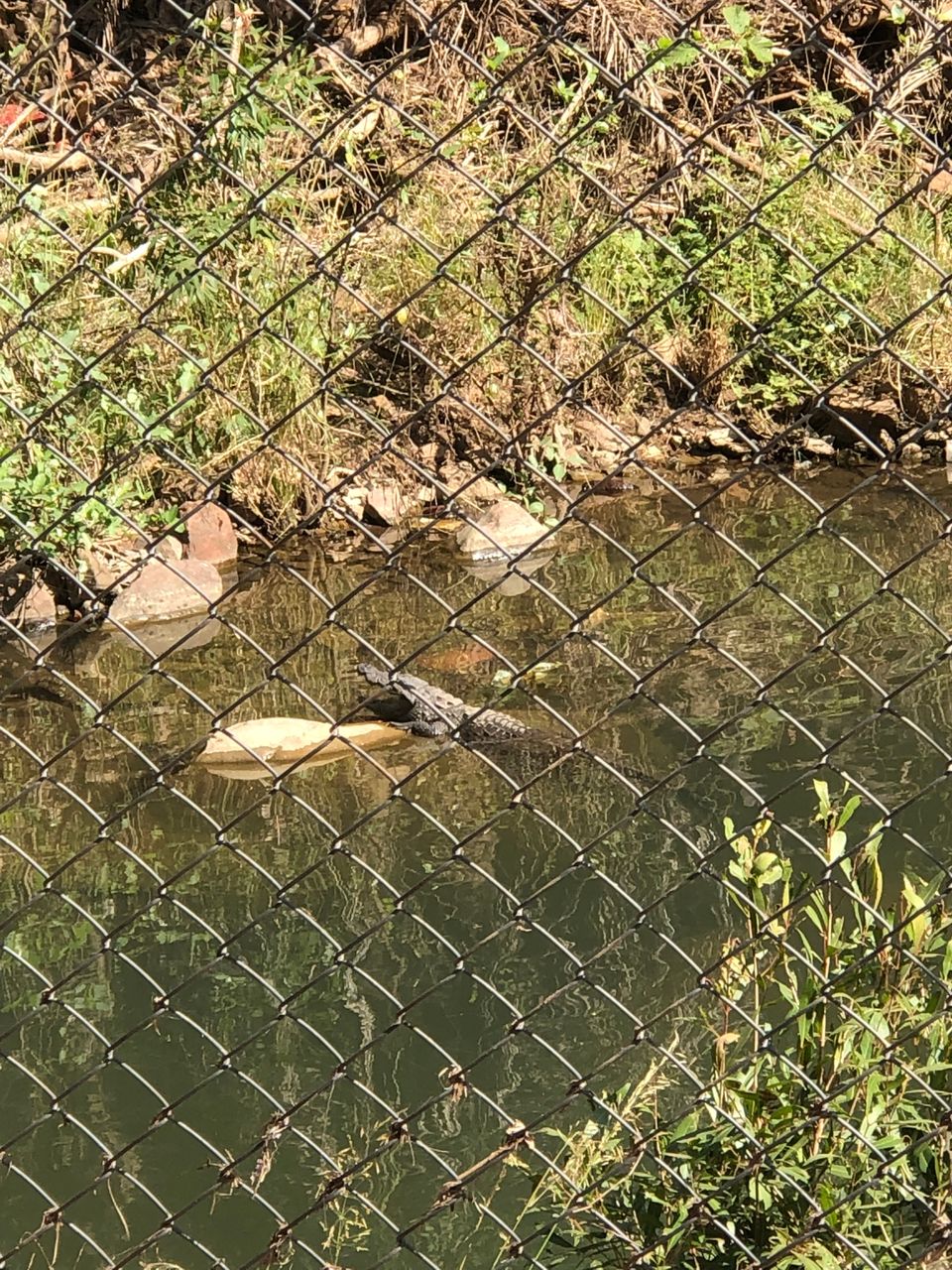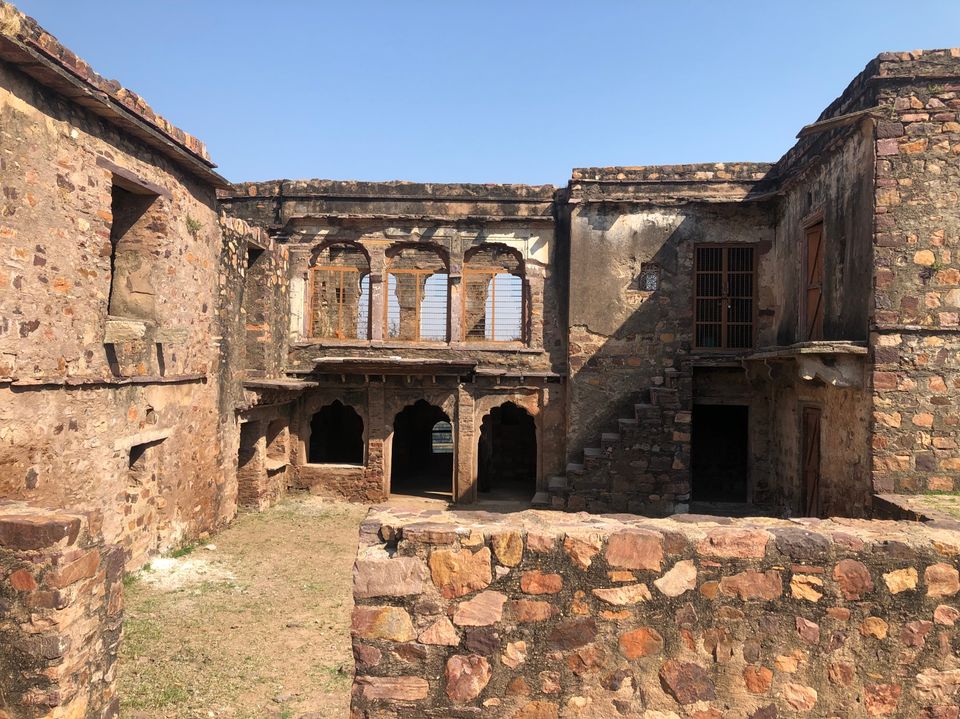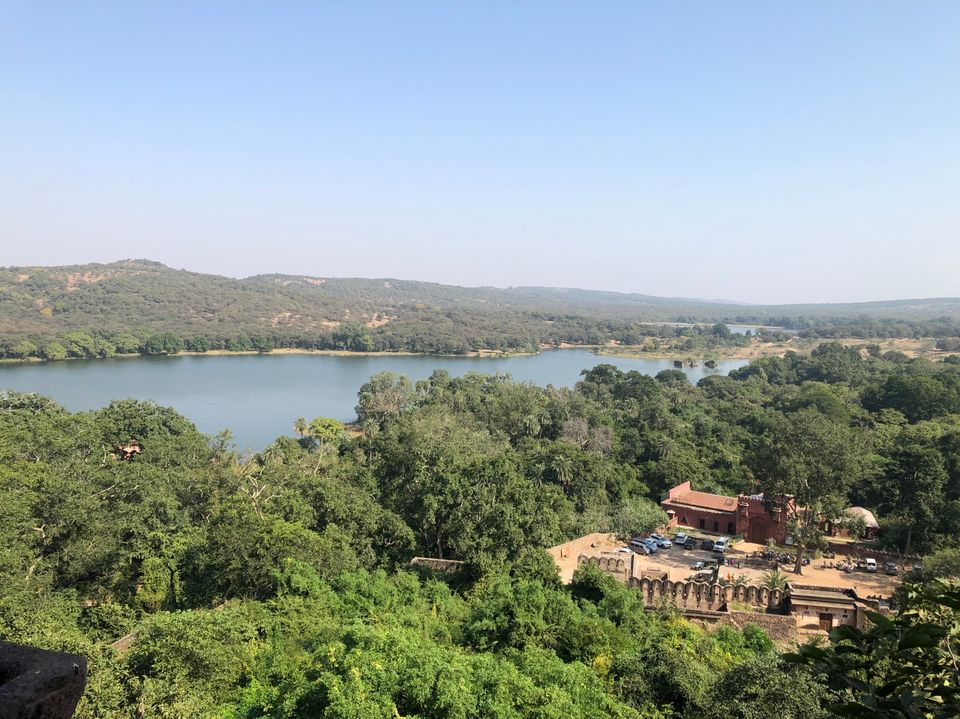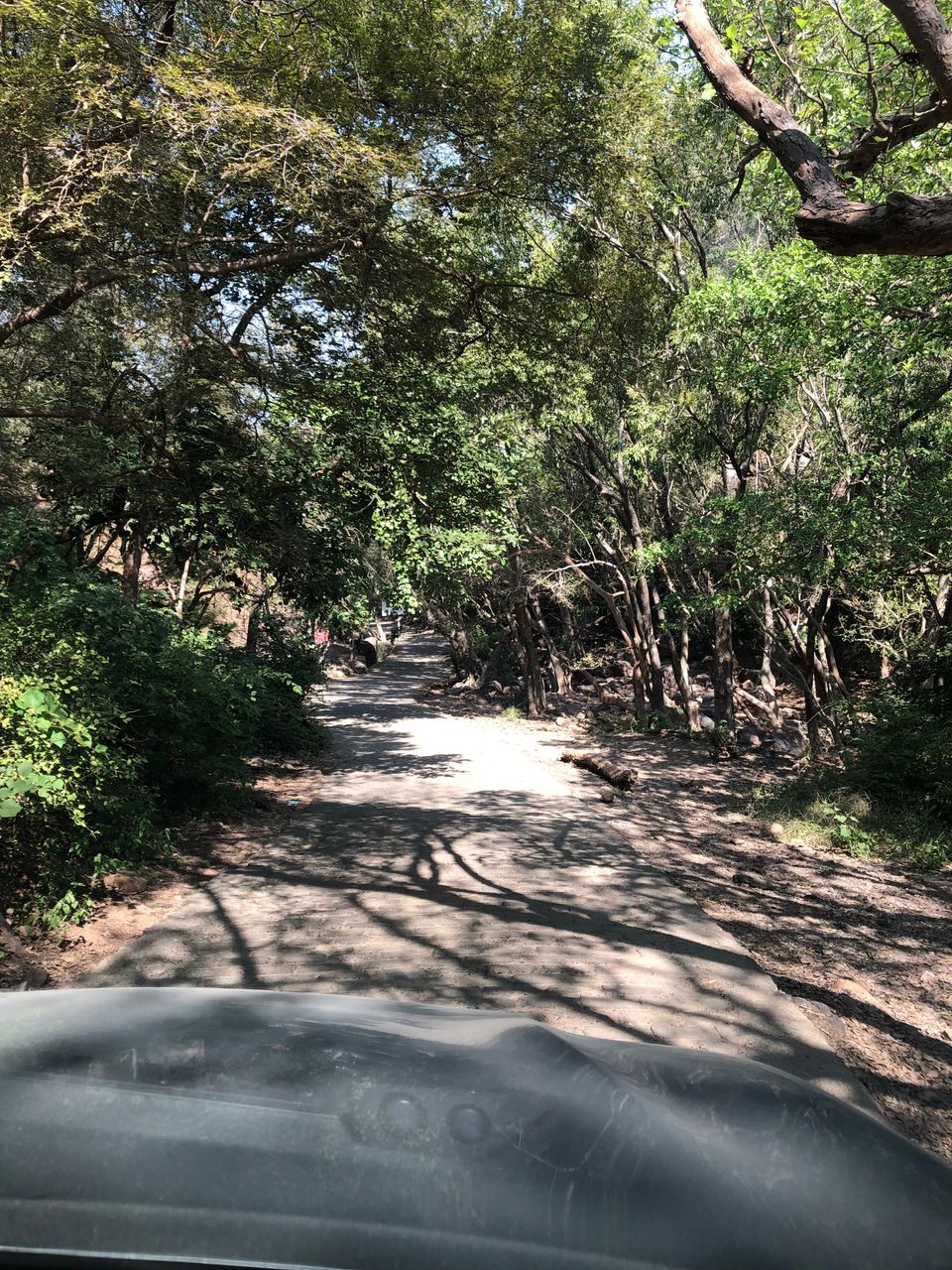 Verdict:
From point of view of a family traveler, Ranthambore/Sawai Madhopur offer bunch of options that could appeal to different members of a family. While the children may love to watch animals roam about in their natural habitats, the elders could thrill themselves at least with the chance of sighting a tiger. The crocodile/gharial sanctuary could take you at closer, yet safe, distance of the most magnificent but dangerous reptile that exists in our times. Ranthambore fort is a welcome change from the usual sanctuary rides and also enables one to have a mini drive through the forest. To top it all, the wonderful people of Sawai Madhopur ensure that you enjoy the best hospitality that Rajasthan is known for, not to forget the local Rajasthani cuisines, which leave a lasting impression on your taste buds (not merely because of the spices but because of the local taste). Overall, Ranthambore/ Sawai Madhopur is at least a one time visit.