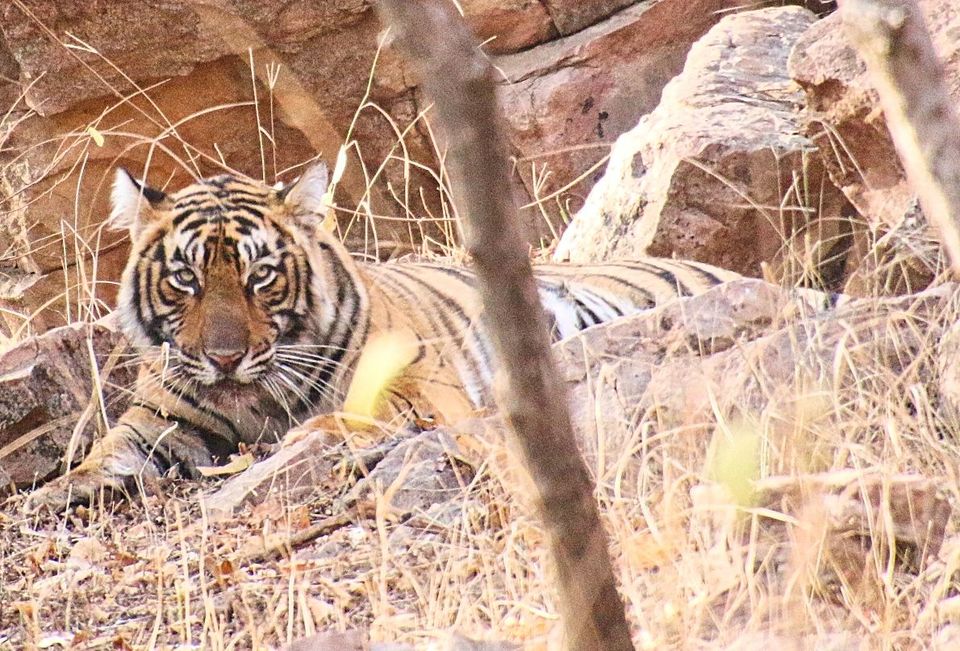 "I come to Ranthambore at least three times every year. In summers, I go for up to 12 safaris in one trip!" said my fellow gypsy passenger, on a safari to zone 6 in Ranthambore. There's something about this forest which draws people to this place over and over again. For seasoned travellers like him, it's the diverse flora (lakes and grasslands, hilly areas and dusty plains) and the wondrous fauna (elusive creatures such as leopards, hedgehogs and bears). For first time travellers like me, the sole attraction of the place is – spotting the tiger!
This is the story of my incredibly lucky tiger sightings in Ranthambore – also some tips and tricks to make your trip there easier too.
We arrived at Sawai Madopur railway station after a 6 hours' journey from Delhi. The station is a wonderful tribute to the forest of Ranthambore – beautiful wildlife scenes deck the walls of the station, and even the iron railings have silhouettes of the tiger, all of which work towards building your anticipation.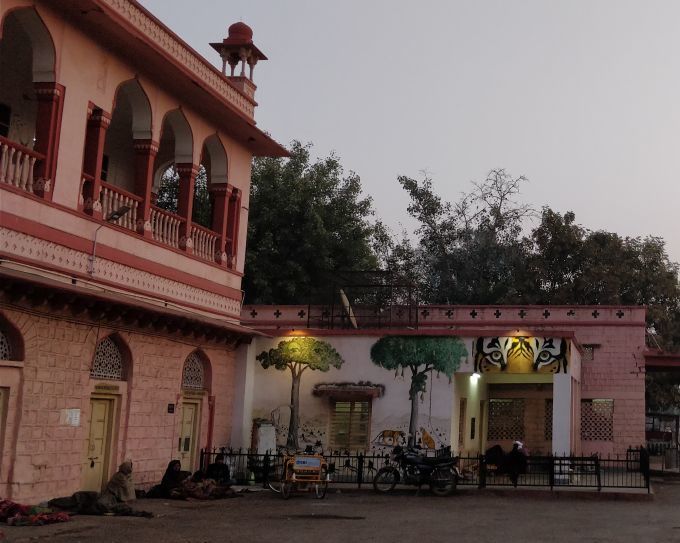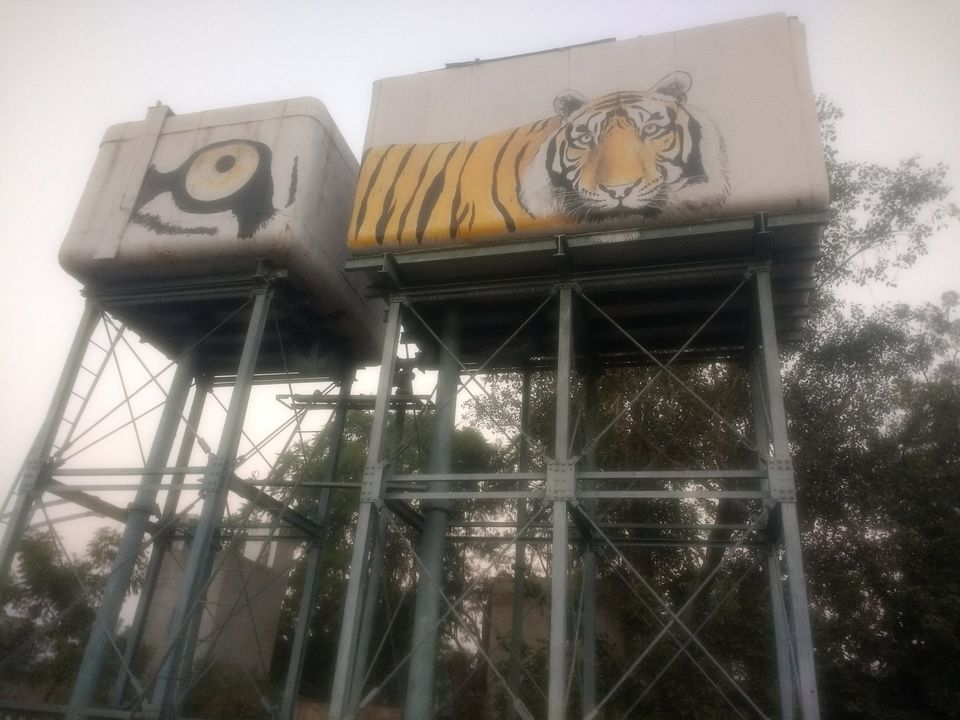 On the first day, we decided to explore Ranthambore Fort. It is located within the forest area and there is no entry ticket to the fort. A jeep takes people up to it, or you can use the hotel's vehicles. The fort is sprawling and there is much to explore in it. Our 'wildlife' sightings began right here, as the place was full of monkeys, peacocks and donkeys! We saw a beautiful kingfisher here too. We heard alarm calls of some monkeys, and were later informed that a panther had been sighted near the Fort!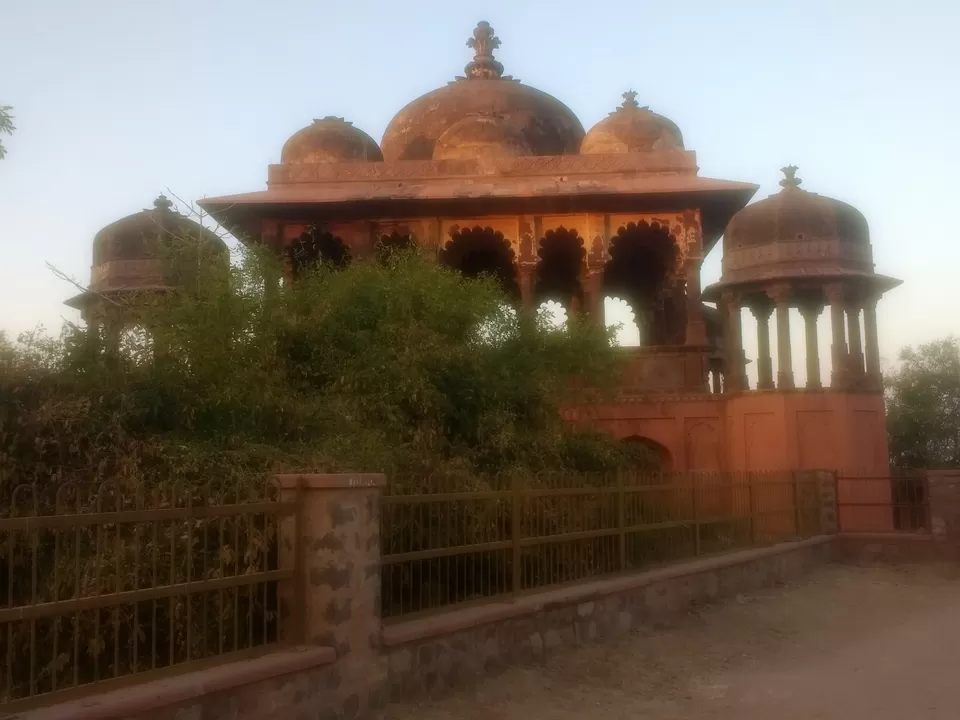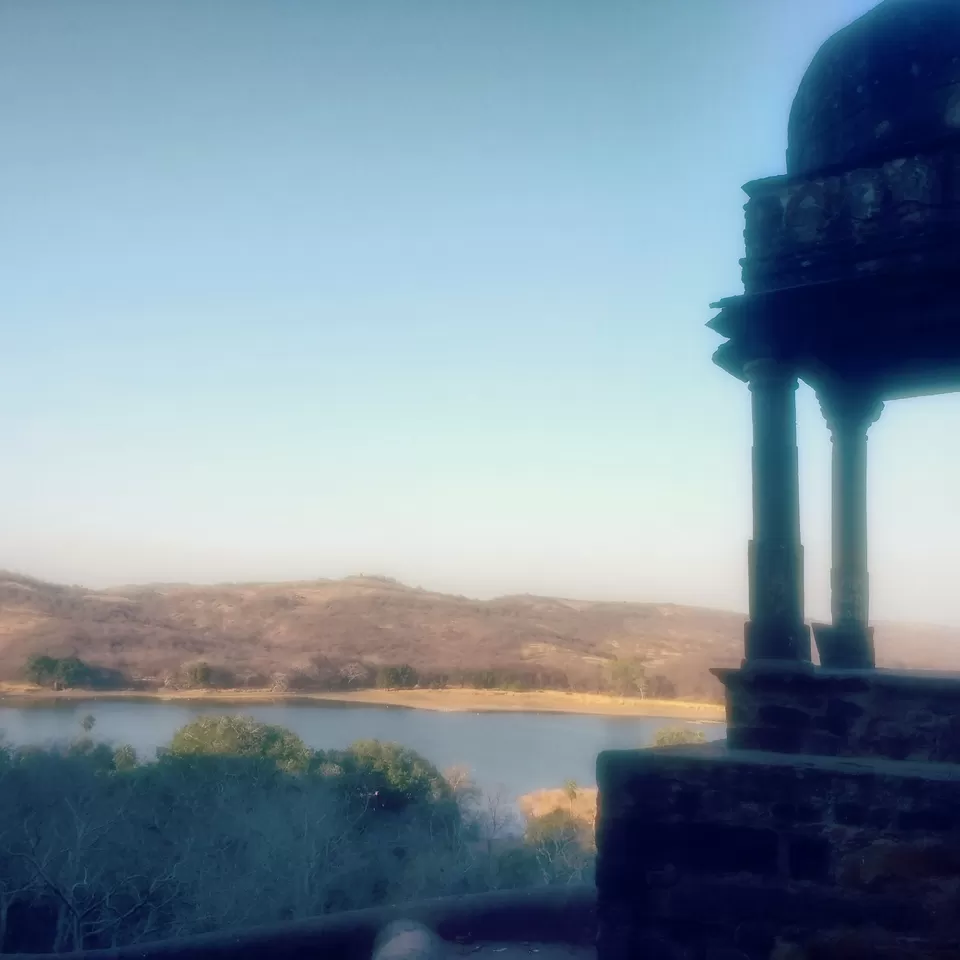 Safaris to Zones 3 and 6
On the second day, our first safari was at 6am in the morning. It was a gypsy safari (seating 6 people) in Zone 3, which has three lakes and is therefore a popular zone for spotting tigers who often go to drink water there. Since it was the winters, we didn't see a tiger, even though we spotted fresh pugmarks and followed them. We saw several birds including a Spotted Owlet and many tree-pies and peacocks; we also saw an Indian hare, a wild cat, crocodiles, wild boar and several species of deer. It was an enjoyable trip, as our guide was a humorous and well-informed person who kept us interested throughout the safari.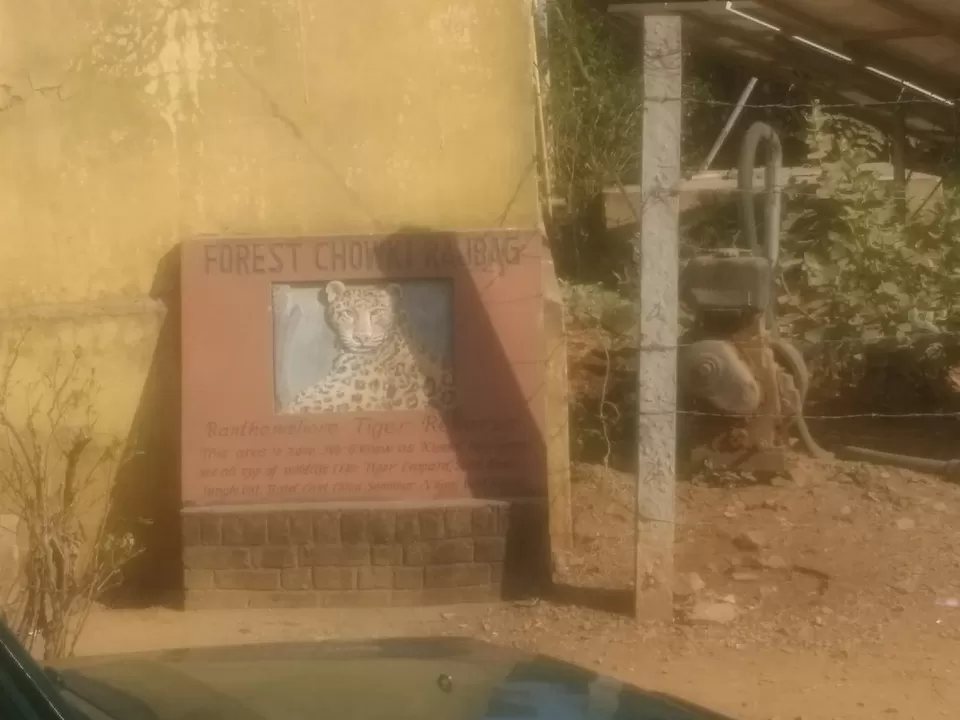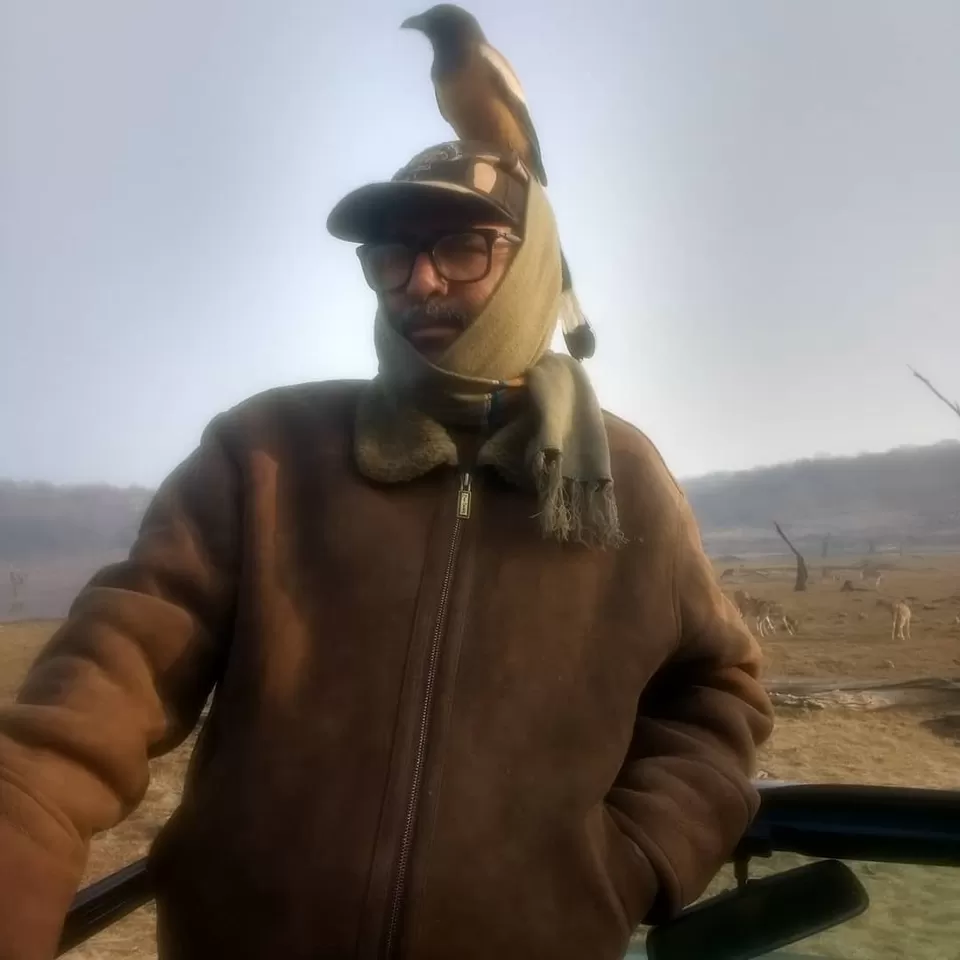 After a leisurely brunch back at the hotel, we rested a bit and then set out for our second safari at 2.00pm to Zone 6. In this trip we saw even less fauna, though the terrain was interesting, going up and down hill. Later, at our hotel, several of our fellow guests showed us pictures and videos of tiger sightings in zones 2 and 7. We were pretty disappointed, but hoped for better luck the next day.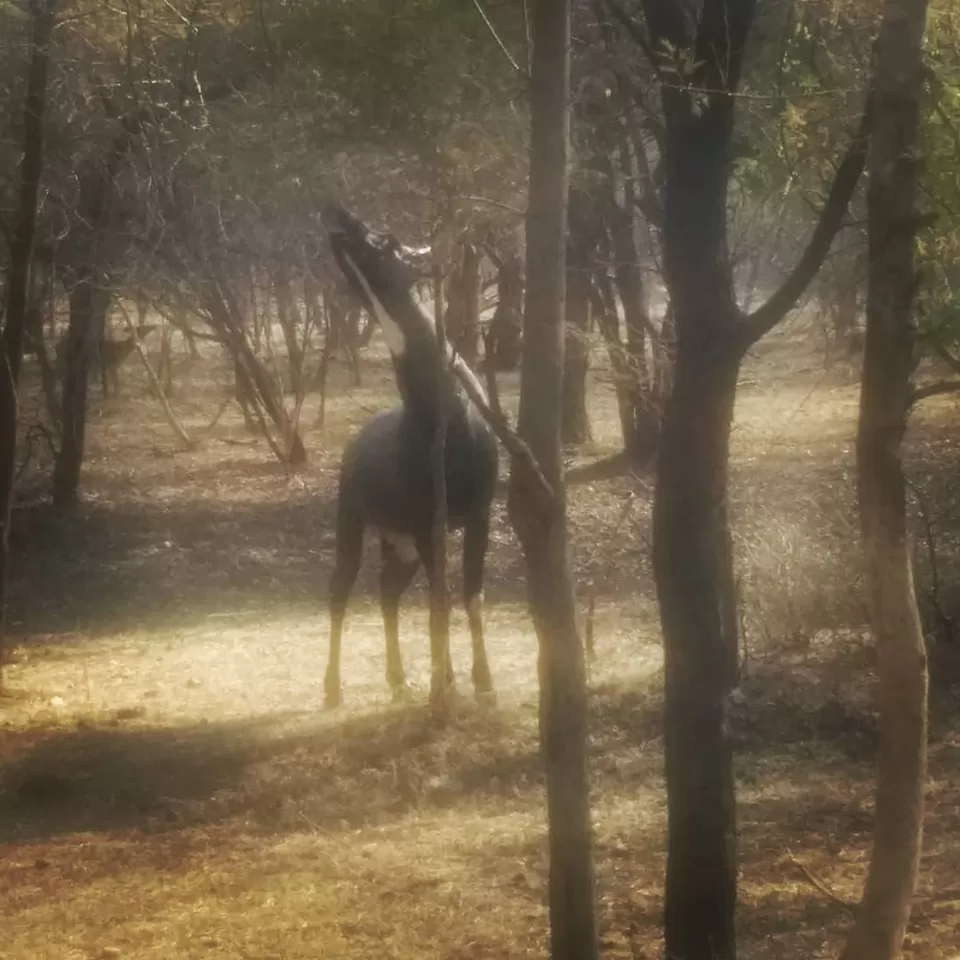 For our third day, we had booked through agents, who informed us that there were no gypsies available and we had to go in a twenty-seater canter for our morning safari in Zone 1. It took a lot of time for the canter to collect everyone from various hotels, which was frustrating! However, the guide was in a good mood – he promised that there was a sure-shot tiger sighting in Zone 1 because a tigress had made a kill very near a road and she was guarding it. Tigers usually eat a prey for up to seven days and rarely leave the kill site due to scavengers.
As we neared the chowk (central point) of Zone 1, we were greeted by a strong stench of decaying meat and the glorious sight of the tigress, sitting and just chilling! There were at least five gypsies and two canters parked there, filled with people gazing at her, taking endless photographs – but she hardly seemed to notice us. Later, a guide informed us that she was Noor or T-39. She lives in Zone 1 with three near-full grown cubs. One of the cubs had made the kill, though we didn't see any of the others in the vicinity.
It was exciting, mesmerizing and a little scary to see the beast up close. The forest was alive with the blasts of the alarm calls of deer and monkeys, which was thrilling. We just couldn't get enough of the sight, though we had to move after a while to make way for other gypsies and canters. We were fortunate that we could see the tigress very clearly, because she was sitting against a backdrop of black rocks.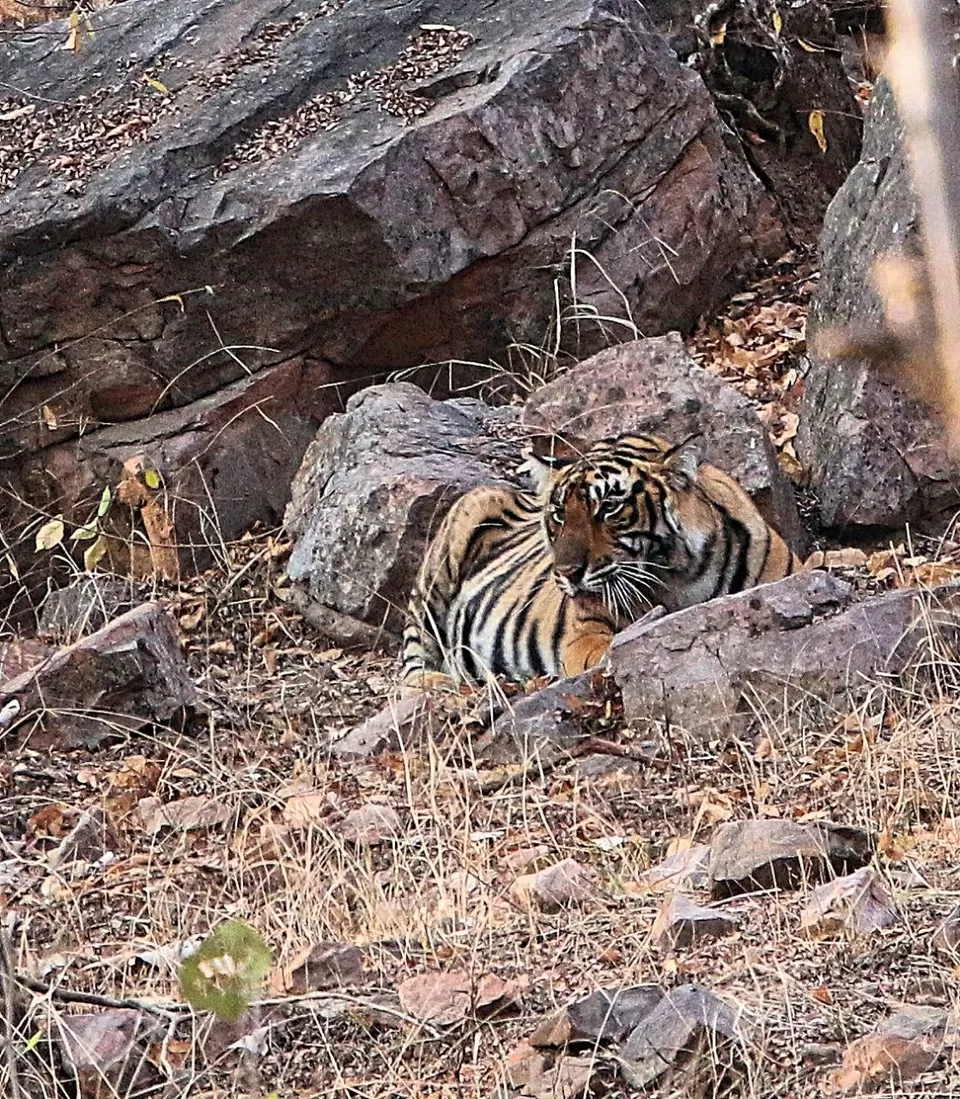 On our way out of Zone 1, I suddenly spotted a tigress randomly walking by! I alerted our guide and the driver, who immediately stopped. The tigress was Noor's cub and her sister was walking just behind her. The two tigresses crossed the road and disappeared into the bushes. It was a fantastic sighting, and we were exhilarated!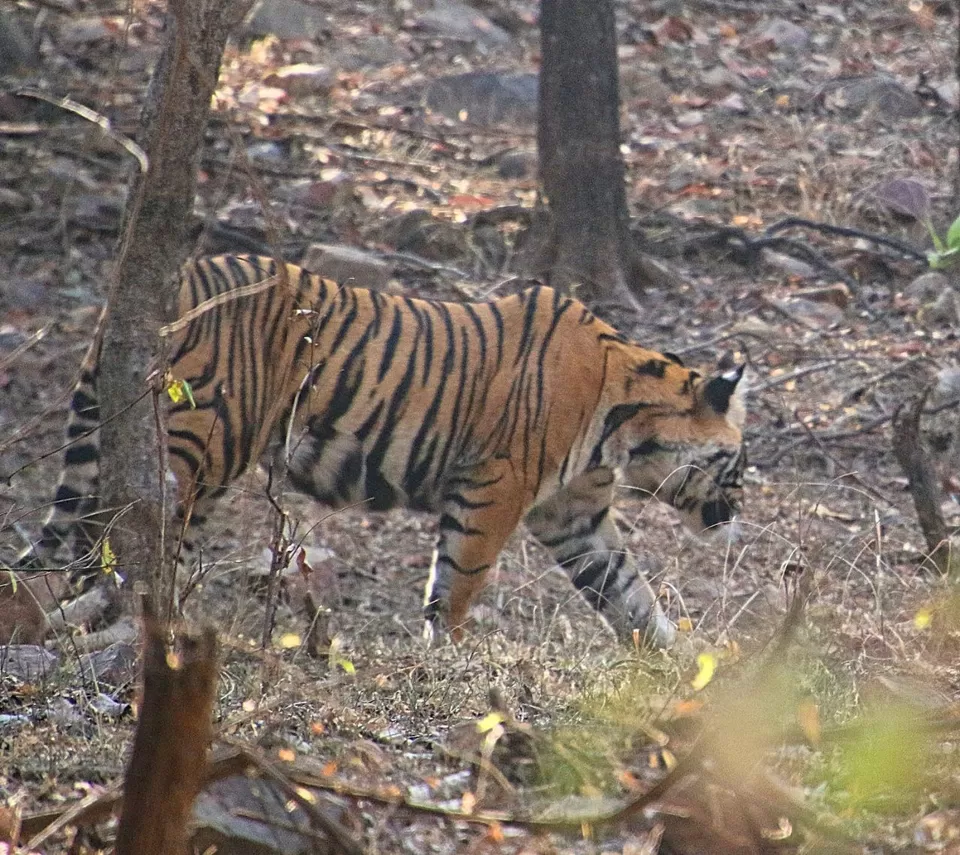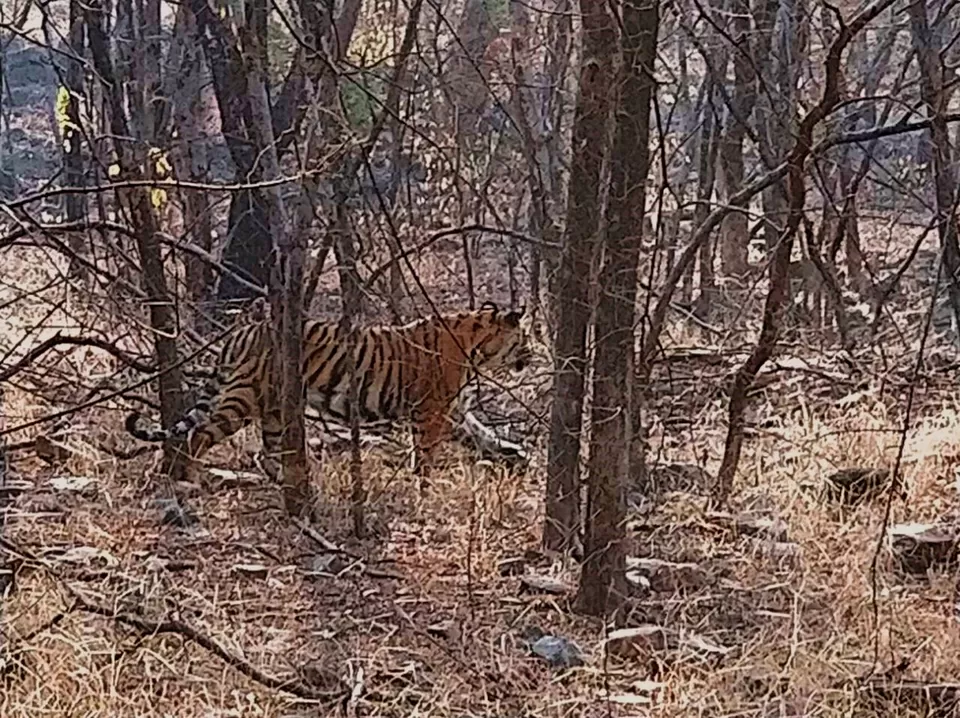 For the afternoon safari, we were supposed to go to zone 7 as per our online booking. However, the website changed our zone to Zone 1 again. We were happy to go and look at Noor and her cubs once more! Sure enough, the driver took us to a place where the two cubs were happily snoozing! They were surrounded by gypsies and canters on all sides, but they were not bothered at all.
We then moved on to the area near the chowk, where we got to see Noor devouring her prey – we could see her tearing at the bloodied flesh and could actually hear the crunching of bones at one point! It felt like we were bang in the middle of a National Geographic show.
We came away from our Ranthambore trip happy and satisfied with our experience, vowing that we will go back very soon. We understood why Ranthambore is so addictive!
TIPS TO MAKE YOUR RANTHAMBORE TRIP EASIER
1. Local Transport: Sawai Madhopur has an expensive and underdeveloped local transport system. Auto rickshaws and jeeps ferry people to-and-fro, but they are difficult to come by after dark. If you're located in Delhi, it makes sense to drive down to Ranthambore and use your private vehicle to move around the city.
2. Ranthambore Zones: There are 10 zones in Ranthambore. 1 to 5 lie on one side of the city and 6 to 10 lie on the other side. Which means that if your hotel is close to zones 1 to 5, it will be at least 1.5 hours away from zones 6 to 10, and vice-versa. The hotel's location is actually not important, because all the gypsies or canters go to the hotels to pick and drop people. Having said that, the most accessible hotels are on Ranthambore Road.
3. Tiger Sightings: Zones 1 to 5 are popularly known as 'good' zones, famous for tiger sightings. However, it is true that sightings are based on pure luck. In the two days we were in Ranthambore, there were sightings in Zones 1, 4, 6 and 7.
4. Canter versus Gypsy: Gypsies are more expensive than canters. Gypsies are quieter, faster and more comfortable. Canters shake a lot, are slower and noisier. Tigers (and much of the other wildlife in Ranthambore) are bothered by neither vehicles!
5. Bookings a Safari Online: These can be made from the official Rajasthan government website. However, the website says that 'payment does not guarantee the booking'. This means that even if you book in a particular zone, the government might change your zone if they want to fill seats in a different zone. Also, once you get your online ticket, you still need to take a printout and go to the booking office in Sawai Madhopur and get the vehicle released.
6. Booking a Safari through Agents: Agents can book seats for you for exact zones which do not change unless under some exceptional circumstances. However, they charge a lot of extra money.
PLANNING YOUR TRIP
Best months to visit: Summer months see a lot of tiger sightings because they go to drink water near the lakes - they often sit in lakes to cool off. But we had our sighting in the winter, so try going at this time too. Most National Parks are closed in the monsoons as it is the mating season.
Hotels: Here are some hotels you can consider.
Luxury: Oberoi Vanyavilas
Mid-range: Trulyy The Bagh , Tiger Moon
Budget: Hotel Ranthambore Palace, Hammir Wildlife Resort
Safaris: These can cost anywhere between 1500 INR to 3000 INR
Transport: Auto rickshaw drivers usually charge exorbitant prices, anything upward of 100 INR per trip.