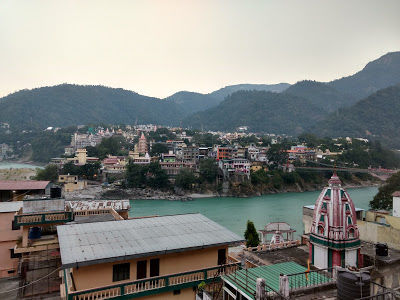 Imagine waking up in the morning (or afternoon if your day begins at 1pm) and you get all these upsetting news notifications from the n number of apps in your phone.
Among these depressing notifications, I came across one notification which brought a smile on my face.
You have memories with ABC, XYZ and 11 others to look back on today.
Memories, throwback are all the buzz words flooding our social media these days as travel and tourism has been curbed.
On opening that, I saw one of my posts on Facebook which was about my bungee jumping and river rafting in Rishikesh. I wish I had a time machine or Doraemon's anyway door.
Talking about my experience, I had visited Rishikesh way back in November 2016 specifically for bungee jumping and river rafting in the Ganges.
The plan was to meet my friend in Delhi and catch a bus from Delhi to Rishikesh. The entire DTC bus journey lasted 8 hrs. We reached Rishikesh around 3am and were greeted by pitch darkness.
Bilkul sannata!
Barring a few stray dogs and auto-wallahs, the road was deserted.
The walk till the hotel was one of its kind. Imagine walking down an empty unknown street at 3am with some random dogs following you. Google maps did help us reach the approximate location however owing to the lanes and by lanes, finding the hotel was difficult. Especially when it's pitch dark with minimal lighting. Eventually we called up the owner and asked him to direct us to the hotel.
We had booked a room at Shiv Ganga residency. Since our check-in time was 11am, we requested the owner to let us rest in some common area. He took us to the terrace area which had mattresses, the place looked like it hosted a party the previous night. It was a comfortable little place with books, guitars, mattresses. The best part was the view. It overlooked the mighty Ganges.
Imagine waking up to such a magnificent view every day. How fulfilling and enriching our lives would be!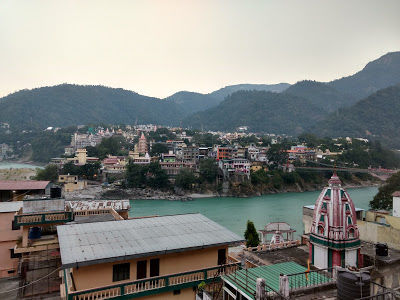 We had a quick breakfast and headed to our 1 st activity of this trip. White water rafting.
We had opted for the Brahmpuri Rafting stretch which is a 9km stretch consisting for Grade II rapids.
For the uninitiated, there are different levels of rapids (water currents) based on the flow, waves and course of the river. Grade II is a basic rapid with 3ft tall waves and wide channels that require little manoeuvring.
We had paid 400/per person for rafting. The rates depend on the type of stretch you opt for. We had opted for the Brahmpuri stretch since it was a beginner level stretch. We were given life jackets and basic instructions on how to use the oars and maneuver the currents.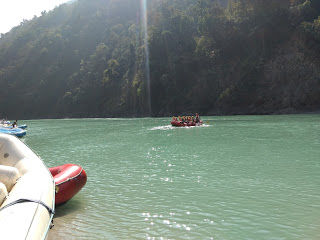 Each raft could accommodate 8-10 people along with the instructor. I was seated in the last row. Seating is done according to weight so that it is distributed evenly, and the raft doesn't topple.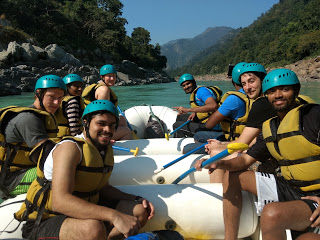 Rafting is a physically demanding adventure sport and one of the most enjoyable ones. The adrenaline rush and the excitement while riding and tumbling down the white waters is an unmatched experience. Adding to that the cool green water of the Ganges made it a soothing experience.
We started paddling vigorously initially since the water currents were low near the banks. Once we got the momentum, the water currents pushed the raft ahead with only minimal paddling required. The fun part was when the rapids arrived. You need to be very careful around rapids. They can sway your raft and if you are not seated tight, it can topple you into the water.
Once we reached a relatively calm area, we were allowed to have a dip in the Ganges. It was a nice experience since we had life jackets and didn't have to worry about drowning.
Mid-way the trip, there is a point from where cliff jumping can be done. The cliff is around 20ft tall (depending on the water level). This is also a good activity for quick adrenaline rush if you still haven't got the kick with rafting. Another famous attraction at this point is the maggi stall. Maggi and that place! I am yet to find another perfect combination as it was.
After a 2-hr rowing experience, we alighted at Ramjhula.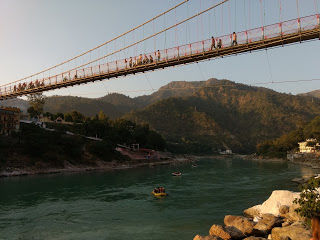 River Rafting teaches you some life lessons:
Suggestion: Try staying in a beach camp tent for the best experience.
We tried to cover Bungee Jump on the same day, but it was too late by then. They had closed registrations for the day.
The bungee jumping spot was Jumpin Heights, it's India's highest bungee at 83m (272ft). This spot is 18kms from Laxman Jhula. We had booked an Activa to commute.
There are 3 activities offered there: Bungee Jumping, Giant Swing, Flying Fox.
Different packages were offered in various combinations, however I opted only for Bungee jumping; because I didn't find others exciting enough. Back then it costed me Rs.3500 for the bungee and an additional Rs. 750 for the video (Bungee kiya aur proof nahi liya toh kya fayda).
The jump platforms are located some distance away from their booking office. Once you reach the jump platform, you get entry by showing the receipt. There are different platforms for different activities. To be frank, I was nervous.
Shit scared would be the apt word.
The entire set up was designed by a team of experts from New Zealand. I was made to sit, and they explained to me about the dos and don'ts while setting up my harness. Prior to my turn, I saw one woman attempting the jump. She literally screamed once she jumped which sent shivers down my spine. The instructors gave me reassurance that everything is going to be fine.
After all, I knew I can't back out now. Not that I can't back out, but I didn't want to come across as a coward who came this far just to step back. So, thinking all positive, I was moving slowly to the edge of the platform. The jump master had told me to look ahead across the mountains, looking down might make me nauseate. My palms were all sweaty and I closed my eyes for a moment.
Taking a deep breath, I took that leap of faith with arms spread wide. Within 3 seconds, I rebounded, and gravity did it's work again. This happened 2 more times before I was lowered into the drop zone. It took time to soak in the feeling that it was done.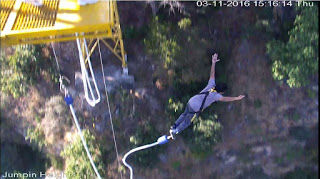 The whole purpose of coming to Rishikesh was completed in 30 seconds flat. I now wished the platform could have been much higher, I wanted that stomach drop feeling to last a little longer. After all what difference does 83m or 500m make to a person who's suspended in air?
The walk-up from the recovery point/ drop zone to the booking office was an uphill 15 min trek. Even though the excitement was for short duration, there was a sense of accomplishment.
Maybe this is what it is. Enjoying the journey!