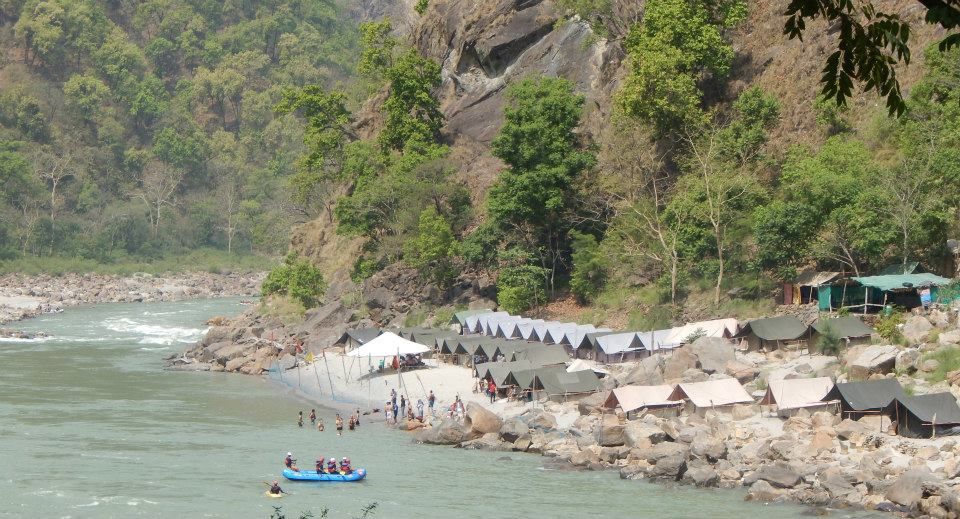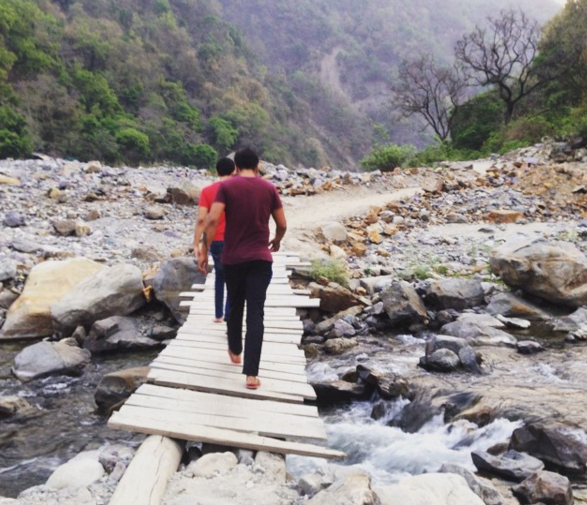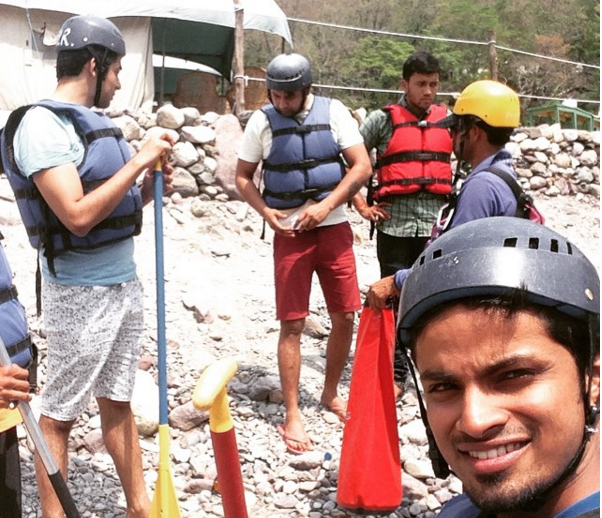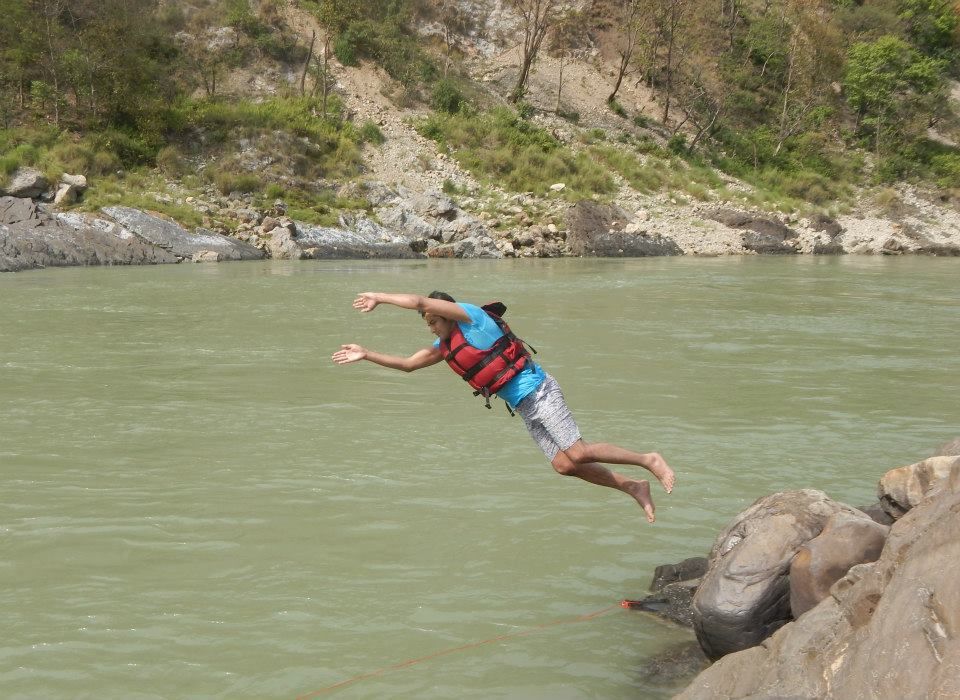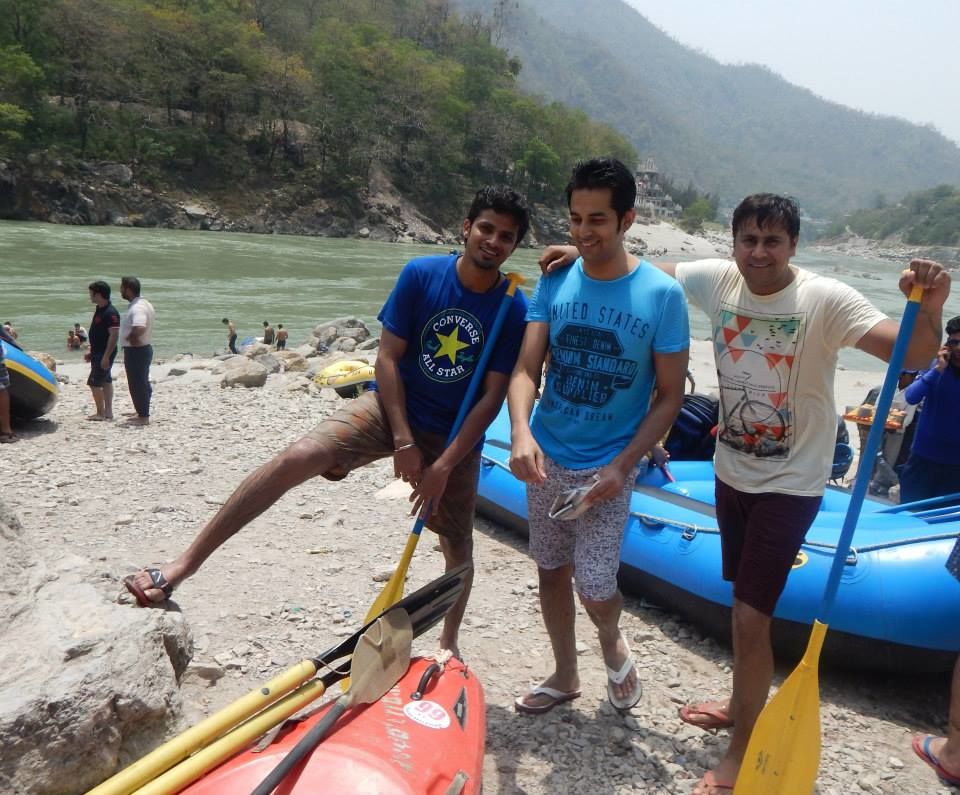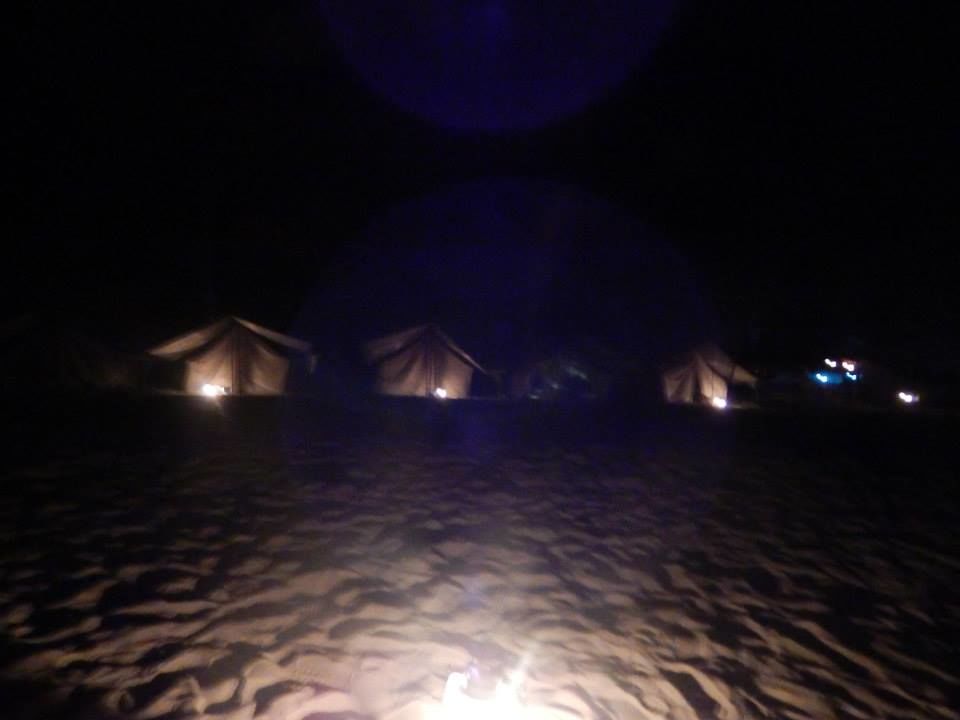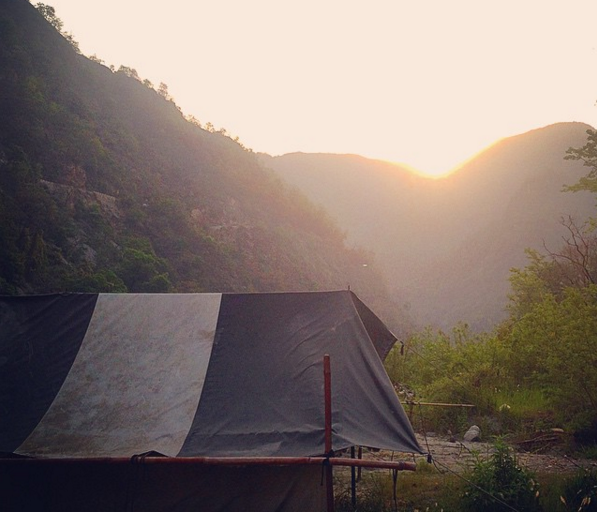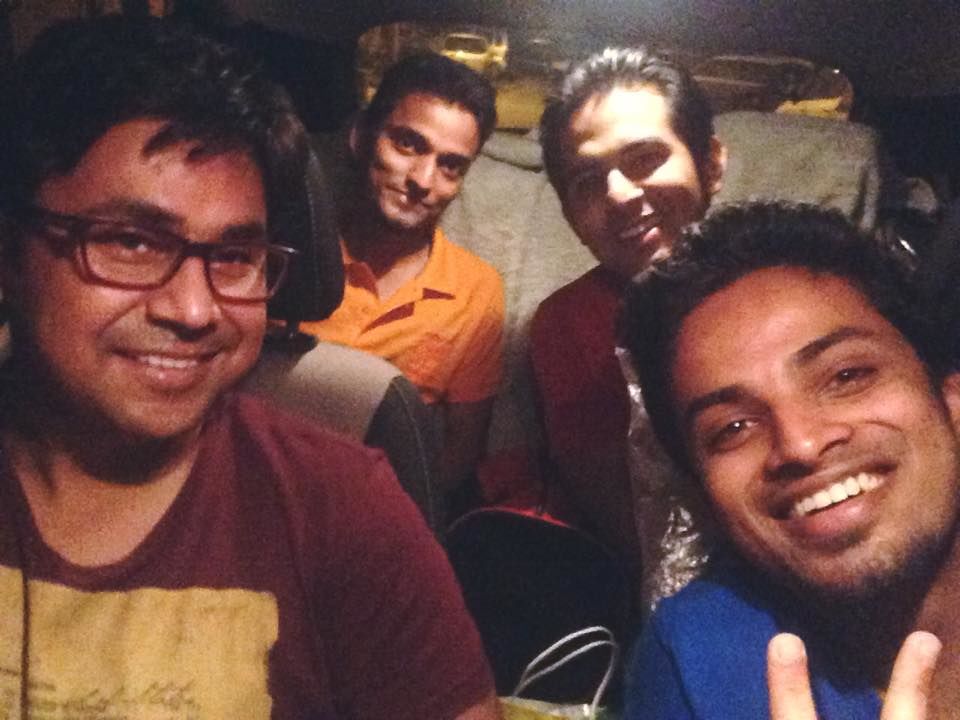 One of the most famous adventure destinations, the well known Rishikesh doesn't need any dance of words for an introduction. This place is located to the north of Uttarakhand, along the Himalayan foothills beside the mighty Ganges. Rafting, Zipping, trekking, Bungee jumping and paragliding are some of the adventure activities you will get to experience here. Rishikesh is commercialised town mainly for tourists. Most of the people in and around Rishikesh comes here to spend their weekend in these silver shores of Ganges. The whole place was flooded with DL or UK registered cars when we visited. We started from Delhi in the night and it was an overnight drive. We reached Rishikesh in the morning at 7 am, the perfect time to enter this place. On the way to Haridwar there is a bridge where cops will check the nooks and corners of your car for liquor bottles. Liquor is not allowed beyond that check post because Haridwar is considered as one of the famous religious destination, added it is possible to get through if you are smart enough to crack the cops.
One of my friend Divyesh personally knew a camp owner, so we headed straight to the camp. Most of the stay comes as a package with a adventure activity which you can customise according to your needs. Our plan was precisely to do rafting, camping, party at night on the river bank, have a good sleep at night and drive back next day. For obvious reasons I kept my personal priorities as Rafting, A Dive in the Ganges, Sunset and sunrise at that place. We had a buffet type continental breakfast and parathas which was delicious. Since our appetites were accentuated with beer, we ate like a horse. After relaxing for half an hour we drove to the point were rafting starts. At the starting point one person welcomed us and registered our names for rafting. He started giving us instructions, geared us up and showed us the voice signals to use while rafting. It was more of a crash course. Many videographers and photographers were roaming around to film us while rafting. It will cost you around Rs 1500 for a video. We opt not to make a business with them. We geared up and step in to our raft, 2 teams where there in our raft including us and the guide. After settling down, everyone in the raft started cheering loudly "Jai mada di" and the guide pushed on the rock with his oar and we started moving down.
Keeping apart my massive expectations, my first rafting experience was mind boggling, and it did gave me adrenaline rush in rapids. There are may types of waves and swirls you will encounter when your are rafting down the way. The most dangerous ones are called rapid. Big Rapids can hit on the front tip of raft flipping the raft upside down, and small rapids can take your raft perpendicular. The guide was shouting at us to keep rowing and swaying for a better experience. At times guide deliberately hit the raft to stones and will stay there for some minutes suggesting us to jump into the Ganges and take a swim. The rope was tied to the raft so that we could hold on to that while jumping into the river. Even if I was bit scared, with the belief in my life jacket, I tried jumping into the deep Ganges. The cold water from the glacier will make anyone scream their lungs out on the first jump. It took around 1.5 hours to raft 16 km. Our bodies were craving for some nutrition when we reached the finishing point. At the end point, there were a lot of small shops where you can have Maggi and lemon water we had both it was expensive. Then, they took us in a van and came back to the starting point were our car was parked and we drove back to our camp.
Note: Its very important to follow guide rules and wear life jackets before going to the Ganges. The water flow is so aggressive that it can kill you drowning. One girl was taken away by the river near to our camp; she went to the Ganges without a life jacket.
Camp welcomed us with delicious non-veg lunch. We gobbled down whatever we got in hand and went again for a short nap. When I woke up, my friends were playing volleyball on those silver sands. It was a stress relieving first glance straight from sleep. Those silver sands, Volleyball court and the loud laughs, which gave me vibes of another world away from all those societal hoaxes. I joined them and had a quick warm up for the bonfire party which was planned for the night. The innkeepers had already set up chairs, table, and night lamp alongside the Ganges for the bonfire party. I think there is no place in this world where you will get such an ambiance during a bonfire which will cool you down and relax. We sat there boozing up with some beer and a bottle of vodka for around 5 hours. It was around 2 am, and then the feeling of night camping started to sync in. Clear bluish dark sky with twinkling stars, silver sands reflecting the blue sky and the huge mountains standing heads up all around. The whole scene is still a snapshot in my mind which I can recollect and smile. My friend Arun came and gave me a groundbreaking idea of sleeping outside the tent that night. He made a sand bed with a bed sheet over it alongside the river. Of course, with such ambiance anyone who loves nature would love to sleep on those silver sands. I laid there, and I remember, stars were sneaking from position to position, and I kept staring at them with my tipsy eyes and deep thoughts gradually slipping into sleep. Morning, I woke up early, and I could see the crack of dawn with a spectacular aurora. I could feel the rays of sunshine grooving in from my chilled toes to knees to hips to neck pulling my eyes wide open wishing me a good morning with an astonishing view. I was lucky that I didn't miss the sunset and the sunrise at Rishikesh.
The tent had latrine but not bathrooms, so the Ganges was our last resort for a bath which was nice, like there is no option other than awesome. We took swims in the mornings, evenings, and in between. There are many spots where you can dive into the river catching hold of a rope tied to the rocks. I am a person who hates free falls, and I hesitate to do long dives which I am going to change in near future. One of my friend Divyesh was crazy enough to take a somersault from heights and Arun too. Rohit was actually clinging on to rocks wetting below his neck. I was brave enough to jump in for a swim holding that rope but didn't have the gut to dive.
We started our drive back to Delhi at morning 11, and we reached Delhi at night 8. Rishikesh is a one of the rare places where it is commercialized in one hand and other hand it is very pragmatic to any kind of person. It's the perfect place for those who seeks adventure and also for families who wants to sit still and chill. The food and stay is also not very expensive, but at times in some season, it goes high. October-November are the seasons when the adventure seekers mostly pitch in because this is the best time for rafting as they can encounter aggressive rapids in the Ganges and perfect ambiance in woods. No matter what, Rishikesh is not going to let you down. Nobody will return from Rishikesh without having some screaming memories and dazzling vistas to cherish.
Cheat sheet for those who are planning for Rishikesh.
Adventure Activities - Rafting, Zipping, Group Zipping, Camping, Trekking, Paragliding, Bungee Jumping and exploring.
Try to take tents which are in offbeat sides of the river so that you will be served good and you can avoid the crowd.
Make sure you are not missing sunrise and sunset at this place.
Follow the rules and suggestions from locals and Guides. It is true, and It does matter.
If possible, at evening you can go to Haridwar and witness Arthi given to the Ganges, which is a very famous offering performed every day in the evening in Har-ki-Pauri ghats.
Check your bathrooms before taking camps and check whether they allow swimming in the Ganges.
Nowadays it's even heard that the camps have been removed for reducing the pollution in the Ganges. So it will be good if you can give it a check before hitting the place.
This trip was originally published on LIFE IMPROVISED
Frequent searches leading to this page:-
haridwar to rishikesh tour package, rishikesh auli, rishikesh honeymoon package, best place near rishikesh, rishikesh auli tour package