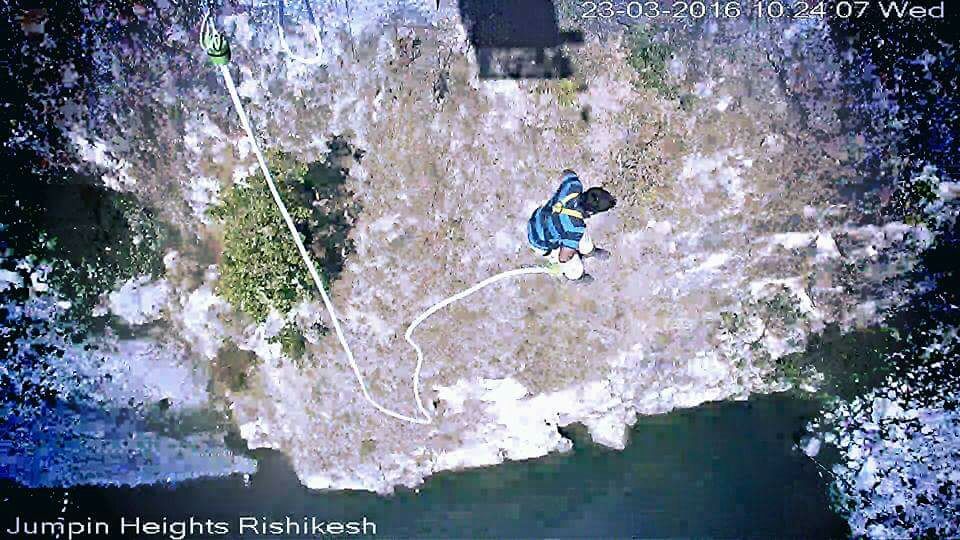 We are a gang of four.. Me, Shiva,Deepti and Anil. When we were traveling to Gandikota, accidentally we planned to do Bungee jumping in Rishikesh. We got a plan and we got a place and everything started to set in place. Coffee day meetings and discount bookings and after all these date was set. It's 23rd March.
Plan was to goto Rishikesh and do Bungee and join our group for Kedarnath trek but traveller in us was not satisfied.
So after some long long discussions final plan was this
21st March : Start from Hyderabad to Agra
22nd : Roam Agra and leave to
Delhi
23rd: Reach Rishikesh and do Bungee
24th: 26km Rafting in Ganges(isn't it quite thrilling)
So we were all set for our plan and finally on March 21st early morning we boarded train to Agra. It was a journey of 24 hours nearly but group made it quite enjoyable. TV series in Laptop, time pass discussions and all.
We reached Agra at 5.30AM and we were totally excited to visit The Tajmahal during sunrise. We freshened up in railway station and reached Taj Mahal at 6.30AM. If you want to enjoy the beauty of TajMahal most choose West gate. So we entered the gate at 7AM and I must say it's one of the best view I have ever seen. Sun rising and the rays are falling on white marbles.
We started working on our cameras and nearly I clicked 300 pics there. We had to literally drag Deepti from there(She is the photo queen of our group :p) We were roaming and clicking till 9AM, then our tummy's started calling with loud speaker, Aloo paratha and Roti Curry saved us.
From there we started to Agra fort. One of the must visit places in Agra, a large area to roam and click photographs. From here you will get a distance view of Taj. We were so busy in roaming there we forgot our timeline. We left from there at 12.30pm and reached station by 1pm. Our train arrival was at 1.30pm but thanks to Indian railways, train was arrived at 3pm which ruined some of our plan in Delhi :(.
We boarded the train at 3pm and reached New Delhi at 6pm. Our next train to Haridwar as at 9pm. So we made a quick plan to visit India gate. Deepti and Shiva went chandini chowk for shopping and me and Anil went to India gate. I must say, if you know the purpose of India gate you will feel goose bumps, it's for our Indian soldiers. It's a good place to spend some time. We roamed till 7.30 there and reached station at 8.30.
Now the funny part, we were waiting for our train and we were involved in some discussion. We didn't noticed that train was at same platform where we were standing( because the announcement was worse) , so exactly before two minutes of train departure we got into train :p, we were really tired and we slept as soon as we got into the train.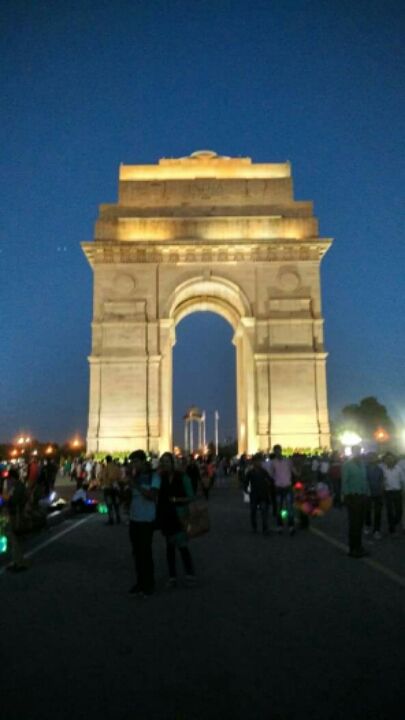 So this is the big day. We reached Haridwar at 5am, a place full of divinity and calm.
We got freshned up and started to Rishikesh. It was one hour journey and the journey is breathtaking through ghats and valleys. We reached Jumping Heights office(host of bungee jump) at 7AM, we had a quick breakfast and started to bungee point at 7.45am. it's 20km from Rishikesh and it took nearly one hour to reach there. We were dropped at bungee point, now it's time for some classes(Do's and dont do's). We were the first batch reached there.
We were set and our numbers were 4,5,6,7.
So we reached the jumping point. There are different ropes for different weights. So order was
Shiva
Anil
Deepti
Me
Instructor know how to deal when new people come for Bungee, so he was cheering and boosting. Shiva was very eager to do the jump and 3.......2......1..... Bungee, he jumped whooooooo whoooooo
When ever we see someone doing adventure it feels thrilling but when it's our turn fear is mixed up with thrilling.
Now it's Anil turn, once he saw Shiva jumping his adrenaline pumped up and he was totally concentrated in the jump.... 3...2...1....Bungeee
Shiva and Anil waiting for us to jump.
It's Deepti turn now, but one couple wanted to do Giant Swing, so they changed the rope and it's same as my rope. So as they completed their jump, my jump was promoted and Deepti was last to Jump.
Now I am afraid of heights a lot and now I have to jump 83mts. down. It was thrilling but also frightening. But I thought it's now or never. Rope was tied to my feet, went till the edge, waited for instructor voice....
3.....2.....1..... Bungee
I jumped, yes I jumped, the gushing of air, spinning head and the swing, now I understand why people add Bungee to their bucket list.
Now it's Deepti turn. She was totally excited but when she came to the edge, she looked down and fear occupied her mind. But she is not person who let's it go, she waited for 5 minutes and 3.....2....1..... Bungeeee
She jumped and hatsoff to her guts.
We came back to bungee point and now it's Flying Fox turn. (zip lining for 1km), it was great but bungee was totally occupied in our heads.
Now it's time for some rest, we already booked camping at rendezvous , we reached camping site at 1pm. A small water flow was near to camping site and forest on the other side. In the evening, we went for a trek to nearest waterfalls and it's a great place. I clicked pics for almost an hour there. We reached back to camp at 7 and had dinner. Rest for the day...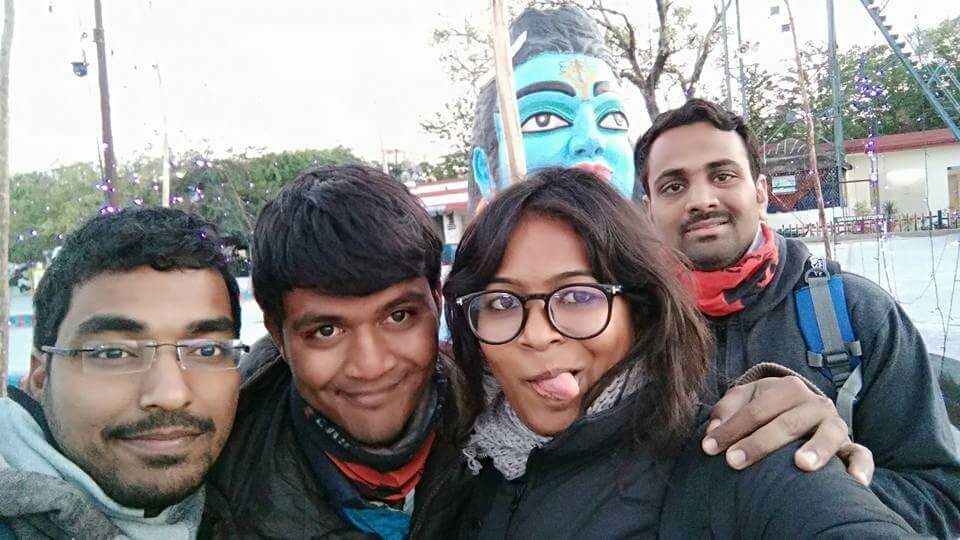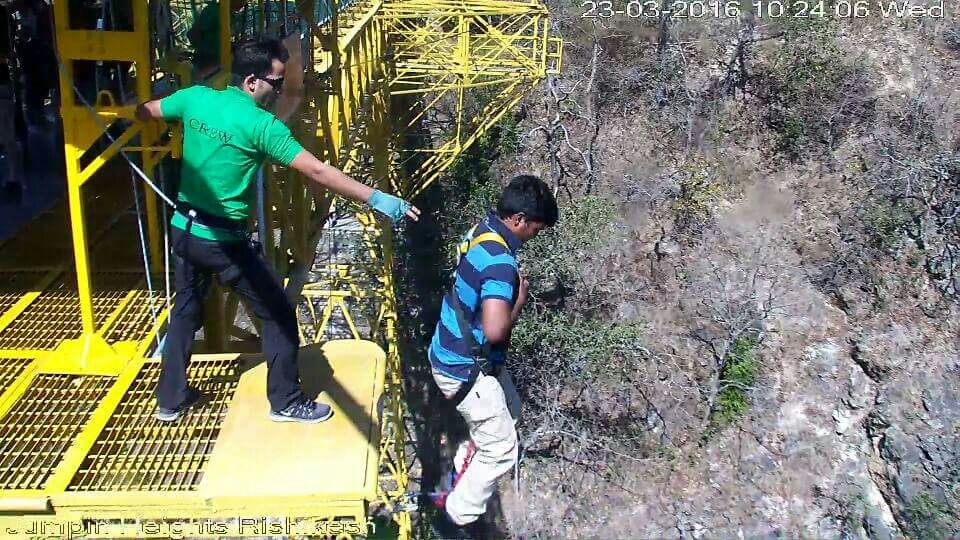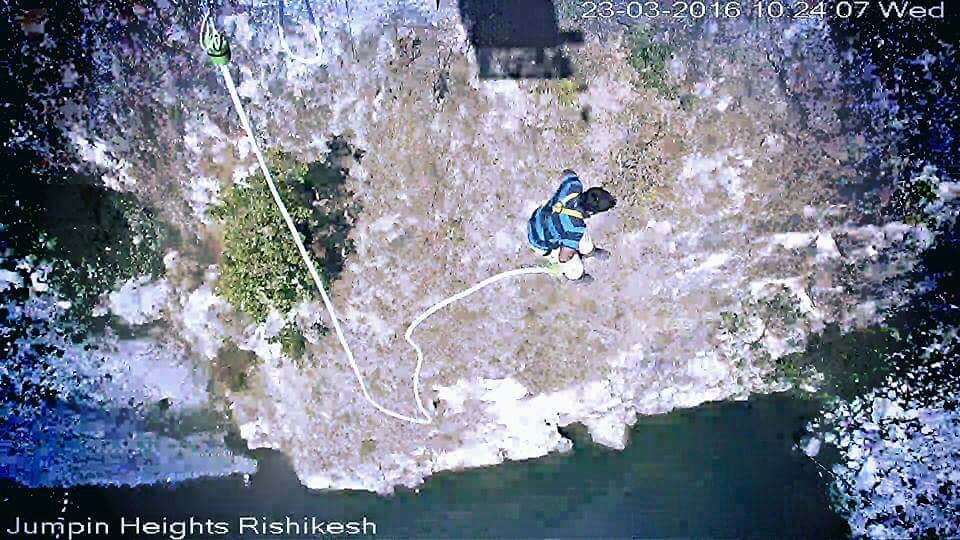 It's our final day of the trip, we got ready and had breakfast. From camp site, we now started to the rafting point. There are three points 32km,26km and 16km. We chose 16km. It was first time rafting for all, the risky and adventurous part goes to the person who sits at front of the raft. We got in to the raft, water is freezing. We started our rafting.
There were around 7 major rapids(grade3 and 4), splashing of water on your faces, shaking raft, loosing grip from the raft.....
we completed our rafting in two hours. Rafting in Ganges completes only after Cliff jumping, 30ft. Height.
We all reached top of cliff and many people will loom down before they jump and backs off, I also faced the same for first time but after that I jumped. Deep into water. We checked in at our hotel in Rishikesh and spent the rest of the day roaming in Rishikesh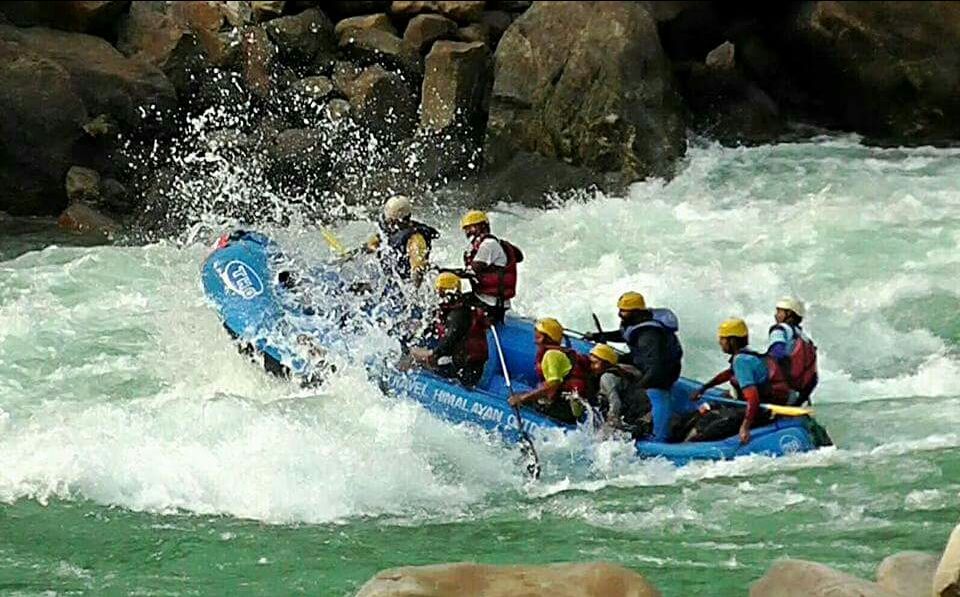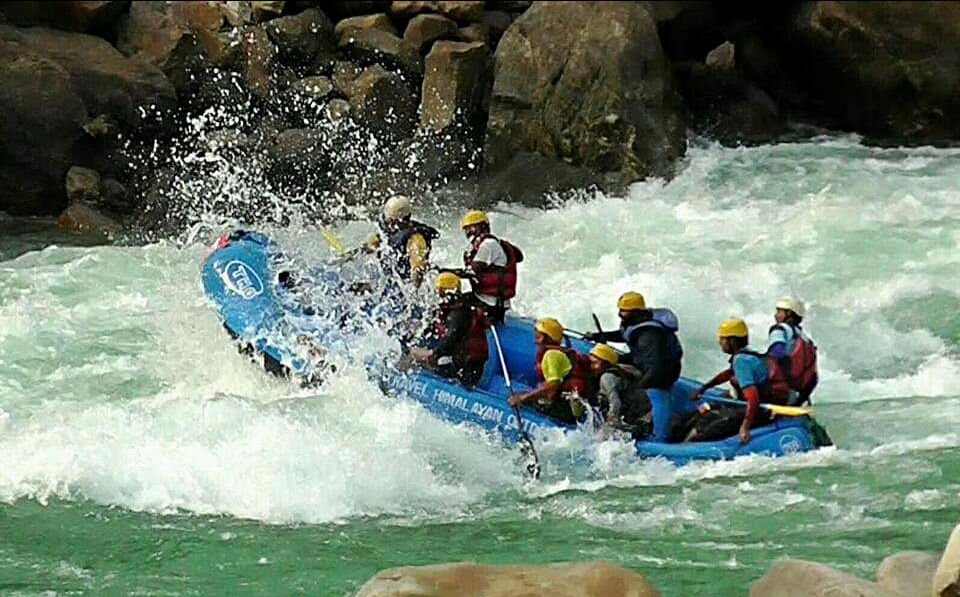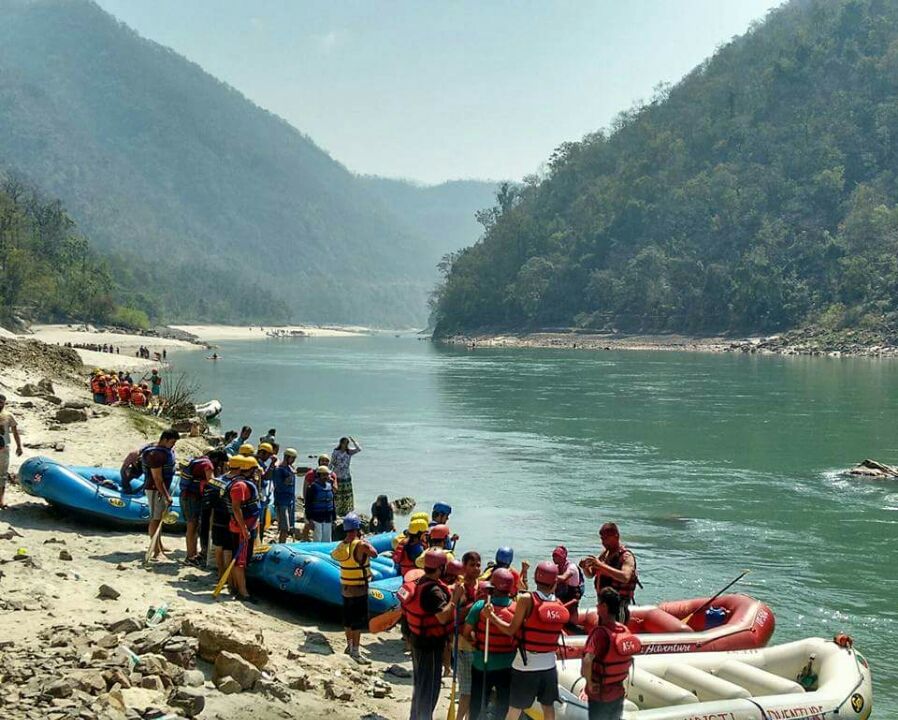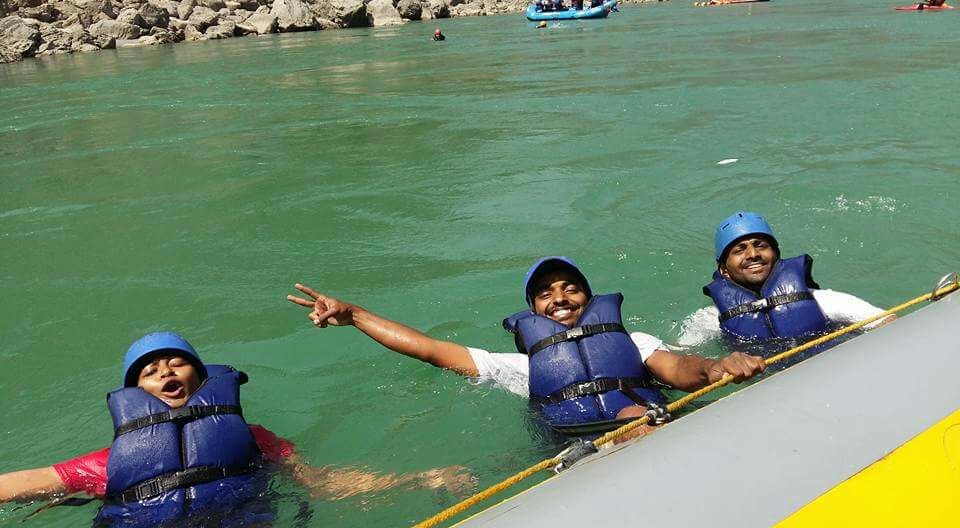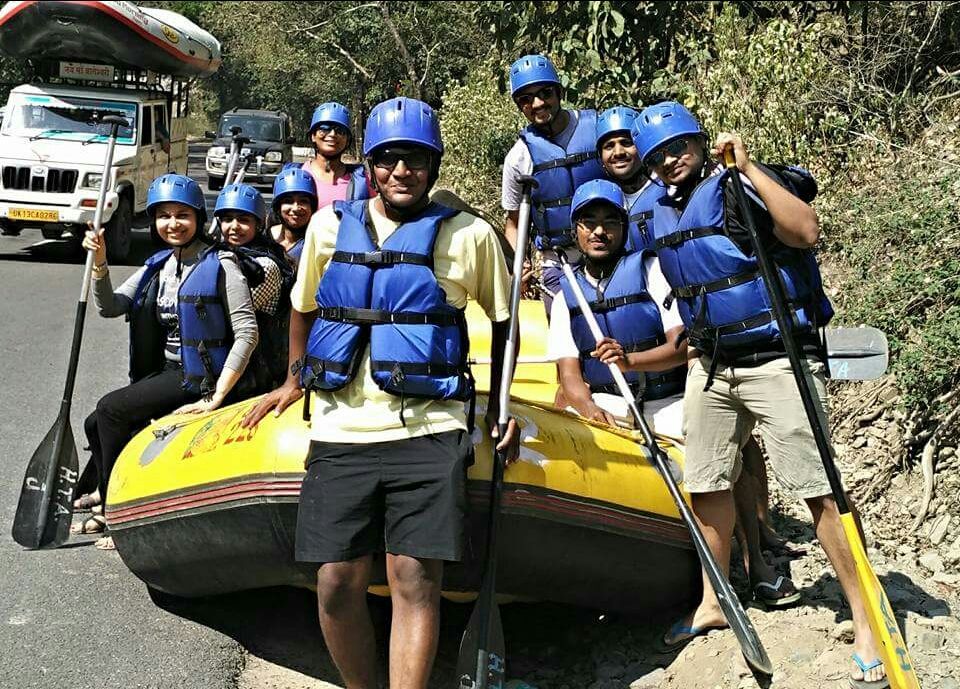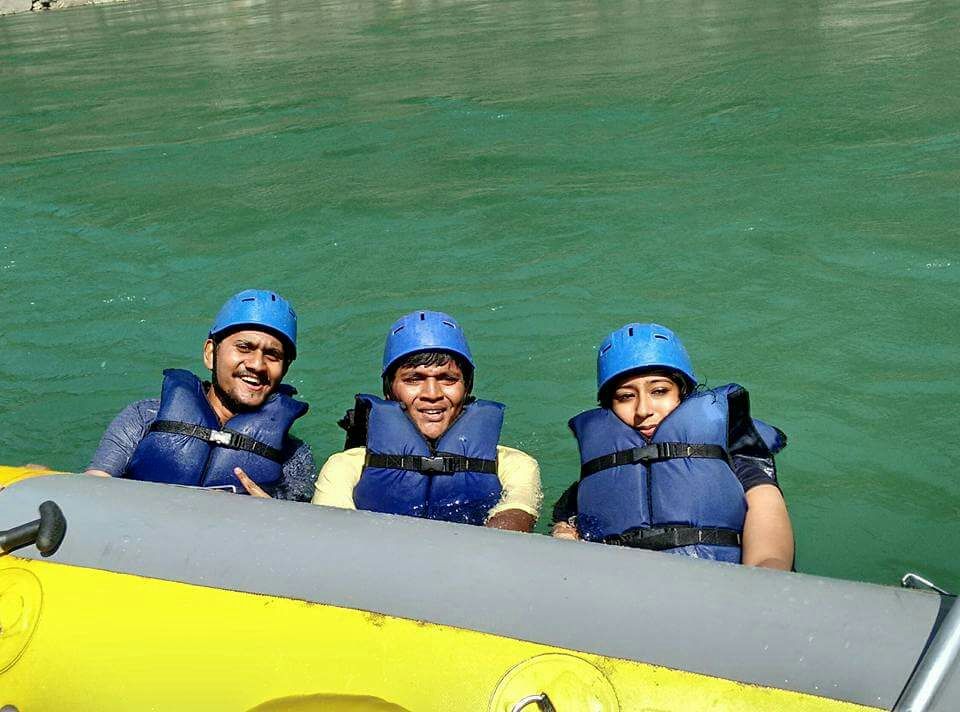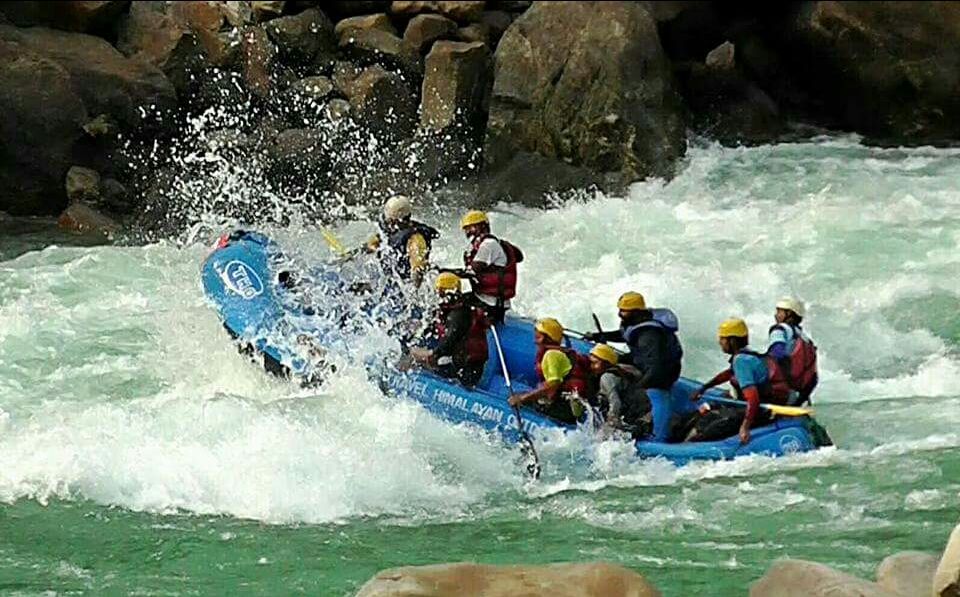 We joined our team for our more adventurous Kedarnath trek.