We all know about Rishikesh as a place for spirituality, meditation and Yoga, but few are aware that this place offers a perfect set up for extreme adventure activities. India's highest bungee jump 83 mts equivalent of a 27 storey building happens to be at Rishikesh. The thought of doing bungee was long pending on my wishlist. I and my friend from Delhi decided to visit Rishikesh for Bungee and Rafting over the weekend.

I booked a Friday evening flight from Mumbai. Our initial plan was to take a midnight bus from Delhi to Rishikesh reaching there by Saturday early morning. However, what's the fun if things go as planned? My flight got delayed over an hour and we missed our bus which was supposed to depart from Anand Vihar bus terminal. They told us that there is no bus available for Rishikesh till the next morning. Taking the morning bus was out of question as our schedule would have gone for a toss. Then somebody told us that there are regular govt buses to Rishikesh from Kashmiri Gate Bus Station. So we got into a public bus to Kashmiri gate. After a 40 minute ride, we were at Kashmiri gate. All the bus bays were full with buses to Dehradun, Haridwar, Roorkee, Meerut, Muzaffarpur but none for Rishikesh. After waiting over an hour, a cranky old machine bound for Rishikesh arrived at the bay. Looking at its condition, we were not sure if it would safely land us in Rishikesh. But we had no option. So we boarded it and waited for its departure. After a good 30 minute wait, we departed a little after 3 am.
The conductor told us it would take approximately 7 hours to reach Rishikesh. Well, that was late but it was better than starting from Delhi the next morning. However to our surprise, the rickety creature reached Rishikesh a good 30 minutes before its expected arrival. Our hotel was just 10 min away from the bus depot. The hotel manager was waiting for us as we had booked our bungee slot the same day.
After a quick turnaround, we reached the bungee office near Tapovan at 11 am. The jumping site is around 16 km from Rishikesh. One can either reach there by the bus service offered by the bungee company (additional cost of Rs.300 to be borne by the participants) or by own vehicle. To add a bit of adventure we hired an Activa (Rs.500 per day). Hired bikes are easily available (just like Goa). It took us almost an hour to cover those 16 kms. The twisty inclined mountainous road definitely tests your driving skills. Riding on the streets of Goa is a different thing while riding on this mountainous terrain is a different ball game altogether. We reached Jumping heights office at 12.30 pm.
Always pre-book for bungee as there are limited slots per day and weekends are crowded. Once in, they show you a small video about the activities that take place at Jumpin heights. Apart from Bungee, they also have Giant Swing (83 mt) & Asia's longest flying fox (1 km). You need to sign an undertaking, keep all your belongings in a locker and proceed to the bungee platform.
So this is how it works: On your turn, you must reach the site after a 100 mt walk on the platform. There the instructors make you wear all the harness & safety gear. Post that, a small set of instructions and you are on the very edge of the suspended platform. If you are not able to jump on your own, they take you back, motivate you and again you go & try your luck. If still you are not able to jump, you have to back out and no refund is given.
Walking towards the site gave me a feel of walking on a ramp. I could see participants ahead of me taking their turns. It didn't feel scary, nor did I fear the height. The guy ahead of us couldn't jump even after the second attempt. A few minutes later, he walked back. Well, it was my turn now. After wearing all the safety gear, I moved towards the edge. The instructor said 'don't look down' and here I do exactly what is not to be done. And that moment it felt suicidal. It scared the shit out of me. I could imagine how suicide feels. The only difference was I wasn't going to die. Standing at the very edge staring at a depth of 270 feet made my legs crumble. Felt my heart beats increasing, blood pumping down through the body. But I had not come here to back out. So however it felt, I had to jump. Then I hear the instructor say 3…2…1… & I jump.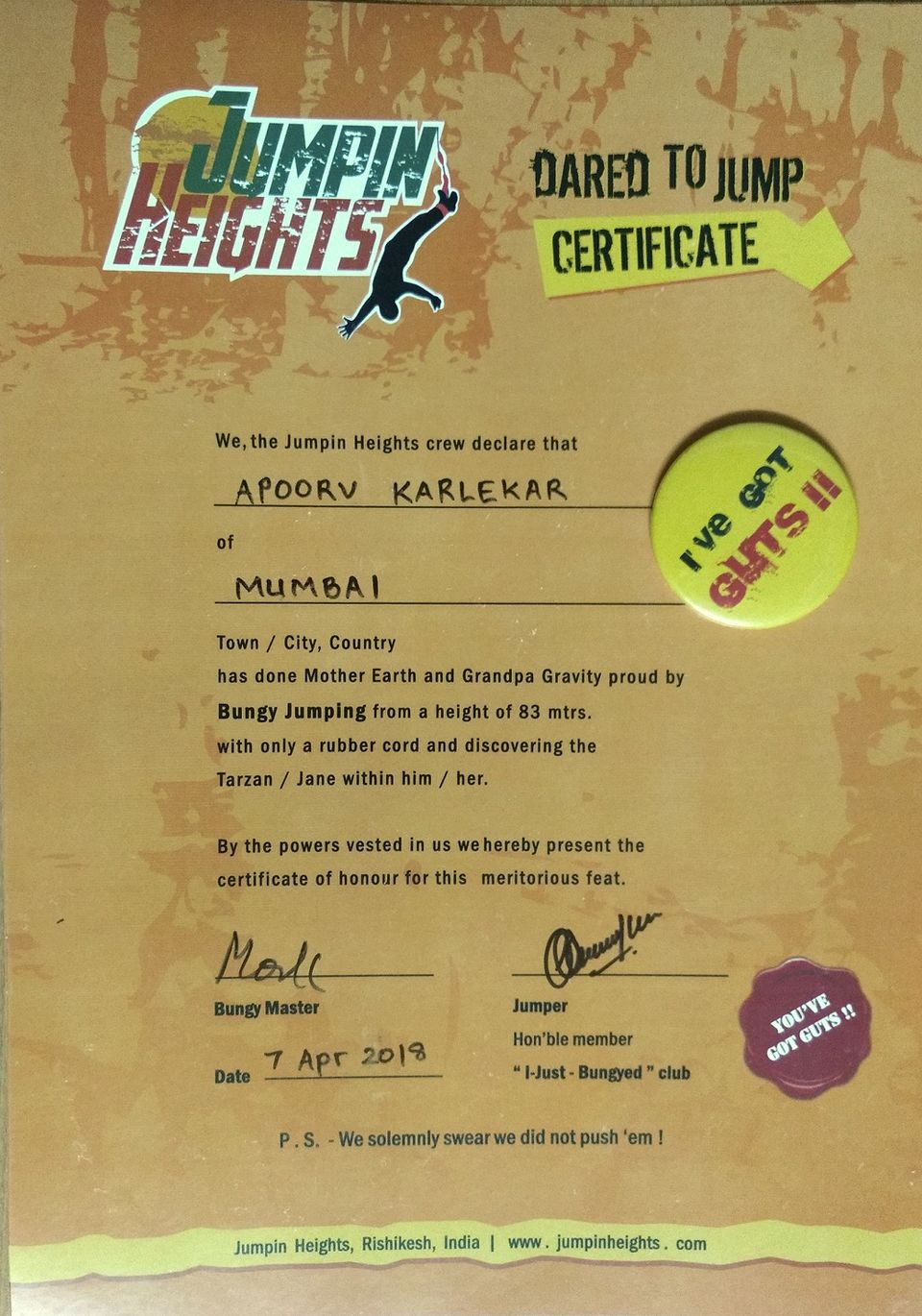 I could feel butterflies in my stomach and the ground approaching towards me at lightning speed. Suddenly there was a strong jerk and I was pulled up by the harness. Now I was moving like a pendulum for the next few second before I landed on a make shift stretcher like thing. The whole thing lasted for around 90 seconds. Once down, they removed the harness and gave me a bottle of water and a batch which wrote "I've got guts". Proud of myself, I started climbing back to the jumping heights office. They shoot your video which is then available for a premium of Rs.750. Obviously, whoever comes there buy it as you don't do bungee often. It is always once in a lifetime experience.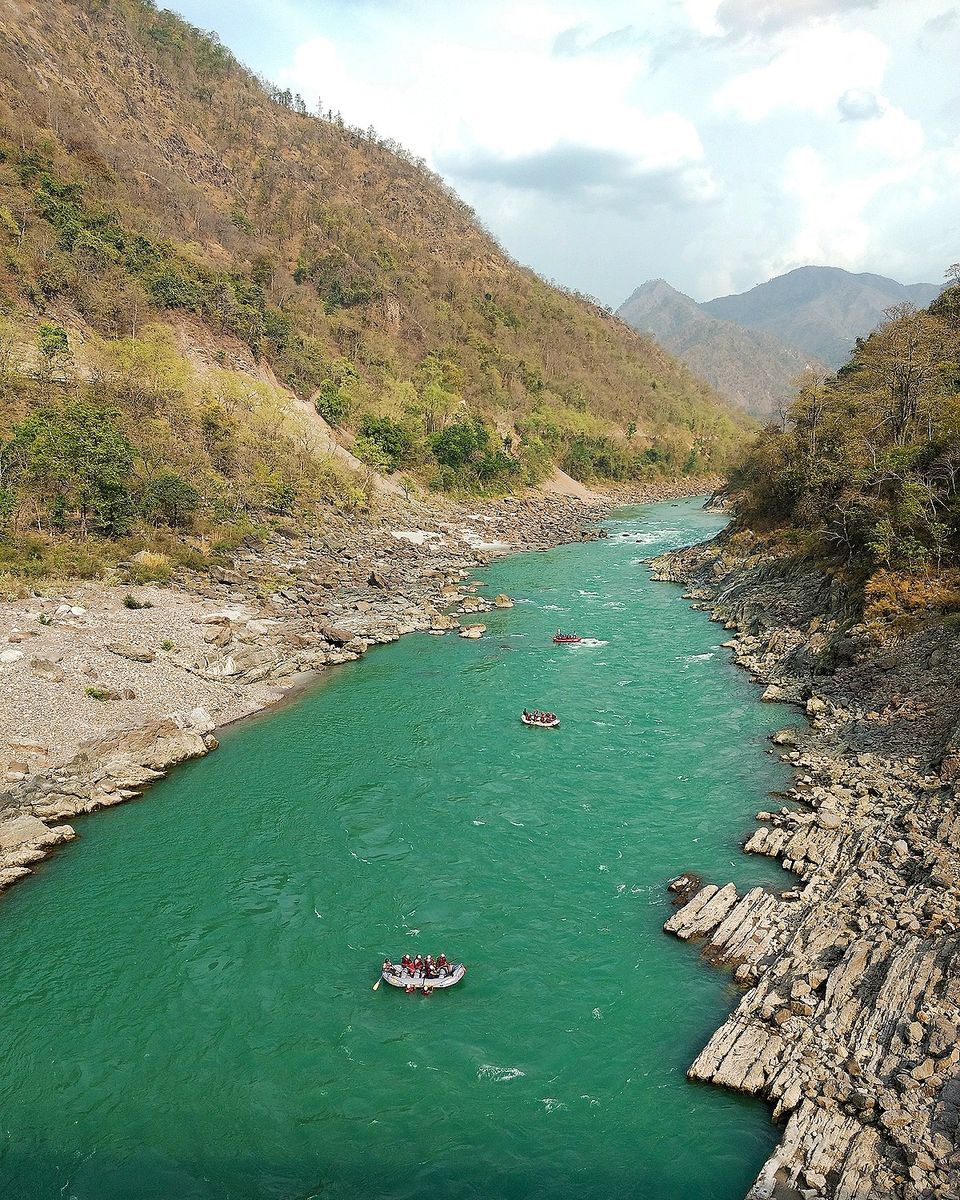 On our return journey, we took a few photo breaks as the mountains, valley and Ganges offered some amazing landscape shots. We had lunch at Café Moktan and returned to our base by 5. Later we went to Parmarth Ghat for Ganga aarti but missed it by a few minutes. We spent a good amount of time till late evening on the ghats watching the sacred water. It was serene, pleasant and refreshing sitting at the ghats, the cold water of the Ganges kissing my feet while the mild chants of Har Har Mahadev were heard in the background. After a light dinner we crashed into bed early.
The next morning we got up a little late, had breakfast at a nearby fast food center and got ready for rafting. Rafting happens at 4 stretches viz Brahmapuri-Rishikesh (9 km), Shivpuri-Rishikesh (16 km), Marine drive-Rishikesh (27 km) & Kaudiyala-Rishikesh (36 km). These stretches vary in the level of rapids they offer. The easiest being Brahmapuri and toughest being Kaudiyala. However, the most popular & standardised stretch is Shivpuri to Rishikesh which offer simple as well as medium grade rapids. If you have a group of 6-8 and wish for an adventurous rafting experience, then you should opt for Marine drive to Rishikesh stretch. Almost all hotels have their own rafts or have a tie up with rafting agencies. Hence there are no standard rates for rafting. You will be charged based on the time and demand. Shivpuri to Rishikesh costs between Rs.500 to 700 per person. There are a total of 11 rapids in this stretch of which 2 are grade III rapids (Return to sender & Roller coaster). Rest all are grade I & grade II. It takes around 2 hrs to finish the 16 km stretch. The rafting ends near Ram Jhula.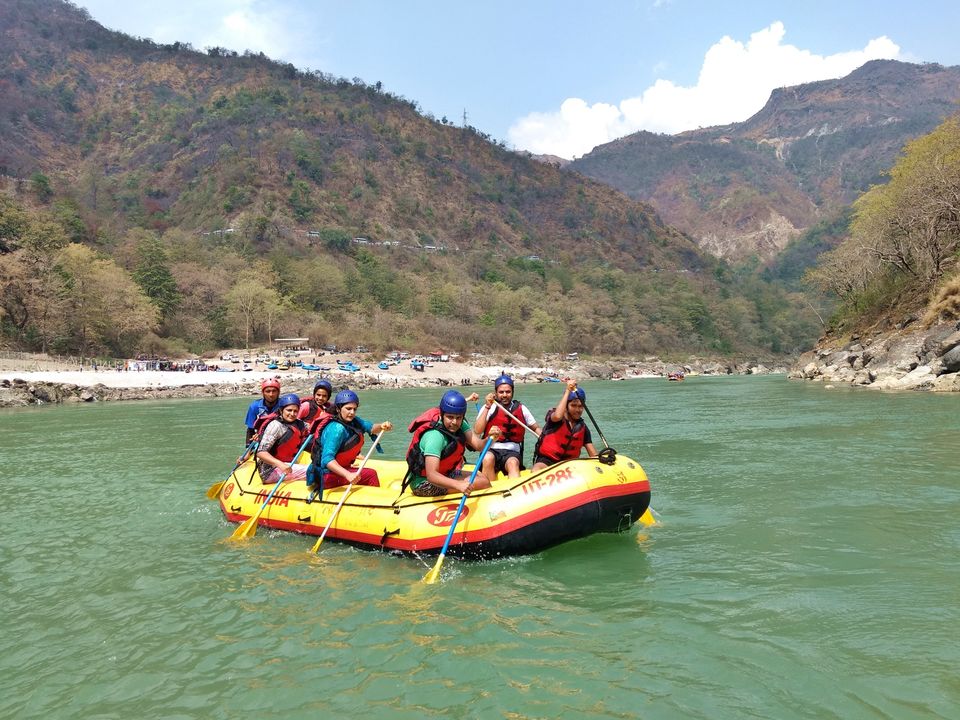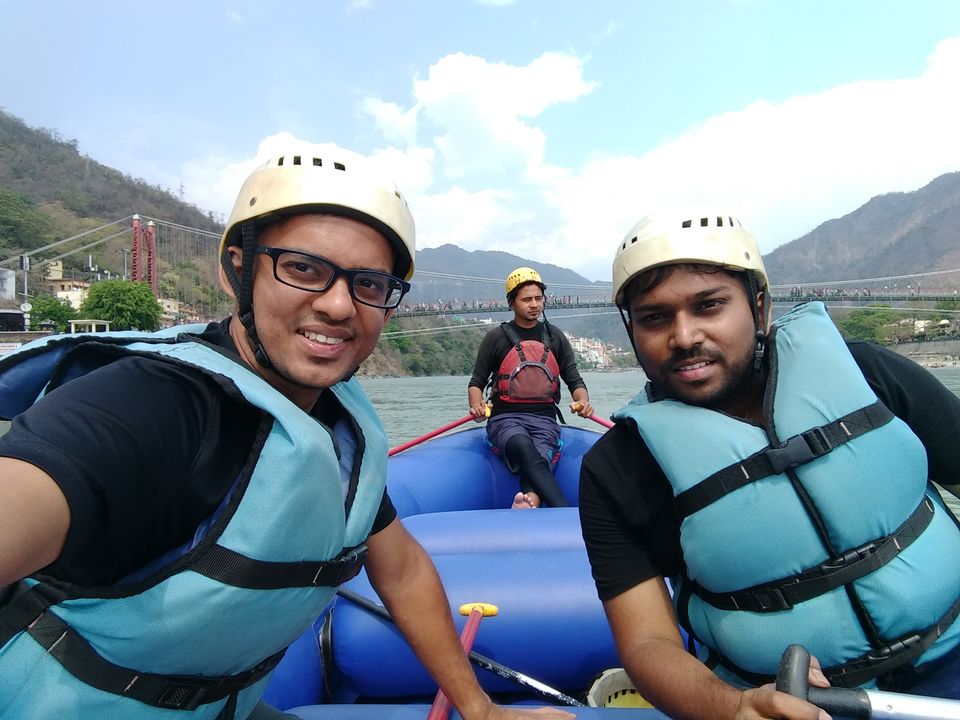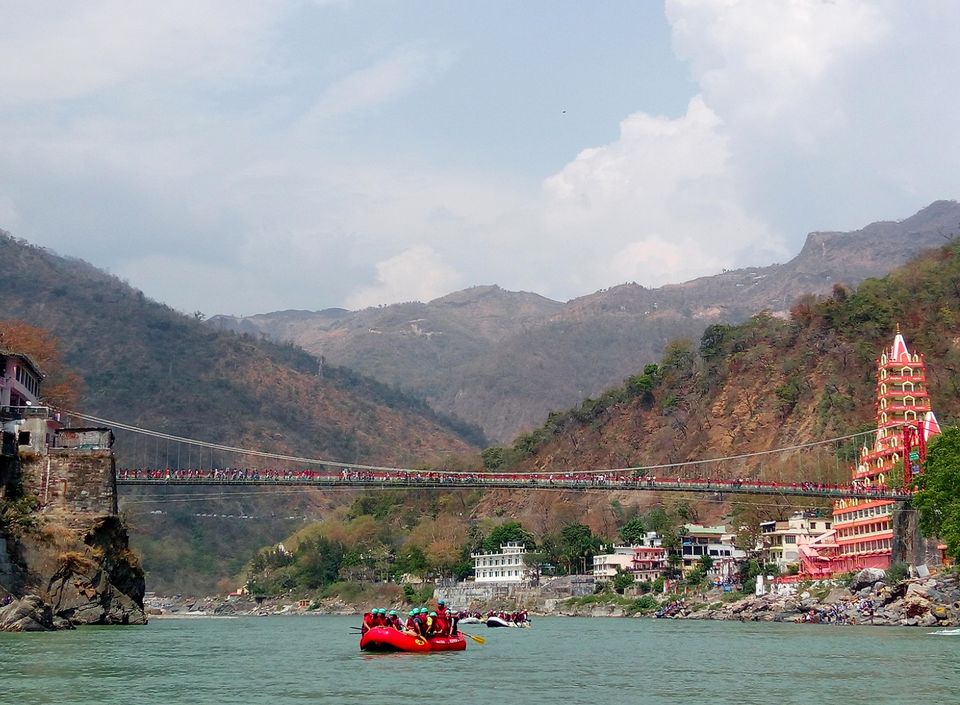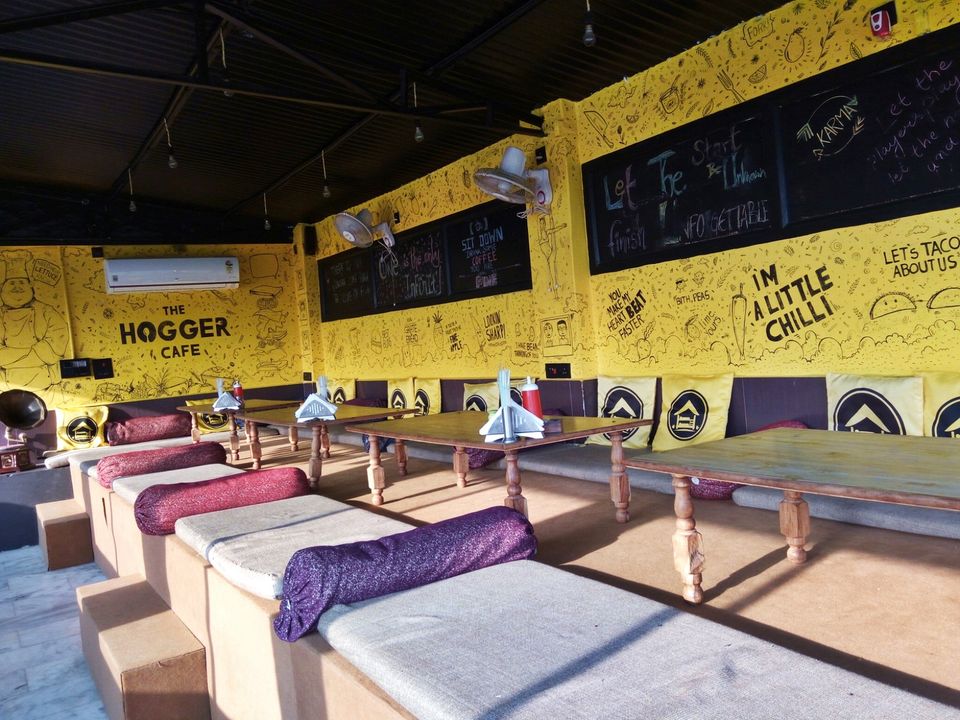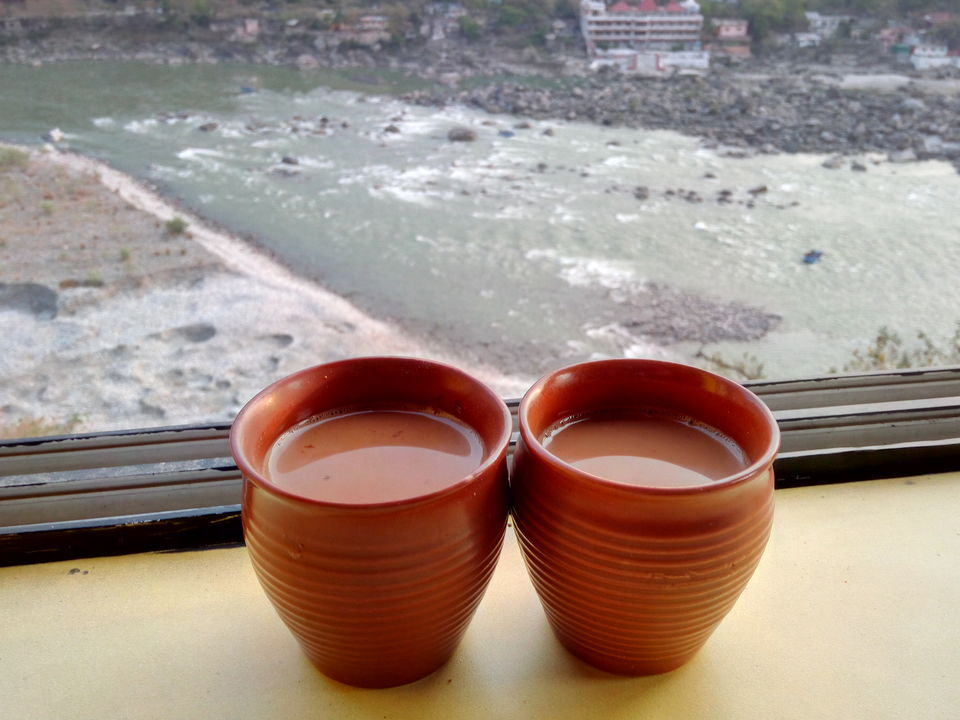 We returned back to our hotel for a quick bath and headed back towards Tapovan for lunch. There are many cafes around Laxman Jhula and we found one called Hogger's café. It had beautiful ambiance and offered a direct view of the Ganges. We spent over 2 hours sipping kulhad chai, watching the river and listening to instrumentals. The food was average but the ambiance and view filled the gap. It was dark by the time we returned back to hotel. Packed our bags and headed for the bus stop for our journey back to Delhi. This time we reached the stop a good 40 minutes before our scheduled departure as we didn't want a repeat show of our previous experience. It was hard to sleep in the bus partly because of the bumpy ride and mostly due to the events that had happened in the last 48 hours.