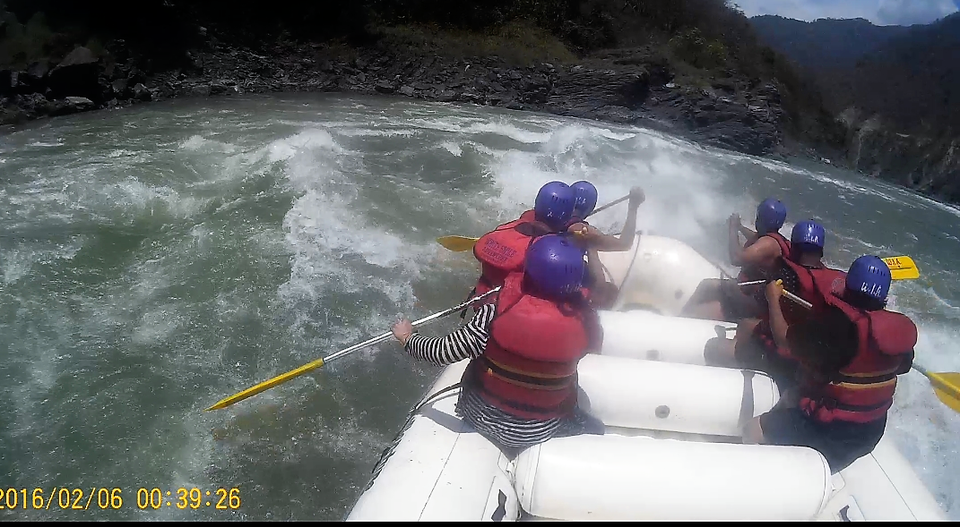 Have you ever imagined how would it feel sitting on the front seat of a raft when it becomes vertical in the air in middle of the raging Ganges river ?
I did. Every time I imagined, I had butterflies in my stomach. But, little did I know that there is a magnanimous difference between the imaginary experience and the real experience of it... A single rafting adventure in the Ganges river changed my perception towards life a bit more...
Day 1: Travel from Delhi to Rishikesh + Check-in
We had a one day to check the items off the bucket list - camping and rafting at Rishikesh. It was bright, sunny morning when we drove from Delhi to Rishikesh. The drive was almost around 6-6.30 hrs. Owing to some ongoing construction enroute Rishikesh, the road was quite uneven and dusty. But, the excitement of going in the waters of river Ganga kept the energy high.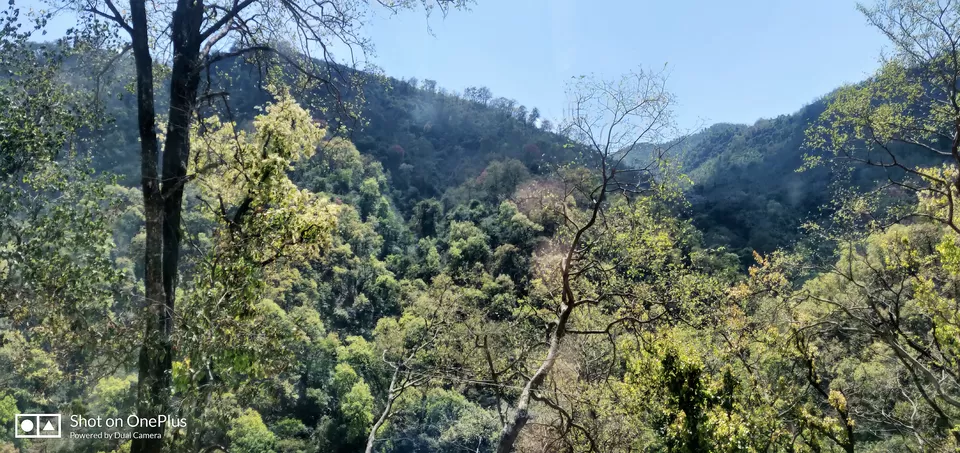 We checked in our camp which mesmerized us with the beauty of the location. The camp had access to a beach which was just adjacent to the river Ganga.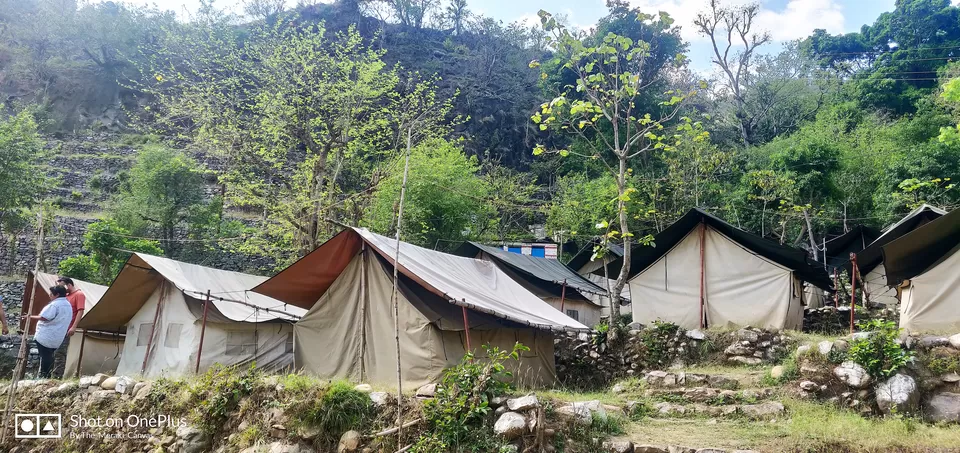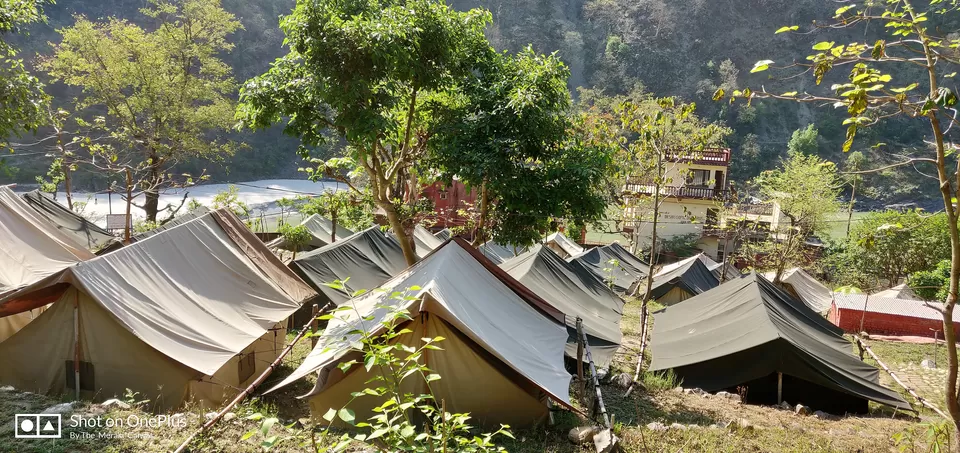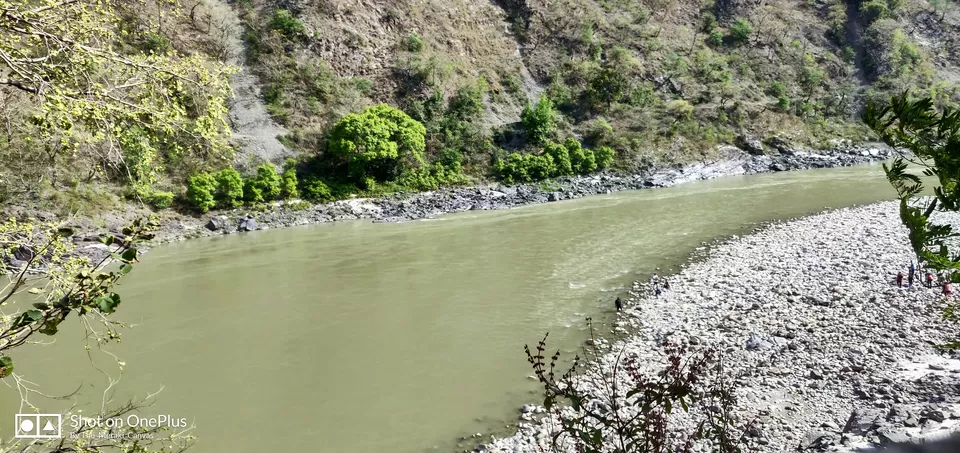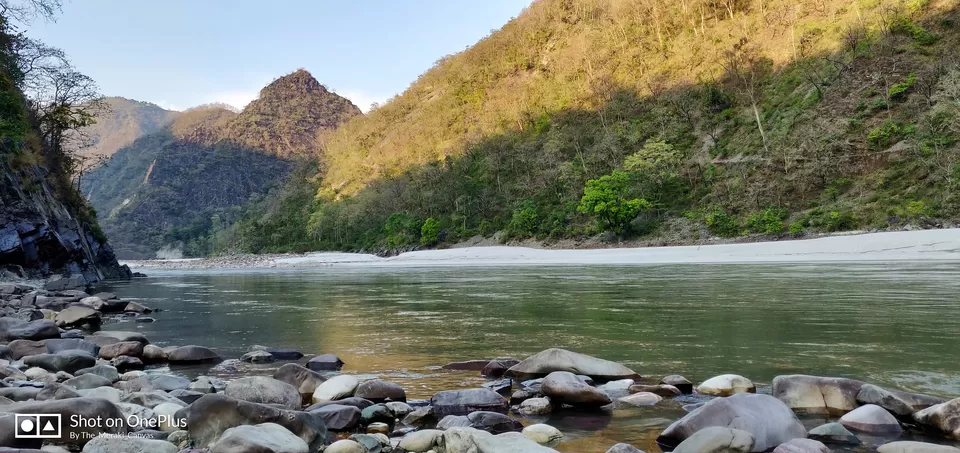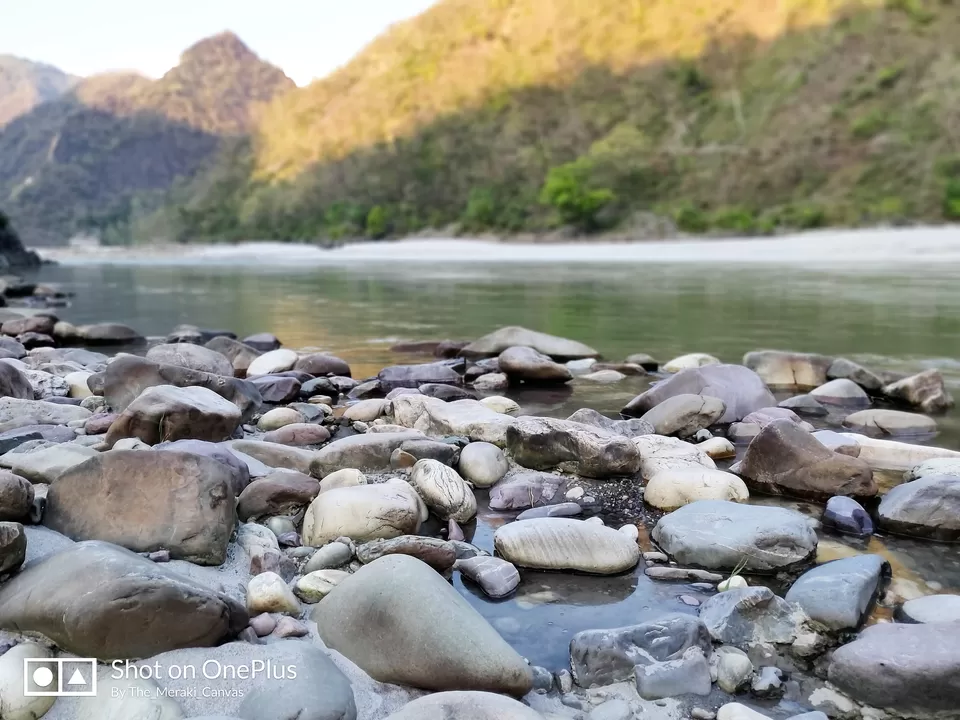 After having lunch, we took a cool shower in the river. The strong currents gave a teaser of what we would be experiencing the next day during our rafting activity.
PS: Going into the water was always supervised by a member of the camp to avoid fatal accidents.
Read my next blog to know about my wonderful stay at a camp in Rishikesh
Day 2: Check out + Rafting + Return to Delhi
The next day, while checking out, we were asked to go to a small shop where we would be allocated our guide and raft.
Earlier, many private groups started their individual rafting activities, as a result of which the adventure sport was uncontrolled. Hence, to regulate and restrict any unauthorized undertakings, the Uttarakhand Govt. permitted rafting under strict guidelines. Following this, each team that wants to raft is allocated an experienced guide by a regulatory body only.
Read: HC lifts ban on white water rafting across Uttarakhand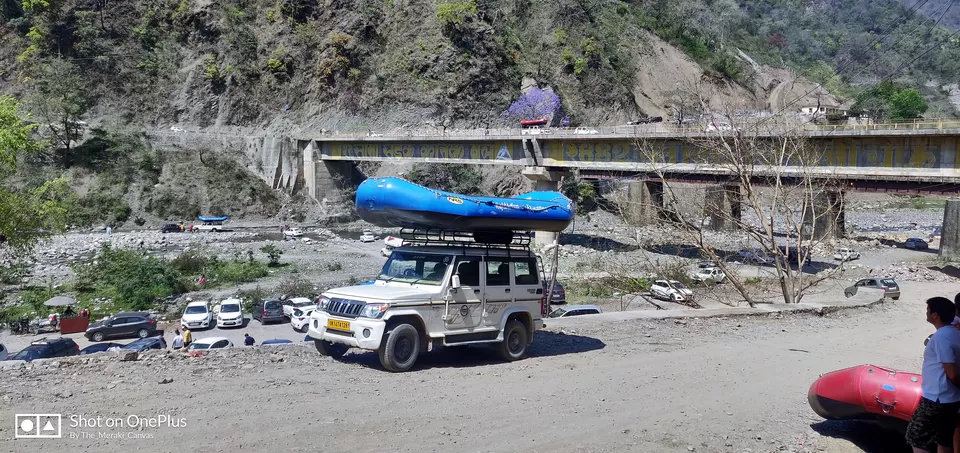 We kept our luggage in the allocated shop and headed to the starting point. We had opted the Marine Drive stretch.
PS: We paid a booking fee for the raft per person.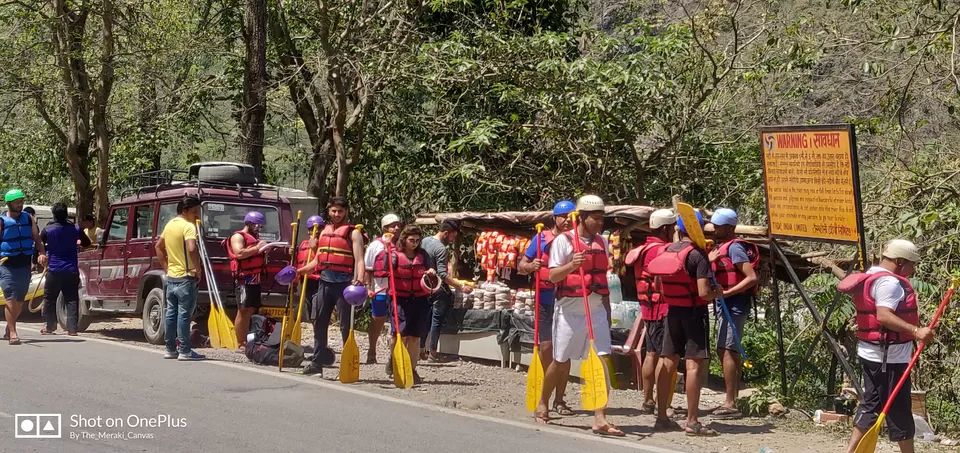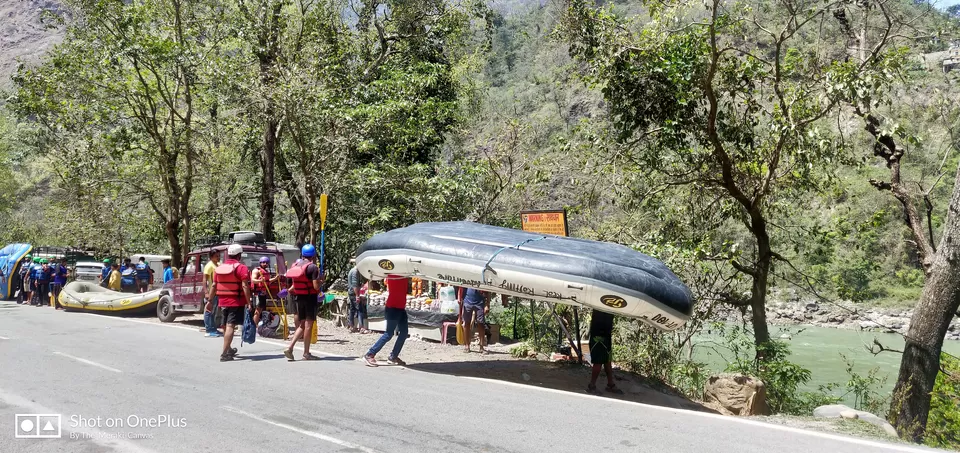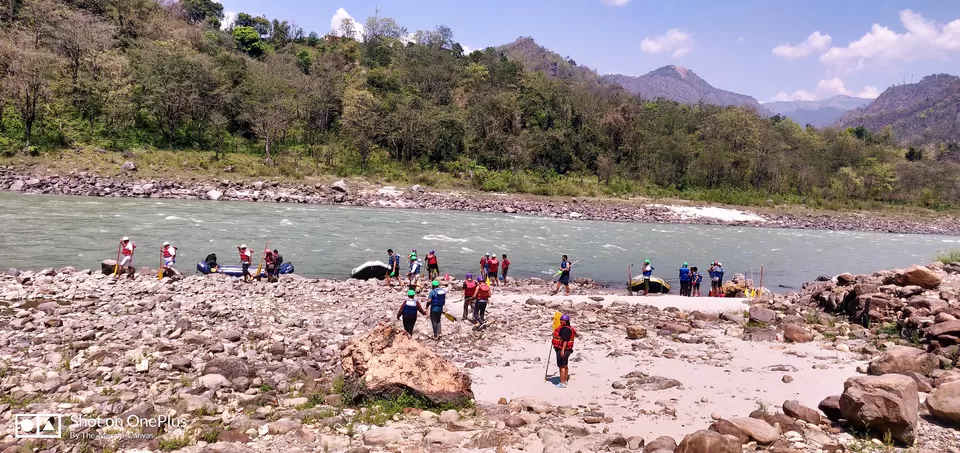 Before we commenced our journey, the guide explained the sign languages and rules that were a must to follow during the entire rafting session.
With loud cries calling "Bolo Gange Mayya ki Jay" and "Har Har Mahadev", we set sails.
-----------------------------------------------------------------------------------------------
Rafting guide
Grades of rapids
There are different grades of rapids in Rishikesh.
• Grade: 1 (Basic level)– Easy navigation across mild streams. Almost no risk involved. This grade is perfect for the beginners and the kids.
• Grade: 2 (Basic paddling skill)– Holds noticeable obstacles or rocks and requires easy maneuver. This grade required guidance for the rafters.
• Grade: 3 (Experienced paddling skill)– Reasonably adventurous rapids and require good control and steady maneuver. This grade demands significant amount of guidance for much tougher kind of experience.
• Grade: 4 (Expert paddling skill) – These rapids are strong enough to tumble the raft. Definitely this grade needs a substantial guidance. People with prior experience can make the moments more thrilling.
• Grade: 5 (Expert paddling skill) – Dangerous rapids. Strictly for experts. This grade is only for experienced and experts with steady stamina of constant rafting.
Rafting stretches in Rishikesh:
1. Brahampuri to Rishikesh (8-9 km): Shortest and easiest || Rapid grades 1 and 2
2. Shivpuri to Rishikesh (16-17 km): Medium to easy || Rapid grades 2 and 3
3. Marine Drive to Rishikesh (26-27 km): Difficult to medium || Rapid grades 1, 2 and 3
4. Byasi to Rishikesh (35-36 km): Difficult to medium || Rapid grades 1, 2 , 3 and 4
5. Kaudilya to Rishikesh (40 km): Difficult || Rapid grades 1, 2 , 3 and 4
-----------------------------------------------------------------------------------------------
The initial sail of the raft was smooth and we overcame smaller rapids. We were allowed to dive into the cold waters of the river, with precautionary measures, of course! The feeling of being in the deep green waters of the river Ganges cannot be penned down in words - it's extraordinary! It makes you realize how tiny your existence is in this mammoth world.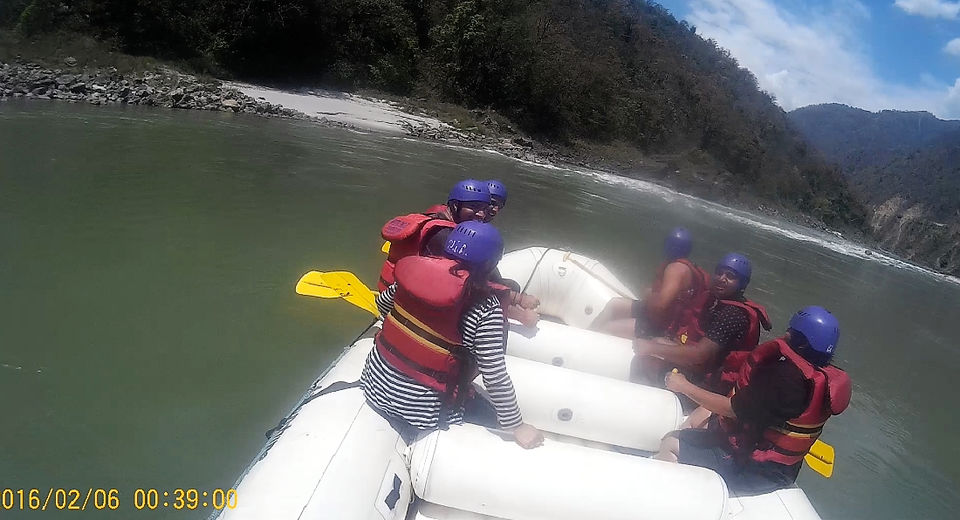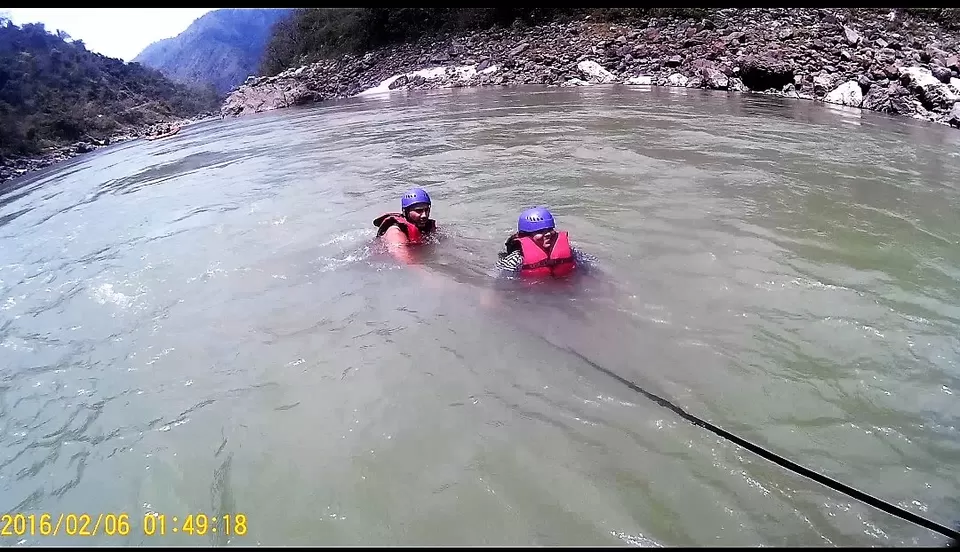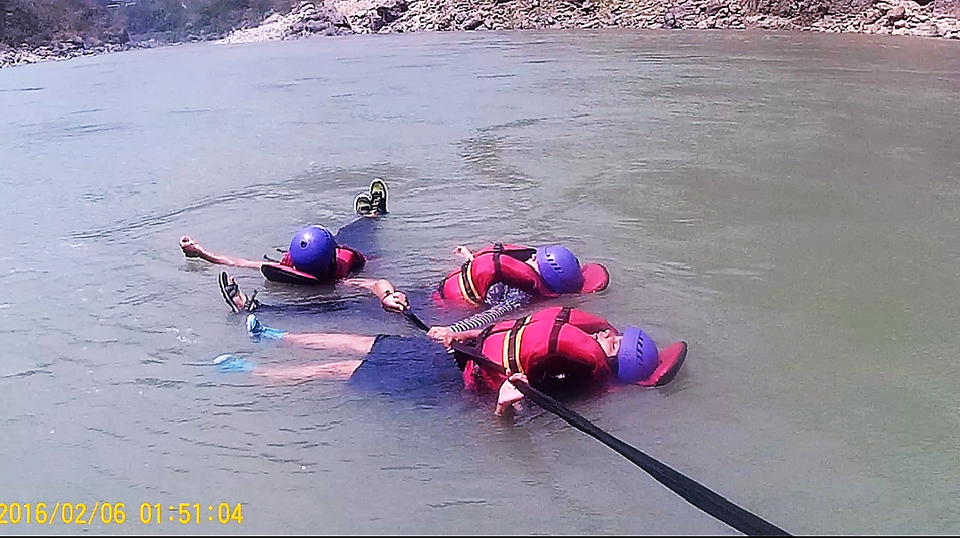 Gradually, the tougher rapids approached. The raft flung itself against the frantic waves and strong currents. While we all used every ounce of energy our bodies had to cling to the raft, it jolted and tilted at all impossible angles we could ever imagine. With each thrust of the wave on the raft, we could feel the adrenalin shoot high and higher!!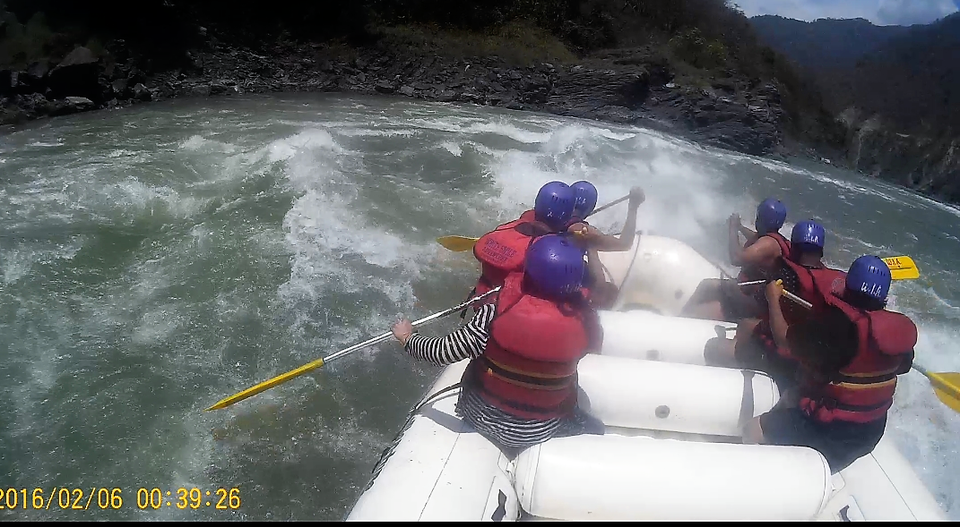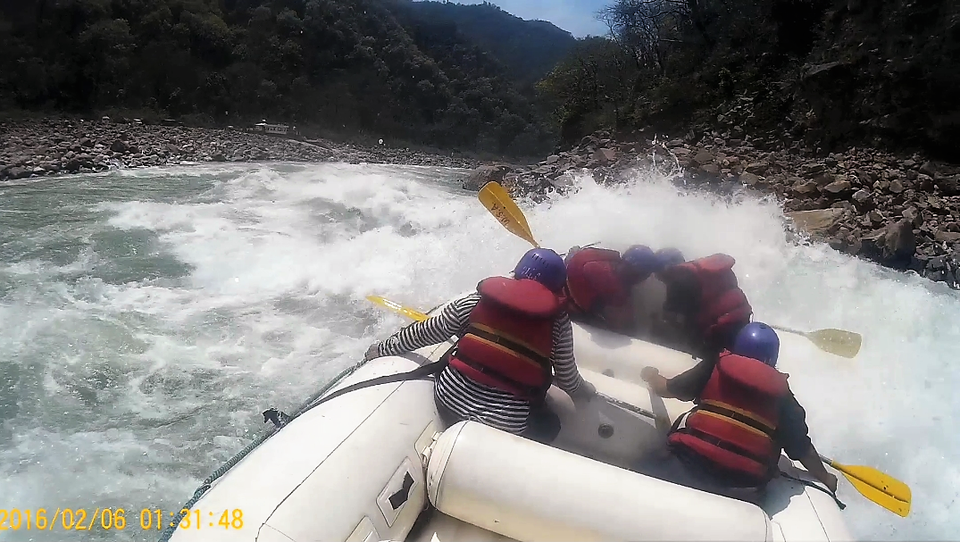 PS: Following the instructions of the guide is a must as one might get disbalanced and trip over the rafts into the rough waves.
We were lucky not to fall over!!
As we meandered through the waters overcoming all the rapids, we reached a cliff where rafts had halted for a quick maggi break.
PS: You can pay some extra amount to your guide to record the entire rafting experience using a GoPro.
Chai and Maggi Break and Cliff Jumping
The guide parked the raft in front of a cliff where a small stall served freshly prepared maggi and chai (tea). Also, that was the point of the cliff jumping activity.
PS: Cliff jumping is not available and permissible from all cliffs as there are rocks under water that can be fatal. Moreover, lifeguards on kayaks are available only at the above-mentioned cliff.
The excitement of having freshly prepared Maggi in a raft on the strong currents of river Ganga is exemplary!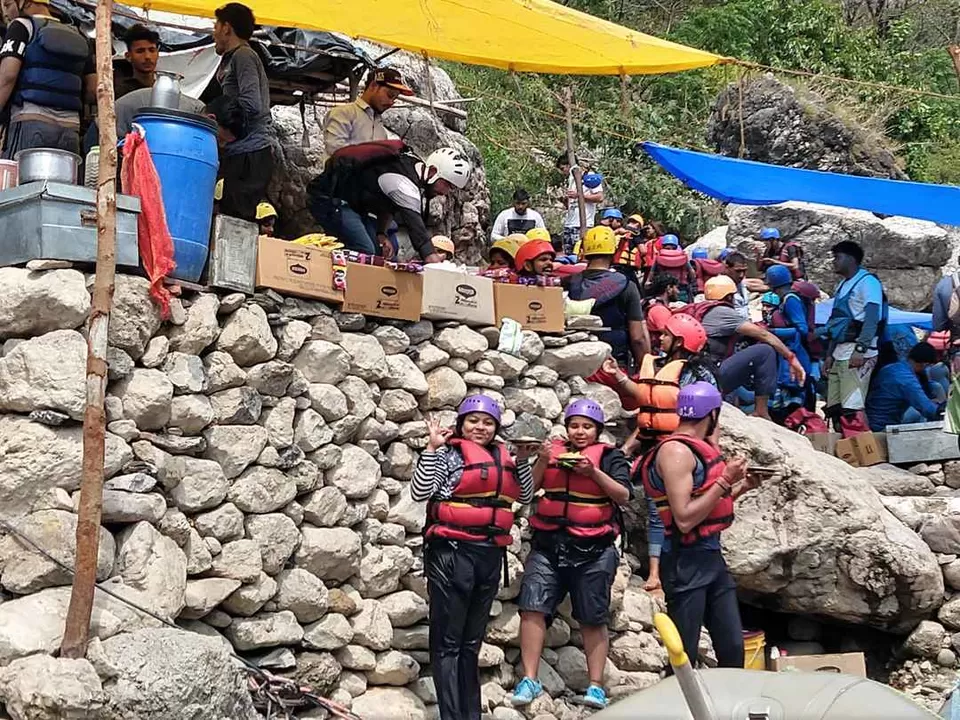 We also did cliff jumping from the point. For a moment, all I could see was the green underwater and feel the pressure of the deep waters until I surfaced. I still get goosebumps when I remember this...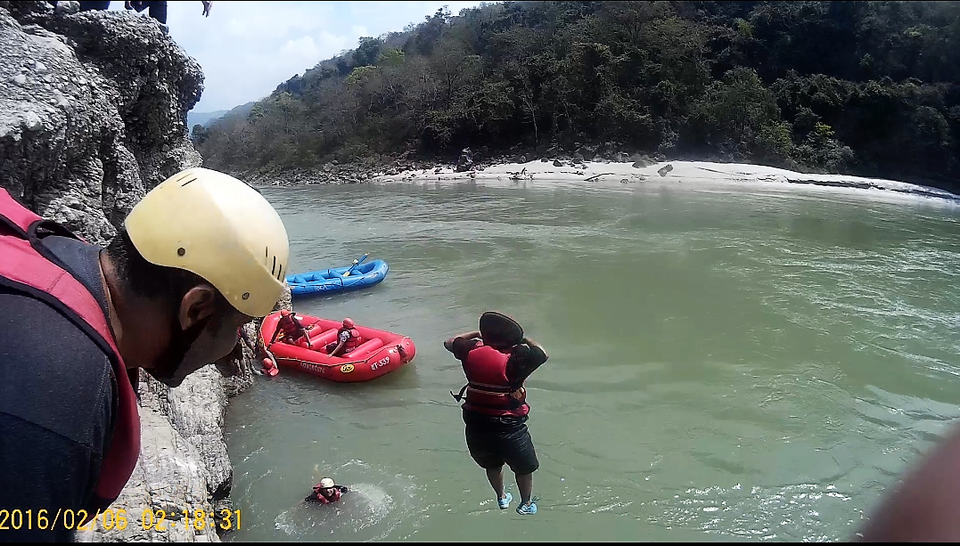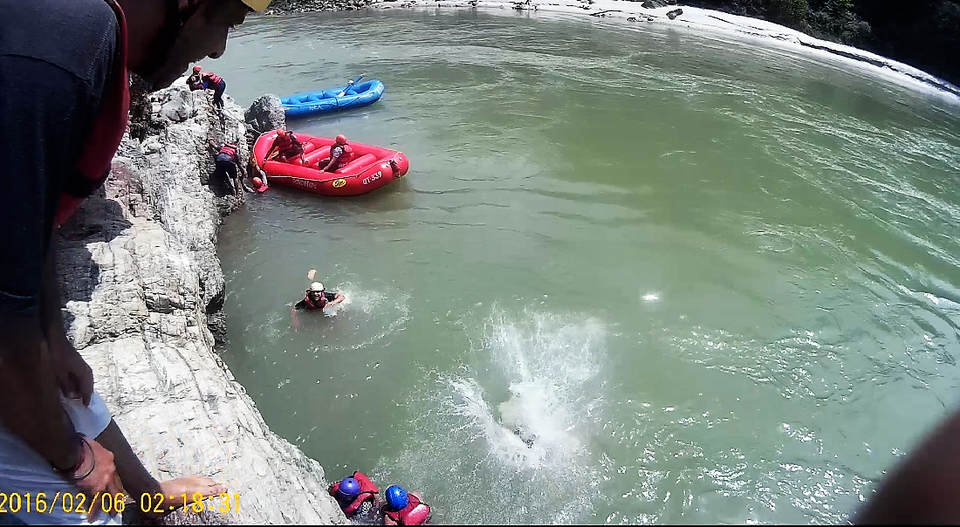 After the quick break, we moved on. We had couple of more rapids to overcome, and then finally reached our final destination at a beach beneath Laxman Jhula. We thanked our guide for keeping us safe and guiding us through the memory of our lifetime throughout the rafting activity.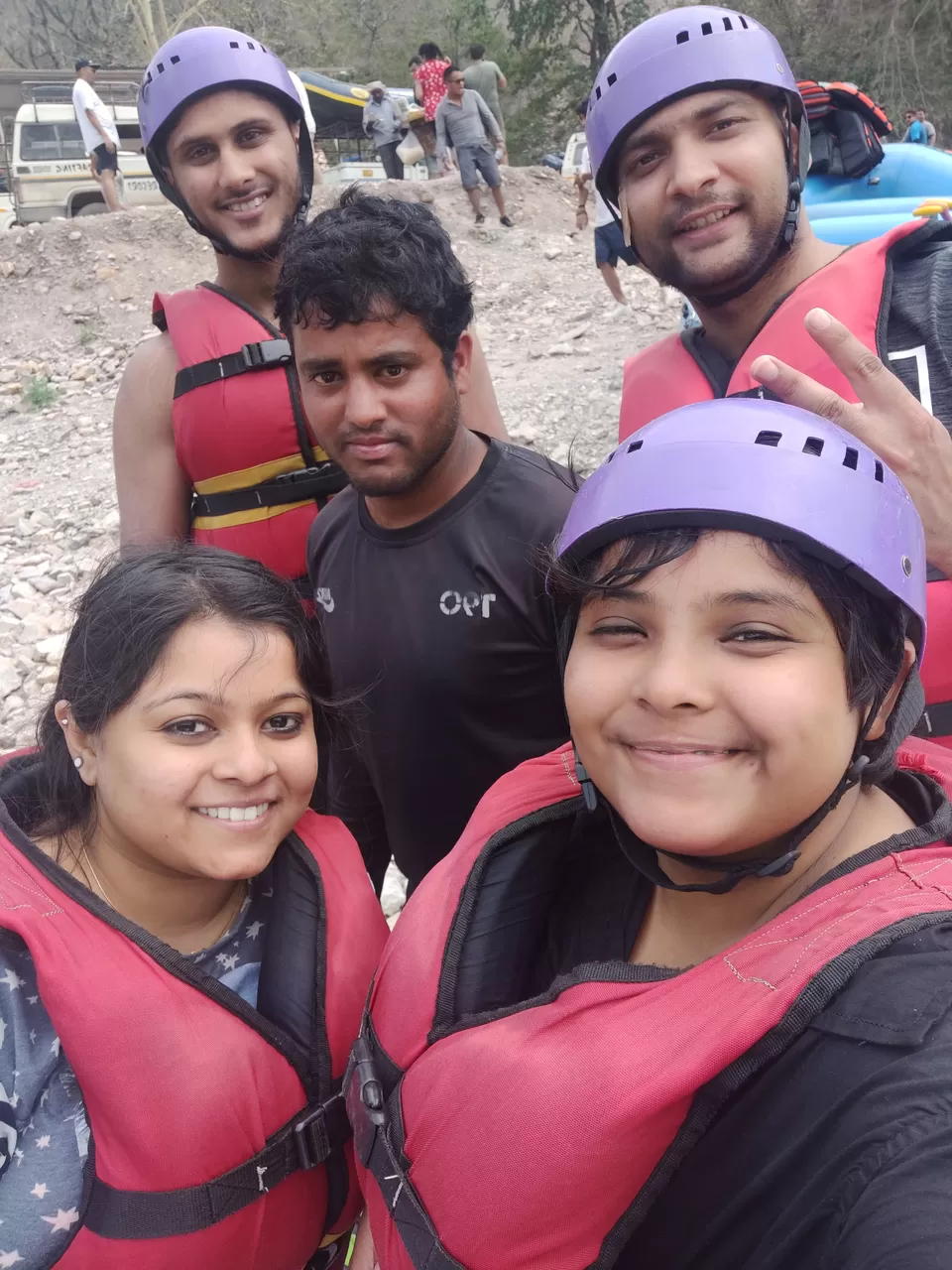 A shared auto dropped us to the shop where we had kept our bags. Having changed to the extra pair of dry clothes, we decided to head back to Delhi.
Well, we did leave out some sightseeing places.. But, that's for another trip...
Frequent Searches Leading To This Page:-
weekend travel to rishikesh, weekend rafting packages, weekend trek to rishikesh, weekend tour of rishikesh, weekend trip to rishikesh