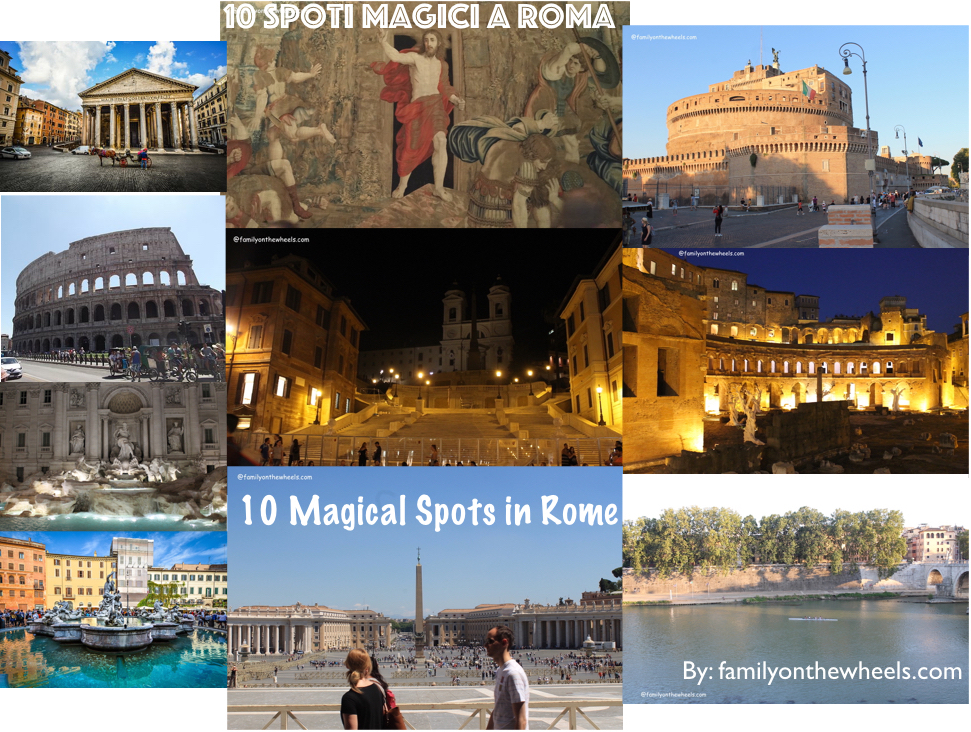 Little did I know that this city is actually a power-house, as it swathes a grandeur history, embarks with the fantasy of origin and culture, cheers up the spirit with the bustling markets and amuse with the knack of craftsmanship. It'll heave you yearning, It'll get you nutty, and will cast a spell on you for sure.
So rightly said that "Rome was not built in a day", this place leaves you adorning it forever.
Greek lovers can definitely counter the Roman art, since it originated from the Greek Culture. On one hand its seems that Rome is rife with the ruins, some staggered & some well managed, but on the other hand it entails the love of great artists as "Michelangelo, Raphael, Gian Lorenzo, Giovanni Battista". They have etched Rome with some magnificent Renaissance frescoes, lasting mosaics, human sculptures with intricate work, embellished museums, which have turned this city into a "Jewel".
What you need to do is just walk around the city and every minute you'll see yourself embracing the majestic churches or artistic Frescos & if not this, then definitely some amazing fountains.
An easy public transport, you may get easy travel by 7Euro pass for 24 hours for Metro/Subway/Bus
What to quote for this massive place full of the finest of the art, culture, history laden with stacks of praises on the amazing works of great Italian painters. One needs to be thoughtful on what to cover & what not to. As the complete museums & gallery stretches for 7 Kms, so we have to be highly selective to preserve the energy for the last of the magnificent stretch opening into "Sistine Chapel".
The best way to cover it selectively in a limited span of 3 hours & comprehend its history & culture is, to book the Vatican Museum tour with the audio guide.
Amongst the complete lot, not to miss are the magnificent which entails rooms frescoed by , having amazing collection of animal statues & mosaics.
Sistine Chapel with decorated ceiling from the scenes of Old Testament, witnesses one of the eminent scenes in the form of "Creation of Adam". The antique galleries presents some stupendous works in the form of "Resurrection of Christ - in tapestry Gallery", ceiling of the gallery of maps is worth big applaud.
Metro/Subway: Cipro(A)/ Ottaviano(A)
Website: www.vatican.va
#FOTW Recommendations:
1.Do buy online tickets (skip the line) & audio guides for the Vatican tour!
2. It is a serious no miss (at least it owes minimum 2-3 hours to get you fall in love with Rome & it's great artists)!
3.Try covering it as the day starts, by 9am. As the day grows so does the crowd.
2. Piazza San Pietro & St.Peter's Basilica
After the Vatican city, FOTW moved to witness Basilica & Piazza.
It stands to define one the most exhilarating renaissance architecture, collectively designed for more than a 100 years by Michelangelo, Gian Lorenzo, Carlo & Donato with the badge of "One of the largest churches in the world". St. Basilica is bordered by Piazza San Pietro (St. Peter's Square), which was created in 17 th century by Lorenzo.
It's all the more symbolic as this was the site wherein 1 st pope - St.Peter was buried way back in 64 AD.
This Roman Catholic Church, with 452 Ft high, covering 50k Sqft (spacious enough for 60k gathering at a time), holds in itself some remarkable sculptures, marvellous treasures in marble & bronze and Baroque architecture of the Christian era.
And so was the square built across the Basilica, bordered on both the sides as semi circular arcade (symbolizing the stretched arm of Church embracing the wold) & close to 140 statues were sculpted on the top of the pillars depicting religious figures as Pope/Martyrs, all crafted by the Great Bernini.
Metro/Subway - Ottaviano San Peitro (closest to Vatican City)
Plan a lunch break & relax to sunbath & start back the journey !
Close to Trevi Fountain, a small walk will lead you to highly lit pleasing square. This triangular square is connected to the French church located atop the hill by the elongated yet elegant stairs, known as "Spanish Steps". It is a touristy place & the steps get crowded, so in case you wish to catch a calm glimpse, visit this when the night falls. Although the Spanish steps would be closed by evening, but the lighted square with numerous gelato shops are to yourself. FOTW visited spanish steps in the night by around 9:30pm and it was an amazing sight, shared with you all:).
Just in front of the steps is a lovely fountain in the centre of a flooded boat, designed by Lorenzo Bernini. It was inspired basis an original incident in which a boat got stranded at this location when river Tiber flooded.
This is one of the most happening squares of Rome, featuring three gorgeous fountains. The central & the largest deciphered as "Fountain of four rivers", figures portraying 4 rivers, all originating from different continents. A highlight of this Piazza is also the Church of Sant' Agnese.
Bus : Bus no.87 (from Colosseo) /no.492 /no.70 (from termini)
Close to Piazza Navona, stands the grand Pantheon. This was built more than 1800 years ago as a temple for all Gods. Of the building, its creates an instant fondness which is more than . The converging point of the dome has an opening which is the only source of light & looks beautiful when the sun rays fall into it.
Lately this temple was converted into Church & it now has tombs of famous artists & kings. The marble flooring has certain geometrical patterns which makes it praiseworthy. A good sight, FOTW recommends!
No direct metro: It is a small walk from Piazza Navona, well signposted on every route.
Time: 8:30am -7:30pm
A chaotic spot, with lots of traffic plying the roads, but it is a worth visit as it embarks the beginning of historic monuments as Colosseum & the Roman Forum. It is located at the foot of Capitoline hill & its name has been derived from "Palazzo Venezia" which was the Embassy of Republic of Venice & encapsulates a museum as of now.
It swanks lot of arches, Temples, Basilicas, buildings in the ancient time, most of which has been reduced to rubble as of now. But had you thought that a look at these ruins could also be interesting enough?
Well yes, & this has been made possible by an appealing Light show FOTW saw. Completely unaware of it, night had fallen by the time we passed & were simply amused at the imaginative larger than life light show!
It leads you through the usually inaccessible archaeological site full of ruins. One can also simply sit beside the road to see the dazzling figures appearing from the lights illuminating on the ruins. They draw various arts; showcase the ancient Roman life & really many more attention grabbing story telling images!
#FOTW Recommendations:
A must watch "Light show" from FOTW side . We visited in August but have heard that it opens only for certain months a year. Timings/entry amount of the show can be checked at - www.viaggioneifori.it
Subway: Colosseo(B)
Bus no.40 - Stop - Piazza Venezia
Probably the most famous & admired edifice across the globe is an Amphitheater, Colosseum. Although part of it has converted into debris, but still it poses as a magnificent site. The original elliptical building was a marble clad with 160 massive statues hovering over 159-160 ft. It could amass close to 55k spectators with 4 floor seating space. It was basically home to entertainment for the public, display of exotic animals, game fights between animals & gladiators (either slaves or criminals or prisoners).
Just outside this magical structure, the long lane post Roman Forum is occupied with the painters designing Colosseum in the backdrop of shades of nature live in front of you. A 15 minutes look at the imagination would urge you to buy one of those or compel you to shower some cents for the sake of art!
Metro/Subway: Colosseo(B)
Do enjoy some break by having pasta/gelato!
The first glimpse of this spectacular fountain is gonna cast its magical charm on you, irrespective of the humongous mob. It definitely is the most beautiful fountain FOTW has ever seen & certainly is a perfect example of Monumental Baroque. The way it explains the disposition of the water/sea is just lovely. The central figure carved is "Neptune" the Sea God, riding the chariot pulled by 2 sea horses. One depicts the calmness, the other reflects restive sense. Water flows into the large basin from the well crafted rocks representing the sea. Tossing the coin there is a "custom" promising your return to "Rome".
Metro/Subway - Barberini
#FOTW Recommendations:
Visit it post sunset , you'll admire the beauty with the sparkling lights & never wish to come back for sure, irrespective of the crowd!
(Plan its visit, when you are close to St. Basilica & St.Peters Square)
Overlooking the Vatican City, located on the banks of River Tiber, is "Castle for Holy Angel", having an interesting history.
Originally built in 123 AD as a mausoleum, it was later converted into fort, wherein the popes took shelter during the times of turmoil/peril. Then it functioned as military prison & finally right now it is a museum. It also had a secret corridor which was used by the pope for refuge during army attacks. This castle gets connected to the city on the river's side by the photogenic bridge -Ponte Sant'Angelo.
It houses in beautiful apartments with frescoes & the top of the fortress is a huge marble statue of an angel, which also has a tale behind it. A story behind says, this archangel appeared on the top of fortress & ended a plague across the city in 590 AD & hence it was named Castle Sant'Angelo.
#FOTW Recommends: Just wander across the path on the bridge & feel the calmness in the air. A stroll along the castle will lead to a small market on the pavements where you can go in for shopping souvenirs at cheap rates of 1-5 Euros.
Subway/Metro : Lepanto(A) or Bus no.40 / www.castelsantangelo.com
Time : During Summers ( April -Sep): 9am -7pm ; (Winters )October -March: 9am -2pm ,closed on public holidays.
As much has Rome to offer the best in art history & culture, it has an equal blend for the traditional & all time evolving cuisines.
You ought to get satiating meal in the form of Pasta Alla Carbonara, Neapolitan style pizza & desserts as "Crostata Di Ricotta (cheesecake tart in Roman version). Gelato, pick any flavor of your choice & you are bound to rejoice. Even Roman pastries are delectable & one can try out at "Regoli".
#FOTW Indian Food Recommendations: Even if you want to break free from Italian food, throng out at some delicious Indian restaurants as: Indian Affairs / Gandhi / Namaste India. We enjoyed food at all of these 3 quoted Indian places & loved Indian Affairs & Namaste the most. I bet guys, even the simplest of Daal tadka-Rice with Papad will bring you in the highest of the spirits :).
I read that " Rome was a poem pressed into service as a city " - Anatole Broyard.
Benvenuti a ROMA!! Open a new chapter in life!!!
Planning for Venice trip, read FOTW post!
Contact FOTW for any travel tips, we are there to help you plan things out:)