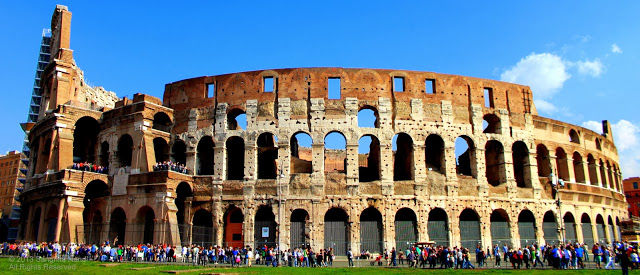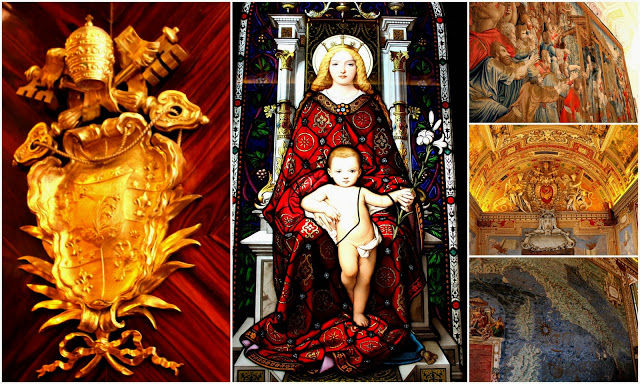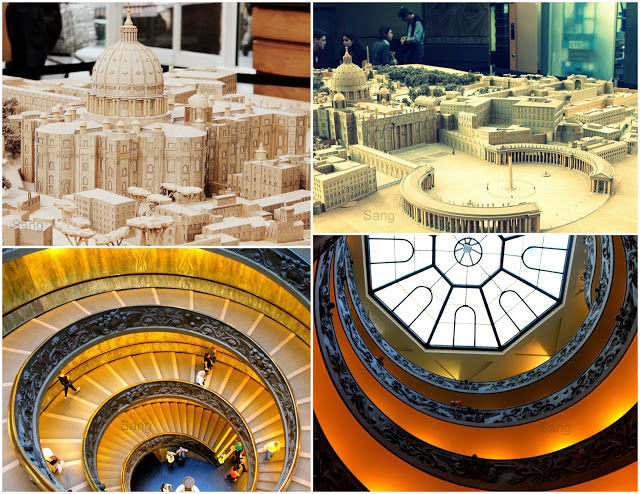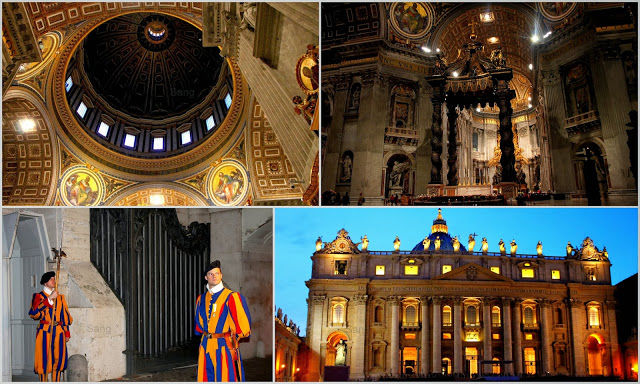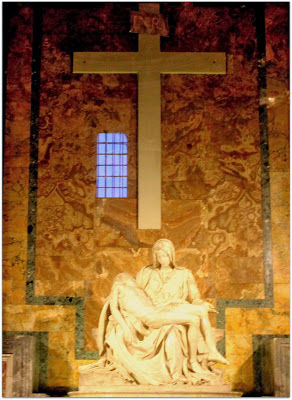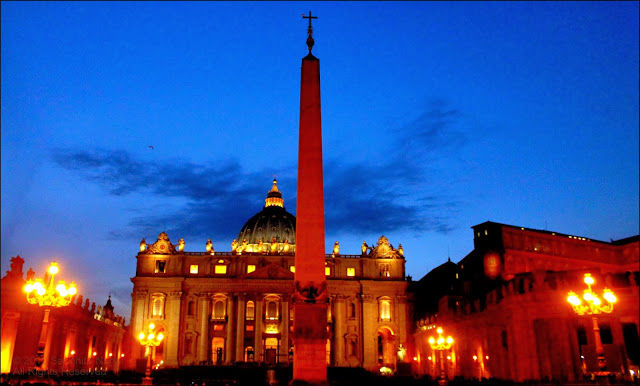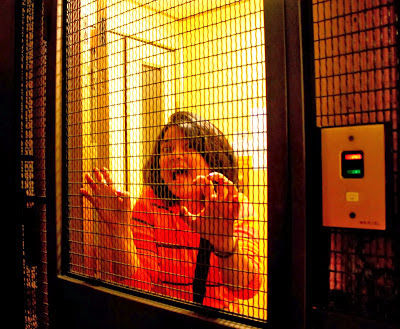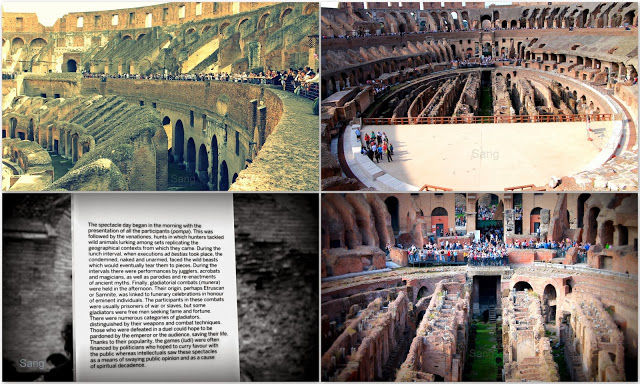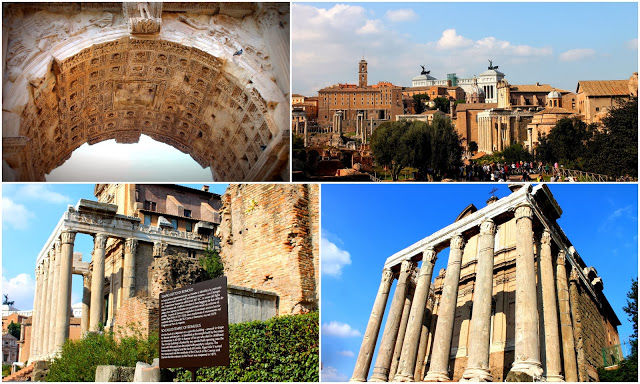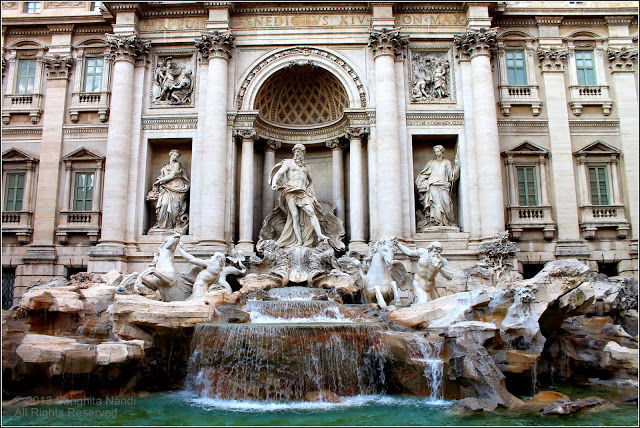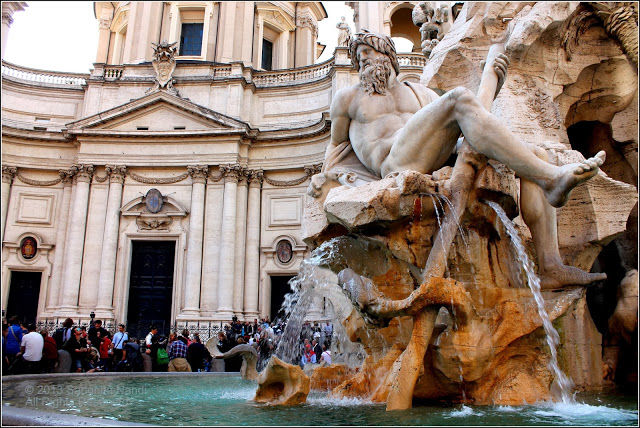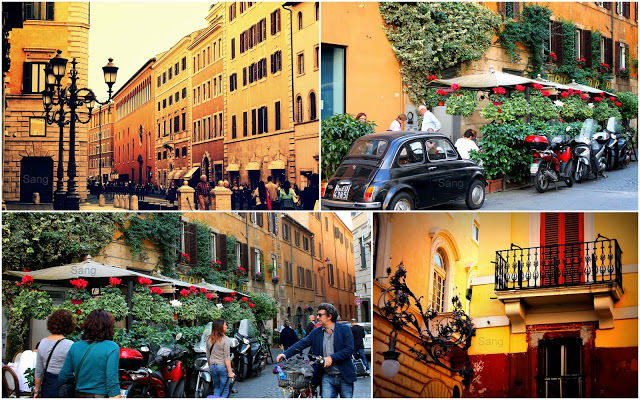 From freezing Gornergrat to frying pan Rome;
From travelling on EuroStar First Class to foot board of an EuroCity train;
From waking up before daybreak to capture the Venetian sunrise to entering the Zermatt Mountaineer's Cemetery at midnight to bow down to those who lost lives while climbing the Matterhorn;
From classy hotels to mountain chalets to youth hostels to sleeping on straws in a farm - Done it All!

Day 5, October 31st 2013, Thursday:
Darkness... Darkness... Darkness...
It was the darkness of a long tunnel right after Brig. Not as long as the Lotschberg, but long enough to make you crave for day light. When we came out of the tunnel, we were in Italy. Passports were being checked by border control officers inside the train itself. The change of country was evident - in the landscape and the houses we passed. It was quite evidently a financially less developed country than Switzerland, which is an epitome of perfectness. We could see Lake Como on our left side, strewn with yachts and lakeside villas (Remember where The Night Fox was residing in Ocean's Twelve?).
Our EuroCity soon reached Milano Centrale, where we bought EuroStar tickets for Rome. The tickets didn't guarantee seats, so after boarding the train we had to try our luck. We tried twice, but on both tries someone soon came and claimed the seats as reserved. We had earlier seen two Italian men sitting on the foot board of the train. It was a 5 hour journey and with no option left, we grabbed two foot boards near the train's washroom. The experience hit me hard. We were indeed no longer in the comforts of Swiss land. Forget Swiss, I have never experienced sitting on foot boards even in India!
Rome is infamous for pick pockets, so we clutched hard to our sling bags while leaving Roma Termini. Our Bed & Breakfast Santa Bibiana was few minutes walk from the station. The walk was excruciatingly sweaty since we still had our woolen layers on and Rome had no signs of winter. Our host David was super helpful. He gave us a map of Rome and explained us the Metro routes. He even gave us spare keys of the main door saying he might not be there when we come back at night.
We changed super fast and left for Vatican. The day was Halloween and Vatican Museum was closed on the next day for the occasion of Feast of All Saints. So we had pre-booked the 3 p.m. entry slot of the Museum - the last entry of the day.We took the metro from the nearest stop Vittorio Emanuele and got off at Ottaviano San Pietro. From Ottaviano, we walked to Vatican City - the smallest State of the world.
We were at the gates of Vatican Museum just 5 minutes before 3 p.m.. The Vatican Museum displays some of the most renowned masterpieces of High Renaissance art. We passed through the Museo Pio-Clementino right after the entrance where we saw the statue of Hermes and Sleeping Ariadne, among many other sculptures. We went upstairs and passed through many galleries, one being the Gallery of Maps - a spectacular gallery of painted topographical maps of Italy and its regions.
We saw Raphael's Rooms which has Raphael's frescoes including The School of Athens and then took the stairs down to Sistine Chapel. The chapel felt like a masterpiece of Michelangelo with its spectacular ceiling and The Last Judgement on the altar wall. The center of the ceiling depicts The Creation of Adam, the painting where God's right arm is outstretched to give life to Adam, who in turn has his left arm outstretched mirroring the pose of God. It is a photography prohibited zone, so all we could do was stare in awe.
After exiting the Sistine Chapel we spotted the Vatican Library doors on our right side. We passed through a long gallery and many souvenir shops and were soon at Uscita; well that's Italian for Exit. The exit has a spiral staircase which finally led us outside the museum.
Next on the list was St. Peter's Basilica. We had to walk around the Vatican walls since the museum has a separate entrance. There was a long line in front the Basilica entrance, but it moved very quickly and we soon found ourselves standing inside the center of the Christian world. It is undoubtedly the most lavishly gilded church that I have seen in my life. It was grand and it was huge!
The center of the church has the St. Peter's baldachin, a huge canopy like structure over the high altar and directly under the dome. The baldachin was designed by Bernini. Inside the church, there are numerous chapels surrounding the nave and the dome, including Michelangelo's Chapel of Pietà. We spotted two Swiss guards in their orange-blue-red uniform at the exit and one of them was gleefully posing for pictures. By the time, we came out, the sun has set and sky had a beautiful shade of deep blue.
St. Peter's Square is elliptical in shape with semi circular colonnades on either side. The center of square has an Egyptian obelisk, with a fountain on either side of it towards the colonnades. We spent time in the Square, trying to absorb as much of its grandeur as we can, before indulging in some street shopping right outside the Vatican gates and walking back to Ottaviano metro station. I wanted to see Colosseum at night. So we took a metro till Termini, changed to Metro Line B and got off at Colosseo. Colosseum is located bang outside the Colosseo station. All we had to do was cross the road. And wasn't my decision just right? Here is one of my dark hour shot of the glowing Colosseum. On our way back, we packed some chicken wings from an eating joint near Vittorio Emanuele and walked back to Santa Bibiana. After devouring the wings, we explored Santa Bibiana. It was a beautiful old house with a scary age-old lift that reminded us of horror movies.
Day 6, November 1st 2013, Friday: David and his girlfriend prepared us a scrumptious breakfast in the morning. He just couldn't understand what an omelette is, so he made me scrambled eggs instead. We checked out after the breakfast, but he let us keep our luggage even after that and gave us the keys saying we can come and take our luggage anytime once we are done exploring Rome. Santa Bibiana, with my personal experience and a rating as high as 9/10 on Booking.com, is highly recommended as your place to stay at Rome.
We again traveled to Colosseum - this time to actually enter it. There was a long line in front of the entrance and it didn't move even half as quickly as the line at St. Peter's Basilica. After a long wait we reached the ticket counter and bought joint entry tickets for Colosseum and the Roman Forum. When we finally stepped inside this Wonder of the World, I couldn't help but think "Colosseum - Check!". The famous amphitheater is elliptical in size and is best viewed from the upper levels, higher the better. However, the seating in that era was just the opposite with the senators occupying the rows close to the podium and the poor and the slaves occupying the topmost level. The arena floor no longer exists where the combats were held, instead you can see the underground quarters called the hypogeum, where the gladiators and animals were held before the gladiator combats began. The structure could have easily accommodated 50000 spectators or may be more.
After Colosseum, we walked to the adjoining Roman Forum - the ruins of the seat of the Roman empire. You have to pass through the Arch of Titus to enter the Forum. It was not only the political center, but also the religious center and you can see many temples inside the forum including the Temple of Saturn, Temple of Romulus and Temple of Julius Caesar. We even spotted a fresh excavation going on. Quite evidently the ruins still have a lot more to reveal.
We again changed to Metro line A at Termini and took a metro to Spagna. From there most other points of interest of Rome are within a walking distance, provided how much you can walk of course. For those who cannot, you have to figure out tram or bus routes. Our first stop was Fontana di Trevi (Trevi Fountain), apparently a wish granting fountain which granted only one wish - if your coin tossed with your right hand over the left shoulder drops in its water - you get to return to Rome. I had a living example of this wish fulfillment traveling with me - Pritha. This was her second trip to Rome. Last time she was here, she had tossed a coin in Trevi.
Even my coin did fall in the fountain water and if I am going back to Rome, I'm definitely going back to Europe someday again! From Trevi, a 15 minutes walk led us to Pantheon. It was our bad luck that Pantheon was closed for All Saint's day and we could only see the magnificent structure from outside. The small square facing the Pantheon is called Piazza Della Rotonda which has the Fontana del Pantheon, another fountain with a center obelisk.
We walked for few minutes toward the west of Pantheon to reach Piazza Navona, a large square with the Fontana dei Quattro Fiumi (Fountain of Four Rivers) at its center.
Built by Bernini, the fountain depicts four rivers of the four continents - Danube for Europe, Ganges for Asia, Nile for Africa and Rio de la Plata for the Americas. And if you have read Angels and Demons, you would definitely recognize this as the location of the fourth element 'Water'. Bernini got confused with Ganga's gender though. This muscular old man represents Ganges in the Fountain of Four Rivers.
I loved Rome's cobble stoned streets with fountains and cozy cafes tucked away at every corner. There is one definite word for this city that wasn't built in a day - Romantico! And it explained the reason why David had initially doubted mine and Pritha's orientation, which ended when Pritha told him she is married - to a man!
After Piazza Navona, we hunted for the best possible way to reach Santa Bibiana, as we had a flight to Venice in few hours. We zeroed in on a bus to Colosseo, in which we witnessed a case of pick-pocket Rome is so infamous for. It was rather a case of pick-bag and guess what the thief stole - a Samsung Galaxy Note 2. From Colosseo we took a train to Vittorio Emanuele via Termini.
What followed was a whirlwind travel to Venice. After picking up our luggage from Santa Bibiana, we boarded the Leonardo Express from Roma Termini which dropped us at Fiumicino airport. Our EasyJet flight took off from Rome at 7:45 p.m. and landed at Venice Marco Polo airport at 8:50 p.m. We boarded an ACTV Line-5 bus from Marco Polo airport to reach Piazzale Roma. We purchased two 24 hours Vaporetto passes and boarded the No. 2 Vaporetto from there. The boat trip felt painfully slow and the 30 minutes ride felt like hours and finally ended when we got off at a stop called Zittele at the Giudecca island. We had booked 2 beds in a 16 bedded dormitory of the Generator hostel that's on that island. The hostel was just 2 minutes walk from the boat stop. We thanked our stars when the guy at the reception allocated us 2 beds in a 3 bedded room instead of the dorm. I was dead tired when I finally hit my bunk bed. That night I dreamt of gladiators.
Sites that helped - www.booking.com, www.sbb.ch (Swiss Federal Railways), www.trenitalia.com, Vatican Museum site (For entry tickets)
Recommended Stay - Santa Bibiana (Bed & Breakfast near Roma Termini)
Recommended Food - Italian Pizza - Of course!

This trip was originally published on A Traveller's Diary.