"For my part, I travel not to go anywhere, but to go. I travel for travel's sake. The great affair is to move." - Robert Louis Stevenson
I had the privilege to experience the Finnish autumn this year right from Helsinki in the south all the way up to Ivalo in the north. It was one of the most memorable trips of my life. Being in a new place all by myself always fascinates me. And this trip to Finland was one such trip. I didn't know a soul in the entire country and what made the trip special was exactly this!
Taking a Turkish airlines flight with a single backpack I headed off to Helsinki. Planning all the way through the flight journey-whether it was in the flight or at the Istanbul airport during the stopover. There were certain bookings done and confirmed, there were certain others left open.
But, the agenda for the whole trip was clear- NORTHERN LIGHTS or AURORA BOREALIS. Now, I have wanted to see this wonder for a very long time and scientists too have been scaring me for a very long time that they will disappear soon.
Fingers crossed, I started searching extensively for the aurora forecasts this year, right from the beginning of the year.
Now, I am girl born and brought up in Mumbai- a city known for its ample humidity and I don't take windy winters well. Hence, I started searching for early aurora sightings on slightly warmer days of September and October. Thus, I locked October first week on my calendar.
Plus, I have always been fascinated by the colours that fall brings in. It is indeed a sight that I don't get to see much in my own country. Hence, I was completely pleased with my choice, rather too happy about it.
With all this planning and thoughts, I got off at Helsinki airport. Taking a train straight to the city centre where my hostel was located.
I always prefer staying in hostels close to the city centre as the commute from the airport and then during your stay is hassle free.
...Wind cut through my skin as I got outside the station for a short walk towards my hostel.
"The gladdest moment in human life, me thinks, is a departure into unknown lands." - Sir Richard Burton Hostel Diana Park
It is one of the most charming hostels I have stayed in. I really like clean hostels with beautiful seating areas. The seating area and the kitchen at this hostel was beautiful indeed. It was at walking distance from many places of attraction like the Market Square, the Cathedral, the Orthodox church, the National Museum and most importantly the water front.
A few days in Helsinki..
Helsinki per say can be covered in a day as there is nothing much to visit. But, hey I am not really a touristy traveler. I rarely sit and tick mark locations on my map when I travel.
I really enjoyed walking around the streets, sipping my coffee or hot chocolate, going to the food market etc.
Helsinki's annual Herring Market
I was lucky to have been present during Helsinki's annual Herring Market, which takes place at the Market Square every year in the first week of October.
Dozens of fishermen from around Finland gather at the Market Square to sell many interesting things. The air around Market Square was filled up with the smell of traditional salty herring. In addition to herring delicacies they also sold Salmon, home-made pickles etc.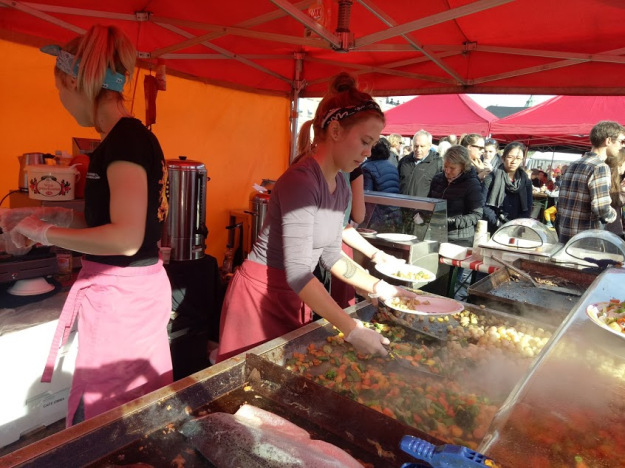 Beautiful Churches
Herring Market is in fact one of the oldest traditional event in Helsinki and I was told by a lady whom I befriended on the street that it has been taking pace since 1743.
Center of Helsinki has many beautiful churches representing different styles. Most churches are Lutheran, but the city also has Catholic church and Orthodox church.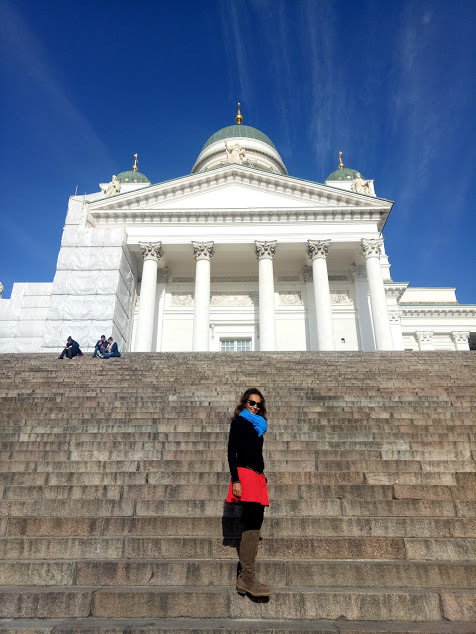 "Man cannot discover new oceans unless he has the courage to lose sight of the shore." - Andre Gide Eckerö Line: A Day trip to Tallinn, Estonia
One noticeable point about the churches here is many bear a striking resemblance to Russian architecture. Many are in fact designed by Russian architects.
I was told that you can take a 'ferry' from Helsinki, Finland to Estonia, the capital of Estonia. I booked the tickets online from my hostel room. When I reached the spot to catch the ferry, I was completely surprised to see what I saw. It was a beautiful cruise ship with casino, food options, shopping options, etc available on board. This 2 hour 30 min journey went by in a blink.
Eckerö Line is a Finnish ferry company that operates daily ferries from Helsinki to Tallinn. You can choose your time of travel book the tickets online or at the location to board the ferry.
There is tram line number 9 from Helsinki Central Station that takes you straight to the location to board the ferry.
Twisted cobblestone lanes, beautiful charming buildings, tiny coffee shops with WiFi. This is Tallinn Old Town for you.
This town was built from the 13th to 16th centuries, when Tallinn - or Reval as it was known as a great trade and port city. One can easily get lost in the narrow hidden lanes with beautiful colorful houses.
The whole of this old town has a beautiful fairy-tale charm.
The town is full of churches and the Town Hall square has a battery of charming eateries to eat at.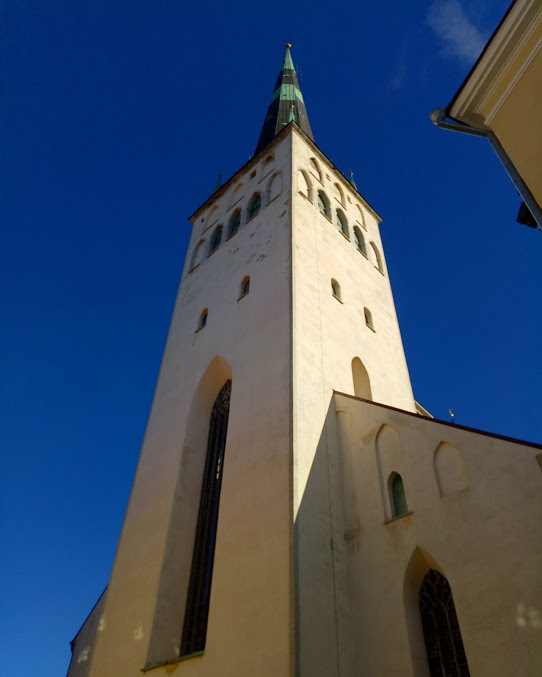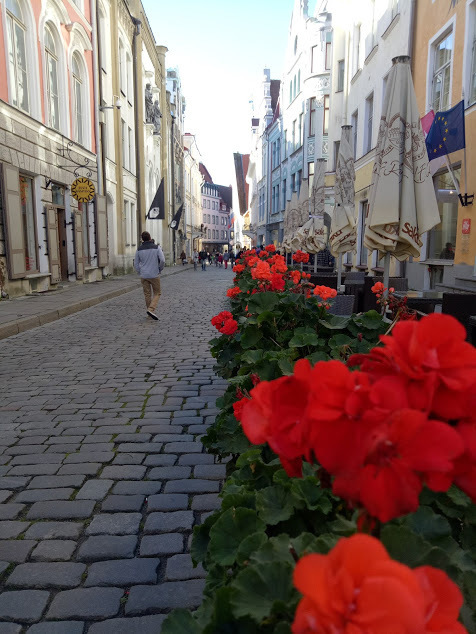 Also, Old Town is included on the list of UNESCO World Heritage sites.
I never travel without my diary. One should always have something sensational to read in the train.-Oscar Wilde
And then i took the evening ferry back to Helsinki...
After checking out from my hostel and spending yet another day, walking in Helsinki, I was awaiting my train ride to the Santa Claus Village, Rovaniemi.
I didn't take the sleeping compartment; I took the seating compartment as the difference between the tickets was vast.
Known as the Santa Claus express, this train is a night train from South of Finland to the heart of Finnish Lapland. The travel time is about 9 to 12 hours with trains departing from Helsinki Central Station from approx 7 pm to 10 pm.
The travel on this train is comfortable and affordable, depending on your choice of seats.
The café in the train offers options to eat and drink while on board. And the views outside the window are spectacular.
Rovaniemi Station to Arctic Circle and Santa Claus Village
Although my train was empty, this train could be full during peak season. Hence it is important to book tickets in advance.
After getting off at Rovaniemi Station, I took a bus to the Santa Claus Village. There is a bus at regular intervals from station to the village. Rovaniemi city bus route 8 travels between the Rovaniemi Railway Station and the Santa Claus Village.
Just ensure that you know the first bus and last bus time, in order to not get stuck without transportation on the road.
Santa Claus Holiday Village
" I'm happy to report that my inner child is still ageless." - James Broughton
Yes, I was staying here. The main attractions in the area are all around Santa Claus holiday village. I thought why stay anywhere else. The bus takes you straight here.
What does the Village have?
All of the rooms here are heated and have private saunas, a kitchenette and a terrace. Also, the staff help arrange reindeer, husky and snow mobile safaris, and boats, bikes and fishing equipment can be rented on site.
-Santa Claus' Main Post Office:
The Arctic Circle cuts right through Santa Claus Village. A white line showing the Arctic Circle is painted across the park. Those who visit here officially enter the Arctic area when they cross the line.
-Santa Claus's Office:
A large variety of souvenirs, Christmas related items, postcards, etc. are sold in the post office. All mail sent from this post office is postmarked with a special Santa Claus postmark. Visitors can also specify their mail to be sent at the next Christmas. Santa Claus Main Post Office is the only official Santa Claus post office that is part of the official network of Finland's post office Posti.
-Go Hiking:
A Santa Claus's Office is located here for visitors to take photographs and chat with Santa Claus. However, there is an "office hour" for Santa Claus. When we visited Santa was fast asleep!
"I travel a lot; I hate having my life disrupted by routine." - Caskie Stinnett
There are beautiful, well marked hikes all around this place, which are a must visit if you love to be amidst nature.
I took a bus from outside Santa Claus Village to Ivalo. This is by far the most beautiful bus journey I have ever taken.
There are several bus connections every day from Rovaniemi (the town in the Arctic Circle) to Ivalo village. A driving time is about 3-4 hours. You can buy the tickets on the bus itself.
Hotel Ivalo
En route, I thought I will catch some sleep but the sights outside left me mesmerized. Beautiful lakes, autumn colors, how could I sleep?
Seeing Northern Lights "Traveling - it leaves you speechless, then turns you into a storyteller." - Ibn Battuta
This bus, after taking multiple stops dropped me right outside my hotel, Hotel Ivalo. Now, Ivalo as such is a small village in northern Finland and my only purpose to visit this place was to view northern lights. This Finnish Lapland hotel is located on the Ivalo River. And you get awesome views of water from your room. It also has a heated pool and Sauna.
I had written to Jouni Männistö, an ex-Finnish military man, who operates Northern Lights hunting tours, well in advance. I confirmed my presence on arrival and he said, we will take a call to go hunting today or later depending on the clouds in the sky. Just 50 mins before our departure, I got a mail saying, yes, we are going to see Northern Lights.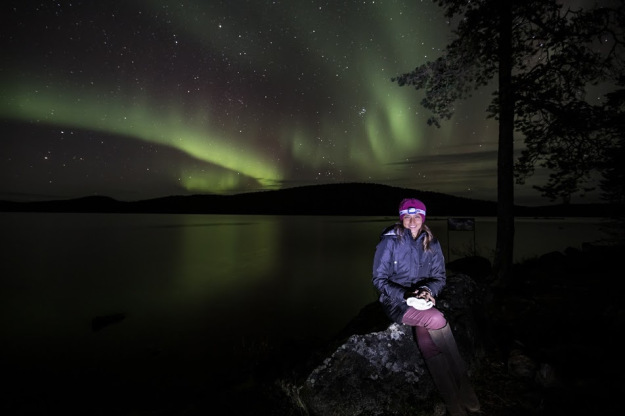 "A mind that is stretched by a new experience can never go back to its old dimensions." - Oliver Wendell Holmes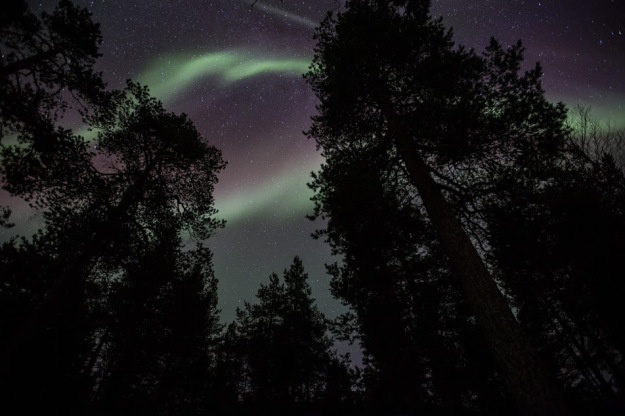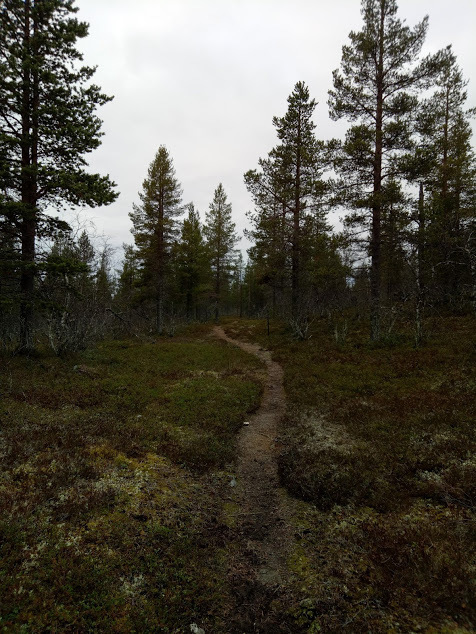 Some Solace
I packed my winter wear in my small purse, to set out for a northern lights hiking trip which lasted about 5 hours in the night (returned at around 2 am). There was also a Chinese tourist with me in the vehicle and both of us were lucky enough to see Aurora within 15 mins of the trip. The rest of the night we couldn't spot them. Juoni drove us around to different spots and also made amazing hot chocolate for us in the night.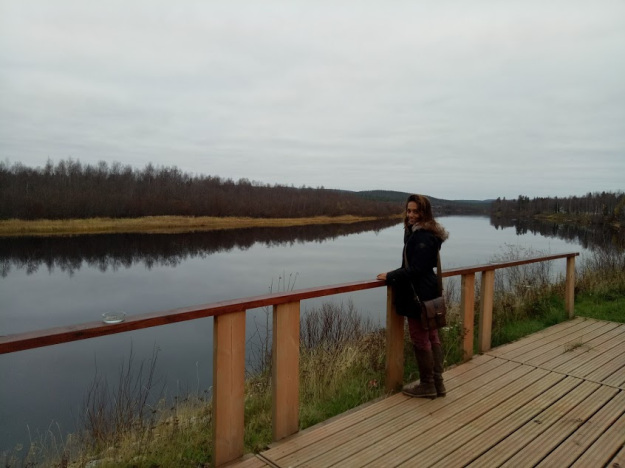 This was an experience like none other. Someone once quoted that the experience of Northern Lights can turn an atheist into a believer. I say, I agree.
Of the last day of my stay in Ivalo, I decided to go on a solo hike to UKK National Park near Saariselka. The Suomujoki river flows through the northern parts of the diverse park. It was beautiful to experience wilderness here. The route to well marked and you can choose between the short and the long trails. I chose a longer one and fell in love with the wilderness.
On the final day of my stay, I woke up early and spent some time by the river Ivalo in the morning simply enjoying the tranquility it offered.
From here on, I took a Finnair Flight to Stockholm, Sweden. This was completely unplanned and I decided on going here very last minute. But, I have no regrets!! Last minute plans are always the best!