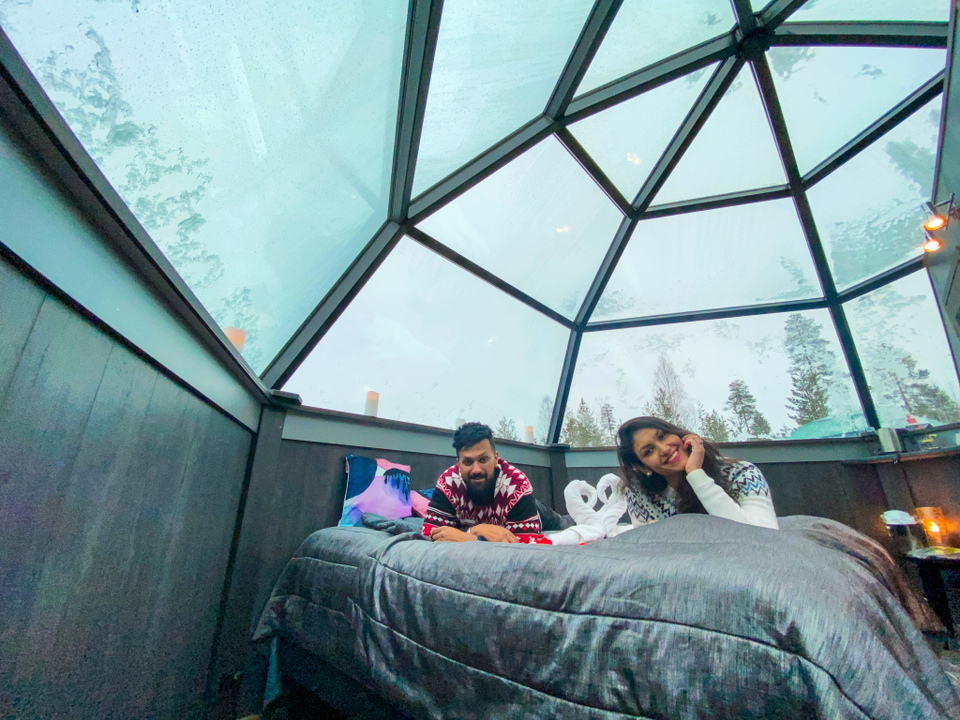 Once upon a time, in the very middle of a large kingdom that lay in the midst of high rise buildings and wide desert, there was a girl named Poo and a boy named Pasu. It was that part of world where it never snowed. They had never seen or even been anywhere near those pristine whites. But he promised his queen that one day they will. And on their third wedding anniversary, they planned their very first trip to the winter wonderland- LAPLAND!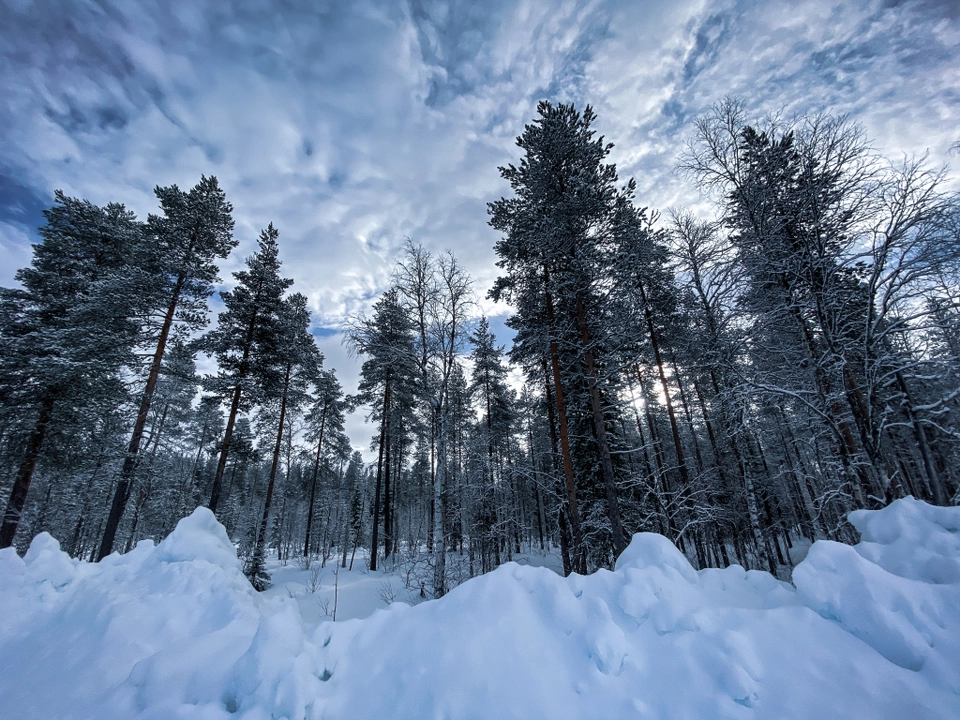 Finnish Lapland is the scarcely populated northernmost region of Finland. It is the home to Father Christmas- Santa Claus, Northern Lights, Igloos, Snow Castles and tons of winter adventures. You will hear Christmas carols ringing in you ears the moment you land in Lapland. This is that part of the world where it is Christmas 365 days of the year!!!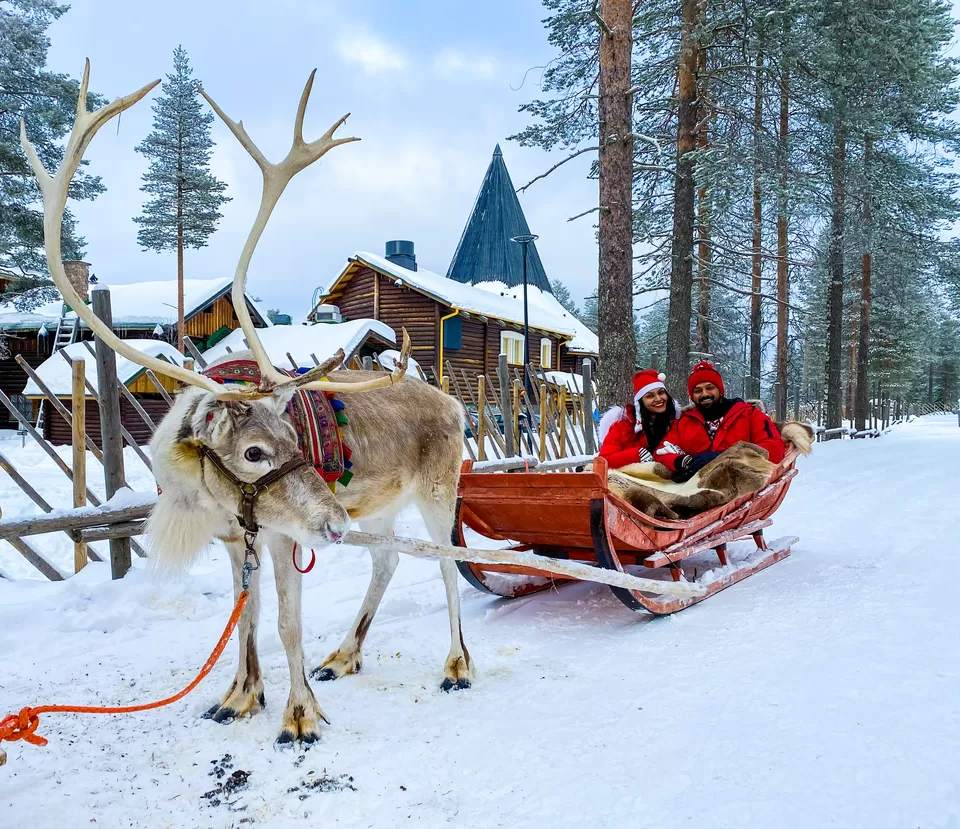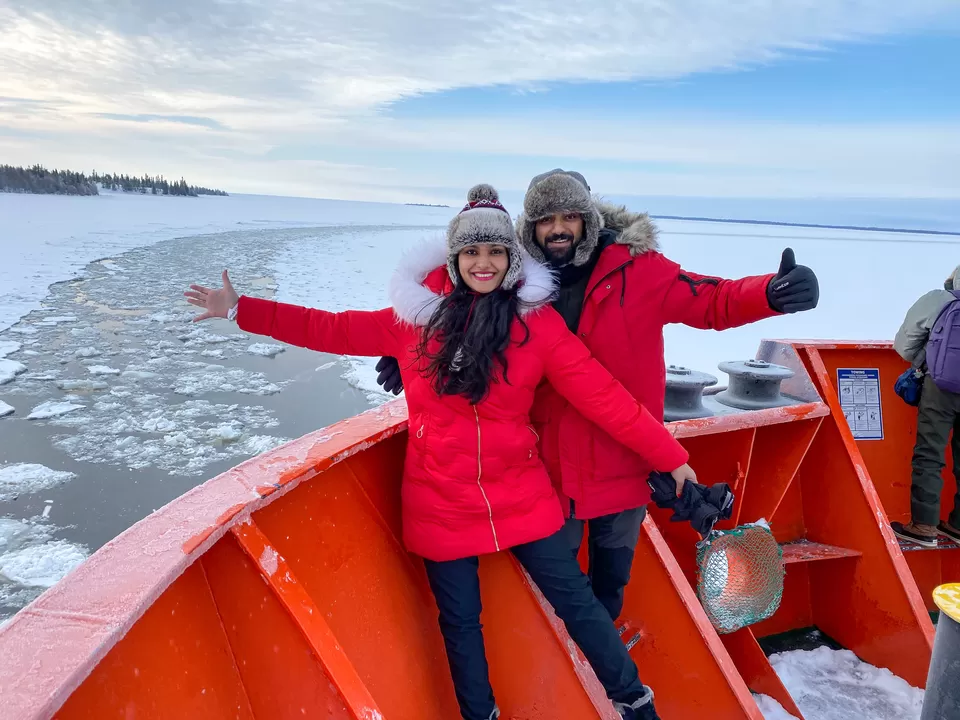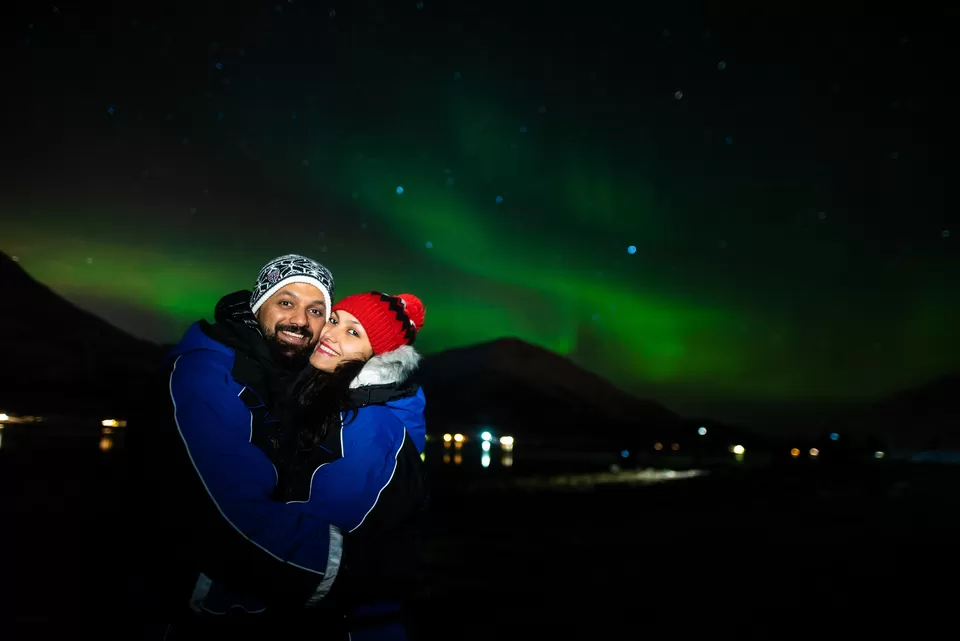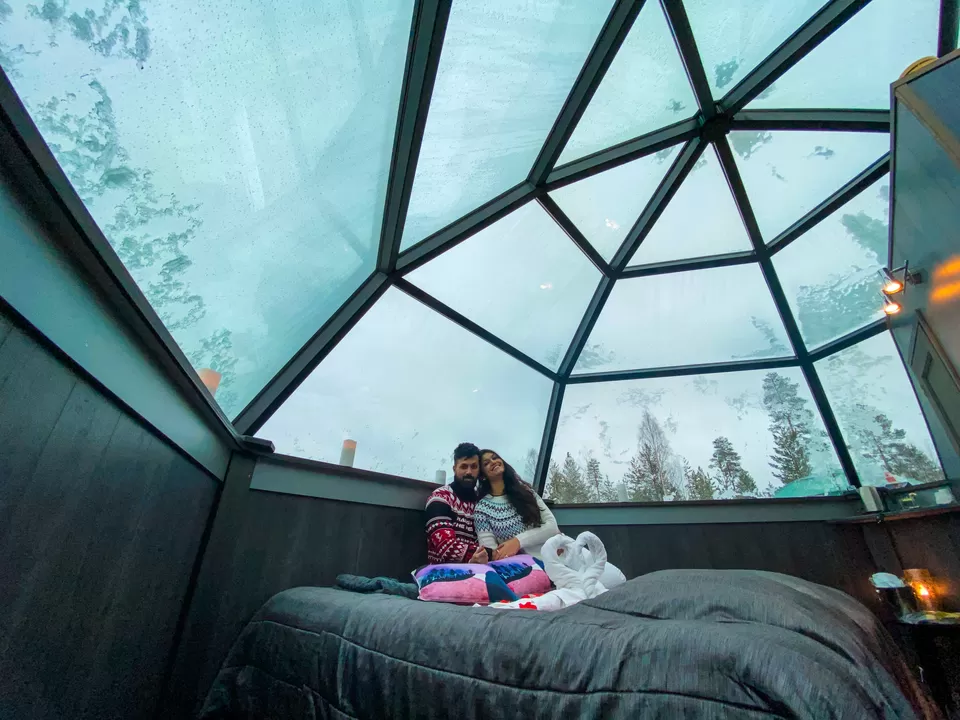 We slept in glass igloos, witnessed northern lights over our roof, rode on reindeer sleighs, kissed and mushed huskies, rode snowmobiles on frozen lakes, cruised through frozen Baltic sea, tobogganed down snowy hills, made snow mans! This trip was filled with so many "PINCH ME NOW!!! I CANT BELIEVE MY EYES" moments. We checked off so many things off our bucket list in this ONE trip and so can you!!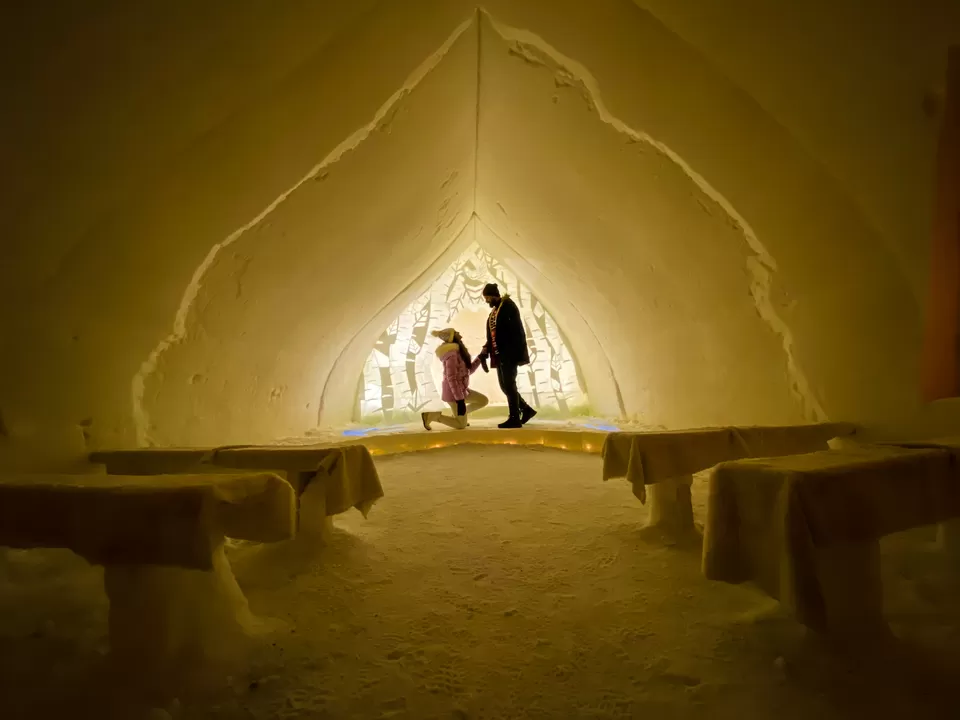 The best time visit Lapland?
Anytime!!! Really, Anytime!!! Each month has something to offer- January, February and March bring dreamlike conditions to Lapland- ideal for northern lights, winter activities, making Snowmans and snowballs fights! April-August's melting snow gives a hint of what phenomenal landscape the snow has been covering. September, October is the best time to visit Lapland if you are looking for super cheap bargains as it's neither the summer warmth nor the winter snow. Lastly, November and December- the twilight months, though overcrowded with kids and regressed adults waiting to wish Santa 'Merry Christmas', is too a popular time.
Our itinerary
We set aside 9 days for exploring this magical land. We planned this trip in the first week of March as our anniversary falls during that time and it is also touted as one of the best months to spot the Nothern Lights. We flew directly to the capital and most visited city in Lapland- Rovaniemi, as it offers the best flight options and a wide range of winter activities. Our itinerary looked like this:
Here's a detailed breakdown of how we spent 9-days in Lapland
Well, I could spend a lifetime there without getting bored!
Day 1 & 2- Explore Rovaniemi City Centre
Once settled, we took a stroll to the city centre to absorb all the christmasy vibes. There are plenty of eateries, cute little souvenir shops, supermarkets and a giant Christmas tree in the city centre. You can even grab a bite in the former Northermost McDonald's in Europe.
You can learn about northern nature, culture, and history at the iconic Arktikum Science Museum near Ounasjoki river. It is also a very good spot close to the city centre with minimum light pollution to catch the northern lights.
Since forecast for that night looked promising, we went on northern light walking chase on our own to the Museum. The best part was that even people with guided tours ended up here to spot the lights. But, be prepared for the chilling cold! Seriously, by the river, it's freezing cold. So, come prepared. You can check our detailed packing list, here.
The best part about Rovaniemi is that you can explore the major attractions by foot and set it as a base for most of your outdoor snow adventures. Depending on how adventurous you are, you could plan to venture further north to be away from the touristy spots and enjoy more exclusivity, be it stay or northern lights sight seeing or other winter adventure sports.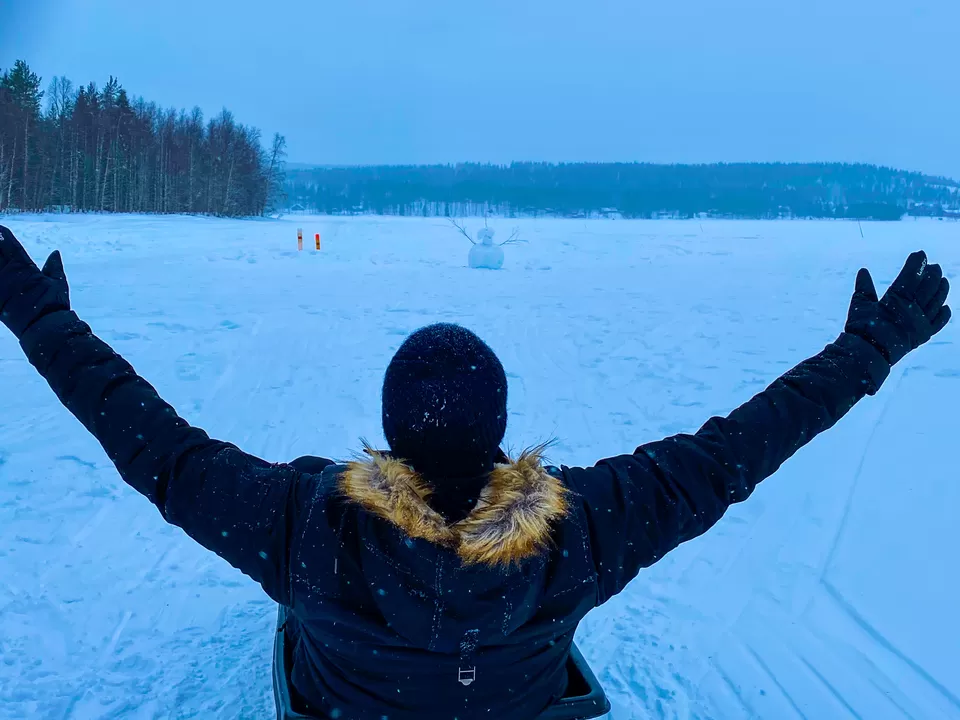 Lapland Safari is a very popular tour operator in Rovaniemi with wide range of winter activities and pick up and drop facility. Be sure to check out their website for more info.
Day 3- Let the Adventure begin
We started our second day by indulging in a traditional Finnish breakfast and geared up to get away from the city and enjoy the magical forests of the Lappish wilderness for our first activity of the trip - The husky safari. We were so excited to meet those furry creatures!
We chose BearHill Husky's- Call of the wild tour and we highly recommend them because unlike other tour operators, they are purely dedicated to providing excellent husky safaris and pay utmost attention to dog welfare. The gorgeous huskies are always thirsty to run and you can sense the excitement in their ferocious eyes. The sound of the dogs and the sled running through the trees and out on frozen lakes is pure pleasure. We later played with the dogs, they are so cute and cuddly.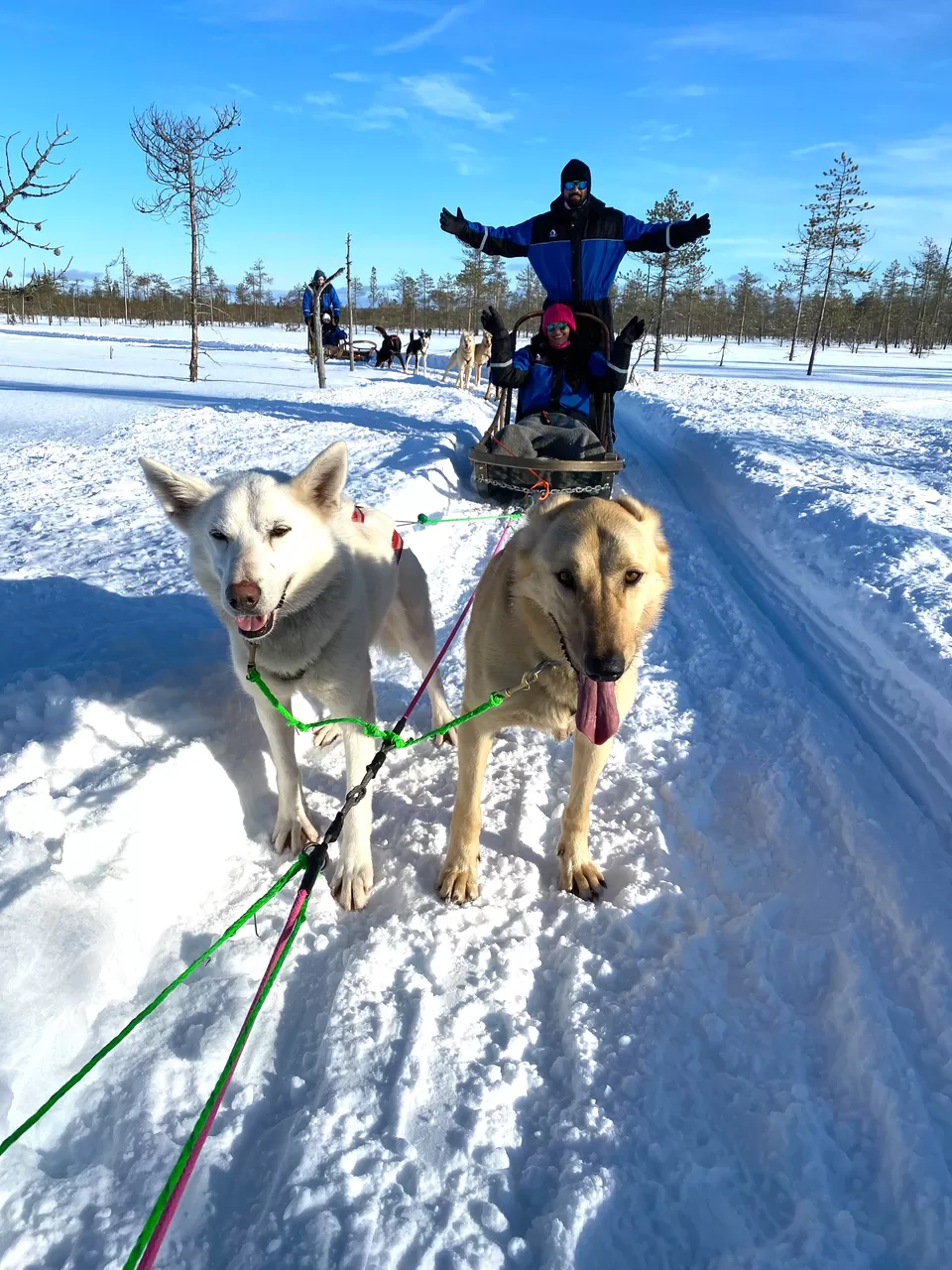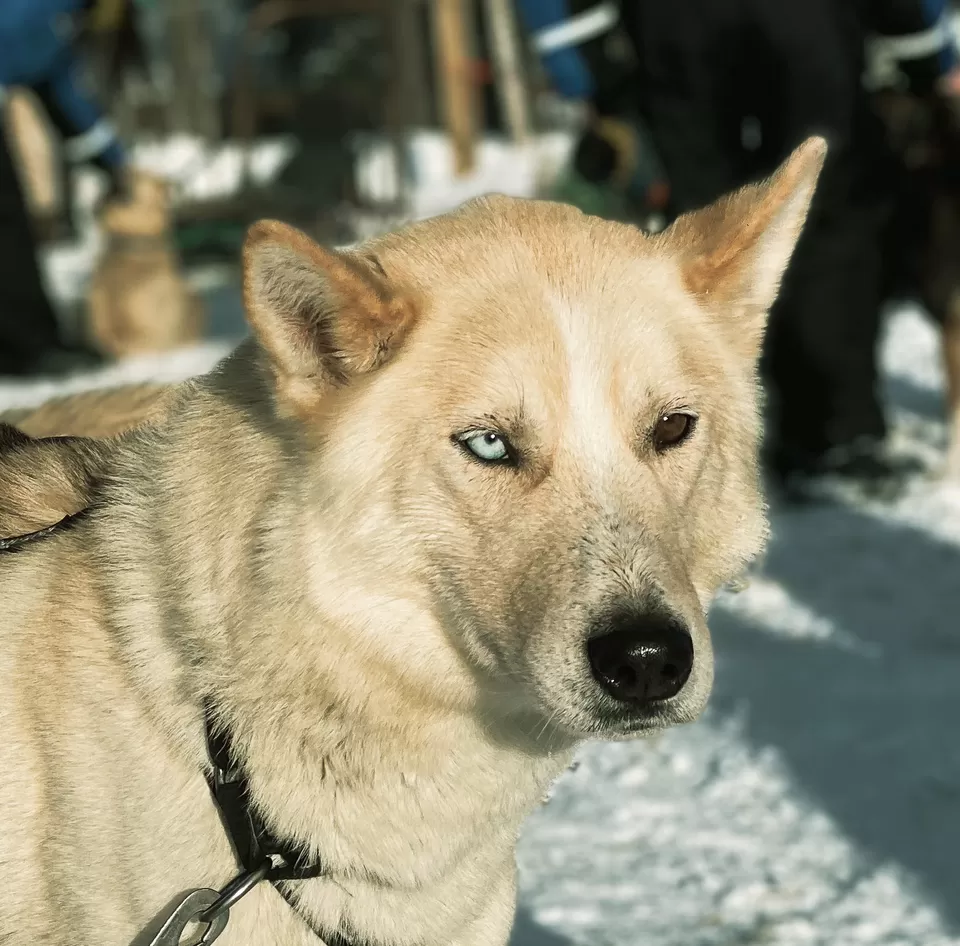 They offer wide variety of long and short rides. They provide you with outer thermal wear, snow boots and bright coloured balaclava (which is yours to keep). They have a nice warm teepee waiting for you after the safari to enjoy stories and sip on the hot berry juice.
There are plenty of other winter activities such as snomobiling on frozen lake, Reindeer Safaris, Northern Light tours, etc which we had planned later during the trip.
At night, we went northern light hunting tour with a small group of people but were not lucky enough to see the lights. Though, listening to the interesting stories of the locals while sipping hot chocolate made up for it!
Plan one activity in a day like we did so that you can enjoy thoroughly rather than rushing from one activity to another.But if you have limited days, you can club two in a way you can enjoy both such as snowmobiling to a reindeer farm (Yes, that is possible).
Day 4- Santa's Village
That day, I woke up an excited 5-year old with a huge grin. Slipping on our christmasy sweaters, we cranked up the engine and soon we were on our way to meet SANTA CLAUS! We drove to the Santa Claus Village and the whole drive was filled with christmas carols sung by me (I feel so bad for my husband). You can also easily reach there by local bus number 8 or by the bus "Santa's Express" or even better, by a reindeer sleigh.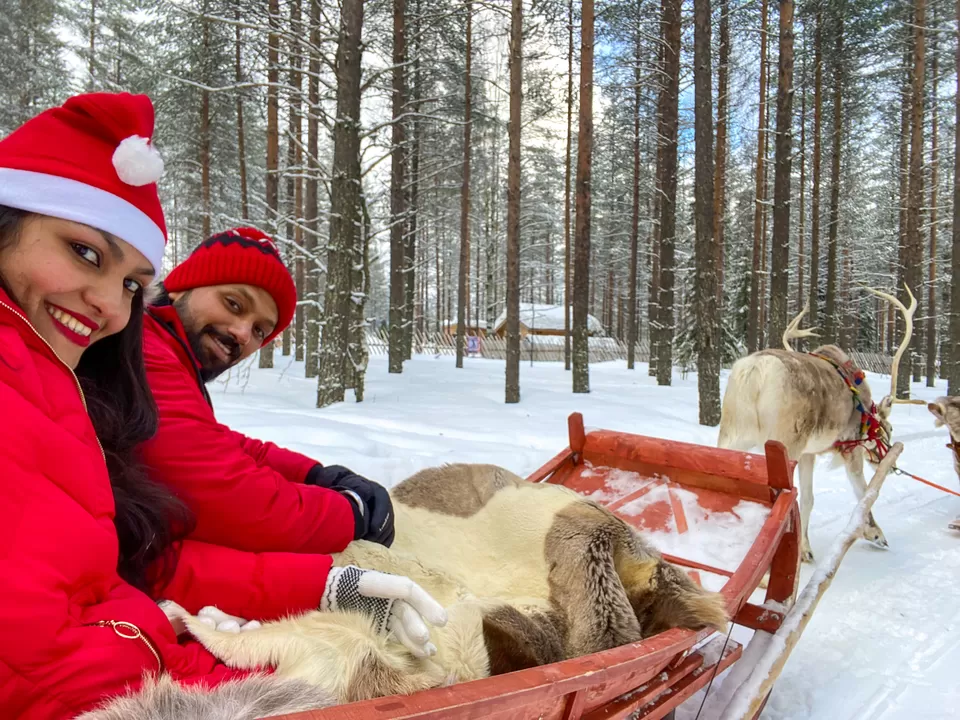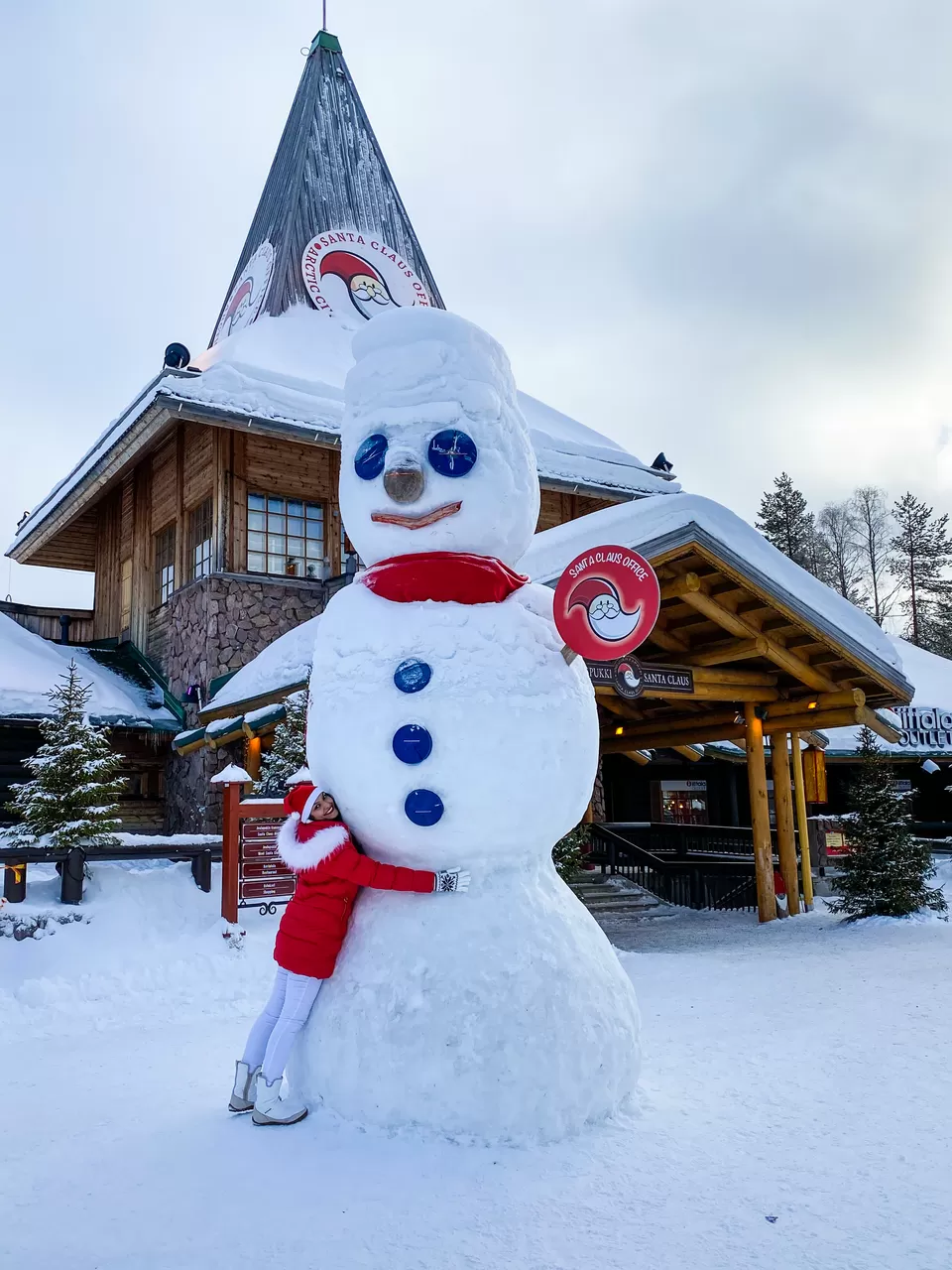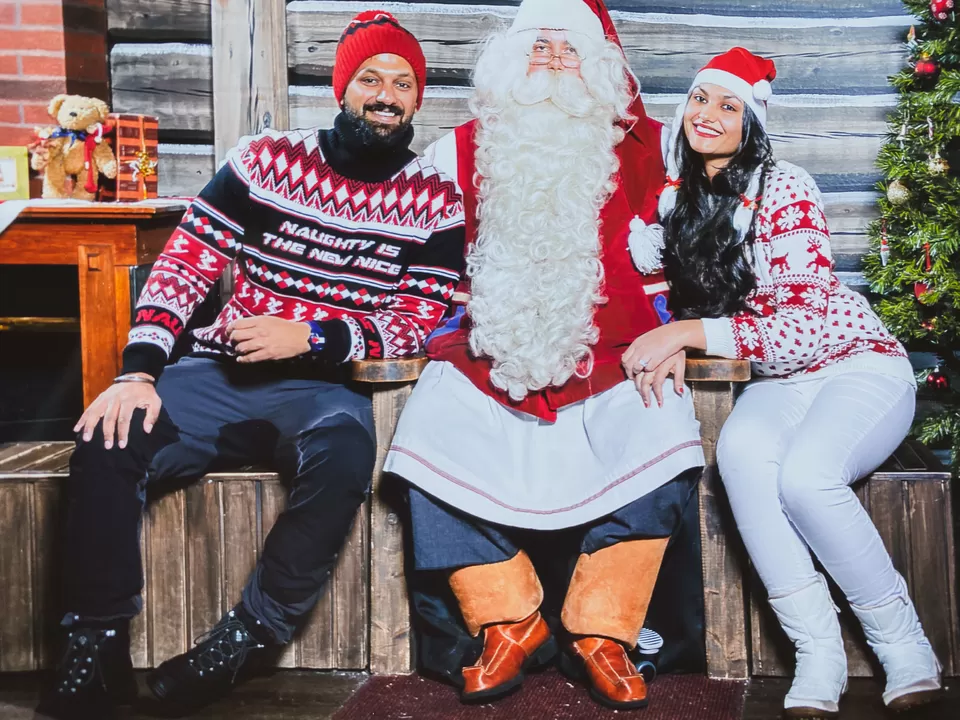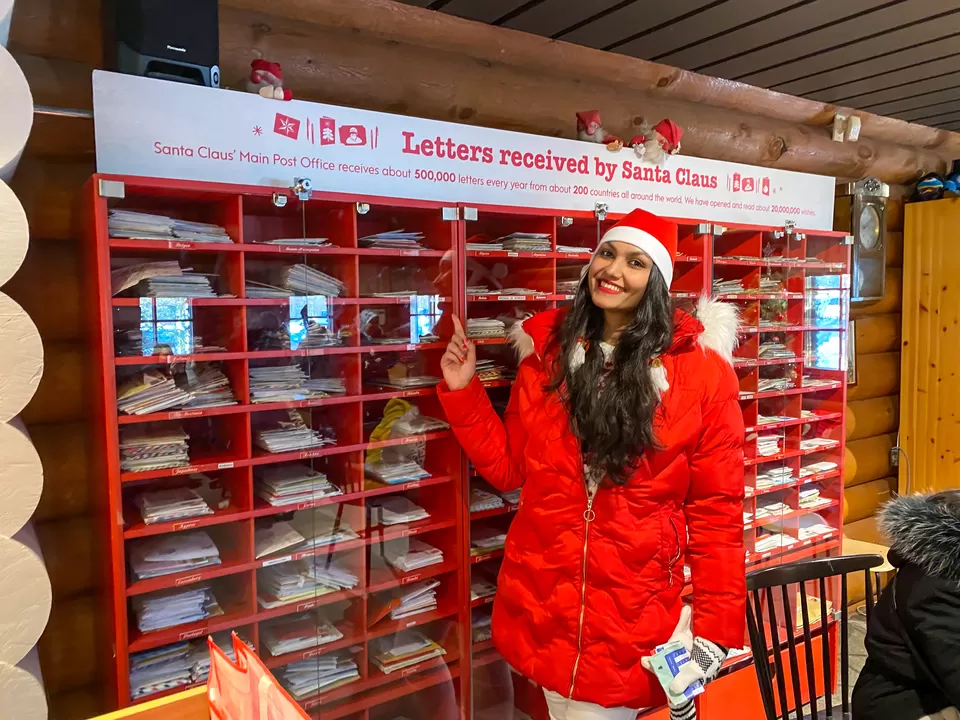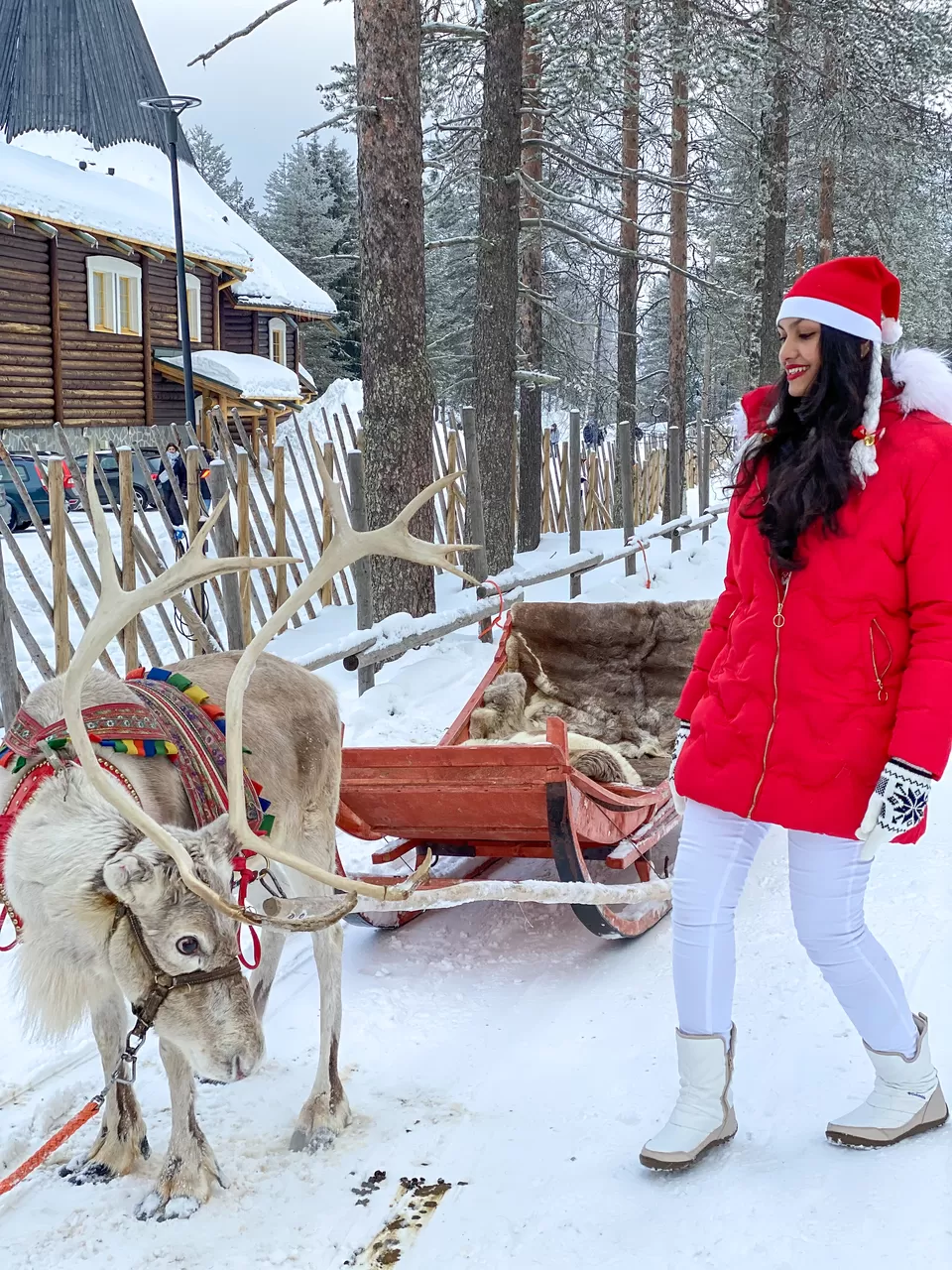 Santa Claus Village, the MOST popular attraction of Lapland, is about a 15 min drive from Rovaniemi city centre and open all year round. And what makes this place even more special is that the arctic circle runs right through it , like literally! You can even get a certificate confirming the feat from the Santa Claus Village!
Once we arrived at the magical village, we headed straight to meet Santa. This place proves that christmas is not a time or a season, but state of mind. We had a good chat with him, asked him silly questions and even got a picture with him (his laugh is so infectious and it really goes like "HO HO HO") .
This is also the place where millions of kids send their Christmas wishes each year. You can send Christmas greetings stamped with the special Arctic Circle postmark to your loved ones all over the world. You will find Elves (Yes, you read it right) in the main post office to help you with it!
Next, we headed to meet Rudolf, right in the backyard of Santa Claus Office. Santa Claus Reindeer offers different kind of rides starting from 5 minutes. We opted for a longer 15 minutes ride through the magical forest path which costs about 29 Euros/pp.
Do not leave Santa Claus Village without buying some trinkets for your Christmas tree! There are plenty of cute little souvenir shops everywhere. I was like a little kid in a candy shop!
Day 5- Polar Ice Breaker
This was truly once in a lifetime experience. Not everyday do you get the chance to cruise through a frozen sea. This Polar Explorer tourist Icebreaker in Swedish Lapland offers 3 hours cruise in the frozen waters of the Bothnian sea.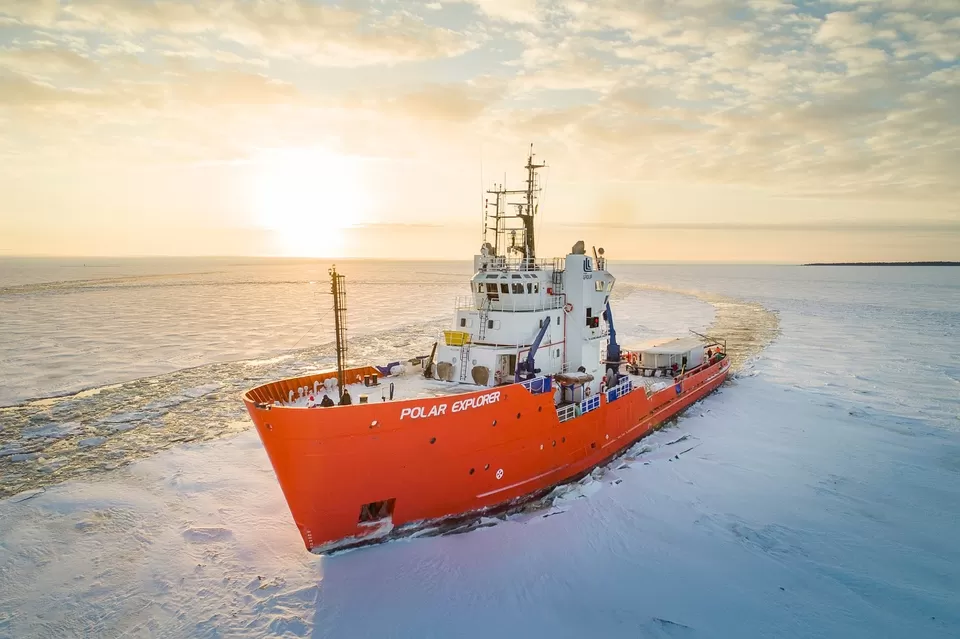 We couldn't fathom the strength of this massive ship as it crushed huge chunks of ice that formed a layer over the freezing waters. Standing on the deck of the ship watching this orange beauty cruise through frozen waters with a cracking sound is sheer delight. But the best part was yet to come. Mid-way through the tour the colossal ship is halted and we are allowed to set foot on the frozen sea for some pictures (which can be seen in the pics below) and also take a polar plunge into the freezing waters in between the crevice created as the ship defines its path crushing almost 40 inches of ice. Yes! You can actually dive into the icy water wearing a flotation survival suit. If you are wondering what the suit looks like then imagine the teletubbies. You are awarded a Cruise & Swim Certificate as a memorable gift.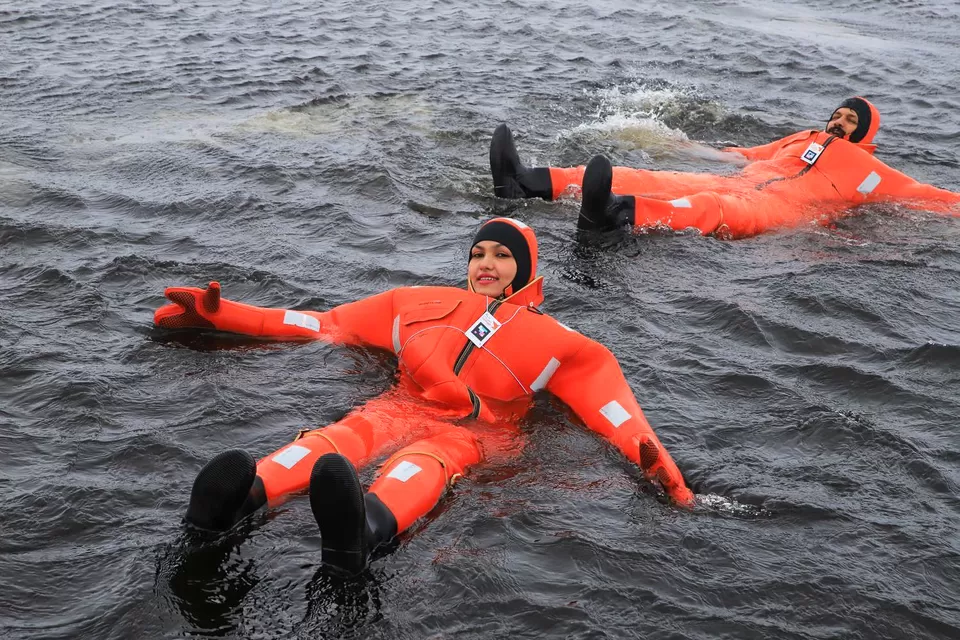 We urge you to include this in your itinerary as it was probably one of highlights of our trip. The packages range from Euros 199 to Euros 255 with different levels of flexibity. The slots fill up months in advance so make sure you book yours as soon as you can. For more info on this cruise click here.
There are two options to accommodate this adventure in your itinerary-
1) Fly to 'Kemi' as your first destination - Do the cruise and then head to Rovaniemi either by train or flight .(you can opt for the Ice breaker pick up and drop facility from your hotel in Kemi)
2) Fly directly to Rovaniemi and do this cruise as a day trip. The company offers a pick up and drop for an additional price from your hotel or simply rent a car and enjoy the drive through the lappish wilderness to the Swedish Lapland like we did. We highly recommend opting the latter. While you are there, do check out the northernmost Ikea in the Europe in a town called Haparanda. We bought some cute little souviners for our pad from the homeland of Ikea.
Day 6- A day in Igloo- Imagine this......
Far away from the city noise and surrounded by snowy pine trees, beneath a colorful unending night sky, you fall asleep with the spectacular Northern Lights radiating above you as if in a dream. Only it is not a dream ...
If someone told me that my dream of staying in a glass igloo would come true, I would laugh it off. But my dear husband made that dream come true on our 3rd wedding anniversary. We chose to stay in Arctic SnowHotel & Glass Igloos because of the 360 0 "Northern Lights friendly" Glass Igloos. The feeling of enjoying the warm coziness of your glass igloo shelter and yet being exposed to the raw, icy, artic wilderness that surrounds these cute igloos, is undescribable. Witnessing the dancing of the northern lights while on the bed sipping champagne is an icing on the cake !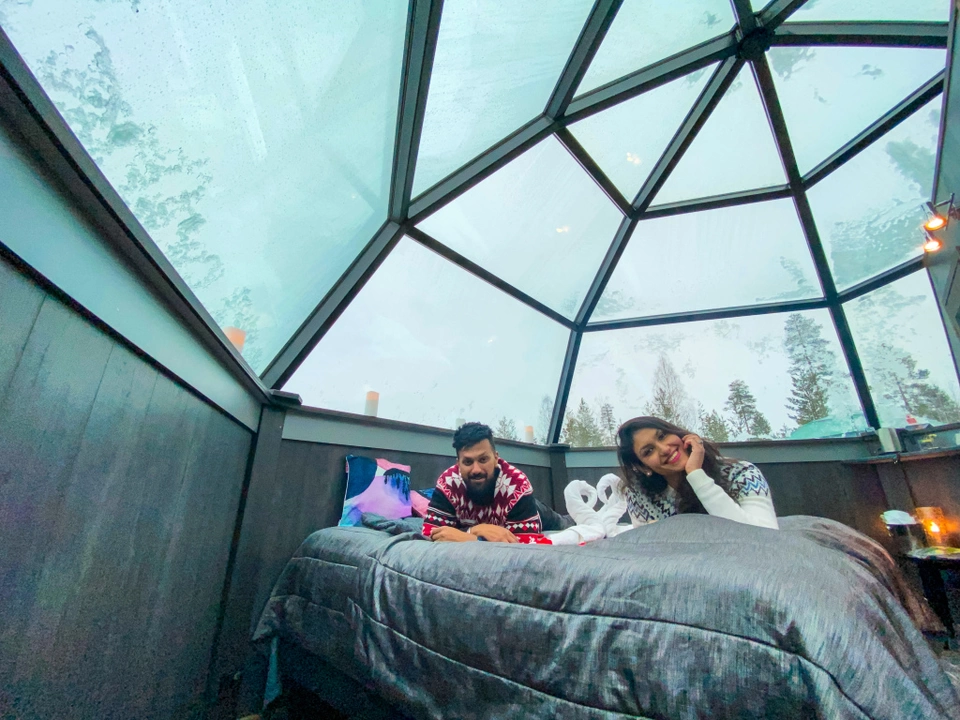 The Glass Igloos are located far enough from the city lights of the Town of Rovaniemi in Lapland, beside Lake Lehtojärvi. They even feature an alarm service which guarantees that you don't miss the magical dancing of the Northern Lights! (We kept it on during our entire stay)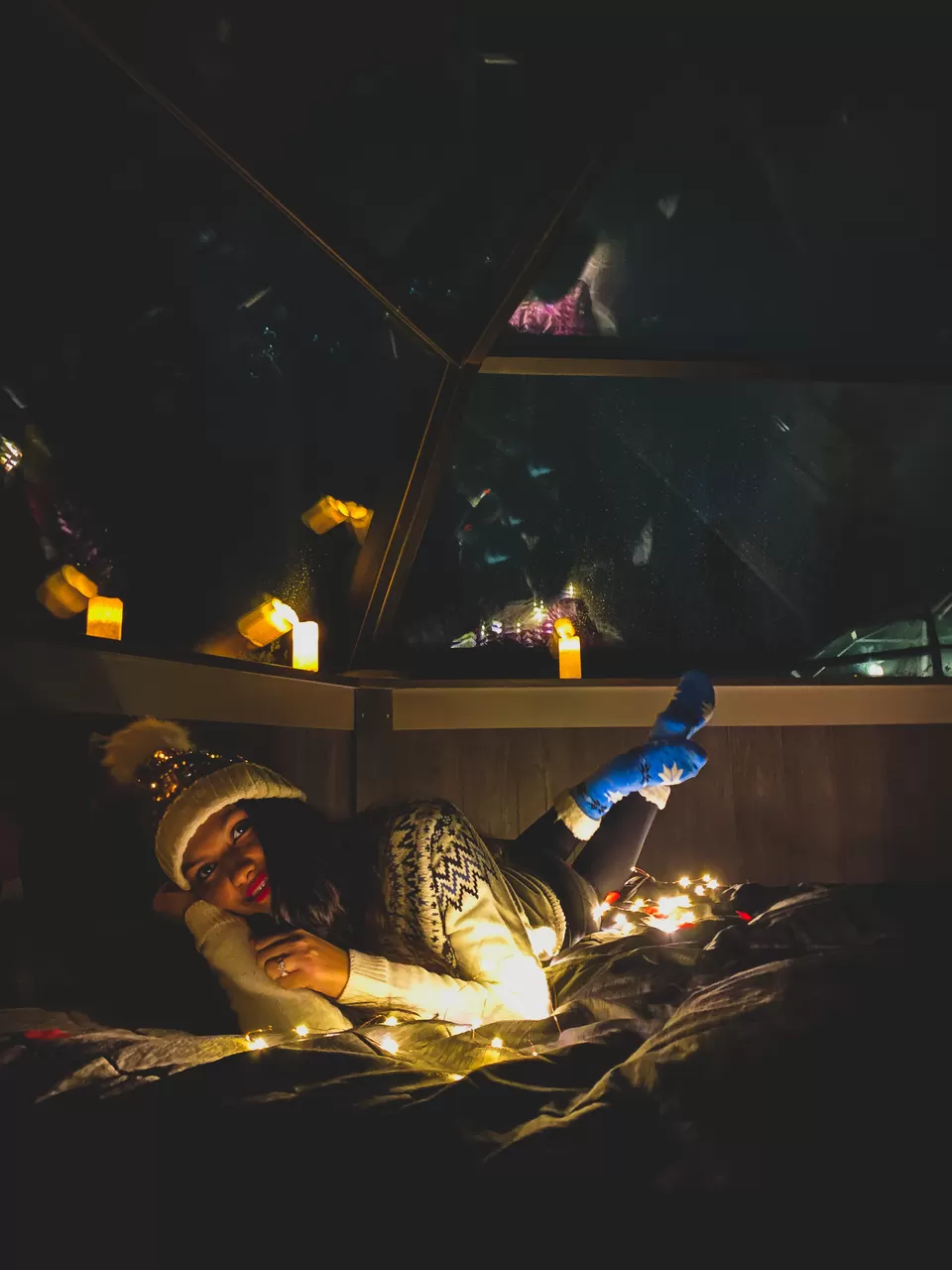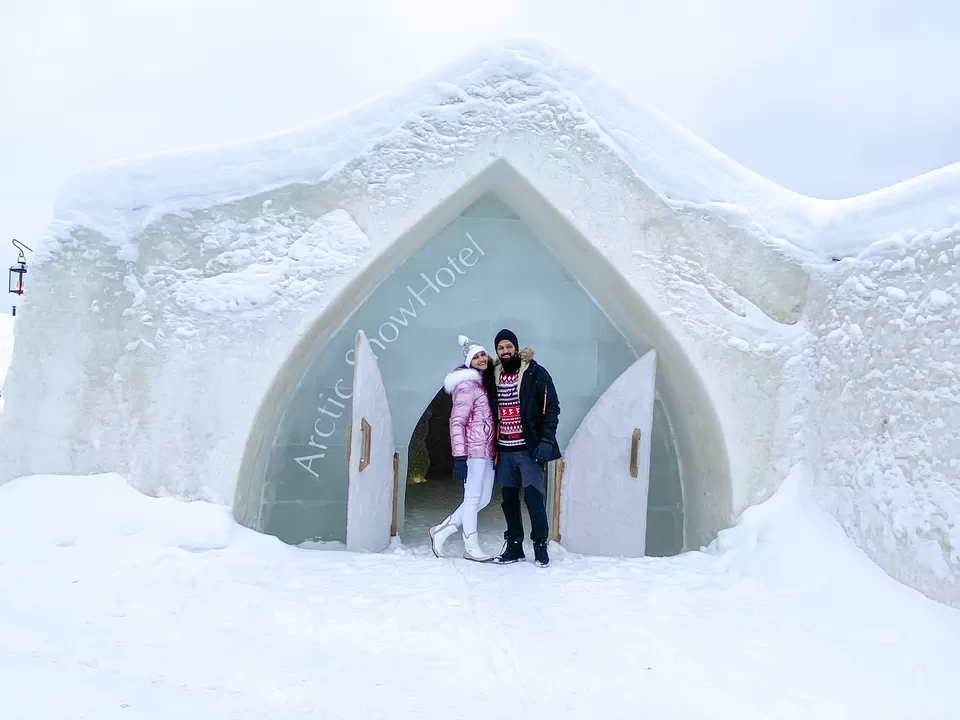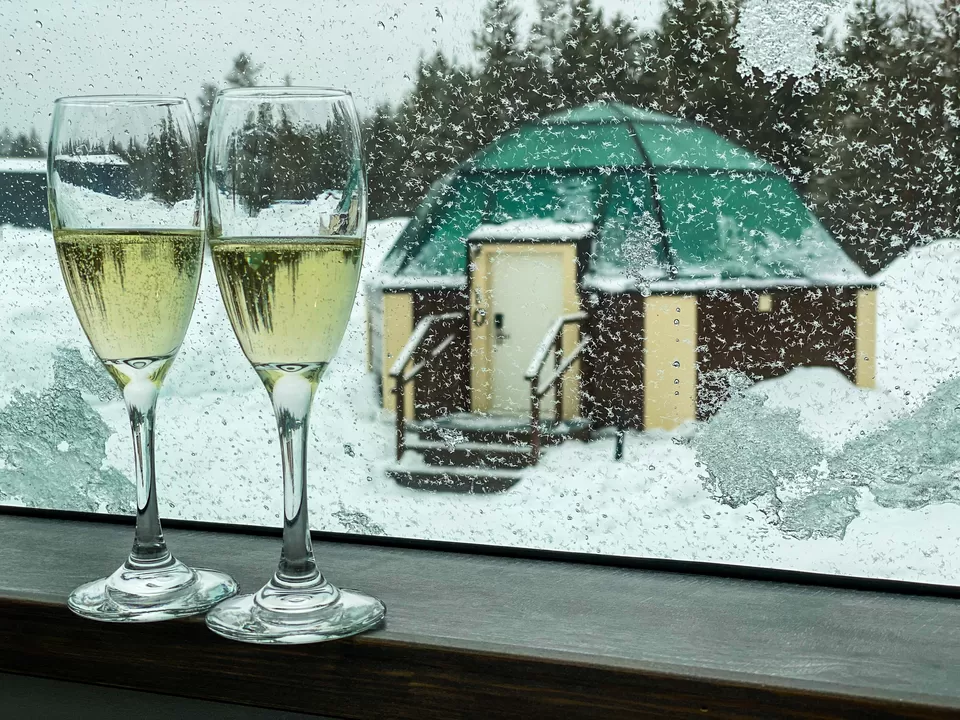 We thoroughly enjoyed our traditional lappish dinner and wide spread of breakfast. There are plenty of activities on site that are free of cost such as spiking on the nearby frozen lake (spiking was the traditional mode of commuting), tobogganing down the snowy hills, snowshoeing in the wilderness surrounding the igloos or feeding the reindeer.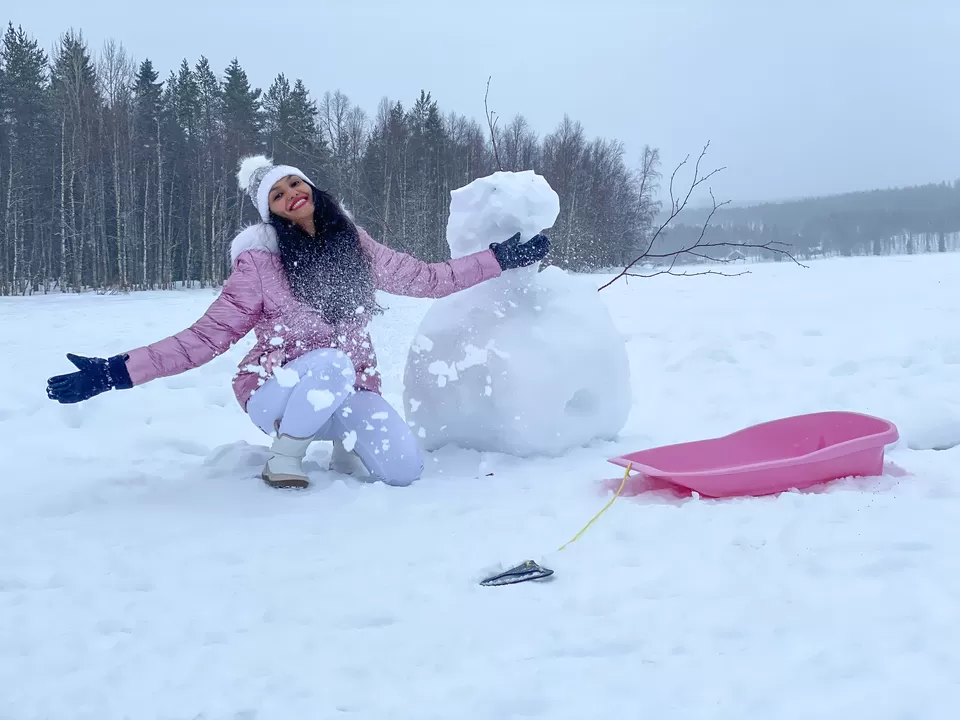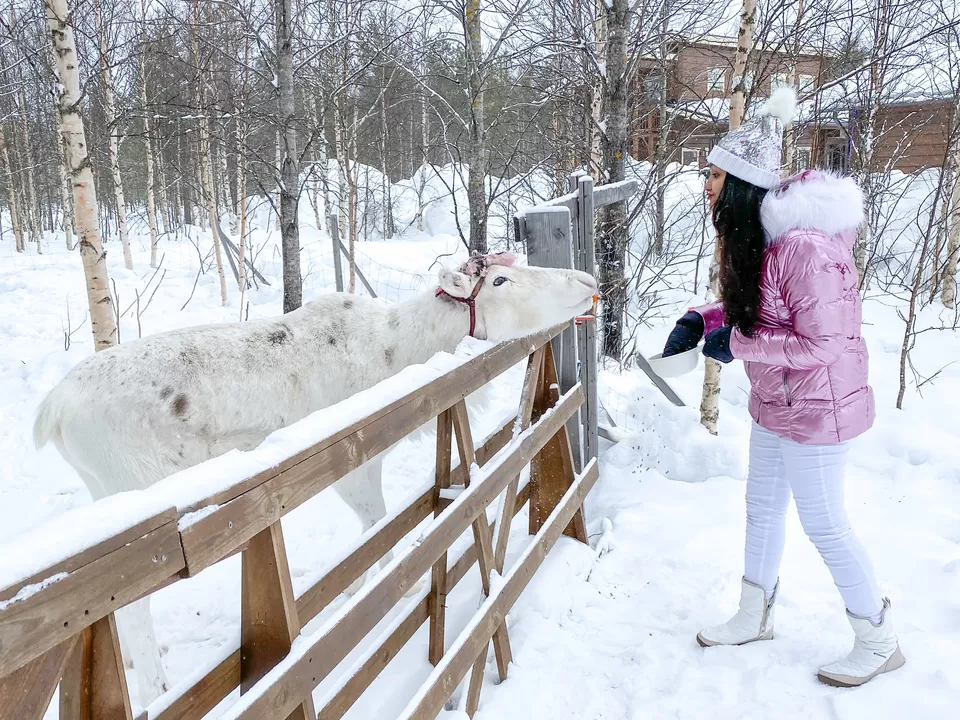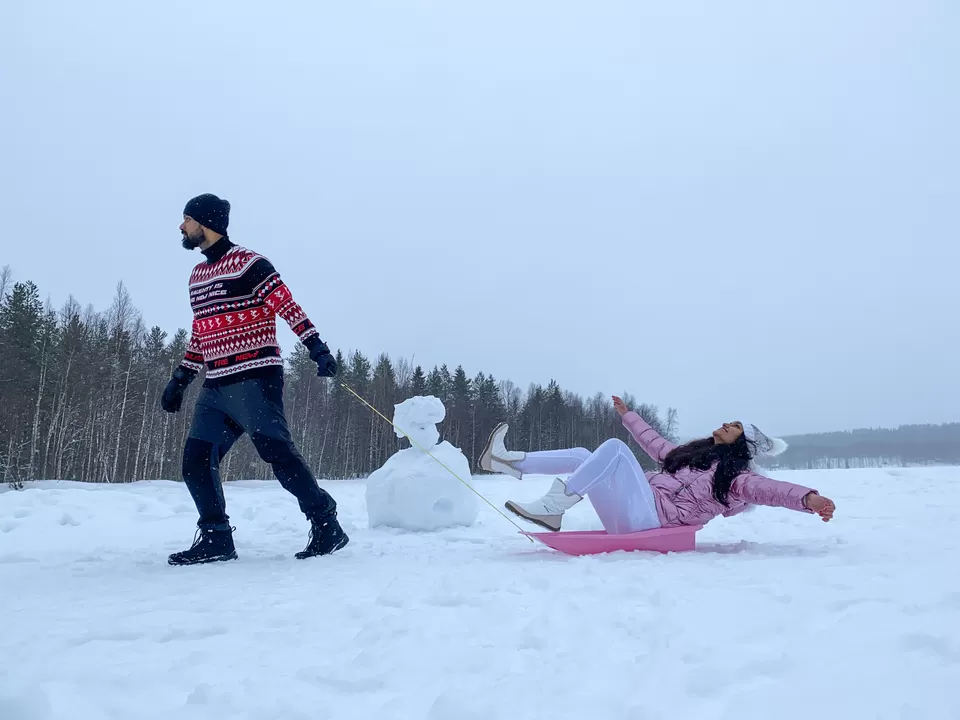 This place is also home to one of the largest Snowhotel in the Nordic region. It is carved from scratch each year and everything that you lay your eyes on is made of ice including the beds that guests sleep on and an ice chapel where you can get married or renew your vows (Sooo Romantic!). It is quite an experience to test your resilience to cold by spending a night in these ice rooms.(ofcourse you are provided with sleeping bags). From mid-December to end of March, guests have free admission to the SnowHotel.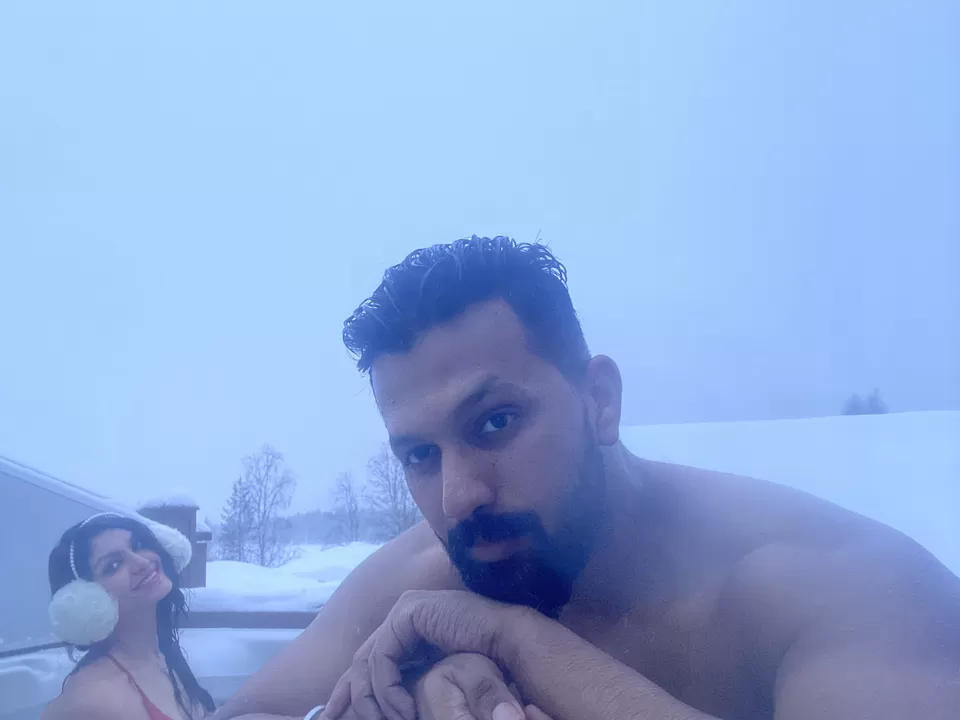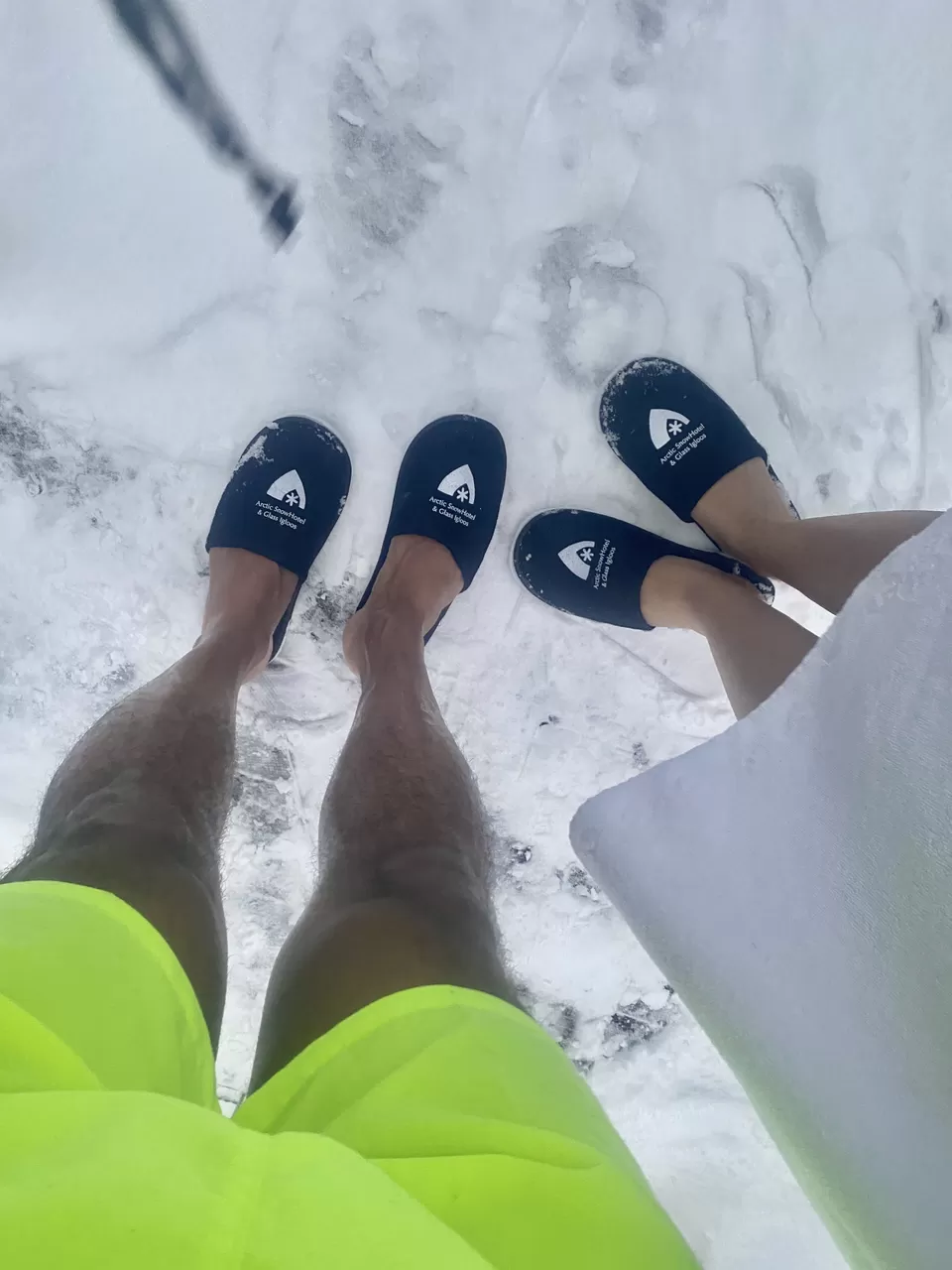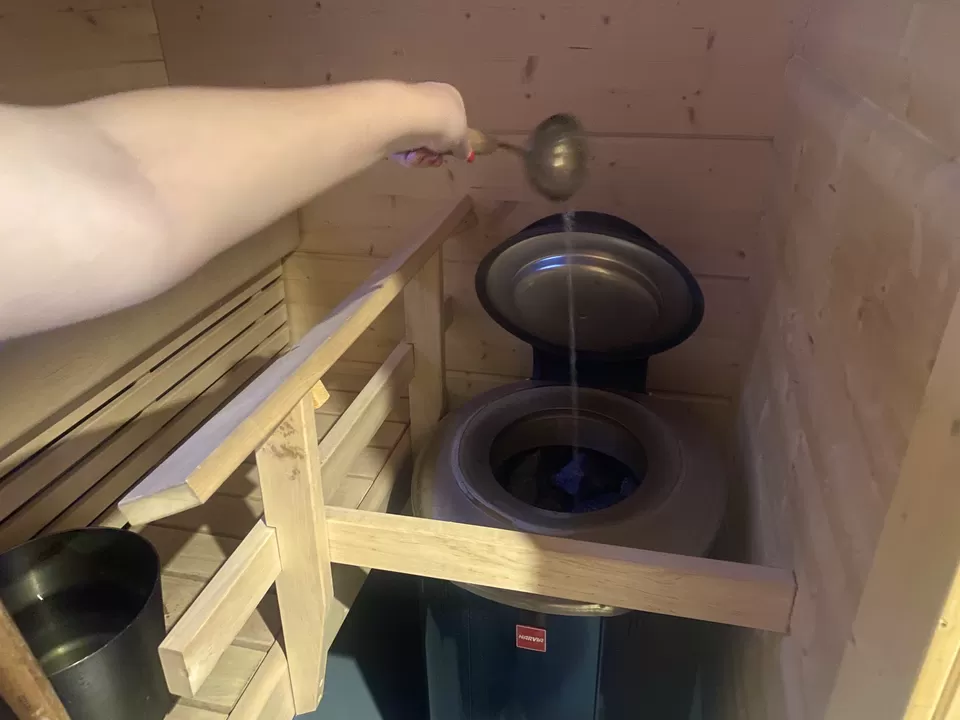 We also highly recommend using the outdoor jacuzzi, as well as the traditional Finish sauna located beside the Lake. You just cannot leave the sauna capital of the world without enjoying a relaxing sauna followed by either jumping into an icy pool or rolling in ice! (Trust me, this is the Scandinavian way of enjoying a sauna! ) We would certainly vouch for it having shed our fears aside and plunging into the snow after a hot sauna.
Day 7-9- Into the deep wilderness of Inari
Being a big Hollywood movie buff it has always been my dream to spend a night in a small cozy cabin in the midst of a pine forest surrounded by daunting snowy peaks and enjoying a hot cup of coffee looking at the snowfall through the cute windows, with my loved one. In order to frame this mental picture, we chose to explore the remote locations of the idyllic-Northern Lapland. We are glad that we added this to our itinerary and so should you.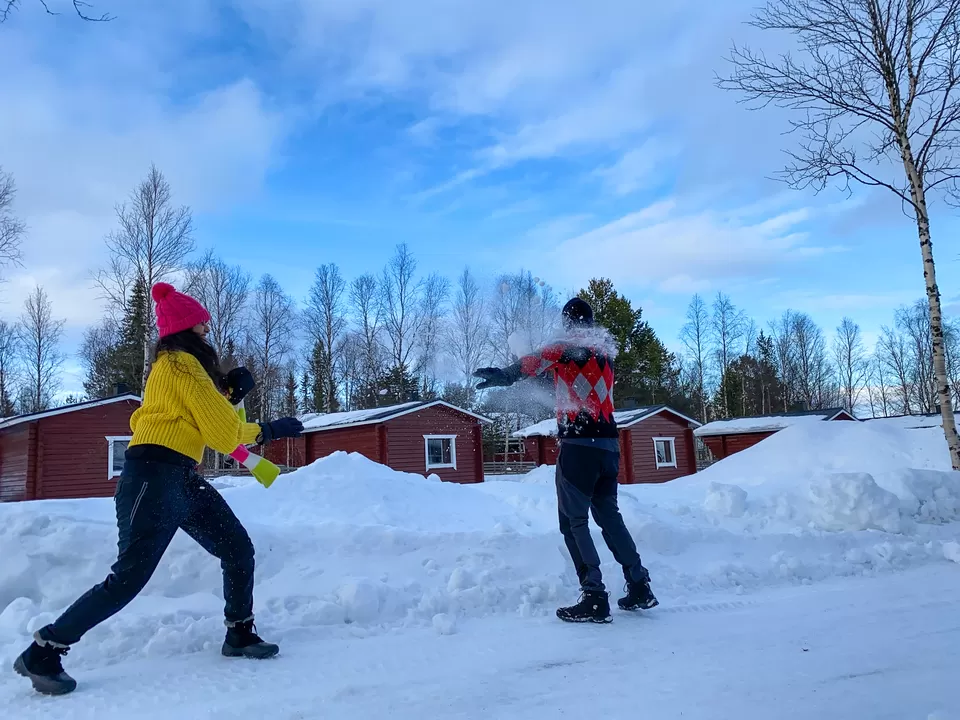 'Inari' is the true definition of a hidden gem. Located on the shores of Lake Inari- This place is all adventure, enchanting and charming. It is the perfect spot to enjoy endless snowy views over the remote LakeInari in the depths of Finnish Lapland and witness the magical Aurora Borealis activity at your place of stay with stunning backdrops making your photograph even more memorable. You can get here by flight or a more economical option, by local Matkahuolto bus. We chose to take a bus ride to Inari which takes about 4 hours from Rovaniemi city centre and is quite comfortable. We did not even blink our eyes so as to not miss being completely mesmerised by the stunning views through the window. For more information on the bus service from Rovaniemi click here.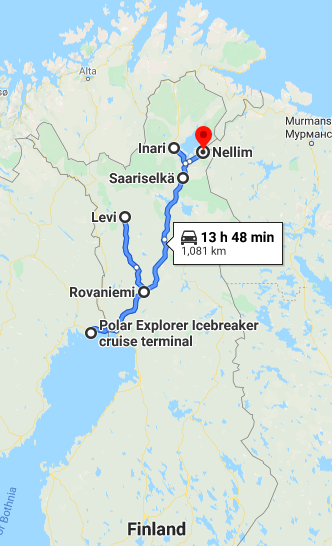 Since we had already stayed in an igloo, this time we wanted to experience the rustic charm of a log Cabin. We chose Holiday Village in Inari for our last 3 nights in lapland. This cosy red cottage with an en suite sauna was an excellent spot for catching the northern lights. We saw the lights 2 out of the 3 nights we spent here. Visit Inari is their in-house tour operator that offers a wide selection of winter and summer activities. We booked our snowmobile and aurora hunting tours with them and were not dissappointed.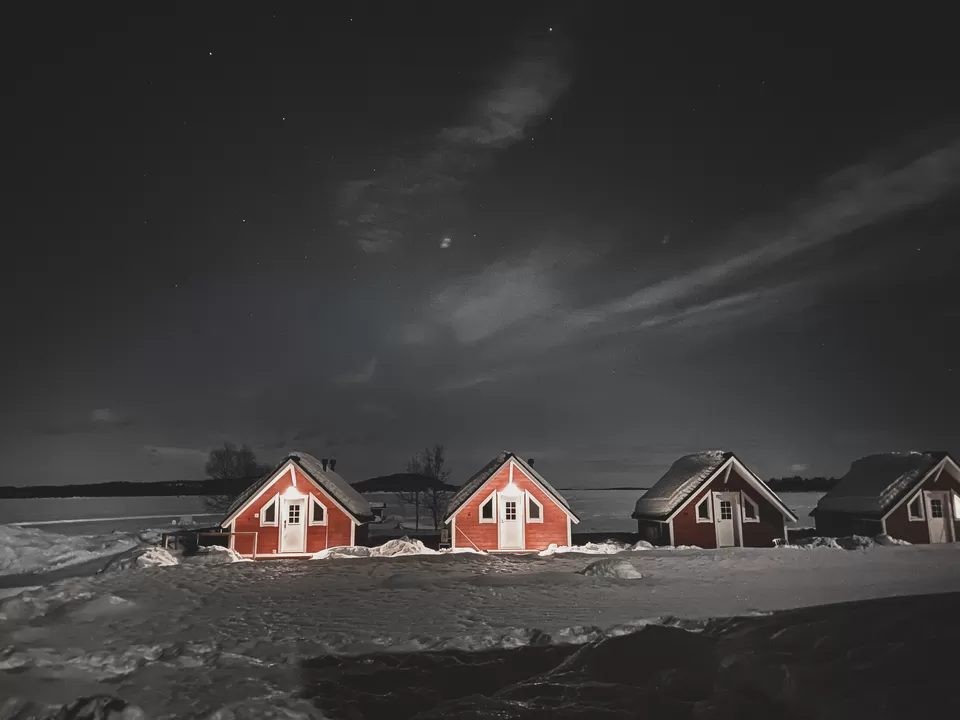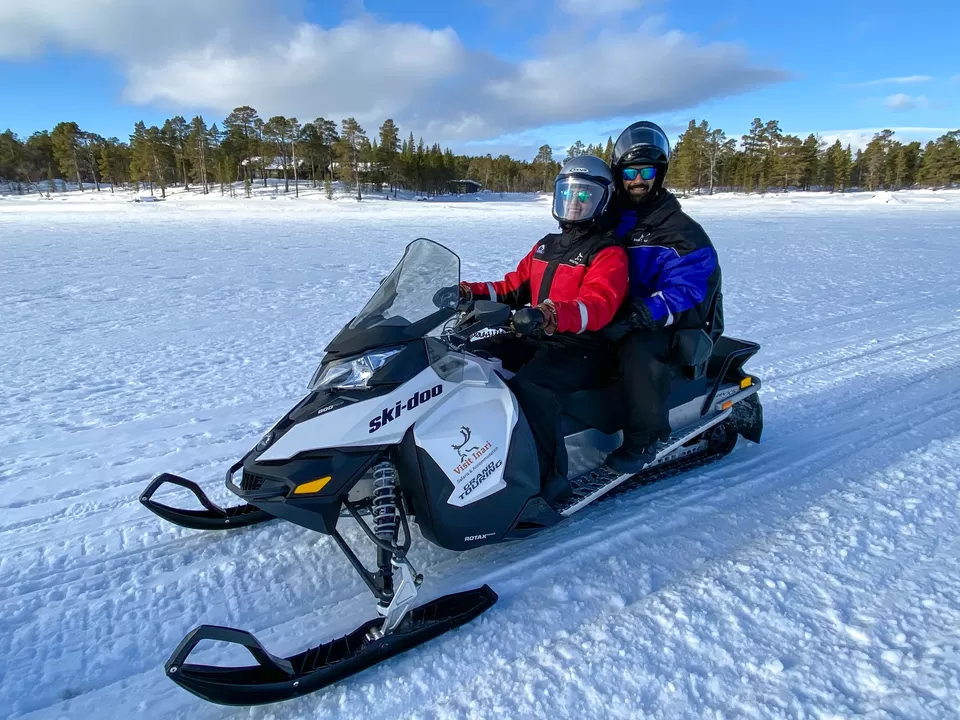 We spent two of our three days in INARI exploring the town, riding snowmobiles and BBQin' on frozen lake, making snowman and of course, dancing under the northern lights. I still vividly remember our first night there when before dinner, Pasu stepped out to quickly check on the northern lights and came back running excitedly with a twinkle in his eyes and a big smile on his face . I was up on my feet even before he uttered a word. She was up there, in all it's glory, dancing and HOW!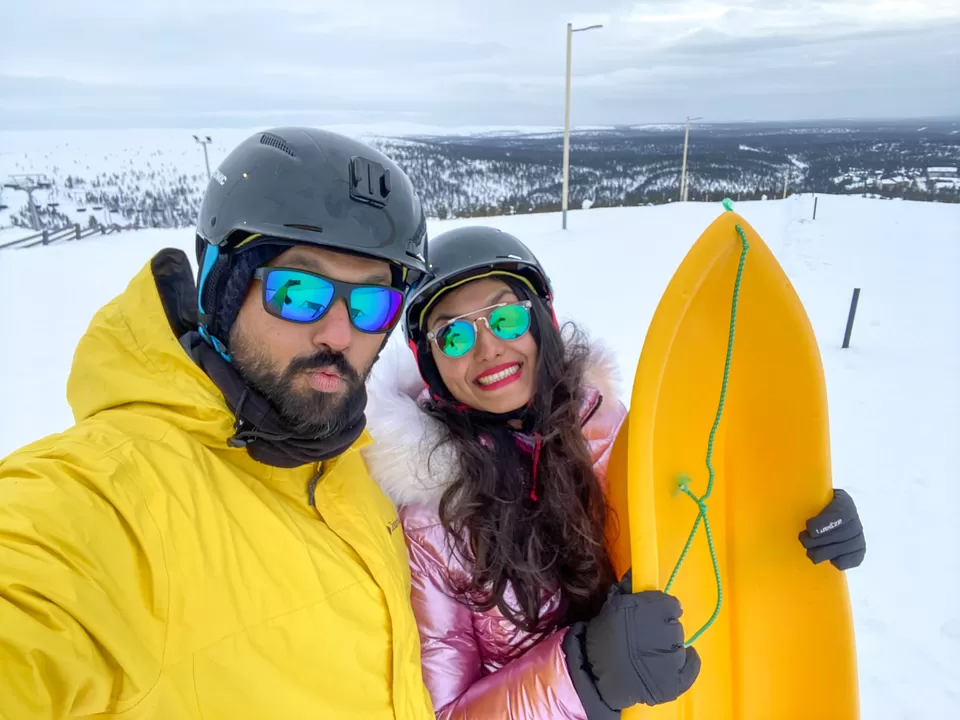 On the last day, we visited the Northernmost Ski Resort in Europe- Saariselka Ski resort. You don't have to be an avid skier to enjoy the frosty climbs. We weren't here for the skiing either. But it is totally worth taking a chairlift ride upto the top of the ski resort to be blessed with breathtaking views of the fell. The resort offers a Winterpark ticket which includes a two hour lift pass for the chair lift and toboggan rental. With this ticket, you can also try ice skating and snow tubing.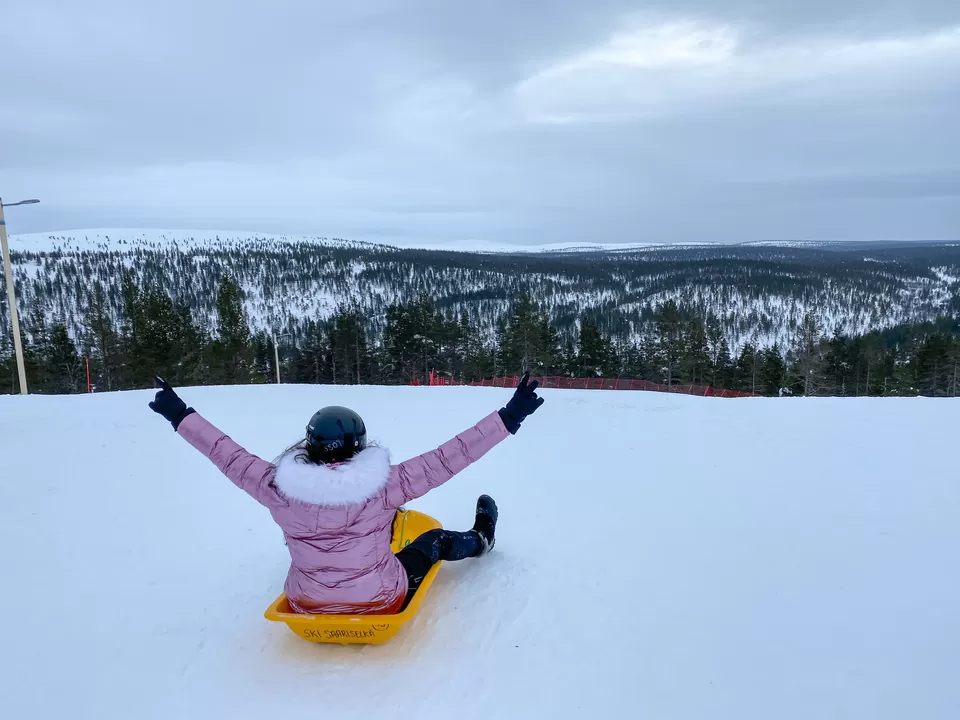 We grabbed our bright yellow toboggans and headed off towards the chair lift which takes you to the topmost point of the Kaunispää fell. Once we reached the top, I was shivering not because it was cold but because how dauntingly exposed those fells were. But, we gathered all the courage and tobogganed down the longest toboggan slope (1800 m) in Finland! After that, we just couldn't stop. So, I can say that we ended our trip on a high note!
GOODBYE LAPLAND (FOR NOW!)
And just like that, one adventure after another our 9 days of epic winter adventure had come to an end. The next day, we flew back to Riyadh from Ivalo Airport, which is the northernmost airport of Finnish Lapland.
It is needless to say that Lapland captured our hearts. We saw nature in its purest form and experienced things like never before- be it seeing the glorious northern lights or sleeping in an igloo under the stars or jumping into icy cold sea or simply sipping hot chocolate while staring into unending snowy pine trees.
The best part about jotting our thoughts into this blog was the gush of strong emotions that we experienced every second of our stay which is enough for us to plan another trip to this magical land!
Follow our journey on Instagram
https://instagram.com/livingoffasuitcase?igshid=182o0s599ur06