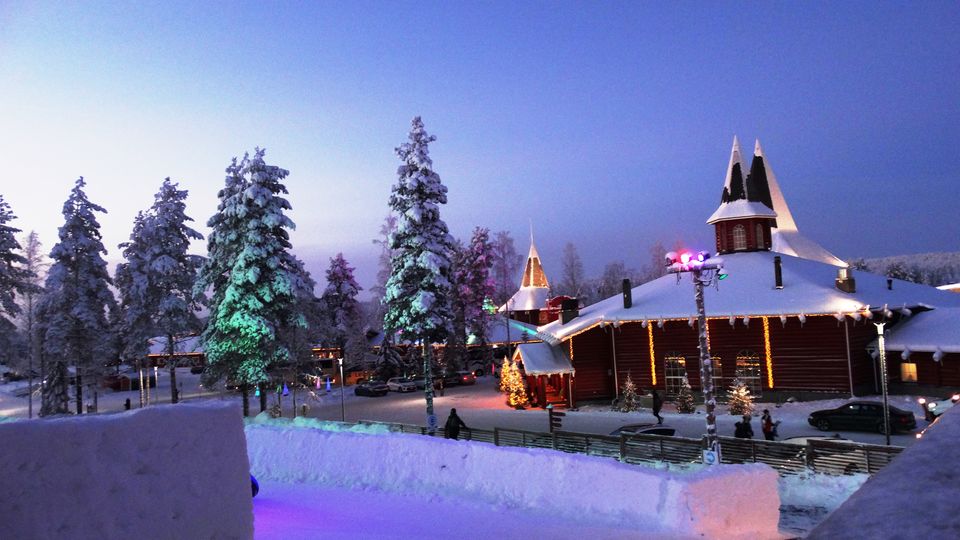 Dubai - Helsinki - Rovaniemi - Helsinki - Dubai
When my 4 year old son wanted a snow filled Christmas, nothing crossed my mind except Rovaniemi, the official hometown of Santa Claus. A white Christmas is every child's dream and this time I decided to let him spend his winter holidays the way he wants. A little motivational speech from husband the great made us take off on our own. So this time it was just me and my son. A little nervous, a little worried, but very much excited . So here we start about our trip.
We took an overnight bus to Rovaniemi, Finland from Helsinki.
Day 1
Santa Claus Village - Reindeer Sleigh Ride - Crossing the magical Arctic circle (-16 degrees)
Our impatience to meet Father Christmas took us to the Santa's office the same afternoon. Z (my son) never wanted to leave. He said "mamma, let's stay here forever and ever". That's how astonishing this place was.
We stepped out of his office and thought it's just 3 o clock in the afternoon we have ample time to spend. Little did we know that it became totally dark outside (-16 degrees). However we still chose to take our first ever Reindeer Sleigh ride irrespective of the time and weather, which truly was such a blissful experience. Dark blue sky and snow filled forest, just like you see in the movies. The joy I saw in Z's eyes was priceless. He stood there watching the reindeers for sometime and then he had his questions "are these Santa's reindeers? Why are these sleighs not flying? Where will reindeers sleep? Do they sleep in Santa's house? Are they not feeling cold?" And the questions went on and on. Answering almost all his questions, that moment I realized I can be creative too :D
To top the experience, we crossed the Arctic circle and Z received a certificate for the same to cherish for his lifetime. Though Its too early for him to understand the concept, the moment he received the certificate he started jumping up and down with a sense of pride winning his first ever prize.
Here is a small split of the cost.
-Bus to Rovaniemi : 98 € (1 adult, 1 child)
-Reindeer Sleigh Ride (1000 m): 35 € for 1 adult and 1 child
-Copy of Photos and videos taken with Santa Claus - 45 €
-Certificate cost - 4,50 €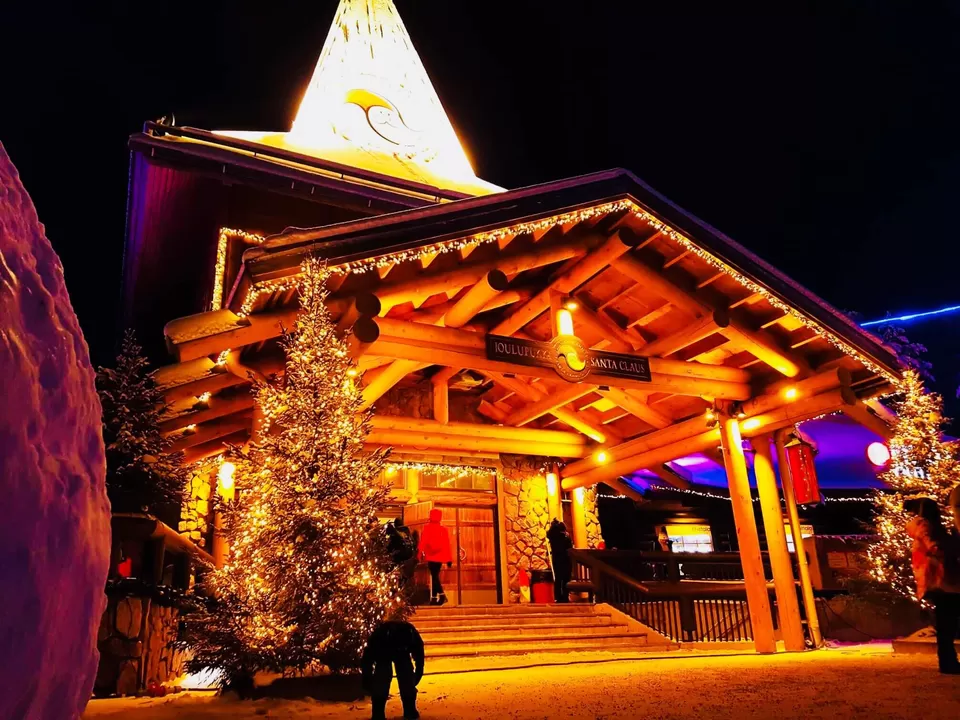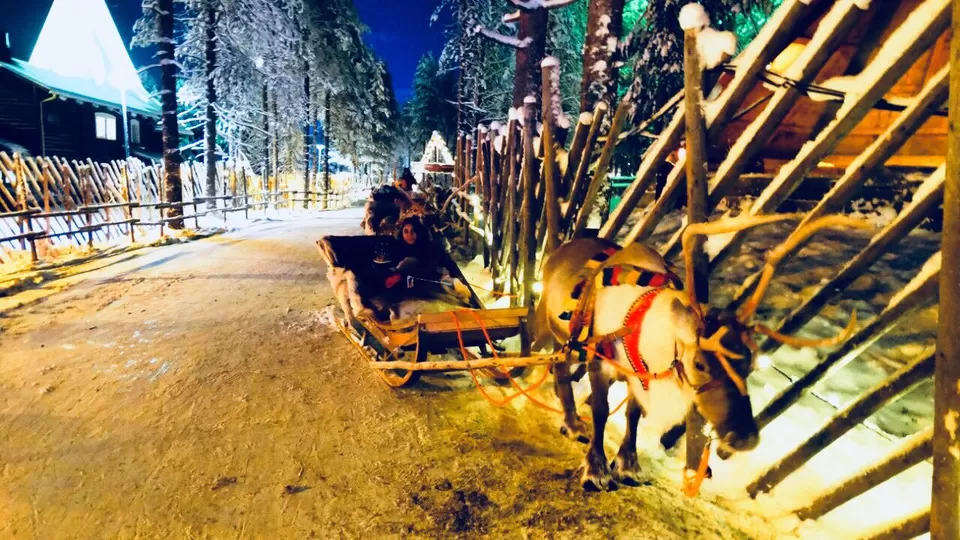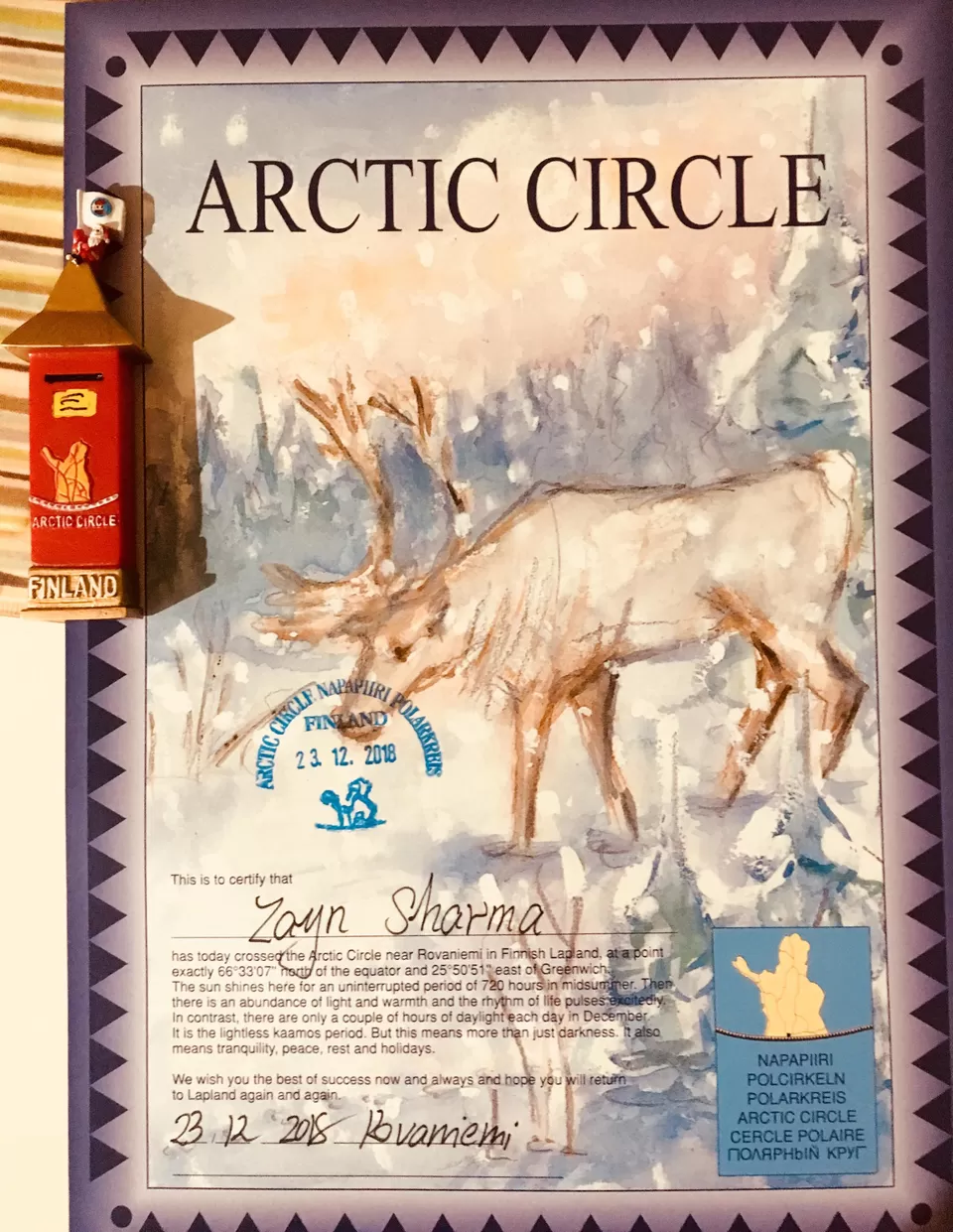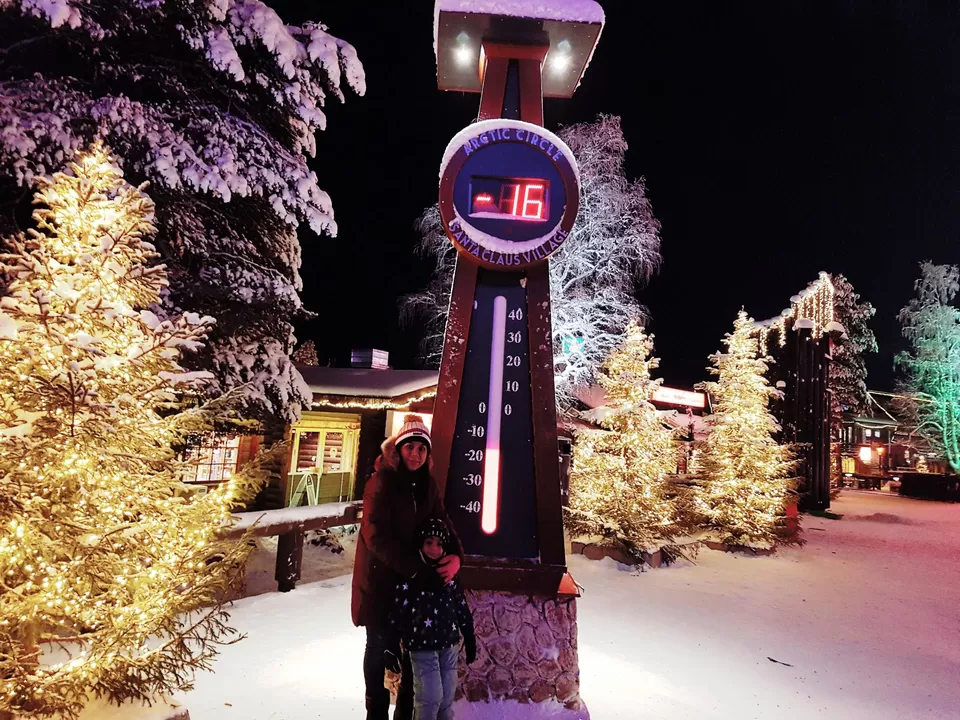 Day 2 ( -25 degrees to -29 Degrees)
Husky ride - Husky park - Snowman world Park - Ice Restaurant and Bar - Meeting the snowman
The next day we took the santa express bus which took us directly to Santa's village. All the activities were chosen by Z as he was the decider here and this was his trip.
We did not regret any of it coz it was such awestruck experience for both of us. The Siberian huskies at the husky park were friendly and easy to pet. He felt sad as the huskies were in cage. He thought they weren't playing well becoz they are not allowed to run around. When he asked the care takers about the same they said its for everyone's safety they keep the huskies caged. Now this have instigated love for pets in Z and he wants to take back home a husky. "Mamma, aren't they cute? Can we take a husky to Dubai?"
We proceeded for the husky Ride after spending an hour at the husky park. I would never call it a once in a life time experience as we would definitely go there again in future. Husky ride was a wonderful experience. It was swift, adventurous and fun. I am usually scared of such swift rides but decided to take it for Z. Unlike me, he was calm and composed throughout the ride and the moment he got out of the sled he asked me "wasn't it fun? Do you want to go again?". Honestly, It was fun! Snowman world had small/big ice sliding activities for both kids and the grownups. Z was a little skeptical about going on the big slide. On seeing kids of his age and even younger ones sliding so smooth, he asked me whether he can do it. The first time he got in the ring he was a nervous, the moment he finished his first round then he became unstoppable. "Can I go again please?" was his question. I saw a sense of achievement in overcoming the fear in his eyes. What else do you want in this world when you see your kids' happiness. The day ended with him saying "Mamma, I am big boy now and I am not scared of big slides anymore. You should go on a big slide too with me next time. It's not scary at all". On reaching back home he immediately called up his dad and started boasting about his rides and his experience on the big ice slide. His dad was extremely happy listening to how Z is enjoying his trip, but got a shock when he heard that Our son doesn't want to pet a golden fish anymore and that he wants to adopt a husky :D
A small breakup of the cost for the rides and entries.,
-Husky Ride : 70 € for 2 km
-Husky park : 15 € includes petting
-Snowman world park & Ice Restaurant/Bar : 50€
(All prices are for 1 adult and 1 child)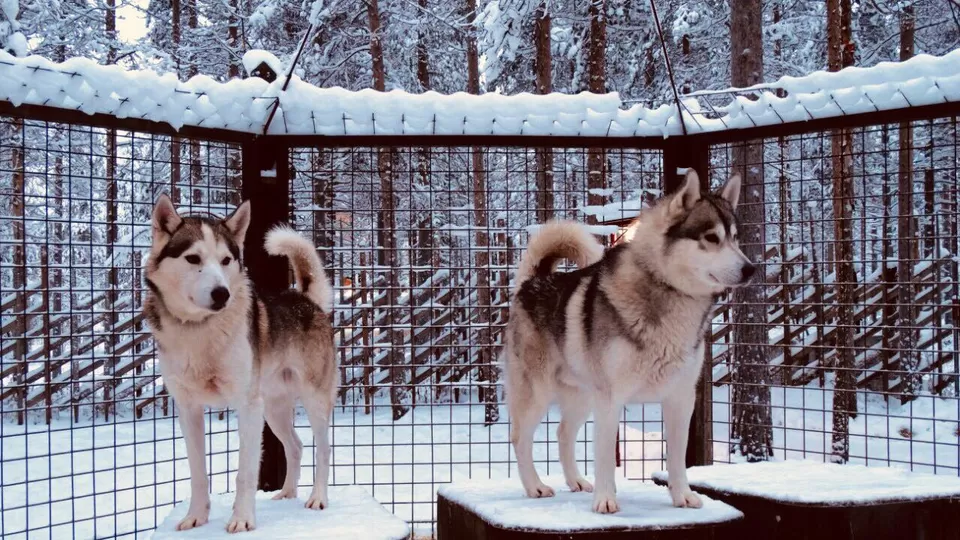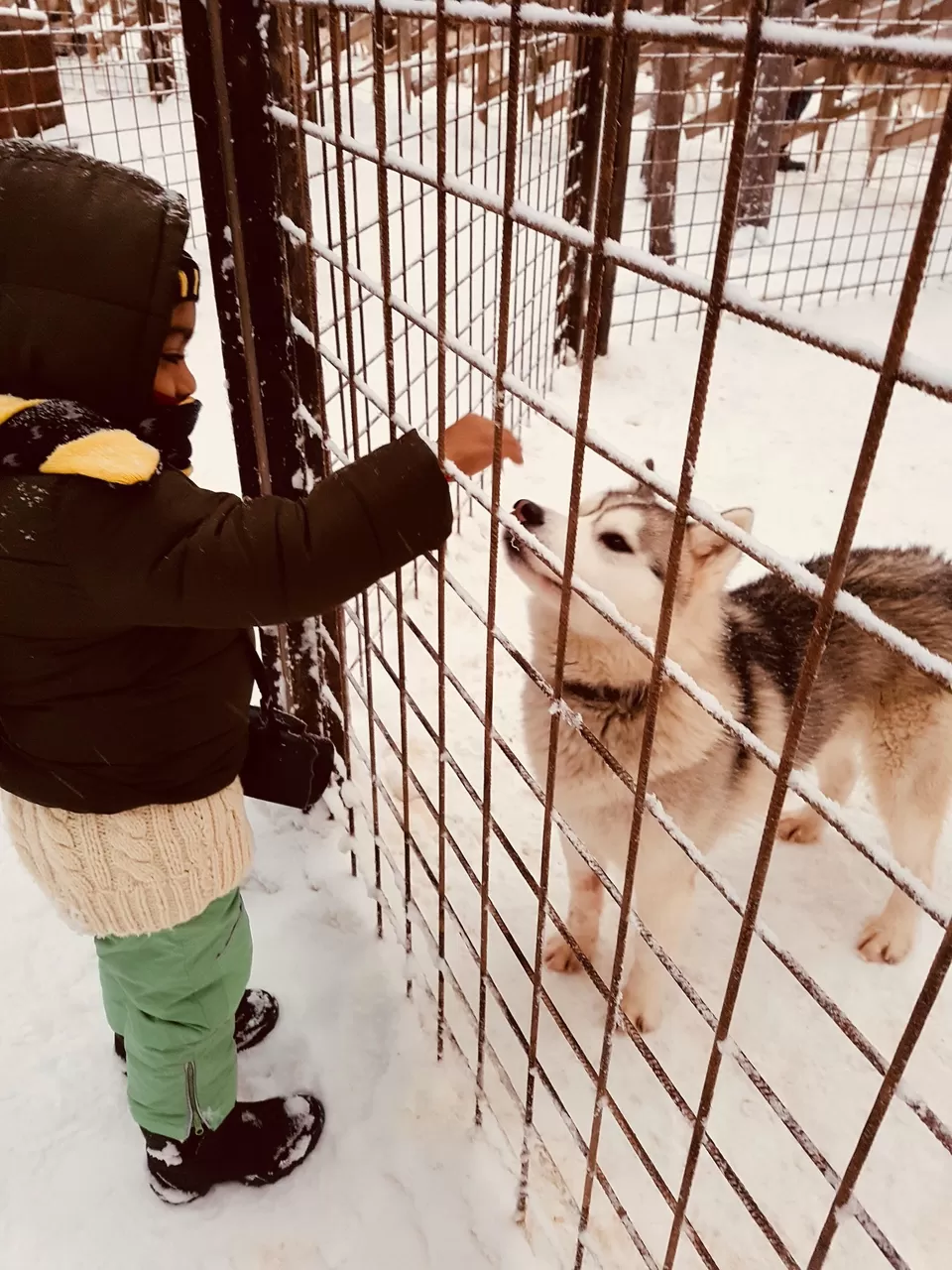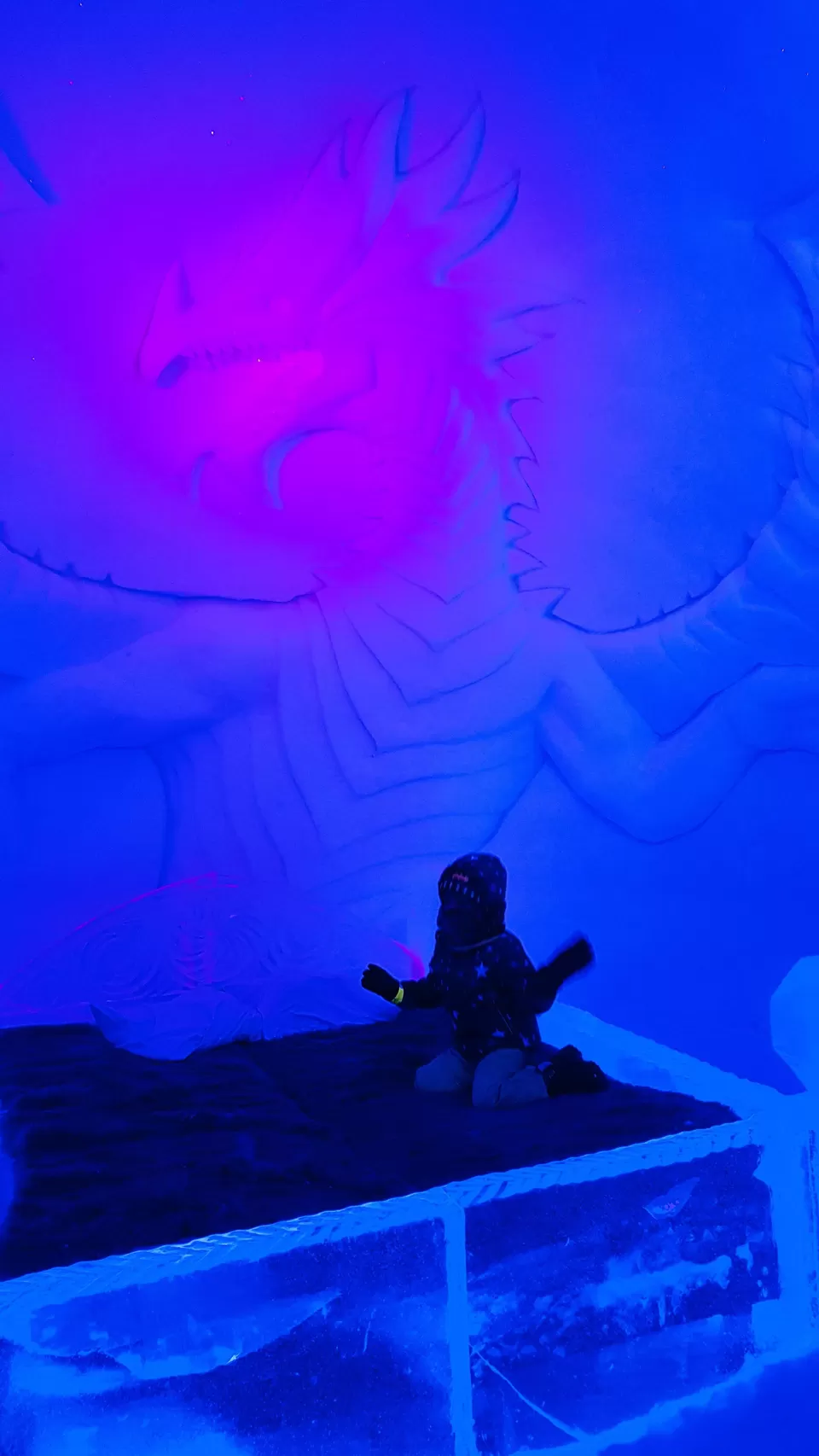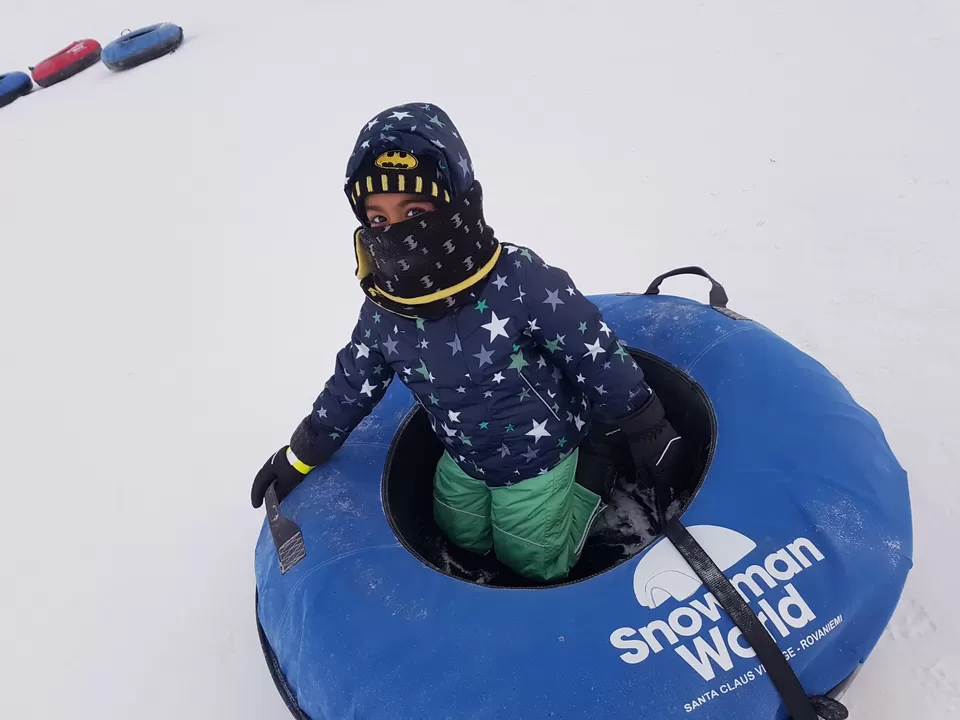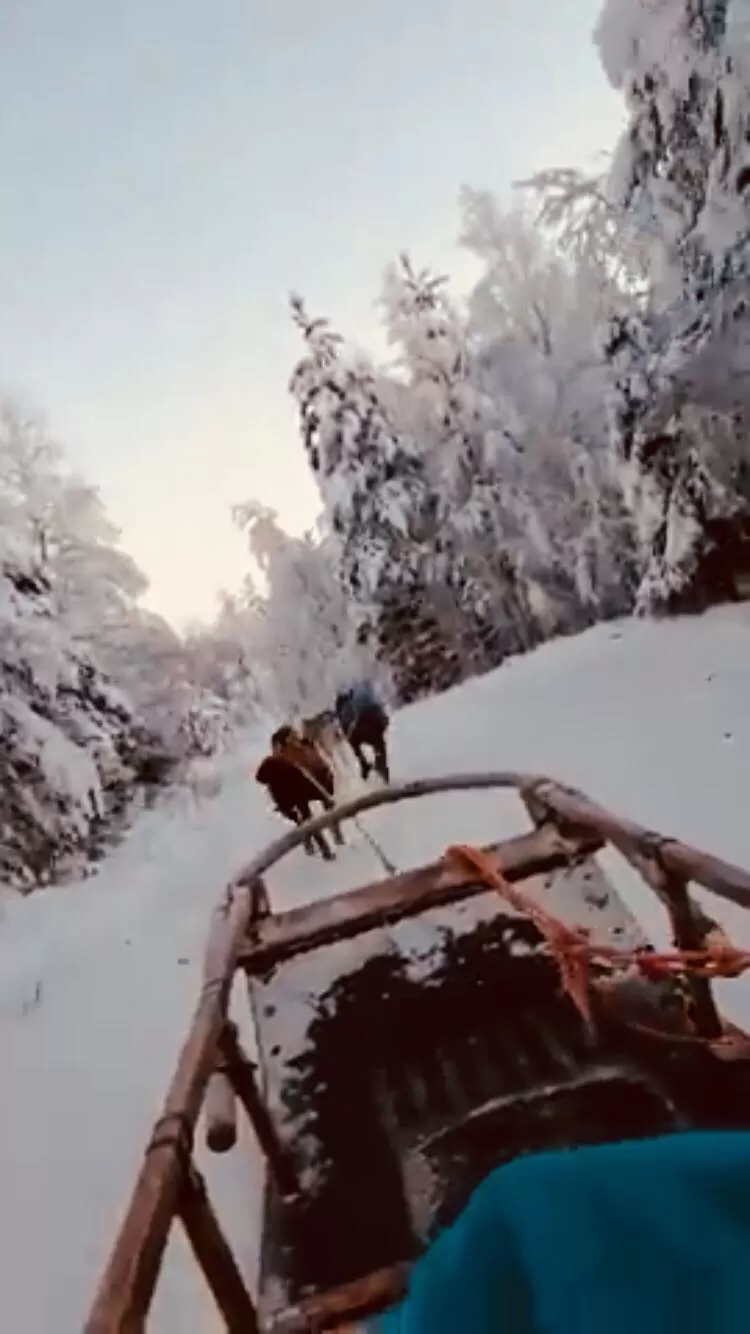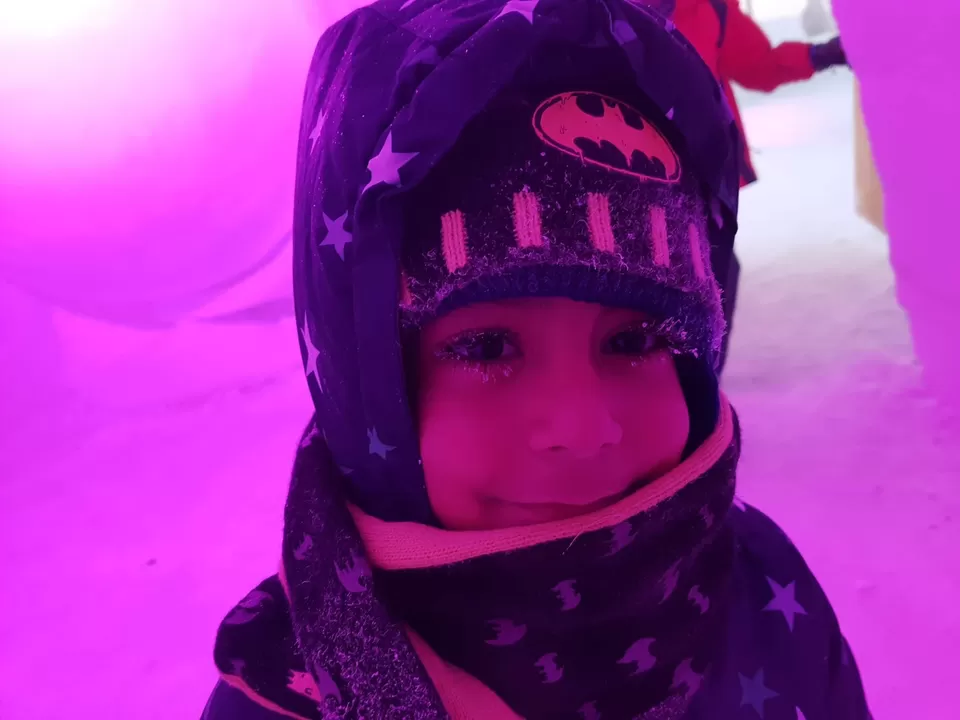 Day 3
Santa's post office - Evening walk on the fluffy snow
It was Christmas Eve, We visited Santa's main post office, posted Christmas and new year post cards to our dear ones back home. I let Z choose the post cards for his cousins. He picked a beautiful card and said "dada might be feeling sad since he is alone. I want to send a post card to dada". I felt delighted and tears of joy rolled out of eyes on seeing the love he has for us. He asked me to write the message, then he stuck the stamp and posted the card by himself.
Since it was Christmas Eve, Santa's village was closed by 3:00 PM. We headed back home and on the way we played on the fluffy snow and clicked a lot of pictures.
-Post card ranges from 1€.
-Postal stamp - 1.60€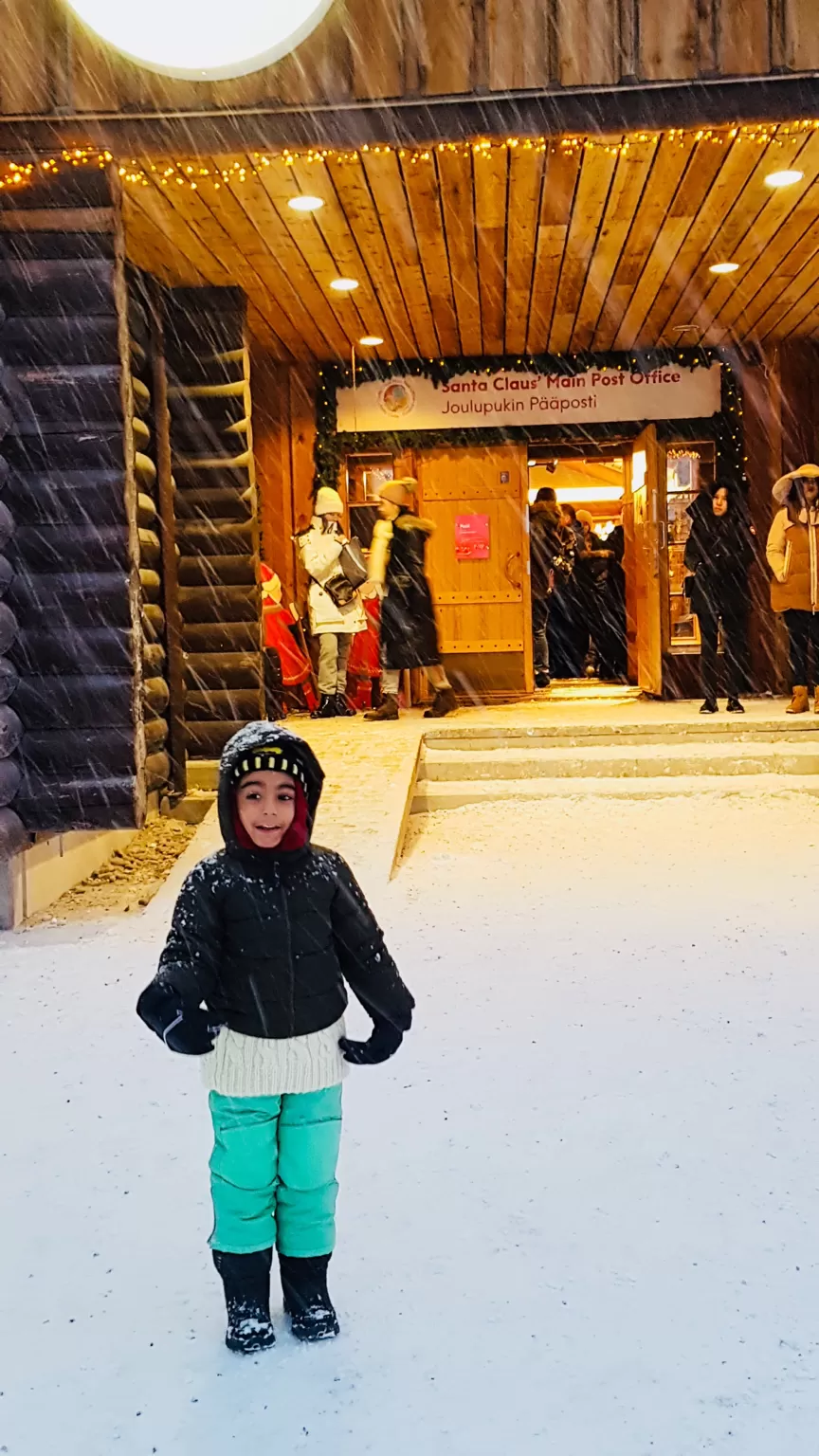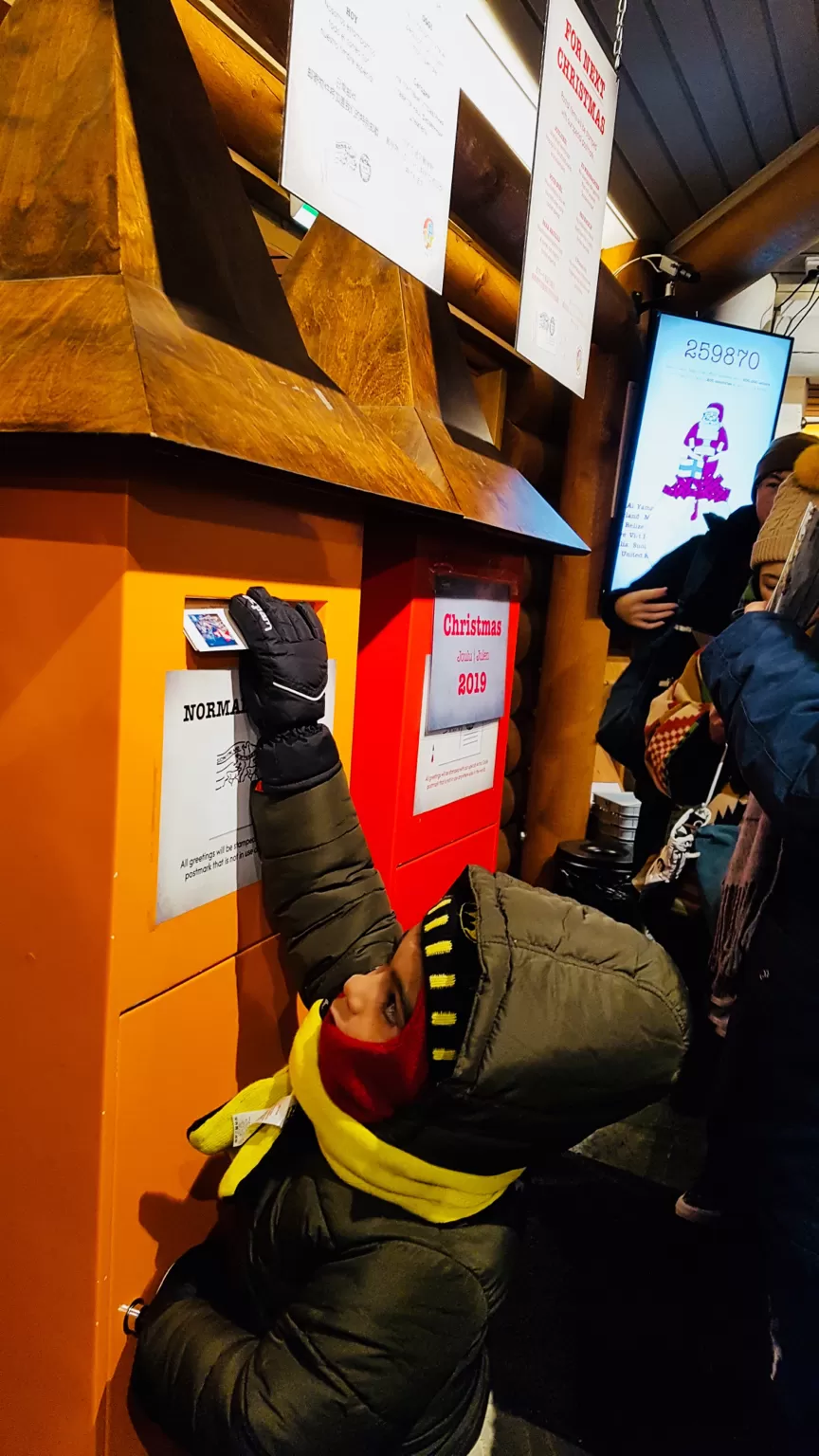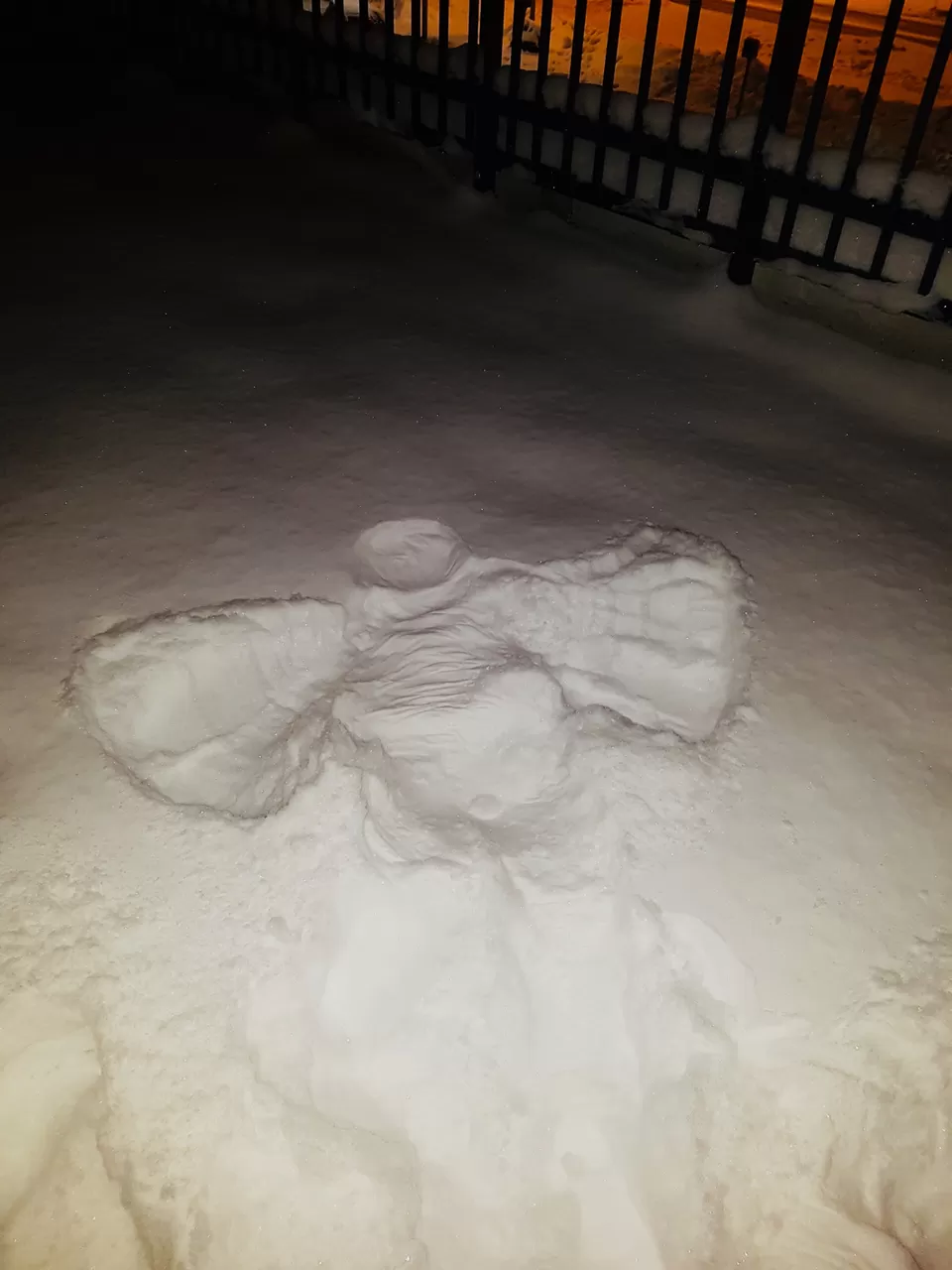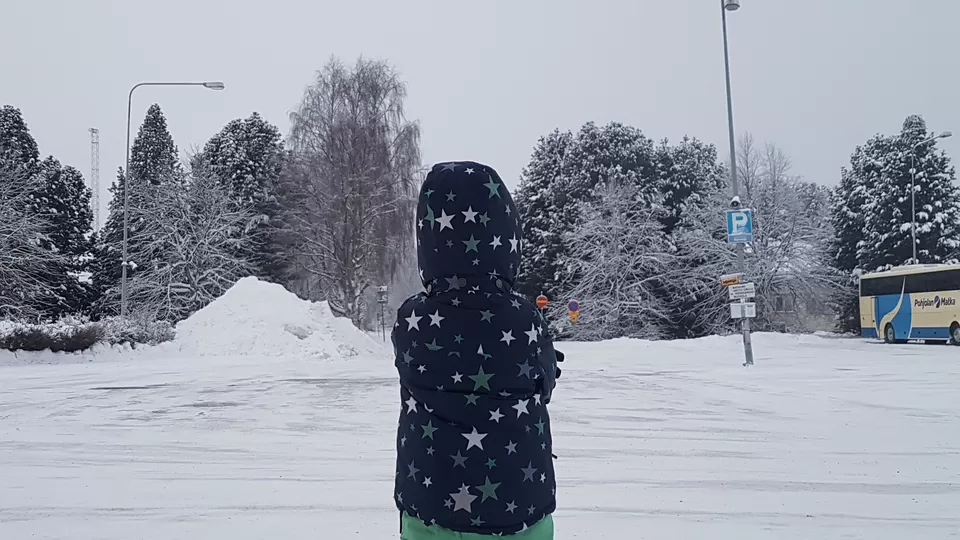 Day 4
Rovaniemi City Center - Evening Nature walk into the dark forest and barbecue by the woods
Rovaniemi is a small and a beautiful city. It has almost everything. Malls, small and big eat outs, ice rinks and ice slides for kids and a lot of tour operators with whom you can book your day trips. We picked up ice mat on rent and Z had a wonderful time playing with his new mates while he was in Rovaniemi.
Ice rink equipments : starting from 3 €
Ice slide mat : 6 €
A 15 cm sub at subway cost starting from 3.90 € and a local Indian restaurant might charge you 15€ for a biriyani, around 11€ to 15€ for curries.
We finished our lunch and headed back to our accommodation. We took rest for a while as we had to walk a bit for our evening nature walk and Finnish style barbecue by the woods.
Around 8:00 PM we drove out of Rovaniemi into wilderness, parked the vehicle and walked further 2kms into dark woods. There were the ancient houses of the Suomis' where you can do your own campfire and barbecue. Spent a nice 3 hours gazing the stars, having traditional Finnish salmon soup and bbq reindeer sausages. Z started building conversation with the people in the camp, he was curious about the place they are from and was happy to share few things about him. He loved meeting new people everyday. He enjoyed it so much that he wanted to have the camp fire again the next evening. What a night to remember! Especially when you see a part of yourself in your little one.
-Cost split up for the nature walk with Bbq: 104 €, but totally worth it!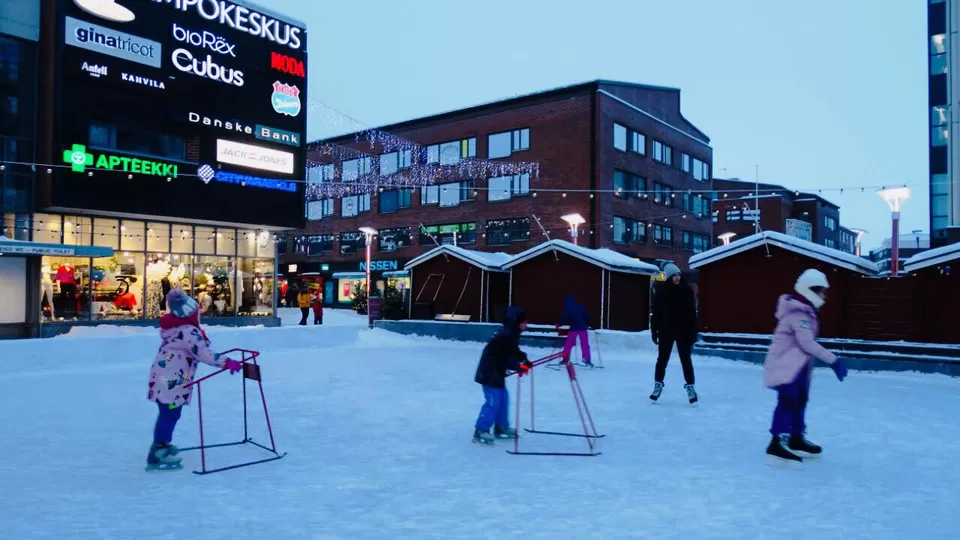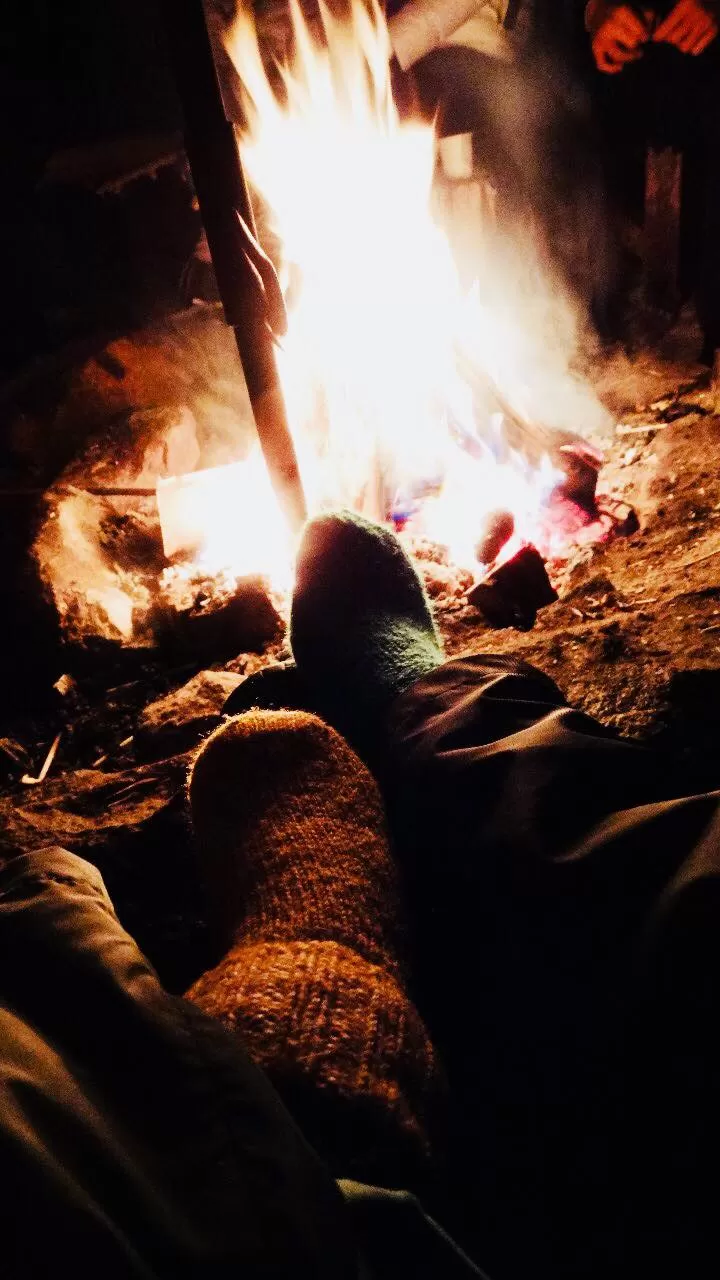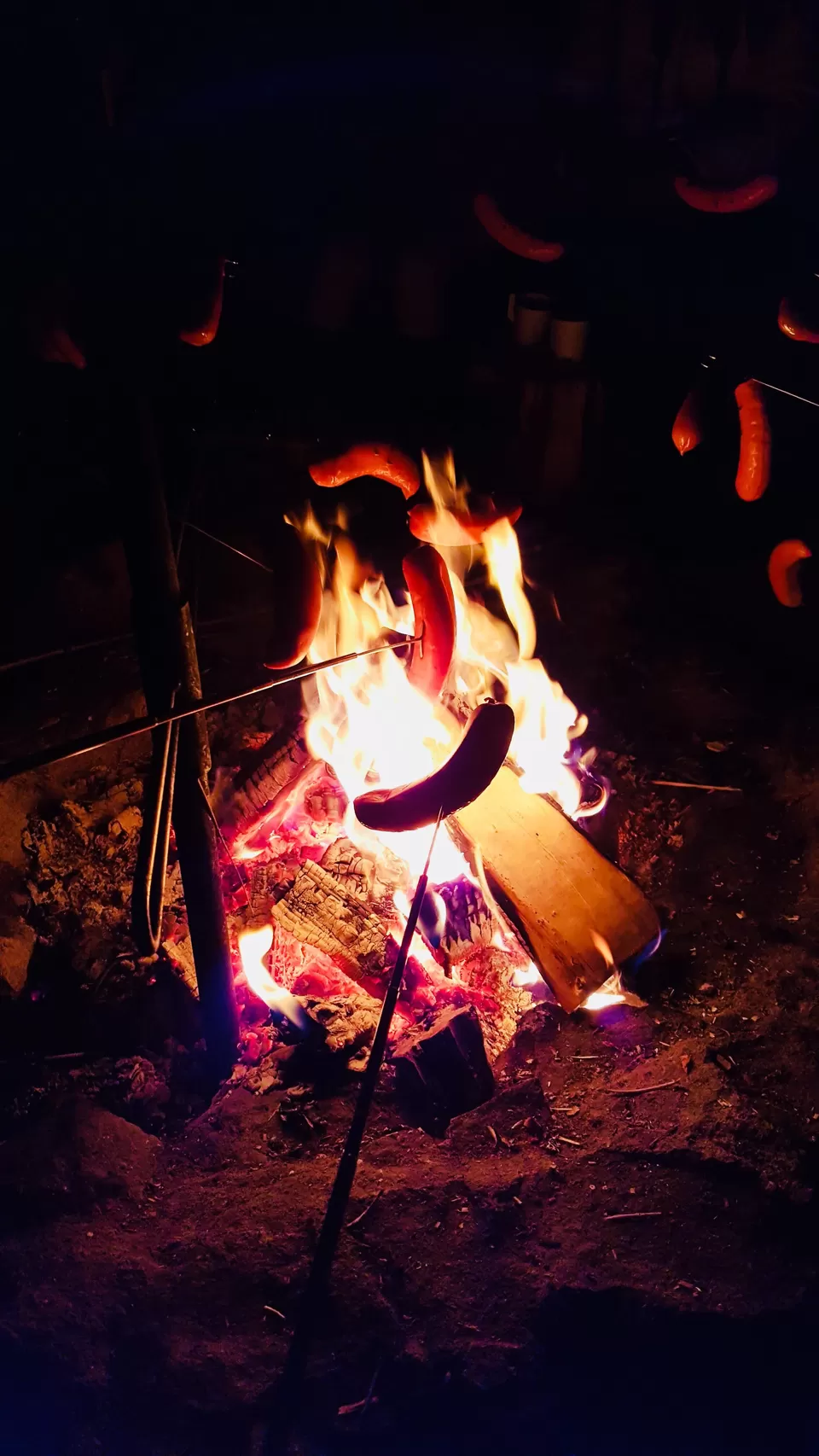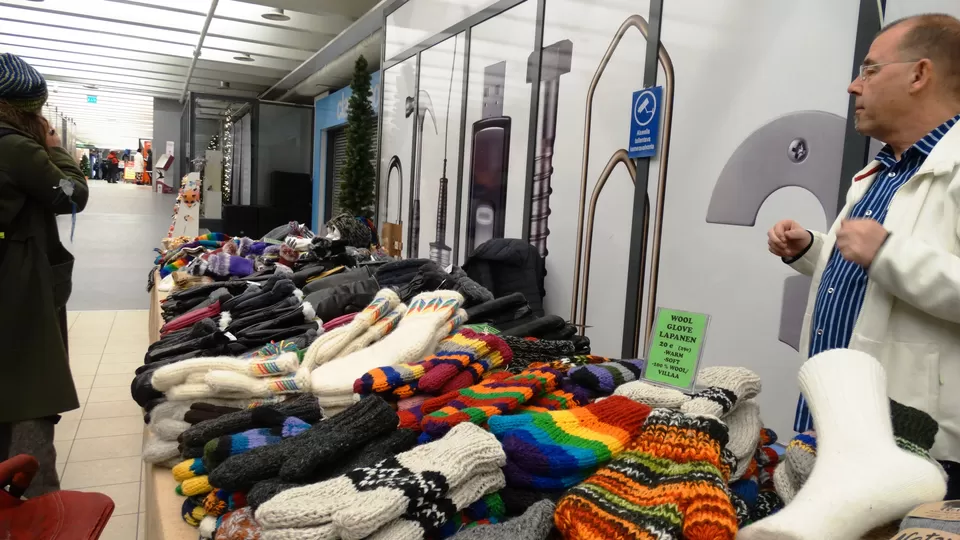 Day 5
Last minute shopping - packing - overnight Santa Claus express train to Helsinki. We reached the train station 20 minutes early to avoid confusion. It was 2 berth private cabin in the coach. The lower berth was occupied by a lady in her late 50s. Z enjoyed the night talking with her, sharing his experience at Lapland with her and as usual asking her tons of questions. At the end of the journey , she said to me "you are truly blessed to have him". I said with pride , Yes I am.
Is my baby growing up faster than I think? He made sure that he took good care of me at any given time. When I was trying to find out the route by standing on the road, he pulled me to the side and said "it's not safe mama, you might get crashed", when I was getting confused with the google map "mama, ask that lady. She might know". I am fortunate and proud than ever and now even more confident about his upbringing. Thank you for making this trip the most memorable trip of my life Z! We are truly blessed to have him in our life!
And a special thanks to my partner in crime, my husband for his confidence on us and motivating us to take the trip in our own. It wouldn't have been possible without his support.
Ticket cost
-Rovaniemi to Helsinki by Overnight Santa Express- 139 € for 1 adult (berth).
1 child under the age of 7 travel for free with a paying adult, child will not be provided separate seat.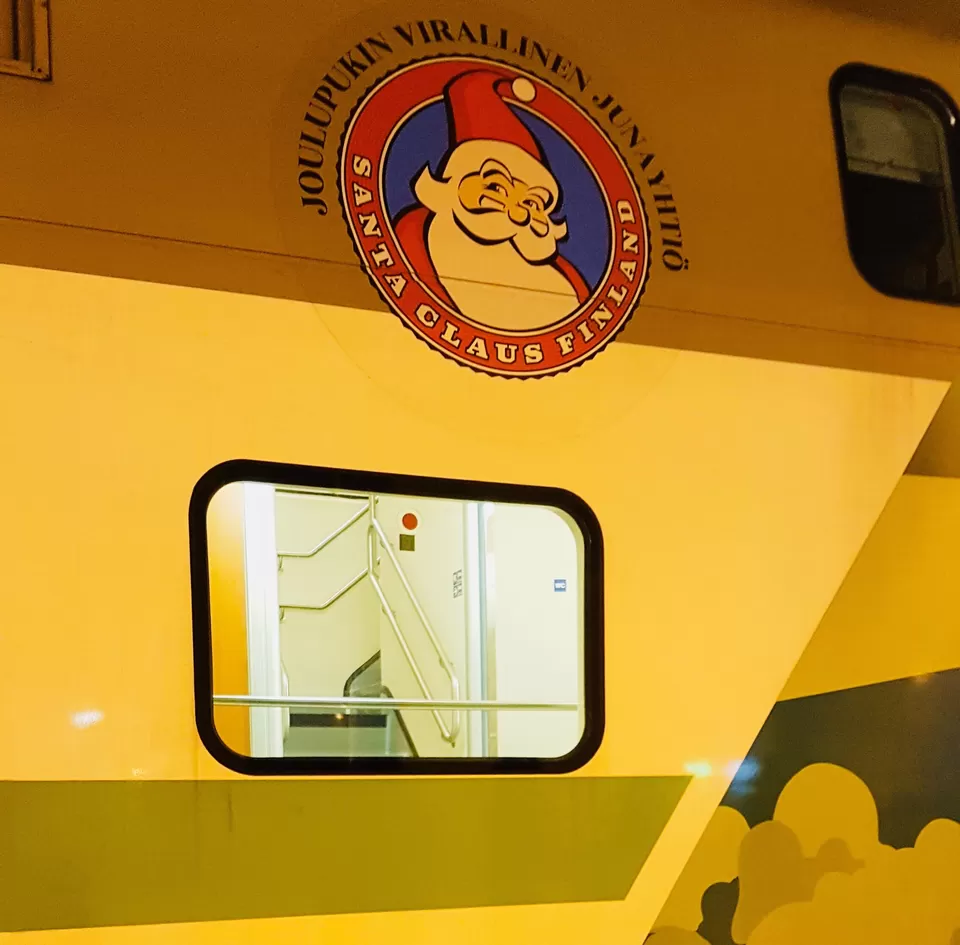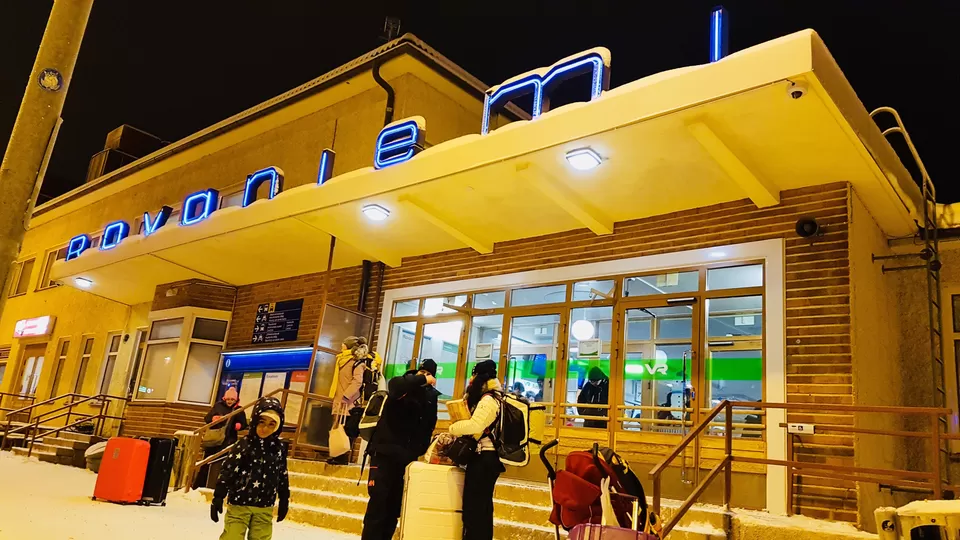 Tips:
- recommended clothing for kids:
—>thermal wear+one full arm polo /turtle neck
—> stockings + thermal bottoms + jeans
—>t-shirt+ sweater + snow overall/snow suit
—>2/3 layers or woolen socks + snow boots
—>balaclava (for head) + beanie + scarf
—>woolen hand gloves / good quality ski gloves (I made him wear both)
- a vacuum flask that can keep the water until 8 hours, coz frequent hydration is a must in such extreme weather condition
- kids first aid kit and basic medicines
- recommended clothing for adults
—> thermal wear+ full sleeve tee+ sweater + a good quality snow jacket
—> stockings + thermal bottoms + Jeans
—> 2/3 layer of socks (woolen/polyester mix, DO NOT get cotton as cotton will absorb the moisture and make your feet cold in no time)
—> snow boots
—> woolen beanie + scarf
—> woolen/ski gloves
- Try to avoid Christmas season for your tour if you are on budget as you will end up paying more than double for your stay and for certain winter activities. It's like Christmas throughout the year in Rovaniemi
Thank you for reading ! Wish you all the best for your trip!