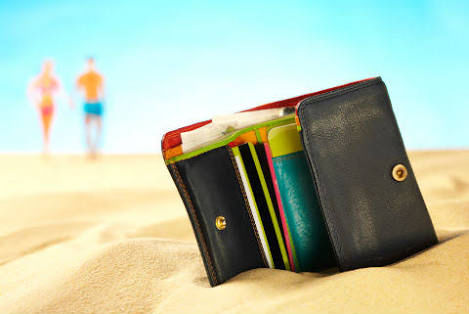 It would be an understatement to say that the travelling bug has hit the Indians. Exotic and far off locales are no more out of reach. Solo travel is no more a taboo. Female only travel is not met with stubborn faces anymore. Young professionals are going on trips with their hard earned salary and using your pop's money is now a thing of the past. In such a scenario, budget travel becomes rudimentary. I am a Chartered Accountant and a gujarati which qualifies me to write on 'budget' travel.
In October 2016, I went on a solo adventure to China (WanderLost in China). The trip was sponsored thanks to a 4k a month articleship (internship) which I did for 3 years as part of my Chartered Accountancy curriculum. Here's how I went around planning the trip and strictly sticking to the budget.
First things first, you have to get out of your way what I call the fixed costs. When you're a working professional, you ideally try to plan a vacation around public holidays and this also means that the dates are not flexible. Since you have locked in your dates, you should directly compare the flights over a few websites and book the tickets. What would help is trying different combinations in case of a multi-city trip. Yatra.com is my pick for the primary flight booking. In case you have to book internal flights as well, go for Kayak, Skyscanner or the lesser known Cheap x 3. Use the calendar feature of these websites to check for the cheapest rates in case you are flexible with the internal flights. Apart from the flights, another unavoidable aspect of travel is visa. Check the visa requirements and fees before hand and plan accordingly. One of the reasons as to why I chose China was because the visa processing takes only 5 working days. You would need to keep a greater buffer for a Schengen visa since visa processing can take upto 15 working days!
For most countries, while applying for the visa, you have to provide your detailed itinerary. This mainly includes flights, stay and other internal travel details. Hence, you have to find and book your stay as soon as possible. Based on a personal experience, it is possible that your visa maybe rejected. So it is very important to have refundable bookings wherever possible. For my stay, I always book from booking.com. This site provides with the most number of free cancellation options and cheapest rates. I am also a 'Genius' member now so I can avail further discounts. From the budget travel point of view, you have to keep two things in mind while booking your stay: the property cost and the vicinity of the property to the major attractions. The latter is important as it will save you travelling costs. Inquire about the public transportation passes which can be very helpful. In Shanghai I stayed a hostel which was at a 10mins walking distance from The Bund area, unarguably the hub in Shanghai. For those of you keen on a hostel stay, select your hostel from hostelworld and book via booking.com. Open up google maps in a separate tab, identify the area in the city/town you are visiting and find the place to stay suiting your budget. Airbnb is also a viable choice. Food and stay take up around 60-70% of your budget.
The other controllable things which you would have to spend on is food, drinks and attractions. Be flexible with food. If you are a non-vegetarian, don't shy away from eating from the local outlets. For vegetarians, do not find a restaurant and then decide the attraction around it, it will take up a lot of your time. China for vegetarians can be a nightmare. Being one myself, I relied on subway quite a few times. In Asia, alcohol is cheap. Elsewhere, it is recommended to try local bars for drinks which are also cheap. For non-excessive drinkers, alcohol should not leave a dent in your budget. Coming to attractions, here is one aspect which can make or break your budget. I remember travelling to the US with my parents and we were shelling out 6-7k in entrances fees at so many places that it was beyond ridiculous. Note one thing: you cannot cover everything. Be rational. It is not necessary to check out the view from every tower or to visit every theme park. Sometimes it is just as fun to hang around the city and get the local vibe. It costs nothing! Having said that, do not have any regrets either. I took a bullet train from Beijing to Shanghai. It was expensive but at 300 kms/hr, I am not complaining.
All in all, budget travel is possible with almost every travel destination (notable absentees: Japan and Iceland). You only have to research more and set your priorities straight. In the end, it's all worth.