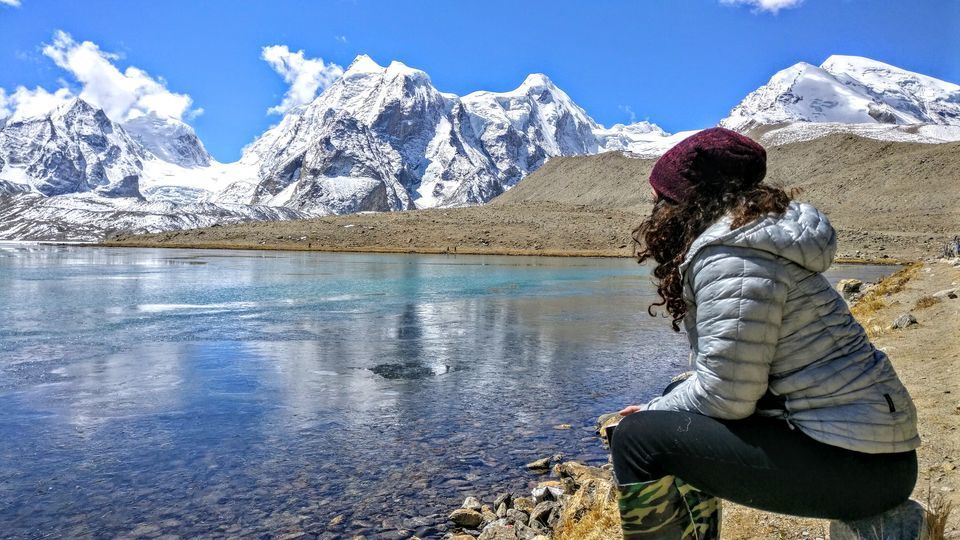 I never had a clue that India could be soo breathtakingly beautiful! Sure, we've all heard about Manali in the north and Munnar in the south, and everyone in the world knows about the Taj Mahal and the Gateway of India, but what a lot of people don't seem to grasp is just how vast India is. Because really, you'd need a lot of real estate to fit a billion Indians (and counting). And that brings me to the northeast of India, and the seven, gorgeous sisters, of which Sikkim was the target for my second trip. Currently only explored by the Bengalis, with a couple of popular tourist attractions which can be crowded during peak season, vast stretches of the state are still unexplored. As luck would have it, I had the chance to visit some of these magnificent sights.
On my 27th birthday, I finally got to see the dreamy landscape of this landlocked state. The curvy roads, dense forests and friendly faces were an absolute delight after Bombay's noise and crowds. But the thing I was most excited about was the snow!! In April! April is usually the hottest month in India but it is so cold in Sikkim. This was the first time I'd ever seen snow, and I can't even begin to explain just how overwhelmed I was! It might seem a silly thing to some of you, but it truly was a magical moment for me. My dreams of Switzerland and doing a Maria in the Alps have temporarily been put to rest, for which my bank balance is most grateful
Sikkim is a state that shows you how to be happy. The locals are heavily influenced by their Bhutanese neighbours, and seem to have adopted their absolutely fabulous system of measuring their lives by Gross National Happiness (GNH). Their lives are simple, and the people are content. The beauty of it is that they're well aware of how blessed they are, and so don't feel the urge to venture out to experience life in the big city. While we try and console ourselves with the idea that the grass is always greener on the other side, it doesn't hold true for them. With the Kanchenjunga range towering over your head, and the bountiful river Teesta keeping you company as it snakes between the mountains, what else would you need to be happy and content?
This pride in their surrounding is evident wherever you go. The people are tremendously proud of their state, and dedicate themselves to its maintenance. They preserve natural beauty, maintain the area's cleanliness, and even pull you up for plucking flowers from a tree. Plastic bottles have been banned in north Sikkim, and all the garbage from your car and luggage must be thrown in the huge dustbins along the side of the roads before you enter the region. A lot of this comes down to the excellent education system in place. This becomes apparent when you see some of the signs that have been put up along the sides of the roads. You won't even find such witty and jocular slogans in Bombay or Delhi.
What attracts me the most is the sense of community amongst the people. You will never feel alone, even if you are stuck 1700ft above sea level on a mountain with no one around. Give it a minute and there'll be ten cars pulling over to help you out. They're a tremendously helpful and approachable people; you can knock on someone's door late at night and be confident of a nice hot meal.
So, I started off my journey from Bombay to Bagdogra on the 5th of April. Once you reach Bagdogra airport, it will take you a good 4.5 hours by road to reach Gangtok, unless you are traveling super light (less than 10 kgs). In that case, you can catch a chopper ride from the airport to Gangtok. While it might seem pricey at Rs 3500 a pop, bear in mind that there are only five seats. And that you get to ride in a friggin' chopper! The fact that a private prepaid cab costs about 2500 to cover the same distance should help come to a decision. If you're absolutely determined not to ride in a chopper, you can also consider Wizzride, a shared cab option which costs about 750 per seat.
I spent the night in Gangtok, and as the sun rose the next morning I'd officially turned a year older! I celebrated with a visit to Tsomgo Lake and Nathula Pass - the eastern pass of the Himalayas and the border of India and Tibet. I had zero expectations of seeing snow in April. But to my surprise, I made a transition from India to mini Switzerland in under 4300 meters. Thankfully I was well equipped to thoroughly enjoy myself! Sliding down hills of snow into fluffy drifts, I felt like a 5-year-old child again! I also had the chance to speak with some of the soldiers stationed there. They showed me the huge gate separating India and Tibet, and told me about their experiences through the bitter cold. They also narrated the story of Major "Baba" Harbhajan Singh. Revered as the "Hero of Nathula" by soldiers of the Indian army, he's even had a shrine built in his honor. It is said that one day he disappeared from his post, and his platoon believed him died. But from that day on he would appear in the dreams of the soldiers, warning them about upcoming attacks and protecting them and their every movement. Sitting in the chill air, with the winds whipping through the pass, these tales of the mountains felt surreal. I could sit for hours hearing more stories.
Northeast Sikkim - Lachung. The next day I set out to this quaint little town with little network, hardly any people, no streetlights or restaurants, just gigantic, snow capped mountains, and the lurid sound of the gushing Teesta river. If you got hungry, you need to walk down the lane towards the river and find tiny little stalls selling chips and biscuits, where they will make you a hot bowl of Maggie noodles and eggs. I met this sweet young lady known as Sonam, who had a small home from where she sold a variety of snacks. She arranged for a beautiful sit out right outside her home adjacent to the river. She served me some hot noodles and the towns famous fermented alcoholic drink called Chaang, traditionally made from cereals like finger millet, rice barley or wheat. It is poured in a bamboo container called "Tongba" and sipped with a bamboo pipe. Warm water is poured inside the vessel 10-20 minutes before having it. If made pure and strong, it feels like a kick from a mule. You certainly need it in that weather.
After a while it got pretty cold outside, so Sonam offered me the hospitality of her home and the warmth of a tiny fireplace. We got talking for hours, and she told me all about her life story and how she ran away and married the love of her life. It was an adorable conversation. Eventually, a group of young German boys walked in asking for some food and beer. The poor fellows hadn't found any other place open. They'd also come to explore the wonders of this gorgeous little state. We all got talking and sat at Sonam's place for a good four hours. We covered quite the range of topics, from Hitler and his impact on Germany to the history of India with the Brits, and about exploring the unexplored. With good company, interesting conversation, and a hell lot of comfort while sipping on my favorite old monk to keep warm.
The next day I set off for Yumthang Valley known as the valley of flowers with the river, hot springs, and yaks, surrounded by the Himalayan mountains. However, to my surprise the entire valley floor was coated in snow. The drive to Yumthang was incredibly picturesque. It looked like Christmas in England, the trees were filled with patches of soft snow, the roads empty and long, white and green everywhere!
After Yumthang, I set out for Lachen, further north-west from Lachung. It got colder there, dropping down to -3 degrees. Lachen, while an even smaller town, is a slightly more happening destination. The town had a lone bar called 'The Ingredient Bar', which offered karaoke sessions for all the Elvis's that visited and also accepted Paytm! (Guess Modi finally paid off).
After a Sikkimese thali for dinner I walked back to the homestay at which I was staying the night. Another adventure fell in my lap when a sudden power cut hit the town. It was pitch dark and I was in an old creaky bungalow, which made weird spooky sounds. It's pretty commendable how I spent the whole night there and woke up again at 5 am to travel to my next stop!
Gurudongmar Lake, one of the highest lakes in the world and in India, is located at an altitude of 17,800 ft, and is considered sacred by the Buddhists, who believe that whatever one wishes for by the lake comes true. I sat by the half-frozen lake for almost 2 hours, feeling completely overwhelmed, peaceful and content. It's true, the lake is blessed and you can only feel it once you're there. Words can't explain it's beauty and that's why I'll let my pictures tell you the story.
Soon after Gurudongmar Lake, I was in for another surprise. My Buddhist guide took us to another untouched mountain called Kaala Pathar. The road up there is slightly treacherous but totally worth it. With deep black bold rocks covered in layers of bright white snow everywhere and the infinite illuminating light surrounding me, I felt like I had entered heaven. The feeling was magical. The power of the sun was immense and so was the cold. It was dangerous too, as I was casually walking around and almost sunk waist deep into the snow. But one can't last too long out there because of it's proximity to the sun.
Sikkim is a bit of a traveller's paradox: You go there to explore a place new but you end up feeling right at home .
Some Recommendations :–
If you want to rent a bike or explore Sikkim in a different and totally adventurous way, you must get in touch with BB Line Tours. Mr. Yadav, the CEO is such a witty and funny guy, it was a delight getting to know him. He knows the state like the back of his hand and can guide you to create a fantastic experience for yourself.
In Gangtok, eat at Gangtok Groove restaurant for delicious Bhutanese and continental food. They also have a live band performing on Fridays and Saturdays. It's a really happening place.
Try Nimtho and Taste of Tibet for its combination of Tibetan and Sikkimese thalis.
Definitely try the drink - Chaang and Dansburg beer. Smoothest beer ever!
Summit Namnamg and The Oriental are good boutique hotels in Gangtok, but slightly expensive.
Visit the Rumtek and Lingdum Monasteries and do a cable car ride too in Gangtok.
In Lachung stay at Lachung Continental - Very reasonably priced and extremely helpful people.
Don't forget to visit Sonam, she has a little home-stall by the river in Lachung and serves amazing hot noodles and eggs along with strong Chaang. She's a great conversationalist too!
In Lachen, you can bunk at Mount View Residency. It's a cute homestay with an amazing view and amazingly friendly caretakers!
Lastly, don't forget to stop by a couple of times through your journey in the mountains to play with the most adorable stray Tibetan Mastiff puppies! They are soo naughty & friendly and can also be feisty! Something that will totally make your day!