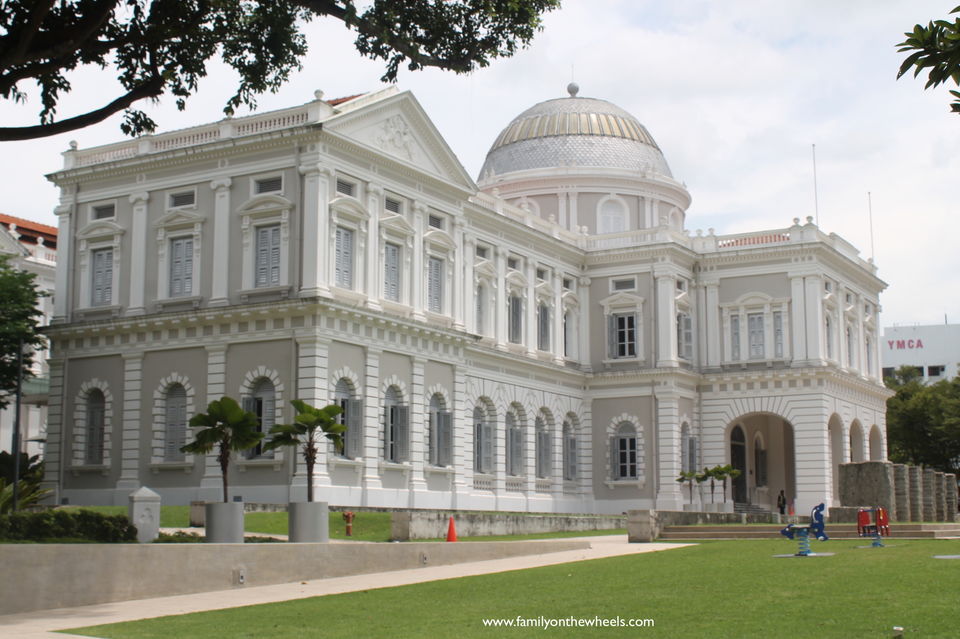 Hola Travellers!
Introducing Singapore by FOTW
Team FOTW has been back from Singapore exploration and this time it was a crazy fun! Crazy, since it was a pure exploration of Mom-son duo, as daddy was busy in his office. Thrilling, challenging, exciting, our master child explored this island country in a every possible way, making me happy that he is indeed a travel kid!
And why not, Singapore has so much to offer for Kids of all ages. Our Parenting blog has captured Singapore explicitly for kids, read here. And we're gonna share our experience day by day, as this asian country has lots in in bouquet. From Nature walk, museums, thrill, adventure, beaches, technology, it has everything in itself.
Museums with kids?
Well, our initial perception was a big "No", but since the time, we visited JC art gallery(Shanghai), our lookout for museums have indeed changed. Museums can be a great fun for kids, if there are interactive display's, fun areas, multimedia edutainment, right? And this is all what you can find at National Museum of Singapore!
National Museum of Singapore : By FOTW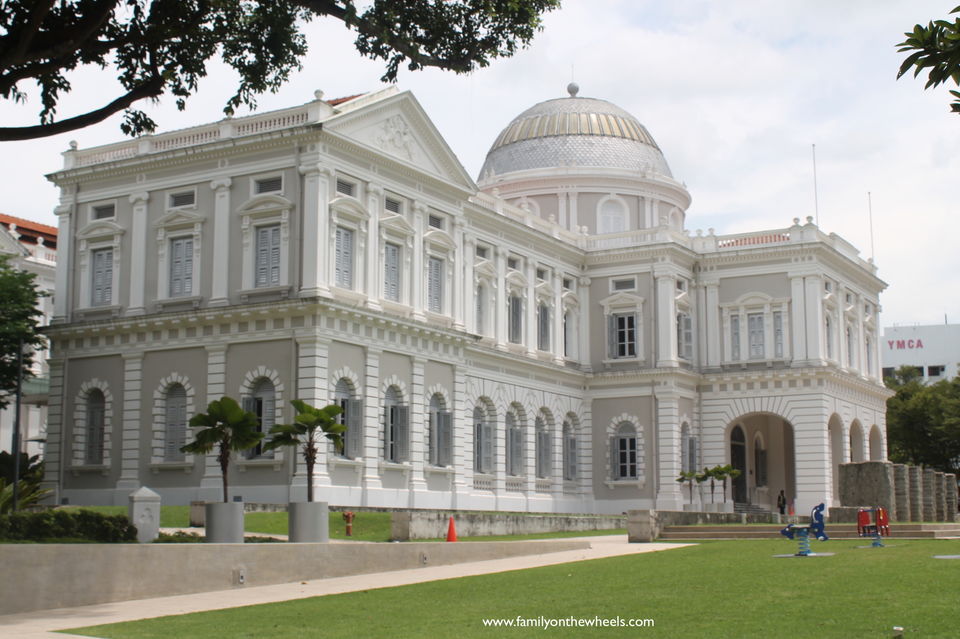 The day started hot, with sun shining brightly over us. Being just 4kms from our apartment, we opted to travel via Bus, and the little champ was excited to board "green double decker" bus.
The first glimpse of the white building with green surroundings looked immensely beautiful. After taking the tickets, we quickly started to explore what it had.
The National Museum of Singapore is the Singapore's oldest museum and it reflects stories of Singapore and the world. It started as back as 1887 as the Raffles Library and Museum. This building now has level 1 and 2 galleries depicting how this city has changed over the years. And this summer, the Children's season 2018 is on for that unlimited fun for kids!
Some exhibitions worth mention in the galleries of National Museum of Singapore :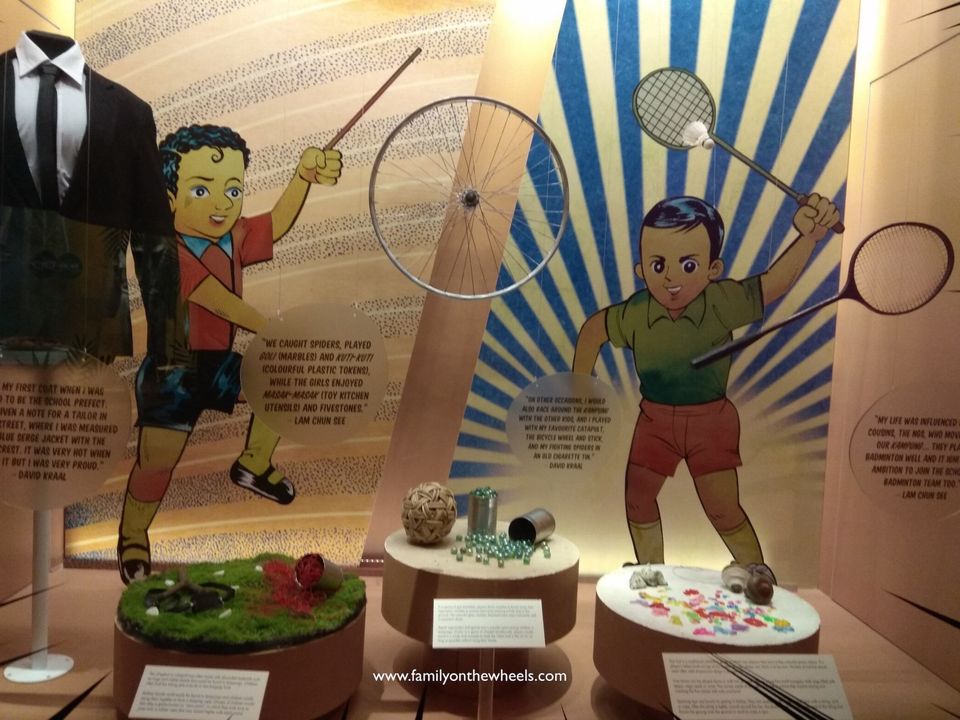 This gallery reflected how the children grew up during a really challenging period of 1950s and 1960s, when Singapore was merged with Malaya and then later gained its Independence in 1965. It reflects how children led a social life, engaged in fun sports, and how different races were a part of this land.
Singapore History :
The way they have represented the History, the showcasing of WWII, how Singapura became Singapore is incredible. And our 3.5year old was immersed into the story of Singapore history.
It dates to as old as 1299-1818 centuries, when Singapore was a prospering port. Singapore was well connected to Malay (Malaysia), Thailand, India, China and the trade flourished. This museum shows the way of life at those times. By 1819, when Sir Stamford Raffles and Major William Farquhar (British Rulers) arrived in Singapore, they turned the way this island was. They set up a British trading port, and traders from different continents (Africa) came in. It depicts how Singapore became the centre of trade in Southeast Asia by the 1850s and flourished then.
The War time : 1942 - 1945
In 1941, Singapore witnessed the war, when Japanese attacked Singapore. There was immense unrest and the battle was won by Japanese. During all this phase, Singaporeans had the worst time, with scarcity of food, rampant diseases and lots of violence. Japanese later surrendered in 1945. Post that it saw merger with Malay and later in 1965 it gained its independence as a free nation with its own governance.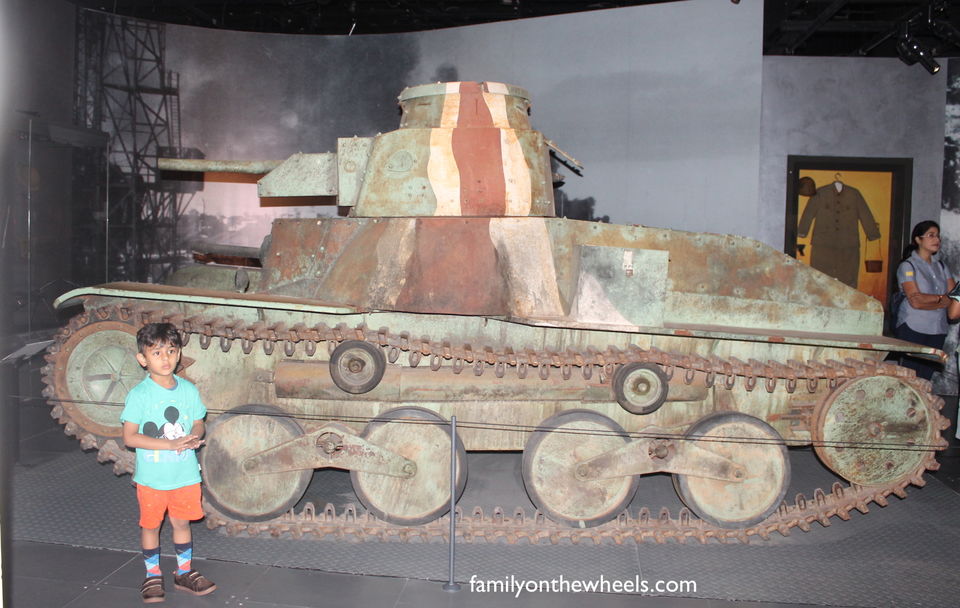 The exhibit of all this story will ensure goosebumps. The live screens narrating the war, the artefacts and weapons used, the Japanese tank, cycles, all significantly share the tale. It reflects that just after Independence, how the nation struggled with unemployment, insufficient lifestyle options and how the government took steps which promoted Singapore as a business city. Housing, focus on clean environment right from then is reflected in ample scenes.
The glimpses of pre and post independence, will make you aware of the struggles people made and how things turned to witness what we see Singapore today. I must say that we all have read much when it comes to WWII, but what mattered here was the depiction which made transformations alive. You will witness the stories and artefacts which are testament to courage, hope and love when the darkest period full of fear, hatred and hardship prevailed.
*Kids will love this space, do indulge them into the history of World war and how this nation progressed.
Voices of Singapore :
As Singapore was turning into a rich and vibrant culture, this zone depicts the leisures Singaporeans enjoyed then. A film is displayed on this vintage theatre, wherein you can sit on the seats designed in the form of cars and trucks. My son had a great fun on this vintage themed cars and trucks, while I enjoyed the movie being displayed.
Desire and danger gallery :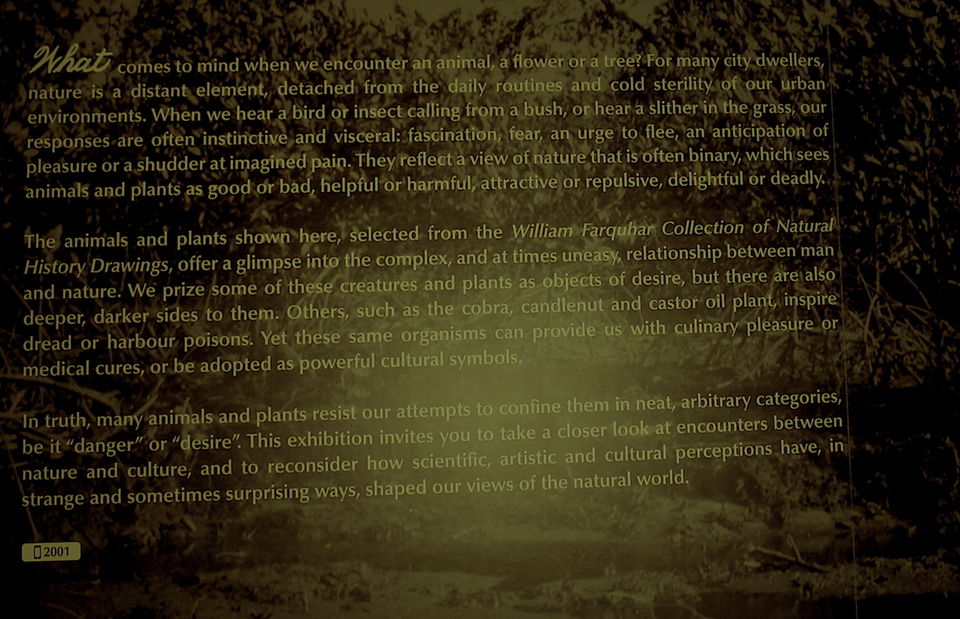 This gallery will give you a feel of the science lab, which I felt as soon as I entered there. Desire and danger refers to the complex relationship of humans and nature. While Nature has bestowed us with ample sweet things to eat and love, yet there are many poisonous things in nature which pose danger to us, but have great medicinal use. This section has selection of Natural drawings collection of "William Farquhar", a naturalist who was keen in Botanical as well as Zoological revelations. He basically got many Chinese artists to paint the flora and fauna that flourished then in the Malay region.
One can see many Botanical treasures and some zoological specimens as well.
Story of the forest : In Glass rotunda
This is a beautiful 3D animated zone, which brings alive 69 drawings from the William Farquhar Collection of Nature, animals, trees, flowers. As you enter, the visual landscape is reflected on the walls, which captures animated wildlife of the Malay Peninsula in the 19th century. Kids's are sure to love this section. The passage will take you to a closed hall, wherein the beautiful display of flora, fauna and their life, in the darkness of night will keep kids stunned. Relax and allow kids to watch over the story of forest.
Fun for kids at National Museum of Singapore :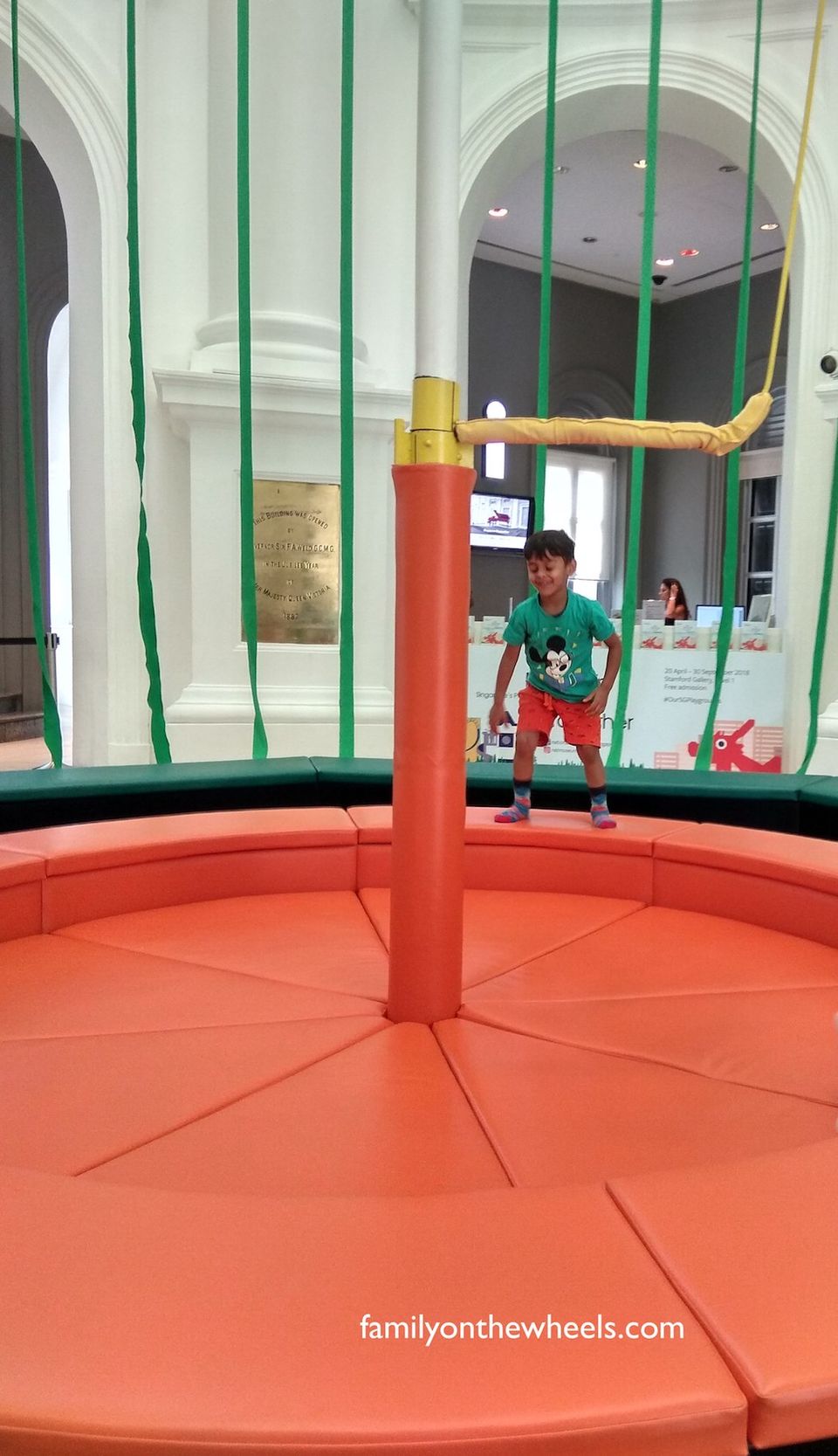 Yay, with Children's season 2018 running, don't miss out our chance for some kids fun.
1. The Dynamic Lines of Our Nest around the central pole, which when twisted, turns into a colorful nest, wherein kids can jump and play. Parents can sit on the side of shared spaces and watch as the fun rolls over.
2. Storytelling Session by Esther Eio , are a part of this fun series. It is a story of dragon playground, who loves when children play with him. But these sessions are on specific dates - mentioned here :
Saturday, 2, 16 & 22 Jun and 1 & 7 Sep 2018 Time : 2.30 pm - 3pm Venue : Stamford Gallery, Level 1
3. Bouncy Adventures : They are running right now till 24th June in the front lawn with the inflatable playgrounds, which kids love and I'm sure they'll not move away from this bouncy region.
4. Sensory Play on Saturday's (Till 23rd June) : Nothing can beat when the fun extends to water, sand , water beads, and all that messy yet sensory play in the green outdoors.
5. On the lower floor, closer to the ticket corner, there is another region for kids play. Starting off from the sand play, with small bridges and all equipments kept, it was an all time hit my son, who wants a small chance to start his sand play. This zone also have indoor swings and see-saw and it culminates into a small drawing room. Kids can take sheets, colours and start their imaginations there itself.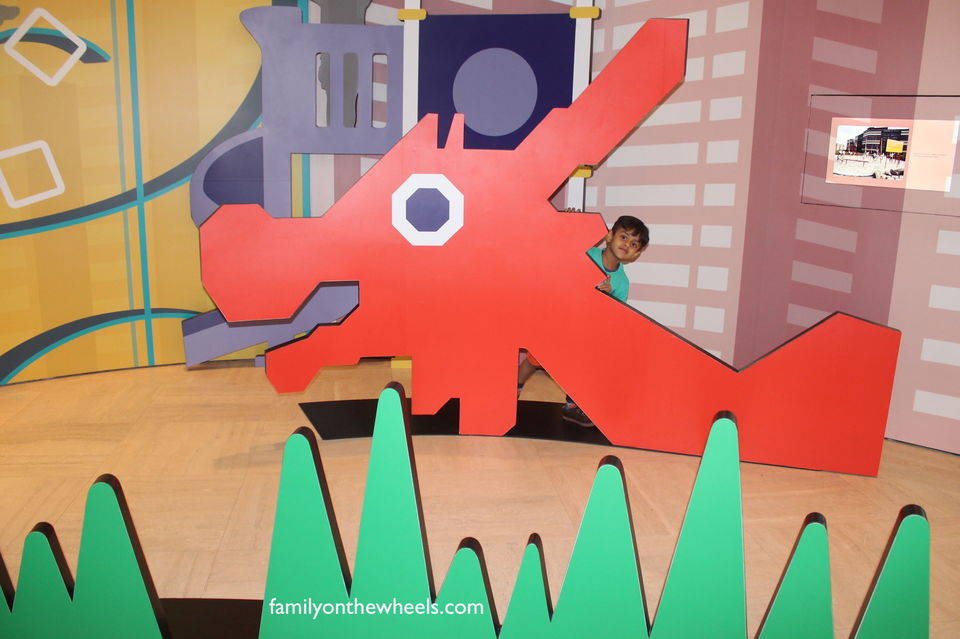 Isn't that a museum with great fun? Look out for more activities on National museum for Singapore webpage.
Ticket Information :
Tickets can be easily purchased from the museum itself. Adult ticket is $15 , while kids below 6 have free entry. Keep on the blue sticker given by them pasted on your dress/body, as sometimes, it is checked for the security measures. Go visit the National Museum of Singapore at 93, Stamford Road, Singapore.
How to reach : You can reach easily by bus or MRT. Bus drops right in front of the museum. Check out Gothere app to select the best mode basis your location.
Share with us your views and queries if any. Have you been here in recent past? How was the experience?
Keep following us on Instagram to see our travel tales being unveiled and on twitter as well.
Keep exploring, Keep travelling!
Love, Team FOTW!!