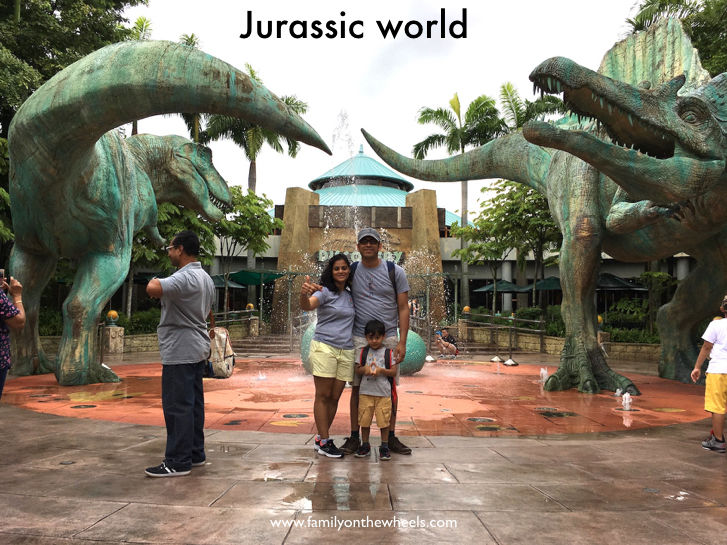 A trip to Singapore stands incomplete without a full day fun at Universal Studios Singapore [USS] . A theme park, having an enticing collection of rides, attractions, shows, thrill not just for adults but even for kids and rather whole family. A day spent at USS, usually goes as the most memorable adventurous day for the family, and ya it was the same for us, #FOTW family.
From shopping, dinning, adventure rides, kids ultimate characters and blockbuster film attractions, you name it and you get it, in this entertaining adventure theme park. All you need are comfy shoes, a sun protecting hat/cap, comfortable clothing and you're ready to rock this place.
Let's take a dazzling virtual round around Universal Studios Singapore :
As you enter the magical yet thrilling world, you'll immerse yourself one by one in each of the seven zones. Each zone has its own thrill, and heart throbbing rides and activities. While all are doable for adults, there are height restrictions on certain rides for kids. While each zone has 3-5 attractions within themselves, #FOTW here lists out the attractions, you cannot miss. Plan your fun day.
Related read : Tripping the Island of Singapore : Pulau Ubin and National Museum of Singapore.
Rides which you cannot miss at Universal Studios Singapore :
A) Light, Camera, Action (hosted by Steven Spielberg) :
If your'e a lover of Spielberg and his Hollywood settings, this stage is certainly a Not to Miss. As the empty stage sees the boats and the hurricane lash the NY city, you watch the devastation , the fire and the settings like a real Hurricane hitting. This leaves you spellbound.
Well, that's what Hollywood is about, Light, camera and action!
(Opening time : 11am)
B) Sesame street Space chase :
** A happy space ride for kids (above 92cms) **
As it says, go on a space mission in a joyful train ride with ups and downs with Elmo and super grover 2.0 to stop macaroni from stealing all the spaghetti from Earth, in the sesame street space chase.
Kids and adults will equally love this chase ride with mesmerizing space settings and super adorable larger than life characters.
2. Sci - Fi City :
Closer to Newyork is Sci-Fi City of Universal studios Singapore and this zone is the most thrilling of all, what #FOTW experienced.
A) TRANSFORMERS The Ride: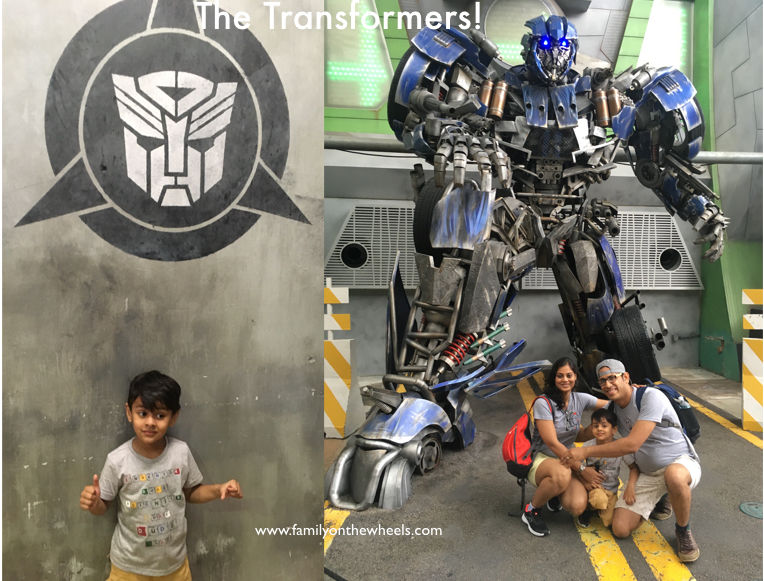 The Ultimate 3D Battle, wherein you join Optimus prime and other Autobots against the evil bots in a 3D super adventurous ride. You experience the evil's coming to crash you, you feel the fall from top to the ground, the breeze, the fire, every moment of this experience takes your breath away. The high speed roller coaster, as acceleration, dropping, chasing the evil's gets you into your adrenaline rush. *Kids with 102cms and above are allowed*. It'll be a thrill you'll wish to do again and again, #FOTW bets.
B) Battlestar Galactica :
The roller coater ride you see in front as you enter Sci-FI city leaves your hearts thumping. When you go up, twist, turn, propel 14 storeys into the air, that's when we say that you are strong hearted!
**Height restrictions 125cms and above**
#FOTW Tip :As the day picks up, this ride gets the maximum queue and waiting time, so try to cover it as early as possible.
3. Ancient Egypt :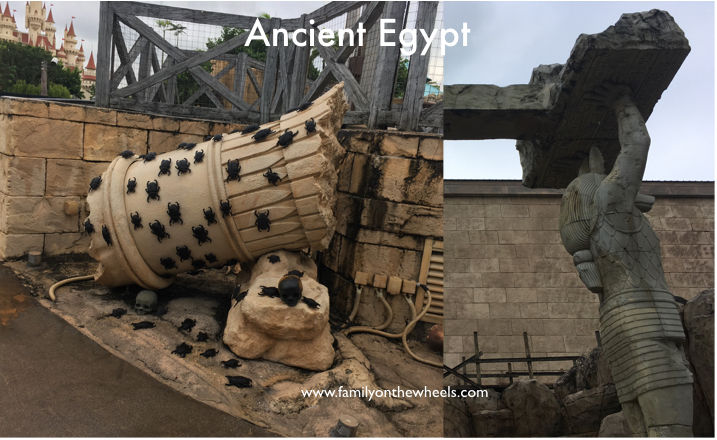 Cross the Battlestar Galactica straightways to find an ancient world with a different charm in the form of Ancient Egypt.
There are 2 rides in this zone :
A) Revenge of the Mummy :
Bet me, you'll remember your faith when you take the plunge into the deep dark roller coaster ride with scary mummies , beetles. Your hearts will thump, you'll for sure close your eyes, and have goosebumps. You'll be thankful to God to save your life and remember this revenge as a memoir for life! Certainly not for kids and weak hearted people.
**Height restrictions : 122cms and above**
B) Treasure Hunters :
Opposite to Revenge of the Mummy, this is a small jeep drive for kids. Though not enticing, but kids can certainly have a this jeep ride into the Egyptian excavation site, as they won't be able to take the mummy revenge:).
4. The lost world :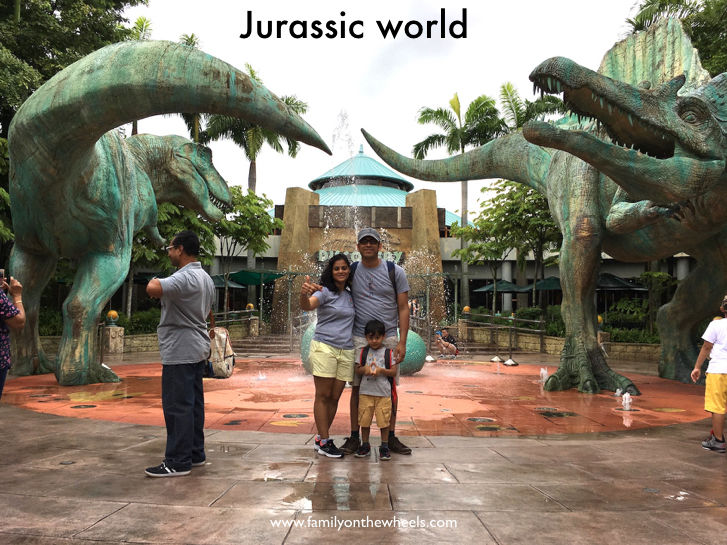 I'm sure you would have related this world, ya, it is all about the Jurassic world and the most cherished creatures - The Dinosaurs. Lots of fun awaits this zone but the real hits here are :
A) Jurassic park rapids adventure :
A thrilling river rafting awaits to soak you with water. Well, its not a simple raft, but a ride through the dinosaur habitats. Kids are sure to have fun .
**Height restrictions : 107 cms and above.**
Tip : Be ready with extra pair of clothing!
B) Canopy Flyer :
A nice flyer ride for kids as your rise above the Jurassic park, with some ups and fast downs.
**Height restrictions : 92 cms and above.**
Both these rides may have long wait times, single riders can get on to grab early:)
5. Far Far Away :
A perfect dreamland for our lil munchkins and a fair share of fun for us too.
A) Puss in the boots giant journey :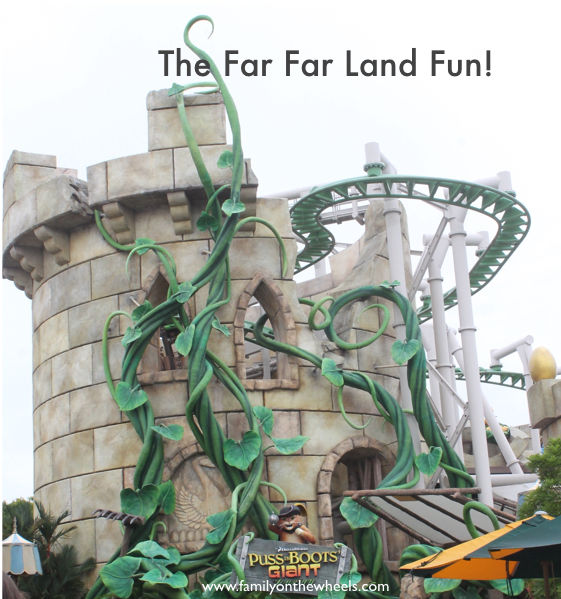 A giant roller coater ride to join puss and kitty on this anti-gravity adventure.
**Height restrictions : 100 cms and above**
6. Madagascar :
Who doesn't likes to "Move it Move it"? You'll once again love the adorable King Julien here!
A) A crate adventure :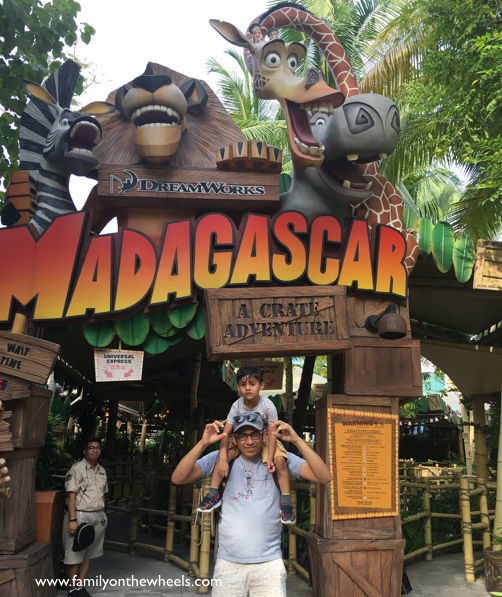 A soothing river boat ride well into the Madagascar world leaves you refreshing and demands "once more" from kids.
**Height restrictions : 80 cms and above**
B) King Julien's Beach Party Go-Round :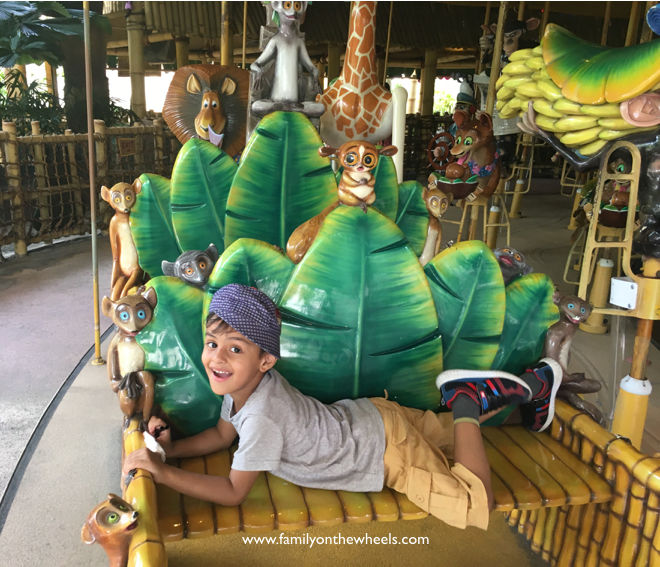 A merry go round in the Madagascar world, set kids free to enjoy their swift ride. Perfect for Kids Instagram pictures:).
7. Hollywood :
It is all about Meet and greet, Jive to the shaking beats and have a gala closure of the thrilling day.
Watch these shows : Not to miss at Universal studios Singapore :
Well, every zone has its shows as wellat designated time slots and some of them are worth every memory made.
Listing down the ones #FOTW relished :
1. Water world at "The Lost world Zone" -
The thrill, death defying stunts, some real explosions, the complete set and story line is sensational. As the pirate attacks the ship, how the lovers struggle, a perfect Bollywood movie, but with the complete set up in front of you leaves you exclaimed with "WOW"!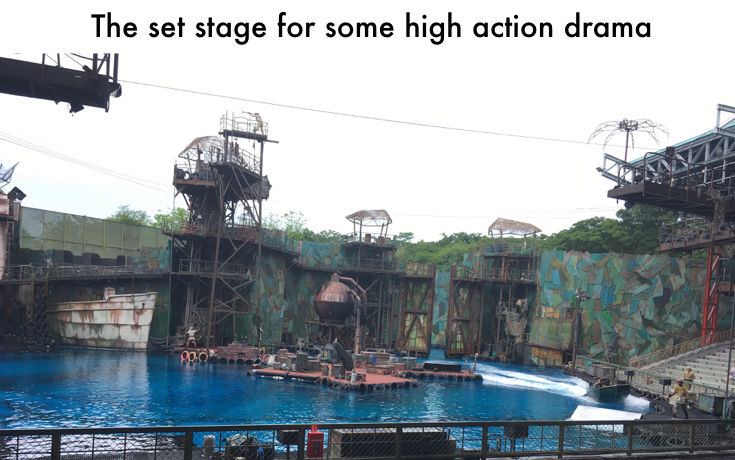 2. Shrek 4D adventure at Far Far land :
Sit, experience, chase, feel the action as you join Princess Fiona & Shrek in their Fairytale adventure. It's a beautiful experience and kids are gonna love it for sure.
3. Donkey Live at Far Far land :
Did you ever meet the most intelligent, talking and funny donkey? Then sing, chat and get amused with Shrek's Sidekick donkey as it is the "Donkey" who hosts the "Live" shows with real - yes real audiences:)
4. Alex, King Julien, Gloria, andthe Penguins of Madagascar :
Enjoy the freaking moves of King Julien and fall in love with these Madagscar characters with their Move it Move it shakes.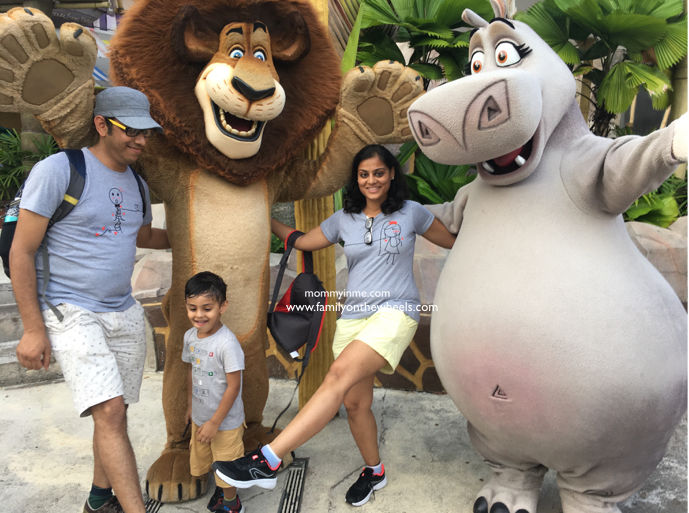 We ended our day with this show, and it was a real fun for Family on the wheels (FOTW)
Get clicked with these characters at Universal Studios Singapore :
Minions (near Hollywood Zone) at designated time slots, get closer and have some lovely memories with them. Meet and get clicked with the Autobot leader Optimus Prime and adorable Bumble bee. The infant triceratops named "Diane" at the lost world Not to miss, Alex, Gloria and King Julien!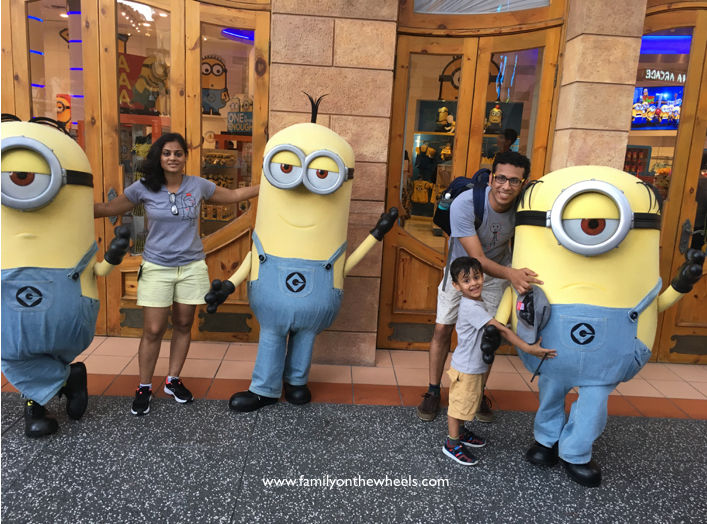 Ensure that you reach Universal Studios Singapore little before its opening time of 10am to be the first in the crowds. Be sure to keep one full day for Universal Studios Singapore, from 10am-7pm and yet you will yearn for more. If you have lose articles as sun glasses, hats, camera's, ensure to put them in lockers before going for any ride. Outside food and beverages are not allowed inside, there are ample eateries for all age groups inside the theme park itself. It could not be suitable for babies or kids with height less than 80cms, due to safety issues. They are quite stringent wrt height parameters as safety is of prime importance. Expecting mothers can give it a miss, as light, sounds, thrill, rides may negatively impact the growing foetus. At the entry counters, you can get the detailed map and pamphlet with all activities, shows. Ensure to carry the same and make a note of timings, or you'll certainly miss something, if you are visiting it for the first time.
Don't miss the activities we have listed for you!
The fun to this adventure land will leave you longing for most of the thrills more and more! Go experience it yourself, as we bid adieu from the virtual tour for now!
With loud heart beats and heavily jolted gray matter,
Keep exploring,
Frequent searches leading to this page:-
Singapore tourism, Places to visit in Singapore for couples, Singapore tourism package from India, things to do in Singapore on a budget, places to visit in Singapore for couples, best places to visit in Singapore, Singapore family tour package with airfare, things to do in Singapore for couples